You Have to See This Couple's Creative Wedding Change-the-Date Announcement
This is how one pair delivered the postponement news to guests.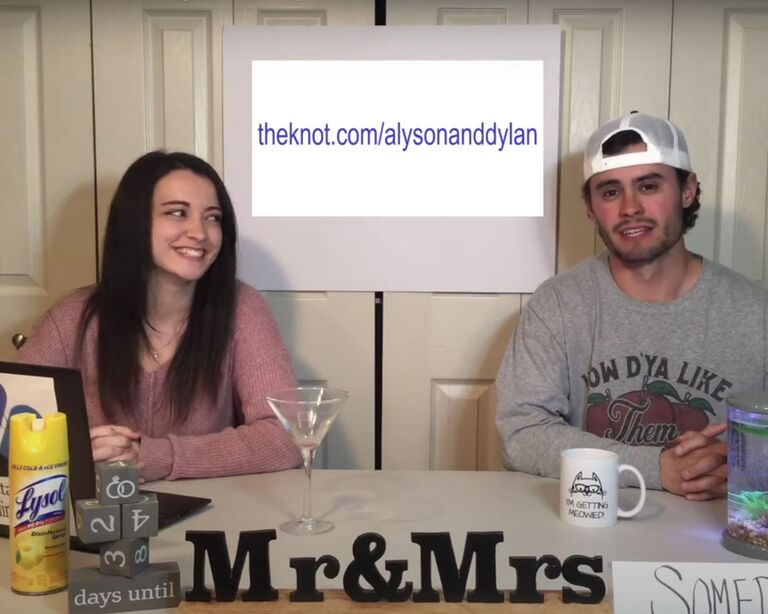 Alyson Mulloy and Dylan Doucette were excitedly planning toward a summer wedding with a church "filled to the brim" with loved ones when the coronavirus pandemic upended their plans. But when it began to look like their original July wedding date was in jeopardy, they knew they could either get frustrated—or get creative. The couple, currently with Mulloy's side of the family in Tewksbury, Massachusetts, decided that rather than letting stress get the best of them, they'd make the best of the situation (as they always have).
"We were sitting around debating timing for invitations and [Dylan] explained that following ordinary timelines and traditions don't make sense right now," Mulloy, 25, tells The Knot. "Times are crazy, [so we] might as well be crazy." The pair, best friends since meeting at a church retreat in 2010, have made different videos in the past for loved ones and other events, so it only made sense that they deliver their change-the-date wedding postponement in the same way. "I started typing up the script one day, and then we added to it together," Mulloy says. "We spent one day setting up the 'studio,' one full day filming, and then one full day editing. Truthfully, it didn't take as long as we thought it was going to."
The result was a nearly 5-minute video shot at the Mulloys' dining room table and set up as a mock news cast, complete with charts and graphs and even cameos by both sets of parents and one set of grandparents. In the hilarious video, the couple gives an update on how everyone is coping with the uncertainty of wedding planning during the pandemic: Doucette has been sleeping in the garage, Mulloy has been guzzling wine, Mulloy's mom has been breaking down over household mishaps, and Mulloy's dad has been gardening—a lot. Even their fish, Guac and Pico (the couple are big fans of Chipotle), make an appearance. "Alyson says they're the smartest fish," Doucette says. "They aren't."
The to-be-weds also claim to be developing new skills, including darts, puzzles and moving past ("almost," they claim) Tom Brady leaving the Patriots.
"[Our parents] absolutely loved it," Doucette says. "They thought we were crazy while we were filming, but they were really excited with the outcome." The video is a testament to the couple's ability to keep their spirits up amid tough times: according to Mulloy, they've also been dealing with trying to buy a house amid the pandemic, only to have two different sellers back out. "We certainly aren't the only ones affected by this," Mulloy says. "We know others whose health and work are negatively affected as well."
"It has been such a challenging time and, for us, it has become clear that the event of the wedding doesn't matter nearly as much as I once thought," she adds. "At the end of the day, I want to marry [Dylan] because through all these tough times, he's been my rock. That's what a marriage is about. The wedding will last a day, but our marriage is going to be forever. We are much more excited for the marriage than the wedding."
Adds Doucette, "I see Alyson as one beautiful, integrated person that I love wholly. I love how she prays with me, how she smile goofily when she is about to do something she thinks is funny, how she throws a wicked good spiral, and I've even learned to love the fact [that] the only meal she can cook is guacamole and chips (send recipes)."
"When I am with Alyson or think about my future with her, I find that I am motivated to be the best I can," he says. "I am the happiest and most myself with her and feel a strong desire to help her feel the same way."
Presently, the couple is planning to wed at St. William's Catholic Church, with a reception at the Tewksbury Country Club, where they will celebrate with their 200 closest family and friends. Their wedding website even made a surprise appearance in their change-the-date video. "We have a plan B, but we're remaining hopeful," they say.
"Dylan and I have learned a lot during the wedding process," Mulloy says. "Last July, we had our hearts set on a big wedding, with the church filled to the brim and family flying in from all over the country to celebrate with us. While we still really hope that happens, we've realized that the big wedding we're hoping for isn't what is most important."