The Best Time to Send Your Wedding Invitations (So You Aren't Too Early or Late)
We've nailed down the perfect timeline.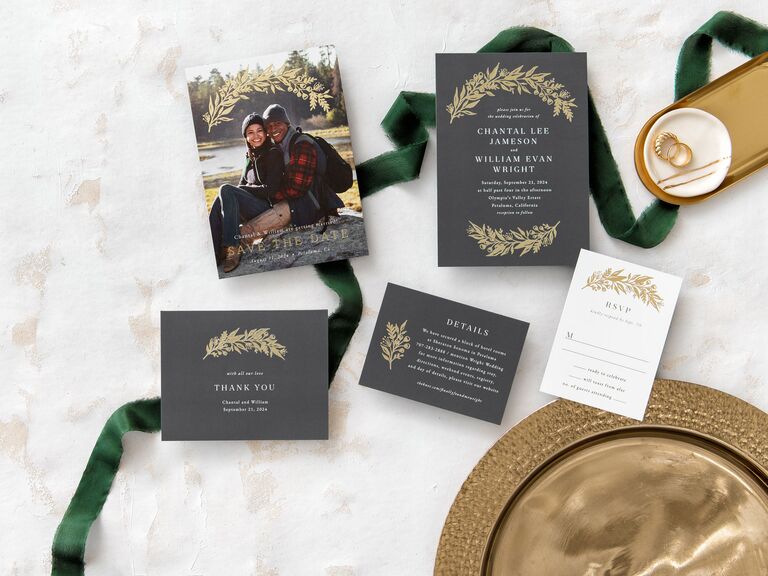 A lot of the decisions you make while wedding planning are completely up to you—there's no set rule for which flowers to choose or what your color palette should be. That said, there are a few planning tasks that do have helpful guidelines, including when to send your wedding invitations. Sending out your invites is one of the most exciting steps on your wedding planning timeline. As guests receive their mail and the RSVPs begin flowing in, expect your big day to start feeling very real. So, exactly how far in advance should you send your wedding invitations? Find out below (and if you're still in search of the perfect wedding stationery, visit The Knot Invitations for over 400 customizable designs).
Why It's Important to Send Your Invitations at the Right Time
Knowing when to send wedding invites is a lot more important than you might think. If you mail them too late, you run the risk of not giving your loved ones enough notice to take time off work, book accommodations or make travel arrangements. Sending your invites out too early might mean that your wedding isn't at the top of guests' minds as the day draws closer. You want to hit that sweet spot in between that gives everyone plenty of time to make plans (but not enough time to lose track of that all-important date).
When to Send Wedding Invitations
Ideally, the best time to send out wedding invitations is six to eight weeks before the wedding. This doesn't just give your guests lots of time to clear their schedules for the day, it also means you can request your wedding guests' RSVPs sooner (two to three weeks before the wedding is appropriate). This will allow you to get a final head count and complete your seating charts before the week-of-the-wedding crunch. At the very latest, guests should receive formal invitations six weeks in advance, and you should request responses two weeks before the big day.
When to Send Wedding Invitations Without Save-the-Dates
Generally, it's a good idea to send save-the-dates about six months out from the wedding. This gives guests a timely heads-up that'll make planning to attend a smooth process (and ultimately boost the number of positive RSVPs you get later). That said, while sending save-the-dates is advised, they technically aren't a requirement. In particular, it may not make sense for couples who are only engaged for a few months before tying the knot to send them. In that case, how soon you should send your wedding invitations changes slightly: Aim for two to three months before the wedding.
If you and your S.O. are closer to the average length of an engagement (that's 16 months, according to our data), we recommend sticking to the typical wedding invitation timeline (including sending save-the-dates).
When to Send Wedding Invitations to Out-of-Town Guests
If you're inviting out-of-town or out-of-state guests, it's customary to send out wedding invitations around eight weeks before the big day. We advise sending all of your invites at the same time, regardless of how many guests live out of town. Eight weeks before the wedding is still typical timing when it comes to mailing wedding invites, so it makes sense to keep things simple and send them all at once.
One exception to the rule: How long before a wedding should invitations be sent to guests from outside the US? Around 9 to 10 weeks in advance is a good time to mail those particular invitations if possible, while the rest of your stack should still go out 6 to 8 weeks before the wedding. The extra week or two will allow for the extended shipping and delivery time needed to get those invites safely into your loved ones' hands. Pro tip: Give international guests the option to RSVP digitally so you're not waiting for their responses to travel through the mail.