24 Unique Engagement Ring Dishes for All Budgets
The perfect dish can be a treasure in and of itself.

We have included third party products to help you navigate and enjoy life's biggest moments. Purchases made through links on this page may earn us a commission.
In case you missed it: Yes, there are times when you might need to take off your engagement ring. We know, we know—you don't want to. It's so lovely! But life has a habit of getting busy, and an engagement ring dish can help keep your ring safe.
Whether you're buying one as a bridal shower gift or getting your own personalized ring dish to celebrate your newlywed bliss, we've got some great ring dish options for you. But first, we'll answer some questions you might have about ring safekeeping.
Should you wear your wedding ring or engagement ring all of the time?
In an ideal world, you'd wear your engagement or wedding ring 24/7. But when you're back from your honeymoon and your daily routine resumes, safekeeping will be of the utmost importance. You'll want to place your ring in a ring dish or box when you head to the gym, clean the house or do your makeup. In addition to minimizing your chances of losing your ring, a ring dish will also keep it safe from any dings or scratches, from being exposed to chemicals or gunk from household cleaners and from any messy makeup or lotion.
Should you take off your wedding ring or engagement ring while washing your hands?
It's not necessary to take off your ring every time you wash your hands. As long as you use gentle soap, it won't harm or damage your ring in any way. Plus, it's not worth risking your engagement ring falling down the drain. However, there are a few exceptions: Certain stones like opals and pearls are super delicate, and exposure to water and soap should be limited.
Should you take off your engagement ring or wedding ring when you travel?
Whether you decide to take your ring off when you travel is a personal preference. If you're worried about theft, it's better to keep your ring at home or locked in a safe at your hotel. The same holds true if you have plans to do a lot of sporty activities, such as swimming or hiking, which could potentially damage your ring.
Now that some of your engagement ring questions have been answered, let's help you find the perfect engagement ring dish to keep your baubles safe and sound.
Lenox Opal Innocence Flourish Ring Dish
A porcelain dish with a delicate leafy border would make a beautiful dresser centerpiece. Your engagement ring will look gorgeous nestled inside this stylish keepsake.
Mark & Graham Ceramic Ring Dish, Set of 2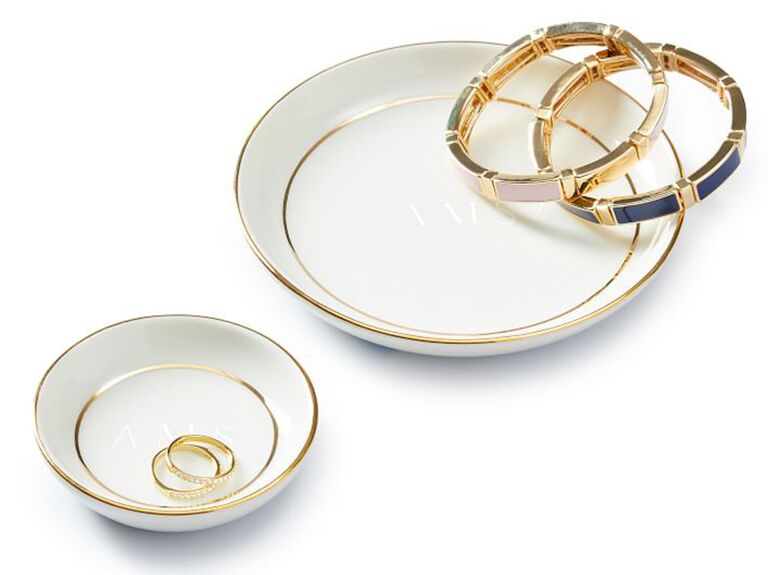 Here's an elegantly simple ceramic ring dish set that comes in classic white and a deep sky blue. The smaller dish is great for taking on vacation or for setting beside your sink or workspace.
Jonathan Adler Brass Elephant Ring Bowl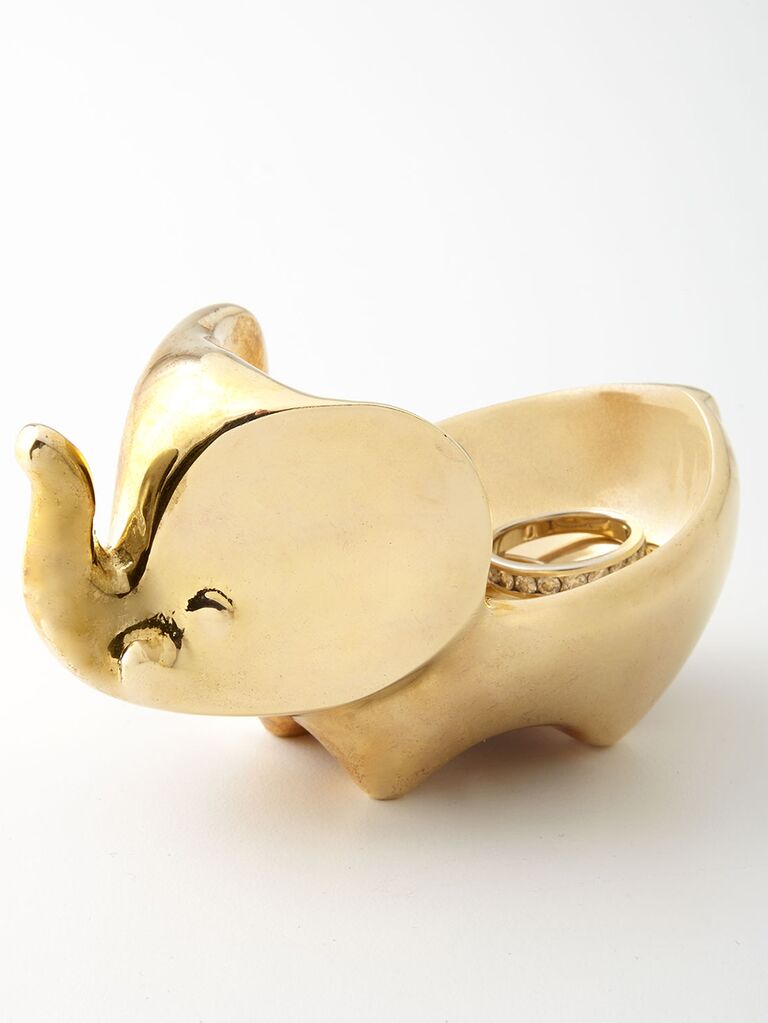 This smoothly designed golden elephant ring bowl is great for those who want a statement piece. Your rings will stay above the daily fray with the elevated style.
Kate Spade New York Spade Street Jewelry Dish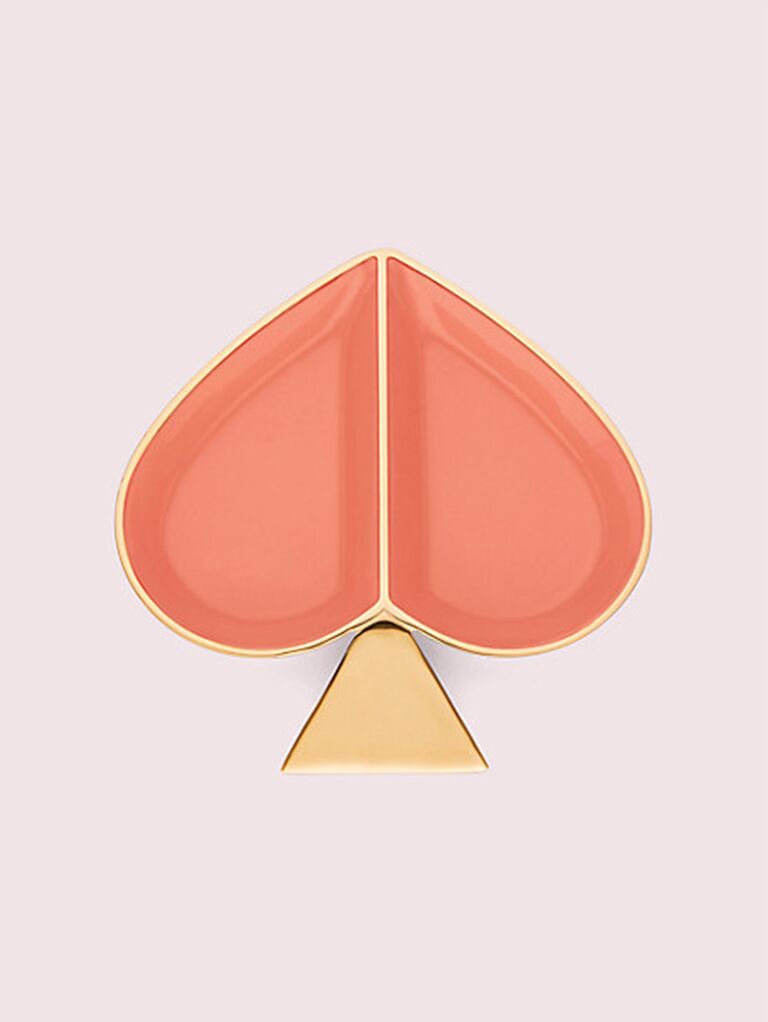 Made with durable gold-finished metal, this Kate Spade jewelry dish has nooks for each part of your ring set. It's also offered in standout shades, including black, for a sleek, modern look.
Meraki Art By Meghan Ocean Ring Dish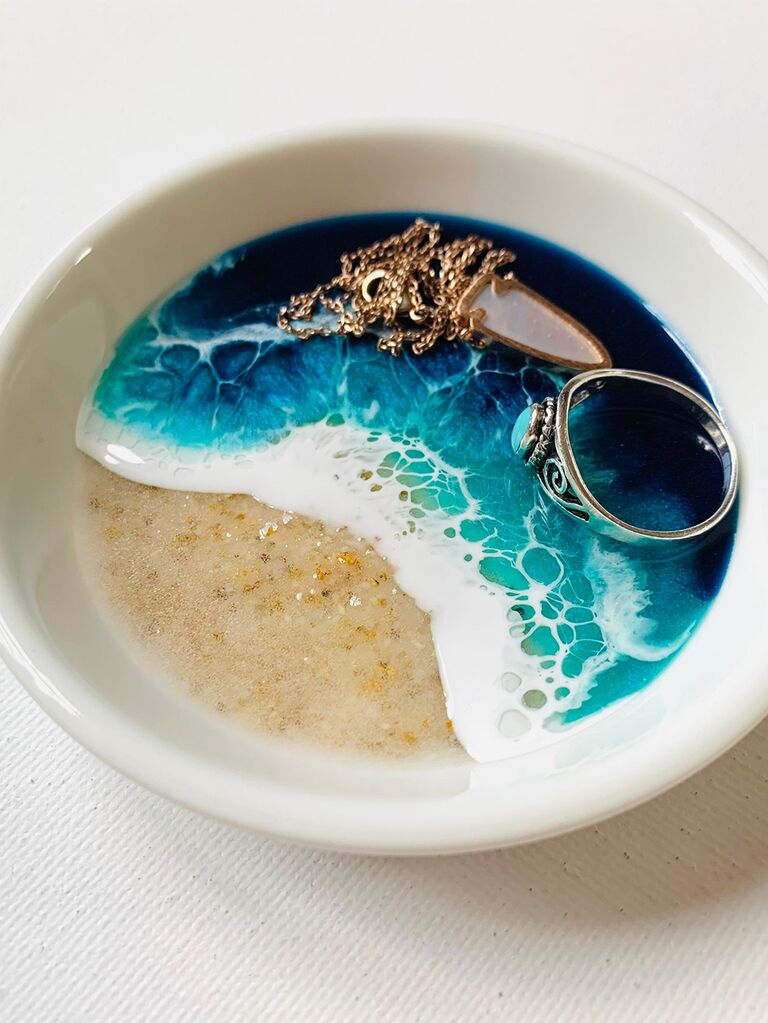 Here's a special keepsake for remembering beachside proposals and nuptials. This stunning deep-blue marble ocean and glistening sand design will be a beautiful backdrop for your special jewelry.
Fringe Studio Dog Celestial Trinket Dish Tray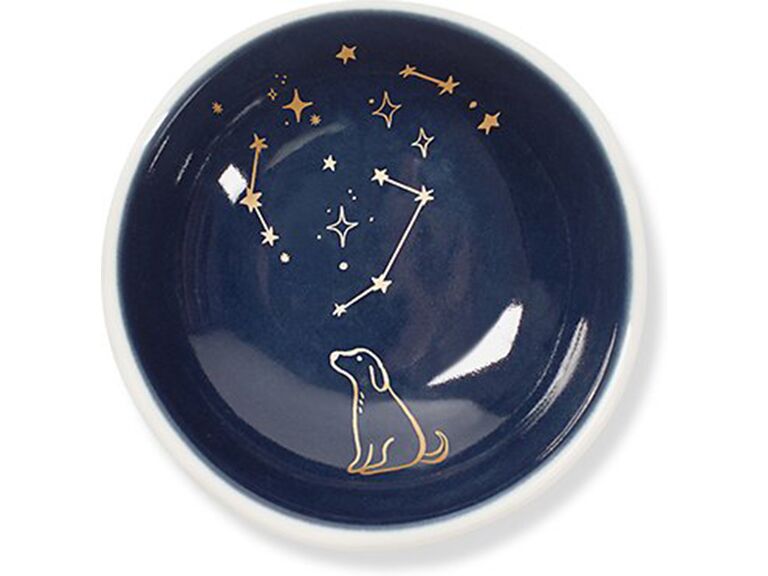 Keep your ring with a loyal friend with this ceramic illustration of a stargazing pup. You can pick up a few for each furry member of the new family, or pass them out as party favors.
Michael Aram Gold Orchid Ring Catch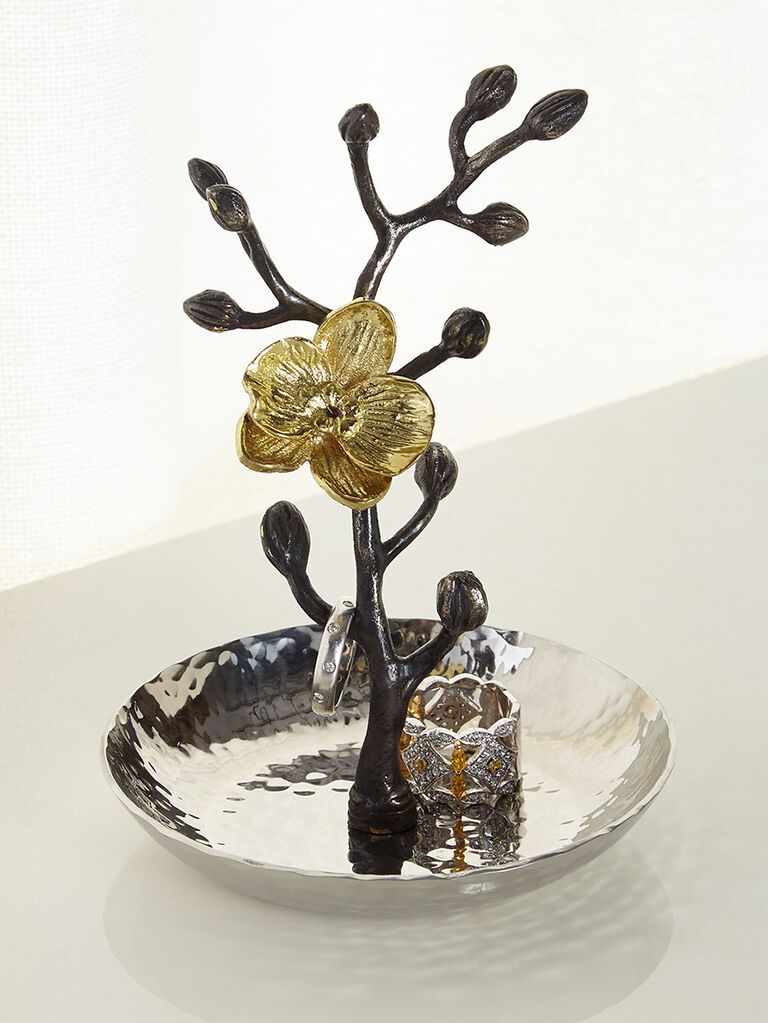 This beautifully crafted ring catch with nickel and gold-plated metal supporting a stunning orchid will be just the centerpiece to remind you to care for your "I do" jewels.
King Harry Personalized Ring Dish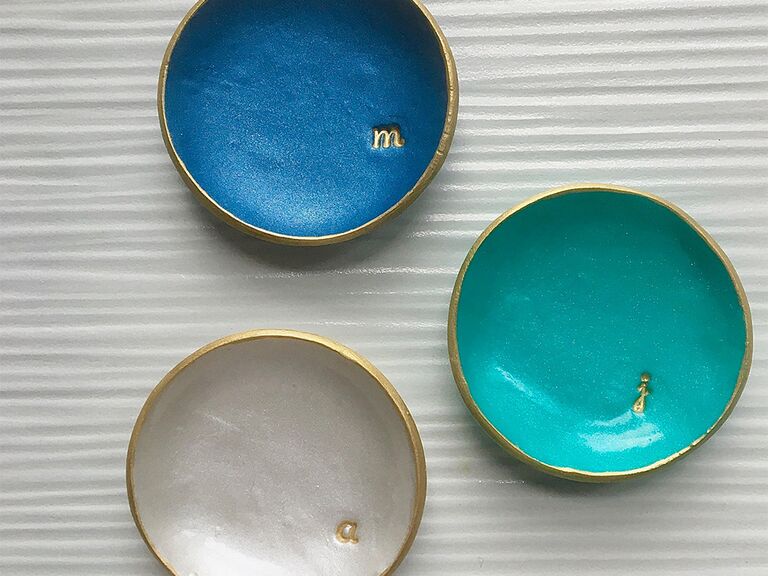 These polymer ring dishes come in eye-catching hues like fuchsia and turquoise, and you can make it yours with a tiny monogram of your choice. The affordable pieces are the perfect gift for your bridesmaids.
Indigo Rose Goods Boho Geometric Ring Holder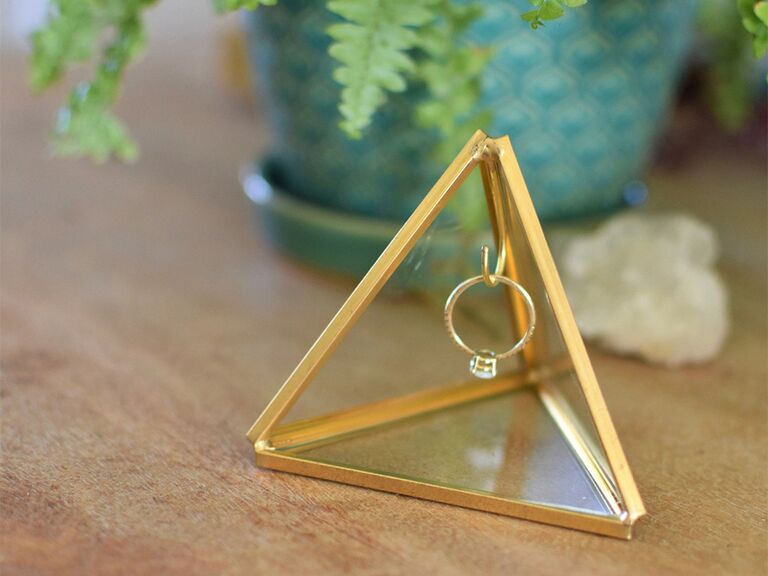 Hang your diamond ring in a modern pyramid display for a touch of whimsy (and to avoid lotions and other potential contaminants). You certainly won't forget to keep your rings in a safe place with such a unique jewelry holder.
Copper & Clay Fern Clay Ring Dish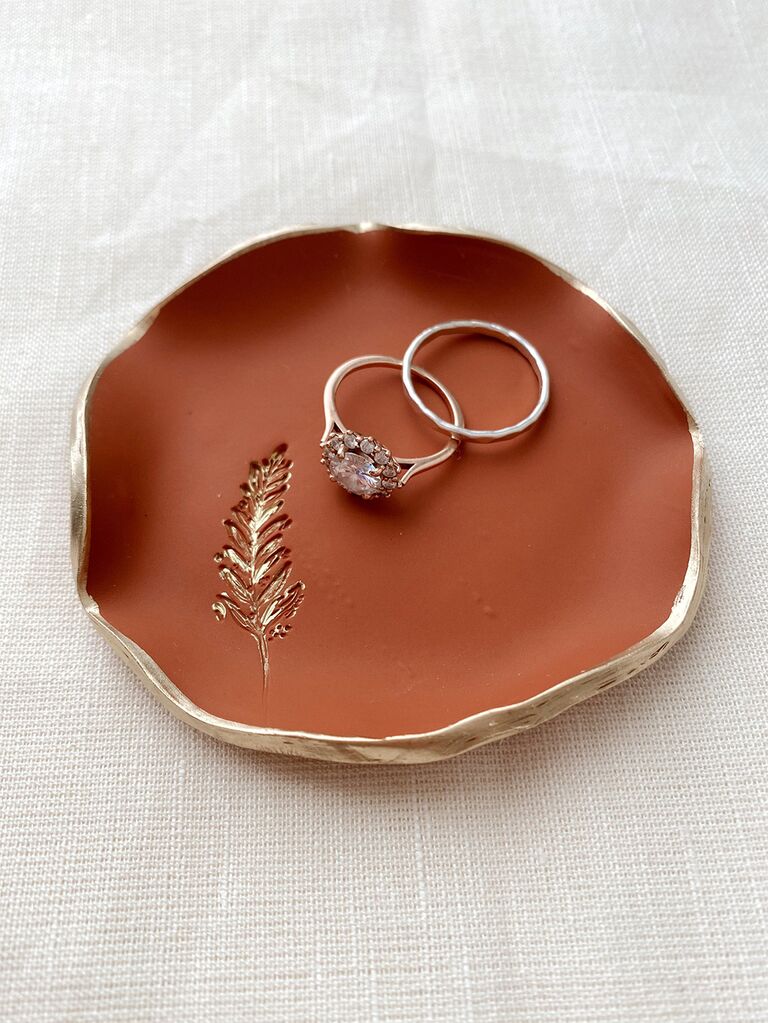 We love this well-crafted terra-cotta trinket tray with golden fern details. Whether it's a diamond or colorful gemstone, your ring's beauty will be enhanced by the deep clay hue and delicate border.
The Painted Press Speckled Minimalist Ring Dish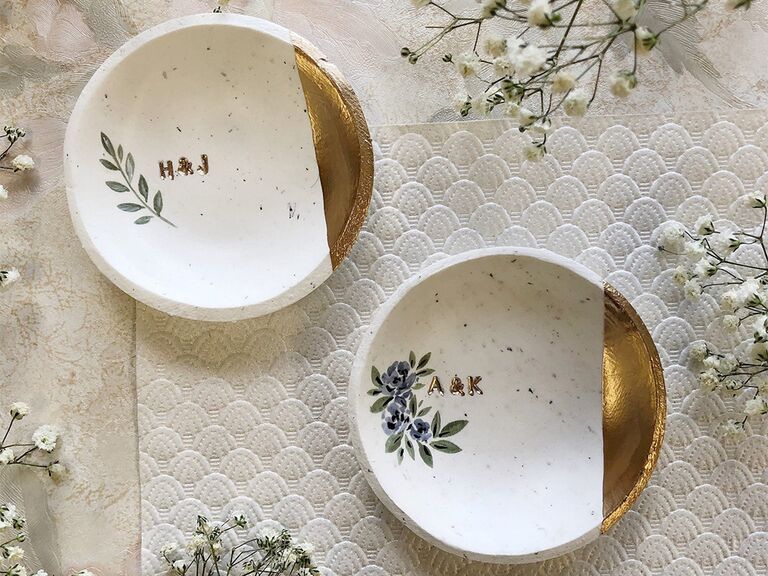 These speckled clay trays with gold sealer and botanical touches will suit engagement rings of all designs and price points. The tiny golden initials add a special personal touch.
Cost Plus World Market White Ceramic Pedestal Trinket Dish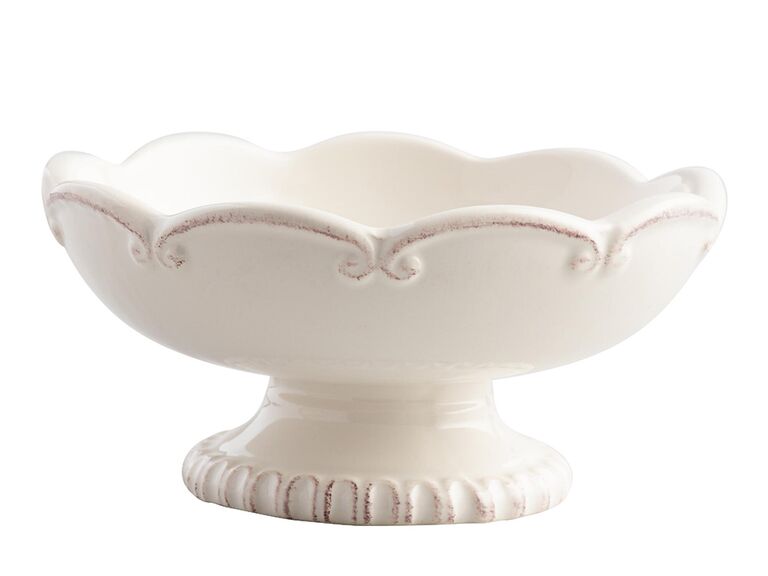 This pedestal jewelry dish with scalloped edges is finished with a delicate gold lining for a classic look. It's also priced for gifting to your wedding party or for passing out as a party favor.
Kate Spade New York Spade Street Square Dish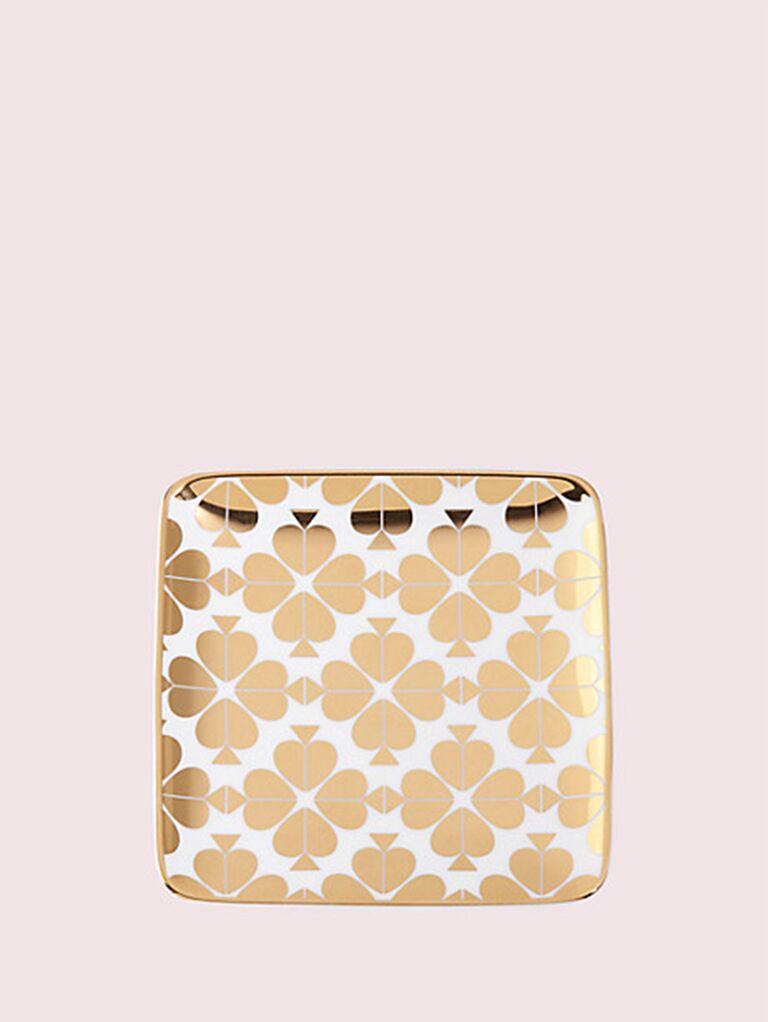 This stunning porcelain ring dish from Kate Spade New York has a unique square shape. Golden spade flowers make for a statement piece that will truly elevate your boudoir decor.
Shop Mirror Mirror Polymer Clay Ring Dish
If you prefer a darker design aesthetic, the black and gold marble effect on this modern clay ring dish will be a chic way to keep your engagement ring safe.
Michael Aram Anemone Trinket Tray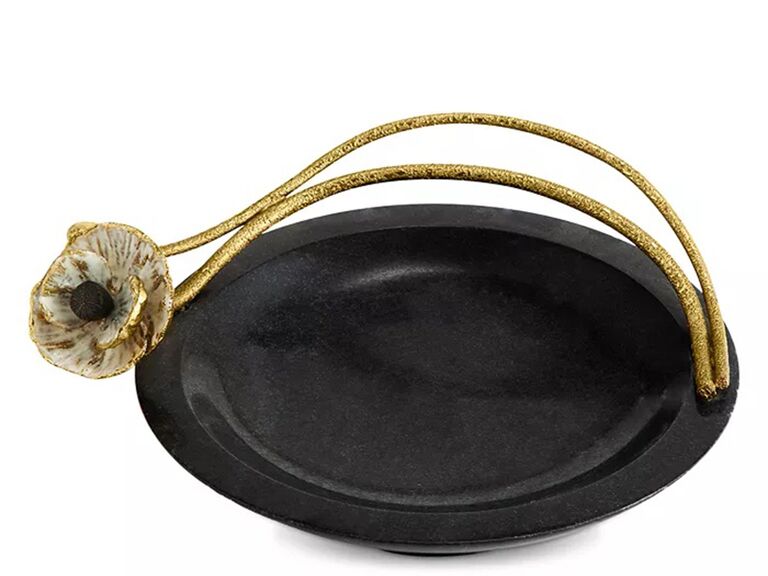 This black marble and brass trinket tray is complemented by an anemone, which the creator says is known to bring good luck. Enjoy well wishes with a piece that's built to last.
Stephie's Beauties Hanging Ring Dish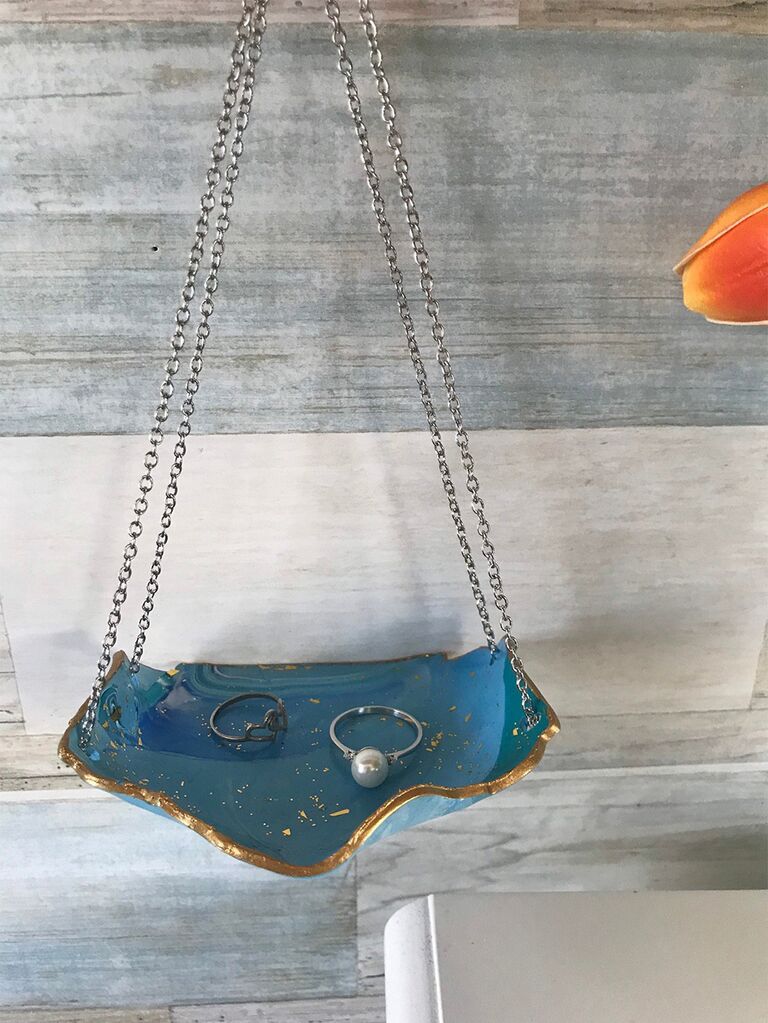 Why not hang up your engagement ring so you can't miss it? This gold-speckled and oceanic dish will add some statement style to your bedroom or bathroom.
Essenza Jewelry Personalized Jewelry Dish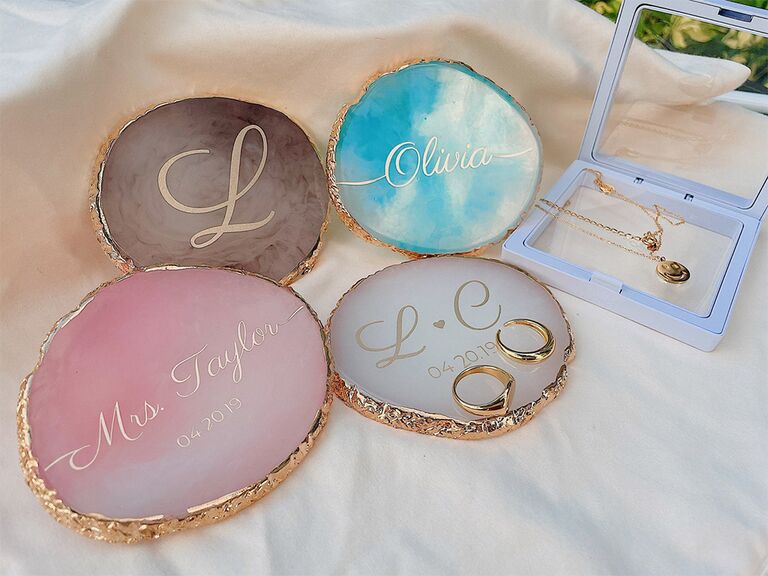 Resin quartz is enhanced by a golden border with these gorgeous creations. The combination of natural and luxury touches gives it a versatile vibe that works for casual or upscale decor.
Michael Aram Black Iris Trinket Tray
This elegant marble tray with chic brass detailing and a black iris is a treasure in and of itself. You'll cherish this heirloom piece for a lifetime.
Say Your Piece Biscuit Lace Ring Dish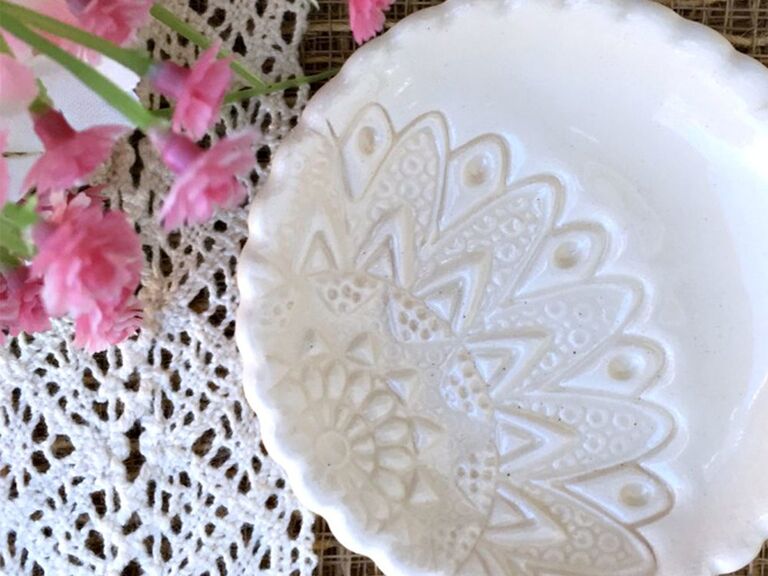 These affordable ceramic dishes have a casual, DIY feel. The cream color, ruched edging and floral design combine to create a romantically rustic effect.
Brandyoak Cottage White & Gold Oyster Shell Trinket Dish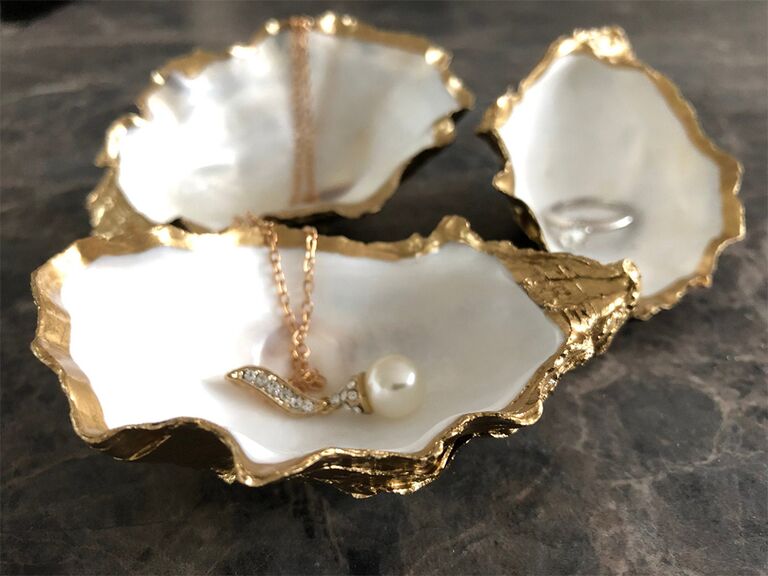 These golden oyster shell dishes are perfect for remembering a destination wedding or beach proposal. Keep your special baubles safe with a treasure straight from the ocean.
Muujee Round Wood Ring Dish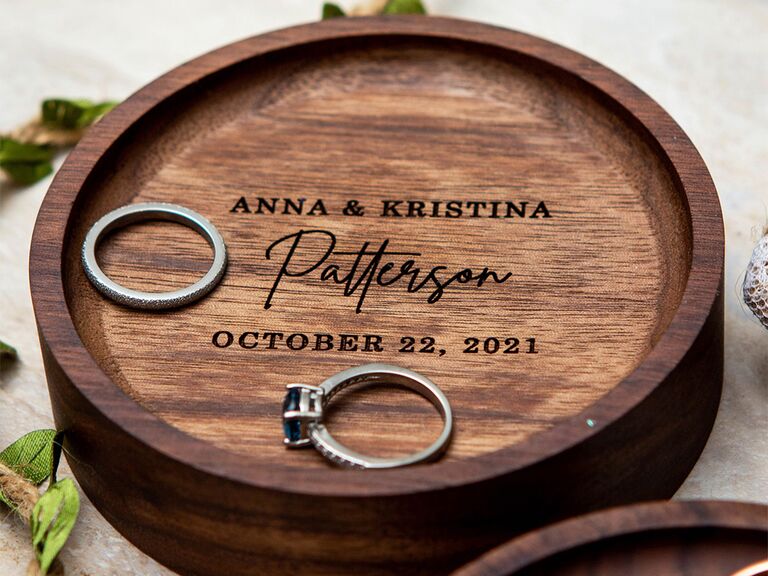 Wooden jewelry dishes are a great option for the nature lovers out there. Customize this one with personal text for a one-of-a-kind keepsake.
Purple Giraffe Ceramic Hiking Ring Dish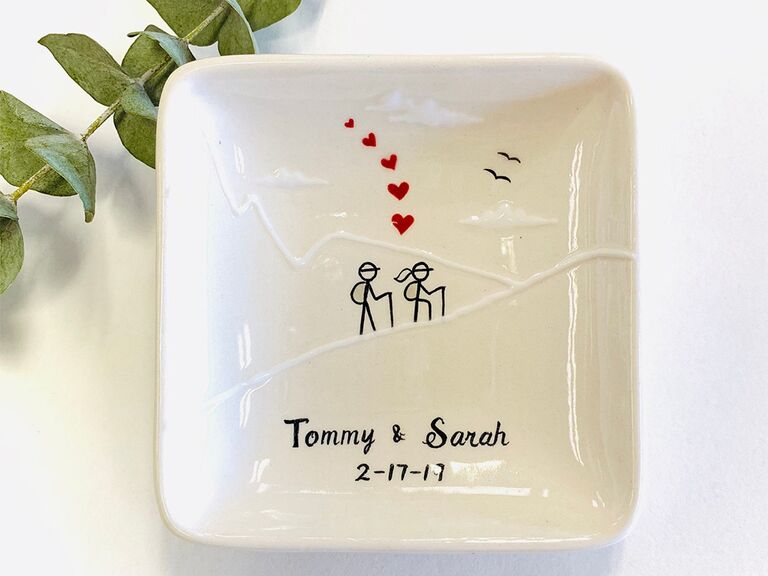 This dish is whimsically romantic and perfect for the outdoorsy type. Personalize the adorable illustration on this design with your initials and proposal date.
Blue Butterfly Crafts Mandala Ring Dish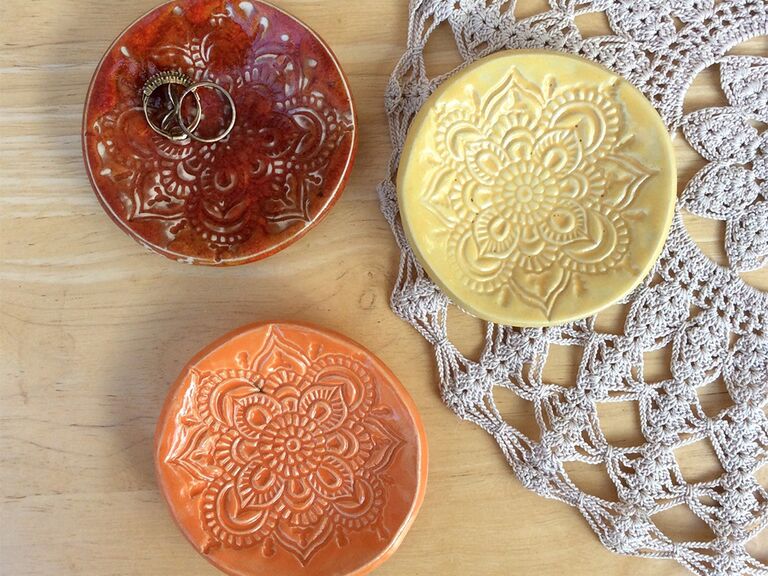 These colorful mandala ring dishes are great if you're looking to have a tray in each room. You can have several strewn across your home for little added pops of color.
VIVIANxCO Baby's Breath Resin Ring Dish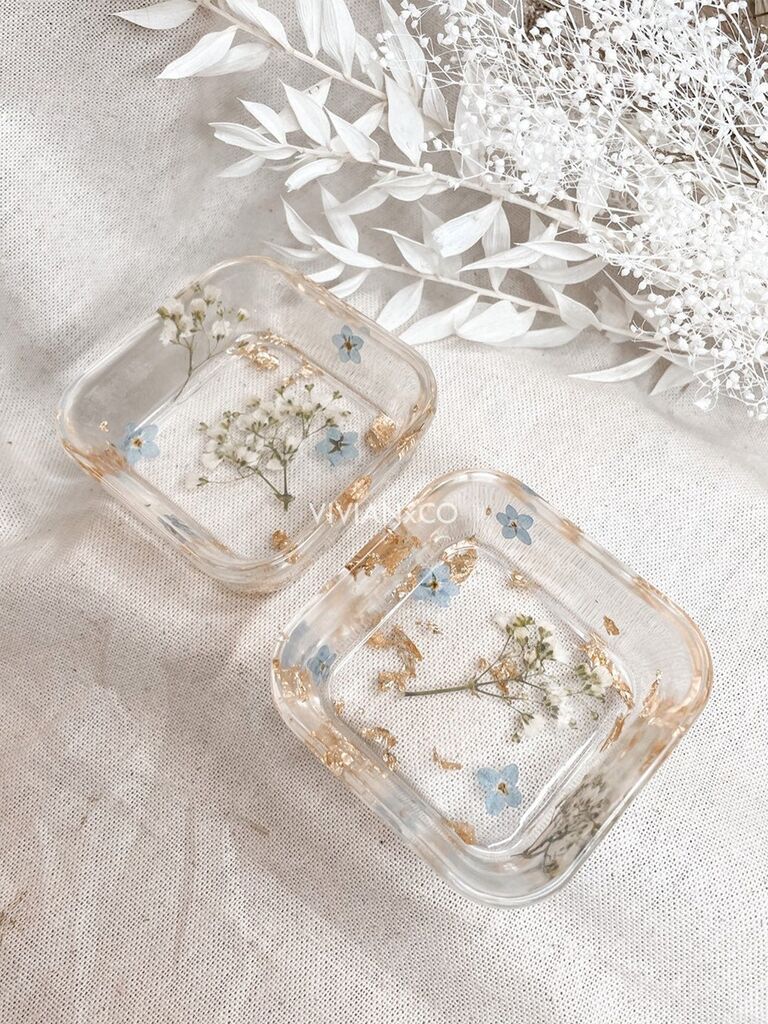 This dreamy jewelry dish is handmade with baby's breath and gold flecks nestled in resin. It's a lovely choice for those who enjoy an earthy, natural aesthetic.