Ring Dishes and Jewelry Boxes Your Engagement Ring Needs
Got a shiny new sparkler? Treat it to a nice home (when it's not on your finger).
We have included third party products to help you navigate and enjoy life's biggest moments. Purchases made through links on this page may earn us a commission.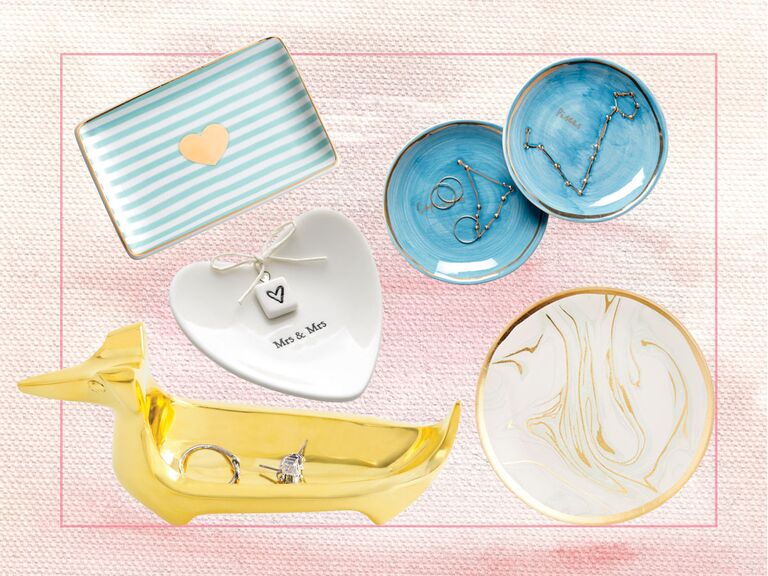 In case you missed it, yes, there are times when you should take off your engagement ring. We know, we know—you don't want to. It's so pretty! But sometimes it's a good idea to take off your wedding ring or engagement for certain reasons. 
To help you keep your ring safe, we've answered some of your frequently asked questions concerning when to take off your precious baubles. After getting all your answers, you'll find a list of our favorite ring dishes that will help you keep track of your wedding and engagement rings when you're not wearing them. 
Should you wear your engagement ring all the time? Of course you don't want to take off your rings, but there are some occasions when it's best to set them aside in an engagement and wedding ring dish for safekeeping. Place them in a ring dish when you head to the gym, clean the house and do your makeup routine. This will keep them safe from any dings or scratches. Plus, it will also prevent them from being exposed to chemicals or gunk from household cleaners, makeup and lotion. 
Should you take your engagement ring off to wash your hands? It's not necessary to take off your ring when you wash your hands. As long as you use gentle soap, it won't harm or damage your ring in any way. Also, it's not worth risking losing it down the drain if you take it off every time you wash your hands. 
Should you take off your engagement ring when you travel? Whether you decide to take your ring off when you travel is a personal preference. If you are worried about theft, perhaps it's better to keep it in an engagement ring dish at home or locked in a safe at your hotel. The same holds true if you have plans to do a lot of sporty activities, such as swimming or going to the pool, which could potentially damage your ring. 
With some of your ring questions answered, now it's time to find the perfect engagement and wedding ring dish. Check out our list of 8 amazing wedding and engagement ring dishes that are sure to keep your baubles safe and sound. 
8 of the Best Wedding Ring and Engagement Ring Dishes
1. Anthropologie star sign trinket dish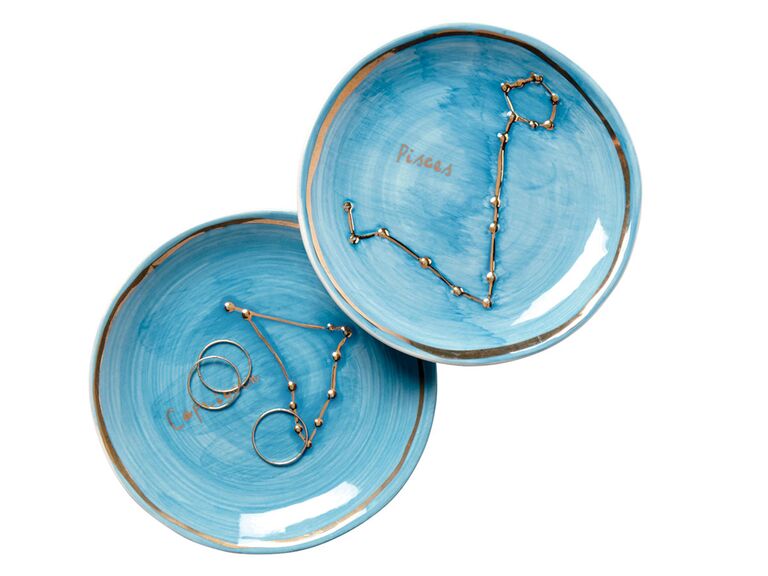 Seeing stars when looking at your new bling? Just go with it. 
Anthropologie Star Sign trinket dish, $14, Anthropologie.com
2. Jonathan Adler brass dachshund ring bowl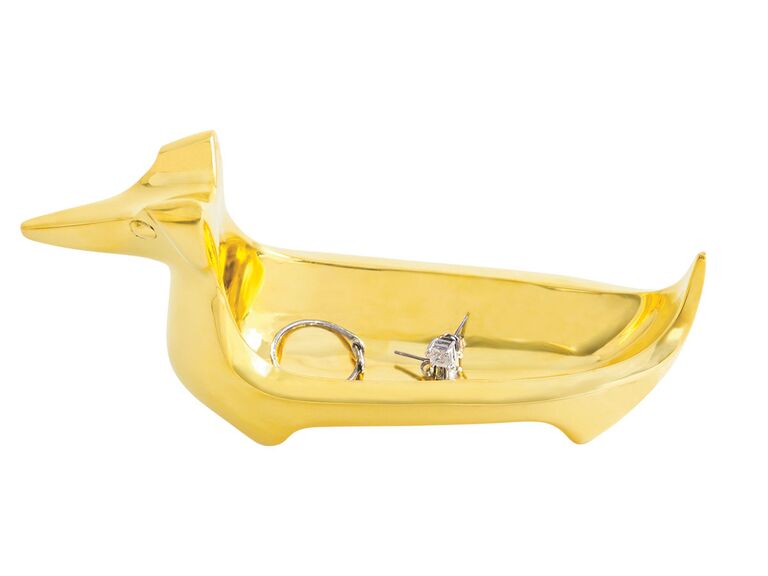 Is there a third member in your little family you'd like to honor? Or maybe you want to drop a hint that you'd like there to be...
Jonathan Adler Brass Dachshund ring bowl, $118, JonathanAdler.com
3. CB2 arrow ring holder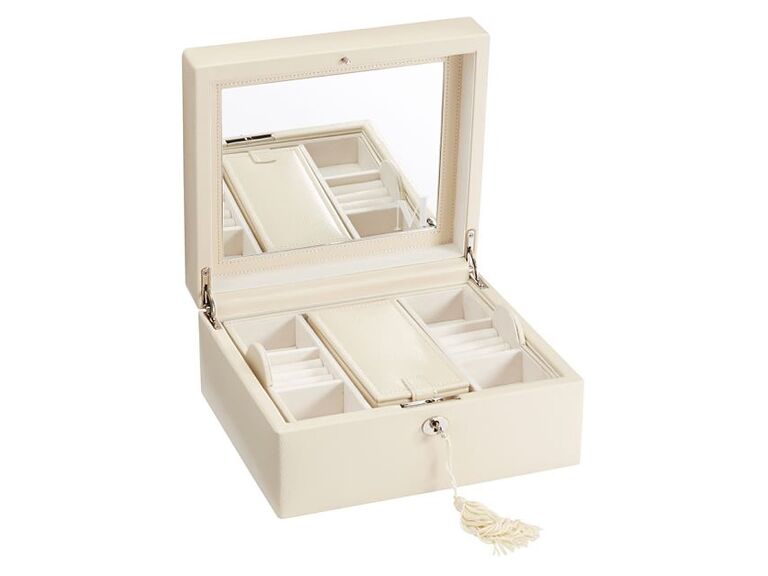 Not only is this the perfect size for a handful of trinkets, it's also lockable and monogrammable. 
Pottery Barn McKenna leather medium jewelry box, from $103, PotteryBarn.com
4. Rosanna charm school tray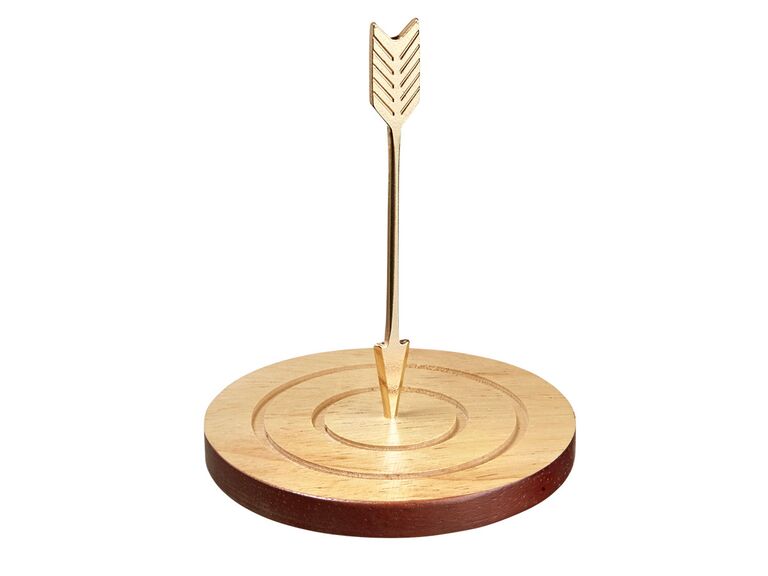 We present: the ring holder for minimalists. 
CB2 Arrow ring holder, $10, CB2.com
5. Mark & Graham ceramic catchall
This small porcelain tray is perfect to keep sink-side to place your rings during your nighttime beauty routine.
Rosanna charm school tray, $23, RosannaInc.com
6. Crate & Barrel Mrs. and Mrs. ring dish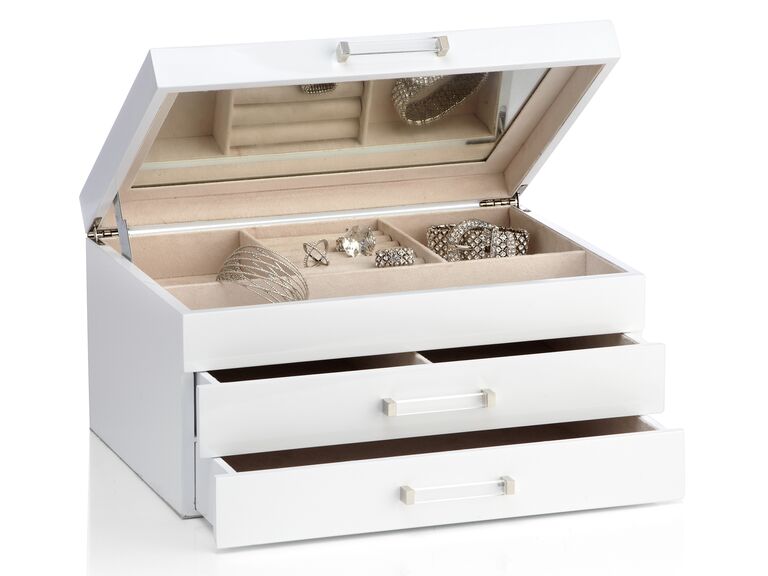 If you've got a bit of a jewelry obsession, this is the box for you. Two pull-out drawers and a top tray can hold your entire collection and then some.
Z Gallerie Cendrine jewelry box, $150, ZGallerie.com
7. Kate Spade New York turquoise ring holder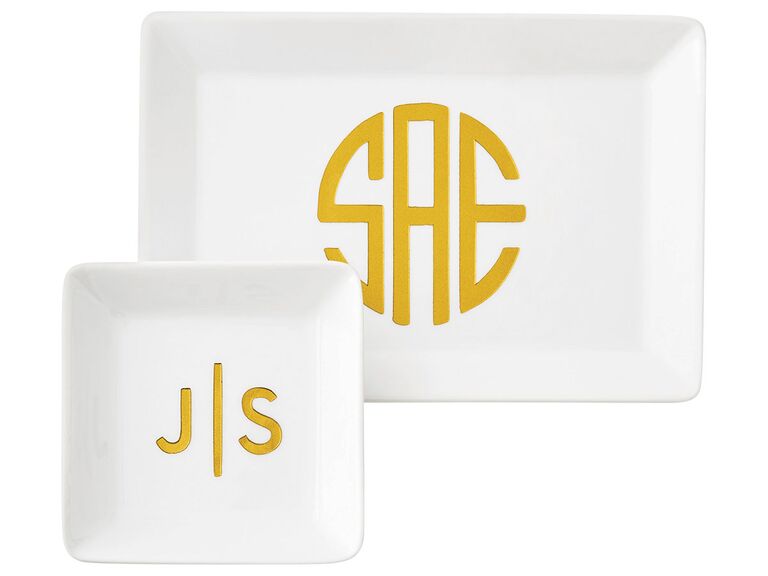 Celebrate your new last name with some "his" and "hers" monograms.
Mark & Graham ceramic catchall, from $45, MarkandGraham.com
8. Paper Source blush marble trinket dish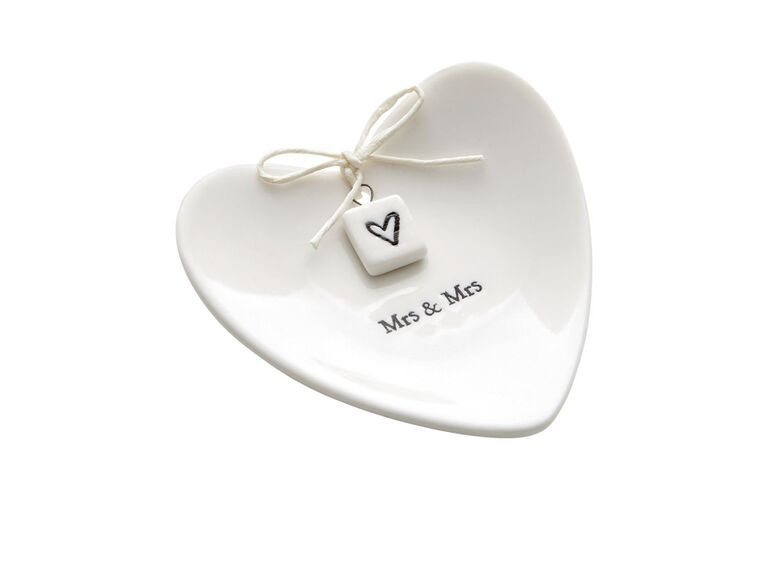 Sweet and simple—just enough space for a couple wedding bands.
Crate & Barrel Mrs. and Mrs. ring dish, $13, CrateandBarrel.com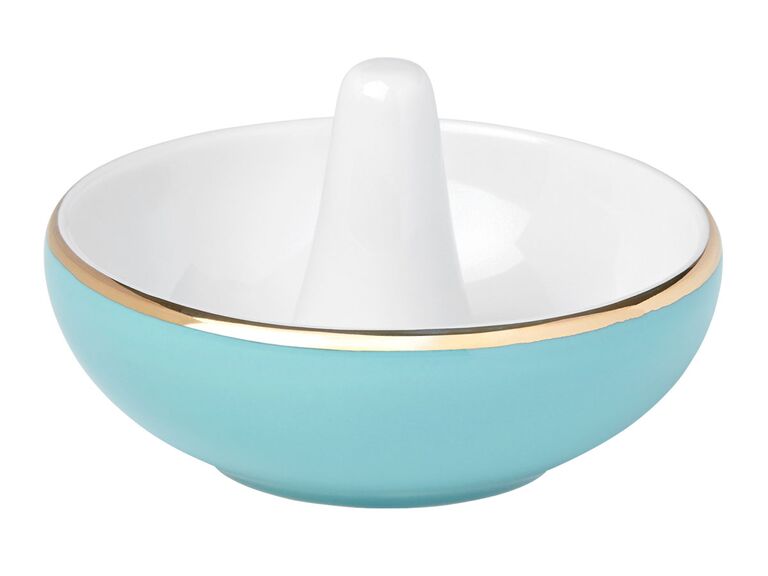 A classic dish like this will never go out of style. 
Kate Spade New York turqioise ring holder, $30, Lenox.com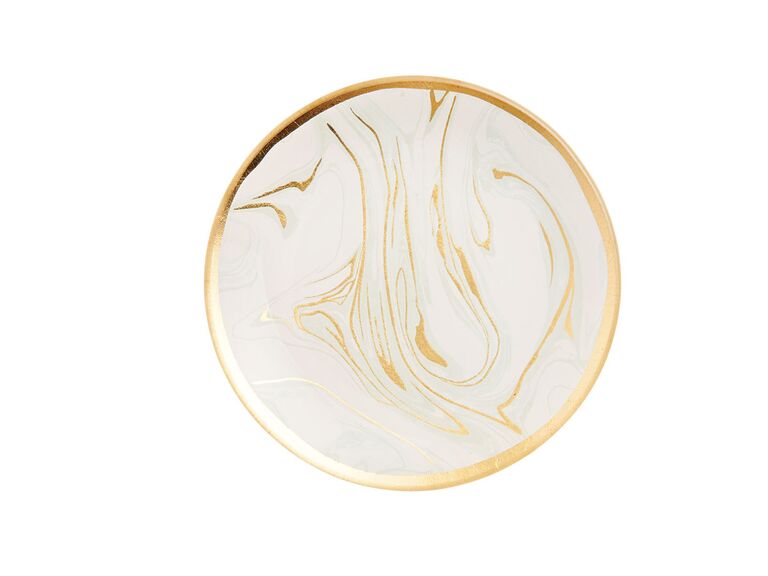 Marble is still trending, and we love the gold in this design. 
Paper Source blush marble trinket dish, $13, PaperSource.com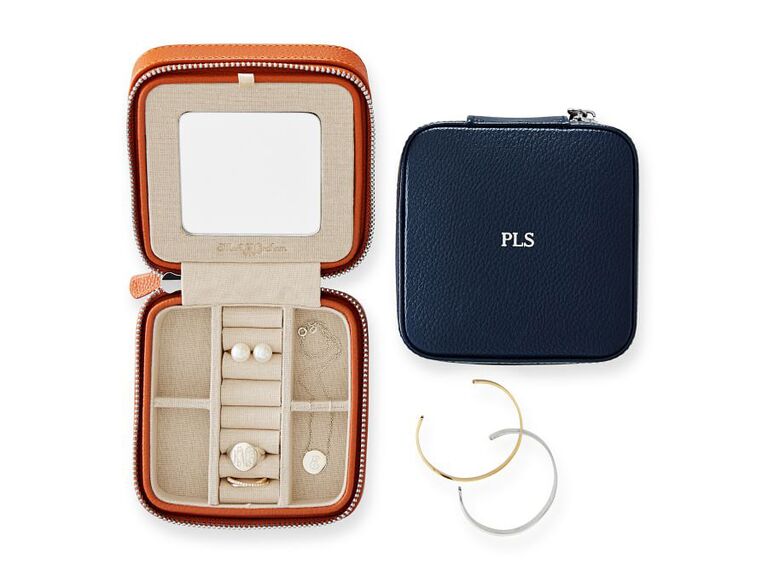 Don't forget about traveling! You don't want your baubles bouncing around in your carry-on. 
Mark & Graham Travel jewelry case, $65, MarkandGraham.com