The 20 Prettiest Engagement Ring Dishes for Your Nightstand
Because putting your precious on the edge of the sink is NOT it.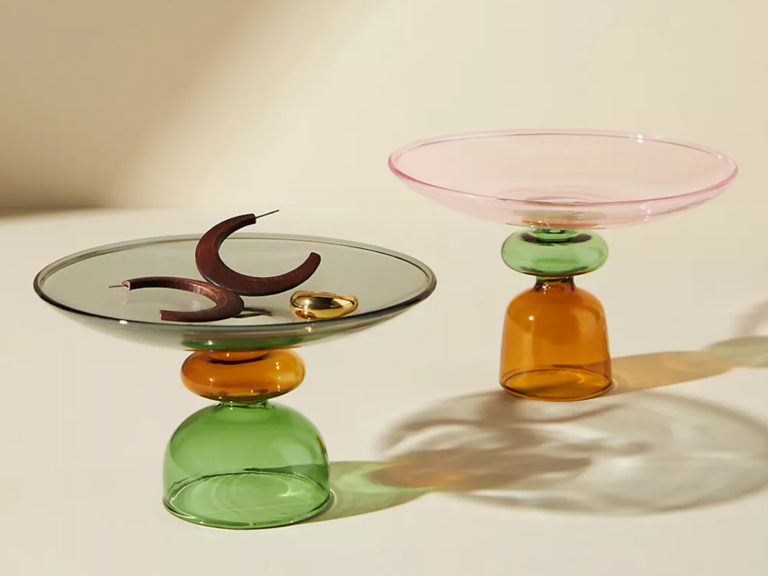 Photo: Urban Outfitters
We have included third party products to help you navigate and enjoy life's biggest moments. Purchases made through links on this page may earn us a commission.
Heading to the gym or beach? No matter how much you love your engagement ring, there are situations when you may need to temporarily take it off. For a stylish storage option, consider buying a decorative engagement ring dish. The storage accessory is the most convenient way to keep your ring safe and within reach on your busiest days.
Whether you're treating yourself or buying it for someone else, there's a decorative ring or trinket dish that will resonate with every aesthetic and budget. From quirky to elegant, they are available in tons of styles, materials, colors and even wedding themes. You can also personalize them with a monogram, meaningful message and even your favorite song lyrics. Keep it on your nightstand or bathroom counter, either way they will add to your home décor and will serve as a gorgeous place to display and rest your jewels. These also make great engagement gifts for a loved one. Check out our list of pretty, editor-approved ring dishes.
In this article:
20 Ring Dishes To Shop
Scalloped Ceramic Catchall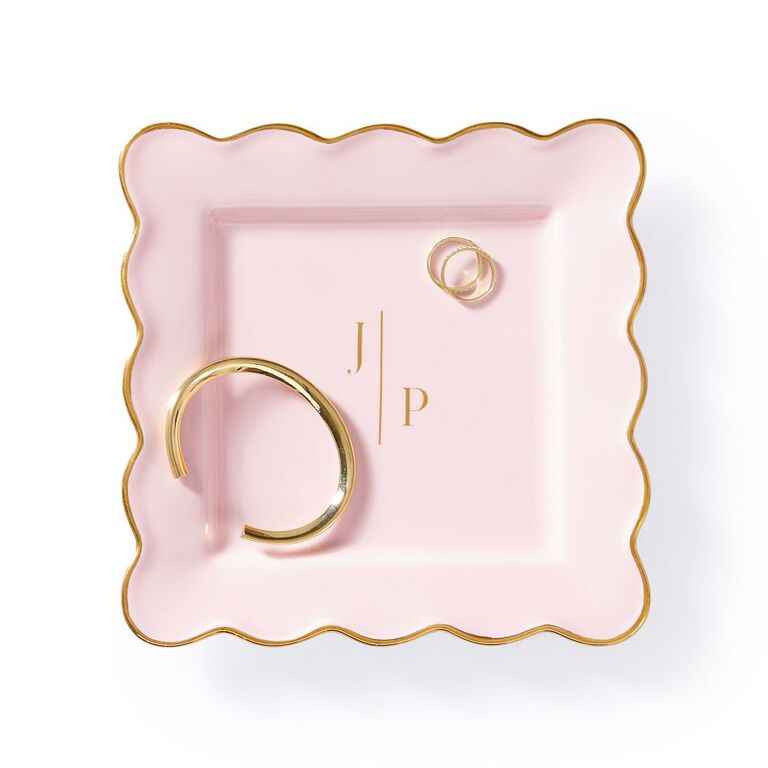 Made for monogramming, this delicate, scalloped trinket dish is completely customizable and makes for a meaningful gift. Choose from 4 color options and 3 font choices to personalize the catch all to fit its surrounding décor or to match your personal style.
Ceramic Filigree Ring Dish in Gold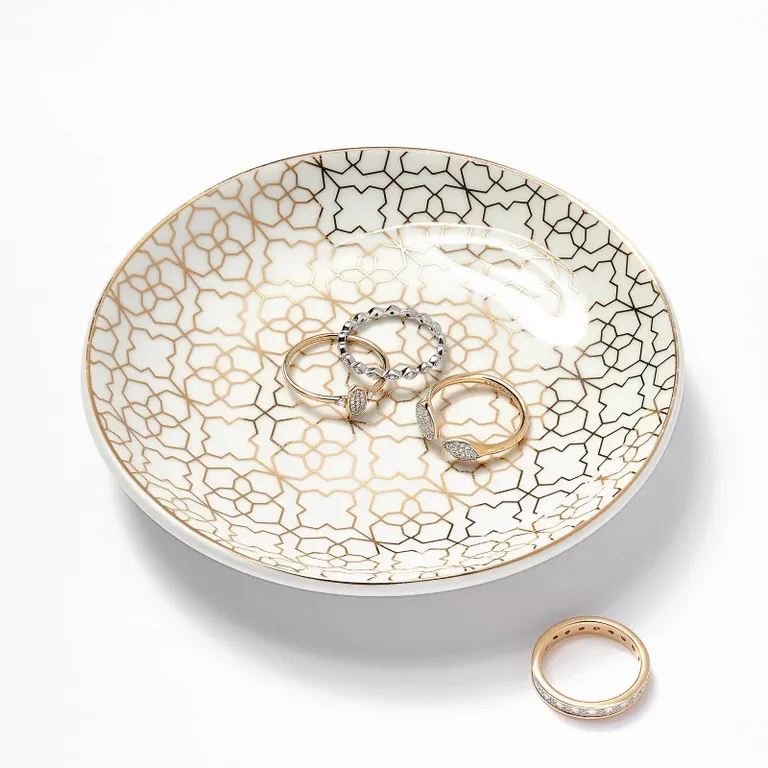 For a touch of glam, the gilded accents on this ceramic dish serve as a beautiful backdrop, especially for yellow-gold rings. Place the stunning dish on an all-white bathroom counter, so it does double duty as décor.
Op Art Square Tray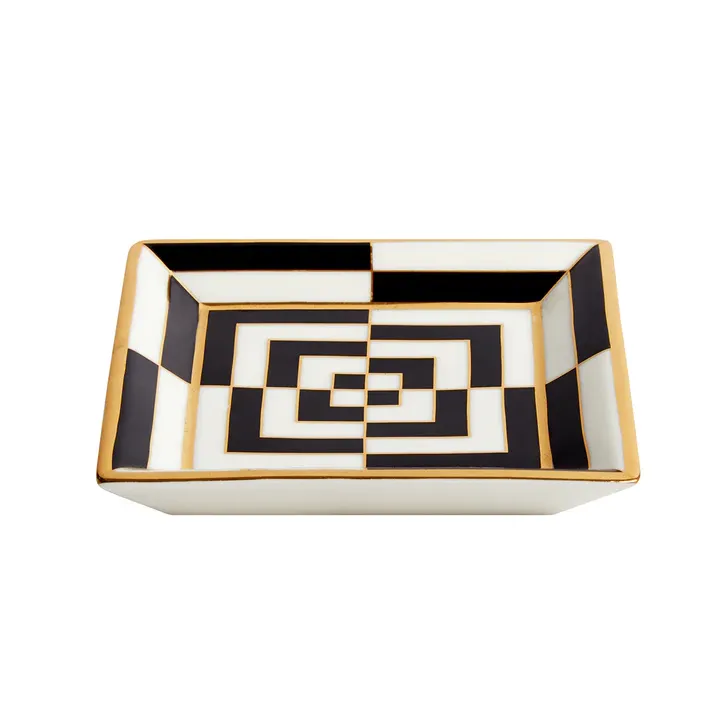 For a unique spin on a jewelry dish, try this graphic, Art Deco-inspired mini tray that adds instant edge to your bedside. Thanks to the square shape and raised rim, the tray is well-suited to stop your jewelry from slipping out.
Pedestal Trinket Dish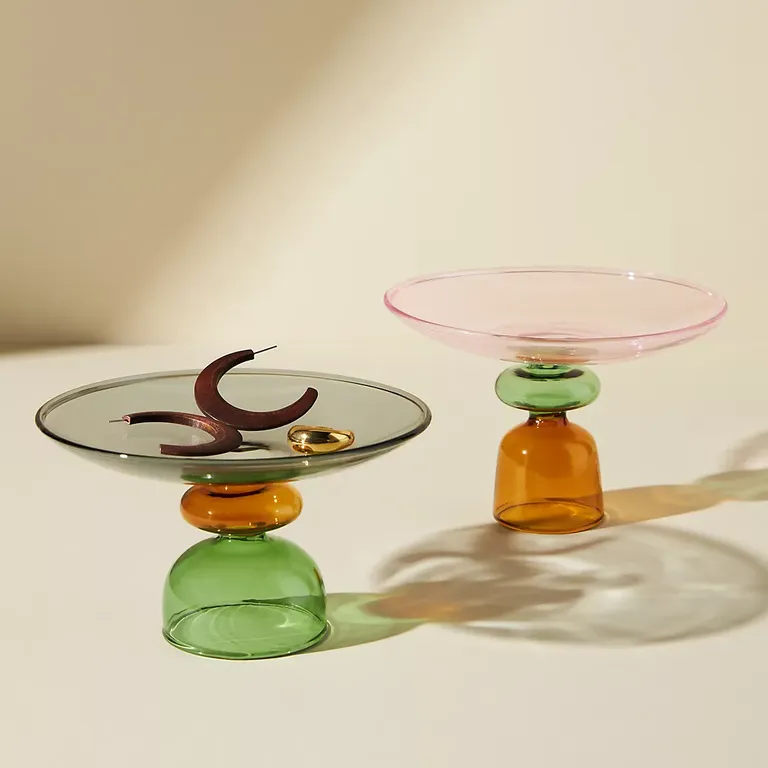 A delightful addition to a nightstand, dresser or vanity, this modernist dish is a mini work of art and functional all at once. Made from Borosilicate glass, the translucent bowl makes it easy to instantly spot your daintiest jewelry.
Round box Tema e Variazioni n.78
As a luxe option, this porcelain jewelry box comes with a hand painted, ornamental lid displaying the brand's legendary motif. The lid also serves as an easy way to keep your jewelry secure when you have company over.
Juniper Catch-All Dish
Topped with a retro-inspired print and a cute, wavy rim, this stoneware catch-all adds an instant pop of color to your bedside. Use the colorful dish to display your rings and brighten up and neutral space.
Shiloh Jewelry Dish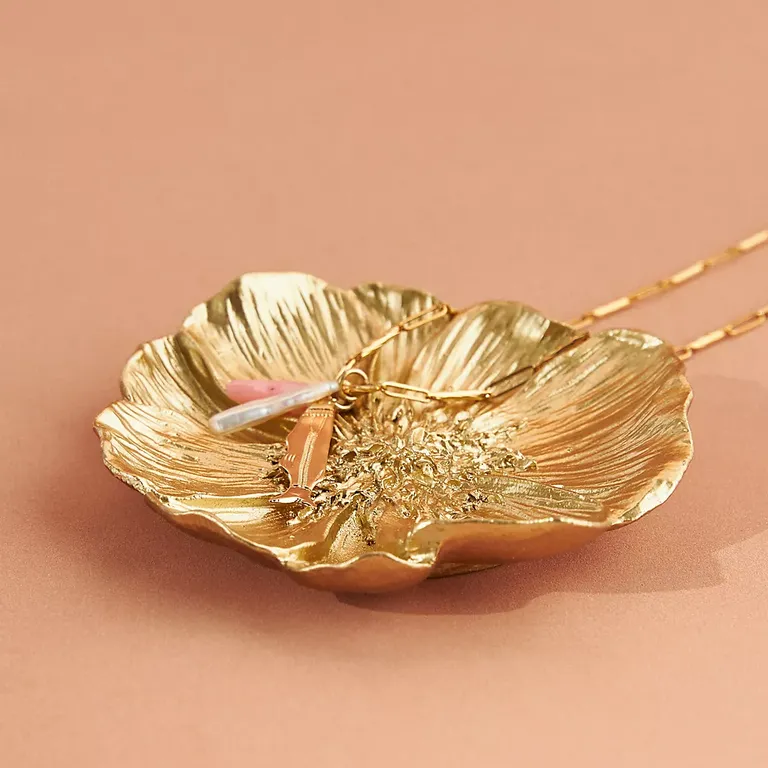 Keep your rings in this charming floral keepsake that could pass for an elegant antique. Use the double-decker structure to separate your rings from bulkier jewelry and chains.
Marbleized Porcelain Ring Dish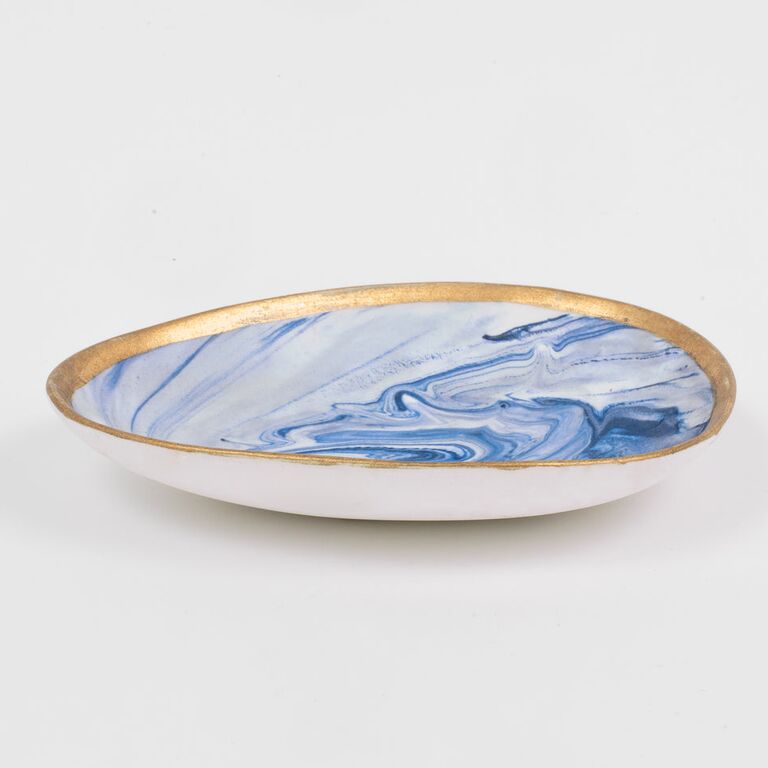 Crafted by Philippine artisans, this serene marble print, porcelain bowl is hand painted with a real gold edge. Whose jewels wouldn't want to stay here every night?
Collective Home Ceramic Jewelry Dish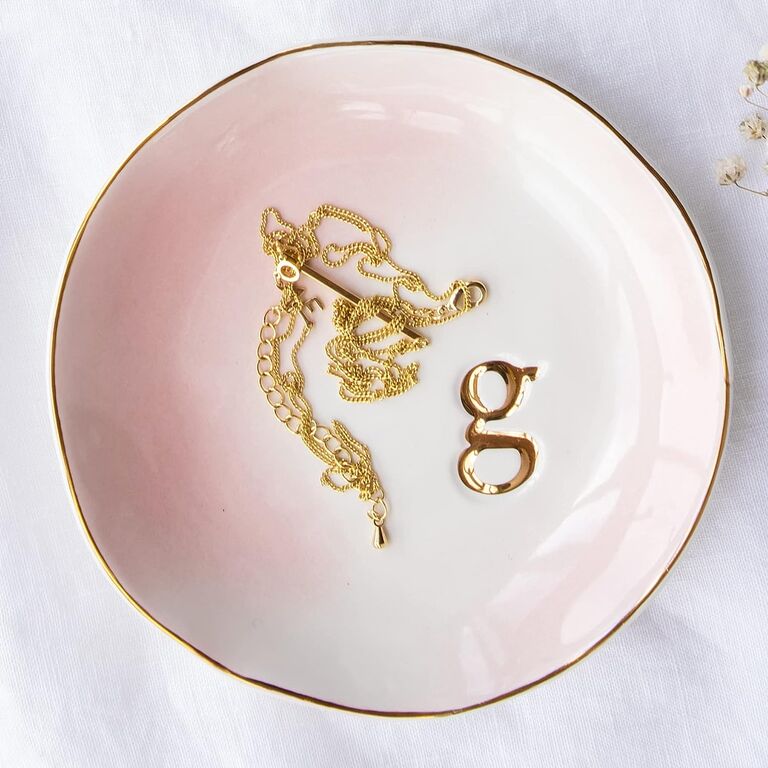 If you're gifting a jewelry dish to a newly engaged person, they'll absolutely love this high-quality ceramic option. Not only does the statement initial make it more meaningful, the brand provides a beautifully packaged gift box for each tray.
Infinity Wedding Ring Holder
This sleek wedding ring holder is constructed of wood, resin and a coat of glossy varnish which provides defense from water and fingerprints. The Etsy vendor also offers personal engraving options, from dates to initials and even illustrations, so you can really make it your own.
Miss To Mrs Ring Dish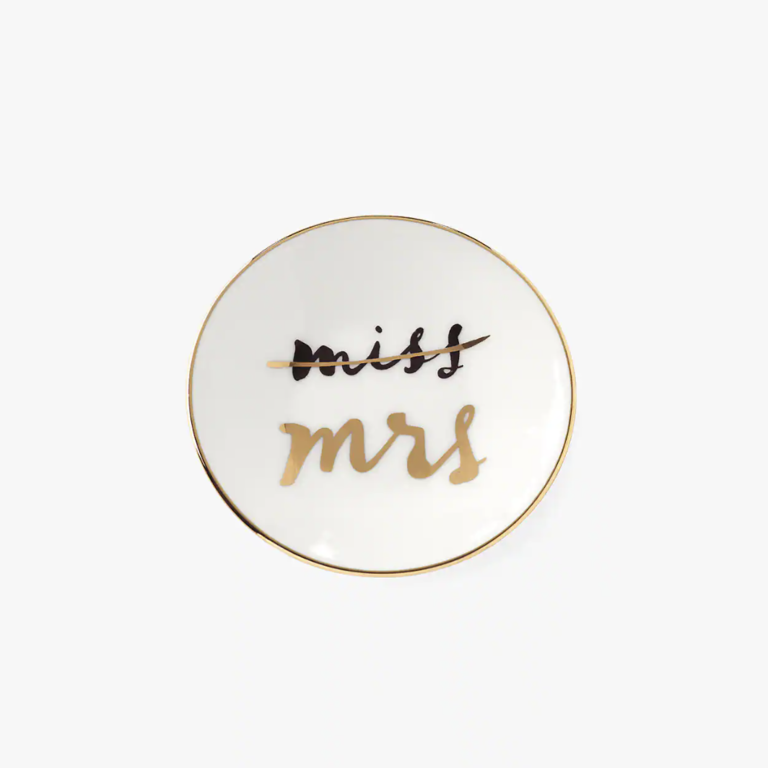 Celebrate your newly updated marital status with this adorable porcelain dish, that's guaranteed to make you smile. As a plus, the neutral design will blend perfectly with any type of room color scheme.
MacKenzie-Childs Queen Bee Trinket Dish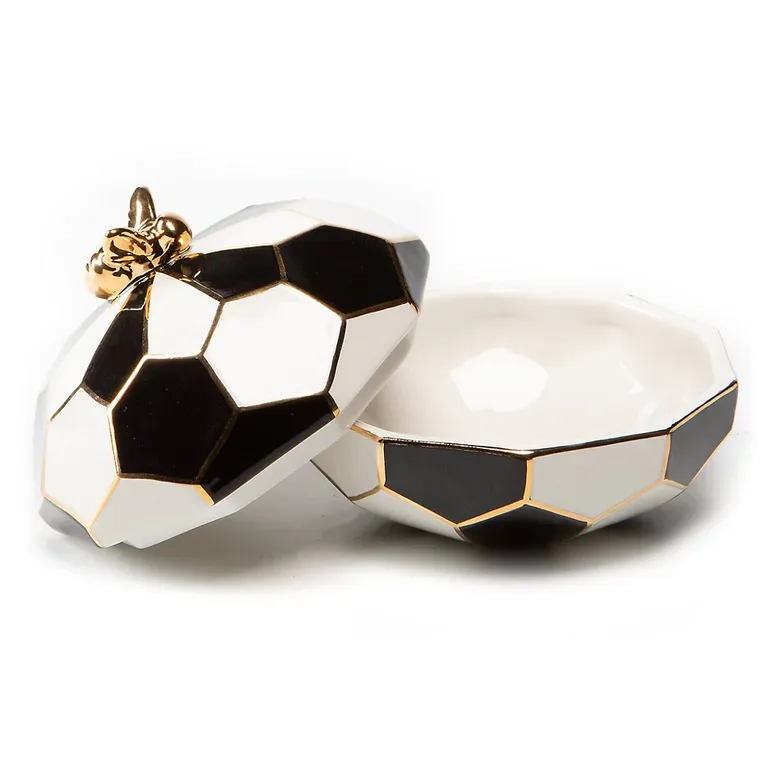 Decorated in a bold beehive pattern and a lustrous gold trim, this glamorous dish is all about storing your rings with style. Not only will the lid cover your valuables, it's embellished with a fabulous queen bee.
Kate Aspen "I Do" Diamond Ring Trinket Dish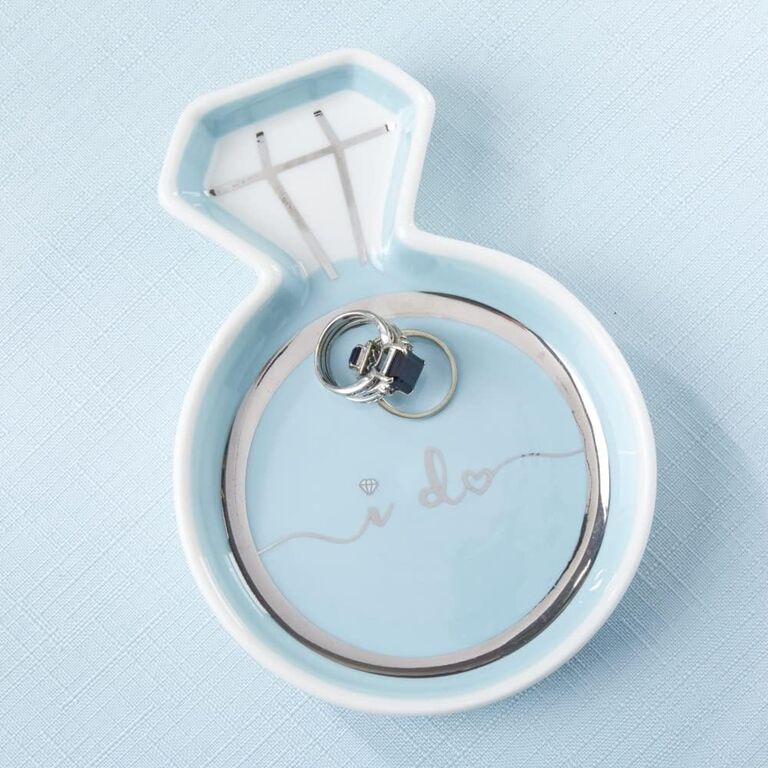 Bring on the bling! This white diamond, ring shaped porcelain trinket dish is the perfect reminder to take care of your "I do" jewels.
Nesting Dishes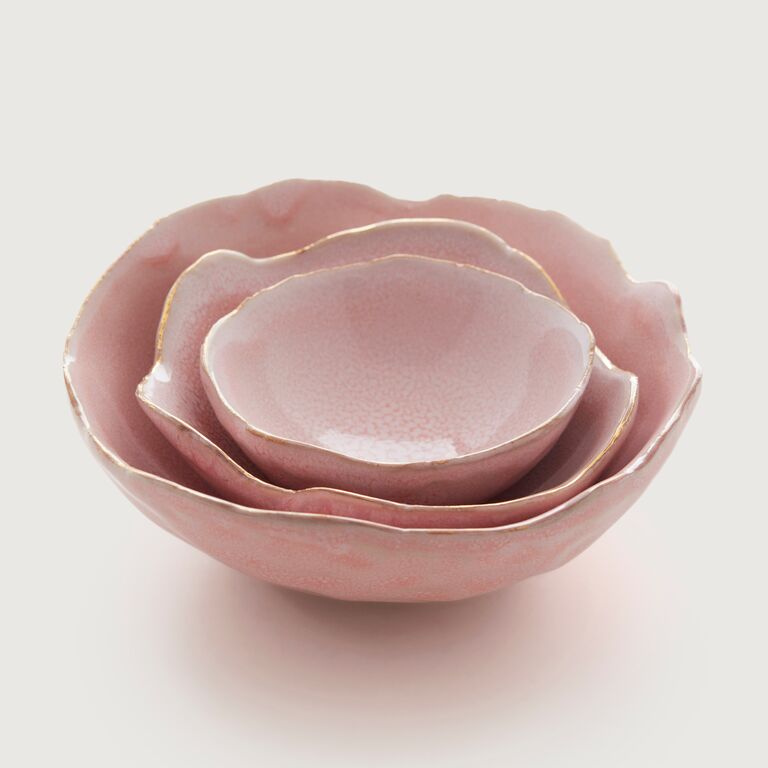 Each of these durable, stoneware dishes are truly one-of-a-kind pottery creations. Not only are they cute storage accessories, the minimalist bowls are a clean backdrop to keep the focus on your stunning ring.
'You're The Best' Ceramic Trinket Dish Cream/Blue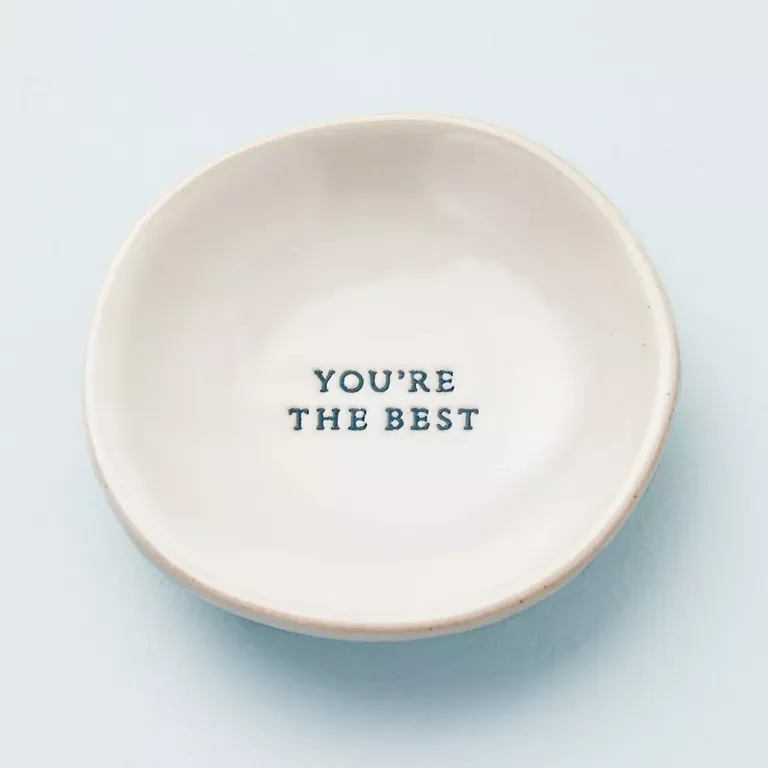 Add instant positive vibes to your day with this self-affirming bowl. Plus, the circular catch all is spacious enough to keep your rings, earrings and more contained and in easy reach.
Ring Tree Jewelry Dish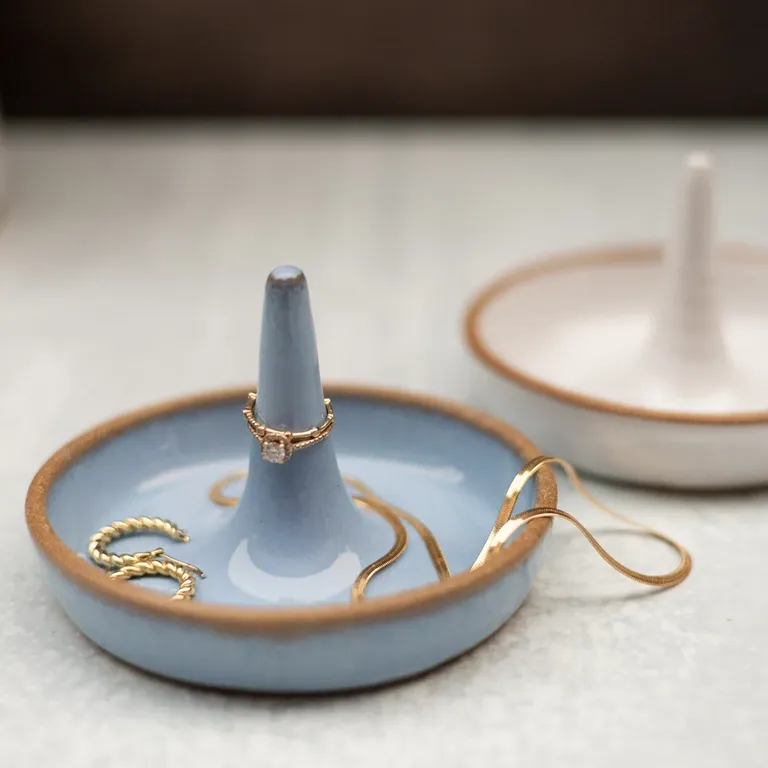 Available in 3 shapes and muted tones, these earthy ring trees are a convenient way to keep your rings organized and beautifully displayed. To make the dishes feel even more special, the vendor offers personalization options, including initials and dates.
Bat Trang Trinket Ring Dish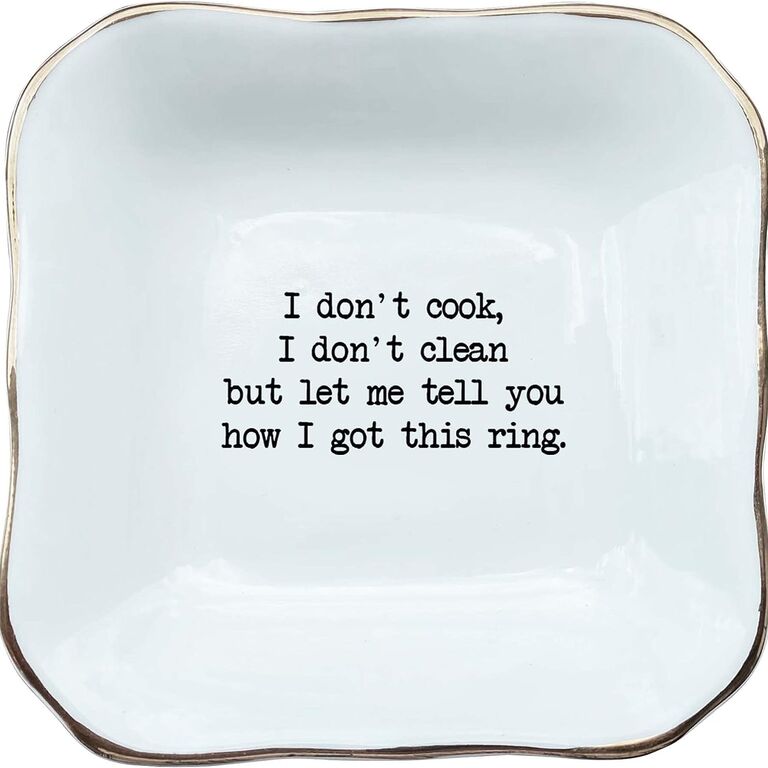 You'll chuckle every time you read the cheeky lyrics on this square dish, which are applied with an innovative method, so they'll never rub off. If you want to switch up the lyrics, the vendor also creates custom dishes with your preferred message.
Heart Dish Gold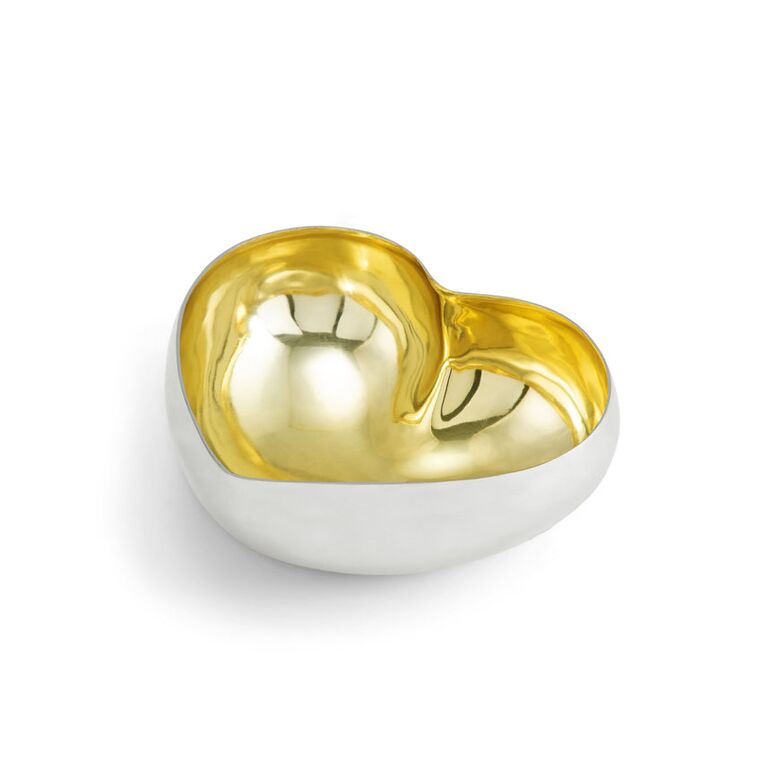 If you're a total romantic, this golden heart-shaped bowl is for you. Available in 3 sizes, the sculptural dish symbolizes love and affection, perfect for your new beginning.
Jungalow Sun Jewelry Dish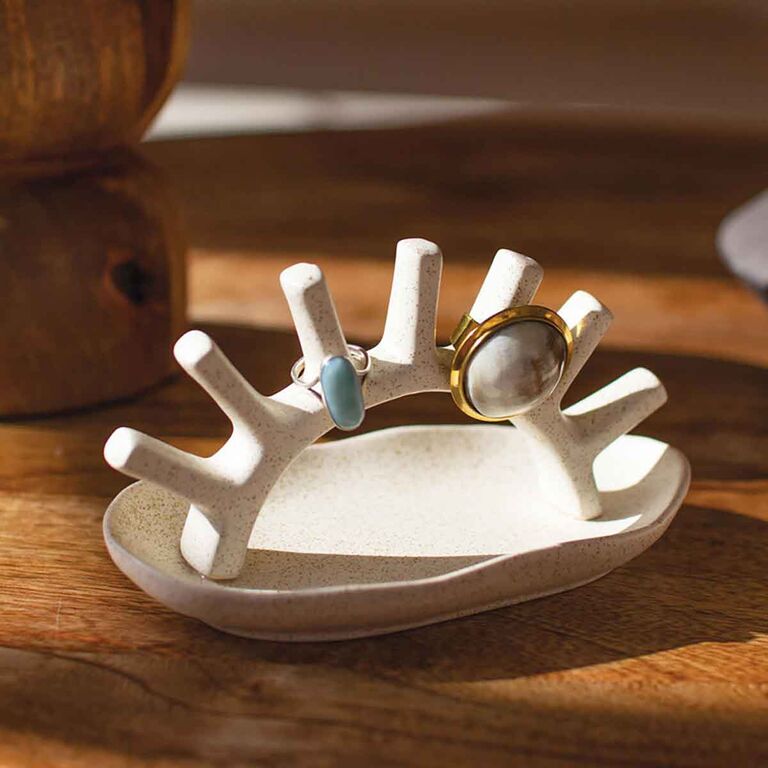 Perfect for modern rings, this unique jewelry dish mimics sun rays, providing practical storage to separate your diamond (to avoid any dirt or contaminants) from other jewelry. Also, the do-good brand partners with fair-trade facilities, uses recycled and repurposed materials, and offers discounted pricing for nurses and teachers.
Louise Bourgeois "Be Calm" Trinket Dish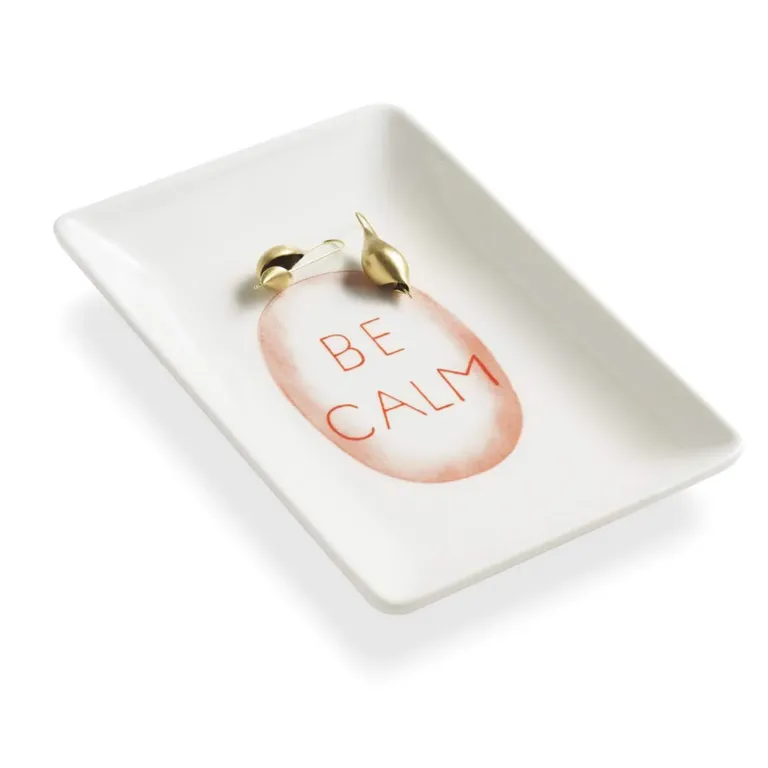 A great option for art lovers, this cool dish was inspired by avant-garde artist Louise Bourgeois's Be Calm piece.The zen message serves as a gentle reminder to de-stress and relax.
Why Should You Use A Ring Dish?
Using a ring dish when you have to take off your ring is the easiest way to avoid losing your engagement ring, especially if you keep it bedside or in your bathroom, so it's always within reach. Also, these mini decorative bowls separate your ring from the rest of your baubles, making it easier to find and less likely to get tangled in other pieces. If you plan on storing more than your ring in the dish, choose a design with separate ring prongs to protect the diamond and keep it clean. When it comes to aesthetics, ring dishes tend to double as home décor. Not only are they daintier than typical bulky jewelry storage options, they serve as an elegant way to display such a high-value and meaningful item.
Which Type Of Ring Dish Is Best?
Engagement ring dishes are available in a range of materials, prints, sizes and shapes. However, the best options have some key design elements that you should keep in mind. Ideally, you want to select a sturdy option made from durable materials like ceramic, marble or porcelain, which won't scratch your diamond. They are also easy to clean so you can protect your ring from dust and residue. Also, opt for a dish with raised edges to protect your ring from rolling off, especially if you accidentally hit the tray when reaching for your alarm clock. If you want a more discreet option or prefer a cleaner look, select a dish with a matching lid, which can serve as a precaution if you have lots of guests or outsiders coming in and out of your home. Lastly, choose a dish, whether it's classic or modern, that matches the style and vibe of your ring.