Keep Austin Weird at These 13 Must-See Rehearsal Dinner Venues
Check out these great venues in the Lone Star State.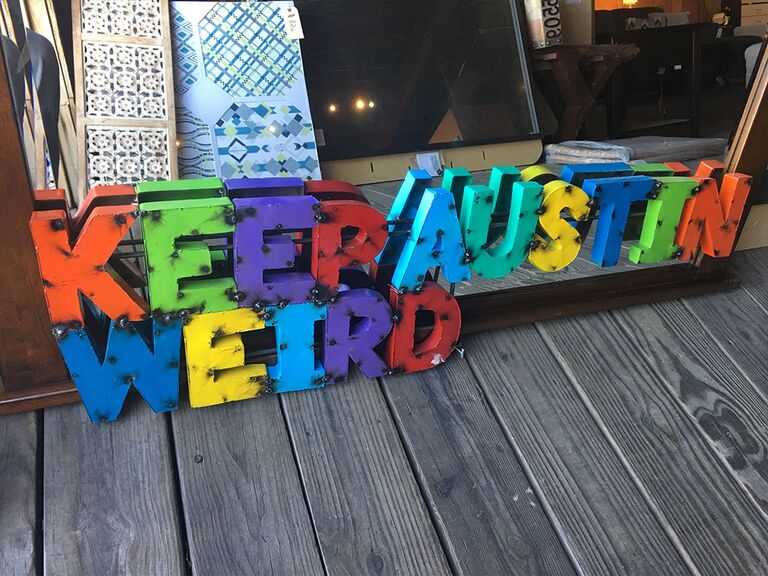 Shutterstock
If you're getting married in or around Austin, Texas, and looking for a space to host your rehearsal dinner, you're in luck! This area is the perfect mix of all of the things that make Texas great and the only downside is that you may have a hard time picking just one spot. (Beyond the picks below, you can find even more on The Knot Marketplace!)
In Austin, Texas, couples get to choose from ample venues that are located anywhere from the heart of the city to the countryside. Thanks to Austin's proximity to several lakes and waterways, you'll have your pick from any number of lakefront options as well.
It's true what they say, everything really is bigger in Texas. Some of these event spaces can accommodate nearly 300 guests, making them perfect for bigger rehearsal dinners and events that you'll never want to end. When choosing an event space in downtown Austin it's best to remember that traffic can be unpredictable, especially if the city is hosting one of its many festivals. You should also make sure you're including the extra expense in your budget since many venues in this area tend can average over $200 per hour. Check out this list of perfect spots for your pre-wedding day celebrations.
Hook & Reel in Austin, Texas
As the name suggests, the Hook & Reel is a perfect spot for couples looking to offer their guests some seafood fare. The menu boasts Cajun and Southern-style cooking and specializes in traditional seafood boils. If you'll be hosting landlubbers at your event, you'll be able to offer up a variety of other options—including pastas, salads, sliders, and po'boys—so nobody goes home hungry. If you like things hot, you'll love the extra kick the chefs serve up in every dish!
The large-scale venue can seat up to 300 people, making it the perfect meeting spot for all of your out-of-town guests. Get your wedding planner in on the fun if you need help arranging anything.
The Rackhouse at Desert Door in Driftwood, Texas
If you're looking for a warm, rustic venue that features contemporary touches you'll love The Rackhouse at Desert Door. Marketed as "desert modern," this event space is outfitted with several special touches you won't find anywhere else, like their private distillery tour and 28-foot-long bar that will hold a number of visitors as they prepare to celebrate your love.
The Rackhouse room can hold up to 75 people. If you need more space, you have the option to also rent out the Rackhouse Patio. The two spaces are only separated by a steel and glass door giving the feel of private dining rooms without feeling closed off.
Messina Hof in Fredericksburg, Texas
Nestled in Hill County, the Messina Hof winery is a great venue for your rustic-style Austin rehearsal dinner. The space has a lot of versatility and can be laid out in a variety of ways to meet your exact needs. The facility's picturesque backdrops will make for excellent photo opportunities as you and your loved ones pose before the endlessly beautiful natural scenery.
Messina Hof offers both indoor and outdoor seating and can comfortably fit up to 40 guests in the Hof room for a seated meal (it's also a great choice for a bridal shower location). The space also has a ceiling-mounted projector with a television that can be used to showcase photos or other memories ahead of your big day.
Cenote in Austin, Texas
Located just two blocks away from I35, Cenote is an easily accessible event space that will make your wedding rehearsal dinner go off without a hitch. The historic home has been converted into a restaurant, complete with a meticulously landscaped patio. Built in 1887, Cenote retains some of its Old-World charm while offering up the modern touches today's couples are looking for. Dubbed "East Austin's Neighborhood Patio Café," the Cenote is great for those looking to create an intimate experience no matter the size of your guest list (the space can seat up to 200).
Lighthouse on the Lake in Spicewood, Texas
If you're looking for a unique location that offers both great views and great fun look no further than the Lighthouse on the Lake. Located above Briarcliff Mariana, this event space has it all: boat rentals, live music, and of course great food! The chefs can help you plan the perfect menu for your rehearsal dinner, including a personalized menu for your dinner party.
With great views of the surrounding hills and waterways, you'll be hard-pressed to choose between the indoor and outdoor dining options. The Lighthouse on the Lake can accommodate up to 200 for an event that your nearest and dearest won't soon forget.
Austin Proper Hotels and Residence in Austin, Texas
Couples looking to combine a stylish location with modern amenities—the urban setting also means that it's close to all the local hotspots like Lady Bird Lake, Austin City Limits, and more—will love Austin Proper Hotels and Residence. Those who book here will have access to a dedicated event staff to help create the rehearsal dinner of their dreams. The 10,000-square-foot event space includes a rooftop pool, spa, and guest rooms for those who want to stay and take advantage of all the space has to offer. Trust us, you're going to fall in love the first time you walk through the door. The flexible private event space can be altered to make it perfect for up to 200 guests.
The Moss Ranch at Enchanted Rock in Llano, Texas
Ranches are a popular wedding venue but did you also know that they can be a great place to host a rehearsal dinner? The Moss Ranch at Enchanted Rock offers a flexible event space that is nestled within acres of natural landscape. You'll get privacy, space, and a team of dedicated staff members who will work to ensure your rehearsal dinner runs smoothly.
The Moss Ranch can help connect you with a local caterer and coordinate the on-site supplies needed to accommodate up to 150 partygoers, or you can ask your wedding planner for help picking the perfect catering options. This is truly a unique space that will leave you and your guests speechless.
Hill Country Tasting Room in Driftwood, Texas
Those who appreciate craft beer, wine, ciders, and meads made locally in the Lone Star State will be especially appreciative of all the Hill Country Tasting Room has to offer. The intimate venue space features brews from all over the great state of Texas, giving you and your guests a chance to sample them without having to travel outside of Driftwood.
The Hill County Tasting Room is perfect for more intimate rehearsal dinners and can accommodate up to 50 guests. All you need to do is bring your favorite caterer and the staff will do the rest!
The Velvet Co. Picnics in Austin, Texas
Luxury and customization abound when you choose Velvet Co. Picnics for your rehearsal dinner. The staff works tirelessly to create an individualized picnic experience for you and your rehearsal dinner guests in a variety of outdoor settings in and around Austin. First-time Austin visitors will love this option because it gives them a real taste of the city.
Every detail will be handled as the team works to plan a bespoke experience for up to 50 people. There are a variety of packages (and the ability to customize your own) so you're sure to find something that will serve as the perfect appetizer to the main course that is your big day.
Rocking M Ranch in Smithville, Texas
Those who host their rehearsal dinners at the Rocking M Ranch will get to experience 15 acres of beauty and amenities that feel a world away while being just an hour outside of the hustle and bustle of Austin. The family-owned ranch has a catering team that can handle the food while you and your guests take advantage of an in-ground pool fire pit, and the endless parade of native wildlife located on the event grounds. Opt for outdoor seating to really appreciate all the space has to offer.
You can share this one-of-a-kind Smithville experience with up to 200 guests. We have a hunch it will be a night that none of you will soon forget!
Vintage Villas in Austin, Texas
Situated off of Lake Travis, the Vintage Villas offers couples a chance to celebrate their pending nuptials among some of the scenic waterways Texas is known for. This event space draws inspiration from the ambiance of the Lone Star State and can be adapted to fit a variety of party sizes—Vintage Villas can seat up to 299 guests—while still offering every person who walks through the door VIP service.
The sun-drenched event rooms feature floor-to-ceiling windows, which means that Lake Travis will always be visible as you mingle with your guests. They also host plenty of corporate events, so they're experienced with large parties.
The Vineyards at Chapple Lodge in Austin, Texas
Looking for a country feel within the city limits? You'll want to check out The Vineyards at Chappel Lodge. This rehearsal dinner event space sits on 53 acres of land and is only a short 10-minute drive from downtown. Chapple Lodge offers you custom lighting and sound to help make your rehearsal dinner as unique as you are. It will be hard for couples to pick from all of the picturesque options, from the event lawn, reception terrace, and center courtyard, since each space offers its own beautiful setting and outdoor seating options. Accommodation sizes vary, contact staff directly to get more information or come in for brunch to get a feel for the space.
UMLAUF Sculpture Garden & Museum in Austin, Texas
Take in some of the history of Austin by booking your rehearsal dinner at the UMLAUF Sculpture Garden & Museum. This space is located a short drive from downtown and exudes natural charm. The grounds feature ponds, beautiful pathways, and Charles Umlauf's famous bronze and stone sculptures. The covered terrace and lawns are perfect for welcoming up to 250 of your guests and can be outfitted for anything from a cocktail and hors d'oeuvres fete to a full sit-down dinner. The outdoor spaces can also be fitted with twinkling lights and tents to create an intimate and romantic atmosphere.