Everything You Need to Know About Getting Married in Texas
Look to The Knot for local details about getting married in Texas, from choosing your wedding venue to getting your marriage license.
Ultimate Guide to Getting Married in Texas
Texas may be known as the Lone Star State, but its name derives from the Native Caddo people's word for friends or allies. This friendly name helps to symbolize the state's warm and friendly atmosphere, one of the many traits that make Texas such a wonderful place get married. From the Gulf Coast to the southern deserts and the lush central hill country, you'll get to choose from a variety of wedding venues in Texas that are each beautiful in their own special way.
With so many wonderful places and venues to choose from for your Texas wedding, you may be feeling overwhelmed by the prospect of planning. But whether you're a proud native Texan or just an admirer who lives elsewhere, this guide will help break down the wedding planning process into different areas that you can tackle step by step. Follow your wedding checklist to make sure everything is done on time.
Top Wedding Trends in Texas

As you kick off your wedding plans, it might be helpful to understand wedding the trends in your area. According to The Knot 2015 Real Weddings Survey, couples tend to spend at least a year being engaged before getting married in Texas. This is true in most parts of the state except for West Texas, which had an average of about 10 months of engagement. So, if you feel like taking your time and giving yourself space to plan, you'll be in good company with other couples.
When it comes to overall wedding style, Texas had some of the highest proportions of casual weddings in the country in 2015. Weddings in Houston and eastern Texas, where nearly a quarter of couples reported having black-tie weddings in 2015, were the only exception to this trend. Overall, though, semiformal weddings were the most popular in all regions of the state. The main takeaway here is that you can feel free to do what works for you for your Texas wedding, whether that's groomsmen in boots and jeans, straight-up black-tie elegance or somewhere in between.
One wonderful aspect of a Texas wedding is the opportunity to incorporate some of the state's cultural traditions into your celebration. Whether you give a nod to Texas fashion by wearing cowboy boots under your wedding dress or honor Mexican heritage by having a live Tejano band play your reception, you can season conventional American wedding traditions with Texas flavor.
You can also incorporate more formal Texas wedding traditions such as a "house party" of honorary bridesmaids to take on duties such as ushering or reading excerpts during the ceremony. There are plenty of opportunities to embrace local culture while getting married in Texas, from a country-casual rehearsal dinner to a reception dinner that features barbecue or Tex-Mex.
Texas Marriage Rates and Wedding Costs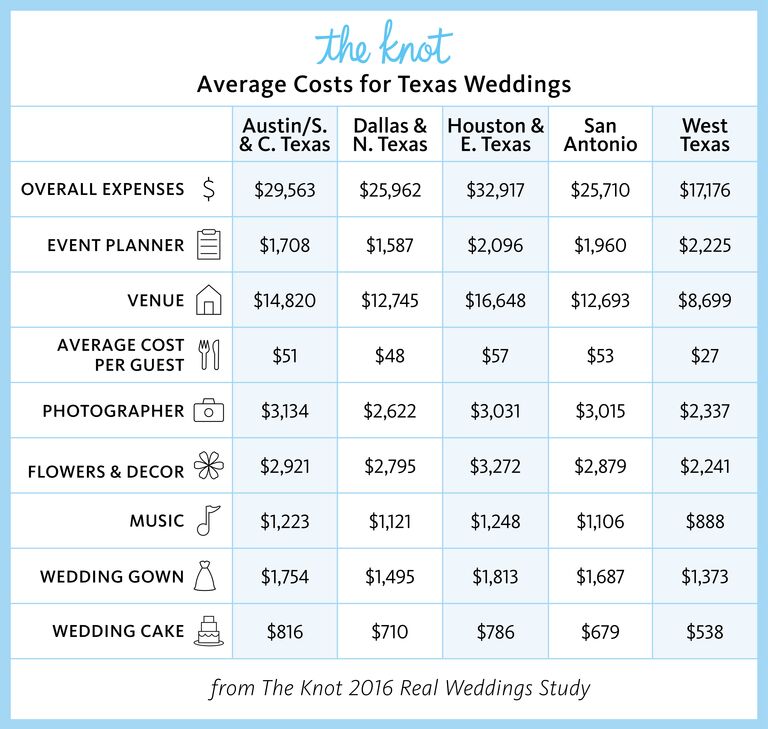 Your creative wheels are probably already turning out great ideas for your Texas wedding. But you may be wondering what you can accomplish and what you can afford. Budget isn't usually the fun part of a wedding, but it is a necessary step in the process.
Important Texas Wedding Budget Facts and Figures
So how many couples are actually getting married in Texas? Turns out that marriage rates in the state hover at 6.9 per 1,000 people. Hundreds of Texas couples responded to our 2015 Real Weddings Survey, and they revealed interesting insights into wedding budgets. Getting married in Texas can either be quite expensive or quite affordable, depending on where you get hitched and how you approach the process.
Budget Breakdown: Details on How Budgets Are Distributed for Texas Weddings
Houston's ranking as one of the most expensive places to get married may be explained by its correlating high proportion of black-tie weddings. Still, that doesn't necessarily tell the whole story. If you want to be able to plan your budget and pull off a beautiful Texas wedding on a dime, consider the budget breakdown averages for different parts of the state listed in the chart above. This may help you get a handle on where the most expensive Texas wedding venues are and how you can save money by taking on some DIY projects. You can also use our budget tool to help keep you on track as your wedding day approaches.
Top Cities in Texas to Tie the Knot
From Austin to Corpus Christi and Dallas to College Station, there are a variety of wedding venues in Texas that stretch across state. However, the following five places stand out as the most popular wedding destinations in the state:
Make It Legal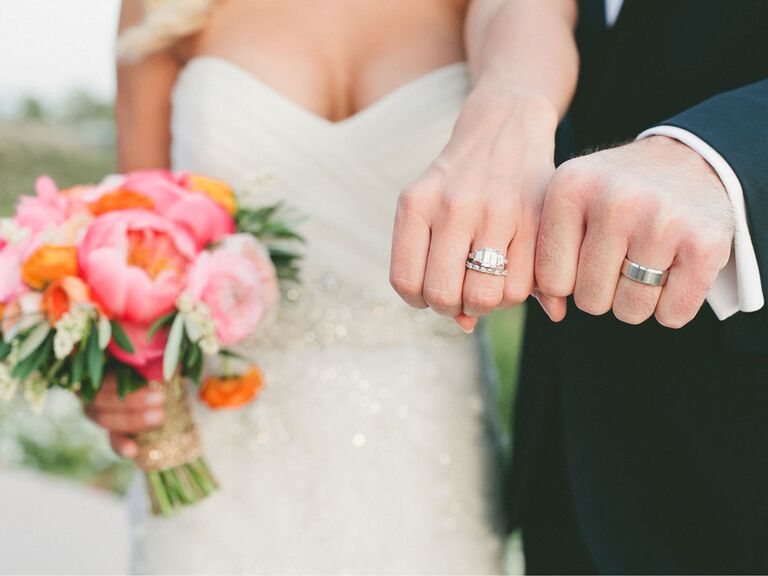 While we hope that planning your wedding feels like it's filled with fun events like cake tastings and finding the perfect DJ or band, there are some strings attached to tying the knot in the Lone Star State. Understanding the ins and outs of not only getting your Texas marriage license, but also taking care of details like permits and changing your name(s), is equally important in the weeks and months leading up to saying "I do."
Getting a Texas Marriage License: The Basics
You can get a marriage license in Texas by visiting a county clerk's office in any Texas county. You can apply in a different Texas county from where you will be married, but you'll have to return the completed license to the same county where you applied after your ceremony. A copy of the license will then be filed at that county clerk's office, and the original license will get returned to you.
Though licenses are issued on the county level, Texas marriage laws dealing with the license apply throughout the entire state. For example, the State of Texas requires a 72-hour waiting period between receipt of the marriage license and the actual performance of the marriage. There are some exceptions; for example, members of the military and other employees of the Department of Defense don't have to wait.
It's probably best to apply a few weeks before your Texas wedding date if you can; you'll have 90 days before your license expires, which gives you plenty of time to plan ahead. When you both appear before the clerk, you will need to meet the following requirements to get your Texas marriage license:
Present valid government photo ID (e.g. driver's license, ID card or passport) proving that you are each at least 18 years old
Fill out the application
Repeat the oath listed on the application
Sign the application in front of the clerk
Pay the application fee
Legal Considerations for Your Texas Marriage Ceremony
Getting a license is only the first step to following Texas' marriage laws. After you get your marriage license in Texas, you'll need to find an approved person to conduct your ceremony. Luckily, Texas' laws about marriage officiants are simple. The following people are authorized to conduct your Texas wedding ceremony:
A licensed or ordained minister or priest, a rabbi, or other religious officer authorized to conduct wedding ceremonies
An active or retired federal or Texas state or county judge or justice of the peace
As long as your officiant meets these requirements and is competent to fill out his portion of your marriage license, you'll be good to go. Your officiant won't need permission from the state, and Texas doesn't require registration for wedding officiants.
Other legal requirements, such as whether your Texas wedding will require a permit, depend on local laws. The City of Galveston, for example, doesn't require permits for weddings held on public beaches so long as the event doesn't disrupt the public use of the space and doesn't involve the use of chairs or amplifiers. Corpus Christi doesn't require weddings in public parks to get permits, but you will have to notify the park management staff and work with them to organize your event. To get married in one of Houston's public parks, however, you'll need to get a permit. Working with an experienced event planner who's local to the area where you're getting married in Texas can help you avoid having to deal with these kinds of logistical headaches.
Legal Name Change Procedure
The last legal hurdle you'll have to clear for your Texas wedding is changing your name(s). If either or both members of the happy couple want to change their names, you can use your completed Texas original marriage certificate or a certified copy of the license as proof of marriage for your state DMV name change. After that, you'll just need to go through the process of changing your name on your bank accounts, government IDs, credit cards, bills, work payroll account and any other accounts with your name.
It's All About Timing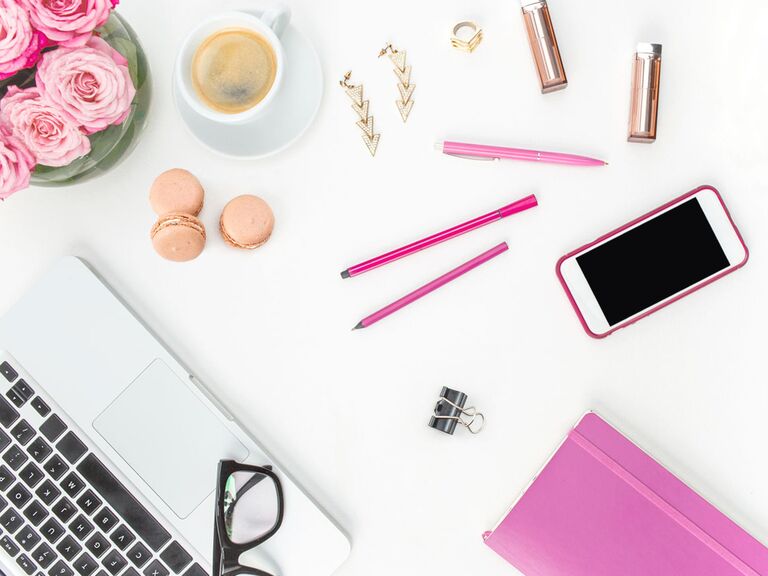 OK, so you know how to get married in Texas and how much it might cost you, but when are you going to do it? Whether you're considering outdoor Dallas wedding venues or plan to get married indoors in Austin, timing your Texas wedding is important. Across all regions in the state, winter is the least popular season for getting married in Texas. Spring is a common choice, with about a quarter of weddings in all parts of the state except for West Texas happening during this time of year. West Texas is the only region where the majority of 2015 weddings took place in summer; in the rest of the state, fall was the most popular Texas wedding season.
Weather is often a common influence on when couples choose to get married. But even if you aren't too worried about weather, there are other things to consider when setting a date, especially if you or any of your guests are travelling a long way to get to your final wedding venue destination.
The Four Seasons in Texas
If you don't live in Texas and haven't spent a lot of time in the Lone Star State, you may have some assumptions about Texas weather. But in reality, the weather here varies quite a bit by region, which makes sense considering the state's massive size.
The eastern region, particularly toward the south near the Gulf Coast, is considered a humid subtropical climate, while the western parts of the state are more arid. Hot summer temperatures are consistent across the area, and it isn't uncommon for highs to extend into the triple digits in most parts of the state. Winter is usually fairly mild throughout most of the state, but desert communities can see temperatures drop below freezing after the sun goes down, and the Panhandle sometimes experiences snow. Spring and fall are typically less extreme as far as temperature is concerned.
However, spring and fall can bring severe weather to Texas, which is generally considered one of the most tornado-active states in the country. Late spring and early summer are the most tornado-prone times of year here. April and May bring heavy rainfall across much of the state, too, which can result in flooding. Summer also brings the risk of hurricanes in the coastal region. Overall, fall is the most uneventful time of year for Texas weather, which may explain why so many people choose this season for their weddings.
Texas Wedding Dates to Avoid
Because Texas is such a massive state with so many different cultural pockets, it can be difficult to pin down a list of specific dates-to-avoid that apply to the entire state. If you want to plan a Texas wedding that involves minimal traffic concerns and avoids other logistical headaches, you may want to shy away from major sporting events in Texas's big cities. This includes college and even high school football. Historically relevant holidays that are local to Texas and aren't generally celebrated in the US are another thing to look out for when setting a date.
Avoiding schedule clashes with popular holidays and events that attract tourists may help you and your guests save some money. See our comprehensive guide to these dates in 2016, 2017 and 2018. And here are some annual and upcoming events to think about as you consider where and when you will be getting married in Texas:
State Fair of Texas (Late September - October, Dallas)
Super Bowl LI (February 5, 2017; Houston)
Mardi Gras (February annually; Dallas, Galveston, Port Arthur and more)
Texas Independence Day (March 2 annually; Statewide)
South by Southwest aka SXSW (March annually; Austin)
San Jacinto Day (mid-April annually; Statewide)
West of the Pecos Rodeo (June annually; Pecos)
Austin City Limits Festival (September/October annually; Austin)
Tyler Rose Marathon and Half Marathon (October annually; Tyler)
Great Guest Experiences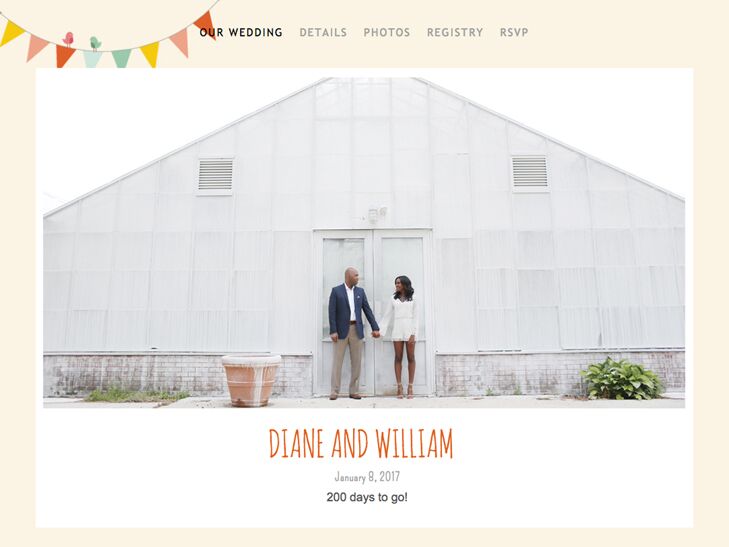 Helping your guests feel comfortable and welcome is one of the key ingredients to wedding success. With such a wide variety of unique wedding venues in Texas—from rustic barns to luxe private clubs—there are so many places for a celebration that is a true reflection of your couple style while also making it fun for your friends and family. No matter where you choose to get married, giving your guests a great experience starts with you creating your very own wedding website. It's a great way to keep everyone connected and informed.
Finding Your Way: Texas Travel Info
Texas may be massive, but it's pretty well connected. All of the big cities, including Dallas, Austin, Houston, Corpus Christi, El Paso and Laredo, have international airports. There are a lot of smaller regional airports throughout the state as well, meaning international and interstate travelers can easily get close to where you're getting married in Texas. Metropolitan cities such as Austin, Dallas, Houston, San Antonio, El Paso and Corpus Christi all have public transit systems that your guests can use to get around town, as do smaller cities and even many rural areas.
There are many Texas wedding venues that aren't close enough to an airport or public transit system to be reachable by any means other than driving there in a car. Luckily, Texas' highway system is easy to navigate. Interstates 10, 20, 35 and 40 are just a few of the major roadways that help connect the more rural areas in the state to big cities with airports or neighboring states such as New Mexico and Oklahoma. Texas' interstate highway system in total covers more than 3,000 miles, and many of these interstates connect with smaller state highways that will get you and your guests where you want to go.
Around Town: What to See and Do in Texas
From the panhandle to the Mexico border, the activities, events and attractions across the state of Texas are wonderfully diverse. There are historical sites galore, tons of outdoor activities and a wide variety of cultural experiences for guests to enjoy both before and after your wedding day.
Here are some of Texas's top tourist attractions:
Dallas Museum of Art (Dallas)
Texas State Capitol (Austin)
President LBJ's Texas White House (Stonewall)
The Alamo (San Antonio)
McDonald Observatory (Fort Davis)
Big Bend National Park
The San Antonio River Walk (San Antonio)
Space Center Houston (Houston)
Go Local: Food and Favors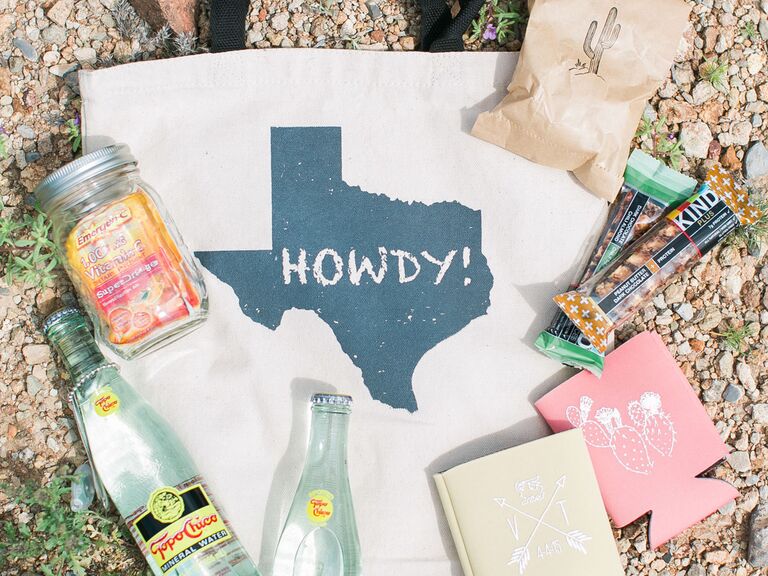 Texas pride is just about as big as the state itself, and even if you're not a native, you'll be missing out if you don't embrace some of that local flavor while getting married in the Lone Star State. Here are some ideas for showing exactly why one shouldn't mess with Texas.
Texas Flavors: Unique Regional Foods for Your Wedding
As far as culinary culture is concerned, Texas has some of the most distinctive and unique offerings of any state in the union. How many other states have had their names applied to an entire class of cuisine? But Tex-Mex isn't the only kind of food that's got undeniable Texas roots.
From barbecue and creole cooking to chili con carne and frozen margaritas, there are lots of ways large and small to make a nod to local culinary culture for your Texas wedding. Even pecan pie is considered a local staple, as Texas is one of the major pecan-producing regions in the world. And Dr Pepper was invented here, too. If these foods seem a little too casual for the kind of wedding reception dinner you're envisioning, why not have a Texas-themed rehearsal dinner? You can also talk to your reception caterer about a concocting refined or gourmet version of a classic Texas dish for a formal dinner that won't get barbecue sauce all over the bride's dress.
Treat Your Guests Well: Excellent Texas Wedding Favors
With so many wonderful local treats, coming up with take-home treats for your Texas wedding guests should be a breeze. Even if you're on a budget, a home-baked mini pecan pie or a shapely glass bottle of Dr. Pepper will go a long way toward leaving your guests with fond memories of your wedding celebration. Check out The Knot Shop for personalized wedding favors, and here are some more Texas ideas to get you inspired:
Anything with the silhouette of the state, from belt buckles to custom-printed beer coozies. Texas's outline is so iconic, it's instantly recognizable all across the globe.
A bottle of custom-labeled Texas barbecue sauce
A bag of secret-recipe chili spices with a printed chili recipe
A bandana or other small item printed with the iconic Lone Star state flag
Small packets of bluebonnet seeds
Locally produced leather goods such as keychains or notebooks
Texas City Guides
As the largest state in the lower 48, Texas has a lot of different areas for you to discover, from wooded forests and dry deserts to small towns and bustling cities. Though there are plenty of lovely Texas wedding venues, ultimately, only one will end up being your special place. How you choose is up to you, but you may want to start by researching what kind of wedding professionals are available in the area. Our marketplace provides an easy means of finding vendors in all of the Lone Star State's far-flung corners. Here are a few examples in the state's largest cities to get you started.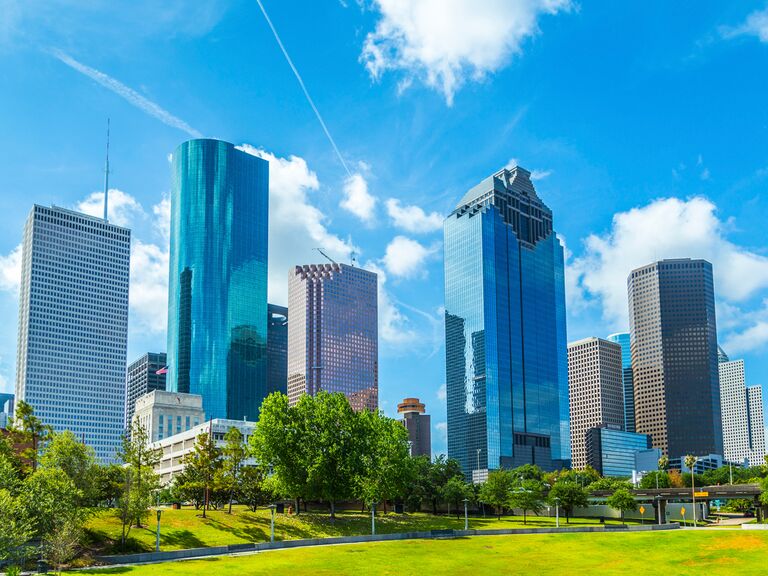 As Texas' most populous city, Houston is large and in charge. This big city has just about anything you could want, from world-class museums and luxury hotels to intimate private homes and beautiful public parks. Weddings in Houston can be formal and impressive or casual and welcoming, depending on your style and budget. Take a look at these vendors to start planning your Houston wedding:
A large city with a rich history and bright future, San Antonio has many beautiful places for you and your guests to enjoy during your wedding celebration. From the River Walk to the Alamo, San Antonio is an entertaining location for your Texas wedding. Start looking for vendors and locations for your San Antonio event now: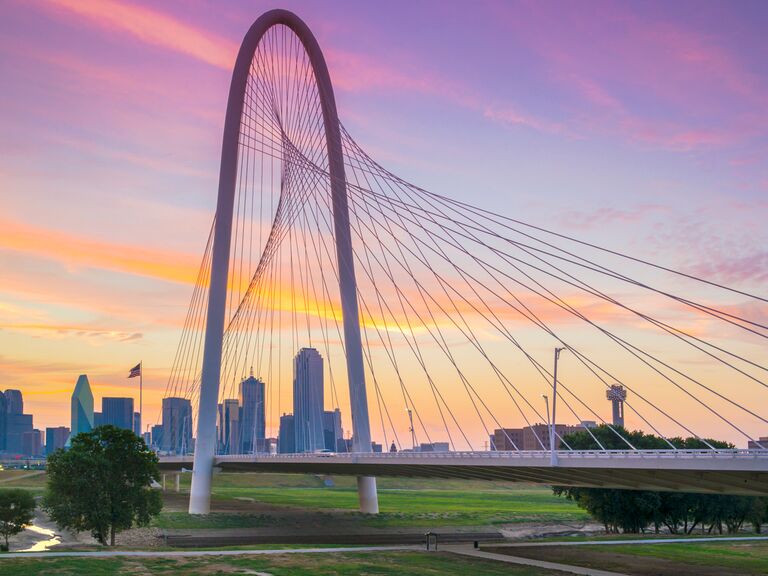 Bright and beautiful, Dallas has earned its reputation as a city of glamour. From arboretums to historic churches, this Texas big city offers a wealth of gorgeousness for couples tying the knot. Whatever the style of the Dallas wedding venues you're considering, you'll probably need some help to have the kind of wedding you want. Get the ball rolling on your wedding planning process by looking at some local vendors: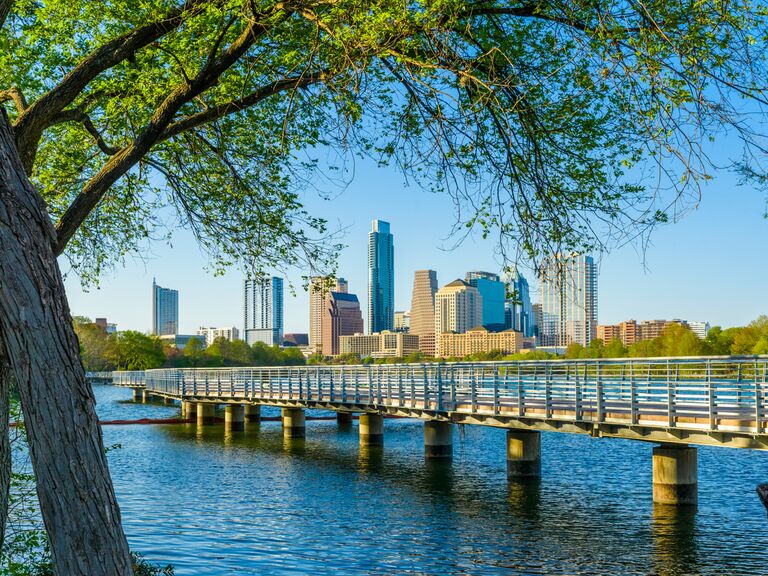 Austin is a capital for many things: it's the seat of Texas' state government, but it's also one of the most indie-friendly cities in the country. The young and hip flock here and large numbers, but that doesn't mean you can't find plenty of traditional Austin wedding venues, too. With an outstanding food scene and tons of live music and other cultural resources, Austin is a great city for your Texas wedding. Start looking at local vendors: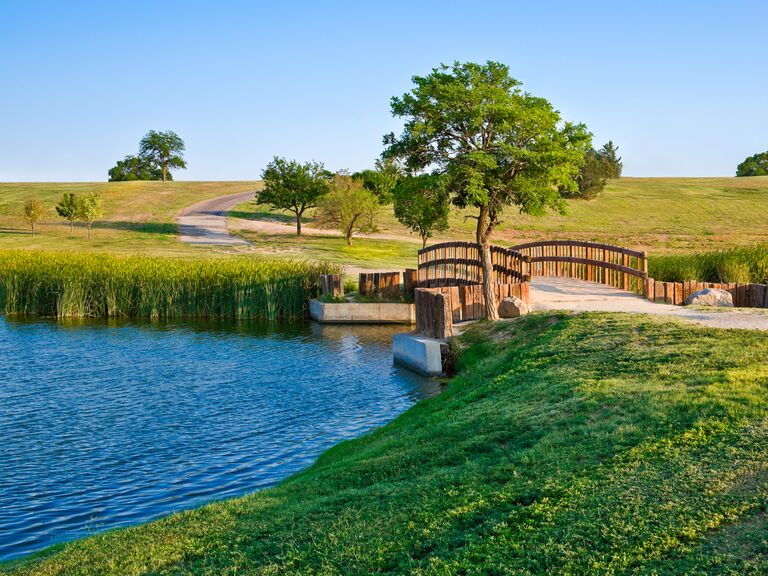 As one of the largest cities in the northwestern part of the state, Lubbock is a great resource for couples getting married throughout the Texas panhandle. This high plains area offers a lot of beautiful outdoor sites for an open-air Texas wedding. Look up some local vendors to start your wedding planning process:
Check out more Texas wedding inspiration here.

Don't forget to download The Knot Wedding Planner app—it's a must-have for on-the-go planning.
Download for iOS: Wedding Planner App by The Knot

Download for Android: The Knot Wedding Planner