7 Romantic Readings for an LGBTQ+ Ceremony
We love these thoughtful, moving and loving readings for LGBTQ+ wedding ceremonies.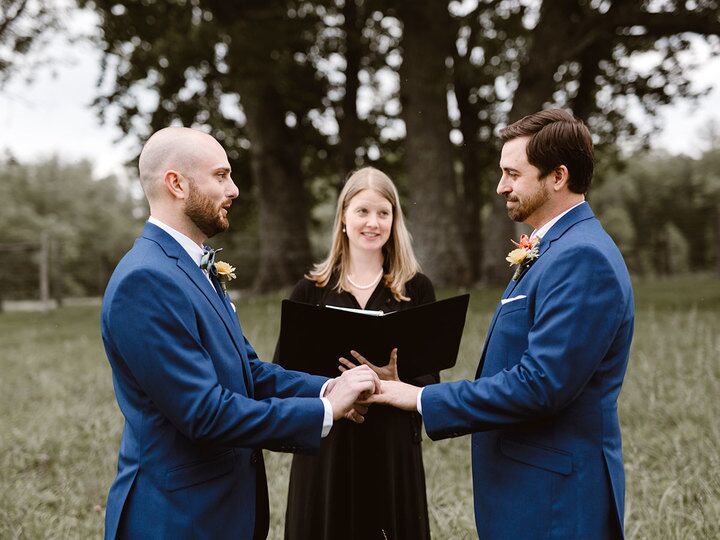 Erin Morrison Photography
Readings can infuse personality and romance into a ceremony but, admittedly, it can be tough to find writers who waxed poetic in a gender-neutral manner. We pulled seven ceremony-worthy readings from our favorite poems, children's books and even court rulings, that celebrate love, give a nod to the LGBTQ+ community and reflect couples across the spectrum.
1. On June 26, 2015, US Supreme Court Justice Anthony Kennedy read a majority opinion that changed the lives of millions of Americans, bringing marriage equality nationwide. Not only was this ruling historic, it was downright poetic.
"No union is more profound than marriage, for it embodies the highest ideals of love, fidelity, devotion, sacrifice, and family. In forming a marital union, two people become something greater than once they were. As some of the petitioners in these cases demonstrate, marriage embodies a love that may endure even past death. It would misunderstand these men and women to say they disrespect the idea of marriage. Their plea is that they do respect it, respect it so deeply that they seek to find its fulfillment for themselves. Their hope is not to be condemned to live in loneliness, excluded from one of civilization's oldest institutions. They ask for equal dignity in the eyes of the law. The Constitution grants them that right."
—Justice Anthony Kennedy, Hodges v. Obergefell
2. Speculated to be gay or bisexual, Walt Whitman's works were labeled as provocative for their time. But the last stanza in his "Song of the Open Road" evokes an incredibly romantic adventure—and what's more adventurous than happily ever after?
"Camerado, I give you my hand!
I give you my love more precious than money!
I give you myself before preaching or law;
Will you give me yourself? Will you come travel with me?
Shall we stick by each other as long as we live?"
—Walt Whitman, "Song of the Open Road"
3. Mary Oliver's work entwines love, nature and observances, and she was greatly inspired during walks around her home in Provincetown, Massachusetts, which she shared with her partner, Molly Cook, for 40 years until Cook's death in 2005.
"When we are driving in the dark,
on the long road to Provincetown,
when we are weary,
when the buildings and the scrub pines lose their familiar look,
I imagine us rising from the speeding car.
I imagine us seeing everything from another place—
the top of one of the pale dunes, or the deep and nameless
fields of the sea.
And what we see is a world that cannot cherish us,
but which we cherish.
And what we see is our life moving like that
Find your kind of venue
From barns to ballrooms, discover reception venues that feel like you.
along the dark edges of everything,
headlights sweeping the blackness,
believing in a thousand fragile and unprovable things.
Looking out for sorrow,
slowing down for happiness,
making all the right turns
right down to the thumping barriers to the sea,
the swirling waves,
the narrow streets, the houses,
the past, the future,
the doorway that belongs
to you and me."
—Mary Oliver, "Coming Home"
4. Before the 2015 SCOTUS ruling, the Massachusetts Supreme Judicial Court ruling that made the state the first to legally recognize same-sex marriage was the most popular reading during gay wedding ceremonies. It still remains at the top of the reading list, particularly for couples who like to highlight the history of equality in their ceremony.
"Marriage is a vital social institution. The exclusive commitment of two individuals to each other nurtures love and mutual support; it brings stability to our society. For those who choose to marry, and for their children, marriage provides an abundance of legal, financial, and social benefits. In return it imposes weighty legal, financial, and social obligations....Without question, civil marriage enhances the 'welfare of the community.' It is a 'social institution of the highest importance...
Marriage also bestows enormous private and social advantages on those who choose to marry. Civil marriage is at once a deeply personal commitment to another human being and a highly public celebration of the ideals of mutuality, companionship, intimacy, fidelity, and family.... Because it fulfills yearnings for security, safe haven, and connection that express our common humanity, civil marriage is an esteemed institution, and the decision whether and whom to marry is among life's momentous acts of self-definition."
—Judge Margaret Marshall, Goodridge v. Department of Public Health
5. Taken from the popular YA novel Wild Awake, this excerpt can be interpreted as a celebration of individuals' identities, and the journey of becoming yourself, no matter where that may be on the gender-identity spectrum, and finding that special person who loves you for being you.
"People are like cities: We all have alleys and gardens and secret rooftops and places where daisies sprout between the sidewalk cracks, but most of the time all we let each other see is a postcard glimpse of a skyline or a polished square. Love lets you find those hidden places in another person, even the ones they didn't know were there, even the ones they wouldn't have thought to call beautiful themselves."
—Hilary T. Smith, Wild Awake
6. This reading from children's book The Velveteen Rabbit is particularly popular amongst LGBTQ couples, thanks to its non-gendered verbiage. We love the idea of a child reading this, for an extra touch of "awww."
"What is REAL?" asked the Rabbit one day, when they were lying side by side near the nursery fender, before Nanna came to tidy the room. "Does it mean having things that buzz inside you and a stick-out handle?"
"Real isn't how you are made," said the Skin Horse. "It's a thing that happens to you. When a child loves you for a long, long time, not just to play with, but REALLY loves you, then you become Real."
"Does it hurt?" asked the Rabbit.
"Sometimes," said the Skin Horse, for he was always truthful. "When you are Real you don't mind being hurt."
"Does it happen all at once, like being wound up," he asked, "or bit by bit?"
"It doesn't happen all at once," said the Skin Horse. "You become. It takes a long time. That's why it doesn't happen often to people who break easily, or have sharp edges, or who have to be carefully kept. Generally, by the time you are Real, most of your hair has been loved off, and your eyes drop out and you get loose in your joints and very shabby. But these things don't matter at all, because once you are Real you can't be ugly, except to people who don't understand."
—Margery Williams, The Velveteen Rabbit
7. There are several quotes and poems we could pull from legendary poet and gay rights activist Maya Angelou that would feel at home in a ceremony, but the themes of bravery and love in her "Touched by an Angel" prose are a beautiful, and obvious, choice for LGBTQ couples.
"We, unaccustomed to courage
exiles from delight
live coiled in shells of loneliness
until love leaves its high holy temple
and comes into our sight
to liberate us into life.
Love arrives
and in its train come ecstasies
old memories of pleasure
ancient histories of pain.
Yet if we are bold,
love strikes away the chains of fear
from our souls.
We are weaned from our timidity
In the flush of love's light
we dare be brave
And suddenly we see
that love costs all we are
and will ever be.
Yet it is only love
which sets us free."
—Maya Angelou, "Touched by an Angel"
Brittny Drye is the founder and editor in chief of Love Inc., an equality-minded wedding blog that celebrates both straight and same-sex love, equally.