5 Unforgettable Movie Wedding Toasts
They'll make you laugh, they'll make you cry—they'll even make you cringe! Here are five memorable wedding toast scenes from some of our all-time favorite movies.
by Julia Naftulin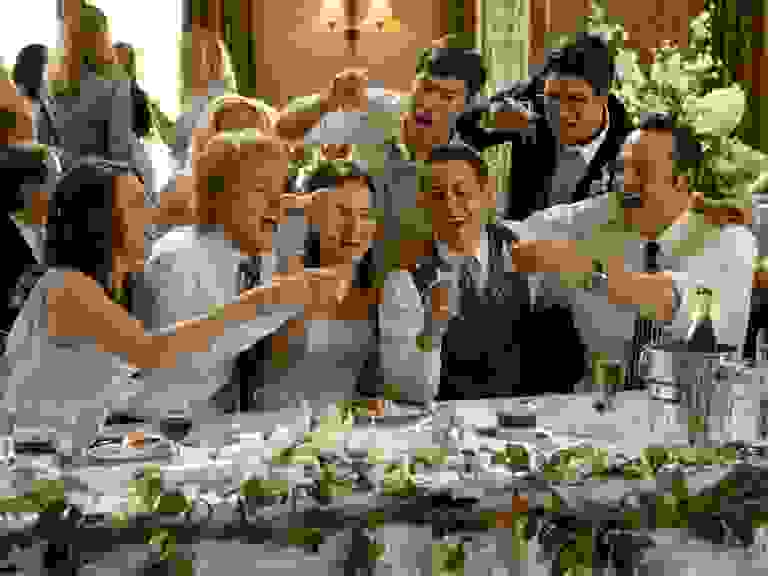 'My Best Friend's Wedding'
Julianne (Julia Roberts) uses her toast to say one of the sweetest on-screen apologies we've ever seen to her best friend, the groom (Dermot Mulroney).
'In Her Shoes'
When Maggie (Cameron Diaz) recites a touching E.E. Cummings poem at the wedding of her sister Rose (Toni Collette), we can't help but tear up along with the two leading ladies.
'Bridesmaids'
Here's a brilliant movie toast that takes the cake for most awkward. When Annie (Kristen Wiig) and Helen (Rose Byrne) go head-to-head onstage to win the bride's (Maya Rudolph) affection, their speeches become a clumsy, hilarious mixture of Spanish phrases, over-the-top compliments and tone-deaf singing.
'The Five-Year Engagement'
In this silly, irresistible moment, Alex (Chris Pratt) performs "Cucurrucucu Paloma" in Spanish for his new bride (Alison Brie) at their wedding. It's as adorable as it is hilarious—and boy, can Pratt hold a note!
'Four Weddings and a Funeral'
Ever a model of English charm and eloquence, Charles (Hugh Grant) makes this witty, self-deprecating and humorous best man speech that's laced with tenderness in all the right places.