42 LGBTQIA+-Owned Businesses You Can Consider for Your Wedding
This is the perfect time to show your support.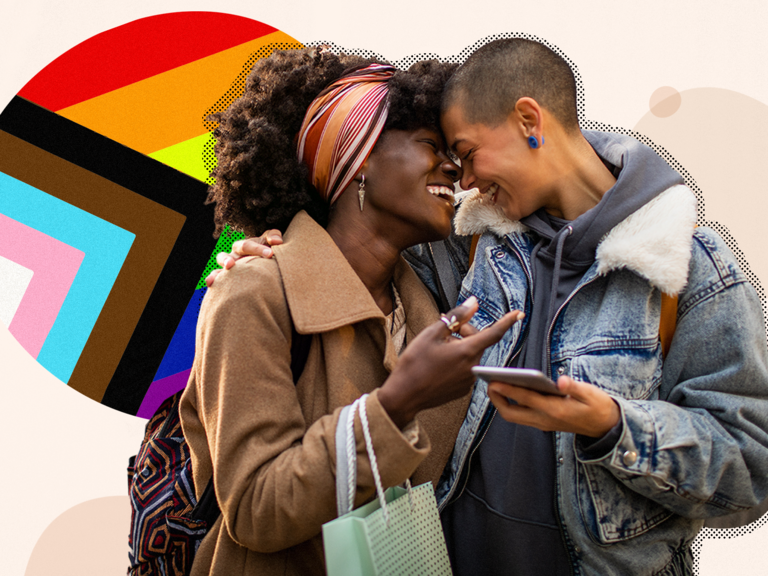 Getty | Design by Tiana Crispino
Your wedding is all about who you are as a couple. Which is why it's a great opportunity to live out your values. Show your guests what's important to you and your partner by investing in LGBTQIA+-owned businesses––and no, you don't have to be a part of the community to support it. One of our favorite ways to-be-weds can champion an important cause with their wedding is by using The Knot Cash Fund to bolster LGBTQIA+ organizations doing important and impactful work. Couples can also use their weddings as a form of activism by intentionally giving their business to companies whose missions they support.
Below are some of our favorite big and small businesses owned or dedicated to people in the LGBTQIA+ community. If you're hoping to shop more thoughtfully during your planning process, we've rounded up plenty of brands you'll love. From wedding officiants to attire for your big day, here are people and companies you can invest in while wedding planning and afterward.
In this article:
How to Find LGBTQIA+ Wedding Businesses
Jake Taylor, a self-described "gay neurodivergent Gemini," is the owner and event coordinator of Functions and Gatherings based in Seattle. They say there are numerous ways to find queer-inclusive brands and businesses for your big day. "Find a vendor directory that allows you to support diversity and select that 'LGBTQIA+-owned' option. The Knot Marketplace is a great place for this. There are also numerous blogs and directories for LGBTQIA+ and alternative weddings that are also great resources for finding diverse vendors." One directory we love is on Equally Wed, where there's a page specifically for LGBTQIA+-owned businesses.
Importance of Supporting LGBTQIA+ Wedding Businesses
"To-be-weds should support LGBTQIA+-owned wedding businesses for many of the same reasons you should do your best to support business owners from marginalized identities. This is particularly important in the wedding industry because most of what we see is white, thin, able-bodied, cisgender and heterosexual," says Taylor.
"It's well beyond time that we start to see different types of people represented throughout the industry. Our community has only had the right to marry for less than a decade. We shouldn't be tolerated––our love is worthy of celebration," Taylor says.
By supporting an LGBTQIA+-owned wedding business, you're creating a big impact. "When planning a wedding, engaged folks have so many wedding vendor options. And when they decide to work specifically with LGBTQIA+-owned businesses, they're often making a conscious decision to support small businesses, many of which may be often overlooked. They're also openly communicating what their values are, with inclusion being one of them," adds Cristal Veronica, a proud queer Chicanx wedding and lifestyle photographer.
LGBTQIA+ Wedding Planners
Many couples need the help of a top-notch wedding planner to achieve their dream celebration. Check out these inclusive planning teams for your nuptials.
1. A Monique Affair
"A Monique Affair Wedding & Event Planning is an LGBTQIA+ and BIPOC-owned and operated business in the San Francisco Bay Area. The founder and CEO, Chanda Daniels, has been in the wedding industry for over 25 years and has worked with LGBTQIA+ folks since day one––when marriage equality wasn't even a thought. Chanda is a leader in the wedding industry, and her business has paved the way for other LGBTQIA+-owned wedding businesses, and for that, I'm grateful," Veronica says.
2. Angelica & Co. Weddings
Owned by Angelica Laws, a queer woman of color, Angelica & Co. Weddings is a wedding planning company based in Maryland. They offer full planning and design, partial and event management services for to-be-weds of all cultures and backgrounds. On the company's site, Laws says, "it is wildly important to me to honor the beliefs and differences of those around me and protect what they hold most precious. In fact, it may be the most sacred driving force of my company." Laws is also a 2023 Ones to Watch honoree.
3. Functions and Gatherings
Jake Taylor opened Functions and Gatherings in 2017 and has been planning beautiful bespoke weddings ever since. Taylor assists couples with including the wedding traditions they want and making their celebration unique. We think this quote from Functions and Gatherings' website is the best description of what they do, "We focus on the queer experience because acceptance doesn't cut it––our love deserves to be celebrated! In a hyper-normative industry, we want to break the mold and have a blast doing it."
4. John Campbell Weddings
John Campbell Weddings was opened in 2017 by John Campbell, who has more than 10 years of event planning experience and is based in Tampa, Florida. Campbell prefers customizing each couple's wedding to them to ensure it's highly personal, which is why there are no pre-made wedding packages. This standard guarantees to-be-weds lots of time with Campbell and the team during the planning process to connect and craft a one-of-a-kind wedding.
5. Jove Meyer Events
Jove Meyer Events, founded by Jove Meyer, is located in New York City and is an award-winning event planning and design firm. Jove and his team constantly work with LGBTQIA+-owned businesses and establishments owned by women, people of color and allies. To attest to this support in diversity, Jove mandates every partnering vendor to sign an "Ally Pledge" that states they're "active allies" in every facet of life.
6. Julian Leaver Events
Julian Leaver of Julian Leaver Events, has 15 years of experience in the event planning and luxury hospitality industry and is a member of The Knot Ones to Watch 2023 group. Even though based in Dallas, Texas, Julian Leaver Events works with to-be-weds worldwide. Sarah Kane is the lead project manager with at least a decade's worth of planning and designing knowledge, which makes her the other half of this dream team.
7. Moon Mama Event Co.
This Sacramento, California-based queer-owned business was founded by Alyssa Steen, who has been a part of the event industry for over 15 years. Besides being the founder, Steen wears many other hats, like co-director, designer, certified wedding planner and licensed officiant, and works with a team of five women. According to its site, Moon Mama Event Co. prides itself in appreciating and celebrating "the diversity of humanity, a diversity which includes differences in sex, age, race, ethnicity, national origin, range of abilities, life experiences, sexual orientation, gender identity, and education."
8. Rheefined Company
"Jason Rhee of Rheefined is a Los Angeles wedding planner and one of my fellow WeddingPro Educators. Jason is an incredible event designer with amazing skills, and he's also one of the most humble and authentic people I've ever met," Kirsten Palladino, editorial director and co-founder of Equally Wed and Equally Wed Pro, says. Rhee has been a wedding planner for more than 15 years and aims to create the best experience for his clients.
9. The Gay Agenda Collective
"The Gay Agenda Collective is a planning team based in Hawaii that's always planning the most fun and authentic celebrations, and their social media game is *chef's kiss*," Taylor says. Zabrina Zablan is the head of this queer, Kanaka and sustainable-owned wedding planning business that specializes in making inclusive safe spaces for people in the LGBTQIA+ community and their allies. Our favorite fun fact about this company is that it offers event professionals allyship and inclusivity training so the wedding industry can become a more diverse environment with equity at its heart.
LGBTQIA+ Wedding Photographers and Videographers
If you want your precious wedding memories captured so you can look at them for years to come, you'll need a professional photographer and/or videographer for your event. Use our list below to help start your search.
10. Cristal Veronica Photos
Cristal Veronica is a professional wedding and lifestyle photographer located in the San Franciso Bay Area. Veronica realized after pursuing other career paths that taking photos of people was what she was meant to do. On Veronica's About Page, she says one of the things she's passionate about is "sharing stories of friendship, strength, grief and love of people with histories that are rarely told, but need to be told; specifically LGBTQ+ identified folks and BIPOC (Black Indigenous People of Color)... People like me."
11. Eve Rox Photography
"Eve Rox Photography is an LGBTQIA+ and BIPOC-owned and operated business based in Southern California. While I haven't worked with Eve directly (since we're both photographers), we've been following and supporting each other's work for a while now. I've even recommended her to engaged folks when I'm unavailable because her work is beautiful. And knowing that we support each other and the work we're doing for our communities, rather than see each other as competition, means so much," Veronica says.
12. F*ck Yeah Weddings
"F*ck Yeah Weddings is a wedding photographer. Loren is always so kind, professional and most importantly SO FUN! They really prioritize the celebration of marginalized identities and they really walk the walk," Taylor says. Based in Seattle, Washington, Loren Shea started F*ck Yeah Weddings in 2017 after spending time as a wedding photographer for over a decade. Shea says they created this queer non-binary/womxn-owned company to showcase couples who aren't usually represented in the wedding industry.
13. Isora Lithgow Creations
"Isora Lithgow Creations, a queer Vermont photographer, is blazing new trails with her creative wedding photography and her 'up for anything' vibe is incredibly appealing for adventurous couples," Palladino says. Lithgow captures elopements and full-day weddings and loves to work with BIPOC and queer couples. We love that every full-day wedding package comes with a complimentary engagement photo session.
14. Jamie Buckley Photography
"Jamie Buckley Photography is a wedding photographer with a moody vibe and a focus on capturing the emotion of a couples' big day," Taylor says. Buckley is settled in Seattle, Washington, and started taking photos of people in 2014. He specializes in "candid and emotional wedding photography" and has been doing this since 2016. Buckley now offers videography services for elopements and weddings.
15. Jenny GG Photography
"Jenny GG Photography is a wedding and family photographer with a bright and fun style that can put anyone at ease during a photo session," Taylor says. Even though Jenny GG, based in Seattle, has photographed over 700 weddings since 2008, she does even more than that. With experience taking photos of LGBTQIA+ couples, doing engagement sessions, family portraits, maternity shoots and senior photos, Jenny GG is the well-rounded professional you didn't know you needed.
16. Modern Love Productions
Modern Love Productions is a wife-and-wife videography team, Osiris and Michele, and is based in Miami, Florida. They decided to start their company because they wanted to put their background in film to use and because of "the lingering regret that came from not having a videographer" at their New Year's Eve wedding, according to their site. They love working with inclusive and untraditional couples and have experience capturing intimate or big celebrations.
17. Riley Glenn Photography
"Riley Glenn is a queer Austin, Texas, wedding photographer. Not only is she talented, but she also exudes warmth and has the happiest, most satisfied clients. She's clearly doing something right," Palladino says. Glenn's services include weddings, elopements and portraits, with numerous packages for each category. Glenn wrote this on her site, "The wedding world can be very heteronormative, my business is not. As a queer vendor, I celebrate you & will do my best to be as educated as possible to give you the experience your love deserves!"
18. Rove Coast Photography
"Rove Coast Photography is a wedding photographer that knows how to capture the tender moments and features of so many queer couples," Taylor says. Located in Seattle, Alesha Brown, and does documentary-style photography. We love her values stated on her About Page, she says, "It is my goal to help you create a welcoming space for all of your guests regardless of race, gender expression, gender identity, sexual orientation, ability, socioeconomic status, or body shape."
19. Rudney Novaes Photography
Rudney Novaes is a Brazilian wedding and editorial photographer based in Washington, D.C and is recognized as a 2023 Ones to Watch member. He loves using film as his medium because of how raw and tangible it is. Novaes started his photography journey in college as a fashion photographer and fell in love with wedding photography after seeing beautiful celebrations in French chateaus and manors. Noaves also offers workshops and one-on-one mentorship for people interested in photography.
20. Shannon Collins Photography
"Shannon Collins Photography is a nonbinary wedding photographer who creates stunning wedding images but is also an inspiring autistic educator," Palladino says. Collins has photographed weddings, families and portraits for over 13 years in Philadephia. Collins identifies as non-binary, queer, autistic and disabled and is always learning more about how they can serve their community and uplift BIPOC.
21. Steph M Copp Videography
"Steph M. Copp Videography is an LGBTQIA+ and woman-owned and operated business based in the San Francisco Bay Area. I've worked with Steph at a couple of weddings, and she's been great at working seamlessly with me (the photographer) so we can both get all the good angles and not step on each other's toes. She cares deeply about her clients and will go the extra mile to ensure their day is special," Veronica says.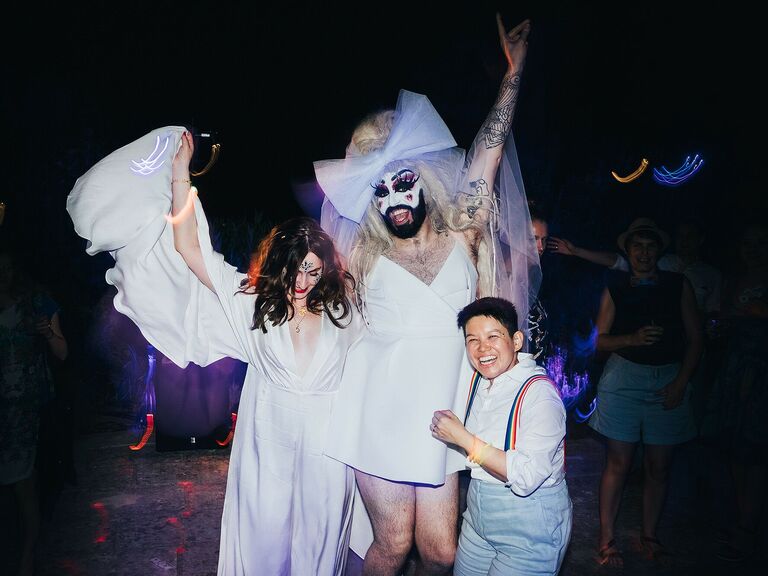 LGBTQIA+ Wedding Caterers
Arguably one of the top three most important parts of a wedding is the food. There are so many cuisine choices you can go with to make your event personal and delicious, so why not support an LGBTQIA+-owned catering business in the process?
22. Dutzel's Catering
Dutzel's Catering was founded by Jeff Dutzel in 2008, and by 2019, he made catering his full-time job. Located in Independence, Missouri, this catering company does weddings, corporate and special events. Dutzel's Catering has lots of menu offerings, themed menu options like breakfast and brunch or fajita bar and allergen menus. For couples' convenience, Dutzel offers dishware rentals and bar and drink stations.
23. Ron Ben-Israel Cakes
Ron Ben-Israel's cakes are known as some of the most gorgeous and bespoke masterpieces in the baking world. Ben-Israel has over two decades of experience crafting desserts and traveled to France early in his career to apprentice under numerous amazing chefs. Ben-Israel founded his business in 1999 in New York, which has since grown into a bakery powerhouse. Fun fact: Ron was a host and judge of "Sweet Genius" and judge on "Cake Wars" on the Food Network for three seasons each.
24. Saveur Catering
Chef Melissa Araujo started Saveur Catering in 2013 in New Orleans, Louisiana, and focuses on providing people with tasty farm-to-table meals. These meals are made of fresh ingredients from local Louisiana and Southern farmers. Saveur Catering offers custom wedding catering for the New Orleans and gulf coast area and serves rave-worthy vibrant and flavorful food. The company has full-service catering, which includes but isn't limited to a staff of bartenders, chefs and servers, set up and clean up services, and menu consultation.
25. Third Culture Bakery
Third Culture Bakery was started in 2016 by the husband-and-husband team, Sam Butarbutar and Wenter Shyu, in California to represent their childhoods in Indonesia and Taiwan. Their backgrounds inspired the bakery's name, which is a nod to them growing up in different cultures than their parents. Third Culture Bakery is known for its mochi muffins, butter mochi doughnuts, mochi brownies and much more. Their site states they "hope that the bakery becomes a symbol of diversity, inclusiveness, and acceptance."
LGBTQIA+-Owned Wedding Music Businesses
In order to keep your wedding guests on the dance floor, you'll need an excellent DJ or musicians. Look at these top-rated music businesses before booking.
26. DJ Keelez & Associates
Based in Los Angeles, DJ Keelez & Associates is an LGBTQIA+ and woman-owned company started by DJ Keelez. She and her three associate DJs specialize in various genres of music and work at weddings, parties, corporate and virtual events. Why should you consider these DJs for your affair? According to the site, they "are diversity and inclusion experts who proudly serve LGBTQ+ as well as multicultural weddings and events."
27. Heart of Gold DJs
"Heart of Gold DJs is a woman-owned and operated 'alternative DJ crew' in the San Francisco Bay Area. They are not LGBTQIA+-owned, but many of their DJs are part of the LGBTQIA+ community, and clients looking to work with a member of the community can make that request. I've photographed many weddings with various DJs from this group, and they've all been super professional while spinning music that's sure to get the crowd (and me) on the dancefloor. Whenever a couple asks for a DJ recommendation, they're the first on my list!"
28. The Femmes
The Femmes are a wedding band based in Boston, Massachusetts made of all women and non-binary members with a focus on performing songs by female or non-binary artists. Many of their performers have over 10 years of professional experience and play various music genres like rock, pop, Latin and much more. To-be-weds can customize their wedding package by choosing between a five to 12-piece band for their big day.
LGBTQIA+-Owned Wedding Floral Businesses
There are numerous ways you can go about your foliage decor, so you need to seek a expert to help guide you during the process. Take your wedding blooms to the next level with one of the amazing florists below.
29. Herbivore Floral Designs
Herbivore Floral Designs is a New Orleans-based Asian and LGBTQIA+-owned floral company for weddings and special events. The owner, Herb Oldknow, opened Herbivore Floral Designs to help small and medium size weddings get the quality arrangments they deserve. Brent Bogan, Oldknow's husband, is also a part of the team and helps with the design and creative elements because of his almost 20 years in the event planning industry. If florals with texture, personal touches and organic style is what you're looking for, Herbivore Floral Designs is the right place for you.
30. Putnam Designs
Putnam Designs, also known as Putnam & Putnam, is a floral and design studio located in New York City. Founded by Michael Putnam and partner Darroch Putnam in 2014, the Putnams mostly focus on weddings and editorial but offer their services for other unique events as well. Some of their clients include big names like Gwyneth Paltrow, Adam Lippes and Jason Wu.
31. The Flower Guy Bron
Bron Hansboro is the chief creative of The Flower Guy Bron, based in Richmond, Virginia and WeddingPro Educator. Hansboro is an award-winning floral and event designer whose motto is, "We don't sell flowers, we sell experiences." Hansboro offers floral services to couples planning weddings and clients having special events.
32. Under New MGMT
"Under New MGMT is a super talented florist based out of Los Angeles. They are always bringing the drama and sparkle to all of their work," Taylor says. One of the many things we love about this floral company is what's written on its site by Alexandra Floro, owner and principal designer. "We at UnderNewMGMT seek to shift traditional industry power structures by exclusively hiring and collaborating with individuals from the POC, immigrants, women, and members of the LGBTQ+ communities." Another great thing they do is use vintage and recycled items to make the arrangements as sustainable as possible.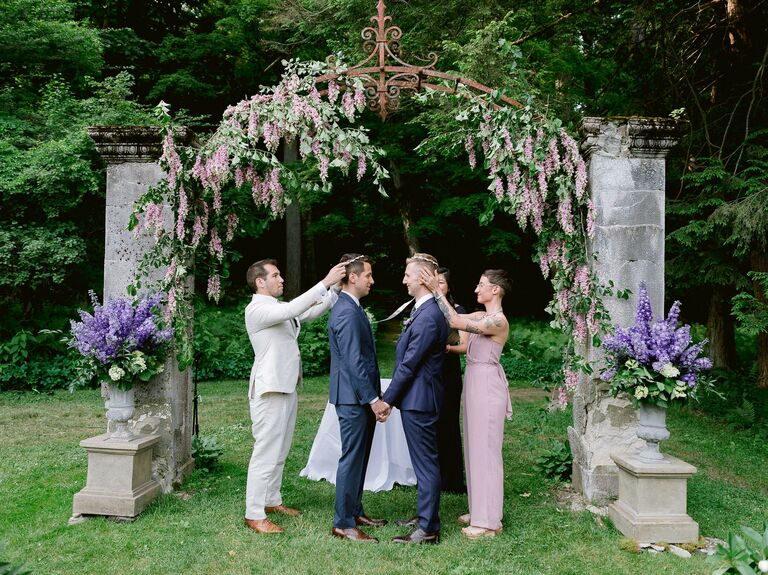 LGBTQIA+ Wedding Officiants
If you need an officiant for your ceremony, you've come to the right place. Bonus: Many of the celebrants below can lead multicultural and interfaith weddings.
33. Ceremonies by Bethel
Bethel Nathan started Ceremonies by Bethel in 2009 and since 2011, has won The Knot's Best of Weddings award for 12 years straight, placing her in the Hall of Fame. Nathan has officiated numerous weddings over the years and has married over 1200 couples. Nathan calls herself the "Ordained Officiant Open To All" to let her future clients know that she supports all couples in their love journey.
34. Minister Toya
LaToya Papillion-Herr, often called Minister Toya, is located in New Orleans and is a wedding minister, marriage and spiritual coach and author. Minister Toya decided to help couples get married because of the Supreme Court ruling allowing same-sex marriage in 2015. Fun fact: Minister Toya was an officiant on one of the seasons of "Married at First Sight."
35. Once Upon a Vow
Dani and Karla are sibling wedding officiants based in New York who seeks to make ceremonies more fun and meaningful. They speak Spanish and English and have lots of experience leading interfaith celebrations. The duo aims to be as inclusive as possible and officiate ceremonies for "same-sex couples, interracial couples, interfaith couples, multicultural couples, and those who have historically been denied the basic human right to love and marry."
36. Rev. I, do Officiating
Rev. Whittney-Marie Ijanaten is the owner and lead officiant for Rev I, do Officiating located in Los Angeles. Rev. Whittney-Marie Ijanaten received her Masters of Theology from Christian Theological Seminary, won The Knot's Best of Weddings award in 2023 and is a part of the 2023 Class of Fellowship for Change. She specializes in LGBTQIA+, religious and non-religious ceremonies and offers pre-marital counseling.
37. Revel Rouser Events
"Sasha Summer Cousineau of Revel Rouser Events is an officiant that will have you in tears of laughter and sentimentality. Incredibly thoughtful and always takes the time to get to know folks to make their ceremony as meaningful as possible," Taylor says. Cousineau is located in Seattle and has wedding packages for crafting the ceremony, officiating only, and solely signing paperwork.
LGBTQIA+-Owned Attire Businesses
When it's time to dress to impress, you and your partner will need clothes and accessories that are unique and stylish. Read below to find out what LGBTQIA+-owned business is right for you.
38. Aide-mémoire Jewelry
"Aide-mémoire creates heirloom quality engagement and wedding bands among other jewelry. Their website isn't gendered, and they really have something stunning for everyone," Taylor says. Aran Galligan founded Aide-mémoire in Seattle in 2012 with the goal of handcrafting high-quality jewelry in ethical and environmentally friendly ways. Each piece is made from LGBTQIA+, BIPOC, and women-owned businesses.
39. Automatic Gold
Accent your wedding day outfit with jewelry from Automic Gold, a trans and queer-owned business founded by AL Sandimirova, revolutionizing fine jewelry with sustainability and transparency. It's made for all genders and sizes—and it's sold without any additional markups, so it's more accessible than other brands. One of our favorite parts about this business is that they hire inclusively year-round and don't photoshop their models. They are based in New York City, but are an onlines store.
40. gc2b
gc2b is a trans-owned and operated company committed to providing accessible, comfortable and safe binding options designed by trans people, for trans people. gc2b was founded in 2015 by Marli Washington, a Black and Latinx trans man, because he noticed that most binding options at the time were uncomfortable and didn't have enough compression for shirts made for cis men. gc2b has a line of nude binders with various skin tones and binders in a wide range of sizes.
41. Kirrin Finch
Talk about getting married in style. Kirrin Finch, co-founded by couple Laura Moffat and Kelly Sanders Moffat, offers menswear-inspired clothing made in New York City. Their androgynous fashion and tomboy-style clothing fit a range of female and non-binary bodies. They aim to make their clothes as sustainable as possible, which is why they use factories with fair labor and manufacturing practices.
42. Michael Costello
"Project Runway" star Michael Costello has created his own high-end collection of apparel—including a jaw-dropping bridal line. Costello is a self-taught designer and opened his first store in Palm Springs when he was only 15 years old. Costello has made headlines for creating custom pieces for numerous stars like Beyoncé, Céline Dion and Cardi B.