8 LGBTQIA+ Wedding Planner Books That Are Informative and Inclusive
Start planning your LGBTQIA+ wedding with planner books that represent you and your partner.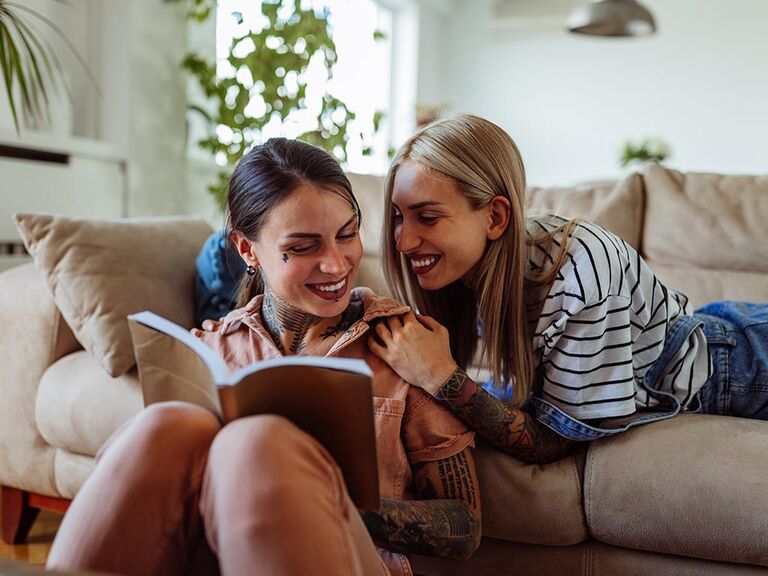 Photo: bbernard / Shutterstock
As you begin to plan your LGBTQIA+ wedding, you might notice a sea of resources that don't quite represent you and your partner. An LGBTQIA+ wedding planner book offers useful advice, can help you stay organized, and uses inclusive language that recognizes you as a couple.
New England-based expert wedding planner Meg Dews, owner and founder of I Dews Design & Events, LLC, remembers feeling defeated when she couldn't find an inclusive planning book for her own wedding. "I think something that can feel really discouraging as an LGBTQIA+ couple navigating the planning process is just the lack of representation in literally everything," she said. It wasn't until she received an LGBT wedding planning book from her mom that she finally felt affirmed and excited about her wedding. It also inspired her to hire LGBTQIA+ vendors. "We wanted to continue to feel affirmed in our experience and be surrounded by our community."
Elements including wedding etiquette, planning your ceremony and choosing the perfect first dance song may look a little different for an LGBTQIA+ couple. That's why finding resources written specifically for the LGBTQIA+ community is so important. Take a look at our list of LGBTQIA+ wedding planner books to help you start your planning journey. Pair these resources with the expertise of your wedding planner and a knowledgeable team of LGBTQIA+-friendly wedding vendors.
Equally Wed: The Ultimate Guide to Planning Your LGBTQ Wedding.
Gifted to her by her mom, Equally Wed is the book Dews used to plan her own wedding. "I love that this book offers explanations of traditions while also encouraging alternatives or to do things differently," she said. "It has some great practical advice and tips to help walk you through the process of the more logistical questions as well as the more sensitive topics that can come up in the planning process. And most importantly, this book does a really good job of creating a space that feels really safe and inclusive."
What Couples Love:
Well-organized, cute illustrations, and uses inclusive language
Addresses practical, as well as more challenging, wedding planning questions
Wicked Bride LGBT Wedding Planner Book
Stay organized with budget trackers, a place for your guest list, checklists, timelines and more with this LGBT wedding planner book. "If you're someone who loves to be organized and likes for that organization to be aesthetically pleasing-this is a must-have," Dews said. "It's been printed with inclusive language so you don't have to spend your days crossing out the different items in Sharpie that don't apply to you. I love that it comes in different styles so you can pick something that suits you as a couple. The tools in this book are an excellent way to stay on track and make sure you don't miss a beat in the planning process."
What Couples Love:
Organization for the big and small details of your wedding
Customizable cover to match your style
2Brides 2Be: A Same-Sex Guide for the Modern Bride
2Brides 2Be was written for the modern bride who wants to blend tradition and rebellion and get married her way. This gay wedding planner book presents practical wedding advice with a dose of sass and humor. It covers booking vendors, navigating family situations and other necessary planning tips.
What Couples Love:
An informative and comprehensive guide to planning a lesbian wedding
The author's style of writing is both entertaining and educational
A Practical Wedding: Creative Ideas for a Meaningful, Affordable, and Stress-Free Celebration
A Practical Wedding offers thorough planning advice that is straightforward and with zero fuss. Dews mentioned she finds the author's commentary to be spot-on and an approachable tool for all couples. "The tools in this book are great, and a great way to stay on track with budget and prioritize that piece," she said. "I love that this book does all of this while also creating a space that celebrates all couples and doesn't feel fluffy-it's just real."
What Couples Love:
Honest and thoughtful wedding planning advice that is practical and fun
The book is inclusive of all engaged couples
Simple advice that takes couples on each step of the planning process
Modern Brides & Modern Grooms: A Guide to Planning Straight, Gay, and Other Nontraditional Twenty-First-Century Weddings
Modern Brides and Modern Grooms encourages soon-to-be-weds to embrace their individuality, creativity, and most importantly, who they are as a couple. The author uses his own experience to offer advice on not just the wedding planning process, but also on how to navigate conflicts that might occur during the transition of a wedding and other transitions in the future. Inclusive writing makes it a valuable resource for all couples.
What Couples Love:
A useful wedding planning book that is also witty and personal
Refreshing advice that is part memoir and part "how to"
Inclusive language makes this a book for any engaged couple
Paper Peach Shop Rainbow Wedding Planner Book
This wedding planner book for gay couples is both beautiful and full of thorough checklists to help you throughout your wedding planning journey. Bring it to your planning meetings with your wedding vendors to keep track of every detail. When purchasing, leave a note to the seller for a fully customizable planner made for you and your partner.
What Couples Love:
Sturdy and aesthetically pleasing cover with options for gold, silver or rose gold foil accents.
Design proofs available upon request so you can see and make changes to your book before it is created
The Knot Ultimate Wedding Planner & Organizer
More than 25 years of wedding experience is packed into the pages of this stylish binder. You'll find helpful advice including the first stages of your planning journey, budget tips, selecting vendors and even how to make the most of your wedding website. This informative planner represents all wedding celebrations including LGBTQ+ ceremonies. Receive a free copy of The Knot Ultimate Wedding Planner & Organizer when you sign up for The Knot Savings Program.
What Couples Love:
Offers tips you need to plan a perfect wedding
Checklists to help you stay organized
Sturdy binder you can take anywhere
Notable Memories Gay Wedding Planner
Keep all of your wedding details in one place with this LGBT wedding planner book. It includes a place for your seating chart, a budget planner, attire plans, a notes section for extra details, and an optional pocket sleeve to store mementos or important items. Customize with your names as well as bride/bride, or groom/groom pages.
What Couples Love:
Colorful cover and a lay flat design make it both fun and comfortable to use
Great quality book that you can take to all of your planning meetings