LGBTQ+ Wedding Etiquette Q&A
Got questions? We've got answers.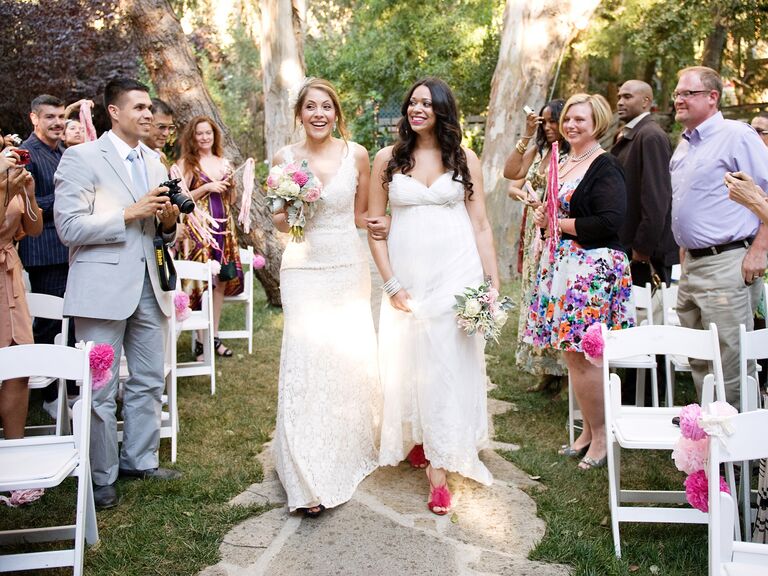 Next Exit Photography

Same-sex weddings come with some unique situations. Who gives away the bride when there is none? Who gives away the bride when there are two? But remember that etiquette for any wedding, including LGBTQ+ weddings, is based on loose guidelines, and every couple should create the ceremony that's right for them. Here are solutions for handling some of the unique wedding etiquette issues involved with planning an LGBTQ+ wedding.
Q. How do we arrange the processional?
A. One of the most observed traditional wedding customs involves the walk to the altar (groom first, then the bride). How you want to address this when there are two brides or two grooms depends on personal taste. Some options:
One person waits by the altar for the other partner to walk down the aisle.
You accompany each other, arm in arm, down the aisle.
Create a seating arrangement with two aisles that meet at the altar: You and your partner—alone or arm in arm with another loved one—walk in unison down separate aisles.
Q. How do we select our bridal party?
A. Feel free to create a wedding party of friends and family, regardless of gender or traditional definitions. Two brides can have two best men—or two maids of honor. You may choose to call the group "honor attendants" for a gender-neutral name. Or skip attendants all together.
Q. How can we customize a traditional ceremony?
A. The wording can get a little tricky when it's time for your officiant to make the actual pronouncement. Take a cue from commitment ceremony scripts and have your officiant pronounce you "partners for life." If that doesn't suit you, vows are a great place to personalize your ceremony. Many couples these days, regardless of gender, are opting to pen their own words. For great tips and how-tos, check out our article on writing your own vows.
Q. Who pays for what?
A. Today, many couples pay for their own celebrations with some help from their folks. In the traditional bride-groom arrangement there are some long-standing bill-splitting guidelines, but even these are just a starting point, altered by most. The best way to deal with the bottom line is to first figure out who is contributing to your cash flow. Are you two footing the entire bill yourselves? How much are parents or relatives willing to contribute? Once you calculate how much money you have to play with, it will all come down to how to spend it. (The fun part!) Discuss the elements that are most important to you both and map out the rest of the budget around those big items.
Q. Should I change my name?
A. Why not? Show off your new union to the world by making your last name match your partner's if you want to. There are a few ways to do it:
Pick one of your last names for both of you to take.
Hyphenate your last names and both take the new name.
Come up with a totally different last name and both take it.