How to Plan an Inclusive LGBTQIA+ Wedding From Beginning to End
Expert-approved tips on LGBTQIA+ wedding planning and etiquette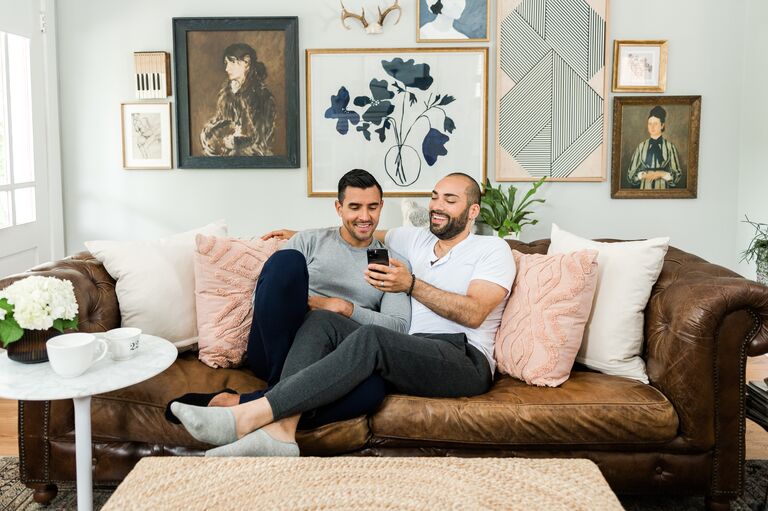 Terri Baskin Photography for The Knot
If you're reading this right now, you're likely either newly engaged and are looking for some LGBTQIA+ wedding planning tips, or have a friend or family member planning an LGBTQIA+ wedding and want to know how you can best support them throughout the wedding planning process and the big day. We know wedding planning can feel overwhelming, which is why we've created this step-by-step guide with the help of two LGBTQIA+ wedding experts we know and respect—Jove Meyer and Jason Mitchell Kahn.
Jove Meyer is the New York-based owner and creative director of his eponymous company Jove Meyer which he founded in 2007. Jason Mitchel Kahn is the New York-based owner and creative director of Jason Mitchell Kahn & Co. which he founded in 2017 after gaining more than 10 year experience in the industry with other firms. Before even diving into planning, finding great inclusive vendors is a must. Whether you're looking for the best place to find the perfect wedding cake or a florist, The Knot Marketplace is home to hundreds of LGBTQIA+ vendors (that you can easily find using our diversity filters) who can help you make your wedding dreams a reality.
Agree on a Wedding Budget
It is important that you and your partner agree on how much you'd like to spend on your wedding festivities. This amount may differ depending on whether or not you and your partner will be entirely responsible for the cost or if you are receiving any help from friends and family. "Wedding budgets should be discussed with the couple and their family if they are lucky to have their support. Ask what each party can and wants to contribute and then go from there," suggests Meyer.
Who Pays?
Although tradition has it that the bride's family pay for the wedding, this "rule" is ever-changing as society progresses and inclusivity is recognized. Although this conversation pertaining to money can be uncomfortable to have, it is necessary for the rest of the wedding planning activities to take place smoothly. "Honestly, it is not like the old days when one family fronts the bill. Today's weddings are more equitable and should be. One family or partner may have more wealth than the other, they may have equal wealth, one may have higher standards for a wedding, or the other may be more flexible and or relaxed. It is all a conversation and there is no wrong way to pay for the wedding if everyone is being honest and contributing what they can," says Meyer.
Establish Your Wedding Vision and Must-Haves
After a budget has been set, do your best to think about your wedding vision and your wedding must-haves. Whether that be a summertime wedding or an open bar for your guests to enjoy, prioritize your budget on making these components happen first. Then work the remaining aspects into your remaining budget. "Cost will be based on location, day of the week, time of year, guest count and final selections. Like buying a home, wedding planning will come with so many options within every vendor category: upgrade or go with standard, open bar or beer and wine, add a station at cocktail hour, some flowers or flowers everywhere, large wedding party or a small one, add a photo booth, custom stationery or pre-designed pieces, band or DJ. Every decision has an impact on the budget, so I encourage couples to sit down and prioritize the vendors so they are clear on what is most important to them so they can spend accordingly," says Meyer.
If you're looking for some wedding inspiration, The Knot Magazine is a great resource that can be utilized via a single issue or a subscription.
Create Your Wedding Guest List
When it comes to LGBTQIA+ weddings, you want to ensure that your attendees will be supportive of you and your partner on your special day. If you are able to, we recommend not adding anybody to this list who may not support your love or may put a damper on your special day. "Start with a full list of everyone you would like to invite, as you can always cut and or categorize as needed, but go big at first," suggests Meyer.
Send Wedding Invitations
It is imperative that your wedding invitations are sent out three to four months ahead of your big day to ensure people have enough time to respond and so that you are able to acquire a head count.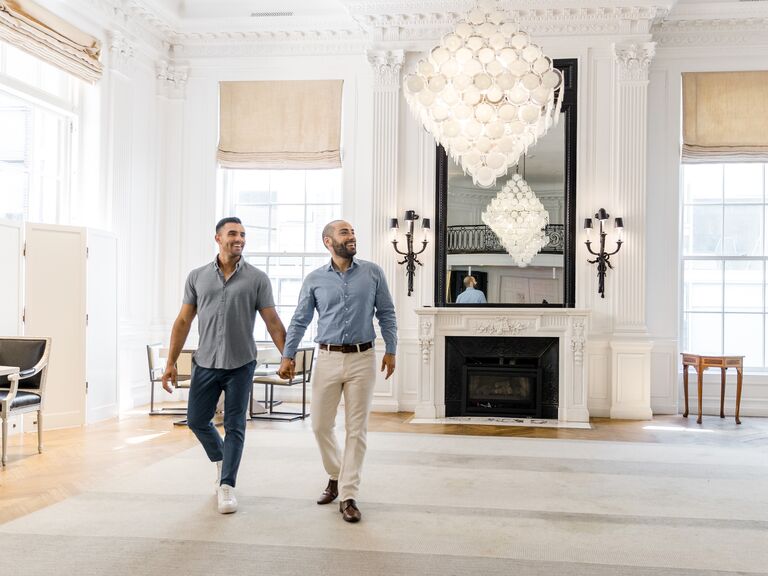 Set a Date and Venue
Once you have your budget, vision and non-negotiables solidified, you can select your date and book the venues for the ceremony and reception (if they are not the same). We recommend touring these venues before booking. Although most places do a good job of having high-quality photos on their website and answering any questions via phone or email, it is always a good idea to get a feel for the place where you will be celebrating your everlasting love. Make sure your venues are able to accommodate the number of guests you invite. If you plan on having a destination wedding, check the weather of its location as you ensure you'll generally be satisfied with the potential weather conditions
Since most wedding venues quickly book up, don't wait to secure one. As soon as you have your heart set on a venue, confirm that it is yours for your special day. Venues are often some of the most expensive wedding elements, so once you have yours booked, you'll be able to plan the rest of your wedding according to your remaining budget.
Consider an LGBTQIA+-Friendly Wedding Planner or Coordinator
Although you can plan and execute your own wedding, wedding planning can be a lot for one or two people to handle by themselves. It is nice to have an experienced professional by your side who can ensure that your day will run seamlessly so you can spend more time enjoying yourself and less time worrying about whether or not everything is going according to plan.
We recommend finding a wedding planner who is both budget and LGBTQIA+-friendly. "It's helpful to speak with other couples who have worked with them too and find out what their experience was like and see if that approach sounds right to you. Some couples really need someone fully in the driver's seat with every decision while others do better with more of a collaborator. Lastly, make sure you feel a connection with their personality. I tell all couples you often see your planner more than anyone else on your wedding day so it's important you feel they are the right fit," explains Kahn.
Additionally, wedding planners, especially those with experience working on LGBTQIA+ weddings are informed about how they may compare to traditional heteronormative weddings. Kahn notes that although friends and family may have good intentions if they choose to help you plan your wedding, they may not have done it before so it is best practice to communicate with them by sharing your expectations. This way, you'll be satisfied with their help and they'll feel less anxious about helping out.
Create a Wedding Registry
If a wedding registry is something you would like to be part of your wedding activities, we recommend creating one sooner rather than later. The Knot has a platform where you can create a wedding registry that is able to be embedded into a wedding website which is helpful for greater visibility to your wedding guests and anyone who may not be able to attend.
Plan Your Ceremony
Planning your wedding ceremony is multifaceted and there are several components that may be considered.
Pick Your Wedding Party
Selecting the people who will be closest to you on your wedding day is special. There is no hard and fast rule as to what a couple's wedding party must look like. Who you ask to be part of your wedding party is completely up to you. However, there are some factors you should consider when making this decision. "Wedding parties should be selected based on the preference of each partner: Do they have a lot of friends or fewer friends? Do they want to get ready with more or fewer people? Do they want to have a blended party shared between the couple or separate parties? The possibilities are limitless and should be based on what makes you most happy and causes the least amount of stress. Also, forget the idea that you need to match your partner's wedding party size. You do not. In life we are different, so why does it have to be the same for a wedding? Toss out the idea that your wedding party has to be your same gender, it should be people you love and that love you!" explains Meyer.
Processional Order
If you opt for a traditional wedding processional order, that is completely fine. However, we're here to tell you that it is not a requirement or something you should feel obliged to follow.
"This is one of the most beautiful blank canvases you are granted with there being no rules. Brainstorm what feels right to you. As a couple, you can choose to each be escorted by parents or other significant people; enter individually; or process together. Look at how certain religions or cultures typically order a processional and see what elements, if any, resonate with you. I've designed aisles in various shapes and also had couples who did not want to walk down any kind of aisle," says Kahn.
Find an Officiant
Your officiant may depend on whether or not you choose to have a religious wedding. If you do not have a wedding affiliated with a religion, you need to search for an officiant if you do not already have one in mind. If you need some help with the officiant selection process, we have an expertly-curated guide you can use to help you find the one that best fits your wedding needs.
Write an Inclusive Script
We're big proponents of having a personalized and inclusive wedding script. Although this may look different for every couple, we've compiled a list of inclusive vow-writing tips from some officiant experts that you can use to help you along the way when working on your script, which could include gender-neutral marriage terms.
Along with the script, you may want to consider including romantic and inclusive wedding readings—we've got you covered with some romantic reading recommendations.
Last Names
In heteronormative weddings, it is traditional that the bride takes the groom's last name. However, "last names can work however the couple wants! Couples can keep their last names, take their partner's last name or hyphenate the last names. Honestly, there is no right way to do it. Do what feels best for you both, not what you think you have to do! Your love is not solidified by your last name choice, it is in your everyday actions and heart!" says Meyer.
Look for the Perfect Wedding Attire
When it comes to wedding attire, it is better to get a head start on this than to save it for the last minute. We recommend beginning this process anywhere between nine and 11 months before your wedding day as it sometimes can take a while to find the apparel that meets your vision. You also want to allow yourself ample time to make any necessary alterations.
There is no one-size-fits-all rule regarding LGBTQIA+ wedding attire. You and your partner should wear whatever makes you feel the most special on your wedding day. "There is no need for one person to wear one thing and the other to contrast or match. There is also no requirement to wear white as it is an antiquated tradition surrounding the virginal bride, which is just not the case for most couples anymore," says Myers.
Kahn says that there is a lot of fluidity in what is worn by LGBTQIA+ couples on their wedding day. "I've planned many weddings where women have worn suits and men have had trains," he says. The same goes for any members of the wedding party. You can keep things traditional with dresses or tuxedos, or make them your own. If you don't plan on keeping your wedding clothes and would like to save some money, you can opt to rent your attire.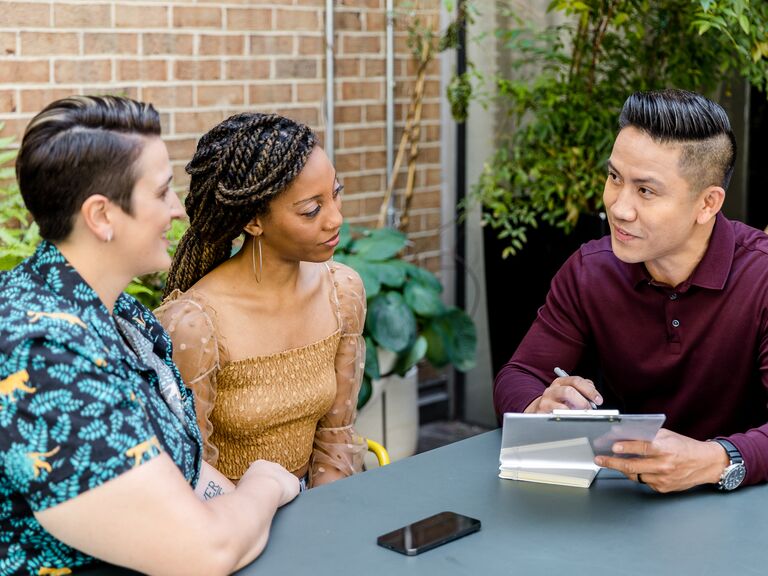 Hire Inclusive Wedding Vendors
When it comes to the vendors you want to hire for all of your wedding's different elements, make sure they are inclusive. It is in your best interest to reach out to them as soon as possible as you want to reserve that date for their services before they become booked. We recommend starting to secure your pros between 12 and 15 months ahead of your wedding.
Whether your vendors are photographers, venues, florists, DJs or bakeries, "you want to make sure you vibe with your vendor team and that they are on the same page with your style and vision. Make sure you love their body of work and that the price works for your budget. It is also key to confirm they are LGBTQ+ loving, as you do not want to be working with any vendor who does not support and celebrate your equal right to marriage! At no point in your planning process should you, or any couple, have to feel bad about being in love. Hate has no place in the business of love! Look for signals that vendors are supportive via images, language and sometimes a pride flag!" says Meyer. It may be even better to opt for LGBTQIA+-owned businesses.
Finalize the Smaller Details
Now that everything is almost ready to go, it's time to solidify the smaller (but still important) details. For some couples, this might mean any wedding song preferences. For others, this could be finalizing the parting gift for their guests.
Apply for a Marriage License
Although you may be preoccupied with touring venues and trying on different outfits, don't forget about applying for a marriage license as the process may take a while. Be sure to read the fine print about the different circumstances and parameters state-to-state to ensure the license will still be valid on your wedding day.
If you're unsure about how to go about applying for a marriage license, we've created a step-by-step guide that will guide you through the steps that need to be taken to obtain your marriage license and any other necessary documents.
Relax
We know wedding planning can be stressful, but self-care is important, too. Block off some time to spend with your partner relaxing and unwinding. Whether you prefer to stay in and watch a movie or listen to some waves by the beach, staying connected and aligned with each other ahead of the big day is important.
Your wedding day is about the love you have for your partner. Of course, it is natural to have some anxiety and want everything to be as perfect as possible. However, the wedding process should be more enjoyable than not. As long as you keep your love at the forefront, you can remind yourself that everything else is a bonus.