10 Essential Details to Put on Your Wedding Website That Can't Go on Invitations
We break down everything you need to know.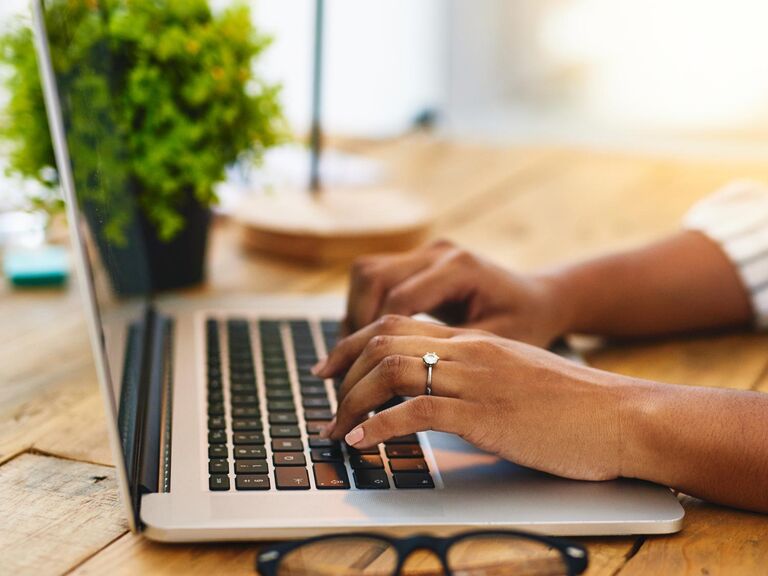 iStock
If you're in the middle of wedding planning, making a wedding website is one task that shouldn't be kept to the end of your to-do list. Your custom site is the easiest way to share must-know information with your guests in one convenient place. Plus, making a wedding website on The Knot is free, fun and insanely easy—consider it a creative distraction from the rest of your planning tasks. But if you're not sure exactly what to include on your wedding website, we're here to help.
Once you create a website of your own, it'll be the best reference point for your guests. With all the important wedding info just a click away, they won't have to text you with random questions, like, "What's the dress code?" or "Can I bring my kids to the party?" But in order for it to be effective, you have to determine what to include on your wedding website first. Think of your site as overflow from your invitations—thanks to space limitation and statutes of etiquette, there's only so much you can put on a rectangle of cardstock.
If there are some details you really want to send out with your invites, we recommend adding enclosure cards to your stationery suite. They can be used to share information about the dress code, hotel room blocks, directions and other helpful details. Plus, you can use details cards to share your wedding website (which is still really important for listing special requests and registry info, BTW). To make things as easy as possible for guests, The Knot Invitations allows you to share your wedding website in the form of a QR code on your enclosure cards.
Read on to learn exactly what to put on your wedding website that can't go on your invitations, along with what to include on both (and neither).
In this article:
What to Include on Your Wedding Website Only
Once you make an account on The Knot, you can customize your wedding website as much as you want. (In fact, the more creative you get, the better!) But before you get carried away with fonts and color schemes and engagement photos, here's the wedding website information you need to include.
1. Registry Details
Wedding invitations (and save-the-dates) are still no place for your registry information since it's not mandatory for guests to give you a gift. Leave all implied gift requests to your site so it doesn't look like you're expecting presents off the bat. With The Knot Registry, you can easily sync your wedding registry to your website. Your guests will have no trouble finding your wish list, newlywed or honeymoon fund or preferred philanthropies.
2. Adults-Only Announcements
Not including any kids on the guest list? That's fine. Some couples would prefer to host an adults-only wedding, but avoid direct mentions on your official invites. (Instead, address the outer envelope of each invitation to exactly who it's meant for. For example, write "Mr. and Mrs. Smith," not "The Smith Family.") Your wedding website is the place to announce you're keeping the party a grown-up affair—or that, if you are inviting children, you'll be hiring a babysitter or other accommodations and activities to keep them occupied.
3. Dress Code Details
It's perfectly fine to print a brief mention of the preferred attire in the lower part of your formal invitation. For instance, if you're hosting an upscale event with a strict dress code, terms like "black tie" or "cocktail attire" are acceptable to include. However, there's no need (or room) to elaborate. If you want to get specific, use your wedding website to give guests a little vocabulary lesson on what exactly you mean, especially if your terminology is a bit elusive (like "dressy casual"). Wedding guests will always appreciate having as much guidance as possible when it comes to picking an outfit for your big day.
4. The Wedding Party
You likely won't have space (or the budget) to add full bios of your wedding party on paper invitations. The bridal party, groomsmen and other VIPs should get a mention on both your wedding website and the ceremony programs. With infinite space online, share brief biographies, fun facts about your crew, epic photos, and how you're related or how you met.
5. Transportation and Lodging
If you've arranged hotel blocks or wedding day transportation, share these logistics on your wedding website. Your out-of-town guests will appreciate it if you've reserved room blocks at a nearby hotel or arranged for scheduled car services to and from the ceremony and reception venue, so include all the info they need on your website.
6. Your Love Story
In addition to sharing logistical wedding details and answering FAQs on your website, we encourage you to include sweet facts and anecdotes about your love story as well. Guests will enjoy reading about how you and your S.O. met and what the proposal was like, along with other details you'd like to share (like why you chose your wedding location or how you incorporated your favorite foods into the menu). Since you have unlimited space on your wedding website, divulge as much as you'd like about your love story—guests will have fun getting to know more about you and your soon-to-be spouse.
7. Social Media Rules
Consider your wedding website a one-stop shop for social media guidelines. If you'd like to encourage social posts, share your wedding hashtag so all of their photos and videos can be easily found online. Or, if you're planning an unplugged wedding, share the request on your site so guests will know what to expect by the time they arrive.
8. Health & Safety Guidelines
Since the coronavirus pandemic reshaped wedding trends for the foreseeable future, there's a newfound focus on wedding health and safety measures. Include any wedding day safety guidelines on your website, like if you're encouraging the use of face masks or if tables will be outdoors and socially distanced. Guests like to know what to expect on your wedding day, so share safety details and requests on your site.
9. Date Change Information
Sometimes, wedding postponements happen—and that's okay! If you need to move the date of your nuptials, inform guests by updating your wedding website and sending change-the-date cards. Always be sure that your wedding website information is accurate to avoid confusion among guests.
10. Local Recommendations for Guests
One of the best ways to personalize your wedding website is to add local recommendations for guests. Since some will be traveling to your wedding location, there's a chance they'll have downtime when they arrive or in between the ceremony and cocktail hour. Make the most out of your website by sharing local recs for food, drinks and sightseeing activities to help them plan a full schedule of events. (This is especially important information to add to your destination wedding website if the majority of guests will be traveling from out of town.) They'll be thankful you took the time to help them plan a memorable itinerary of events during your wedding weekend.
What to Put on Your Wedding Website & Invitations
We'll make it simple: Everything you include on your invitations should transfer over to your wedding website. Add your names, wedding date, start time and location to your website. You can also share announcements and logistics surrounding additional wedding events like welcome drinks or a farewell brunch. Don't forget to add an RSVP date (or online RSVP instructions) too.
What to Leave Off Your Wedding Website & Invitations
Believe it or not, there are some things that shouldn't go on your wedding website or invites. We break down what to avoid sharing below.
1. Exclusive Events
Still a little unsure of what information to include on your wedding website? Avoid mentioning any exclusive events to which only close family members and your wedding party are invited. This includes celebrations like bachelor or bachelorette parties, engagement parties and the rehearsal dinner. These events should get their own separate invites, and they shouldn't go on your formal invitations or website—that's when things get confusing and feelings may get hurt.
2. Inappropriate Photos and Anecdotes
Don't post or mail anything you wouldn't want your loved ones to see. (Read: You might want to exclude those potentially compromising photos of you and your S.O. from college). Remember, once something's online or on paper, it's hard to get rid of. Avoid any awkward moments by keeping your wedding website and invites appropriate for all recipients.