10 Questions to Consider Before Wearing a Jumpsuit or Pantsuit at Your Wedding
Here's how to decide if you should wear a pantsuit or jumpsuit on your wedding day.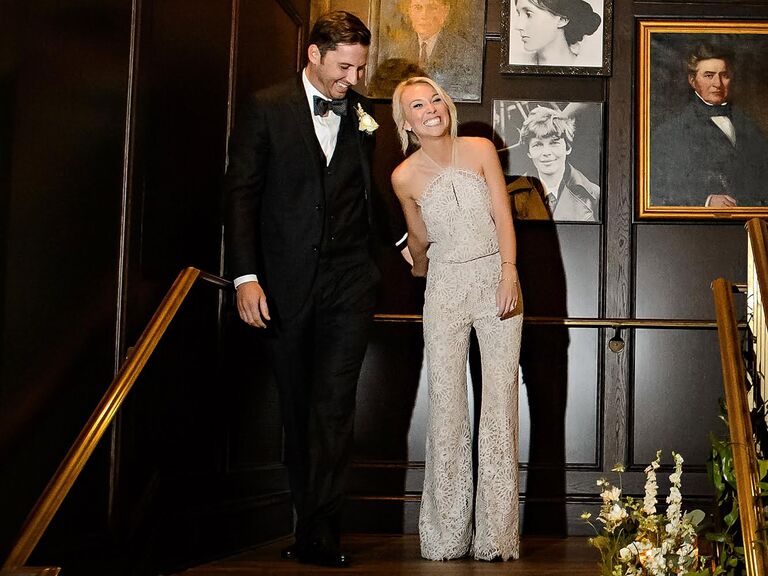 Naomi Chokr Photography
You love that one jumpsuit in your closet and find yourself choosing it over a new dress time and time again—so why not wear a jumpsuit at your wedding? With ever increasing styles, price ranges and designers, pantsuits and jumpsuits are becoming popular choices to wear down the aisle. But deciding on your wedding attire is no easy feat. We get it: Straying from tradition can cause some anxiety—especially if you consider yourself a play-by-the-rules kind of bride. Before making the leap, ask yourself these questions and you'll feel completely confident about your decision no matter the final verdict.
1. Will I regret not wearing a wedding dress down the aisle?
Maybe you grew up fantasizing over your dream wedding dress, but as you've grown older and seen the wonders a jumpsuit can do for your legs, you know a one-piece will make you feel like a rockstar. Still, take the chance to step back for a second to ask yourself, "Ten years from now, will I look back at my wedding photos and wish I'd worn a dress?" Or, "Will I miss the experience of trying on glamorous ball gowns and slinky sheaths?" The good news is you can try on as many dresses as you want and still choose a jumpsuit. Plus, plenty of jumpsuits and pantsuits come with trains, capes and lace to give you the same bridal vibes as their dress counterparts. But it's probably still worth asking yourself if you'll feel like something's missing if you don't say your vows in a wedding dress. It's possible you wear jumpsuits so often wearing another one on your day won't feel extra special—but then again, maybe only a sleek pantsuit can give you that wow factor. There's no right or wrong answer—do what feels right for you.
2. Will my mom be disappointed I'm not wearing a (or her) dress?
You may have no second thoughts about slipping into a garment with two legs, but your mom, grandma, aunt or other relative might protest. Ultimately, it's your wedding, and you should wear whatever makes you happiest, but be realistic and considerate if not wearing something in particular will hurt a loved one's feelings. If your mom always envisioned you in her wedding dress or a more traditional gown, for example, think of ways you can reach a compromise. Can you wear a wedding dress for the ceremony and pants to the reception? Can you wear a jumpsuit along with sentimental details like your mother's veil, bouquet wrap or pearl earrings? Are there ways to incorporate elements of the specific dress into your jumpsuit? If you only want to wear one outfit on your day, just be honest with your loved one and explain that it's nothing personal. Better yet, take them shopping, and when you step out of the fitting room beaming in the perfect pantsuit, they'll be the first to know it's the one.
3. Do I wear the jumpsuit to the ceremony or reception, or both?
If you have room in your budget for two outfits, you can have the best of both worlds and wear both your favorite wedding dress and a pantsuit/jumpsuit. Wear a more traditional dress to the ceremony and two-legged outfit to the reception or vice versa. Or take it a step further and wear a more formal pantsuit in the morning and change into a playful jumpsuit to dance the night away. Just as you would with a dress, keep your ceremony and reception location in mind—you want your outfit to match the formality and vibe of the venue.
4. Do I want to wear something I can move around in—a lot?
An important factor in deciding if and when to ditch the dress is what activities you envision on your day. Thinking about bucking tradition to make your ceremony exit on horseback or bikes? Then take a cue from Solange Knowles who rode a bike to her wedding in a pantsuit before changing into a stunning column dress with a dramatic cape. Otherwise, pants are ideal for the reception if you really want to get down on the dance floor.
5. What's the most flattering fit for my body?
From elongating your legs to creating sexy shoulders, a jumpsuit is a fabulous way to flaunt your body. Since there's a spectrum of styles to choose from, know the most flattering fit for your figure before shopping. If you're naturally blessed with long legs, accentuate them further with a wide-leg silhouette, and don't be afraid to show off killer shoes with ankle-cropped culottes. On the shorter side? You can definitely wear a wide leg as long as the fabric isn't overwhelming. Keep the bodice fitted and stick to streamlined, well-tailored pants that hit slightly below the ankles, so you can sneak a wedge or high heel in there. Petite brides, you can rock slim-fitting pants for days as well. An off-the-shoulder and wide-leg ensemble brings balance to a pear-shaped figure. Blousy tops and elastic waistbands can create an hourglass silhouette. For those with a large chest, a V-neck can actually minimize the bust. Alternatively, flouncy ruffles and lace can add volume to a small chest.
6. Can I find one at my local bridal salon?
Since dresses are still a go-to for brides, your local bridal salon will have more dress options than pantsuits or jumpsuits. Don't panic—just do your homework before scheduling an appointment. More designers are hopping on the bridal pants train, so give the salon a call to see what they can do for you. Otherwise you'll have no problem finding what you're looking for at online at retailers like BHLDN, Fame and Partners or David's Bridal, which has an entire section devoted to wedding jumpsuits. And remember, a garment doesn't have to be labeled "wedding" to be the one for your day; any white or colorful number that makes you feel like a million bucks will do.
7. Will I save money?
The average cost of wedding dresses across the US is $1,509, according to our 2017 Real Weddings Study. Depending on the design of your jumpsuit, it's possible you'll save a little if you won't be paying for details often found on a wedding dress, like a train, ornate lace or layers of tulle. You can find quality pantsuits and jumpsuits for under $400 on sites like BHLDN. On the other hand, if you splurge for a designer pant ensemble, or one with intricate or bespoke details (like Solange's full-length cape), the cost of your jumpsuit could end up being comparable to a gown.
8. Can I still wear a veil?
Yes! While your main garment may be nontraditional, you can absolutely incorporate classic wedding accessories like a veil, tiara or gloves into your ensemble. Need some inspiration? Bridal pants have been a major trend on the Bridal Fashion Week runways—prepare to be blown away by this pants and floral veil combo by Carolina Herrera or this sleek Romona Keveza jumpsuit with a gauzy train.
9. Will I care if my guests wear them too?
If you wear a white ball gown on your day, there's a pretty good chance none of your guests will arrive in a similar style (at least, let's hope not!). But jumpsuits have become a popular look for wedding guests too, so ask yourself if this might bother you. And know you can always add something uniquely bridal to your look such as a veil, gloves, capelet and jewelry.
10. Should my bridesmaids wear pants or dresses?
Depending on your vision and what your bridesmaids prefer, you can have them all in dresses, all in pants or a mix of both. Again, keep the formality of your venue and your own outfit in mind. For a uniform look, have at least one component of the bridesmaid outfits in sync, whether it's the hue, fabric or style.