17 Chic Wedding Shawls and Wraps That'll Keep You Warm on Your Big Day
Say goodbye to cold shoulders with this trendy accessory.
We have included third party products to help you navigate and enjoy life's biggest moments. Purchases made through links on this page may earn us a commission.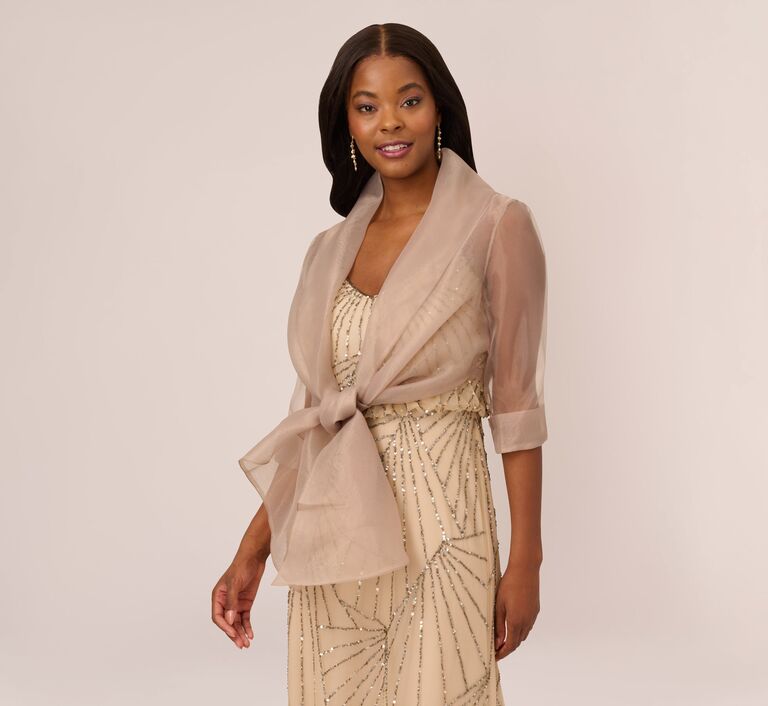 If you're hosting a winter wedding, you don't have to sacrifice style for comfort. In fact, unwanted cold shoulders are a thing of the past thanks to the popularity of trendy wedding shawls and wraps. From faux fur stoles to boho velvet wraps, cozy accessories like these are a simple (yet functional) way to make your wedding dress winter-appropriate. To help you complete your bridal look, we've rounded up our favorite wedding shawls and wrap alternatives, like bridal capelets, stoles and shrugs, that'll keep you warm on your big day. But first, we're going back to the basics and explaining what a wedding shawl is and how to correctly wear a shawl for a wedding. Then, once you're all set, scroll through our shopping portion for endless inspiration.
In this article:
What Is a Wedding Shawl?
A bridal shawl or wedding wrap is a cold-weather accessory that you can layer on top of your wedding outfit. They not only provide shoulder coverage and warmth for cold-weather functions, but they also make for a chic accessory that you can easily take on and off. Plus, wedding shawls can also help winterize your look and transition your dress across seasons. If your wedding date or location unexpectedly changes, there's no need to get a whole new dress if you don't want to. Instead, all you need is a cozy coverup to make your gown work for any season. And, with so many styles and colors available, it's easy to find one that complements your wedding vibe.
How to Wear a Shawl for a Wedding
If you're wondering how to wear a wedding shawl or bridal wrap, we've got you covered (literally). To wear a shawl, drape it over your shoulders and the back of your neck, then pull the ends together in the front to keep it from moving. Worried about it falling off? Secure the shawl with safety pins or let it drape over your outfit if you're planning to remove it throughout the evening. Meanwhile, a bridal wrap, shrug and capelet usually sits on the shoulders, but it typically depends on the style and design of the accessory. When in doubt, read the product description and use the model photo for guidance on how to wear it.
Our Favorite Wedding Wraps and Shawls to Buy Now
Whether you're shopping just for yourself or for bridesmaid shawls for your entire crew, we've pulled wedding wraps for every style and vibe. To protect against cold weather, invest in one of these cozy pieces to complement your dream wedding outfit.
1. BHLDN Maxime Faux Fur Wrap in Ivory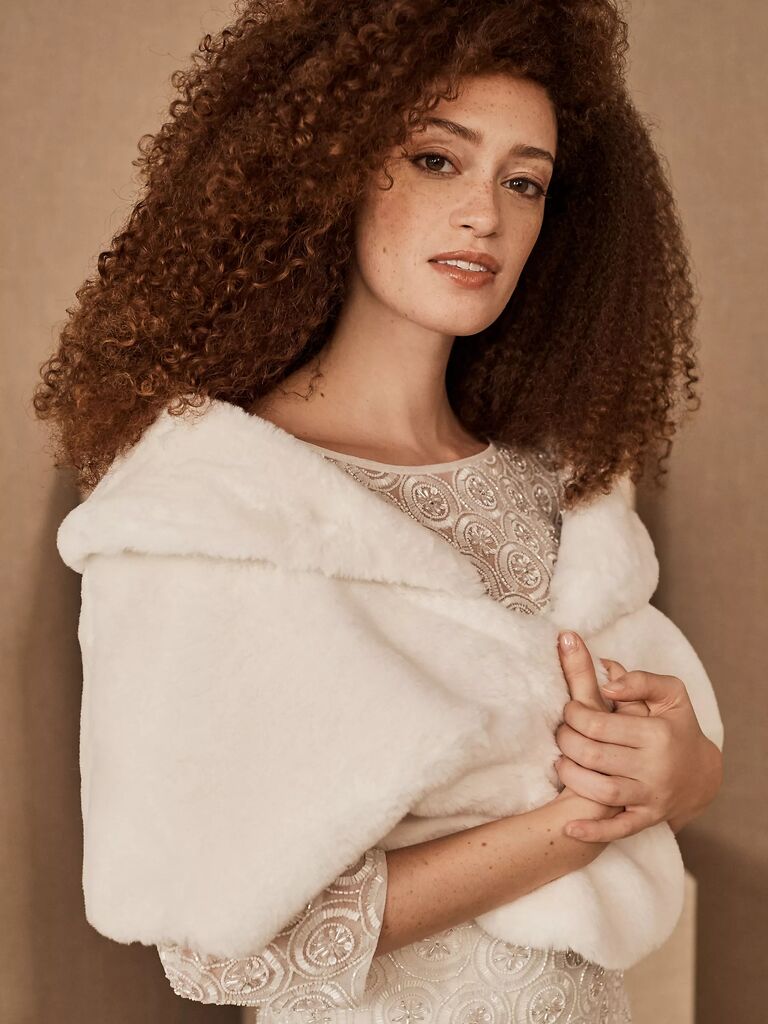 Don't stress about posing for pictures outdoors during your winter wedding. Instead, keep your arms warm in a fluffy faux fur wedding wrap, like this ivory one from BHLDN. Take it from us fashion experts: This fluffy piece is just what you need to winterize your gown in style.
2. J.Crew Oversized Cashmere Wrap in Ivory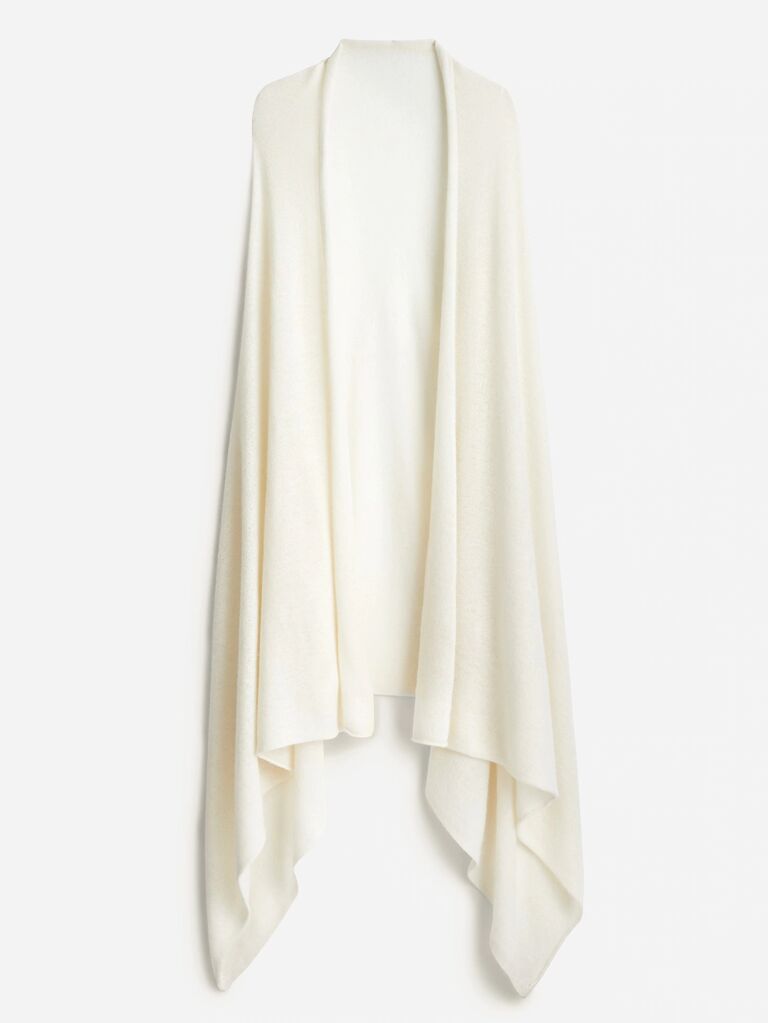 Wrap yourself in luxury with this ivory shawl from J.Crew. While it's not explicitly bridal, the off-white hue is simply perfect for a winter wedding. We have a feeling you won't want to take this cozy bridal shawl off, even once the party heats up.
3. Alex Bridal Faux Fur Wrap in Ivory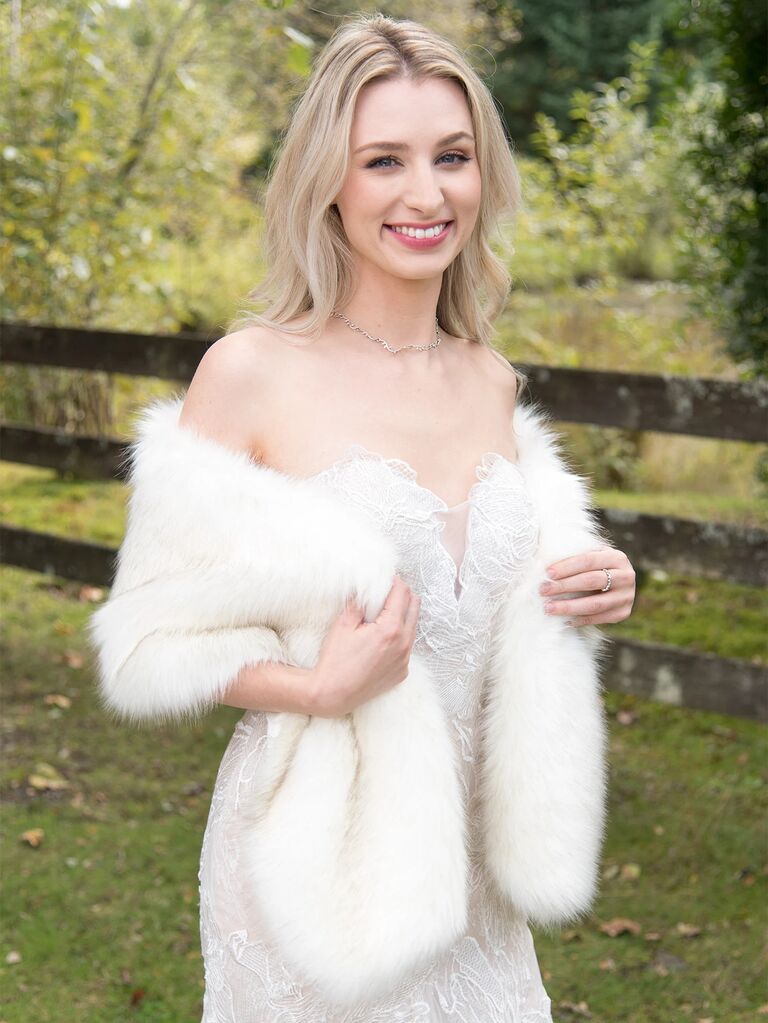 If you're in the market for a timeless ivory wedding shawl, your search ends here. This fuzzy faux fur wedding wrap imitates real fur and has a fleece lining on the interior, making it the perfect accessory to stay cozy and comfortable during your nuptials.
4. Bridal by ELOQUII Faux Fur Jacket in Off-White
ELOQUII's new bridal collection is here—and it features a gorgeous plus-size faux fur wedding jacket. It'll not only make a lovely addition to your winter wedding outfit, but it's so versatile that you can rewear it to cold-weather occasions long after your wedding ends. We call that a win-win.
5. Thea James Bridal Luxury Beaded Wedding Shrug in Ivory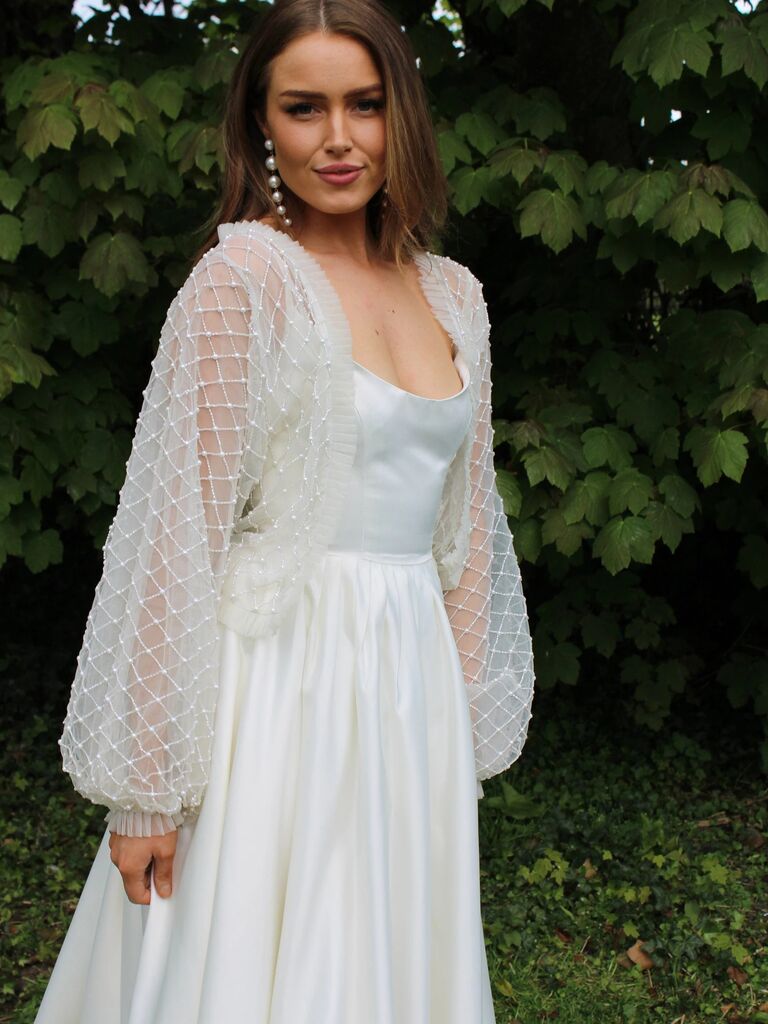 When it comes to cold weather accessories, you aren't limited to faux fur shawls for your wedding. For something out of the ordinary, consider this tulle wedding shrug covered in intricate hand beading. We particularly love the statement sleeves and delicately ruffled cuffs, which will pop beautifully on camera and in real life.
6. David's Bridal Faux-Fur Mock Neck Capelet in Ivory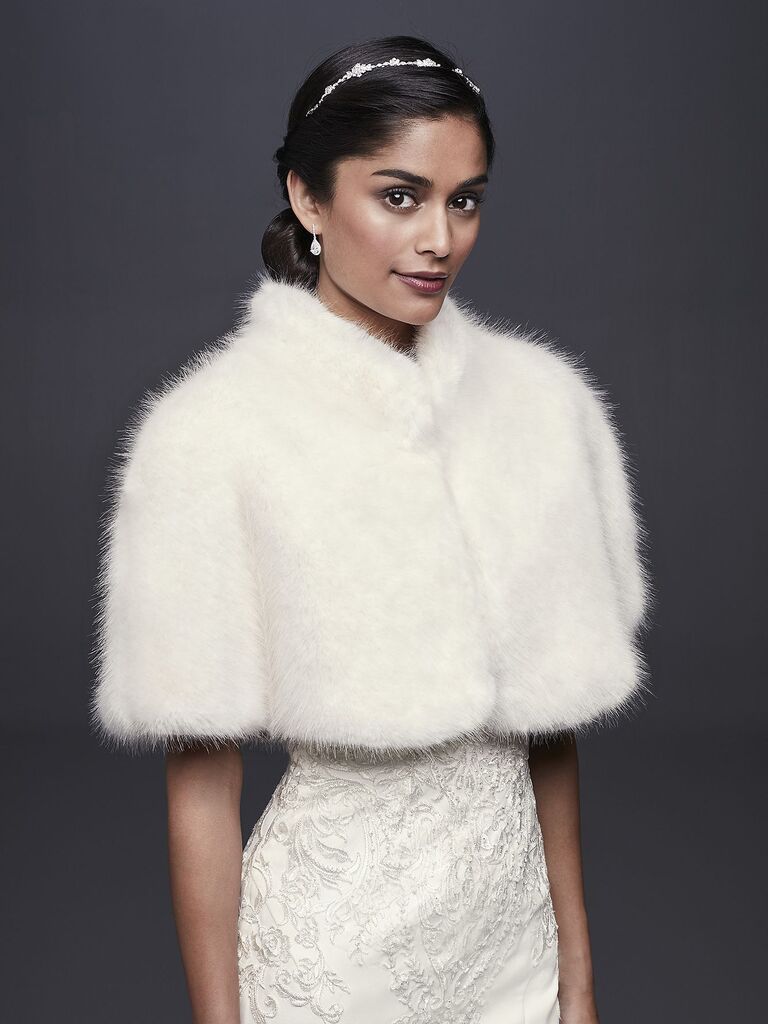 Mock necklines are effortlessly regal, evoking a sense of royal flair. Enhance your outfit with this wedding accessory that's sure to serve its purpose. Not only will it protect your neck and shoulders, but it'll also add a trendy finish to your bridal look.
7. Anthropologie MABLE Pearl Detail Cable Cardigan Sweater
There's no rule that says your wedding wrap has to be a traditional material like chiffon, faux fur or mohair. If you're looking for a cover-up that can be repurposed in your closet, why not opt for a wintry cardigan? The pearl-studded collar design would look beautiful over your wedding dress to stay warm during the party. Then, pack it in your suitcase for your honeymoon—especially if you're headed somewhere snowy, like Vail or Vermont.
8. Birdy Grey Shawl with Fringe in Cream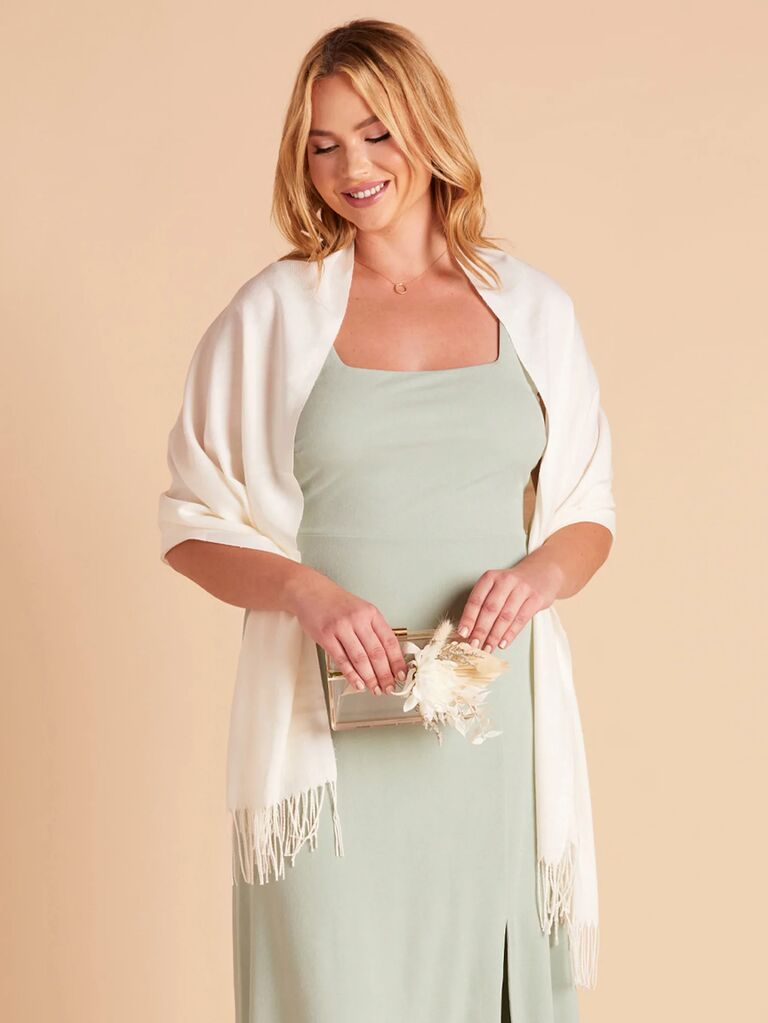 You might know Birdy Grey as a go-to shop to buy bridesmaid dresses, but the brand also has plenty of affordable accessories too—including this pashmina scarf-inspired wedding shawl. Tassels line the edges of this design for an added pop of texture. But don't worry if that's not your style—the brand also has shawls without fringe, too.
9. Lulus Upscale Style White Faux Fur Stole
It doesn't get more glamorous than this. Elevate your wedding attire with this luxe faux fur bridal stole. This ultra-soft and chic wrap will complement your beautiful white dress while keeping your arms warm during those chilly nights.
10. ASOS DESIGN Curve Faux Leather Belted Coat with Borg Trim in Blue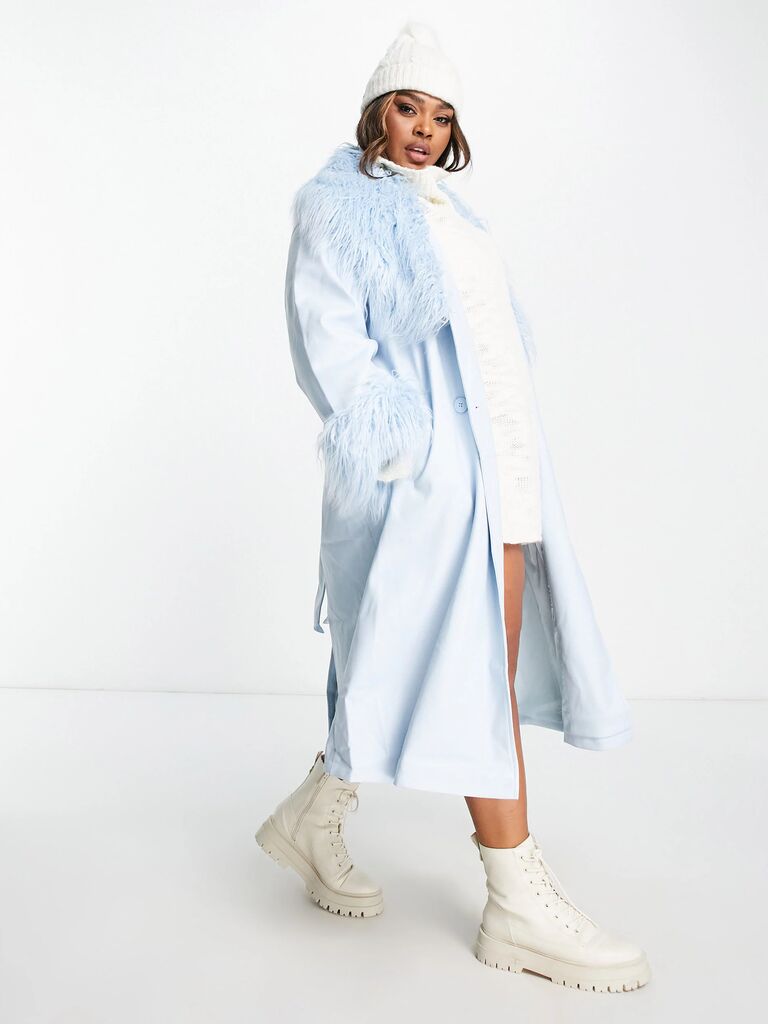 If you know your wedding day will be chilly, go all out with a coat rather than a simple shrug or wrap. This something blue piece, accented with wispy feathers, will serve its purpose through low temperatures, wind, or even a snowstorm while making you look like an ethereal wintry queen.
11. Somedays Lovin The Giver Jacket in Pink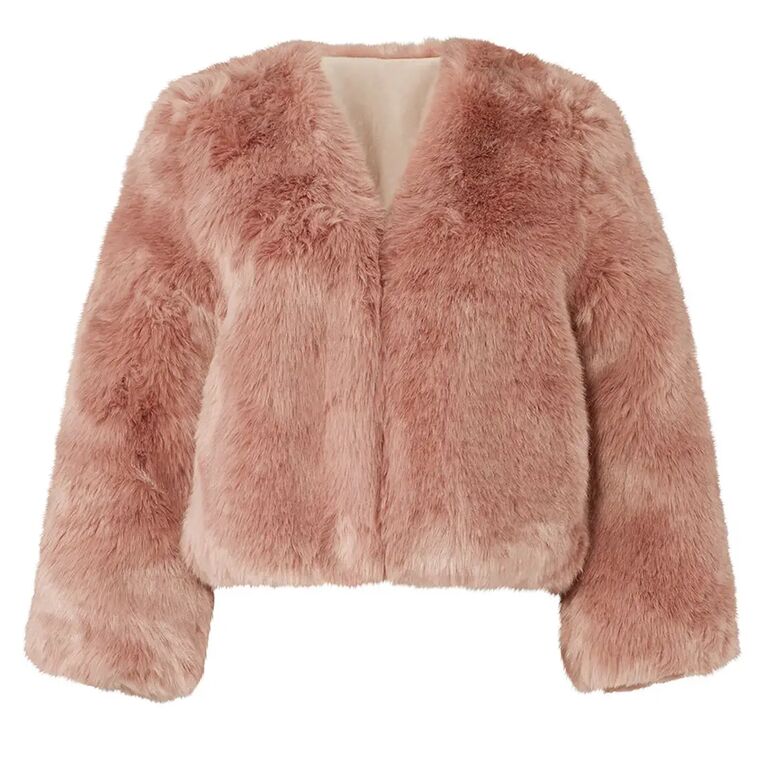 Wedding outfits can be expensive, and if you don't want to purchase an additional accessory, we recommend renting one instead. This Pink cover-up is a great way to add vibrance to your ensemble. And if coats are more your vibe instead of wedding shawls and wraps, check out our roundup of bridal jackets for even more inspiration.
12. MODA Crochet Wedding Wrap in Ivory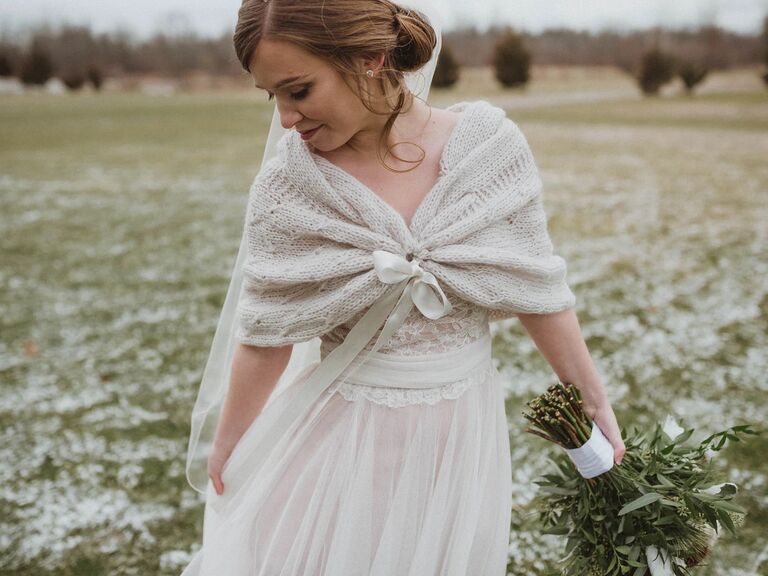 Opting for this cozy bridal bolero is basically the same as wearing your favorite cable-knit sweater. Thanks to the soft acrylic yarn and double-sided satin ribbon, it'll feel like your winter wedding shawl is barely there—ideal for wearers who don't want a fussy accessory.
13. David's Bridal Pull-Through Faux Fur Shoulder Wrap in Black
Guess what? Bridal shrugs don't have to be white or ivory. This Black faux fur wedding wrap, available in standard and plus sizes, has an off-the-shoulder neckline and a pull-through slit for an easy, secure fit. We're equally obsessed with the striking hue (which not to mention, will contrast beautifully against a snowy white backdrop).
14. Adrianna Papell Organza Wrap Jacket With Short Sleeves
While this chiffon wedding dress shawl isn't exactly the most functional choice for staying warm, it'll certainly give your look an on-trend finish. Best of all, you can wear it two ways depending on your preference: open or tied in the front. This shawl also comes in black, giving your wedding attire a dark and unique twist.
15. David's Bridal Long-Sleeve Tulle Shrug in Ivory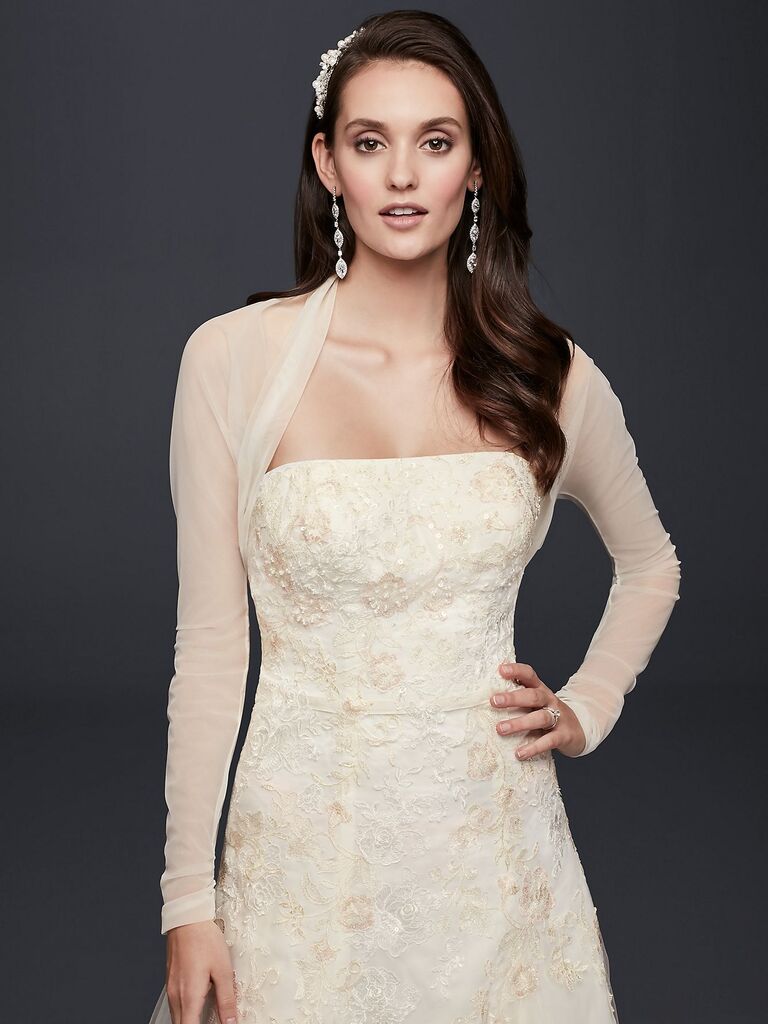 For those who need something to cover up but don't want to get too warm, we suggest a wedding shawl in a thin material like tulle. This piece from David's Bridal certainly fits the bill as it'll add a simple layer to your look without making you overheat.
16. Lace & Favour Olivia Ivory Ruffle Feather Bridal Stole
If your fashion aesthetic skews maximal, this feathered wedding cover-up is for you. This statement can also come in a lovely cream color, ensuring your wedding day ensemble is one that won't be forgotten.
17. Esther Andrews Bridal Touch of Eucalyptus Sweater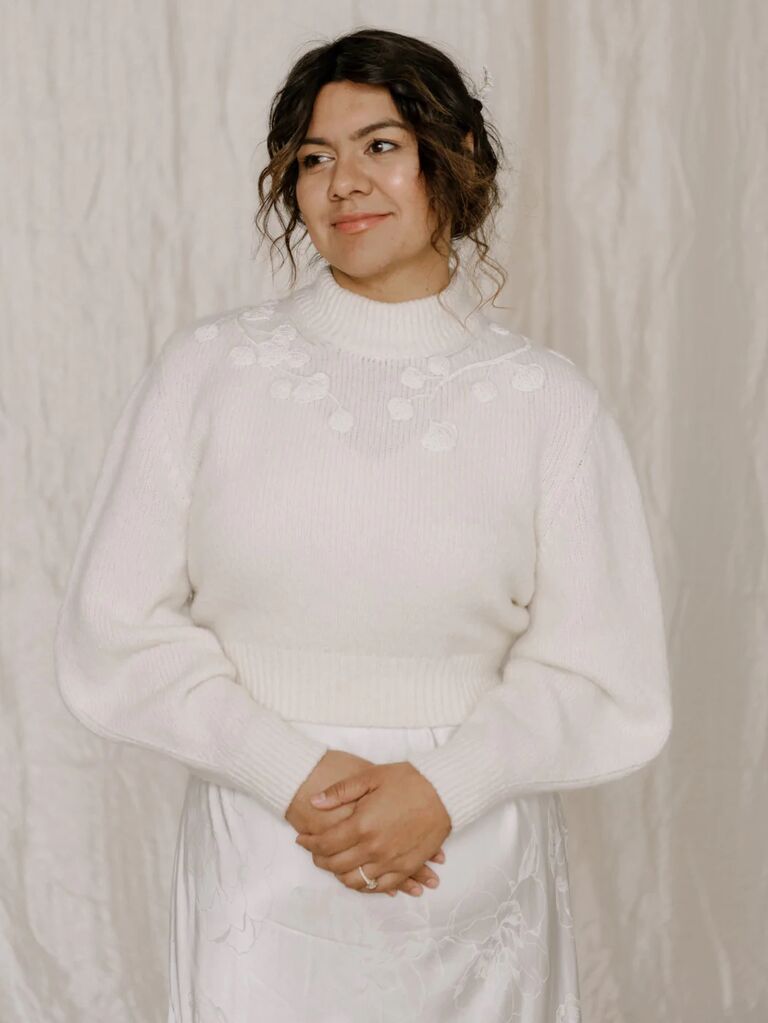 For a look that'll really turn heads, consider investing in a knit bridal sweater instead of a typical shawl or wrap. (We love the idea of pairing this piece with a sheath underneath, though the styling options are endless.) The brand's accessories are sustainably made by the designer, who went viral on TikTok for knitting her own wedding dress on the New York City subway. While this particular sweater features a delicate eucalyptus pattern, the brand also offers size-inclusive bridal shawls, capes, shrugs and more.