15 Chic Wedding Shawls and Wraps That'll Keep You Warm on Your Big Day
Say goodbye to cold shoulders with this trendy accessory.
We have included third party products to help you navigate and enjoy life's biggest moments. Purchases made through links on this page may earn us a commission.
While you might be saying "I do" in cold weather, you don't have to sacrifice style for comfort. In fact, the cold shoulder is a thing of the past thanks to the popularity of trendy wedding shawls and wraps. From faux fur stoles to boho velvet wraps, cozy accessories like these are a simple (and functional) way to make your wedding dress winter-appropriate. Whether your date is in early fall or after the holidays, there's a chance you might get chilly while taking photos or mingling with guests; plus, you never know when snow flurries might make an appearance. To protect against cold weather, invest in a bridal shawl or wrap to wear on your wedding day. With so many styles and colors available, it's easy to find one that complements your wedding vibe. Wedding shawls can also help winterize your look and transition your dress across seasons. If your wedding date or location unexpectedly changes, there's no need to get a whole new dress if you don't want to. Instead, all you need is a cozy coverup to make your gown work for any season.
To help you complete your bridal look, we've rounded up our favorite wedding shawls and wrap alternatives, like stoles, capelets and shrugs, that'll keep you warm on your big day. Whether you're shopping just for yourself or for your wedding party too, you'll find a collection of styles to fit any wedding theme—and you can buy your favorites right on the spot.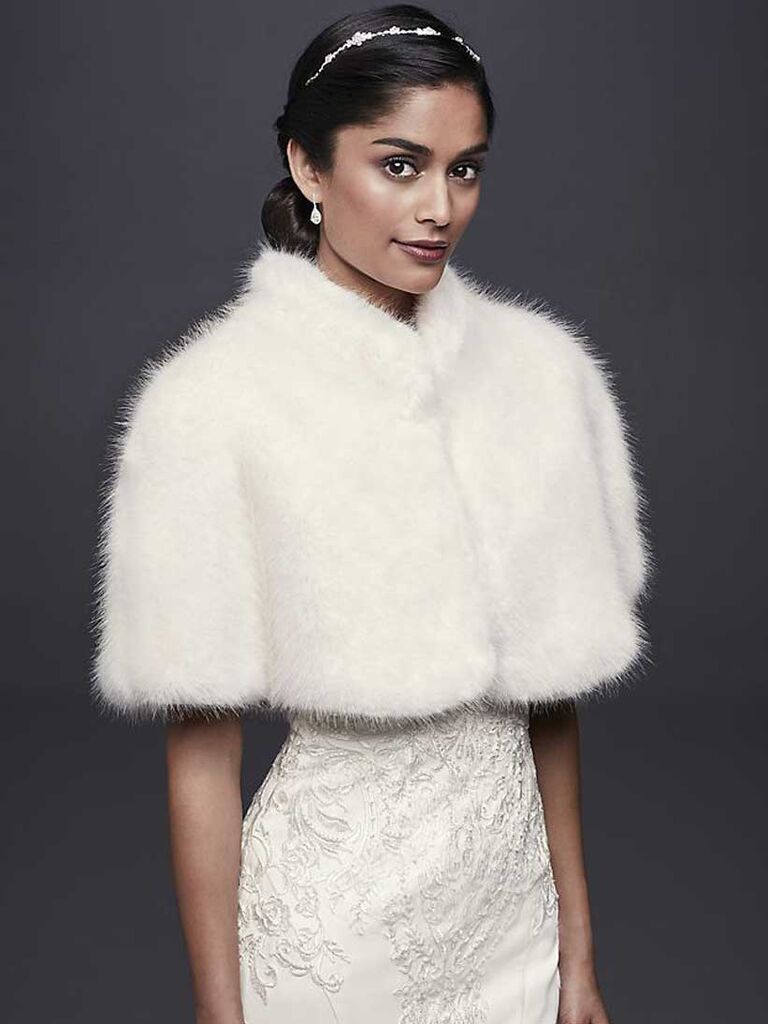 Give your wedding look a chic finishing touch with a mock neck faux fur capelet. A modern take of a traditional bridal shawl, this unique cover up has a high neckline that evokes a sense of royal elegance. Plus, the ivory shade will give your look a stunning monochrome finish.
David's Bridal faux-fur mock neck capelet in Ivory, $80, DavidsBridal.com
Accent your boho style with a colorful velvet wedding shawl like this. With 22 colors to choose from, you can select a palette that is a cohesive fit to your earthy, laid-back wedding vibe. You can also customize the shawl's hem, with fabrics ranging from white beading to black teardrop lace. With so many personalization options, this handmade velvet shawl will be a great accent to your wedding look.
Arrow Thread Designs boho velvet fringe bridal shawl, $119, Etsy.com
Complete your ceremony or reception outfit with a luxuriously cozy shrug like this. With three different shades to choose from, you can pick a color that matches your dress and your overall wedding theme. Plus, this soft style also has pockets—what's not to love?
BHLDN Ayala shrug in Ivory, $98, BHLDN.com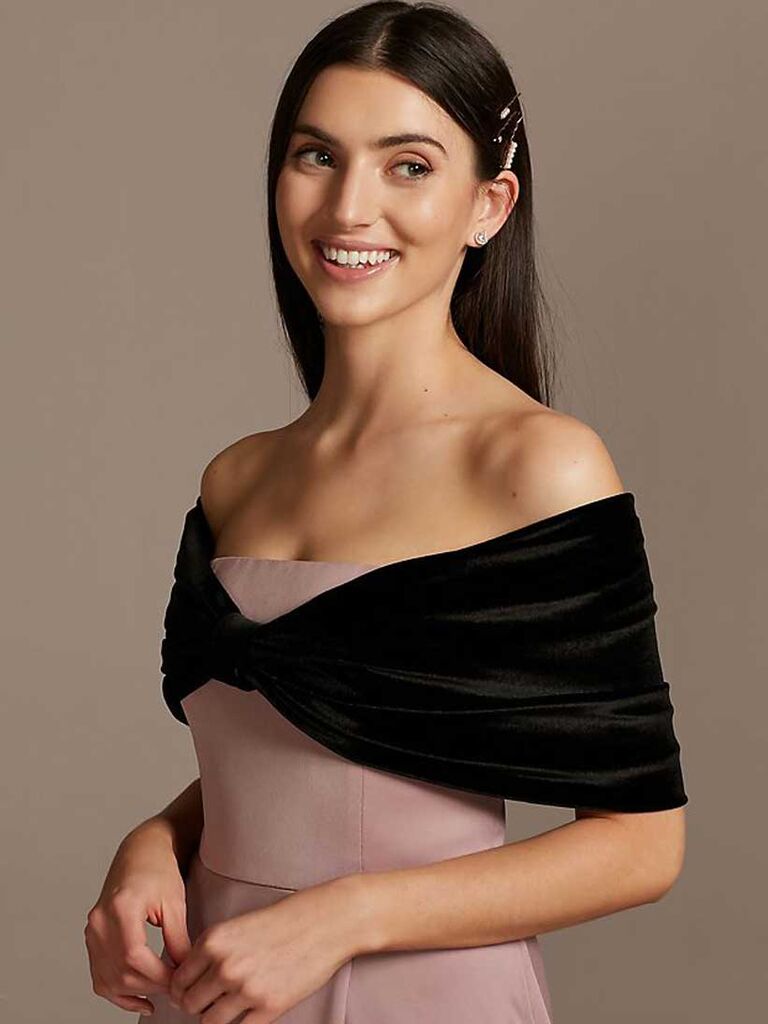 You don't have to stick with a neutral bridal shawl if that's not your style. For those who would rather make a bold statement with their cozy accessory, consider a black wedding wrap like this. The velvet material will add luxurious texture to your ensemble, while the bow detail in front brings a playful touch. This style also comes in Wine and Quartz colors too, so you can pick the shade you love most.
David's Bridal velvet off the shoulder bow wrap in Black, $30, DavidsBridal.com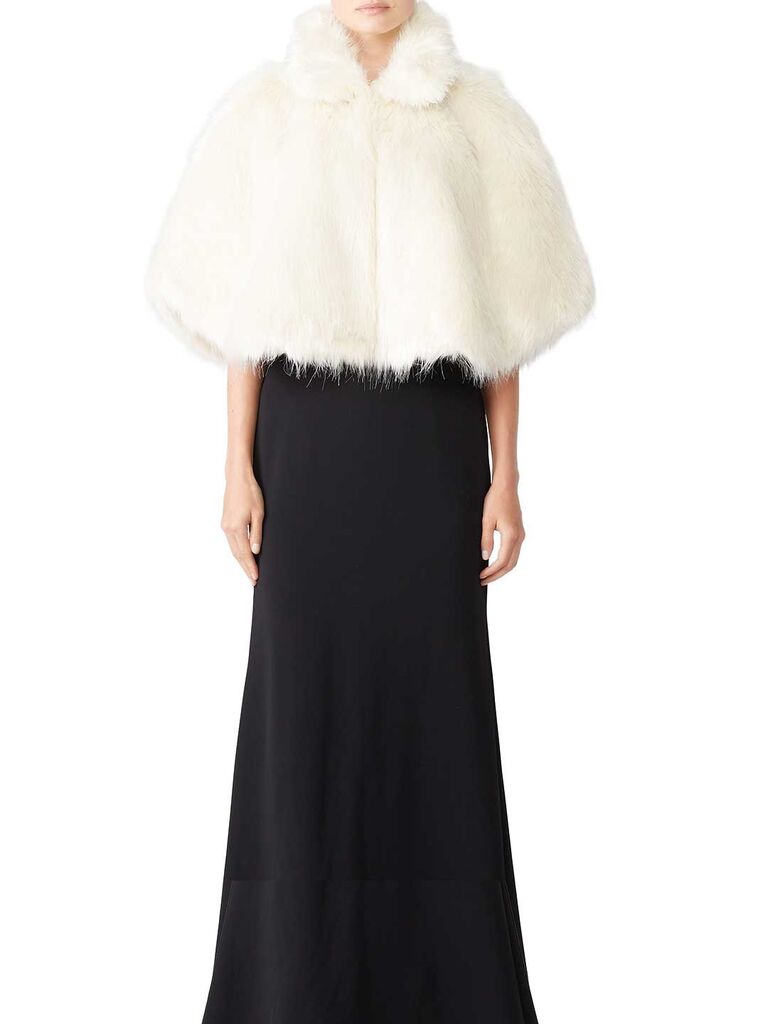 You don't have to commit to purchasing a wedding shawl if you don't want to. Instead, rent one to use solely on your wedding day. This ivory shawl from Unreal Fur can be rented for four or eight days, meaning you'll have it just as long as you need it.
Unreal Fur Camille faux fur cape in Ivory, from $45 for a 4-day rental, RenttheRunway.com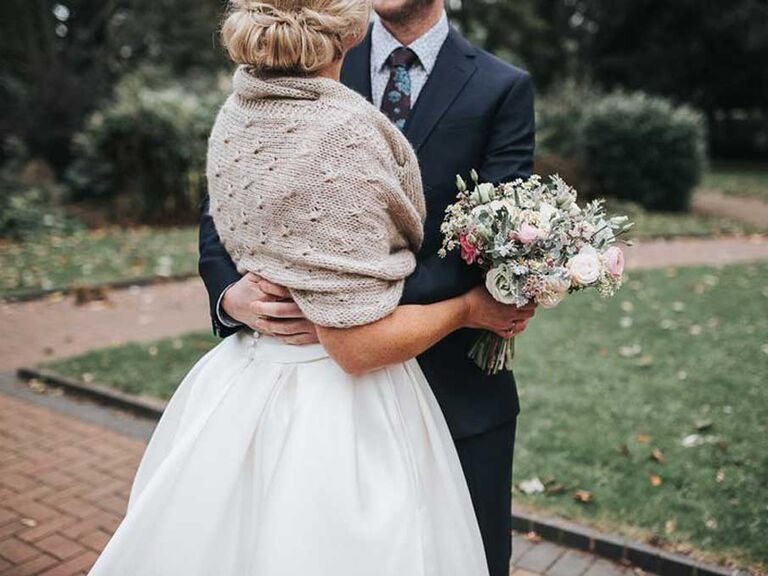 Wish you could wear a cozy sweater on your wedding day? This knit bolero shawl is the next best thing. The wrap features a silk tie in the front and comes in 59 colors (yes, you read that right!). The fabric is made of acrylic yarn and wool, meaning you'll stay warm throughout all the outdoor portions of your wedding day.
MODA Crochet wedding bolero shawl, from $89, Etsy.com
This lightweight scarf is a great way to cover up without overheating. If you plan on mingling with guests, taking photos and showing off your dance moves throughout the evening, a thin shawl will provide the perfect amount of warmth. Plus, this design's raw edge adds bohemian flair to the otherwise classic style.
BHLDN Rue pashmina in Ivory, $48, BHLDN.com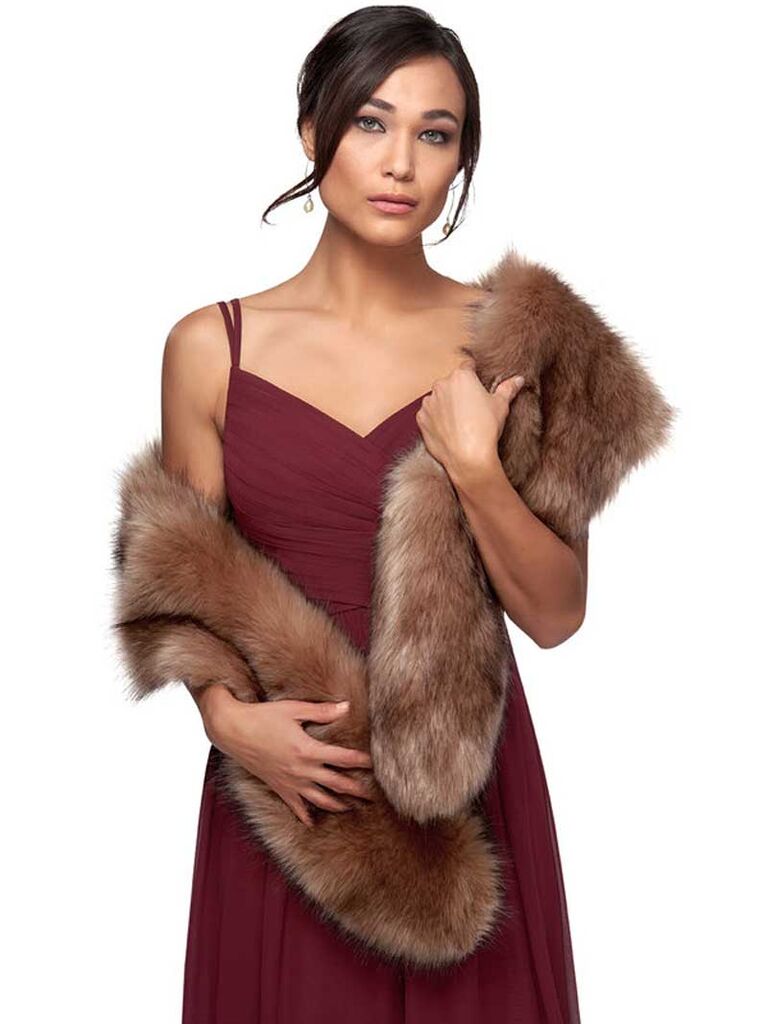 Cold temperatures won't get you down with a faux fur shawl for your wedding. The interior silk lining won't feel hot against your skin, but the outer furry layer will protect against breezy drafts or a few flurries. Stock up on a few of these for your bridesmaids if you want, or reserve it for your look. Even if you're wearing a strapless or sleeveless gown, you won't have to worry about your arms getting too cold with this style.
Azazie Sincerity faux fur wrap in Light Brown Fur, $29, Azazie.com
If you're sensitive to certain fabrics but still want to wear a wedding shawl, look for a design with a soft yarn blend. This cape-inspired shawl from Etsy is made from a silk and mohair yarn blend, meaning it won't irritate your skin. Plus, with a high neckline and an open back, it's a striking wrap that will compliment any style wedding dress—especially one with intricate details.
R Design Store knit wedding cape shawl in Ivory, from $91, Etsy.com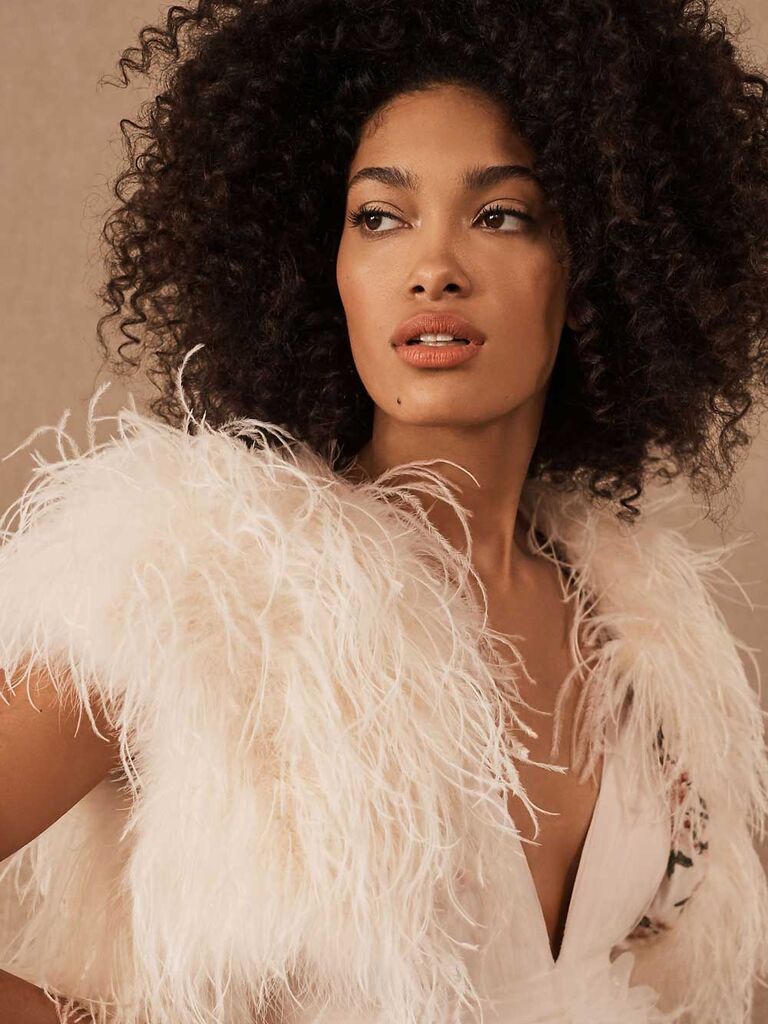 Style gurus, this one's for you. Go bold with a wedding shawl like never before seen. This design from Ivy & Aster features ethically-sourced feathers to make a serious wow statement. All eyes will be on you with this winter wedding shawl—as they should be.
Ivy & Aster Rosemary shrug in Ivory, $300, BHLDN.com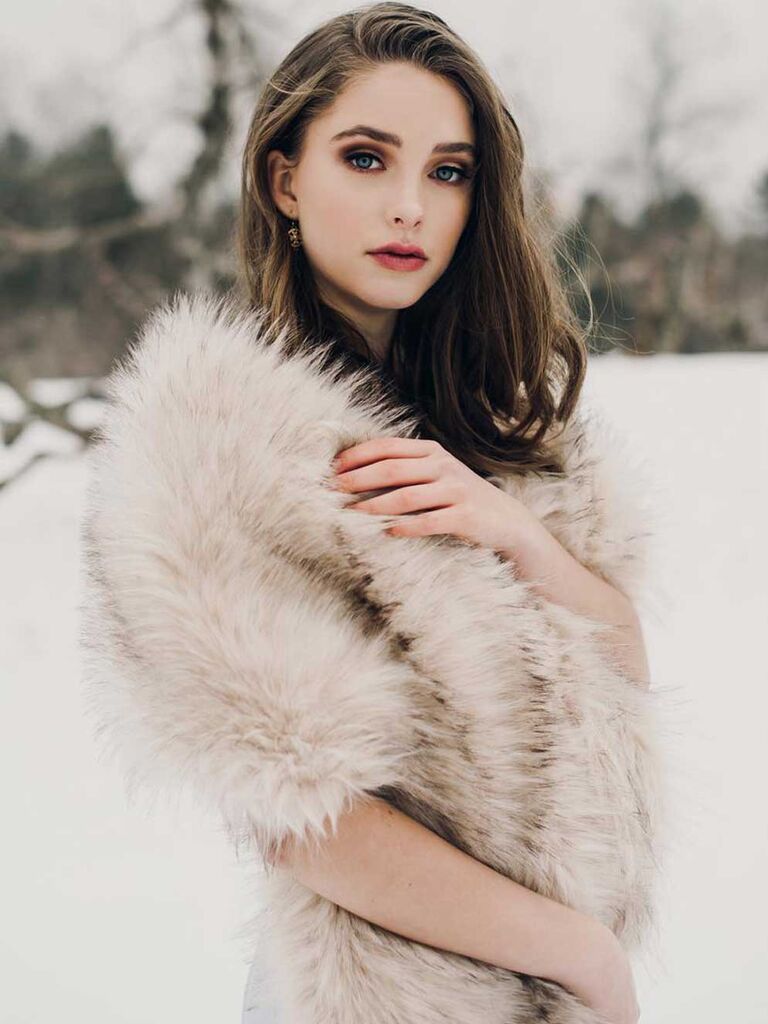 This neutral blush-tone faux fur winter wedding shawl will complement any bridal look. The fabric will match any style (and color) dress, meaning you can also stock up for your wedding party if you want. Plus, the design features hooks on the inner satin lining for easy use.
Sissily Designs faux fur bridal wrap in Blush Nude, from $70, Etsy.com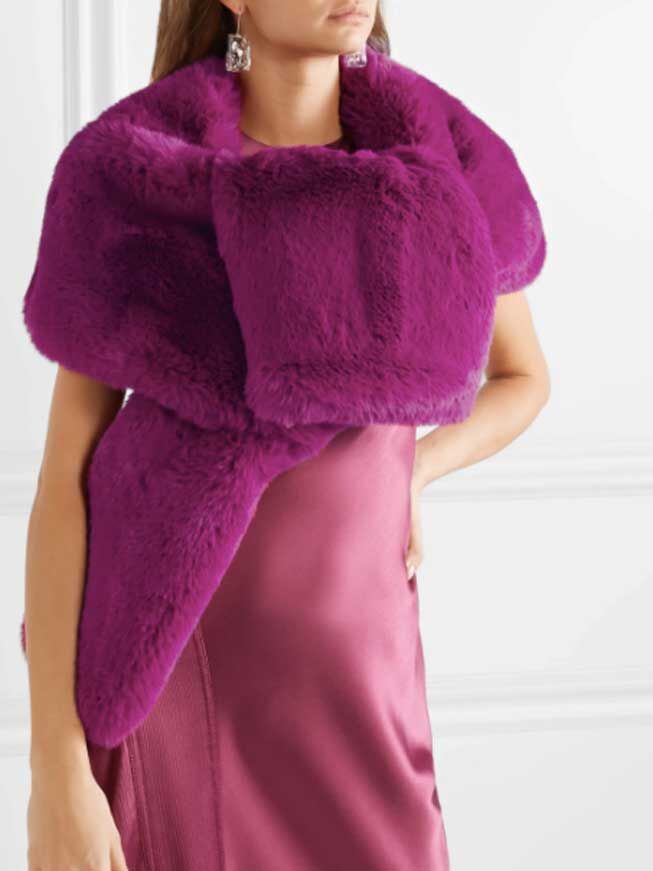 If you feel like splurging on a luxurious wedding accessory, consider this magenta faux fur stole. The bold color will make a serious statement in wedding photos while still combatting cold temperatures. Plus, the interior has satin lining and shoulder straps to keep it in place.
Sies Marjan Jordi faux fur stole in Magenta, $695, NET-A-PORTER.com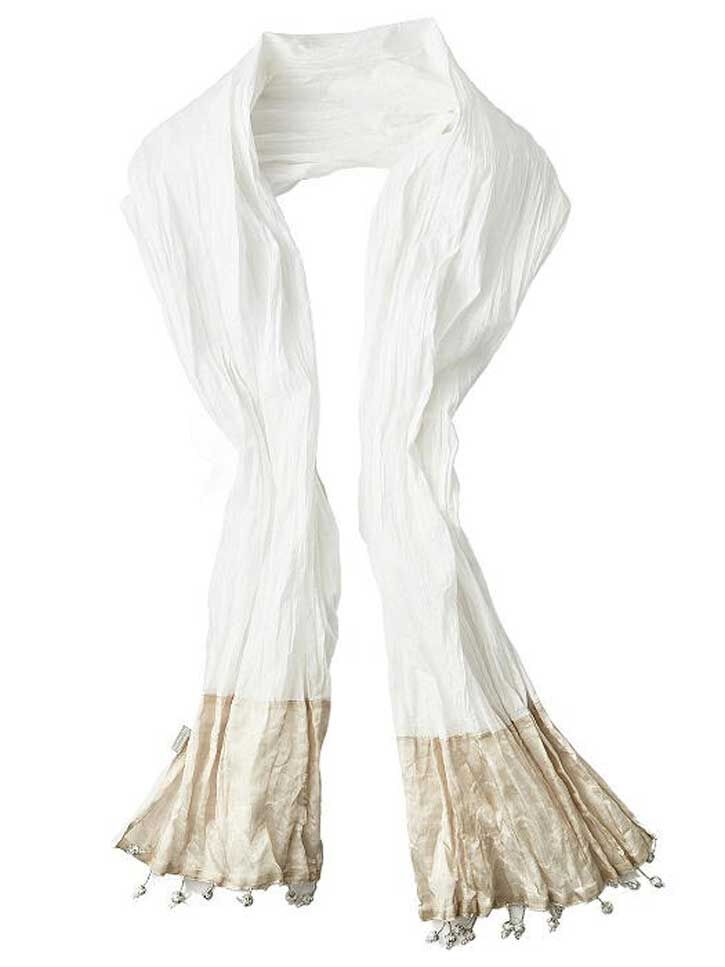 If you're all about the details, you'll adore this bridal wrap. The ivory cotton gauze shines with a gold metallic color block along the bottom, while hand-beaded fringe tassels ensure this bridal shawl will be spotted from all angles.
The Dessy Group Isabella wrap in Ivory, $32, Dessy.com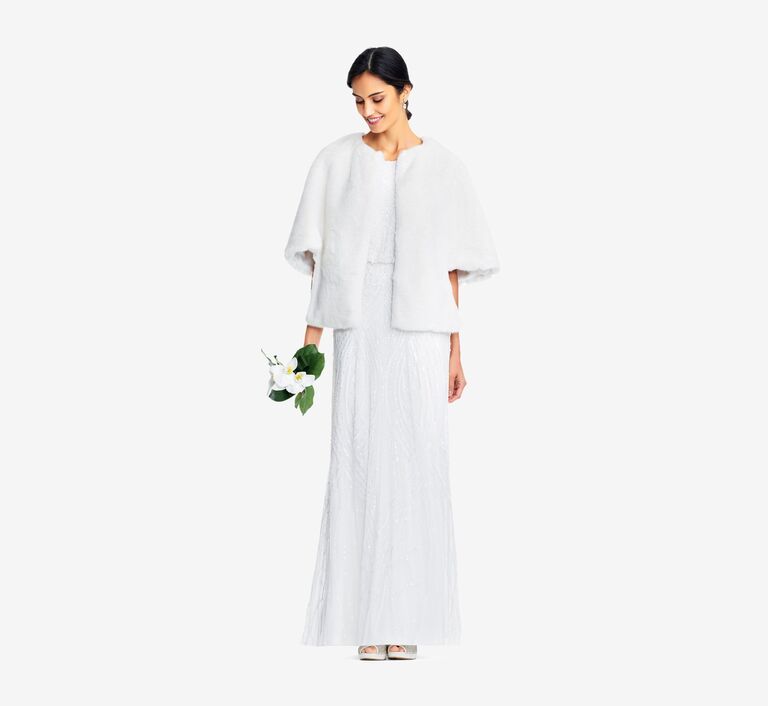 This white cape jacket is the epitome of elegance. Plus, with an open-front design, you won't have to cover up the front of your wedding dress to stay warm.

Adrianna Papell faux fur open front cape jacket in Ivory, $149, AdriannaPapell.com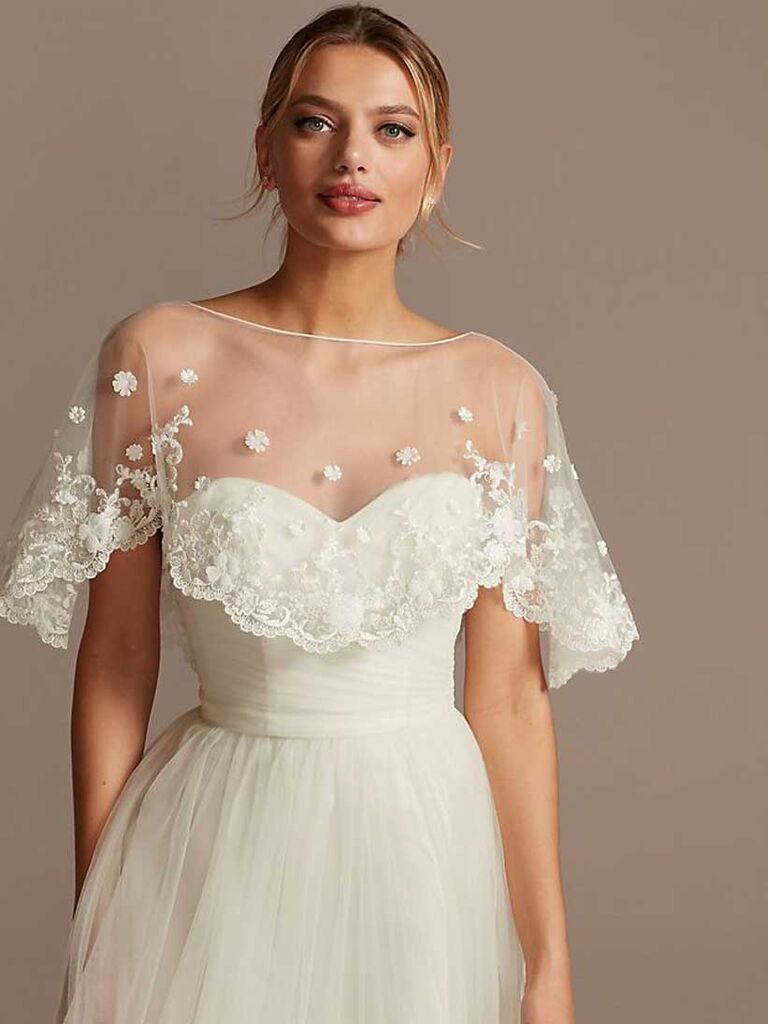 Perhaps you want to wear a wedding shawl to make a fashion statement, not for functionality. If that sounds like you, this ethereal tulle capelet is a stunning option to dress up your gown, especially if it has a simple neckline.
David's Bridal scalloped punch flower applique tulle capelet in Soft White, $100, DavidsBridal.com