6 Tips for a Romantic Tropical Honeymoon
Get the most out of your intimate time together.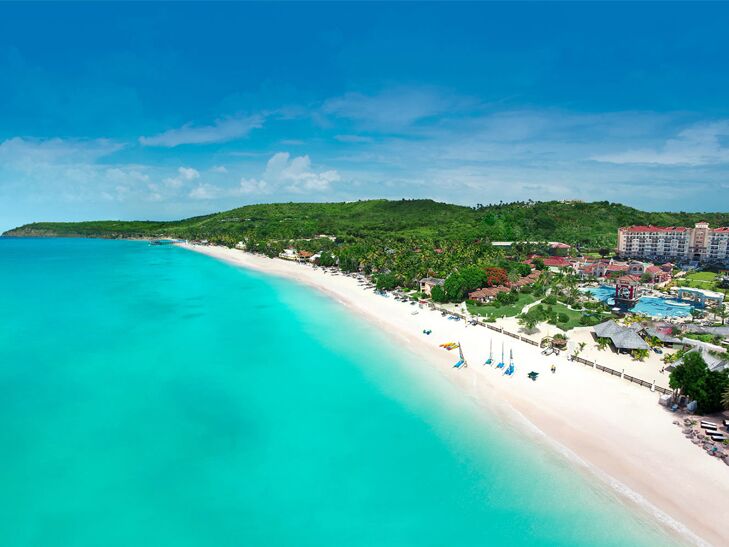 You're headed to a tropical paradise for your dream honeymoon, and you can't imagine anything more romantic. Make the most of these fabulous, fleeting days with our helpful tips.
1. Make your arrival an occasion. Plan ahead of time to have a bottle of champagne waiting in your room. If you don't drink, you might opt instead for strawberries or caviar. (And remember to call ahead and tell your resort or hotel that you're newlyweds. Often, they'll chip in a few free surprises their own.) You could also surprise your new spouse with sexy lingerie under your clothes. Whatever you do, find a way to make those first moments alone together memorable—you'll set the right romantic tone for the whole trip.
2. Bring some surprises. Among our favorite honeymoon goodies are a small Bluetooth speaker for your favorite music, candles, bubble bath and sexy honeymoon games. But also pack some thoughtful treats, perhaps some of your partner's favorite candy to magically conjure from your purse for an afternoon snack, or a pack of cards for afternoons on the beach.
3. Be smart. You want to kick back and have fun, and this might mean margaritas before noon. If you plan to enjoy happy hour (or hours!), do so in the shade of a beachside cantina, restaurant or your room. A hangover or accident can really put a damper on your honeymoon, and the same goes for bad sunburns or food poisoning. Be careful and safe with what you do, and you'll enjoy every second of those brief honeymoon days.
4. Pack something fabulous to wear... Even if no one sees it except for your significant other. Yes, we're talking about lingerie. Think of it this way: A great gift is even more wonderful when the package is tantalizingly wrapped. Your partner will enjoy the extra thought, and you're likely to enjoy the unwrapping process. You know what your fiancé finds sexy, so pack something to take their breath away.
5. ...and pack something comfortable. Of the shoe variety. You'll probably being doing a good amount of walking around town and on the beach, perhaps in tide pools. Sore feet or blisters will put you in a bad mood. Along with those pair of sexy heels, take along a broken-in pair of sneakers for being out around town and water shoes for reef crawling.
6. Don't over-schedule. You're in an exciting new place, and the temptation to arrange dozens of activities is strong. Resist it. Many honeymooners report that the best part of their trip is a daily nap after lunch. After all, there's no rule that says an afternoon siesta must involve actual sleep!