The Guide to the Perfect Mediterranean Honeymoon In Sardinia
Here's why you should consider this Italian island for your romantic getaway.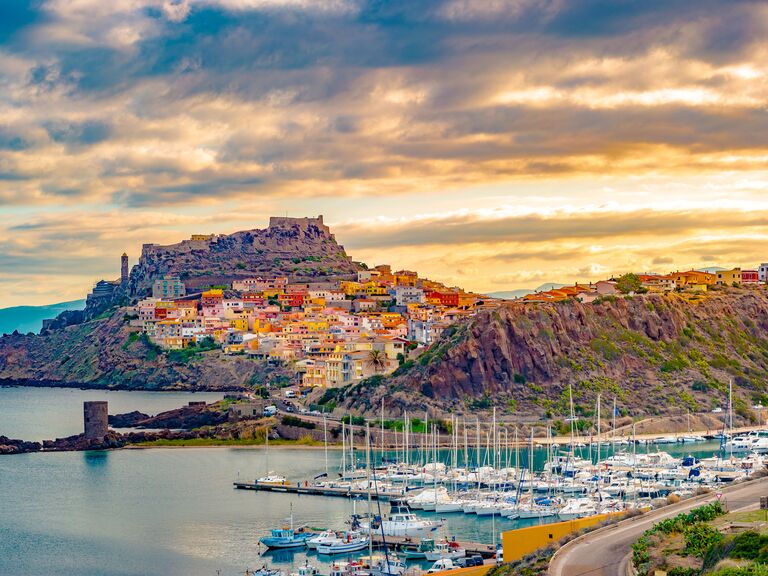 We have included third party products to help you navigate and enjoy life's biggest moments. Purchases made through links on this page may earn us a commission.
So you're interested in a Mediterranean honeymoon, but not-so-intrigued by the hordes of honeymooners who seek out Capri, Mykonos and Santorini. For a Mediterranean honeymoon destination that's a little more original, the island of Sardinia (or Sardegna, if you want to practice your Italian ahead of time) is a terrifically romantic destination.
This Italian island (one of the Mediterranean's largest) is known for its beautiful beaches, rich history, a strong sense of tradition and its mouthwatering cuisine. To put it simply, if you've already done the Italian mainland or Greece, and you're looking for something similar, yet altogether unique, Sardinia delivers. And thus far, it's primarily a summer destination for Europeans—not Americans—so you could be among the first of your friends to visit. Here's more of what to expect when you honeymoon in Sardinia, Italy, which some describe as one of the most beautiful places in Europe.
Is Sardinia Good for a Honeymoon?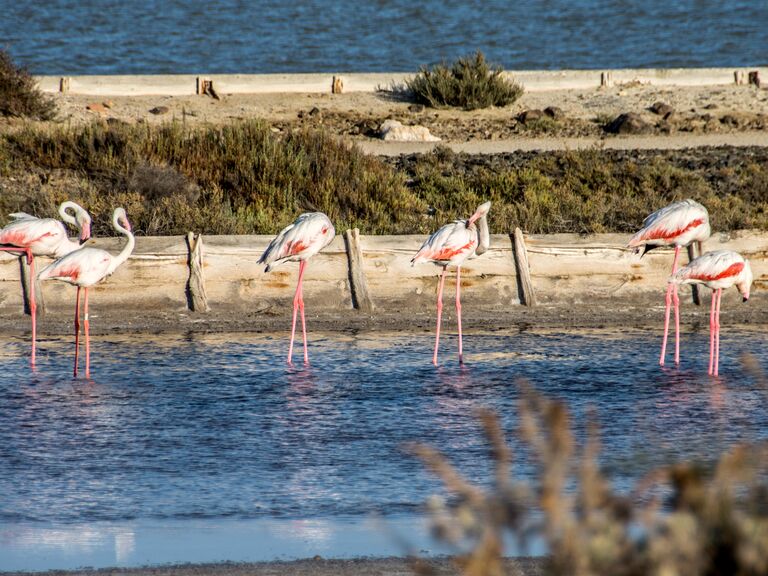 Pros of a Sardinia Honeymoon
Sardinia is an exclusive island destination. It's not as popular as some of its neighbors and that makes it a great fit for globetrotting couples already familiar with much of the European continent. However, despite its unique culture and overall "newness" for some, it still offers a lot of the same elements travelers love about this region of the world, including a spectacular food scene, ancient history and picturesque Mediterranean beaches and fishing towns.
Cons of a Sardinia Honeymoon
Compared to other European honeymoon destinations, Sardinia will require extra travel time. While you can jet to London or Paris from New York in under seven hours, getting to Sardinia will take at least 15 hours and require multiple layovers in Europe. (On the bright side, you could always extend your layovers and see more of Europe, if you wanted. Or couples can even choose to have a European destination wedding before flying to Sardinia). Additionally, if you're looking for a budget-friendly destination, you might want to look elsewhere for your perfect honeymoon.
The Best Times of Year to Go on a Sardinia Honeymoon
Just about any time of year is enjoyable in Sardinia. The month you choose for travel will depend on your priorities. Summer offers the warmest weather (up to the high 80s), but it's also peak tourist season in Sardinia. This implies increased airfare and hotel rates, as well as crowds. The winter months, on the flip side, have fewer crowds and better honeymoon prices. Even in the chilliest months, though, the weather is mild. December and January temperatures hover in the 50s.
Things to Do During a Sardinia Honeymoon
Explore the historic ruins and storied architecture.
Sardinia offers gorgeous natural scenery in every direction, from mountains to beaches to clear-blue waters, but the historic scenery—ruins, cathedrals, citadels and plazas—are just as beautiful. In the largest city of Cagliari, couples will want to visit the hilltop citadel, Il Castello, dating back to the 1300s.
In Sardinia, honeymooners will also want to schedule a visit to Nora and explore the ruins as they walk in the footsteps of the Phoenicians, Romans and Carthaginians. In the medieval Castelsardo Old Town, castles and churches dot the coast. There's just something romantic about exploring all this Old World and ancient history, hand-in-hand, with your beloved.
The most prominent of Sardinia's historic sites, though, are the nuraghes, prehistoric stone structures that date as far back to 1900 BCE. There are more than 7,000 nuraghes scattered around Sardinia, and you can book a nuraghe tour to see them for yourself.
Enjoy the natural Mediterranean landscape.
Beyond the historic and cultural appeal, Sardinia offers plenty of nature and melodious sounds to explore across the island. Gola Su Gorropu, or the "Grand Canyon of Europe," is ideal for a day-long excursion, especially as it's draped in folklore. For a bit of island-hopping, visit Maddalena Archipelago National Park, near Palau, made up of seven nearly-uninhabited islands and accessible via a boat tour.
Of course, you can't visit Sardinia and not go to the beach. The most picturesque picks include Tuerredda Beach, where you can swim out to a small island offshore; Spiaggia Rosa, a pink sandy beach within the Maddalena Islands; and the beaches along the Emerald Coast (or Costa Smeralda), which are a little more exclusive and accessible typically only by boat or resort.
For couples honeymooning during the winter months, you'll be surprised to find skiing available on Monte Bruncu Spina, the island's second-highest peak.
Taste the local cuisine.
But what's a honeymoon without savory and romantic dinners? Sardinia offers al fresco dining and delicious fare—most overlooking the water and perched on cliffsides, cozied away in medieval architecture. The dreamy settings are near endless. Wherever you decide to dine, though, try some of Sardinia's most popular eats, such as pani carasau, a thin, crispy bread; the Sardinian pecorino cheese; culurgionis, a stuffed pasta similar to pierogis or ravioli; proceddu, roast pig; and, of course, the Sardinian wine. For an expert-led dining experience, book a food tour.
Best Hotels and Resorts in Sardinia for a Honeymoon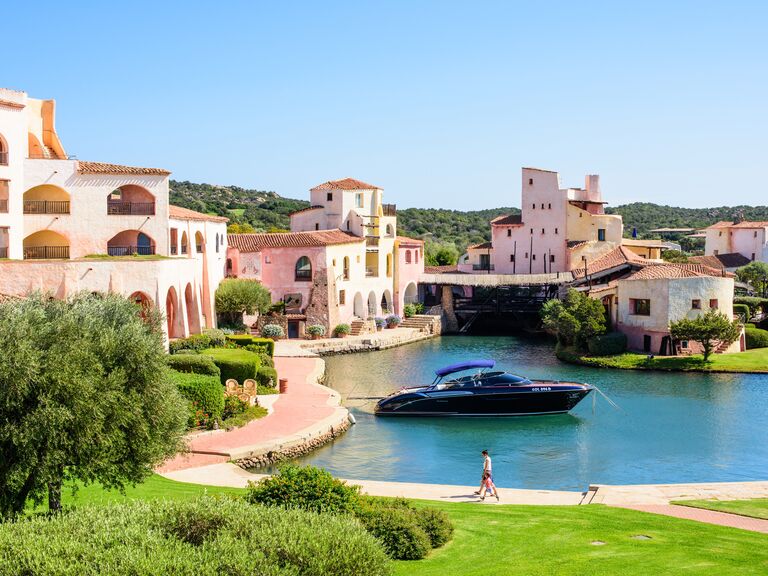 This luxurious Marriott property in Porto Cervo is just about as posh as it gets. The entire neighborhood, in fact, is particularly posh, developed more than a half-century ago by a prince, with its VIP beaches and resorts. For the most luxurious experience possible (hey, it's your honeymoon—when else are you going to splurge like this?), book the hotel's penthouse, which comes with its own wine cellar and a swimming pool.
You'll be in fine company at Villa Las Tronas Hotel & Spa in Alghero, built by Italian aristocracy in the 1800s before playing host to a variety of celebrities. Today, the five-star hotel offers sea views, but it's not on the beach. This means fewer beach crowds, but, of course, you're not actually on the beach, so take that into consideration when booking.
For a luxury hotel with all the amenities, book a getaway at Hotel La Roca Resort & Spa. Reserve the resort's villa for your own private pool and park, as well as expansive space. Elsewhere, the resort boasts a private beach, a large spa with amenities such as a Turkish bath and Finnish sauna, and multiple restaurants. It's all on the Emerald Coast, giving you great access to the region's multiple VIP beaches.
If you have some time to plan your honeymoon, the newest luxury resort on the island of Sardinia will be the Rosewood in 2023. Located on Costa Smeralda, the property promises 65 guest rooms, including 26 suites. Each room is outfitted with incredible views of the Mediterranean. The property also includes a bistro, pool bar, beach club and a full-service spa to accommodate all couples' honeymoon needs.
This five-star boutique hotel sits between Cala Capra and Cala Selvaggia, two beautiful beaches, and right near the bay. The exclusive setting also puts you just a 20-minute drive from Porto Cervo. But beyond the spectacular location, the property also offers golfing, planned excursions, free Wi-Fi and multiple dining options.
What to Pack for a Sardinia Honeymoon
In addition to your honeymoon basics, couples will want to pack season-appropriate attire. Several swimsuits, cover-ups and resortwear are a must for summer visits (as is sunscreen). During the winter, you'll want to pack layers to account for the fluctuating temperatures. Consider bringing along a few dressier outfits, too, for evening dinners.