St. Vincent & the Grenadines Honeymoon: Weather and Travel Guide
by the knot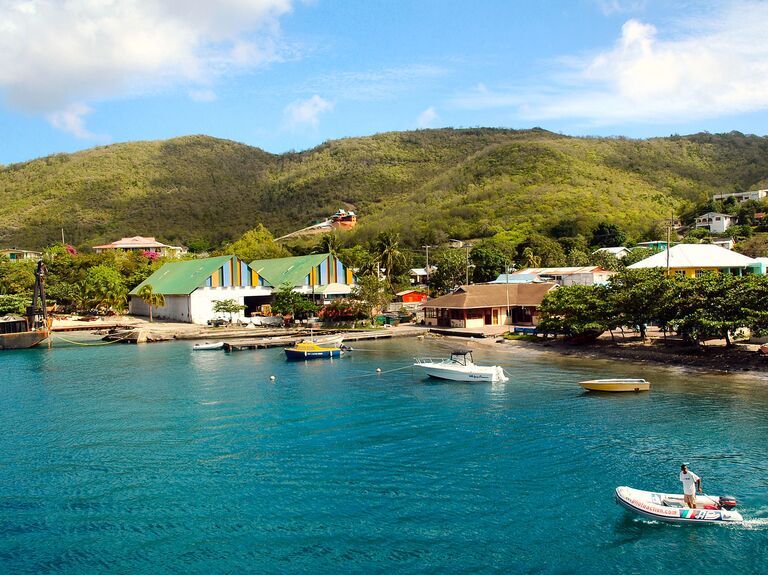 St. Vincent and the Grenadines is a nation made up of the lush, volcanic isle of St. Vincent, along with the northern portion of the chain of islands known as the Grenadines. With a bit of island-hopping, this Caribbean paradise will have you bathing in waterfalls, admiring six types of dolphin, climbing volcanoes and napping in hammocks. There are 32 islands in this heavenly realm, with plenty of opportunities for total tropical seclusion.

Before You Go: Need-to-know info
Entry requirements: Passport and return ticket
Language: English
Flight time (to Barbados): 5 hours from New York City; 8 hours from LA; it's a short 30-minute flight from Barbados to St. Vincent (flights to St. Vincent involve lots of stops)
Getting around: Car (keep left!), taxi, boat and bus
Currency: East Caribbean Dollar

When to Go: St. Vincent & the Grenadines at their best
Best weather: December to May. Year-round temperatures average in the 80s.
Best prices: May to June and November

What to Do
Visit St. Vincent's volcanic wonder: The largest island of the nation is home to La Soufrière, a 4,000-foot active volcano, making for spectacular hikes, lush vegetation and exotic black-sand beaches. A beautiful drive through banana plantations takes you to the start of a two-and-a-half-hour hike through bamboo groves, a rainforest and a rocky lava field. At the top, especially daring couples can even climb down a rope into the crater and treat themselves to a mineral mud bath.
Find total privacy in Petit St. Vincent: The sandy white island of Petit St. Vincent offers 22 scattered private cottages, all featuring enchanting views and complete isolation. If it's relaxation you're after, this is certainly the place. Hammocks are strategically placed along the beaches, and there are no telephones, no televisions and no air conditioners. There aren't even room keys. But there is great service. If you want or need anything (say, a margarita in your room or a picnic lunch on the beach), just shimmy a yellow flag up the bamboo pole outside your villa. The island staff will come right over to hear your wishes. Now that's paradise.
Petit Tabac : Want pure seclusion? Find it here -- on any of the five uninhabited islets of the Tobago Cays. All five are lined with palm trees on fine white sand, and masses of colorful fish beneath crystal blue waters make for some of the world's best snorkeling.