Everything You Need to Know About Taking Boudoir Photos
Want to surprise your partner with an intimate photo album? Check out our top boudoir photo shoot tips.
by The Knot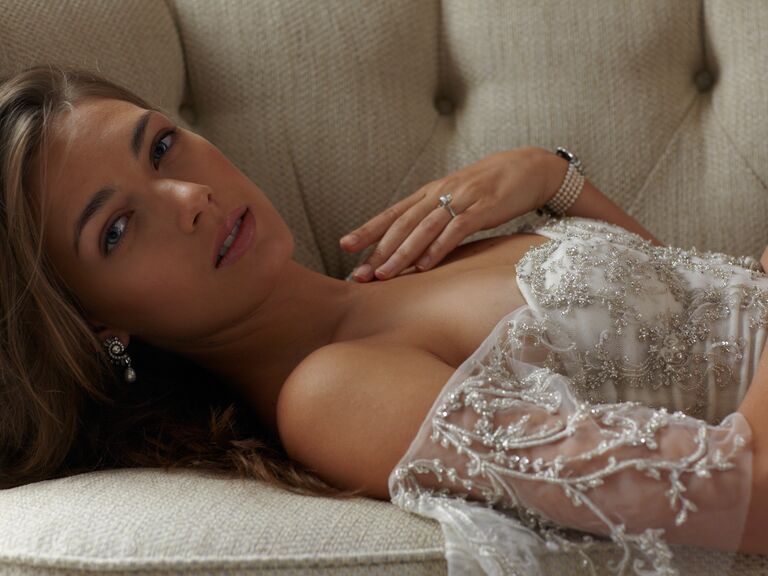 Boudoir photo shoots have maintained serious popularity among to-be-weds. It's most popular among brides, but grooms too, and even couples together, are choosing to pose for sexy shots. But what exactly is boudoir photography, and how does it work? To help you decide if a risqué photo shoot is the right move for you (both), read on for answers to all your questions.
What Is Boudoir Photography?
Boudoir photography is a sultry professional photo shoot meant as a special gift for your partner. Whoever's taken boudoir photos will often present their finished shots as a wedding gift to their soon-to-be-spouse. Boudoir photos can range from intimate and flirtatious to straight-up sexy, depending on your own comfort level and preferences. They definitely don't need to be X-rated—if PG-13 is your boudoir photo sweet spot, that's perfect. You can also incorporate a theme or get inspired by a certain aesthetic: Try a classic pinup-inspired vibe, or what the pros call implied nudes. That means you're not wearing anything, but you're also not showing off anything either (think: a snap from the back, lying on your stomach or covering up with a sheet or pillows).
Who Takes Boudoir Photos?
Many wedding photographers have jumped on the boudoir bandwagon and started to include this prewedding service has an addition to your wedding photography contract. In some cities, you can also find specialty boudoir photographers whose expertise is taking sexy shoots for brides- (and grooms-) to-be. Beyond getting high-quality photos and having a seamless, professional experience, hiring a pro ensures you'll end up with a completed photo album, perfect for gifting your other half, a service many wedding photographers are able to arrange.
When Should You Schedule a Boudoir Photo Shoot?
If you're spending time, energy and money on a prewedding wellness or beauty routine, you're welcome to wait until a week or so before your wedding to show off those glowing results (although, this depends on how much time you have or how stressed you are right before your day). Plus, a fun and pampering photo shoot is a good way to indulge and take a breather from wedding planning. Otherwise, take them whenever you'd like—one suggestion, though: Don't schedule your boudoir photo shoot for the morning of your wedding. Trust us, you'll have enough going on without adding an entirely separate photo session to your day-of timeline (and you won't want to feel rushed or look stressed in your sexy shots, right?).
How Long Does a Session Typically Take?
This will depend on the photography package you choose, but your boudoir photo session will probably last for about two hours. It takes time to prep hair and makeup, and set up any additional props or lighting. It may also take you a little while to relax. Most to-be-weds aren't used to lounging around in lingerie or a silk robe in front of a camera lens, so your first few shots could look a bit stiff. (Don't worry, you'll loosen up, especially if you have a photographer you really click with.)
What Does Boudoir Photography Cost?
Cost varies considerably—do a little investigating before committing to a vision of what you want. Multiple set changes, renting props or simply time spent can add up quickly. If you can include a private session in your wedding photography package, you may be able to get a better deal than if you go with a different photographer. The real key, of course, is whether you gel with your photographer—if you don't feel comfortable, it'll show on camera. Keep in mind you might need to budget a little extra if you plan to buy new lingerie and/or get your hair and makeup done beforehand.
Where Should You Take Your Photos?
Talk with your photographer to come up with the best location—one that's both beautiful and comfortable. Many photographers do a photo shoot in a studio. Another popular setting is a hotel room, but your own home is another great option. Mainly, you need to get the okay from your photographer on the locale—a number of different backgrounds for poses are important, and they'll also need lots of natural light.
What Should You Wear?
Choose outfits that make you feel confident, comfortable and sexy. A good rule of thumb: Bring something white, something black, and something in a bright color so you can mix and match. A corset will create sexy curves, while delicate lingerie will create softer, romantic lines. In addition to undergarments, don't forget any accessories you want to incorporate, like shoes and jewelry (and your engagement ring, of course).
Should You Bring Anyone With You?
Though you don't want to turn your shoot into a three-ring circus, it's a great idea to bring a friend along if you're the nervous type. You'll feel more at ease if you can make a few jokes with a pal, as well as listen to their encouragement or even suggestions. Another idea you'll love: Bring a bottle of bubbly. A little champagne may help loosen things up and create a celebratory atmosphere. You'll be posing like a pro in no time—and your lucky partner will love the results.
Ready to find amazing photographers near you? Head to The Knot Marketplace to start your search.