Hawaii's 15 Most Instagram-Worthy Spots
Get your followers double-tapping with these can't-miss spots you'll definitely want to add to your honeymoon itinerary.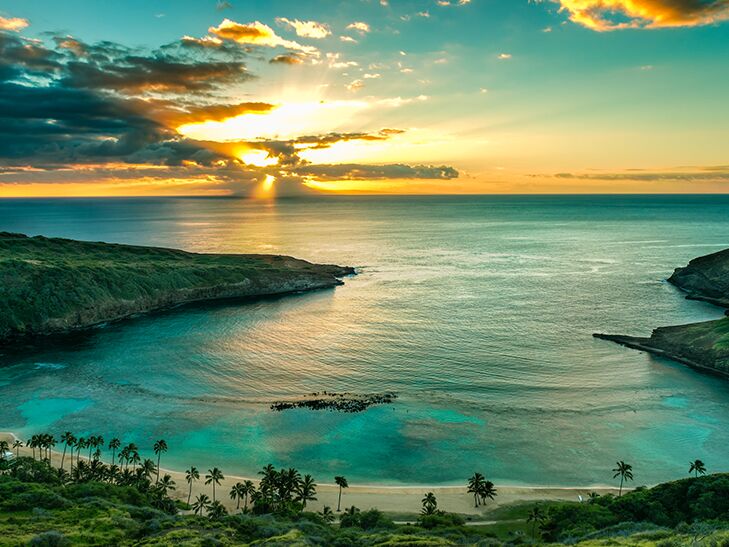 iStock
Better clear out some memory on your phone! Hawaii is a scenic paradise unlike anywhere else on Earth. From pristine beaches to molten lava flows and jagged seaside cliffs, the views on any island will leave you breathless. Trust us—you're going to want some major photographic evidence of all this beauty when you get back to the mainland. So if a Hawaiian honeymoon is in your future, check out our picks for the most snap-worthy spots across all six major islands.
Waipio Valley Overlook, Big Island
This popular lookout on the Big Island's windward side is easily accessible by car. Whether or not you decide to hike down into the lush valley is up to you, but the view from the top of the overlook is certainly worth the drive.
Kilauea Lava Flow, Big Island
The best spot to see molten lava on the Big Island is always changing (Mother Nature's unpredictable like that), but Hawai'i County officials manage the current viewing area to make sure it's safe for visitors.
Punalu'u Black Sand Beach, Big Island
This beach on the Big Island's south shore is made of pulverized lava, giving it an otherworldly appearance. Bonus: It's also a favorite sunning spot for giant sea turtles!
Sunrise at the Summit of Haleakala, Maui
It's worth waking up before dawn and braving the endless switchback roads up the side of this massive volcano. When you see the spectacular sunrise more than 10,000 feet above sea level, you'll know why the summit's name means "house of the sun."
Wai'anapanapa Beach on the Road to Hana, Maui
The daylong drive known as the Road to Hana is littered with gorgeous surprises. But this craggy black-sand beach is a favorite stop thanks to its charming caves and tide pools.
Makena Beach, Maui
Also known as Big Beach, this mile-long stretch of white sand and turquoise water is exactly the kind of scene people come to Maui to see. While not the calmest waters for swimming, the waves provide endless entertainment for bodyboarders and surfers.
Napali Coast Kalalau Lookout/Trail, Kauai
This scenic point off highway 550 is one of the few spots where you can view the Napali coastline without taking a boat. The other is the 11-mile Kalalau hiking trail that skims the cliffs above the water. Either way, the landscape is unforgettable.
Hanalei Valley Lookout, Kauai
Peering out over the green valley floor and blocks of taro fields, the roadside overlook above Hanalei Valley is an easy-to-visit, can't-miss stop outside Princeville.
Waimea Canyon, Kauai
Nicknamed the Grand Canyon of the Pacific, this 10-mile-long gorge is dotted with waterfalls and known for frequent rainbow sightings. Views of the stunning red clay crags striped with green foliage are accessible from two lookout points with parking—convenient!
Banzai Pipeline, Oahu
One of the most famous surf spots in the world, the curled wave known as the Banzai Pipeline can be viewed from Ehukai Beach on Oahu's north shore. While the 16 to 20-foot waves common in the winter months aren't for amateurs, it's definitely thrilling to spread out a beach blanket and watch the pros hang ten.
Top of Diamond Head Crater, Oahu
Located at the southern tip of Waikiki Beach, the volcanic crater Diamond Head is a relatively easy hike (so you don't have to be a regular CrossFitter to make it to the top). The scenic peak overlooks all of Waikiki and Honolulu as well as Oahu's mountains.
Waikolu Valley Lookout, Molokai
Waikolu Valley is a deep ravine in Molokai's rain forest preserve, leading to the ocean beyond. After a rainstorm, the hillsides here are studded with waterfalls that plummet down to the valley floor.
Kalaupapa Peninsula, Molokai
This remote area on Molokai's north shore is only accessible by mule. (Yep, that's right—you ride three miles along the cliffs on the back of a mule.) But the peaceful and isolated views at the bottom are well worth the trek.
Polihua Beach, Lanai
Since this isolated beach can only be reached with four-wheel drive, it's possible you'll have this two-mile stretch of sand all to yourself. If you visit in winter, you might even spot some humpback whales right off shore.