15 of the Best Places to Propose in DC
Get down on one knee in the nation's Capital for a memorable and romantic proposal.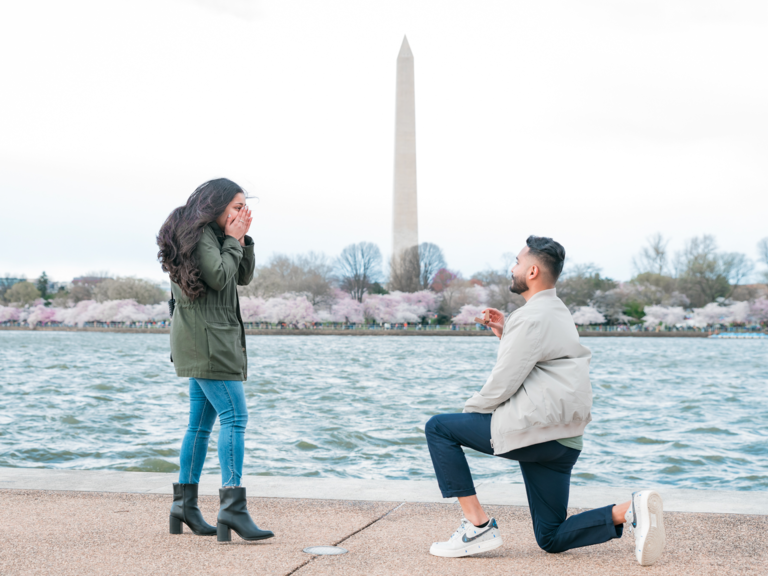 Photo: Densu Joseph
Pop the question at one of the best places to propose in DC. Whether you want a backdrop of cherry blossoms or a panoramic view of the city, there are many romantic proposal ideas in Washington, DC. The nation's Capital has no shortage of historical landmarks and picturesque parks to make your big moment magical.
To make sure the day goes smoothly create a checklist with an experienced proposal planner. Don't forget to head over to The Knot Vendor Marketplace to search for an experienced Washington, DC, engagement photographer.
To find out where to propose in Washington, DC, we reached out wedding experts to Margaret Lefton, creative director of Yours Truly DC and Jenna Leigh, wedding photographer and owner of Jenna Leigh Photography. We also gathered the details you need to know about planning your city proposal.
In this story:
How to Decide Where to Propose in Washington, DC
Jenna Leigh said it's important to think about locations in the city that are special to you and your partner and reflect the two of you as a couple. "If you are the type of couple who loves to spend time outdoors hiking, biking, or walking, then choosing a location that reflects that aspect of your relationship goes a long way in making the moment that much more special," she said. "If your partner loves the iconic scenes and architecture of DC, then proposing on the steps of the Lincoln Memorial, in front of the Capitol Building or between the columns of Union Station would make for the perfect backdrop." Work with your proposal planner to create a proposal package in DC that fits you and your partner.
The Best Time of the Year to Propose in Washington, DC
For the best weather, consider spring and fall months, which have more comfortable temperatures and lower humidity. If you want a backdrop of blooming pink cherry blossom trees, your best time frame is around late March to early April. This can vary each year, so keep an eye on bloom predictions leading up to your proposal.
If your proposal is less focused on the weather and more on your future wedding-planning timeline, Jenna Leigh suggests proposing during the New Year or after Christmas. "This gives you time to make some decisions about how and when you want your wedding to take place before all of your vendors are booked for the following year," she said. "Other times of year that may be the best for you as a couple would be a significant date for the two of you which could be the day you met, the date of your first date, or a holiday that means something to both of you."
The Best Proposal Spots in Washington, DC
Create a memorable moment for you and your partner at the best places to propose in DC.
National Mall
The National Mall is home to iconic locations including the Lincoln and Jefferson Memorials. "The backdrop of the Washington Monument beyond the reflecting water as the sun rises is as romantic and memorable as it gets," Jenna Leigh said. The tidal basin at the mall is also a prime spot to see the cherry blossom trees in bloom. Keep in mind it can get a bit crowded here during the Cherry Blossom Festival that runs from March to April.
Yours Truly DC
Ask your best friend to marry you at this bohemian-inspired hotel near Georgetown. "Yours Truly DC is perfect for those who want a personalized touch to their proposal in a creative, luxury space," Lefton said. "Our patio offers an intimate and beautiful area that can be tailored to match the couple's theme or story, creating a memorable experience in the heart of the city."
National Portrait Gallery
This stunning gallery boasts more than 3,000 works of art including neoclassical and contemporary pieces. Head outside to the sculpture garden, which is home to six acres of green space and the popular Amor sculpture by Robert Indiana.
Nationals Park
If you're both sports fans, get down on one knee during a game at Nationals Park. Include the crowd in your celebration by ordering a "Will you marry me?" scoreboard message before the game.
Smithsonian's National Museum of American History
Propose to your history buff partner at the Smithsonian's National Museum of American History. Browse through three levels of exhibits that include food history, LGBTQ+ history and the history of innovation.
Romantic Places to Propose in Washington, DC
From vibrant green spaces to historic cobblestone walkways, these romantic settings are sure to make your partner feel the love.
Meridian Hill Park
Meridian Hill Park provides a beautiful setting with a fountain and lush greenery. "It's the perfect place for everything from a dreamy first-date picnic to a sunset proposal," Lefton said. "Some evenings, salsa dancers fill the space at sunset, and the street lamps gently illuminate the greenery as it turns dark."
The United States National Arboretum
The United States National Arboretum is home to 500 acres of greenspace with diverse plants, an herb garden and fragrant flora. The National Grove of State Trees location of the arboretum is a romantic spot for a picnic and a proposal.
Spanish Steps
"Hidden in plain sight, the Spanish Steps in Kalorama offer a secluded and romantic ambiance amidst the urban hustle," Lefton said. "With its cascading water and serene environment, it's an intimate pocket in the heart of DC."
Georgetown
This trendy and historic neighborhood provides a unique backdrop with cobblestone streets, Federal-style buildings and waterfront spots. The city lights from Rosslyn across the river add a touch of magic during a nighttime proposal.
Beautiful Spaces for a Rooftop Proposal in Washington, DC
Take in views of the city skyline as you get down on one knee. These gorgeous venues offer a stunning backdrop for a rooftop proposal in DC.
VUE Rooftop at Hotel Washington
Propose to your best friend with views of the Washington Monument and the White House in the background. VUE Rooftop is located above Hotel Washington and serves seasonal drinks and upscale eats in a stylish ambiance.
The View of DC
Marvel at the panoramic views of the city via three stories of floor-to-ceiling windows at The View of DC. Perched 400 feet in the air, this observation deck is a gorgeous location for a rooftop proposal.
Top of the Gate at The Watergate Hotel
Located at The Watergate Hotel, Top of the Gate is a stunning rooftop restaurant boasting views of the Potomac River and Georgetown. Get down on one knee at sunset for a breathtaking setting to your special moment.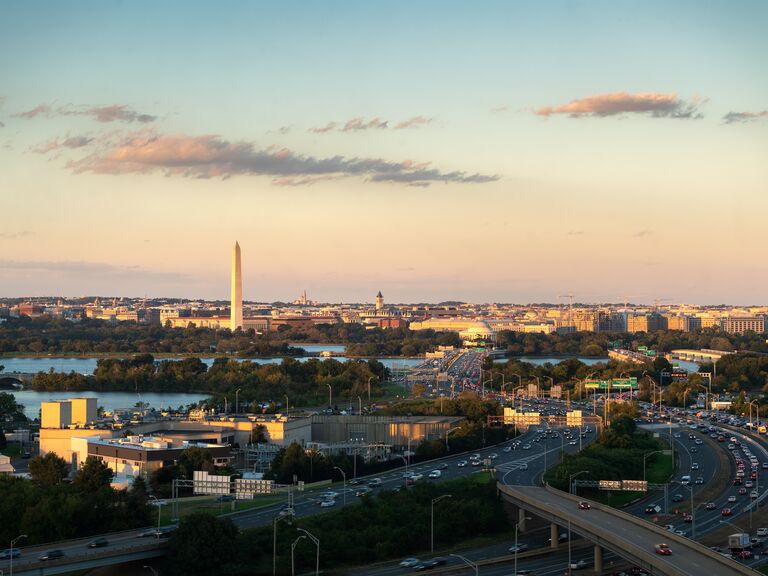 Best Restaurants to Propose at in Washington, DC
Surprise your partner during a delicious meal with a romantic restaurant proposal in DC.
District Winery
District Winery is a boutique winery and restaurant located in the heart of Navy Yard. You'll find gorgeous views of the Anacostia River from the waterfront patio. Dine on seasonal cuisine that pairs with the wines made onsite.
Iron Gate Restaurant
The cozy indoor dining room at Iron Gate is ideal for an intimate proposal. Or enjoy a summer night on the garden patio under wisteria and grape vines. Located in Dupont Circle, it's the city's oldest continuously running restaurant.
The Greenhouse at The Jefferson
Savor a menu of seasonal selections under the historic skylight at The Greenhouse atThe Jefferson. This gorgeous restaurant offers a grand and opulent atmosphere for your proposal. Complete your romantic weekend at The Jefferson with suites and deluxe rooms that provide an elevated experience.