7 Ways to Save Money on Reception Rentals
Chairs, tables, lighting and tabletop rentals (plus the assorted delivery and assembly fees that go along with them) can add up quickly, so your wallet will thank you if you can trim your reception rental costs with these tips.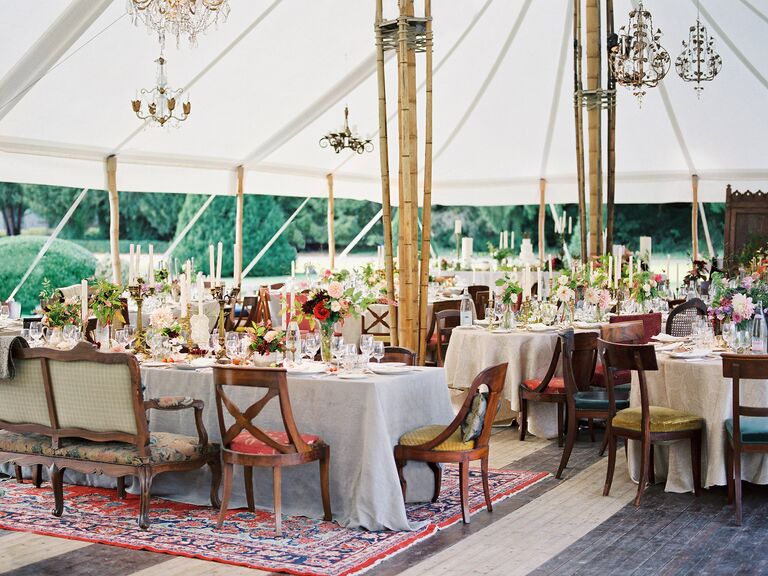 Steve Steinhardt Photography
Reception rentals don't have to cost a fortune, but they can definitely take up a nice chunk of your wedding budget. So how can you keep the costs down from the lighting to the water glasses? Event consultant Trish Stevens from Classic Party Rentals shared a few helpful tips that could save money—without sacrificing your reception style.
1. Keep your glassware simple.
Save on tabletop glassware by keeping your water and wine glasses simple but accenting with specialty champagne glasses, or vice versa. This way, you can still get an elegant look without having to give each glass a luxe feel. Similarly, at the bar, use simple glasses—or ideally, just one universal glass.
2. Choose elegant napkins instead of tablecloths.
Keep the tablecloths simple and splurge on fancier napkins, since your guests will all touch the napkins and get a luxurious experience that way. Conversely, the tablecloth will be topped with china, glassware, centerpieces, escort cards and more, so finding lower-priced table linens (that will still be lovely!) is a good move because they'll be mostly covered for your reception anyway.
3. Select chairs with dual purposes.
Choose a chair that you can use for both the ceremony and reception—but make sure your venue can accommodate a well-hidden changeover during cocktails. The labor cost for this (whether it's via a caterer or rental company) will more than likely be less than getting two different sets of chairs.
4. Stick to bistro string lights.
When have you ever seen tiny twinkling string lights and not thought they looked beautiful? Bistro string lights are less expensive than larger light installations and can create a more intimate, romantic feel.
5. Try to keep to 60-inch and 72-inch round tables.
These two sizes of round tables seat the most people per table and are more space effective than square- and rectangle-shaped tables. And if you're going for a whimsical look, alternate between both sizes to give your reception an added dose of visual fun.
6. Check the flexibility of your venue.
Ask your venue if it's flexible with delivery and pickup times. Your labor and delivery costs are affected by them, so getting the best possible window will likely save you money.
7. Stick with one rental vendor.
If you minimize the number of vendors you work with, you can potentially save on delivery costs and tax.