Questions to Ask Wedding Rental Companies, According to The Knot Ones to Watch
A seasoned wedding rentals expert weighs in.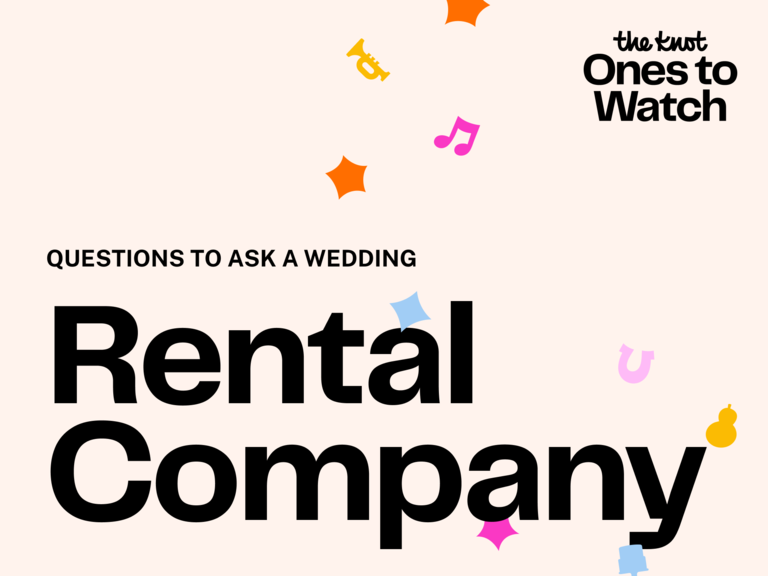 Wedding rentals are a unique business. After all, who ever really thinks about renting dishware and flatware for 200 place settings? Well, that's the norm with weddings. So you want to know how to determine rentals for your wedding. We've got you covered. All of these questions to ask a rental services for your wedding essentially answer one broad query: How do wedding rentals work?
From how much to budget for wedding rentals to party rental delivery charges and even wedding reception set up information for rentals, we've covered it all below. Anything you've been wondering about rentals for weddings is answered, expertly, below.
In this story:
Meet Our Ones to Watch Expert
We connected with The Knot Ones to Watch 2023 honoree and wedding rental expert Elisa Bricker of Emerson James Rental to get her inside take on questions to ask wedding rental service companies. As you start researching wedding rental companies, keep these interview questions top of mind.
Elisa Bricker of Emerson James Rental: Elisa Bricker owns Emerson James Rental which is a specialty wedding tabletop rental company based on the East Coast with offices in Virginia and South Carolina. The company was founded in 2017.
Wedding Rental Company Questions About Inspiration
Getting to know the prospective wedding rental company's approach to design is a good foundation upon which you can curate your specific party rental needs from linens to place settings. Does the company lean more modern and chic or are they whimsical? These questions are basically speed dating for your rentals company.
1. What inspires you? Why did you enter this line of work?
This is a great question to ask any prospective wedding vendor, not just a wedding rental company. You want to curate a vendor team of trailblazers and visionaries. Understand what inspires a pro will help you gauge if they're a good fit for your big day. For Bricker, her company is focused on creating intentional spaces because she aims to be part "of a significant shift in events toward self expression, and being able to communicate a unique vision. It used to be all about what is done and what's not done when it came to events. Now, when planning your wedding, you can express your own personal style, and I love that we've been a part of empowering clients to be able to do that."
2. What are your most popular party rental items?
This is good to know for a variety of reasons. First, it's helpful to see what other couples are gravitating toward because it may end up being something you love, and that gives you a starting point for what style you're leaning toward. It will be that much easier to tell the vendor what you don't like about it and what you want instead. Second, if you're really feeling that blue glassware, it's beneficial to know other people are interested as well because the more popular an item, the less available it could be. It may also be in a wedding right before yours and you'll want to make sure the company will have it back in time for your date.
3. Can we see photos of your work?
Looking through the portfolio of a wedding decor rental company is beneficial for a number of reasons. It helps you see what the company's inventory looks like when it is in use. Additionally, a portfolio review will tell you more about the types of venues this company often works at and the general aesthetic of the events they're typically involved with. Ultimately, it'll be one more data point to help you know if the right fit for rentals for your wedding.
4. Do you regularly add new inventory? What if we have an idea that isn't available in your inventory?
Depending on your budget and the level of customization you're looking for, you might be interested in commissioning new pieces or having the company source special items for your event. It's important to get a sense of if this is something the business is willing to do as well as how the payment for bringing in new inventory would be covered. Bricker shares that her company is "thoughtfully adding to our collection all the time. Many of our newest pieces are handmade or custom made for us, and we always like acquiring custom items for our clients. Rather than relying on inventory for several years ago, we're always looking to add new items that keep events looking fresh."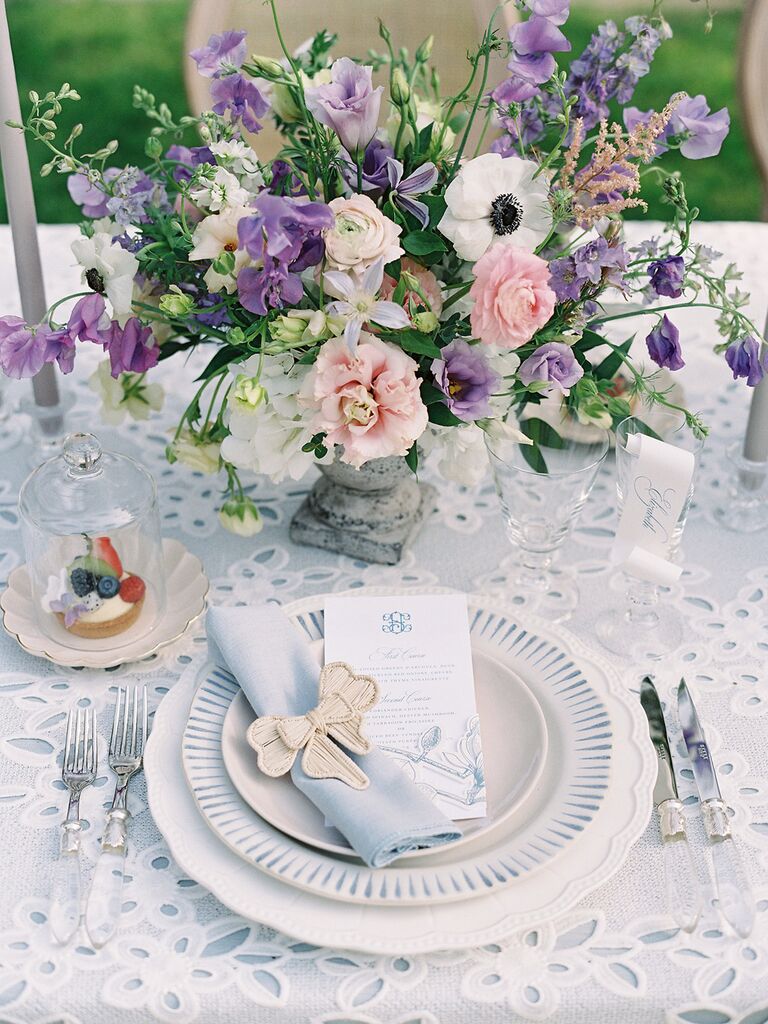 Wedding Rental Company Questions About Budget
It's time for the budget discussion. Your final wedding rentals budget will depend on how your guest list and many items you need, but it's wise to start the money talk early so you know what is and isn't feasible.
5. How much should be budget for rentals? How can we estimate the rental fee for our wedding ceremony and wedding reception before we finalize the guest list?
This is a big question and one that can't be answered all at once. Your budget will be affected by a lot of things, such as guest list and scope, and you likely haven't finalized all the pertinent details. But the rental company can equip you with a rough estimate to start with. As plans continue to firm up, you should continue to stay in close contact with the rental company on how close you are to the budget you initially set.
6. Are all taxes and service fees quoted up front?
Always ask about any fees that may not be very clear, like service charges or sales taxes you may not realize are included. The company likely has a party rental delivery charge that will be based on what they're delivering and when. If your wedding runs a little over your expected time and the rental company is coming by to pick up all the chairs, will there be an overtime fee? Or if you're responsible for returning the items, don't forget to ask what the shipping and packaging fees are because, unfortunately, many don't include that in the per-item costs and this can range from $50 to more than $500.
7. We have a strict budget, so how can we stay within it?
This may seem awkward to bring up, but don't be afraid to make it known. Wedding vendors want to help you create your dream day. It's better to be very clear about the amount you're willing to spend than for them not to know and you end up unhappy because you went way over budget. Starting with a specific amount in mind will allow your vendor to find the best items for you, and the most reasonable prices.
8. Is it appropriate for us to tip your delivery staff?
Tipping is expected with many wedding vendors, so you might be wondering if you tip a wedding rental company. Ask your point of contact at the wedding rental services company about expectations around tipping the delivery and on-site team at the wedding. They can advise you on proper etiquette and how much is generally appreciated based on the scope and location of your wedding.
9. Does wedding insurance cover our rentals?
Wedding insurance coverage varies by policy, but it's wise to discuss with the company supplying rental items for the wedding what insurance they have and/or what kind of insurance you should acquire. Since you'll be returning these products at the end of the celebration you need to have clarity on what will happen in the event of damage.
Wedding Rental Company Pre-Booking Questions About Logistics
Some of the logistic minutiae won't be finalized until closer to the big day, but there are some logistics questions you can inquire about right off the bat. As you're thinking about wedding ceremony and reception rentals, ask these questions.
10. How will this process work? How do you handle communication?
You're new to this and that's absolutely ok. Don't be shy about asking how to process will work, especially what kind of communication you can expect from the wedding rental service.
And the reality is, the process doesn't have to be burdensome! Bricker shares that she wishes "every engaged couple knew how much fun they would have to look back on. Regardless of the scale of your event, you've gathered your favorite people to celebrate with you and that's something you'll always treasure." Ensuring you understand expectations about process and communication will alleviate any confusion so you can focus on the fun parts.
11. How soon do you reserve rentals for the wedding? When do we need to finalize our rental order?
You're not alone in wondering when to book wedding rentals. After all, if you've chosen a popular wedding date then it's crucial that you sign on the dotted line before all the rental tables and chairs get booked up for other weddings. The pro you're working with will know how many inquiries they're balancing and how urgent it is for you to commit.
12. Will you send a wedding setup and take down crew? Will you pick up the rentals after?
The last thing you want to worry about after the party's over is who's going to transfer all those chairs and tables back to their proper home. Make sure it's in your contract that your rental vendor will take care of breaking them down and taking them back after the reception has ended, or that your venue will store the rentals until the next day.
13. How do wedding place setting rentals work? Does servingware need to be cleaned before being returned?
This may seem like a silly detail, but this is an important question if you're renting dishes for the wedding. It's a good idea to ask if your vendor will expect dishes, glasses and flatware returned bright and sparkly or if they expect to do the dirty work themselves.
14. What happens if items are damaged?
This goes for all rentals, including furniture, linens, tables and chairs. If someone spills a glass of wine on your loveseat, are you expected to pay for the cleaning/replacement, or is this part of the service? What about the linens you're renting for the wedding—will you be charged if candle wax drips onto them?
15. How long is the rental period?
Typically, you have about 24 hours from drop off to pick up. For a local wedding, that's pretty straightforward. However, if you and your partner are throwing a destination wedding, this time frame will likely need to be extended. You may want some of the items for the rehearsal dinner and possibly through brunch the day after your wedding, so 24 hours won't cut it. If you know the flexibility of a vendor's rental period, you can know up front whether or not they'll work for you.
16. What happens if an item is unavailable and we have to switch it out?
Unfortunately, things happen. Those grand Louis XIV armchairs you had to have for your sweetheart table are now stuck in customs from someone else's wedding. So now, not only do you not have your dream seating, but you and your partner don't have any seats period. Ask your vendor beforehand what happens in this scenario or if one of the chairs breaks in transit. Do they have a similar backup that can easily replace your first choice, and can get to you quickly? If they don't, see if they're willing to give you a discount if you have to go with another item that doesn't quite match that original vision.
17. Do you have a plan B?
Hey, as we said, things happen. Ask your vendor if any nightmare scenarios have happened in the past and how they handled it. Hopefully, they're used to last-minute changes and can roll with the punches.
Wedding Rental Company Post-Booking Questions About Logistics
Once you've formally booked your wedding rental company you can start to talk about all the minutiae and details. Keep these important questions in mind.
18. Will there be enough time to repurpose pieces?
Say you're planning to use a few rugs as your aisle runner. To keep your day cohesive and on theme, it might be nice to have these rugs make an appearance later at your lounge setup or under your sweetheart table. If you're interested in doing this, ask your rental vendor if they'll be able to quickly create a new setup with the same items as guests are milling about during cocktail hour.
19. What's the right number of servingware pieces for my guest list?
You may think this is a pretty straightforward answer—you have 144 guest, so you'll need 144 dinner plates, glasses and sets of silverware, right? But there are a few things to consider. One: You have to account for vendors, your photographer and the band having to eat too. Two, you know your sister is a total butterfingers and she's probably going to drop at least one glass, so make sure to have extras in case of accidents like this. Three, don't forget to count you and your partner in the guest list.