You Shouldn't Have a Cash Bar, But Here Are 6 Other Ways to Save on Wedding Alcohol
Ready to show your friends and your bank account a good time?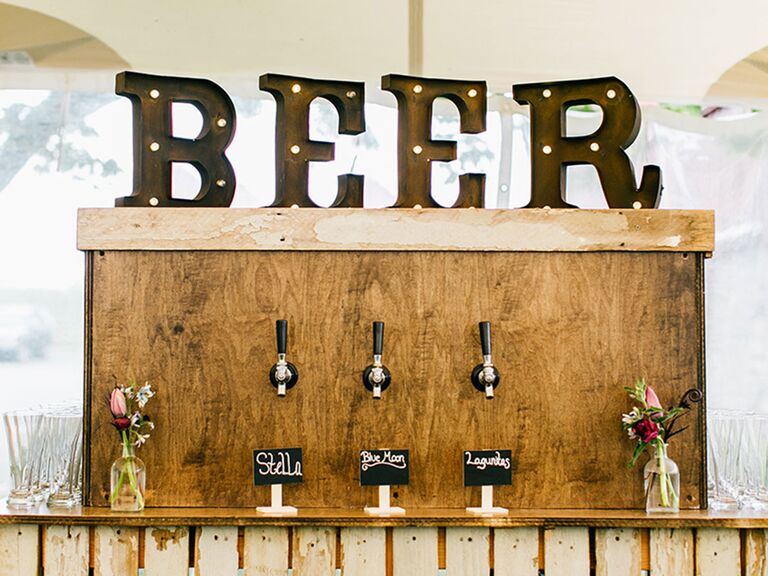 Emily Wren Photography
Anyone planning to serve alcohol at their wedding will probably agree that an open bar is ideal—but we know it can get pricey. Not everyone can dedicate a significant chunk of their reception budget to a night of unlimited, free-flowing spirits. That's why we've come up with a few alternatives to the full, open bar that aren't a cash bar (because you should never ask your guests to enjoy your party out of pocket). Here's how to cut back on wedding reception alcohol without depriving your guests.
1. Have a Limited Bar
Keep it simple with the essentials: wine, beer and a signature drink. With the option of beer, vino and a hard-alcoholic sip, you should be able to satisfy pretty much everyone's cocktail cravings.
2. Have a Brunch or Lunch Reception
Bring out the bubbly for toasts if you want, but feel free to serve just mimosas and Bloody Marys for the drinkers alongside water, juice, coffee and tea. And if your uncle complains there's no bourbon at your 12:30 p.m. brunch in the garden, that sounds more like his problem than yours.
3. Serve Only Wine and/or Beer
As long as you've never had your heart set on a signature drink, this one's a no-brainer. Skipping hard alcohol is a great way to minimize the bar tab without forcing your guests to dance soberly to "Love Shack."
4. Serve Only a Signature Drink
Or two. Offering two drink options—albeit fun, delicious ones—keeps your liquor tab to a minimum and makes it super easy on your bartenders. And sometimes less is better than more, right?
5. Save the Good Stuff for Toasts
If a champagne toast is a non-negotiable for you (we feel you), pour a round of something special, like Veuve Clicquot, for toasts. Later, if you still want to serve bubbly, switch to champagne's lower-priced (but still perfectly chic and tasty) cousin—prosecco.
6. Serve One or Two Expensive Spirits
If you still want to offer a wide variety of spirits, splurge only on your favorites. You love gin and your partner loves tequila? Serve a top-shelf gin and tequila and offer more budget-friendly labels for the rest.