36 Wedding Bar Ideas to Serve Your Drinks in Style
Your guests will have no problem waiting in line at these decorative cocktail bars.
A bespoke cocktail experience will always take your wedding to the next level. When it's time to kick off the party and celebrate, setting the scene for cocktail hour is the first step, which is where these wedding bar ideas come into play. Sure, you could leave the bar or drink station at your venue as-is, but we love the idea of adding a little bit more personality. Whether you decorate it with colorful, eye-catching details or prefer something more streamlined and classic, the bar at your wedding reception should be thought of as an extension of the rest of your decor (it's where guests will spend a lot of time hanging out, after all!). Check out our favorite creative wedding bar decorations and ideas below, then head to The Knot Marketplace to look for your pro bartender.
In this article:
Outdoor Wedding Bar Ideas
From backyard wedding bar ideas you can do yourself to showstopping rental furniture, these outdoor bar decor ideas are here to impress.
1. Floral Print Panels
What we love about this outdoor bar decor idea is that you can totally customize it to fit your wedding theme. This couple chose to accent the decorative panels with a sage green botanical print, but you could use stripes, monograms or anything else that comes to mind instead.
2. Colorful Fringe
Wrap a contrasting fringe or tassel garland around the top of the bar to instantly jazz it up. Finish with a few matching flower arrangements and signs to tie everything together.
3. Velvet Poufs
The wedding bar is a natural place for guests to mingle before and after grabbing their drinks, so we love the idea of providing some decorative seating options nearby. These sleek poufs brought a hint of sophistication to the rugged outdoor setting.
4. Geometric Detailing
Going for a glam vibe? Decorate your outdoor wedding bar with a mirrored surface and contrasting geometric cutouts. This hexagonal bar reflects the green grass for a cool effect.
5. Spanish Tile Pattern
Perfect for an outdoor summer wedding, this colorful bar decor incorporates a pattern inspired by classic Spanish tiles. The blue and white color palette is a classic combo, but you could switch it up to match your exact wedding aesthetic.
6. Lounge Area
If you've got a lot of room to spread out at your reception venue, fill the space with an oversized square bar surrounded by high top tables and barstools. It's the perfect way to encourage guests to gather and mingle during cocktail hour or post-dinner.
7. Neutral Tones
Blend your wedding bar into the venue's natural surroundings for a modern and chic look. This beige-colored bar feels harmonious with the nearby birch trees, with a greenery and dried grass arrangement to accentuate the setup.
8. Simple Dark Wood
There's no need to go overboard with your outdoor bar, especially if the scenery is already picturesque. Simple wooden furniture is an easy backyard wedding bar idea that you can decorate with fresh flowers and standing umbrellas.
Rustic Wedding Bar Ideas
Rustic wedding style is all about incorporating natural elements, like wood details and greenery. Check out these rustic wedding drink stations and bars that fit the bill.
9. Circular Wooden Bar
Contrast the angular ceiling of a barn venue with a circular bar at the center of the room. Bonus: The round shape gives your bartenders 360-degree access to guests waiting for drinks, so the line can move more quickly, especially if you hire an extra bartender or two.
10. Birch Tree Branches
A fitting choice for a winter wedding, this birch branch bar is the epitome of rustic chic. Work with your event planner to find a rental vendor with similar bar options or consider trying your hand at making your own.
11. Pickup Truck
It doesn't get more quintessentially rustic than this. Create your rustic wedding bar using the back of a pickup truck to store the bottles and glasses (or find a local bartending company that has one with built-in beer taps!). Your guests will love the unique experience.
12. Hanging Flower Installation
If your wedding theme is leaning more toward rustic elegance, a lush hanging flower arrangement will draw attention to the bar area. Incorporate outdoorsy elements with botanical illustrations and wooden details.
13. Copper Accents
Moscow Mule mugs are an upgraded version of the popular rustic mason jars. They're decorative but still more casual than traditional glassware or champagne flutes, and they look great when displayed on the shelf behind your bar.
14. Painted Trees
Use this rustic wedding bar idea if you're getting married at a mountain or forest venue. Colorful painted trees bring an artistic element to plain white wainscoting for an easy way to dress up the bar area.
15. Moss Panels
Moss is one of the best accents for a rustic woodland or enchanted forest wedding theme. Use it to spruce up your wedding bar by adding decorative panels to the front and finishing them with contrasting blooms.
Unique Wedding Bar Ideas
If you're hoping to wow your guests with a unique wedding bar setup, we've got options. From vintage trailers to boats-turned-bars, here are our favorite standout ideas.
16. Colorful Fringe Backdrop
We love this wedding bar idea if you're looking for a quick and easy backdrop. Colorful ribbons and streamers bring a little bit of spunk to a basic bar setup. You can leave it at that or add other optional details, like decorative vases, patterned rugs and lounge furniture.
17. Punny Quote
If you or your partner are known for your puns and jokes, this unique wedding bar idea is a perfect way to showcase your sense of humor. Try to think of a drink-related pun, like this quote that says, "Sips about to go down."
18. Repurposed Sailboat
You don't have to limit your wedding bar setup to an actual bar—don't be afraid to think outside the box if you're looking for something more unique. Turn to your wedding theme or venue for inspiration, like this repurposed sailboard that's perfect for a coastal or nautical theme.
19. Tufted Walls
Make a statement with your wedding bar by covering it with tufted panels for a dramatic look. This luxe idea pairs well with silver candelabras, elaborate floral centerpieces and formal venues.
20. Bunting Banners
Whether you hang them from the ceiling above the bar or drape them across the front of the setup, bunting banners and garlands are a fairly easy way to add color and detail.
21. Vintage Airstream Trailer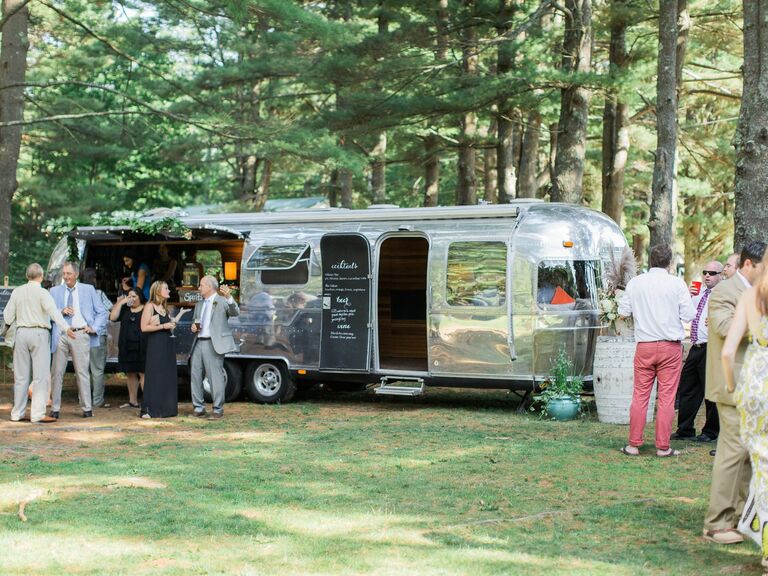 Wedding food trucks and mobile bars are always fun ways to surprise your guests. This vintage Airstream doesn't need much decor since it's interesting enough on its own. Make it happen for your special day with the help of a local bartending or catering company that specializes in unique experiences.
22. Citrus Fruits
If there's an ingredient that's essential for your signature cocktail, take the literal approach and use it to decorate your wedding bar. This margarita station was decked out with fresh lemons and limes inspired by the flavors of the drink.
23. Neon Sign
We love a good neon sign—they're fun, customizable and always look great on the 'gram. Add one to the front of your wedding bar for a modern, trendy vibe.
Classic Wedding Bar Ideas
Stick to understated bar decor, like boxwood panels, wooden trellises and monograms, for your classic wedding theme.
24. Trellis with Vines
Getting married at a garden venue? This elegant wedding bar idea looks like something straight out of a Bridgerton wedding. Decorate the lower half of the bar with a wooden trellis and vines, then position an arbor behind it to match.
25. Rattan Lamp Shades
Woven lampshades will add a slight boho touch to a classic wedding bar. Pair them with lemons and greenery to create a hanging centerpiece that's perfect for a summer wedding.
26. Mirrored Front
Add a dash of glamour to your wedding reception space with a mirrored cocktail bar. The mirrored surface will reflect candlelight or string lights, creating a romantic glow after dark.
27. Tall Flower Arrangements
Sometimes, all you need are a few stunning flower arrangements. This stately wooden wedding bar is beautiful enough on its own, but the oversized rose and hydrangea centerpieces add the finishing touches.
28. Molding Details
If your venue has crown molding, wainscoting or other architectural details on the walls, mimic them for your wedding bar decorations for a cohesive look.
29. Monochromatic White
It's important to include a drink menu somewhere at your bar. But if you're not into flashy wedding signage, opt for a fabric banner featuring handwritten selections that will blend right into the rest of the display.
30. Painted Monogram Crest
Monograms are classic wedding details. Work with a professional stationery designer or artist to create a custom crest and display it on the front of your wedding bar table.
31. Silver Foil Bar
Recreate the look of an Old World antique by painting the bulk of the bar silver and adding metallic foil panels framed with gold trim.
32. Boxwood Paneling
A boxwood inset brings a pop of color to this white lacquered wedding bar. You can use real boxwood (ask your florist about sourcing preserved varieties) or achieve the same look with faux greenery panels.
33. Potted Trees
If you're not able to make alterations to the actual bar, think about items you can use to dress up the surrounding floorspace. Potted trees can be placed on either side of the bar to bookend the area along with various bar stools or chairs.
34. Pillar Candles
Candles look lovely in the daytime, but they really help to set the mood after dark. Showcase a cluster of candles at one end for a simple wedding bar setup. For safety reasons, be sure to keep the flames enclosed in glass vases or use LED candles as an alternative.
35. Foraged Greenery
Swags of greenery branches and vines stood out against the black backdrop of this outdoor wedding bar. For an effortless, plucked-from-nature look, don't worry about making them too perfect.
36. Banner Signage
A decorative cloth banner lets everyone know what is being served at the cocktail bar. It's a smart move if you're planning to have more than one drink station or bar and they're each going to be serving something different.