Here's Why You Shouldn't Feel Guilty Registering for Wedding Gifts
Gift guilt is real, but totally unnecessary. Here's how to enjoy your goodies anxiety free.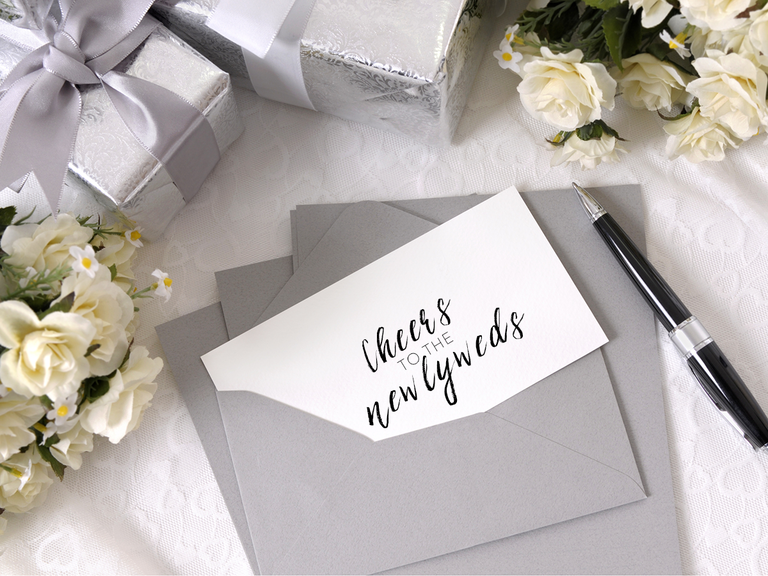 iStock
You're a giver, not a getter—and that's probably one of your best qualities (and why your partner can't wait to marry you). But it's also why you feel awkward handpicking wedding gifts for your friends and family to buy you. Sure, the concept of a wedding registry seems a little strange at first, but it's designed to make the process of choosing, giving and receiving gifts as seamless as possible for everyone involved. It's time to turn your registry guilt into registry gratitude. Here are a few words of wisdom to help you shake it off and enjoy your wedding gifts, guilt free.
It's a Celebration of You
You've likely received countless birthday and holiday presents, graduation gifts and other congratulatory goodies in the past, and wedding gifts are no different. Gift-giving is a symbol of congratulations and well-wishes from those we love most, and you shouldn't feel badly about having your turn on the receiving end. You're getting married to the love of your life and starting a new chapter together, and that's incredibly exciting. You're not putting your guests out or forcing them to get you something, we promise—which brings us to...
...Your Guests Want to Get You Something
Turn the situation on its head and think of it this way: Your guests would feel guilty not getting you gifts. Why not indulge them? (Wink, wink.) But seriously, your loved ones want to show you love and congratulations, and you'd do the same for them. All your registry does is point them in the right direction for a super-convenient experience—it's sort of a "help me help you" situation.
Your Future Self Will Appreciate It
Maybe not today, tomorrow or a year into marriage, but you could end up kicking yourself down the line when you realize how useful it would've been to register when you had the chance. It's easy to brush off a stand mixer, nice sheets or contributions toward a new car as superfluous right now, but you'll thank yourself (and, obviously, your guests) when it all comes in handy—which is often sooner than you think.
Your Guests Like Having Options
The more items you add to your registry, the greedier you look, right? Wrong. The same goes for registering at multiple retailers (we recommend at least two or three, depending on your guest list size), or supplementing a traditional wish list with cash or experience registries through The Knot Newlywed Fund. Your guests, who range in age, financial means and closeness to you, will appreciate having options that vary in price and purpose. You'll also want to register for at least one gift per guest. That way, any stragglers who wait until the day before the wedding to check out your registry (everybody has those friends) can still find something both you and their wallets will love.
You Can Register for Things You Actually Need (Not What Tradition Says You Need)
Good news for guilt-prone couples: You're no longer expected to register only for traditional items like china and a toaster oven. Not into swanky barware? Already have a set of your grandmother's beautiful china? Bypass the discomfort you'd feel receiving something you have no use for and, instead, take advantage of today's revolutionized registry experience. Register for classy cash and save up for self-avowed essentials, whether it's a new set of bikes, a trip to Thailand or home renovations you're dying to start.
You Can Support a Charity Through Your Registry
At the end of the day, asking for gifts might simply cause you unshakable registry remorse (no matter how hard we try to convince you otherwise). If that's the case, you can rest easy knowing your registry can support a worthy cause. By setting up a GoFundMe Registry via The Knot, your guests can seamlessly donate funds to the charity of your choice.
Need philanthropy ideas? Donate to VOW, the charity campaign raising money for the Girls First Fund to end child marriage worldwide. Every year, 12 million girls are married before turning 18, cutting off their education and putting them at risk for violence and poverty. VOW funds local organizations all over the globe advocating girls' rights and standing up against child marriage at the community level. (See how easy it is to link VOW to your retail registry though your GoFundMe Registry here.)
Get started on your wedding registry on The Knot right here.