Yes, You Can Register at Too Many Places
Find your registry sweet spot—we'll help you!
by Maggie Seaver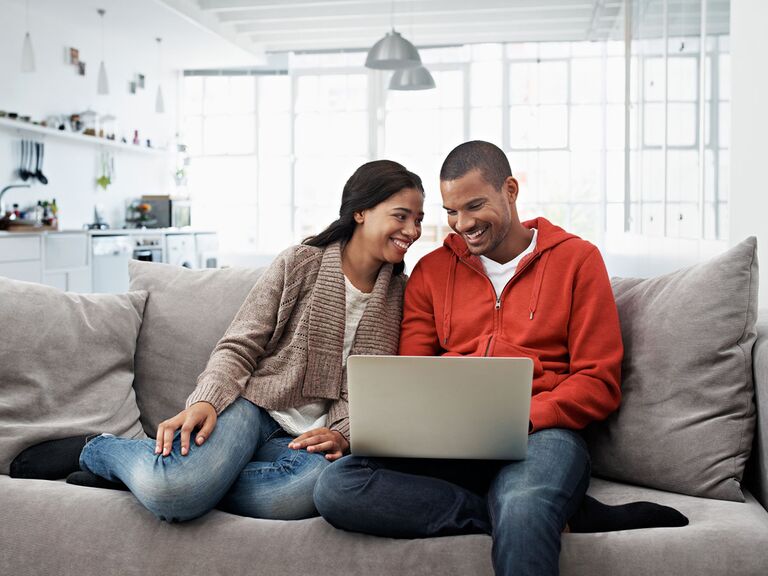 Getting married is pretty awesome. Not only do you get to spend the rest of your life with your favorite person ever, but you also get to preselect gorgeous wedding gifts. It's a total win-win. But before you whip out that scanner, you have a few things to think about, like how early to register (hint: as early as you can) and what your registry style is.
And here's another question you might be stuck on: How many places should you register? Too few and your guests won't have a variety of options and price points to choose from; too many and both you and your guests will be overwhelmed (and you have enough to think about with wedding planning as it is). The size of your registry depends on the size of your wedding, on your guests' budget range and on your current home goods inventory. Here are some good rules of thumb and general parameters to guide you to your registry sweet spot.
Register at More Than One Place
You should definitely register at more than one store. Setting up registries at two or three places with at least one big-box retailer (like Amazon, Macy's or Bed Bath & Beyond) in the mix usually does the trick. That way you'll be able to cover all your bases—both the timeless, often-pricey must-haves (a stand mixer, crystal, high-quality linens) and other items that fall under $100 and $50 (those fun throw pillows and long-stem Olivia Pope wine glasses you've been eyeing).
The Larger Your Guest List, the More Places You Can Register
In general, we suggest you register for more gifts than you have guests—taking into consideration your engagement party, shower offerings or any invitees who can't make it but still want to send something. If your wedding is 150 guests or more, consider registering at four or five places (a combination of superstore and boutique retailers, fun experiences and a honeymoon fund is a good idea) to provide an array of items and price tags. But four or five registries is probably excessive—and more of a hassle for you—if you're having a smaller wedding with 100 people or fewer. Who wants to deal with all those different shipping and return/exchange policies if you don't have to?
Yes, You Can Register at Too Many Places
When in doubt, keep it simple. No one will think you're greedy for registering, but you may get a few eye rolls if you register at, say, nine different places. You may have seen friends' registries that are unwieldy and ambitious—all those unpurchased items left come the wedding day make it look like their guests are skimping, when really the ratio is just off or the couple only registered for big-ticket items many couldn't afford. You can always revisit and update your registry throughout your engagement (in fact, you should). Add items as others get purchased to maintain a nice balance of options and price points.
Long answer short? Cap your registry count at five, maybe six if your invite list is massive. Of course, this is your wedding and these are your gifts, but the point of having a registry is to make it easier on your guests too, not give them a headache.

Start your registry with The Knot here, or find a friend's registry here.
With The Knot All-In-One Wedding Planner app, every detail of your day—your budget, style, vendors, registry, guest list, day-of timeline and more—lives in one convenient place, so you can plan your wedding with total confidence. (We know, it sounds too good to be true.)