Exactly How Many Wedding Registries You Should Have
We'll help you find the sweet spot.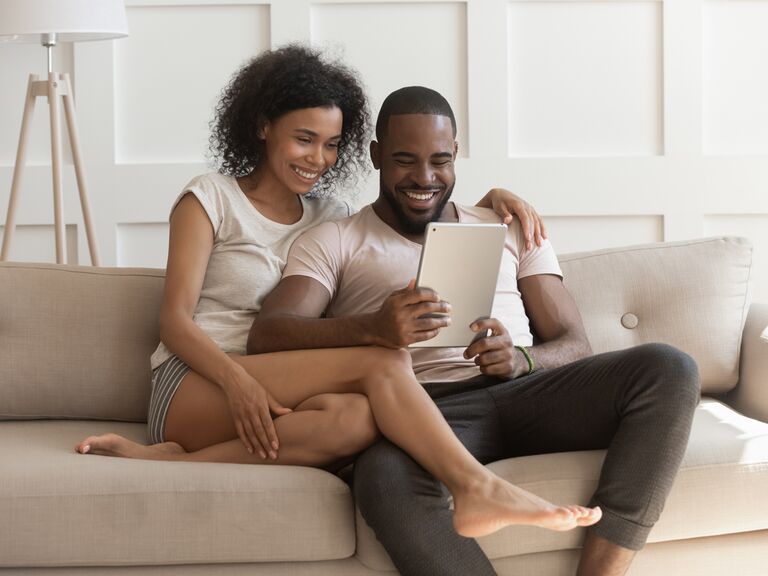 Fizkes/Shutterstock.com
Let's face it: Making your wedding registry is one of the best parts of getting married (besides spending the rest of your life with your soulmate). After all, when else can you preselect gifts? As you start, you might ask yourself: "How many places should I register for my wedding?" Though it's a fun task, making a wedding registry may come with questions—and with so many retailers and options, it can be hard to narrow down the search and decide how many wishlists to create.
Whether your registry style is all about home basics or you're leaning toward experiential gifts, curating a wishlist is one wedding planning task that's not to be forgotten. Once you get engaged, loved ones will want to congratulate you with presents to help you start marriage on the right note. Making a wedding registry not only eases their shopping process, but it also helps you get wedding gifts you want and need. Here, we answer your most pressing questions about the number of registries you should have for your wedding.
How Many Places Should I Register for My Wedding?
Previously, when it was the norm to go to retail stores and select gifts with a scanner, it was recommended to have at least two or three registries (with five generally being the maximum). Some couples still choose this option for the experience. Registering at multiple stores gives guests plenty of gifting options, and it helps ensure that items don't run out before the big day. Having multiple registries also helps guests find products in their price range. While some are willing to spend more money on a wedding gift, others appreciate having budget-friendly options.
However, thanks to new universal registry tools (like The Knot Registry), you can combine all of your registries in one easy-to-access list. With an aggregated registry, guests don't have to toggle between different websites to keep track of all your registries (and you don't have to worry about managing multiple URLs either). Instead, using an aggregator allows you to house all of your registries in a single spot. This is especially helpful for couples who want to mix and match items.
It's also increasingly common for couples to register for experiential gifts along with household products. If you've already been living together before your wedding (or you simply don't need physical gifts), it might feel unnecessary to create a traditional registry. Instead, registering for cash or creating a honeymoon fund are unique ways to approach the gift selection process. Not only do these options make wedding registries feel more personalized, they also ensure that you'll get the most use out of your wedding gifts. Plus, with a universal registry, a cash or honeymoon fund can easily live on the same list as a monogrammed sheet set.
How Big Should My Registry Be?
Your registry should have plenty of options for guests. If you use a registry aggregator, the amount of gifts on your list will be crucial—and a simple math formula will help you determine how many gifts you need. Multiply your guest list by two, then add a few extras. Doing so will guarantee that guests have plenty of gift options, and including a variety of price ranges will let them pick the product they feel most comfortable purchasing.
If you create multiple registries at retail stores, the same formula can be used. While the specific number of gifts on each registry can vary, the total number should be just over double your guest list.
Can I Register at Too Many Places?
Yes, you can register at too many stores. It's also possible to have too many gifts overall. No one will think you're greedy for registering, but navigating multiple pages of registry items can be overwhelming for guests. While you should certainly have more registry items that guests at your wedding, try not to go overboard with your selections. You can always add more gifts to your registry leading up to your wedding day as items get purchased or sell out. (In fact, we highly encourage it.)
In short, your all-in-one registry should be just over double the size of your guest list—or, if you're creating retailer registries, aim to have two or three separate lists. Following these guidelines will make the wedding gifting experience simple and enjoyable for everyone involved.