9 Registry Rules That Aren't a Thing Anymore
This isn't your parents' wedding registry.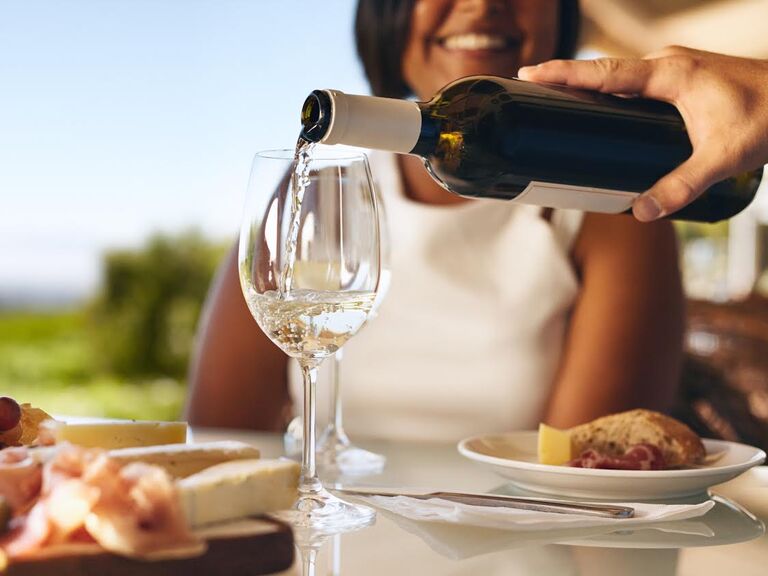 iStock
It's high time someone rewrote the wedding registry rule book—and by "someone," we mean "we." Between the laundry list of old-school registry etiquette and a new wave of registry tools to consider, you might be at a loss for how to create a registry that's both personal and "appropriate." Do you have to register for baking pans and silverware? Is it still rude to ask for cash? We're here to put an end to the registry etiquette guessing games and debunk the most common registry misconceptions.
Rule 1: You Have to Register for Traditional Gifts
Nope! Sure, if you've been dying to stock up on kitchen and home goods, then by all means, add them to your registry—you'll regret it if you don't. But maybe you're looking forward to inheriting heirloom china, or you truly believe you have everything you need on the plates and silverware front—and that's great. You can register for new bikes, camping gear, a gorgeous sofa, new flooring, concert tickets or anything else your heart desires. Now's the time to think outside the box.
Rule 2: Don't Register at More Than One Place—It Looks Greedy
It's not greedy—it's smart. We encourage couples to select two or even three places to make gift buying as convenient as possible for guests, especially out-of-towners. Try your best to be considerate: Don't only set up a registry at a little boutique near your home. Instead, set up at least one registry at a major retailer so all your guests have easy access to what you want at varying price points. Keep in mind, if you end up registering at too many places, returns will become an even bigger hassle for you.
Rule 3: Registering for Cash Is Tacky
False. Welcome to the beautiful new world of wedding gift giving where to-be-weds can request meaningful money in lieu of physical gifts to help fund big-ticket expenses and/or experiences. The Knot Newlywed Fund completely changes the registry game and makes giving and receiving wedding cash both simple and special (trust us, even your grandparents will be on board). So, have you been saving up for home renovations, cooking classes or your honeymoon? Add it to your registry.
Rule 4: You Can Only Spread Registry Info by Word of Mouth
Ever think, "There's got to be a better way"? Guess what—there is. Adding a link to your registries on your wedding website is not only socially acceptable, but kind of necessary. This way every wedding detail is in one place, making life easier on both you and your guests.
Rule 5: It's Rude to Register for Expensive Items
While you should always maintain some perspective, you shouldn't think of anything as off-limits on your registry. Register for an assortment of gifts that target different price ranges, since we're guessing not all of your guests share the same gift budget. And chances are that avocado scooper will be just as handy as the KitchenAid mixer. Guests actually like to look at your lists and handpick items they know you'll enjoy. Plus, for pricey items, don't forget about the group gift. Coworkers, schoolmates and friends like to chip in together so they can buy a more expensive present.
Rule 6: If You Already Live Together, There's No Reason to Register
Nothing could be further from the truth. You might have all of your place settings, but are you equipped to take on hosting dinner parties and even holidays for years to come? Now's the time to upgrade with adult-worthy cookware. Maybe you've been saving up to fill that bare space over the sofa. Fill it with a large work of art you've been eyeing for months. Or when was the last time you treated yourselves to new bedding? Now you're getting the idea.
Rule 7: You Can Only Register for Practical Things
Thanks to the wide selection of e-commerce retailers and options like the Newlywed Fund, the sky's the limit when it comes to gifts, and that includes fun and wacky picks. You don't need to register for grilling accessories and silver trays—why not ask for a lifetime supply of your favorite hot sauce, a video game console or a trip to Disney World? Yes, you read those correctly.
Rule 8: You Can't Have Both a Traditional and Nontraditional Registry
We actually recommend you do both: Register with at least one traditional retailer along with a Newlywed Fund—variety is the spice of life, isn't it? This isn't only for you, but also for your guests. For instance, you may have a few loved ones who insist on buying you a physical gift—so throw them a bone. And while you think you only want experiences right now, you might regret not registering for a nice set of plates and silverware down the line.
Rule 9: You Have to Choose Between Receiving Gifts and Giving Back
One of the benefits of registering with The Knot is the amazing charity component offered by The Knot Gifts Back program, which lets you ask for all the newlywed necessities you want and donate to a philanthropic cause you care about. How's that for a win-win?
And if you need suggestions for a charity organization, check out VOW, a global campaign devoted to raising money for the Girls First Fund to end child marriage at the community level. Every year, 12 million girls are married before turning 18, robbing them of their education and putting them at risk for violence and poverty. VOW helps fund local organizations advocating girls' rights and standing up against child marriage. See how easy it is to link VOW to your retail registry though The Knot Gifts Back here.
The bottom line? There's really only one rule we insist you obey: Create a registry that caters to your one-of-a-kind lifestyle. Having a customized registry doesn't mean adding monograms to every linen and throw pillow—it means selecting items you and your partner want and need.