How to Throw a Great Wedding Welcome Party
Expert-backed ideas, themes and etiquette for an epic wedding-weekend kickoff.
In recent years, couples have leaned into hosting multiday, multievent wedding weekends. Attending a wedding is a big time and financial commitment for guests. As such, it's nice for couples to plan auxiliary events for attendees to enhance the guest experience and help their loved ones make the most of the trip. That's where a wedding welcome party comes in—kick off your festivities with a big welcome to get everyone in the celebrating mood ahead of the main wedding day. We're taking a look at what you need to know to plan a wedding welcome party, plus some of our favorite ideas to get your creative juices flowing.
What is a wedding welcome party?
As the name suggests, a welcome party is a prewedding event intended to kick off the wedding weekend. "A welcome party is a celebration to kick off the wedding weekend," explains wedding expert Sonah Shah of Sonal J. Shah Event Consultants. "Couples should have one as it allows family and guests to meet and get to know each other before the big day. Typically, this is more informal than the other wedding events so it is a great way for the couple to engage and bond with family and guests in a much more casual setting." Wedding planner Sneh Diwan of Diwan by Design concurs, adding that "a welcome party is the first event of a grand wedding weekend! This is the first look guests get what the rest of the wedding will bring, and is the perfect place for guests to be reacquainted with old and new friends."
The main difference between a rehearsal dinner and a wedding welcome party is that all guests are invited to a wedding welcome party, while the rehearsal dinner is typically just for family members and those participating in the ceremony proceedings. Sometimes couples will have a sit down rehearsal dinner and then have a welcome party after where those not part of the rehearsal dinner can join in. Especially if you're expecting a lot of out-of-town guests or if you're hosting a destination wedding, a welcome party is a nice way to entertain those that are making a whole weekend trip to attend your nuptials, plus it gives you more time to connect with friends. Wedding expert Lara Mahler of The Privilege is Mine says that a welcome party is a nice addition to the wedding weekend because "it is a fun and more casual way to bring your guests together and to connect with them (because most likely at the wedding you may not get the chance to chat with everyone)."
When should a welcome party take place?
Generally, the welcome party will take place the day before the wedding. Very occasionally it may be held two days before the wedding. There are two main things to consider when scheduling the welcome party—when will guests be getting into town? And when are you hosting your rehearsal dinner. The timing of those things will impact when you should schedule the welcome event. Mahler says, "[the welcome party] is typically held after the rehearsal dinner or in lieu of a rehearsal dinner."
Who is invited to the welcome party?
Everyone should be included on the guest list! This is the main differentiator between a welcome party and a rehearsal dinner. Generally, all guests being invited to the wedding should be also be included in the welcome party.
"The welcome party is typically open to all your guests and more informal than the rehearsal dinner which is usually for select people," advises Mahler. "Typically close friends and family (or the wedding party) would be invited to the rehearsal dinner and then the welcome party would open up to all guests and would be a less formal affair." Diwan adds that inviting everyone is especially crucial "if it is a destination wedding; guests are coming in from everywhere and will be thrilled to have a space to eat, drink, and relax after a long journey. Keep it fun and light!"
How should you invite people to the welcome party?
You don't need an entirely separate invitation—adding an insert card to your wedding invitations that outlines any auxiliary wedding events, like a welcome cocktail party or post-wedding brunch, is a great way to communicate with wedding guests that you're hosting additional events. Additionally, adding information about these celebrations to the wedding website is good way to ensure all everyone knows what's going on beyond the actual wedding day festivities.
Where should a welcome party take place?
Close by to the other festivities taking place, but otherwise the location is totally up to you. Many couples like to have some fun and plan a welcome party that feels notably different from the wedding reception and a unique very is a great way to do just that.
What food and drink should you serve?
Simply put: whatever you want, but food of some kind should be offered, even if it's just hors d'oeuvres. Many welcome party themes lend themselves to a particular menu—tacos and margs, for example, are fun if the event has a fiesta vibe. Or a BBQ food truck would make for a nice low-key Western ambiance. You can also use this event as a chance to indulge in food you just love that didn't make the cut for the wedding reception menu. What's your favorite food? Is there a dish you and your partner shared early on in your relationship? Do date nights often include a certain cuisine? The answers to those questions can be helpful in forming a direction for your welcome party menu.
When it comes to drinks, it isn't expected that there be alcohol, or that you host the bar bill. However, if drinks won't be covered, that should be clearly communicated to guests ahead of time (either on the invitations or wedding website). Some couples may opt to buy one or two drinks per attendee before shifting to a cash bar. You have multiple options based on what your budget allows. Just bear in mind that this event is in addition to what you're planning for the wedding reception so don't overdo it. Plus, you don't want guests indulging too heavily on night one and then ending up sick ahead of the main event.
What themes are best for wedding welcome parties?
There really aren't any rules when it comes to the welcome party theme or design. If you're having a black-tie wedding, maybe you choose to have a casual welcome party. The welcome party is a great spot to just have fun really leaning into a theme, especially if your vision for the wedding is of a more timeless event that isn't closely aligned with a particular theme. If you're saying "I do" in the mountains then an Americana-inspired Western square dance could be fun. Or if your wedding brought you to the coast then maybe you have a crab and seafood boil. A pizza party is also a fun idea no matter where you're tying the knot.
How should you decorate a wedding welcome party?
Welcome parties are a fun chance to depart from the aesthetic of the main wedding celebration. If your reception has a neutral palette, consider going bold with color for your prewedding soirée.
What should guests wear to a wedding welcome party?
Typically attire for the welcome party is on the more casual side. But again, there aren't any hard-and-fast rules. If you're having a very thematic welcome party, don't be afraid to get specific with the dress code so attendees fit the aesthetic.
Who pays for the welcome party?
The budget for the welcome party depends largely on how the wedding ceremony and reception are being financed. Shah advises that "the couple can pay for this event but often the parents split the cost or the other side who is not paying for the wedding pays for this event."
16 Wedding Welcome Party Ideas We Love
Now that you understand the ins and outs of planning a wedding welcome party, let's take a look at some of our favorite welcome event ideas to inspire your own prewedding fun. No matter what vibe you're going for, there's sure to be an idea below that piques your interest.
1. Lounge Seating at Welcome Party
This couple had picnic-style tables with pillows for guests to relax at their wedding welcome party.
2. Welcome Toast at Pool Party
While there aren't many formalities that need to take place during a wedding welcome event, it is nice for the couple to offer a welcome to all the guests. This is the first event of your nuptials so take a moment to say a few words and express your gratitude.
3. Bounce House at Wedding Welcome Party
We love any excuse to feel like a kid again. This couple hired a bounce castle for their wedding welcome party.
4. Relaxing Yoga Welcome Activity
Offer prewedding yoga to ensure that the wedding weekend starts on a calm, centered note. If you're wanting to have a wedding welcome party of some kind but the logistics with the rehearsal dinner will preclude you from having one the evening before the wedding then a daytime event might be the way to go. You could have this during the day before the rehearsal dinner while guests are starting to arrive. Or you could also offer it to guests on the morning of the wedding day if you want an extra activity for them (though you wouldn't be able to attend while you're prepping for the wedding ceremony).
5. Pool Welcome Party
We love the idea of a pool welcome party for a summer wedding. While many couples choose to host poolside day-after brunches, there's a chance that guests might feel a little hung over and not quite up for swimming at a postwedding pool party. However, a prewedding pool party can be a fun way to relax before the big day. Just make sure to have plenty of SPF on hand so no one gets burnt before the main event.
6. Sports Wedding Welcome Party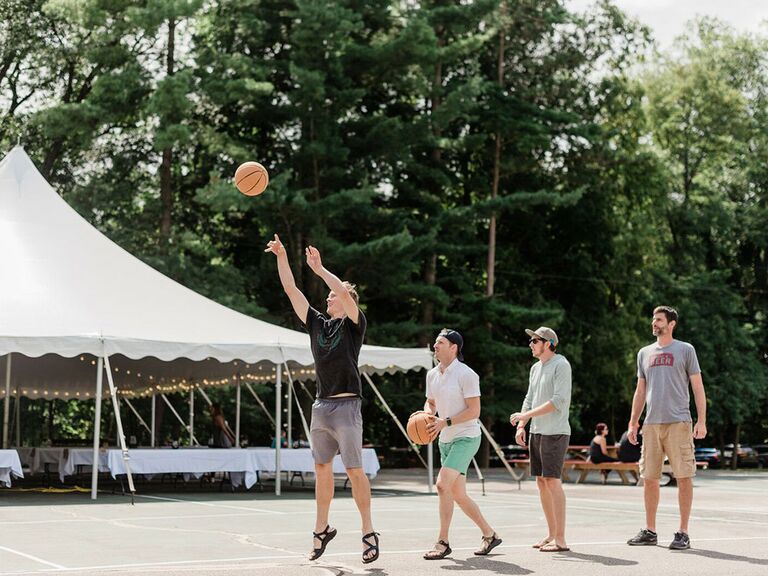 If your wedding guests are a sporty, active group you could consider a festive field day to start the weekend. Have a variety of sports stations where guests can relax and play while getting to know each other.
7. Drink Coupon Chips for Welcome Party
If you're hosting your welcome party at a spot where non-wedding patrons may also be drinking, like a hotel bar or pool, consider having drink coupons. Guests at this wedding received tokens they could take to the bar so that the bar staff knew to charge all the guests' drinks to the couple's bar bill. This is also a great option if you only want to cover one or two drinks per person at the prewedding event. Give attendees tokens for the number of drinks you'll cover, then encourage them to buy their own after that.
8. Cornhole at Camp-Themed Wedding Weekend
This couple was hosting their wedding weekend at a summer camp so they got everyone in the camp mood with custom cornhole games.
9. Check-In Station With Name Tags
Since this couple knew that a lot of their guests would be meeting for the first time at the welcome party, they decided to have their calligrapher make custom necklace name tags for everyone. Upon arrival, guests were asked to check in so they could receive their chic name tag to wear for the evening.
10. Cocktail Tables With Tropical Leaves
Since welcome parties are more casual, you don't need to have seating for everyone. Instead, a collection of high and low cocktail tables where guests can mix and mingle is a great way to go.
11. Tropical Wedding Welcome Party Invitation
The welcome party invitations for this event in Hawaii showcased the retro-meets-tropical aesthetic that was in store for the prewedding fete.
12. Boat Wedding Welcome Party
If you're tying the knot along the coast, consider a celebration at sea to kick off the wedding weekend.
13. Aperol Spritz-Themed Wedding Welcome Party
Guests rode gondolas to the top of a nearby mountain for this wedding welcome party. Once at the peak, they were greeted by Aperol spritzes.
14. Retro-Themed Ski Welcome Party
Guests were encouraged to dress in vibrant, retro ski suits for this après ski-themed winter wedding welcome party.
15. Après Ski-Themed Welcome Party Invitations
To get guests excited about hitting the slopes before the wedding, this couple sent out illustrated welcome party invitations that hinted at the fun to come.
16. Inflatable Slide at Welcome Party
Talk about a fun event! This couple had carnival activities, like a giant inflatable slide, at their welcome party.