How to Throw an Amazing (and Easy!) Wedding Welcome Party
A welcome party should focus on family and friends—not on complicated décor and details. Here's how to pull it off.
by Simone Hill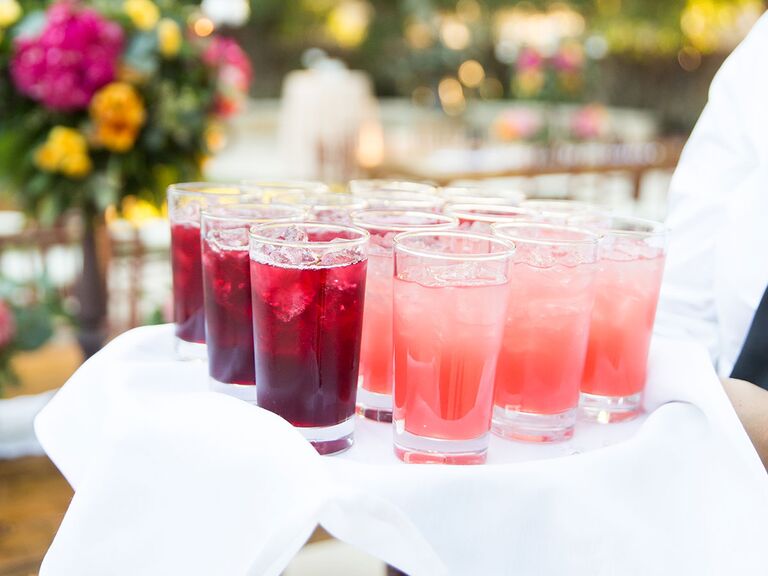 Before we walk through the steps to planning a welcome party, hear us out: Not every wedding has one, and it's certainly not required. The biggest benefit to having a welcome party is that it'll make your reception feel all the more intimate if everyone has already had the chance to get to know one another. It's a good idea to consider having one if you're planning a destination wedding and have a lot of out-of-town guests or you happen to have a few different groups of friends and families coming together for the first time. If you decide to have one, follow these six steps to keep it stress free.
Step 1: Pick a day and time.
A welcome party will make your guests feel involved in the wedding festivities from the moment they arrive and give you the chance to spend extra quality time with friends and family. Usually, the welcome party is held the night before the wedding, directly after a rehearsal dinner (which is usually limited to family members and the wedding party). If you go this route, you might have a cocktail hour or dessert bar at the same restaurant as the rehearsal dinner or a nearby venue afterward. The idea is that guests drop in when they can and stay as long as they want, so keep the timeline loose for a low-pressure vibe. If most of your guests are traveling to your wedding the night before, you could consider having a welcome breakfast the morning of. In other words, look to your guests to help determine the time frame that makes the most sense. 
Step 2: Put everyone on the invite list (even locals).
Welcome parties are a fairly new wedding tradition. That said, there are a few etiquette pointers you might want to follow. The most important is that unlike the rehearsal dinner, all of your guests should be invited to the welcome party. Excluding guests from it will definitely make them feel left out. Even if your welcome party is geared toward making out-of-towners feel at home, your guests who live nearby will also appreciate the chance to spend some time with you in a less formal setting.
Step 3: Choose a low-key location.
Just about any venue will work (including the bar in the hotel your guests are staying at or a friend's or family member's home), as long as it's big enough to fit everyone on your guest list comfortably. Look for an aesthetically pleasing place or one with some built-in décor. It should also have chairs and tables so guests have a place to put down their drinks and get comfortable. 
Step 4: Be strategic about your décor.
You really don't need much as far as décor goes for your welcome party. We think it's totally fine to leave your venue as is, and if it needs a little something, potted plants are a good option—and something that can be done ahead of time. To add some color, try large swaths of fabric, pashminas or blankets, which can be inexpensive when bought in bulk. Of course, if you want lots of decorations, go for it—but to cut down on the stress of planning one more event, it's completely fine to keep it simple. 
Step 5: Provide a few light bites and sips.
If you're inviting guests to a wedding-related event, then you (or whomever chooses to host) should provide them with some refreshments. We can't stress this enough: A welcome party is a super-casual event—and while a sit-down meal isn't required or expected, it's courteous to set out a small spread. You could tie a theme into the drinks and menu, like a fiesta complete with margaritas and mini tacos. There's also nothing wrong with keeping it classic with one signature cocktail or just wine and beer (as well as nonalcoholic options, like soda and water) and a table filled with simple but filling foods, like hummus and veggies, chips and dip, or cookies and brownies. Some bars and restaurants will also have packages you can purchase for appetizers and drinks. 
Step 6: Share the details with your guests.
If you're keeping it casual, you don't need to print and send separate invitations (unless you really want to). Instead, you could add info on an enclosure card in the invitation, put the details on your wedding website or send an email. You could even let guests know once they arrive with a note left in their rooms along with their welcome bag, or spread the word through your wedding party.
Read our tips on planning a full weekend of wedding festivities here.