Our Favorite Wedding Welcome Bag Ideas for Out of Town Guests
Make your loved ones feel right at home.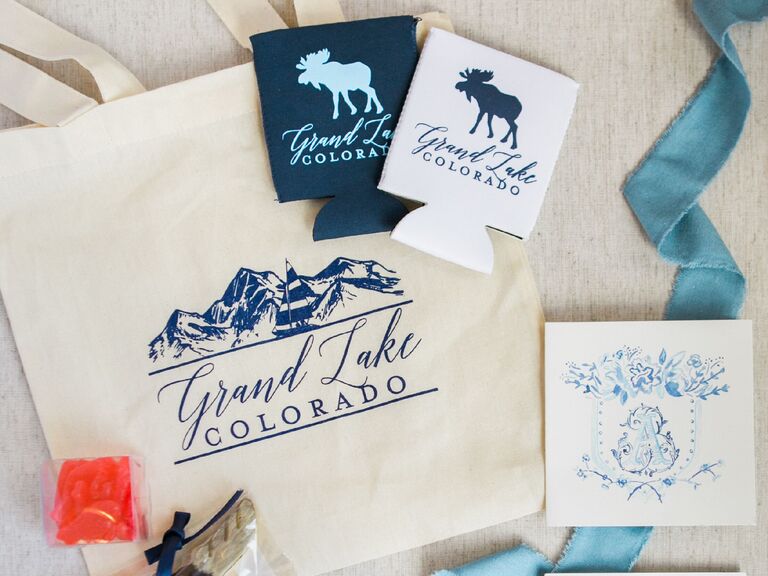 We have included third party products to help you navigate and enjoy life's biggest moments. Purchases made through links on this page may earn us a commission.
The leadup to your wedding is a busy time, and if you have guests traveling from out of town, you may not get a chance to greet them all in person before the nuptials. That said, there are other ways to make guests feel at home. Sending wedding welcome bags to their hotel rooms is a sweet gesture that's sure to make them smile. Not only that, but it's also a great opportunity to introduce your loved ones to the area, whether it's your soon-to-be spouse's hometown or your very own destination wedding paradise. We're sharing everything you need to know to get started on your wedding goodie bags, including who gets one, what to include and how to deliver them.
In this article:
Who gets a wedding welcome bag?
Typically, welcome gift bags are given to guests at destination weddings. After spending money on flights, accommodations and precious vacation days, it's a nice way to thank them for coming and give them the low-down on the locale. Of course, you don't have to put together goodie bags to welcome your loved ones, but it's a nice gesture (especially if they're traveling from far away). And if you do decide to give your guests wedding hotel welcome bags, just make sure that everyone gets one—the last thing you want is to hurt someone's feelings.
Not having a destination wedding but still want a sweet way to welcome out-of-town loved ones? Wedding guest hotel welcome bags are a great way to introduce them to the area. (But again, keep in mind that if one guest gets a welcome bag, everyone probably should.)
Who pays for wedding welcome bags?
There's no hard and fast rule as to who should cover the cost of wedding guest welcome bags. If you and your partner are paying for the wedding yourselves, gift bags and guest favors typically fall under this umbrella. But if either (or both) of your parents are helping to cover costs, don't assume they're paying for wedding hotel bags. The best way to avoid confusion and make sure everything gets checked off the list is to sit down with them to discuss their budget and exactly what they plan to help out with.
What do you put in wedding welcome bags?
Not sure what to put in hotel gift bags for your wedding guests? It's best to include a mix of practical items (think: hand fans) and fun favors (think: local snacks) to get them excited about their stay. To help you out, we're sharing our favorite wedding welcome bag ideas to surprise your loved ones with.
Local Ingredients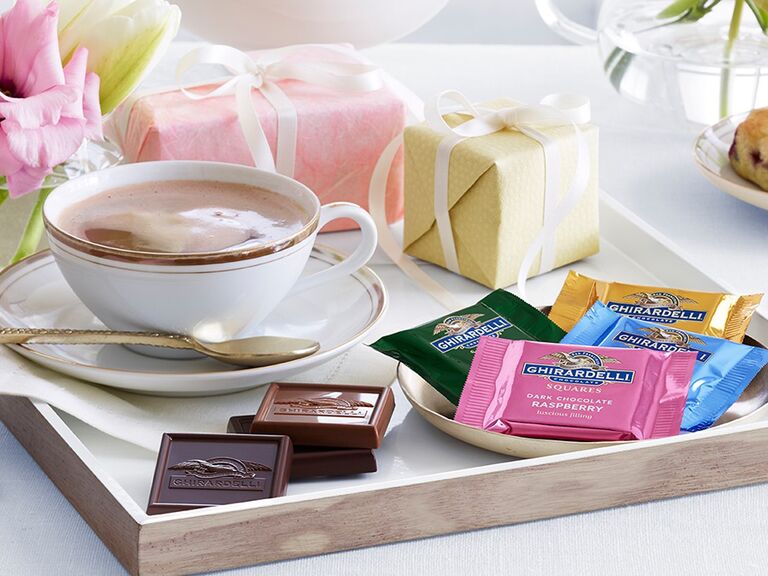 The whole idea behind wedding bags for hotel guests is to introduce your guests to the area. And what better way to do that than through your favorite local snack? Aside from being a super-unique wedding welcome bag idea, it's a great way to show your loved ones just what makes your wedding location so special. If you're tying the knot in San Francisco, Ghirardelli Chocolate is a great go-to. Couples getting hitched in Tennessee should consider including a Moon Pie or two, and Chicago soonlyweds could include popcorn from Garrett Popcorn Shops. From Vermont cheddar to locally-grown Florida oranges, every state has at least one extra-special snack.
Something to Sip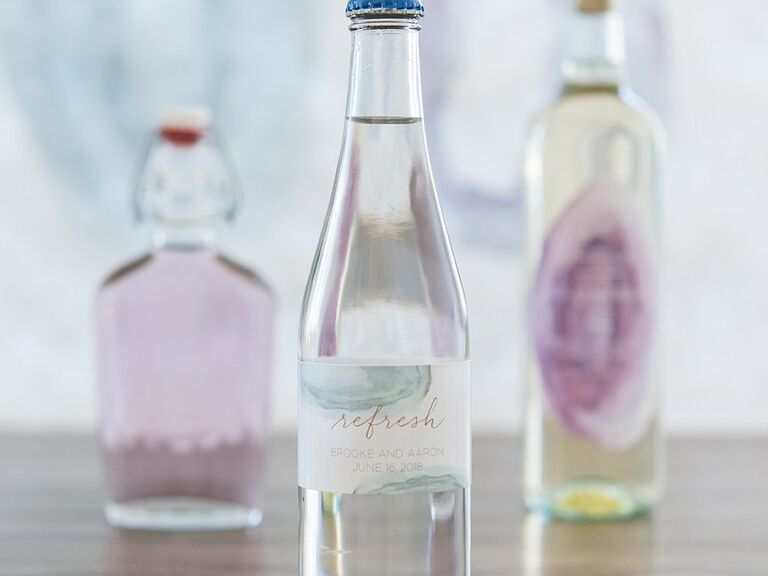 It's a good idea to include a few practical items in the contents of your wedding welcome bags. If your nuptials are taking center stage on a sunny Caribbean island (or just a warm summer day), water bottles will help your loved ones stay hydrated—at least until the bar opens. These elegant labels will give your party favors a chic finishing touch. Feel free to swap out regular bottled water for something that speaks directly to the theme of your wedding. We love the idea of coconut water for a tropical destination wedding, mini bottles of wine for a vineyard soiree or locally brewed beer for ranch nuptials.
Weatherproof Essentials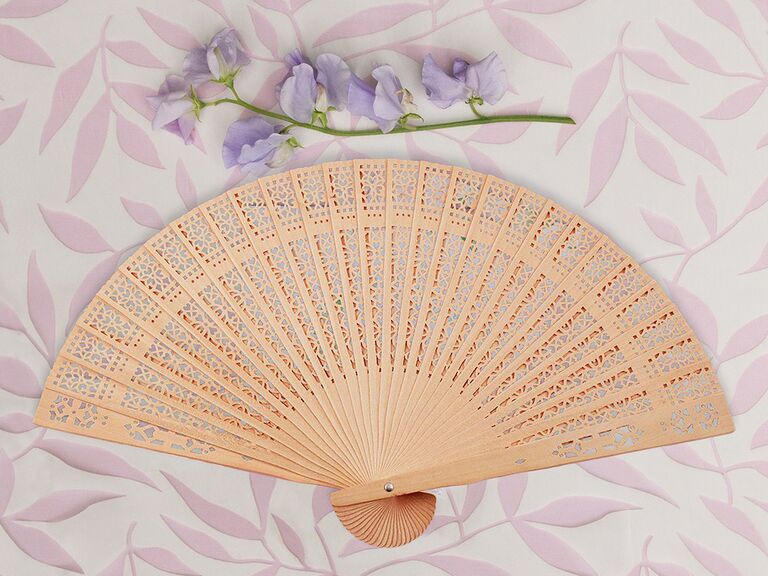 Take a cue from the season and stock up on items that'll help your guests brave the elements. Sunglasses, bug spray and fans will beat the heat, while pashminas, tea bags and hand-warmers are perfect for a fall or winter wedding. Ponchos and umbrellas are other must-haves if rain is in the forecast. While hotels often provide a few complimentary toiletries (think: shampoo and lotion), not everything is covered. Kick your wedding gift bags for hotel guests up a notch with a few extra pampering products, like sunscreen for sunny days or lip balm to combat the chilly temps.
On-Theme Keepsakes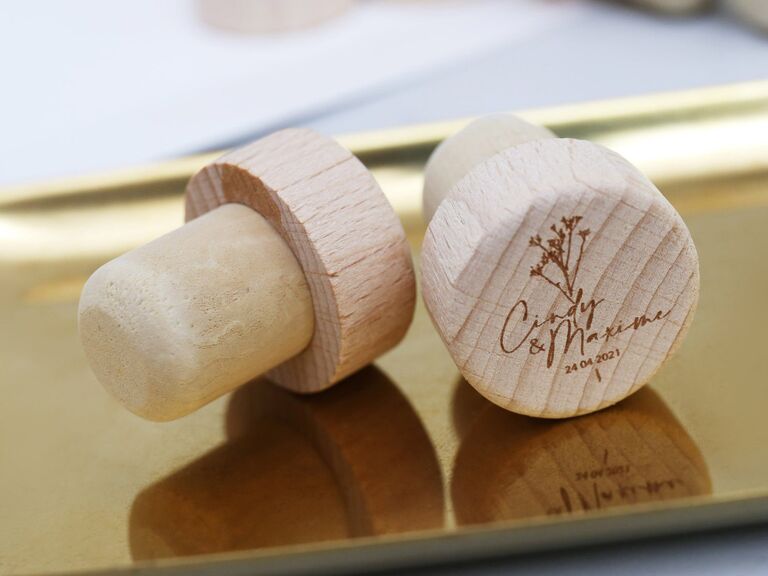 Still wondering what to put in hotel gift bags for your out-of-town wedding guests? Another great way to welcome them is to pick out wedding favors that play up the location. Planning a romantic celebration in Wine Country? These custom wine stoppers are a fitting gift. Or, if you're having a nautical wedding by the sea, adorable boat wheel magnets are a nice touch. Again, don't be afraid to turn to food for your inspiration. Since Maryland is known for its delicious blue crabs, custom mallets are a fun welcome bag favor idea for couples tying the knot there.
The Weekend Lineup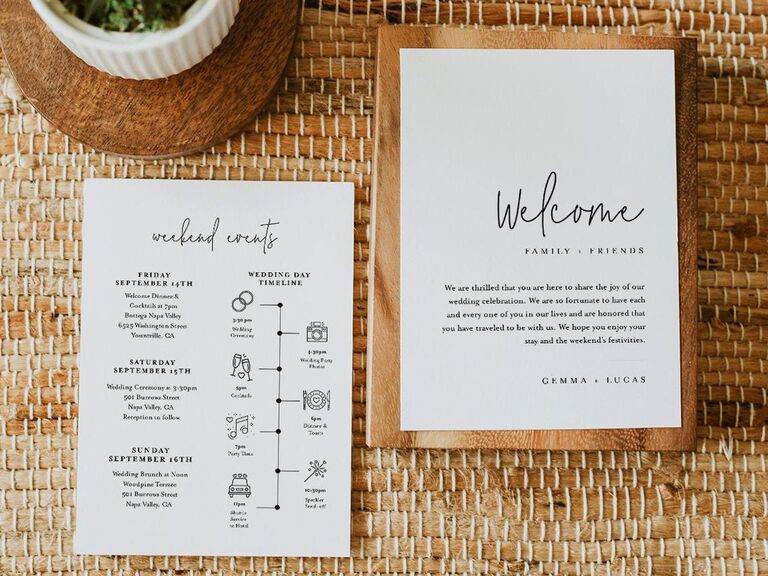 An itinerary is one of the best items to include in your welcome bags, especially if it's a destination wedding. Keep your guests in the loop with all the details of your wedding weekend, from the welcome party to the postwedding brunch. At the very least, your itinerary should include the time and location of all the important events. After that, feel free to add any other details you think will be of benefit to your loved ones, such as the dress code. Alternatively, you can include the link to your wedding website where they'll be able to find all the key information. If you want your itinerary to match the rest of your wedding paper, your stationery designer will be happy to help.
The Local Lowdown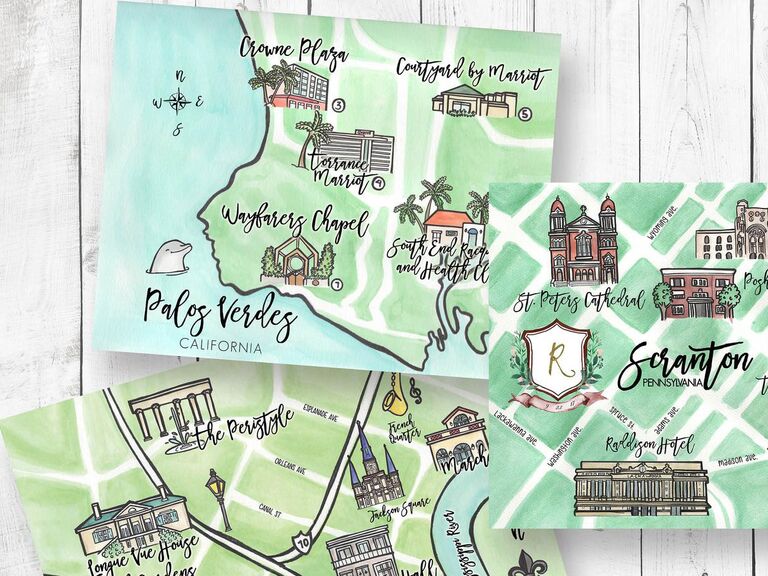 Encourage your guests to enjoy their downtime by cluing them in on the area's must-sees and dos. Pop some helpful goodies like a guidebook or map into each bag, along with the latest issue of a local magazine. Highlight hot spots, top sites to check out and activities they shouldn't miss. If your guests aren't joining you for every meal, recommend a few good restaurants too. If it's the city where you two fell in love, a sweet anecdote about a place (maybe your first date spot) or street (your new home) makes for a nice touch. This Etsy seller designs custom illustrated maps that your loved ones can use to guide them (and hold onto as a memento later).
Hangover Helpers
Don't let your guests regret that last glass of champagne. Create a special hangover kit— complete with a bottle of water, Advil, Alka-Seltzer and good old Vitamin C—to help them combat any morning-after ailments that might keep them from enjoying the rest of the festivities. Trust us, your friends and family will thank you. Up the ante by tucking your cure-alls inside these adorable "In Hangover and In Health" drawstring bags.
Health and Safety Supplies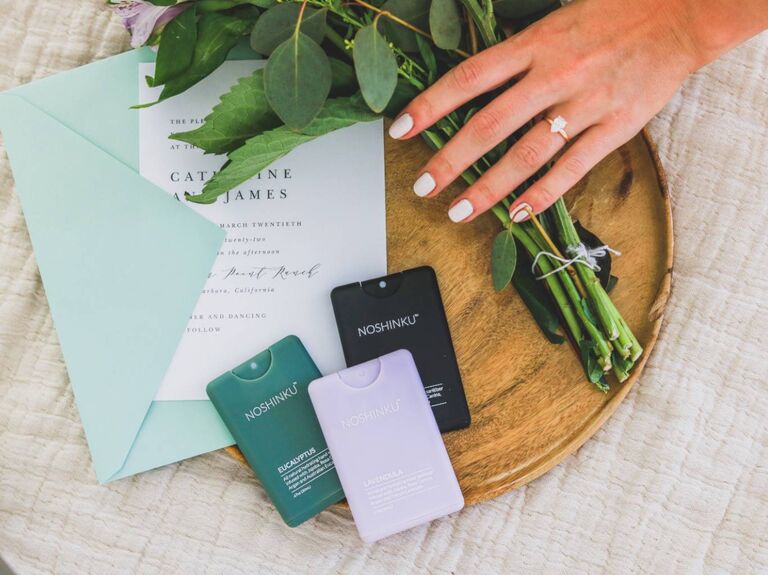 Show your loved ones just how much you care about them by including some health-and-safety essentials in the mix. Hand sanitizer is a great gift bag idea for wedding guests, especially when it's small enough to stow in a clutch or back pocket. These pretty hand sanitizers come in a choice of three amazing scents, which will leave your loved ones' hands sanitized and smelling great.
Lots of Thanks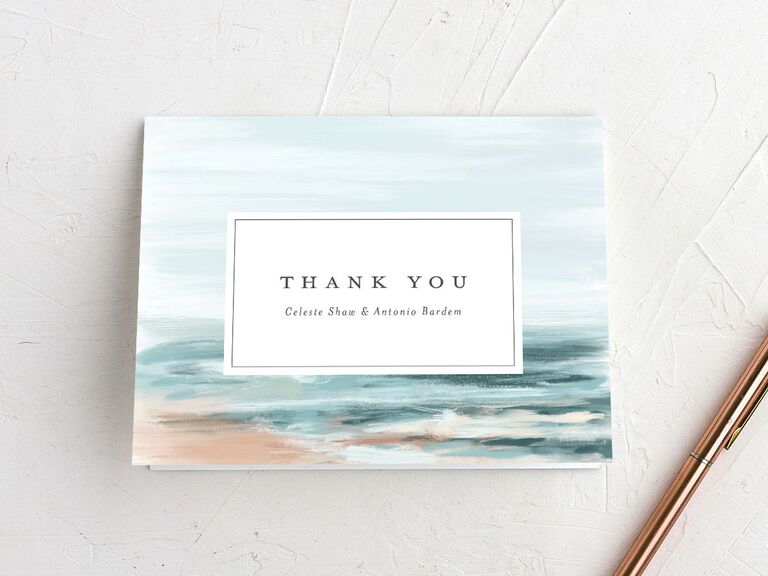 Your wedding goodie bags are just one more opportunity to thank your guests. Include a thoughtful letter to welcome them and tell them how happy you are to be sharing your wedding day with them. Handwriting each welcome note will give them that extra-personal touch that says, "You're so important I took the time to pen this myself." Or, if you're short on time, at least sign each one in ink. And don't forget to give a quick rundown of the items you've included in your welcome bag or basket (especially if they have a good backstory). Check out The Knot Invitations for a wide variety of thank-you cards to suit different styles and themes.
Our Favorite Bags for Your Wedding Welcome Gifts
What is a wedding welcome bag without the bag? When it comes to impressing loved ones with an awesome gift, presentation is key. That's why we're sharing the top wedding welcome boxes, baskets and tote bags to inspire your own.
Tropical Vibes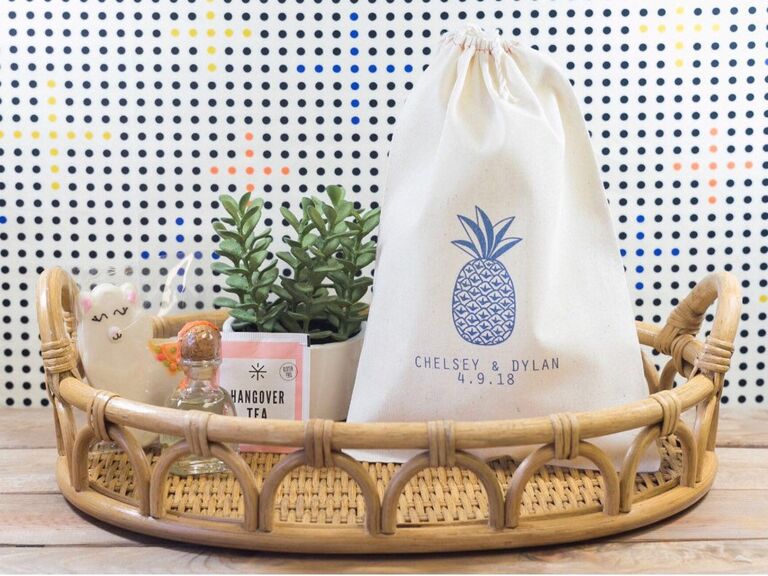 If you're tying the knot at a tropical destination, use that to inspire your goodie bags. These pineapple-motif wedding welcome bags are perfect for beach and destination weddings.
Retro Basket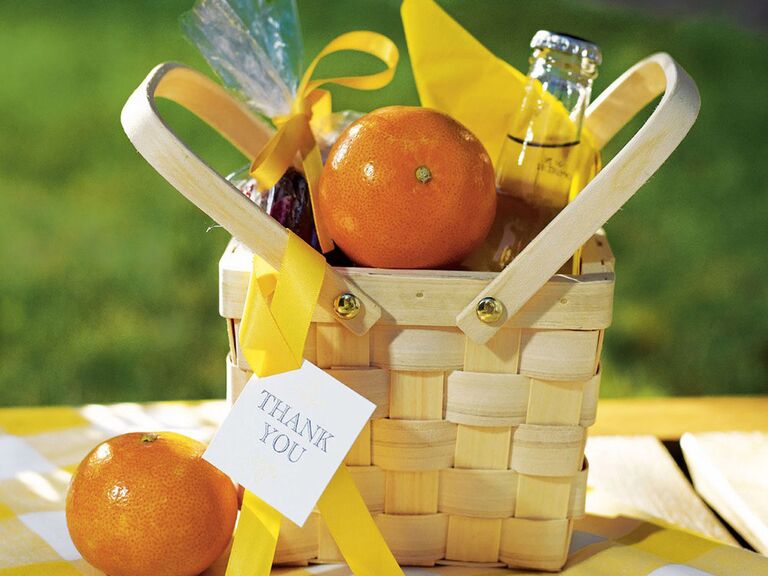 Gift baskets are another sweet option to leave in your wedding guests' hotel rooms. Stock this mini picnic-style basket with local delicacies like fresh fruit and wine before attaching a heartfelt thank-you note.
Nature-Inspired Tote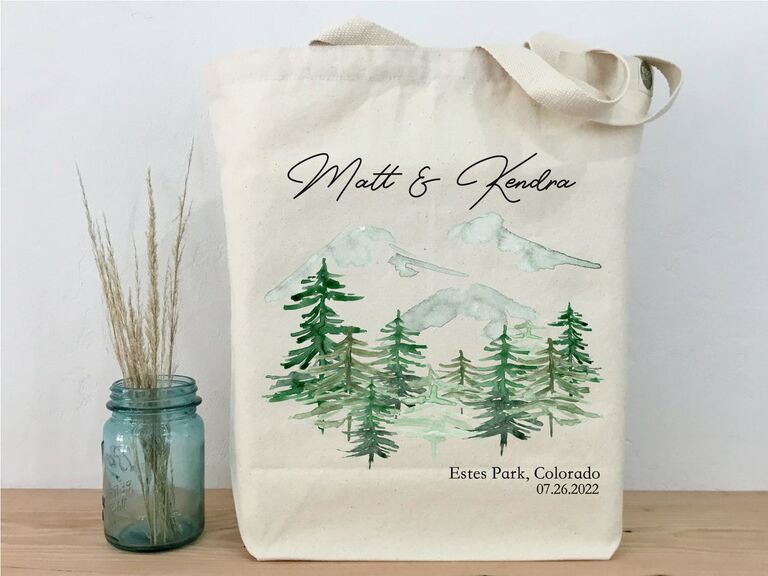 Beach weddings aren't the only kind of destination affair. Couples planning a scenic US destination wedding in the forest or mountains can take advantage of these custom wedding totes.
Rustic Jute Bag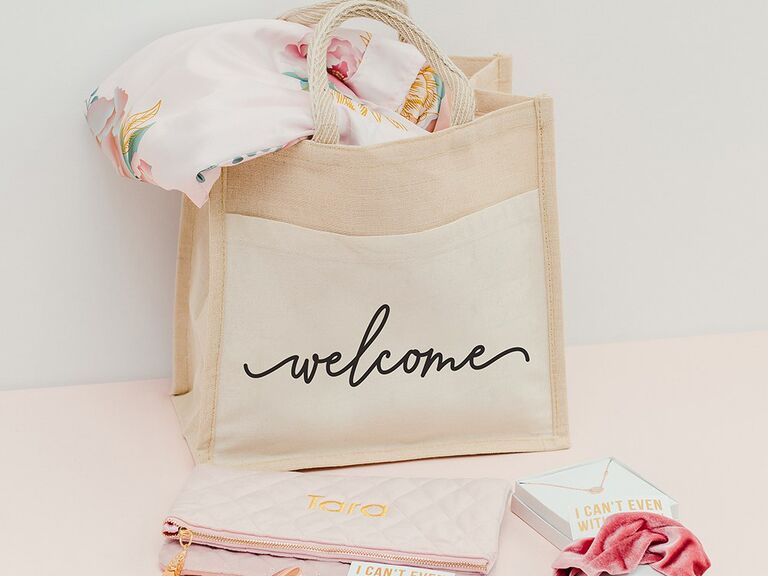 Bags made from burlap or jute are a great way to nod to a rustic-themed big day. We can easily picture these pretty wedding welcome bags at a country celebration in the fall.
Punny Tote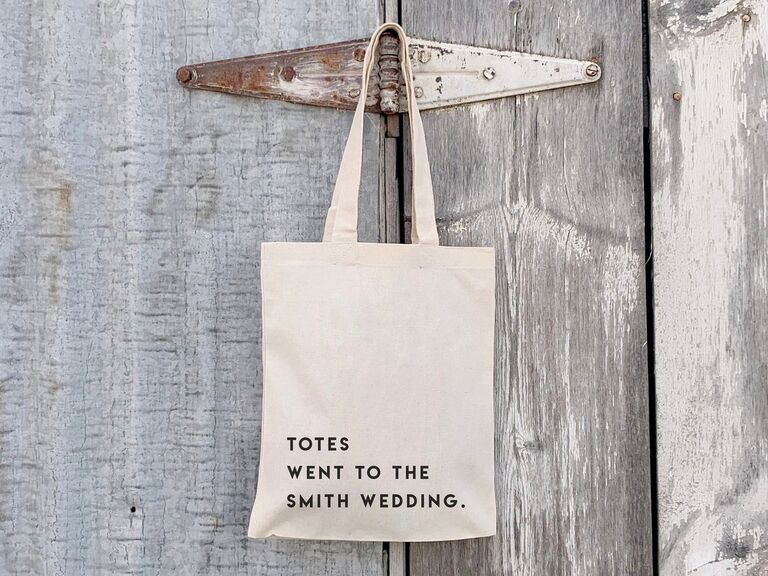 This simple-yet-chic welcome tote offers a punny take on the traditional guest goodie bag that your loved ones will instantly want to share on Instagram.
Personalized Box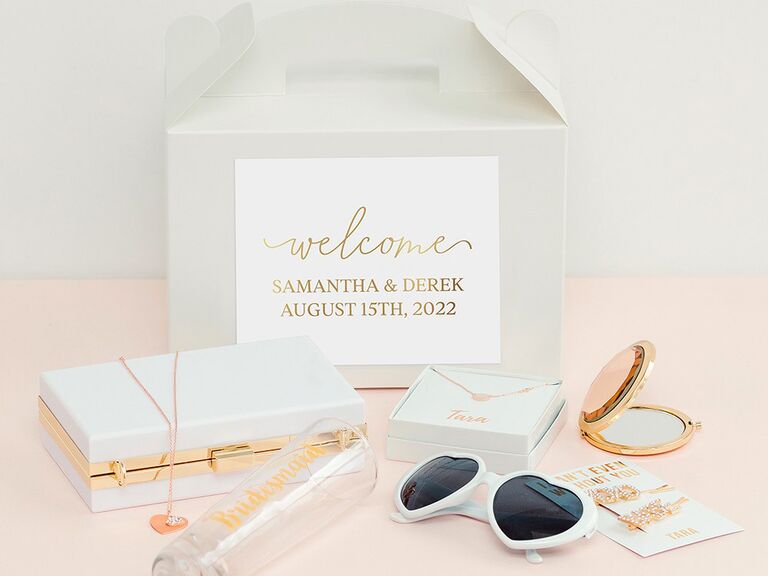 Paper bags and gift boxes are a cheaper alternative to reusable wedding welcome bags (but they look just as good!). Have each box labeled with the wedding date and your names so guests recognize who it's from right away.
City Skyline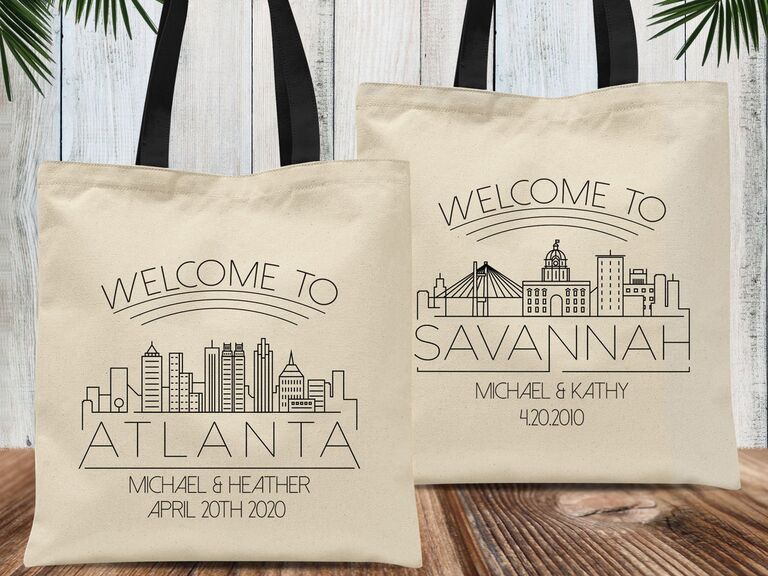 This Etsy shop sells beautifully personalized wedding welcome bags illustrated with the unique skyline of a selection of US cities. These custom reusable totes are a cool keepsake in and of themselves.
How do you deliver wedding welcome bags?
You've put together an amazing welcome bag, but now you have to figure out how your guests are going to get them. Shipping welcome bags to your location is a no-fuss option, especially if you're flying there. If you'd rather transport them yourselves, pack them well and have a family member (or a few close friends) bring them as checked bags. (Save stuffing the decorative tissue paper until the last minute or it will get crushed en route to being delivered.)
Try asking your resort in advance if they can help you distribute the bags by handing them out at check-in or leaving them in guests' rooms. They should be able to assist (but keep in mind that some hotels charge a small fee for this service). Alternatively, you can enlist attendants or family members to help you distribute the bags once you've arrived.