Your Guide to Wedding Welcome Bags, From Etiquette to Ideas
Make your loved ones feel right at home.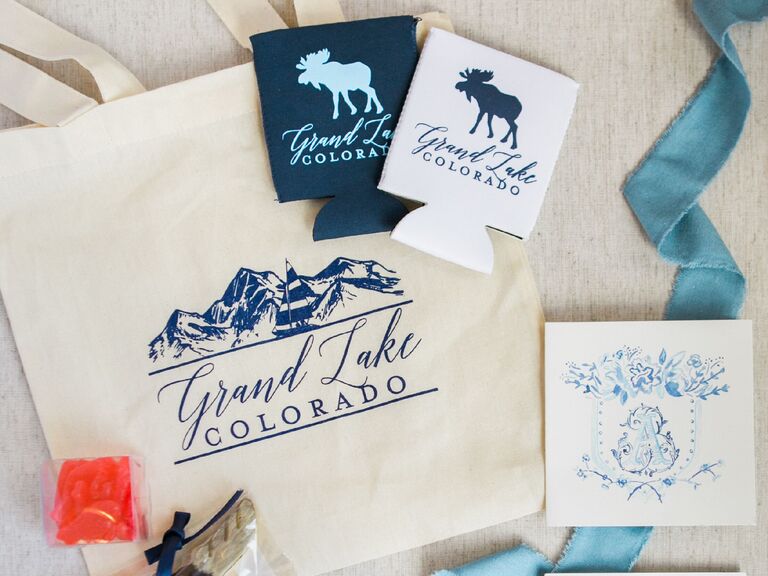 We have included third party products to help you navigate and enjoy life's biggest moments. Purchases made through links on this page may earn us a commission.
Let's talk wedding favors—specifically wedding welcome bags. The lead-up to your wedding is a busy time, so greeting guests prior to the rehearsal dinner or even the ceremony and reception may not be top of your priority list. But wedding welcome bags for guests, especially out-of-towners, are a great way to show friends and family you're excited they're here. Plus, wedding guest gift bags can also help introduce them to the area (if it's a destination affair), ensure they're prepared for the party ahead and personally thank them for their support. That's why we're sharing everything you need to know to get started on your wedding goodie bags, including who gets one, what to include and how to deliver them.
In this article:
Wedding Welcome Bag Definition and Purpose
Wedding welcome bags are bundles of small gifts couples and their families (if they're helping to host) give out-of-town guests to thank them for coming and make them feel at home in their hotel room. As such, they're not just for destination weddings, though that's when you'll see them most often. In our opinion, any guest that traveled for the occasion deserves a welcome goodie bag. After spending money on flights and accommodations as well as using up precious vacation days, it's a nice way to show appreciation for their attendance. Just remember, if one guest gets a welcome bag for your wedding, everyone should—even if they're just heading across town for your nuptials.
There's no hard and fast rule as to who should cover the cost of wedding welcome bags. If you and your partner are paying for the wedding yourselves, gift bags and guest favors typically fall to you. But if either (or both) of your parents are helping cover costs, they may offer to pay for wedding guests' gift bags.
What to Put in Your Wedding Welcome Gift Bags
So, what exactly goes in wedding welcome bags? In summary, you'll want a mix of practical and personal items. Think: luxe bath products to get them dolled up for the big day; water, mints and ibuprofen for the morning after; and fun favors unique to the location or to your relationship—like hand fans for a tropical soirée or each of your favorite snacks. We also recommend including a handwritten thank-you note and a guide on local attractions in your wedding welcome bag contents. To help you out further, we're sharing the best ideas for what to include in wedding welcome bags below.
1. Local Eats and Treats
The main idea behind wedding gift bags for hotel guests is to introduce your loved ones to the area. And what better way to do that than through some local flavor? Aside from the fact that everyone loves edible wedding favors, locally made snacks, pantry goodies and other treats are a great way to show your friends and family just what makes your wedding destination so delicious—er, special. Think: Garrett's Popcorn Shop for Chicago nuptials, Ghirardelli Chocolate for San Francisco or locally-grown oranges for Florida. Every state and country has at least one (or two) extra-special snacks. This couple tied the knot in Manchester, Vermont, so they put Cabot cheddar and crackers, O.W.L. energy bars and VerMints in the hotel gift bags for out-of-town guests.
2. Something to Sip
Just as guests would like something to munch on, they'd also enjoy something to sip. We love the idea of coconut water for a tropical destination wedding, mini bottles of wine for a vineyard soirée or locally brewed beer for ranch nuptials. This couple actually put the ingredients for a gin & tonic in their England destination wedding welcome bags. Even if you just include a bottle of water—very practical—you can still make it special with a custom label that speaks directly to the local scene or the theme of your wedding.
3. Pampering Toiletries
While hotels usually provide shampoo, conditioner and body wash, luxe toiletries still make great wedding welcome bag items. You could give guests some extra shower products, artisanal bar soap, mini hand lotions, relaxing bath salts, refreshing face masks, lip balm or even sweet-smelling essential oils. These extra touches will help your guests feel more at home and, thus, at ease during their stay. Just make sure your spa-like goodies can be brought through TSA.
4. On-Theme Keepsakes
Small souvenirs like wine stoppers, playing cards, luggage tags or candles are all great favor options to include in your guests' welcome bags for a destination wedding. They can be on-theme to your nuptial location, season or aesthetic. For instance, there are lots of differently shaped bottle stoppers to fit winter- or summer-scheduled weddings. Or, if you're getting married in New Orleans, throw in some gold, green and purple beads, Mardi Gras masks or king cake to get guests in the spirit of the locale.
5. An Itinerary and Travel Guide
Even in the age of technology, when all the event details are accessible digitally on your wedding website, guests still appreciate having a physical copy of the itinerary, a map of the area and a guidebook on the location's must-sees and must-dos. These small touches will keep your family and friends in the loop from the welcome party to the postwedding brunch and any downtime in between. At the very least, your itinerary should include the time and location of all the important events. After that, feel free to add any other details you think will be of benefit to your loved ones, such as what's on the food and drink menu. Then, pop in a custom pamphlet or a local magazine that highlights city hot spots they can explore before or after the festivities, like top sites and activities they shouldn't miss and a few good restaurants if you're guests aren't joining you for every meal. As a bonus stationery, if it's the city where you two fell in love, a sweet anecdote about a place (maybe your first date spot) or street (your new home) makes for an extra-personal recommendation your guests will swoon over.
6. Health and Safety Supplies
Show your loved ones just how much you care by including some thoughtful health-and-safety essentials in. Hand sanitizer is a good wedding welcome bag idea, especially when it's small enough to stow in a clutch or back pocket. But you could also include earplugs they can use on the dance floor or sunscreen if it's an outdoor ceremony—or all three!
7. Hangover Helpers
Don't let your guests regret that last glass of champagne! Create a special hangover kit— complete with a bottle of Gatorade, Advil, Vitamin C and some breath mints—to help them combat any morning-after ailments that might keep them from enjoying the rest of the festivities. Trust us, your friends and family will thank you. The items are all pretty easy to buy in bulk, too, so they'll be affordable additions to your wedding hotel welcome bags.
8. Something Personalized
Anything you can do to add personality to your wedding welcome boxes is a win. Don't be afraid to incorporate party favors that feature your names, the date of your "I do"s or the location. An easy way to do this is through custom tote bags. You can use them to wrap all of the lil' goodies and your guests can reuse them as a beach or travel bag. Of course, you could also customize koozies and sunglasses like this couple did. Guests will want to hold onto these charming keepsakes.
9. Weatherproof Essentials
Take a cue from the season and stock up on items that'll help your guests brave the elements. If you're hosting a tropical destination wedding, sunglasses, hand fans and beach towels are appropriate for your welcome bags. Conversely, pashminas or flannel blankets, cozy socks and hand warmers are perfect for a fall or winter wedding. Your guests will appreciate the practicality of your wedding welcome baskets.
10. Lots of Thanks
Your wedding welcome bags are just one more opportunity to thank your guests. Include a thoughtful letter to welcome everyone to your wedding weekend and tell them how happy you are to be sharing your big day with them. Handwriting each welcome note will give that extra-personal touch that says, "You're so important, I took the time to pen this myself." But if you're short on time or don't have the most legible handwriting, at least sign each one in ink.
Where to Get Your Welcome Bags and Gift Items
Now that you have some wedding gift bag ideas, it's time to start shopping. Remember, you're not just looking for favors, you're also looking for the bag, box or basket that will hold all of them. Below, find some of our go-to places to find welcome bags for wedding guests and the goodies to fill them with.
How to Give Your Guests Their Welcome Bags
You've put together an amazing wedding welcome bag, but now you have to figure out how your guests are going to get them. You or your wedding party will most likely need to build the wedding gift bags for hotel guests yourself once you've arrived at the destination, but once they're ready to go, you have a few options for delivery: Ask your resort in advance to help hand out the bags at check-in or leave them in guests' assigned rooms prior to their arrival. They should be able to assist, just keep in mind that some hotels charge a small fee for this service. Alternatively, you can enlist a few friends or family members to help you distribute the bags once guests have arrived. Lastly, if you're hosting a welcome party, have a table of the bundles for everyone to grab.