Wedding Dress Train Glossary
Confused about the different types of trains? Fear not -- here's what you need to know.
by Lauren Greene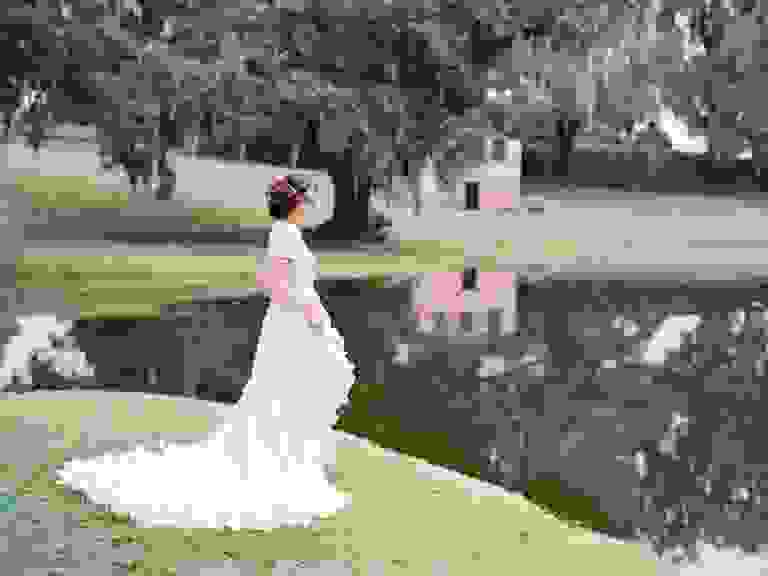 More than any other element of the wedding dress, the bridal train has the ability to transform. This elongated back portion of the gown lays on the floor and trails out behind you as you walk, creating a majestic appearance. Of course, the longer the train, the more dramatic the effect (think: Princess Di's 25-foot long version!). Here are the types of trains, from shortest to longest, you'll come across when dress shopping and the ways you can bustle them postceremony.
Watteau
Attaches to the gown at the shoulders and falls loosely to the hem.
Sweep
Also called a "brush," this is the second shortest train, extending back one foot or less after the fabric hits the floor.
Court
Extends one foot beyond the sweep train.
Chapel
A popular option that extends three-and-a-half to four-and-a-half feet from the waist.
Semi-Cathedral
Extends four-and-a-half to five-and-a-half feet from the waist.
Cathedral
A formal option that extends six-and-a-half to seven-and-a-half feet from the waist.
Extended Cathedral/Monarch
Also known as "royal;" flows to 12 feet (or more) from the waist.
Editor's Note:
If your dress doesn't have a detachable train, you'll want to bustle it (gather the fabric at the back of your dress and secure it with buttons or hooks) after the ceremony, so you can move around freely at the reception. As with every element, there are different options to choose from.
American Bustle
This style of bustle is made by raising and securing pieces of the outside of the train to the waistline of the gown.
Pickup Bustle
This simple bustle requires the least amount of buttons (sometimes just one) and matching eyelets to create a little lift to your gown's train.
French Bustle
This unique bustle is created by tying a series of numbered or coordinated ribbons underneath the gown's train. On the outside, it looks like an understated fold.
Tufted Bustle
This type is ideal for a gown that already has a series of pickups or tufts on the train. A seamstress can easily create more tufts to blend and shorten the train to floor length.