The Ultimate Montana Honeymoon for Peace and Solitude
Here's our guide to a romantic getaway in Big Sky Country.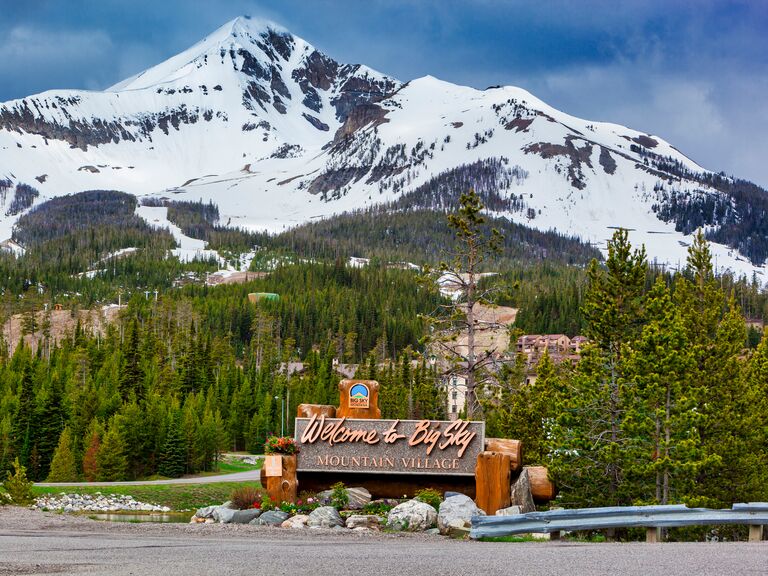 Zorro Stock Images / Shutterstock
Rafting the iconic Yellowstone River and carving S-turns on the slopes of Big Sky are just a few reasons why nature lovers will relish a Montana honeymoon. Long days of outdoor activities and chill evenings in a cozy and luxurious lodge is a romantic honeymoon for a specific type of couple. If this speaks to you, read our complete guide to a getaway in Big Sky Country.
Is Montana Good for a Honeymoon?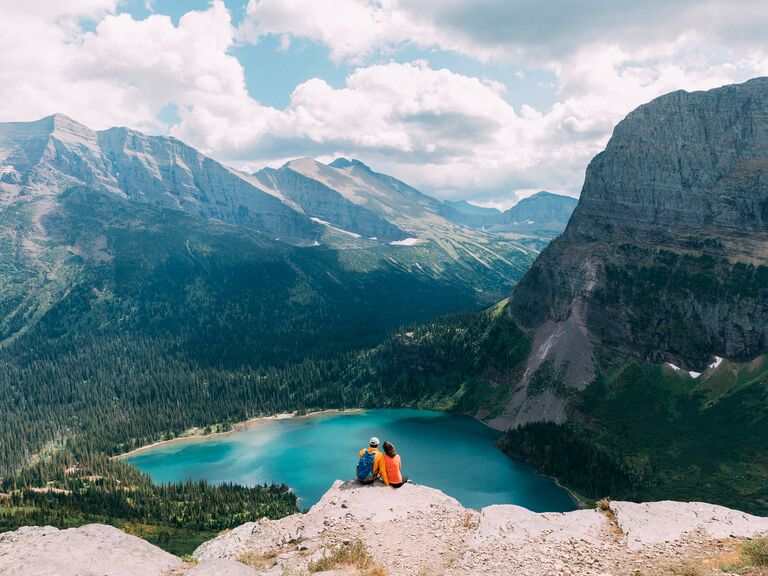 For newlyweds who relish spending time in nature, a Montana getaway delivers. "Wildlife outnumbers people, and the outdoor activities are endless," says Dan Austin, founder of Austin Adventures. On the accommodation front, there's a wide range of choices, including five-star spa-style resorts to rustic lodges, plus upgraded ranches and quaint cabins.
Pros of a Montana Honeymoon
Beautiful scenery will surround you in Big Sky Country. The fourth-largest state is rich in romantic vistas, with mountains, canyons, forests, river valleys, badlands, caverns and grassy plains. Fortunately, the state is relatively easy to access, especially from the West Coast and the Midwest. You'll find daily flights from Salt Lake City, Denver, Minneapolis, Seattle and more. If traveling to the Northwestern or Western parts of the state, fly into Glacier Park or Missoula County International Airports. For the Southwest, disembark at Billings Logan or Bozeman Yellowstone International Airports.
Cons of a Montana Honeymoon
City slickers might choose to honeymoon elsewhere—Montana is about wilderness and rustic living, rather than trendiness and cosmopolitanism. Since the state is an extremely popular destination, many properties sell out several months in advance, Austin warns. Honeymooners should book their romantic getaway as far ahead as possible. Plus, since Montana is so vast, couples will limit the scope of their travels to one specific region of the state.
The Best Times of Year to Go on a Montana Honeymoon
Montana is a year-round destination. Think skiing and snowshoeing in the winter months and hiking, biking, and fishing in the warmer months. If you can, travel to Montana for your honeymoon in early fall or late spring for milder weather and smaller crowds.
Where to Visit on a Montana Honeymoon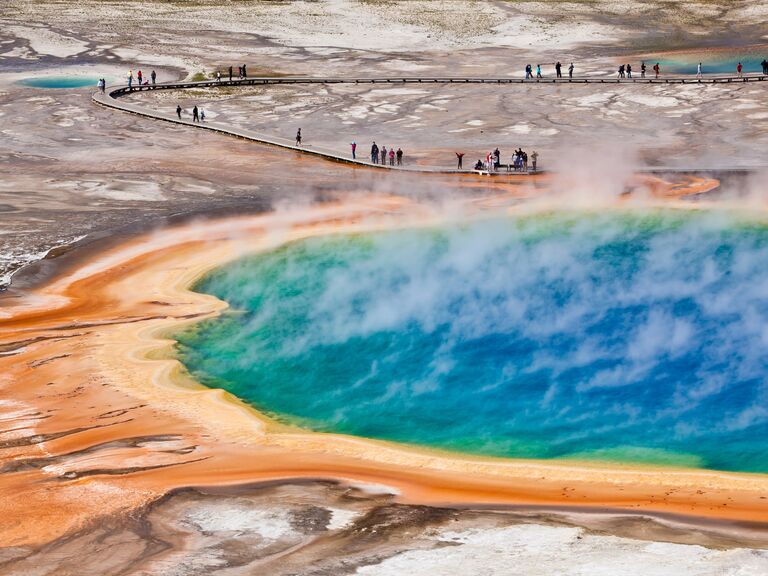 Northwestern Montana
Bigfork
Located on the shores of Bigfork Bay on Flathead Lake (famed for its year-round fishing), this vibrant town is about an hour from Glacier National Park. In addition to being home to the Bigfork Summer Playhouse (a repertory theater), it boasts many art galleries and restaurants. Time your visit to coincide with one of its many events, such as the Bigfork Brewfest in March, Bigfork Festival of the Arts, or the Bigfork Summer Playhouse.
Glacier National Park
A must-visit for its alpine scenery, this national park in Northwestern Montana (on the Canadian border) is known for its 25 glaciers. Arguably its most famed feature is "Going-to-the-Sun Road," a 50-mile stretch designated a National Historic Civil Engineering Landmark. Explore the park via its hiking trails—from easy (Trail of the Cedars) to moderate (Avalanche Lake) to challenging (Grinnell Glacier). To experience some of its 700-plus lakes, book a Glacier Park Boat Company tour. Or, let Red Bus Tours show you the park from one of its historic chauffeured buses. Don't forget to watch out for grizzly bears and mountain goats.
Whitefish Mountain
Named one of the "Top 25 Ski Towns in the World" by National Geographic, this town sits on the shores of Whitefish Lake, at the bottom of Big Mountain. Couples can ski and snowboard in the winter, and boat and hike in the summer.
Western Montana
Missoula
For a dose of culture, head to Missoula or "The Garden City." It's home to several museums, among them Historical Museum at Fort Missoula, Missoula Art Museum, Montana Museum of Art & Culture and Montana Natural History Center.
Southwestern Montana
Yellowstone National Park
The world's first national park offers an embarrassment of riches when it comes to beauty. Visit the most famous geyser, Old Faithful, plus Mammoth Hot Springs and Yellowstone Lake. All three sites are accessible from Southwest Montana (most of the park is situated in Wyoming). While you navigate this volcanic area, look out for wildlife, including grizzly bears, bison, wolves, lynx, fox, moose, elk and antelope.
Bozeman
A Montana honeymoon is about outdoor adventures. However, to add some balance to your trip, couples might want to explore the fourth largest city in the state. In addition to activities, like fly fishing and rock climbing, Bozeman boasts plenty of museums, art galleries, as well as music and theater performances. Finally, soak up the atmosphere at one of the city's festivals, which range from farmer's markets to art fairs.
Big Sky
This community in the Rocky Mountains offers skiing in the winter and downhill mountain biking in the warmer months. When skiing in Big Sky Resort, you'll experience endless, almost-deserted terrain. In fact, according to the resort, there are about two snow-covered acres per skier on the busiest days.
Things to Do During a Montana Honeymoon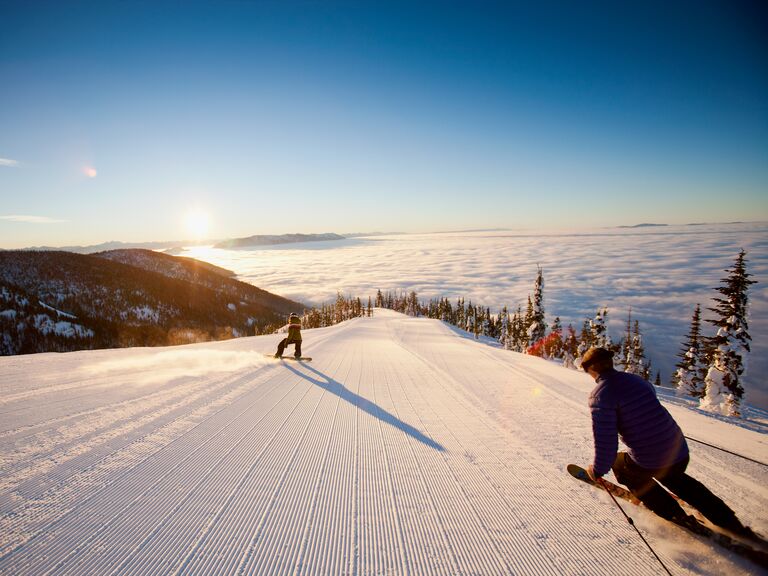 Outdoor Adventures
During the warmer months, go hiking, mountain biking, fly-fishing, horseback riding, white water rafting, and more. In the winter, explore the outdoors via skiing, snowboarding, and snowshoeing. For a relaxing romantic activity, take a sleigh ride.
Spa Treatments
Most resorts include spas, allowing honeymooners to mix exercise and rustic experiences with relaxation and luxury on their Montana vacations.
Beer Tasting
Craft beer is big business in Montana. In fact, the state is second only to Vermont in its number of breweries per capita. Book a microbrewery tour, such as Big Sky Brews Cruise, which will introduce you to breweries in Whitefish, Kalispell, Columbia Falls, and the Flathead Lake area. In cities, you can also brewery hop; in Missoula, for instance, you can stop by Kettlehouse Brewing Co., Draught Works Brewery, Bayern Brewing, and Big Sky Brewery.
Best Hotels and Resorts for a Montana Honeymoon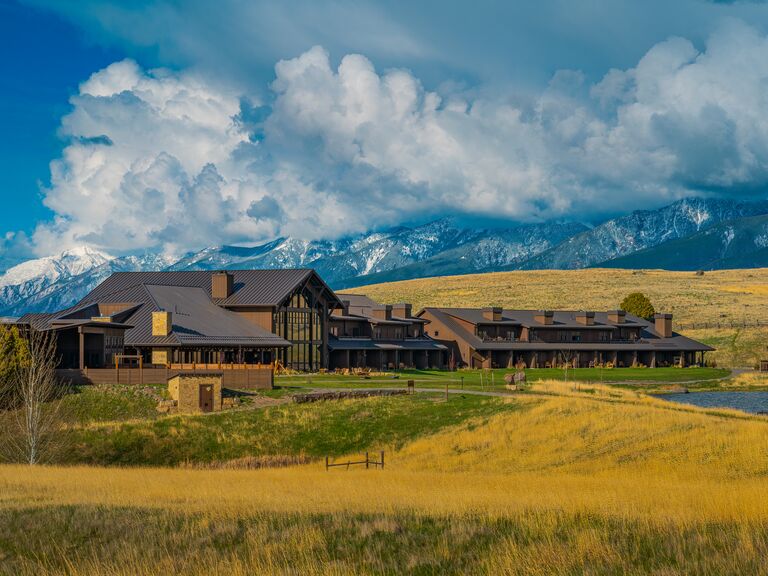 Northwestern Montana
Situated between Whitefish Lake and the Viking Creek Wetland Nature Preserve, this resort offers a myriad of activities. In the summer, go whitewater rafting, charter fishing, or boating. In the winter, try ice fishing, skiing, or a horse-drawn sleigh or wagon ride. For a more low-key experience, book a spa treatment or simply relax in the indoor or outdoor pools and hot tubs or private beach and swim area. For the ultimate in romance, request a room with a soaking tub and lake view.
Western Montana
With 100 miles of trails, this 37,000-acre working cattle ranch resort in Greenough (about 30 minutes from Missoula) offers unbridled access to nature. Choose from 28 private vacation homes (an alternative to vacation rentals) and 36 luxury camping tents. For romance, schedule a starlit wagon ride, horseback ride, or hot air balloon excursion.
Located southeast of Missoula, this luxury dude ranch sits on 6,600 acres of mountains, meadows, forests, and Rock Creek, a Blue-Ribbon fishery. In addition to featuring farm-to-table cuisine, the state's newest guest ranch offers upscale accommodations—from glamping cabins to traditional guest rooms and whole houses. All-inclusive, the ranch provides twice-daily activities, from wildlife photography to fly-fishing, rifle-shooting, and mountain biking.
A member of the prestigious Relais & Châteaux association, this upscale retreat designed for adults provides an all-inclusive experience. Located in Darby, in the Bitterroot Mountain Range of the Montana Rocky Mountains, the ranch offers a range of accommodations, including private log cabins and ranch homes (some with hot tubs). Activities abound, from archery and fly-fishing to trail running and yoga.
Southwestern Montana
For couples looking to spend days exploring Yellowstone National Park, this luxury resort is just a half-hour away. The property offers fly-fishing, hiking, biking, hunting, and cross-country skiing, plus a large outdoor hot tub and a spa with a steam room, sauna and outdoor therapy pool.
A National Geographic Unique Lodge of the World, this ranch includes 30 rooms within 24 cabins, plus a restaurant, saloon, boutique and equestrian facilities. Guests can choose from a range of outdoor activities, including tours of Yellowstone National Park, axe throwing, a ropes course, archery, river tubing, and more. Consider booking the ranch's Summer or Winter Honeymoon Packages, including massages and a private horseback or sleigh ride. Set on 148 acres in Big Sky, Montana, the ranch is located near Yellowstone National Park, Big Sky Resort and Bozeman Airport.
With a hot springs pool, this charming historic hotel and restaurant is conveniently located with a short drive to Yellowstone National Park, it's also close enough for a day trip into Bozeman for shopping. The resort offers a variety of lodging options, including luxury cabins (with spa tubs, king-size beds, and panoramic views) and activities, including river rafting, painting, and fly fishing.
What to Pack for a Montana Honeymoon
This is not the trip to bring your trendiest attire. Montana is a place for boots over stilettos. "What's key is casual," says Austin. "Clean jeans will get you into the finest restaurant in Montana." You'll also want to pack gear for hiking, bathing suits and swim trunks for hot springs, and sweaters, puffers and layers for evenings.