Plan a Perfectly Romantic Honeymoon in Canada
Head north of the border for an adventurous getaway for two.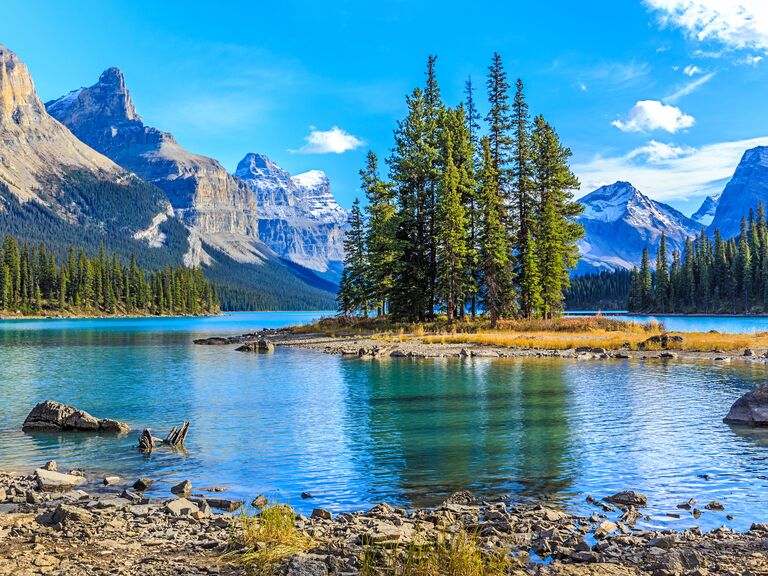 Elena_Suvorova / Shutterstock,Location: Jasper National Park, Alberta, Canada
Oh, Canada. Sure, it's the country's national anthem, but it's also what you'll be saying after spending a few days in the sprawling country. From the cobblestone streets of Old Québec to the wild and rugged coastlines of British Columbia, there's plenty to explore.
Some travelers are drawn to a Canada honeymoon due to the natural beauty of Banff and Jasper national parks, while others love the culture, art, festivals and food of urban getaways like Vancouver and Montreal. Of course, if you're willing to travel further north to the Yukon or Northwest Territories, you'll find plenty of ways to explore the country's rich indigenous culture. You can go on a luxury polar bear safari in Manitoba or take a sunset cruise past the Nova Scotia coastline.
When planning the perfect Canadian honeymoon, remember that you'll have to narrow down your plans a bit unless you're planning on a very extended road trip. Canada is 5,780 miles wide and bigger than the US, so you'll need ample time to scratch the surface of what the country has to offer.
Is Canada Good for a Honeymoon?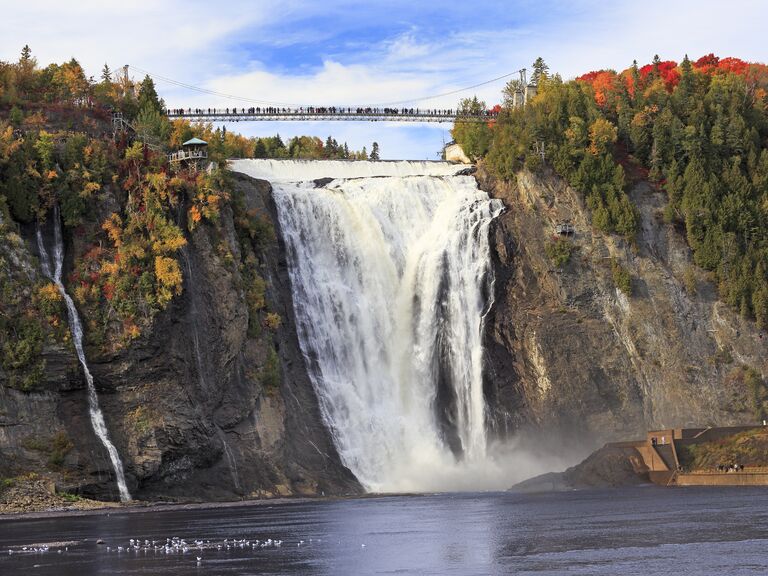 Canada is huge—in fact, it's about 1.6 percent larger than the US—so of course, it's good for a honeymoon. There are few experiences it doesn't offer.
You can plan an urban adventure in Vancouver, learn to tap a maple tree (or speak French) in Québec or hike next to grizzly bears in Banff National Park. It's the second-biggest country in the world, so if you can't find something to love, well, you're just not looking hard enough. From British Columbia to Newfoundland and everything in between, there's enough to do and see to fill a lifetime of honeymoons.
Pros of a Canada Honeymoon
Aside from having just about every activity in the world at your fingertips (yes, Canada even has beaches), it's also easy to reach for newlyweds in the US. Because it has so many international airports (and many of the most popular places to visit are in the southern part of the country), you should be able to find a direct flight from almost every airport in the US.
You can easily drive to Canada, which may be better if you want to bring bigger items with you like mountain bikes, skis or your favorite fly-fishing gear. Add to that a friendly exchange rate compared to the US dollar, and you'll see why Canada is the second-most-popular country in the world for Americans to visit.
Cons of a Canada Honeymoon
The only real disadvantage to a honeymoon in Canada is that it's not a traditional choice. While Canada does have beaches, tiki bars and plenty of cities that get downright hot on summer days, it's not tropical, and you won't find hotels with overwater bungalows or places to snorkel in warm oceans (though Lake Louise and the water bodies of the Canadian Rockies are astonishingly blue).
The Best Times of Year to Go on Canada Honeymoon for Good Weather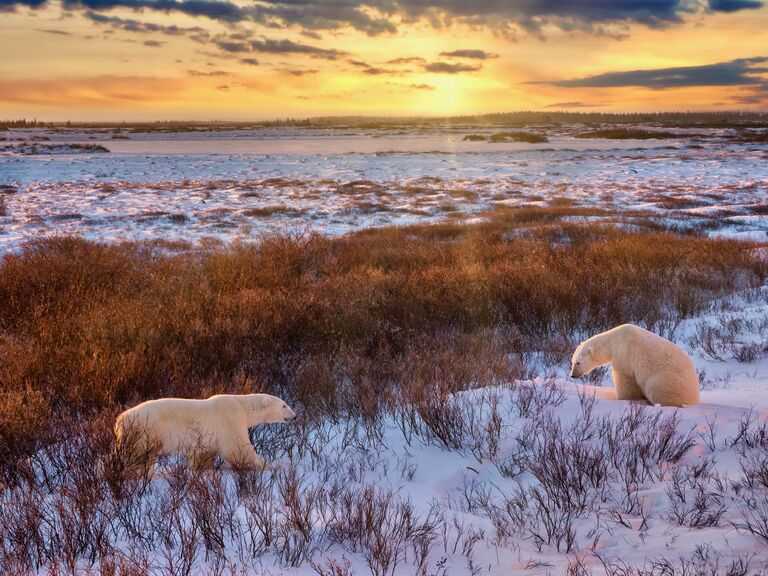 This all depends on your definition of "good." If you're a skier, you'll want to visit between December and April. March is a great time of year for fantastic snow at resorts like Whistler Blackcomb, Sunshine Village (at Banff) and Kicking Horse (in central Canada's Rocky Mountains). Most ski resorts close in late April, but there's still snow in the ground through much of the country past that. Remember that most of the snow in Canada falls at higher elevations in the mountains and in the interior of the country; coastal areas around Vancouver Island are much milder.
If you want to hike or enjoy the trails, you'll have to wait for the snow to melt. Plan a trip between July and early October if you want to hike, camp or take advantage of summer activities like winery tours, kayaking or attending outdoor festivals (of which there are many). If you're planning on staying near cities, any time of year will be fine, though remember that cities in Canada generally get far colder than those further south in the States.
Things to Do During a Canada Honeymoon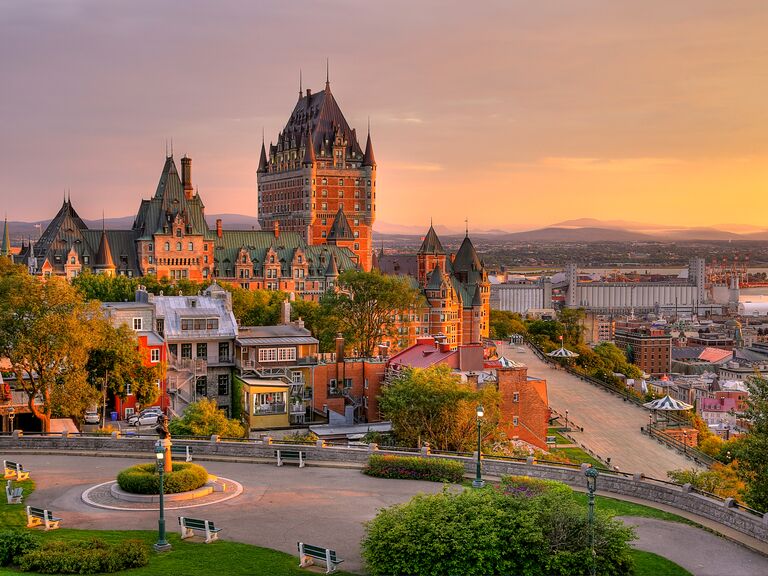 Go Somewhere Remote
If you've always said you'd go to the ends of the Earth for your spouse, well, here's your chance to prove it.
If you want to stay in one of the most architecturally stunning hotels around in an otherworldly destination, head to the Fogo Island Inn—and yes, you have a great chance of seeing the northern lights. The hotel is consistently rated as one of the most sustainable in the world. You can learn boat-making and quilting, hike with Newfoundland dogs, go on a caribou snowshoe tour, or learn to forage for wild berries.
If you'd rather not trek to Nova Scotia, you may instead want to head to Churchill. Based in Manitoba, Churchill Wild runs several remote eco-lodges in polar bear territory—it's the polar bear capital of the world, after all. Newlyweds can watch polar bears amble by from the comfort of their luxurious glass-walled rooms, and outdoor tours and photography classes (for learning to shoot bears, wolves, belugas and more) are included with the price of safaris. If you don't want to stay in the eco-lodges (or you prefer a more budget-friendly option), you'll find several day and overnight tours with operators in the Churchill area.
If you'd prefer to feel like you're away from civilization during the day but have restaurants and bars at your disposal come evening, head to one of Alberta's parks. Both Banff National Park and Jasper National Park offer options for extremely remote day hikes or overnight trips, but the towns have plenty of facilities and amenities once you're off the trails. It's also the part of Canada most known for hot springs, including the famous Banff Upper.
Take the Railroad to a National Park
If you want to snuggle up with a glass of wine next to Canada's most beautiful views but you aren't especially keen on driving yourself over twisty mountain passes, hop aboard the Rocky Mountaineer instead. The luxurious train line runs three three-day routes, all starting or ending in Vancouver. The routes pass by some of Canada's most beautiful scenic areas, like Lake Louise, Castle Mountain and the Fraser River Valley. On board, you'll enjoy gourmet cuisine and wine tastings, as well as narration from a knowledgeable host.
But don't worry—you won't be sleeping in a train berth. All trips include lodging in elegant or extremely elegant hotels, depending on whether you choose the gold or silver service. Both classes of service have excellent views, but guests in gold are treated to roomy seats under the train's all-glass ceiling.
Visit Québec
The old neighborhood of Québec City is one of the most beautiful places in North America. Located in eastern Canada, Québec is an entire province that includes the towns of Montreal and Québec City, among other fantastic spots. Visit in the winter to ski and snowboard at resorts like Mont Tremblant and Le Massif. Non-skiers can take the funicular down to the cobblestone streets of Old Québec to explore quaint European cafes or just stroll under the sparkling white lights that hang from every storefront. You can also take part in the famous Québec Winter Carnival, take a bobsled ride through town, grab a hot toddy at an outdoor ice bar, or take a sleigh ride along the St. Lawrence River.
Visiting in the summer months? While the town of Old Québec is charming in the summer, you may be tempted to spend more time outside the city limits. There are world-class hiking trails in the region, and at nearby Montmorency Falls, you can cross a via ferrata high above the rushing water. You can also visit the small Île d'Orléans to spend a romantic day touring organic farms, vineyards and historic waterfront homes.
Spend a Day at Stanley Park
Stanley Park is Canada's answer to New York's Central Park, though Stanley is actually much larger. It protects one of the few rain forests in North America, and has more than enough to fill several days of your honeymoon. While it's tempting to take your time walking hand-in-hand through the impressive park, you can also get around via a railroad or horse-drawn carriage—there's a lot of land to cover.
In the park, you'll find the Vancouver Aquarium (home to 65,000 animals, including sloths, seals and penguins), a 55-acre botanical garden, a Chinese garden and teahouse, and the world's longest waterfront cycling and walking path (17 miles long, but only 6 of them are within the park).
Also in the park are several places for a picnic or wine-tasting lunch, including the very highly regarded Stanley Park Pavilion. If you're an artistically inclined couple, you'll want to follow the self-guided art tour of the park, passing by all nine of the park's famous indigenous-crafted totem poles.
The Best Hotels and Resorts in Canada for a Honeymoon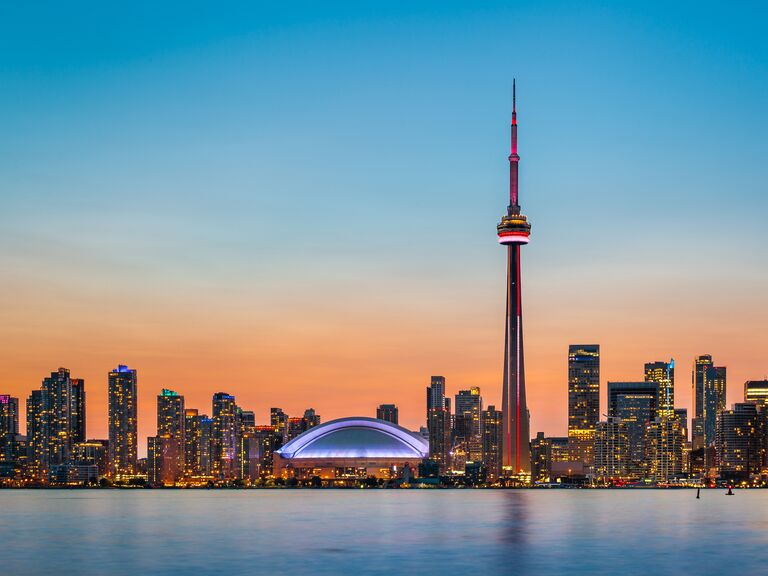 The Fairmont properties in Canada are some of the largest and most luxurious in the country—or anywhere in the world, for that matter. For an ideal mix of luxury and adventure in western Canada, book a room at the ski-in, ski-out Fairmont Chateau Whistler on the Gold Level. You'll check in on the private floor and have access to an all-day lounge with afternoon tea and evening martinis.
Of course, the rooms get the luxury treatment, too, with French aromatherapy diffusers, soaking tubs, fireplaces and oversized windows looking out on the stunning mountain views.
If you want to be stunned by the sheer beauty and power of Canada's West Coast, spend a few days on Vancouver Island at the Wickaninnish Inn. The luxury oceanfront hotel has everything you could ever want in a honeymoon destination, like hot tubs, nearby hiking trails and dining options ranging from a gourmet restaurant on the side of a cliff to a beachside cafe.
Where the hotel really shines is in its offerings, many of which are due to its prime location. The hotel can arrange for honeymooners to sip wine on a private seaplane tour or head to Tofino to visit art galleries and attend festivals with a Nuu-chah-nulth Nation guide. Other romantic experiences include picnic lunches on the rocky beaches at low tide and whale-watching tours on Clayoquot Sound.
If you're keen to spend time absorbing Canada's rugged beauty and want to learn more about the country's First Nations people, book a few nights at the OutpostCo on the shore of Lake Huron, just outside Toronto. The exclusive glamping resort has just two luxurious tents, both furnished as comfortably as any hotel room. You'll spend your days hiking and canoeing and your evenings enjoying multi-course sunset picnics and late-night cocktails by the fire.
The remote getaway is lit by oil lamps and lanterns in the evenings, creating an extremely romantic atmosphere. And it doesn't hurt that OutpostCo brings in different chefs throughout the year to show off their culinary talents in the form of candle-lit, five-star meals.
OutpostCo is in the Temagami municipality, home to several of Canada's First Nations tribes. Talk to the folks at OutpostCo for recommendations on area activities to explore before or after your visit. Booking an activity or tour with a First Nations-owned company can be a great way to give back to the local communities as a "thank you" for sharing their homelands with you.
What to Pack for a Canada Honeymoon
There's no specific list of what to pack for a honeymoon in Canada since it depends on what you want to do. Just keep in mind that evenings can get cold, even in the peak of summer. If you're camping, glamping or spending nights outside, you'll probably want a puffy jacket and possibly a beanie year-round.
Otherwise, pack for what you're doing. If you're spending time in Vancouver, Montreal, Toronto or other hip cities, bring your high heels and button-down shirts, and feel free to dress to impress. Because Canada and the US are so culturally similar, you don't have to stress too much if you forget anything at home. You'll be able to easily find all of your favorite brands in Canada, right down to mouthwash and makeup.