Your Complete Guide to a Lake Tahoe Honeymoon
This heavenly California destination is perfect for hikers, skiers and everyone in between.
NKneidlphoto / Shutterstock
Straddling the border between Nevada and California, Lake Tahoe is affectionately known as the "Jewel of the Sierra." Beloved by famous historical figures ranging from Mark Twain to Frank Sinatra, it's as beautiful as any national park.
A Lake Tahoe honeymoon is perfect for outdoor enthusiasts of any kind. Tahoe's natural beauty has been mostly well-preserved over the years, driving its reputation as a hot spot for both romance and outdoor recreation.
From live shows, restaurants and skiing in South Lake Tahoe to the laid-back, outdoorsy vibes of the North Shore's small towns, there's plenty to fill a honeymoon in this alpine paradise. Keep reading for everything you need to plan the perfect Lake Tahoe honeymoon.
Is Lake Tahoe Good for a Honeymoon?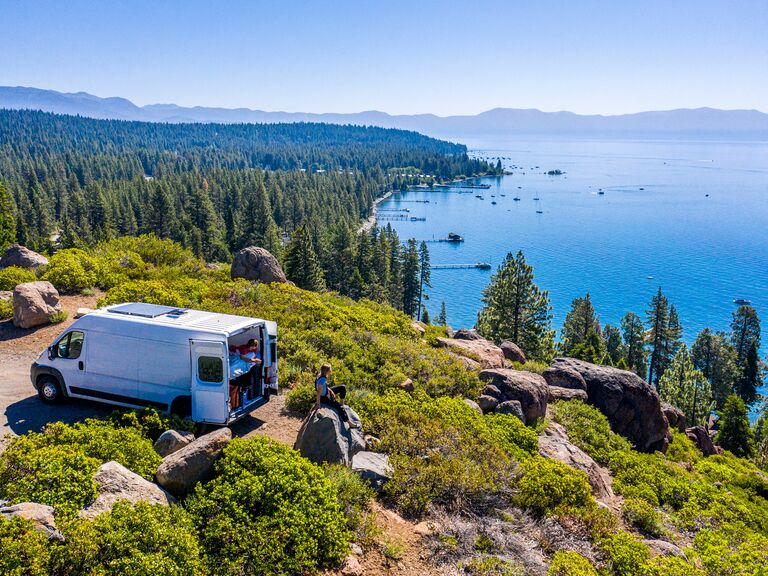 With beautiful mountain sunsets, high-end lakeside restaurants and some of the country's best outdoor recreation, it should go without saying that Lake Tahoe is a fantastic honeymoon destination. A Lake Tahoe vacation can be as elegant or as outdoorsy as you'd like, and lodging options range from classic Sierra Nevada cabins with stone fireplaces to high-end lakeshore resorts with outdoor hot tubs and boat rentals.
Lake Tahoe is very easy to reach from anywhere on the West Coast. It's 3 hours east of San Francisco, 90 minutes east of Sacramento, and 30 minutes west of Reno, Nevada. If you're not from the West Coast, most US cities have direct flights into at least one of those airports. It's also somewhat close to Napa Valley (2 hours) and Yosemite National Park (3.5 hours), making it an excellent stop on a California road trip honeymoon.
Pros of a Lake Tahoe Honeymoon
Aside from stunning natural beauty (have you seen Emerald Bay?), newlyweds in Lake Tahoe can look forward to a massive variety of outdoor recreation options for all levels.
Not into the outdoors? That's no problem, since Tahoe has plenty for honeymooners who didn't bother packing their hiking boots. Summer visitors can take dinner cruises of the lake on old-fashioned paddlewheel boats, ride resort gondolas to activities like mountain roller-coasters and zip-lines, or attend one of nearly 100 festivals focused on wine, art and live music.
Cons of a Lake Tahoe Honeymoon
The biggest downside to a Lake Tahoe honeymoon is the cost. Tahoe is an expensive destination, priced similarly to San Francisco or New York City. A hotel room at a lakeside resort in the summer will easily cost $500 or more per night, and ski lift tickets are over $150 per day at the larger resorts (and that doesn't include rentals or lessons).
The other major con, which any local will tell you, is that Tahoe gets very crowded on summer weekends, especially in tourist-friendly towns like Tahoe City. Fortunately, if you're on your honeymoon, you'll likely have at least a few days midweek in Tahoe, which should help minimize the crowds at popular destinations like Emerald Bay State Park and Heavenly Village.
The Best Times of Year to Go on a Lake Tahoe Honeymoon for Good Weather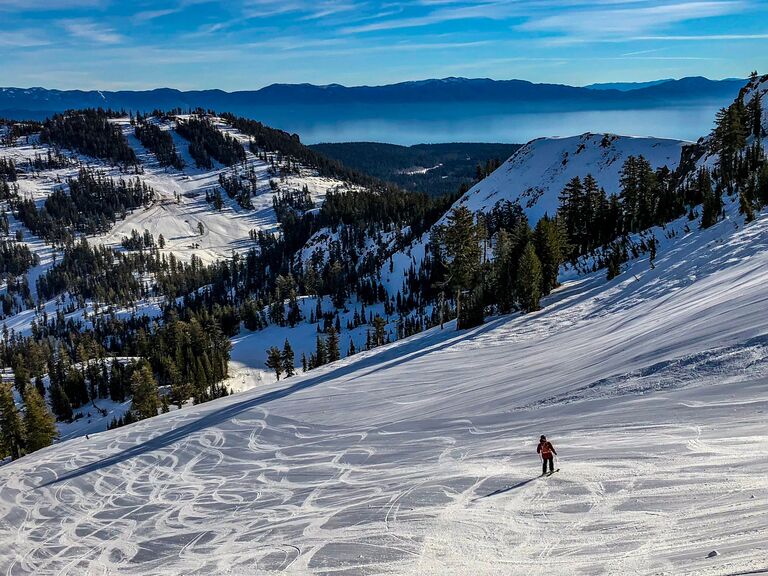 When to visit Lake Tahoe for good weather depends entirely on your definition of good weather. If you want to go skiing and snowboarding, come in February or March, when the slopes are most likely to be covered in feet of fresh, fluffy snow. March is an excellent month for powder days as well since it'll be both snowy and sunny.
If you're keen on summer recreation, June is a great month to visit, as is September; the latter is usually a little less crowded. July and August are the peak of summer, but they're pricier times to visit and can occasionally have smoky skies if there are nearby wildfires. However, most of the best festivals occur during these months, and summer activities like happy-hour cruises and mountain-biking tours run daily.
Find your kind of venue
From barns to ballrooms, discover reception venues that feel like you.
Places to Visit in Lake Tahoe for a Honeymoon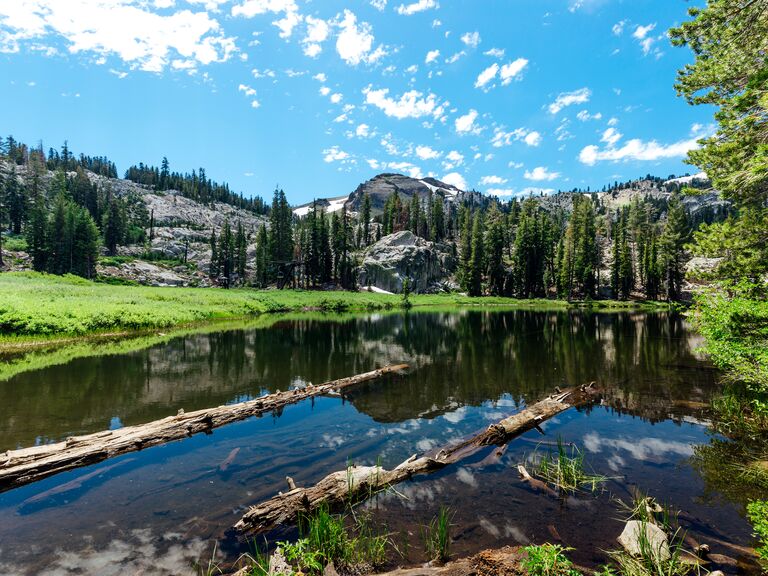 Emerald Bay State Park
The most photographed place in Lake Tahoe is none other than Emerald Bay, a small offshoot of the lake that's home to Tahoe's only island. Emerald Bay State Park is a great place to spend an afternoon, whether you take the quick hike uphill to Eagle Falls or take the 1-mile walk down to the beach, where you can rent kayaks, tour a historic home or float around in the warm turquoise water. It gets busy, so try to visit midweek if possible.
The Flume Trail
For an easy hike with epic views, take the Tunnel Creek Trail to the Flume Trail (in Incline Village). At the trailhead is a mountain bike rental shop where you can rent bikes and get a ride to the top, cutting out nearly all of the challenging climb. Don't want to bike? Set out on foot, and you'll be rewarded with a stunning view of the lake after about half a mile. The views across the lake of the Sierra Nevada Mountains are phenomenal, especially considering the hike is relatively easy.
Squaw Valley and Alpine Meadows
No matter what time of year you visit, you'll want to head to Squaw Valley, just a few minutes north of the lake. The resort hosted the 1960 Winter Olympics, which was the first televised Olympics and responsible for jump-starting Tahoe's winter tourism boom. There's a large village at the base with outdoor dining, a ropes course and cute shops. If you take the gondola ride to the top, you can explore the Olympic Museum, hang out at the outdoor hot tub, or hike several trails. Winter visitors can take the gondola to the top for a hot cocktail in the glass-walled Terrace Restaurant and Bar, which offers stunning views from its 8,200-foot-high perch.
Things to Do During a Lake Tahoe Honeymoon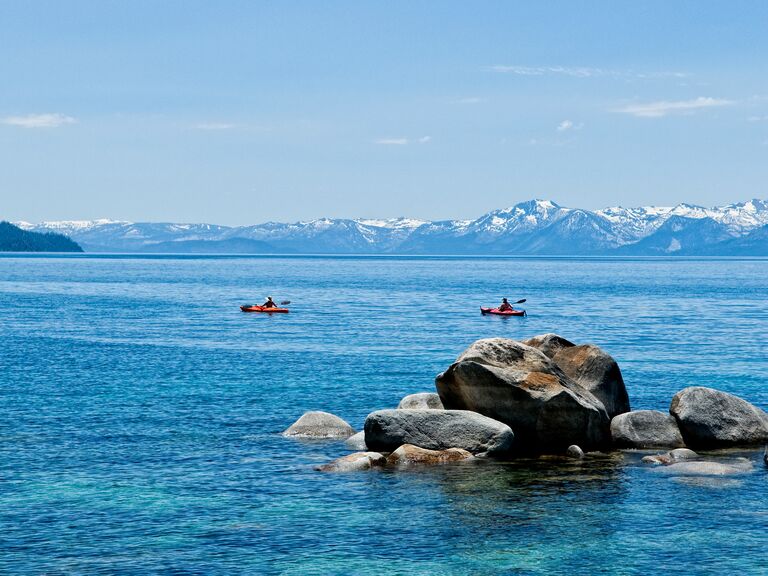 Hit the Trails
Hiking and mountain biking are the activities of choice for locals and visitors in Tahoe come summer and fall, and your adventure can be as active or low-key as you'd like. First-time mountain bikers can take a guided tour with Tahoe Adventure Company, while experts will want to give downhill mountain biking at Northstar California Resort's Bike Park a try.
Experienced hikers probably already know about the beauty of Tahoe's wildflower-filled, waterfall-heavy trails, but beginner hikers will have plenty of options as well, including hikes through historic sites and turn-of-the-century lakeside resorts.
Get on the Water
Newlyweds would be remiss to come all the way to Tahoe and not spend any time on its calm, clear-blue waters. Consider spending a day paddle-boarding or kayaking at the downright-stunning Sand Harbor State Park, or rent rafts and go for a lazy float through the mountains down the Truckee River. If your idea of a romantic getaway involves not having to do the paddling, sign up for a catamaran cocktail cruise or take a scenic tour on the M.S. Dixie paddlewheel boat.
Give Skiing and Snowboarding a Try
Tahoe's resorts typically have snow from December to May. If you're visiting during that window, try to tear yourself away from your cozy cabin's fire pit for an afternoon trying a new snow sport. There are more than 13 ski resorts throughout the Tahoe area, including smaller and more affordable spots like Homewood Mountain Resort and Diamond Peak.
Resorts rent out everything from helmets to skis, and lessons are always available (though you'll usually pay less if you book in advance). If you don't feel like skiing, you'll find other activities like snow tubing, cross-country skiing, snowshoeing and even snow mountain biking (called "fatbiking").
Best Hotels and Resorts in Lake Tahoe for a Honeymoon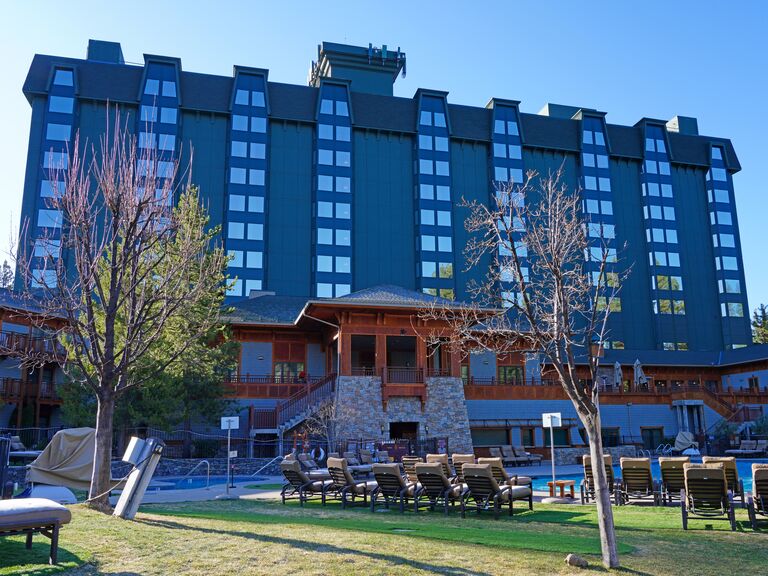 Hands down one of the best resorts in Lake Tahoe for skiing and snowboarding, the Marriott Grand Residence is in the Heavenly Village, so honeymooners can walk to the slopes (and to the lake). Aside from not having to worry about traffic or parking, you'll also get the benefit of being near the attractions and nightlife in South Lake Tahoe, including breweries, casinos, live music and the ice-skating rink and hot chocolate bars that pop up every winter.
If you're honeymooning on the North Shore in the summer or fall, splurge on one of the lakeside cottages at Hyatt Regency Lake Tahoe Resort, Spa & Casino in Incline Village. The one- or two-bedroom cottages have private balconies and lake views, and are steps away from the resort's 500-foot-long private beach, complete with a floating pier bar in the summer. Guests can rent private cabanas, visit the Stillwater Spa, have a high-end al fresco lunch at the lakeside restaurant, or go on guided hikes and tours with the resort's adventure specialists. If you visit in the winter, it'll be a little too cold to hit the beach, but you'll be just a quick (free) shuttle ride away from Diamond Peak Ski Resort.
Planning to ski on the North Shore? Then stay at The Ritz-Carlton, Lake Tahoe, a luxury hotel with ski-in, ski-out access to Northstar California Resort. While the hotel doesn't have great views of the lake like the Hyatt, it does have unbeatable proximity to outdoor recreation near Truckee and Kings Beach. Honeymooners can take a quick shuttle ride to the resort's private lake club in the summer or enjoy cocktails at the Highlands Bar.
Edgewood isn't exactly a budget-friendly resort, but it does offer an excellent bang for your honeymoon buck, considering the available amenities. That includes morning yoga, evening s'mores, an ice-skating rink and even guided snowshoe hikes to a Veuve Clicquot "Champagne Chalet." The resort also has several dining options, including an outdoor deck perfect for sunset happy hours any time of year.
What to Pack for a Lake Tahoe Honeymoon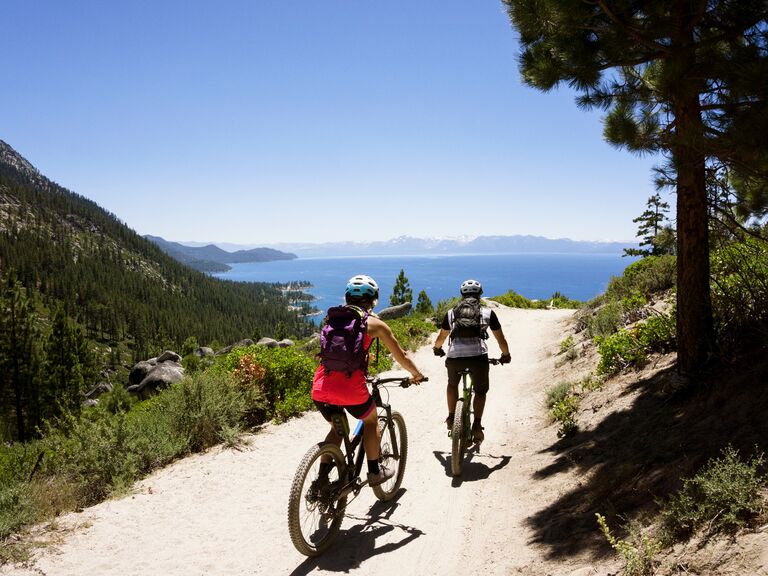 Tahoe may be slightly expensive, but it's not formal. Summer calls for hiking shoes or sandals, shorts, T-shirts, sunglasses and a cap. Be sure to pack plenty of sunscreen; if it's not snowing, it's sunny, and rainy days are very uncommon. It can get cold in the evenings year-round, so even if you visit in July, you'll want a pair of pants and a jacket or sweater.
Coming in the winter? Bring your snow gear, including tall boots, gloves and a warm beanie. Wearing ski jackets out in the evenings is completely acceptable, though in the more nightlife-oriented areas of Tahoe like Heavenly Village, you may see high-fashion winter wear. It's best to avoid jeans and other moisture-absorbing fabrics if you're playing in the snow, and you'll likely want a backpack and big water bottle if you're hiking since dehydration happens quicker at higher elevations.