Home

Absolutely Country
Amenities + Details
Amenities
Indoor

Outdoor - Covered

Reception Area
For more details about amenities, please message the Venue.
Contact Info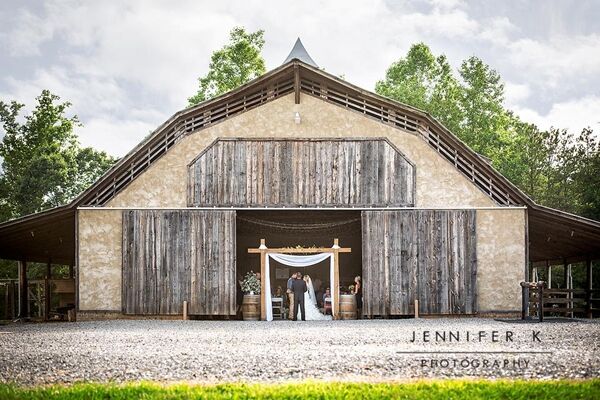 Reviewed on

6/15/2017
Kendra B
I wanted to take a minute and let everyone know how incredible this venue is! If you're looking for the perfect country rustic chic place to get married this is it! From day one, Michelle, the owner was kind enough to answer all of our questions and really help us tailor our big... Read More day to exactly what we wanted. The venue also provides a lot of "extras" that you wont find at any other venue. My husband and I couldn't possibly any happier with our decision to get married here! Our guests continually commented on how beautiful and peaceful the venue was and our families were so thankful for all of the help and warmth from the venue owner. I STRONGLY suggest you take the time to visit Absolutely Country and have your country wedding dreams come true here!
---
Reviewed on

10/05/2016
Taylor G
The venue owner was amazing! Coordinated everything, answered all of my questions, even timed the ceremony walking in and out and had someone to run the music during the ceremony. She calmly put up with all of our chaos and made sure everything went perfectly. The venue turned... Read More out BEYOND gorgeous and was everything I imagined it would be. I couldn't be more happy with this choice of venue and would recommend it to anyone.
---
Reviewed on

3/23/2018
Brett G
I've had the pleasure of working with Michelle, Larry, and all the wonderful folks at Absolutely Country for somewhere in the neighborhood of 20 weddings over the past few years. They have always been excellent and professional to work with. They are some of the most... Read More beautiful weddings that I've been a part of. They are always the first venue that I recommend for anyone looking for a beautiful country wedding.
---
Reviewed on

3/23/2018
Savanna B
Absolutely loved every little detail from my wedding and all the help that Michelle has given me, before and after the wedding. She was a great person to work with. She works so very hard, taking time away from her precious family, to give you the day you've always dreamed... Read More about! She will help you in every way, all the way to picking a good photographer, good, SH or any other detail you need for your wedding to be perfect! Weddings are very stressful days for the bride and immediate families involved, and Michelle always had encouraging words to help us through the day. She called, texted and came out in person multiple times to see if there was anything me or my bridal party needed. Everything you need to get ready for your wedding, is here! The bridal suite is beautiful! The barn is beautiful. And the view outside is absolutely gorgeous! My wedding was perfect, and I couldn't have gotten through it without all of Michelle's help! She also directed our wedding, which was so very helpful! All I had to do was give her a list of what was going on, and she did everything she could to make sure everything went smoothly! I HIGHTLY recommend this beautiful barn to anyone who is looking for a barn wedding with great benefits!
---
Reviewed on

3/22/2018
Kristie M
I am reviewing this venue on behalf of the, Huie wedding. Considering I was only the maid of honor I too had a bad experience. The Owner of this wedding venue looked just as unprofessional as her attitude was towards my family. Not to mention her, "helper." The Bride's wedding... Read More party was in the suite getting ready for the most part of the day besides when Heather (Bride) went out to let people know where some decorations belonged. And by, "people" I mean her mother, grooms mother, and also my mother. These three women made sure that all décor was well handled. I (Maid of honor) too was running around making sure everything was done for the bride. The men were also on duty helping with the décor. I saw the venue owner maybe helping with a few things after we arrived. Also, I live in Atlanta and spent months traveling back and forth helping my cousin prepare for her big day making all types of things by hand. So for the owner to lie about doing 90% of the wedding is absurd. This owner also was dressed inappropriate to be a wedding venue owner coordinating weddings. She is in SEVERAL photo's that we have with the bride walking down the aisle with purple pants on and an exercise grey shirt on. NO BRA! For the owner to comment below and say that she isn't, "BLESSED" in the upper area enough to offend is crazy because you could see her HARD nipples through her shirt and MULTIPLE guest commented on this actually. This owner also barged into the bridal suite just to tell us that if the bride wasn't ready at a certain time then she was starting the wedding without her. I WAS STANDING RIGHT THERE. But yet she says, "that sounds silly." Why yes ma'am it does but Again, another lie from this owner. As a bride and groom you choose venues based off of your happiness so they chose this venue expecting things to go smooth. You own this business and you know that you either make it or break it and you're the one in charge of that. However, the bride and family felt unhappy about the experience and decided to share this with others yet your commenting back accusing us of, "slander" but you're the one who did the slandering. Calling us liars. And also, we backed the trailer I the barn to load everything onto the trailer because of the RAIN! It rained before we even left. She should know considering she went and helped a groomsman pick up fake leafs that had blew into the yard in the RAIN. I don't understand how you could own a wedding venue and have so many damn rules about décor. NEVER EVER book here!
---
Reviewed on

3/22/2018
Heather M
This is my reply to little miss Michelle (the owner) and her nasty response she decided to say back to mother. The only correct statement in what you said is that my wedding was beautiful. That is because I worked day and night for 9 months making nearly every decoration,... Read More bouquet, corsage, etc by hand. The only thing you did was to set up the tables. The lights in the barn are always set up, so please do not begin to take credit for all the hardwork and money that I put into making my wedding beautiful. You say you have never experienced such disrespect from people, well you obviously haven't heard people's honest opinions of you. You disrespected my family in many ways down to your help Naomi telling certain people in my family to shutup at rehearsal. We do not take kindly to disrespect as well. You say that getting people down the aisle was a mess, again, another lie. We worked with your so called "professional assistant" to coordinate that and it was very much to her liking and mine. If you didn't like it yourself, maybe you should have actually been at my rehearsal like you were supposed to be instead of telling me 2 weeks beforehand that you had to go to Atlanta for another event. Also, you say that you are still picking up trash bags full of leaves. Once again, lie. I only brought three 50 packs of fake leaves to line my aisle with, the rest was on strings that I currently have in my possession. So if you are still picking up leaves, then are picking up the ones that the good lord put on those thousands of trees on your property. We also got permission from YOU and YOUR HUSBAND to use our guns in a couple of photos as long as your husband cleared them (meaning that he checked if they were loaded) and he most certainly did. You also say that it was silly to say you would start the wedding without me or my dad, well that is very true, but it doesn't change the fact that you did say it. I was in the bridal suite and you came in telling me that when the photographer and my maid of honor were in there. After you said that, Mark, the photographer actually comforted me and said do not worry about that, just do what you need to do to get ready. I got several compliments from all my vendors about what an easy bride I was and how organized I was. But most of them did not have such nice things about you. You say everything that we are saying is slander, but you forget that I have every text message from you proving almost everything I or my mother has stated. My officiant also said she felt a little disrespected by the way you were speaking to my family and guests. I would be happy to send you copies of the photos that I have that you are in. You call yourself a church going, family loving, professional business owner, but when in reality all you are is a self righteous snob who thinks that no one else is entitled to their opinion of you and to state what happened from their perspective. You told us of two other weddings who you hated the guests and the bride and groom because they left beer cans every where and broken glass and broke your items. My family did none of that. We even brought aluminum cans and plastic cups to make your life easier at night for cleanup. You are showing your true colors by attacking my family for posting our experience on our special day.
---
Reviewed on

2/20/2018
G. M
It was very disappointing the way that we were treated after the down payment. We inquired about some things and Michelle the owner okayed them and then went back on her word. She also made comments before the ceremony that if the bride was not ready by exactly the time the... Read More wedding was supposed to start that she was going to start without her. She also was being rude to our guests and was on a radio all evening and making rude comments to our guests that had gotten lost and Michelle the owner got mad when someone was sent to find our lost guests saying that she would lock the gate and not let us back in. There is just no reason for behaviors like that. Michelle puts on a goid act at first,but then shows her true colors. DO NOT WASTE YOUR TIME HAVING YOUR SPECIAL DAY HERE.
---