Home

MIHO Catering Co.
About this Vendor
MIHO Catering Co.
We love parties. But we also know that planning a party can be stressful. All the details and costs can even be overwhelming. You want your friends and family to be impressed. You want the food to be delicious. And most importantly, you want everyone to have a good time. THAT'S WHERE WE COME TO THE RESCUE. WE'RE CREATING A NEW, FUN, AND EASY STYLE OF CATERING. FROM THE FIRST EMAIL, TO EACH TASTY BITE, AND DOWN TO THE LAST SLICE OF CAKE, WE'RE HERE TO MAKE SURE YOU TRULY ENJOY EVERY MINUTE OF YOUR CELEBRATION. We are a new school catering company that still finds its roots in sourcing local, responsibly-farmed ingredients and making every dish by hand with the same love and care. We believe that good food brings people together. And we know you do too. So let's throw a party together!
Details
American, Chinese, French, Greek, Italian, Mexican, BBQ, Seafood
Dairy Free, Gluten Free, Nut Free, Organic, Vegan, Vegetarian
Buffet, Catering Clean Up, Catering Delivery + Setup, Chef Stations, Family Style, Food Trucks, Menu Tastings, Passed Appetizers, Seated Meal, Servers, Food + Catering, Service Staff
Contact Info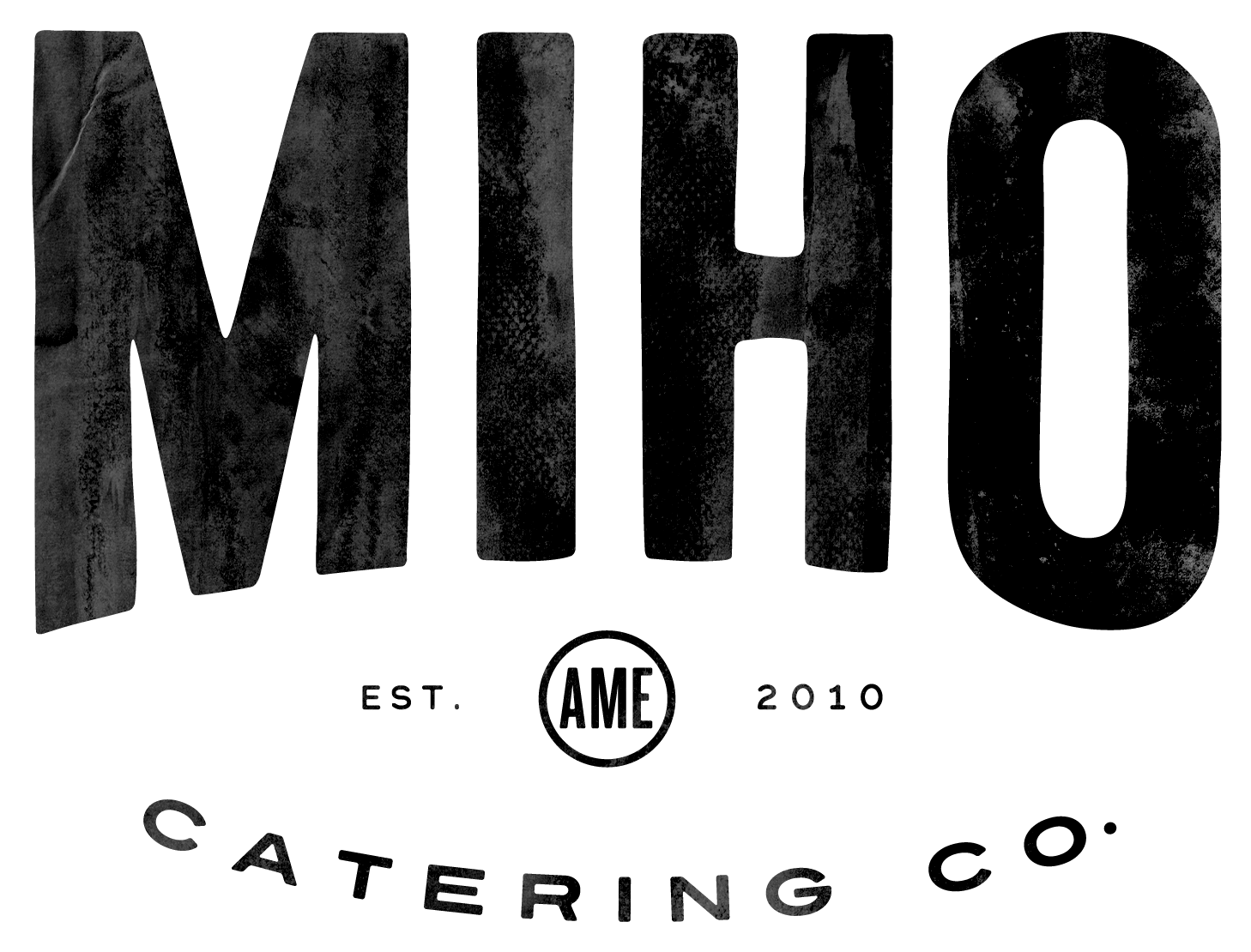 Reviewed on

10/06/2017
Bridget R
I cannot say anything but great things about MIHO Catering. Sam was fantastic to work with and the food was amazing. More than 2 weeks later, I am still getting phone calls from guests raving about it being the best wedding food they have ever had. Sam was flexible and was able... Read More to go off the menu for us to have unique family style taco's which is not their usual package. We whittled down the toppings to fresh salsa only and had proteins, salads and sides served family style with warm tortilla's on the side. We also had mini desserts which were fantastic. About a week before, we decided to do a small wedding cake to do a cake cutting for traditional purposes and MIHO was able to accommodate without any problem. It was fantastic and I would hire them again in an instant.
---
Reviewed on

11/23/2016
Cassie B
Miho was the most delicious wedding food I've ever had and I"m not just saying that because it was our wedding. So many people complimented us on the food and said it was by far the best they've had too. The appetizers at cocktail hour were so good, and there were plenty to go... Read More around. Since my husband and I didn't make it to much of cocktail hour, they set aside apps for us at the dinner table so that we could still try them. For dinner we were in between a sit down meal and heavy appetizers, so we met in the middle and had a sit down meal that was family style. The food was so good, there was definitely enough to go around and they would replace anything that was empty. All of the food came out at the same time so no tables were waiting, and it was all hot. Plus, everyone we worked with from the day we started considering them to the day of our wedding was so nice and helpful. I HIGHLY recommend Miho for catering your special event. Barcon was such a great bar service for us. They were quick, professional, and made great drinks. We chose their package of buying our own alcohol and then they provide the bar tenders, fruit, and mixers. They worked with us on what we were buying and gave us a great idea for a signature cocktail, which was amazing! Everyone was so friendly and helpful to work with throughout the entire process. I highly recommend Barcon for your bartending service.
---
Awesome
Reviewed on

1/14/2015
Just awesome. The Miho team executed a spectacular reception. Food was on-point. Service was precise and friendly. As a guest, you notice how good the food is when you're simply enjoying it and having nothing bad to say.
---
Delicious and easy to work with
Reviewed on

2/11/2014
b h
We had the Miho truck come to our wedding. They served from a table (not the truck). The food was fantastic and was a good price. We worked with Samantha and Juan who were so easy and accomodating to some of my guests dietary needs. The food was sooooo delicious too - everyone... Read More loved it!
---
Great in all ways!
Reviewed on

7/22/2013
Elise C
FABULOUS food, very easy to work with! Loved them, would use them again for a party.
---
The best!
Reviewed on

6/06/2013
Lori J
Not only was the food absolutely amazing, but the set up and the service was perfect for our backyard wedding. We got married about a month ago and I am still hearing from people how much they loved the food. Thank you so much MIHO!
---
I'm torn. I wanted to love them but...
Reviewed on

5/06/2013
Dena W
I had really high expectations for MIHO because of the awesome reviews and the amazing food. And the food WAS amazing in the end, I mean, churros? Come on! But I'm left with a bad taste in my mouth, not because of the food but because of the communication problems during the... Read More planning process. Early on in the process, when we were still working out the menu and costs, there was a slight lag in email responsiveness. Juan (co-owner) assured me that he reads every email that comes in but sometimes has to deal with more pressing issues before responding. Ok fine, no problem. But as time went on the delays got longer and longer. In December (4+ months before the wedding) we had selected the food and began to figure out the beverage options. I tried to get just a quote for the drinks but was told they were in negotiations with a new beverage vendor and would get back to me as soon as that was complete. A month later, nothing. Another month went by, still no quote, not even a ballpark number. Two weeks before the wedding I finally had a price on the beverages. Oh and by the way I needed to rent a bar as well, even though I had asked at least twice if that was needed without an answer. In the end, everything worked out, but it was the MOST stressful part of the entire planning. In my opinion, a lot of confusion could have been prevented if MIHO provided options, prices, and everything that would be needed upfront rather than making me try to remember and ask all the questions. I can say the food was delicious and the drinks were great. But proceed with caution if you do hire MIHO and don't expect a fast response to your emails (which is the only way to contact them by the way).
---
Excellent Caterer
Reviewed on

4/23/2013
Esther A
MIHO Gastrotruck (also known as The Vetted Table) was the best choice we could have made for catering, by far! We went through several caterers and ultimately were most impressed with MIHO when it came to variety, taste, and value. Juan (co-owner) was such a pleasure to work... Read More with and was there on site the day of my wedding to run the show! Everything went so smoothly and everyone was incredibly pleased with the food. I heard nothing but positive comments and questions about who had catered! Their chef is AWESOME and has a true talent in the kitchen. The food was delectable, memorable, and absolutely top notch. I could not be happier with how it turned out. The cost was reasonable and Juan's willingness to work with us on all levels made it so easy. The service the day of was impeccable. An area for improvement would be responsiveness up until the signing of the agreement. I believe it has to do with how busy they are, but I believe they need to hire an assistant to handle client inquiries. I would also love to see MIHO offer dishes, platters, and other service ware, even for additional fee. These two tweaks would put MIHO over a 5 star caterer! They are still building their business, and have come a long way from what we heard. I really have nothing negative to say ultimately. I have no regrets, just suggestions. :)
---
Best food I've eaten
Reviewed on

10/01/2012
Heather K
MIHO was exceptionally professional and the food quality was amazing. My guests couldn't stop raving about how good everything was. Plus, MIHO is careful about locally sourcing their food. We used them for meal and dessert and I could not be more pleased. I can't give them... Read More enough praise.
---