15 Minutes With Pronovias Creative Director Hervé Moreau
The designer behind the established Spanish brand dishes on the inspiration behind his new line, how to pull off a sexy bridal look and girl power.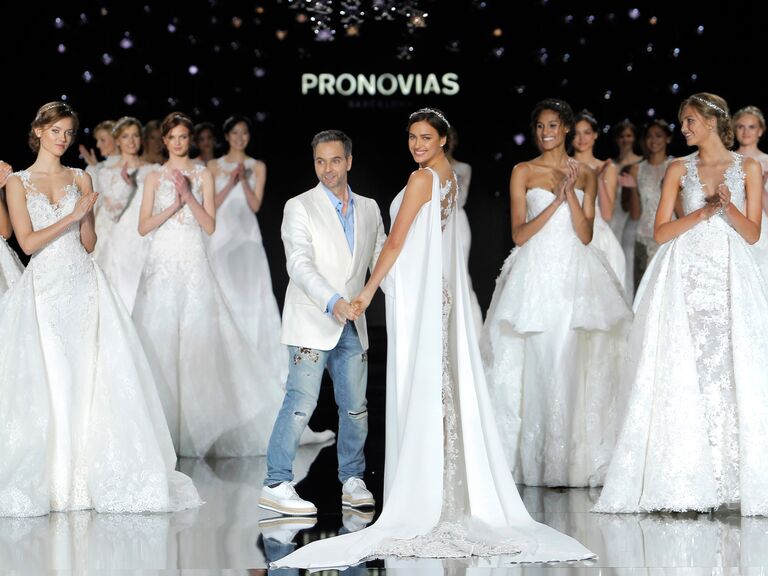 Pronovias has been synonymous with iconic wedding style for half a century, and for the past three years, Hervé Moreau has been the man behind the brand's timelessly elegant and oh-so-sexy designs. But his 2017 collection, Le Ciel, inspired by (you guessed it) the sky, may have been his most stunning and personal yet. With gowns featuring one-of-a-kind lace details, unexpected embellishments, flawless silhouettes and slits to show off just the right amount of skin, the Le Ciel collection is a modern bride's dream.
We got a chance to catch up with Hervé Moreau in New York and got the inside scoop on his new line, what fabrics he's loving right now, and why minimalism is in. See his answers to all of our questions, plus looks from the Pronovias collection, below.
How would you describe the Pronovias bride?
I would say, elegant, beautiful and sensual.
What inspired your 2017 collection?

This year we really wanted to change our approach. We wanted to get inspiration from the sky and have a very minimalist show. So we worked with an artist who has done amazing things with lighting. And then, I wanted a show that would sparkle and be magical. I really think, and I hope, that this collection has even more of me in it, where I'm able to work on more minimal silhouettes and very pure lines. The idea of purity is something I really relate to.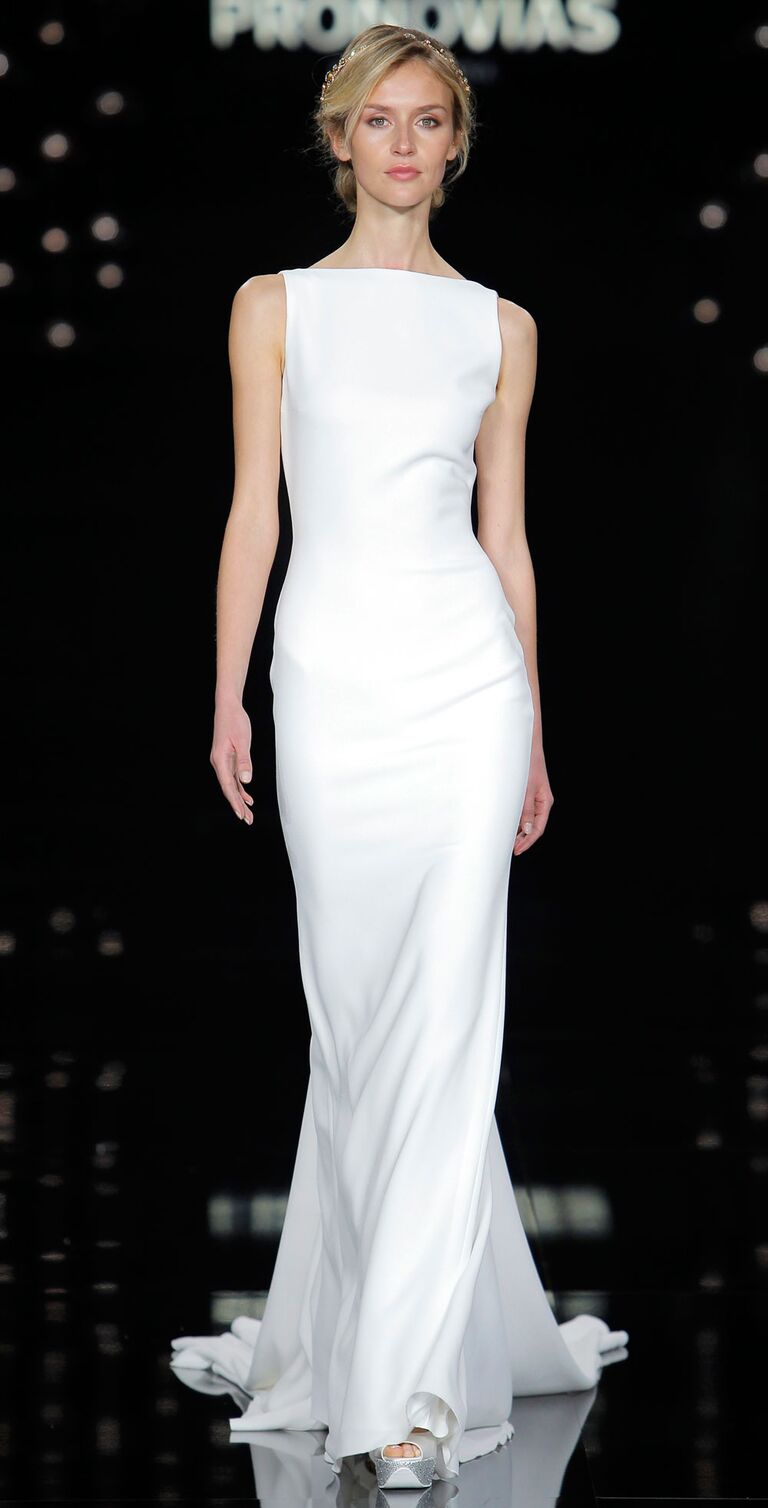 Are there any fabrics or embellishments you're really enjoying working with right now?

I like working with lace, and there's a lot of lace in this collection. But I like to destructure it. I like to destroy it in a way— to cut it and to place it in different parts of the body. I don't like it when lace is just normal. I also like to work with taffeta, which is lightweight but at the same time allows me to give a lot of volume to a dress.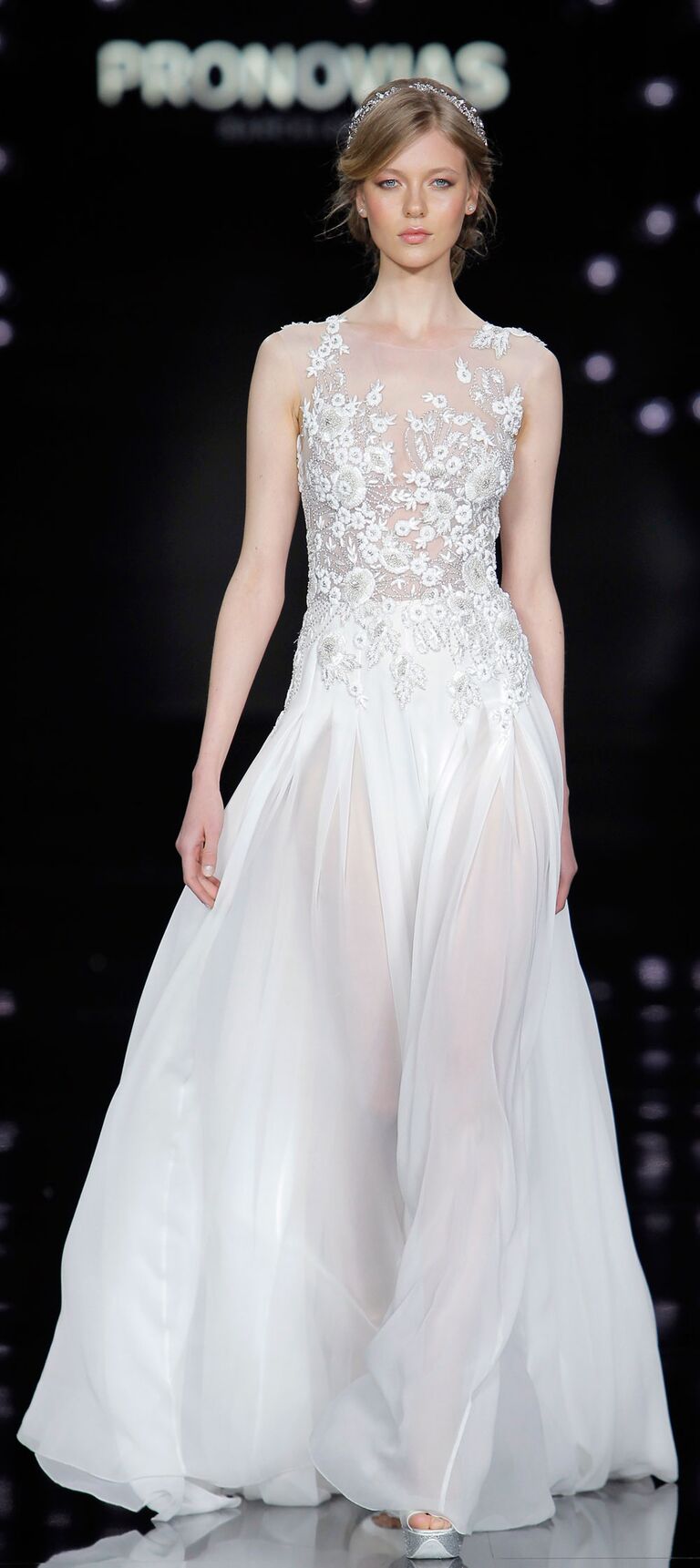 A lot of your dresses have strategically placed lace and are very sexy. Is there a trick to pulling off a sexier wedding gown?
Being sexy is all about attitude. If you're elegant, you'll always be sexy. I want my gowns to be sexy, but I don't want them to be too provocative or vulgar. All of the dresses you see in our show are absolutely sexy, but at the same time they all have other elements. So, if you're going to a church or a more conservative place, there's still a limit to this sexy side.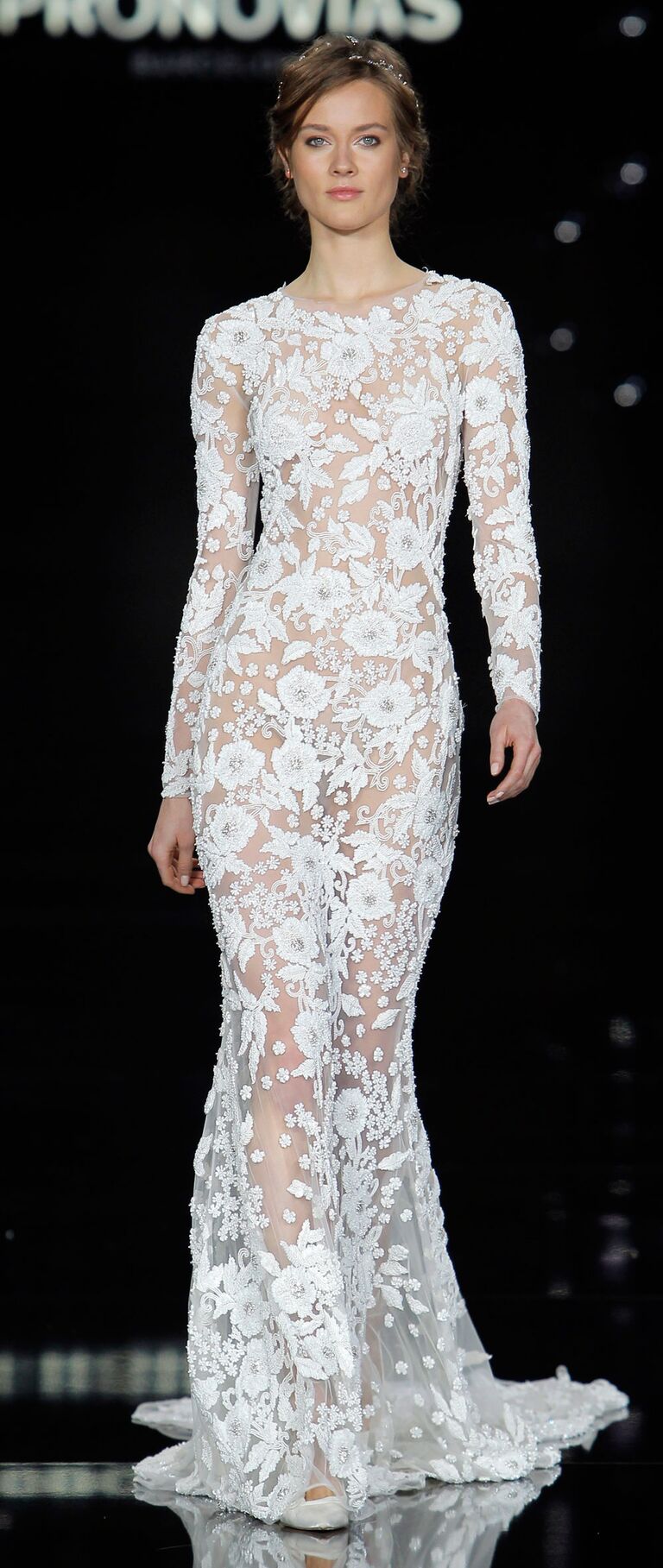 What other bridal fashion trends are you loving right now?
I really like the minimalist style, and I like when volume is self-created by the way a fabric is cut. I used to work in an atelier myself so I know how to cut fabric, and I appreciate when the volume in a dress is authentically created and has this natural feel.
Pronovias is working with a lot of "it" brides right now, like Whitney Port. Is there any celebrity you would love to dress?
Madonna's daughter Lourdes. I would love to dress her. She's the kind of girl I like—girls with a strong personality. I like girl power.
Want more bridal fashion inspo? Shop Pronovias dresses here!