38 Bridal Getting-Ready Robes You'll Seriously Love
Slip into something special before the wedding.
We have included third party products to help you navigate and enjoy life's biggest moments. Purchases made through links on this page may earn us a commission.
Your getting-ready photos will be some of the most cherished snapshots from your wedding day, and wearing a special bridal robe is a great way to make getting pampered with your besties even more memorable. While there are plenty of cute robe alternatives, it's no surprise that so many brides still opt for a cozy wrap. The simple, adjustable design makes them ideal for sitting through hours of hair and makeup, plus they're easy to take on and off—so you won't risk messing up your glam! You can even pack a bridal robe for your wedding night or honeymoon (along with some super-cute bridal lingerie).
That's why we're here—to help you find the wedding robe of your dreams. Below, we've gathered the softest and most sumptuous bridal robes on the market. No matter what wedding robe style you're looking for—be it lace or silk, white or floral, personalized or minimalist—you'll feel photo-ready (and extremely comfortable) in one of these chic picks.
1. Cozy Bamboo Bridal Robe
You'll never want to take off this buttery soft bridal robe. It's uniquely made from bamboo viscose, so it's really breathable. Plus, it's available in a range of inclusive sizes, from XS to XXXL.
2. "The Mrs." Wrap Robe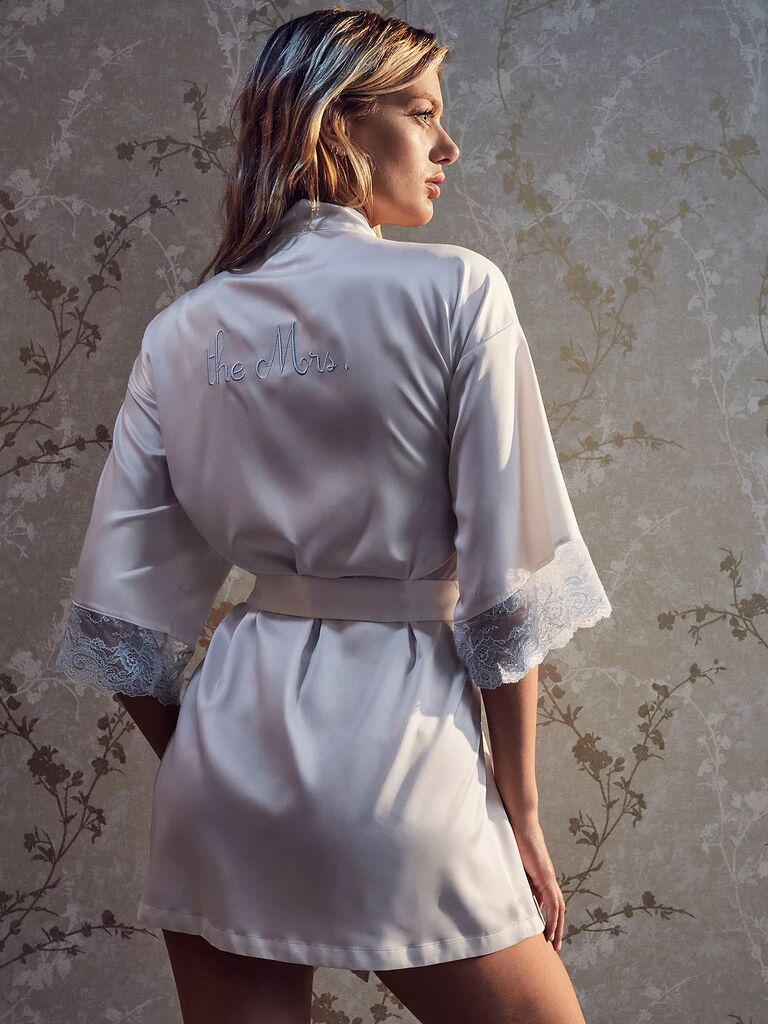 Wrap yourself in something short and sweet—like this white bridal robe embroidered with "The Mrs." on the back. It has delicate half sleeves with sheer lace details and a detachable belt. How cute would this cover-up look paired with some super-chic lingerie on your wedding night?
3. Minimalist Wedding Robe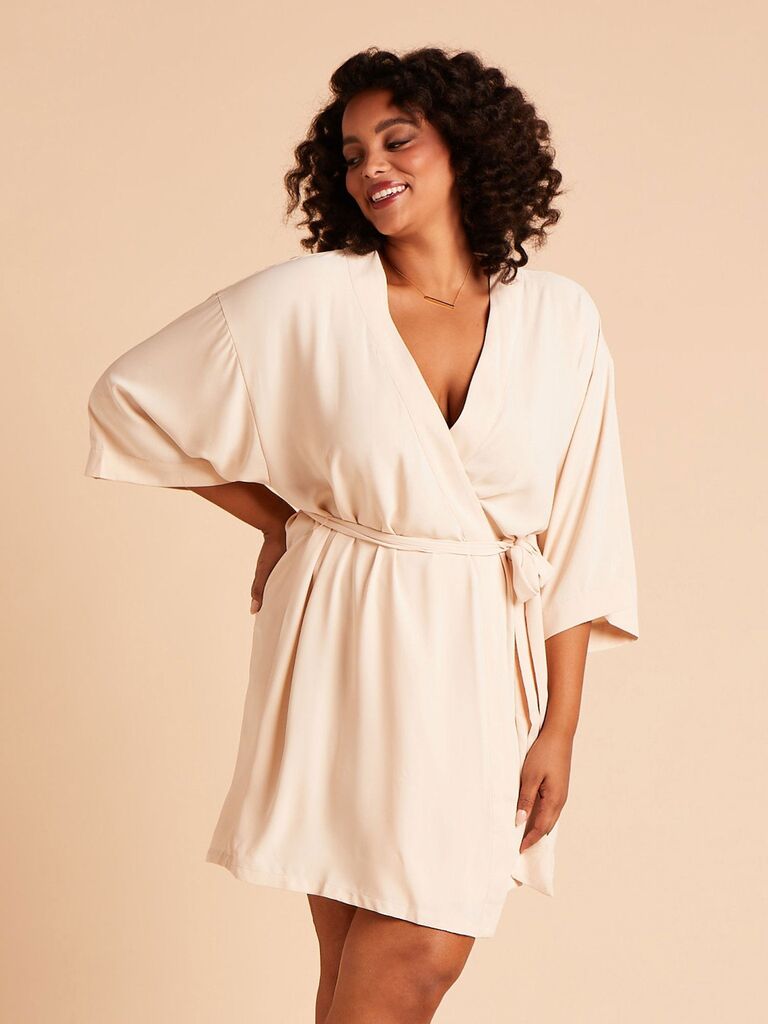 This simple wrap will make hair and makeup both fun and effortless. Plus, there are a few stylish colors—including white, champagne and taupe—to choose from. While you're at it, grab some bridal party robes for your bridesmaids.
4. Custom Satin Bridal Robe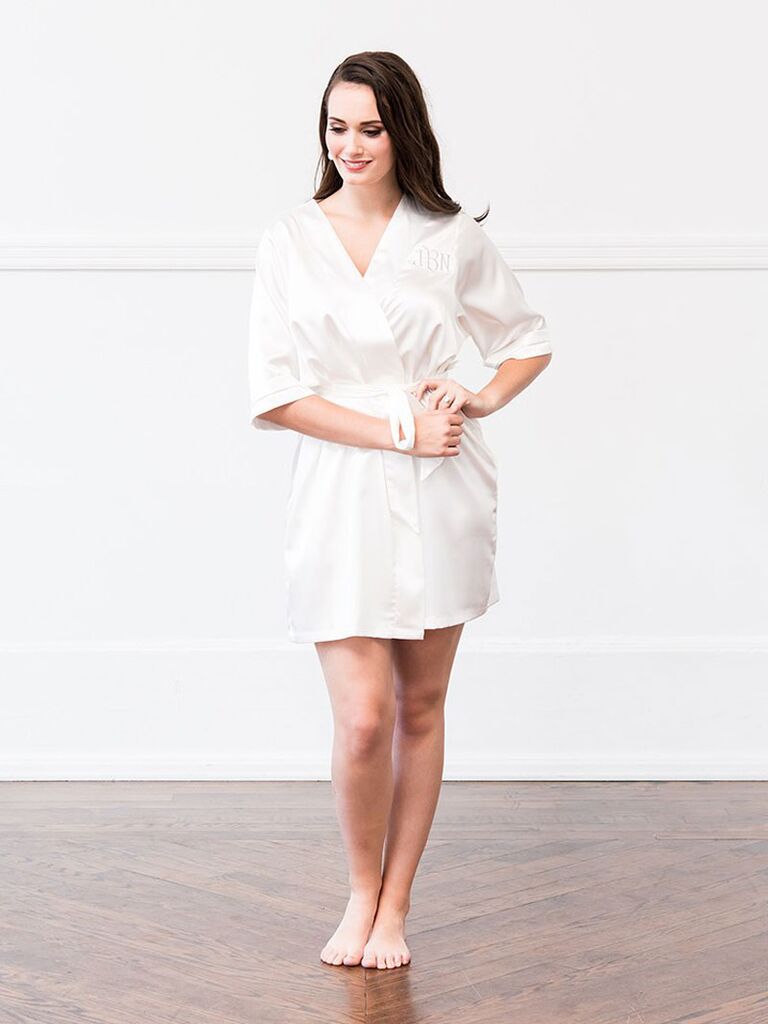 Make it your own with this personalized, satin bridal robe. You get to choose the monogram's font and thread color—there's an option for practically any wedding color palette so it's ultra-customized to your style. (Psst: You can also find some matching robes for your bridal party.)
5. Cotton Floral Bridal Robe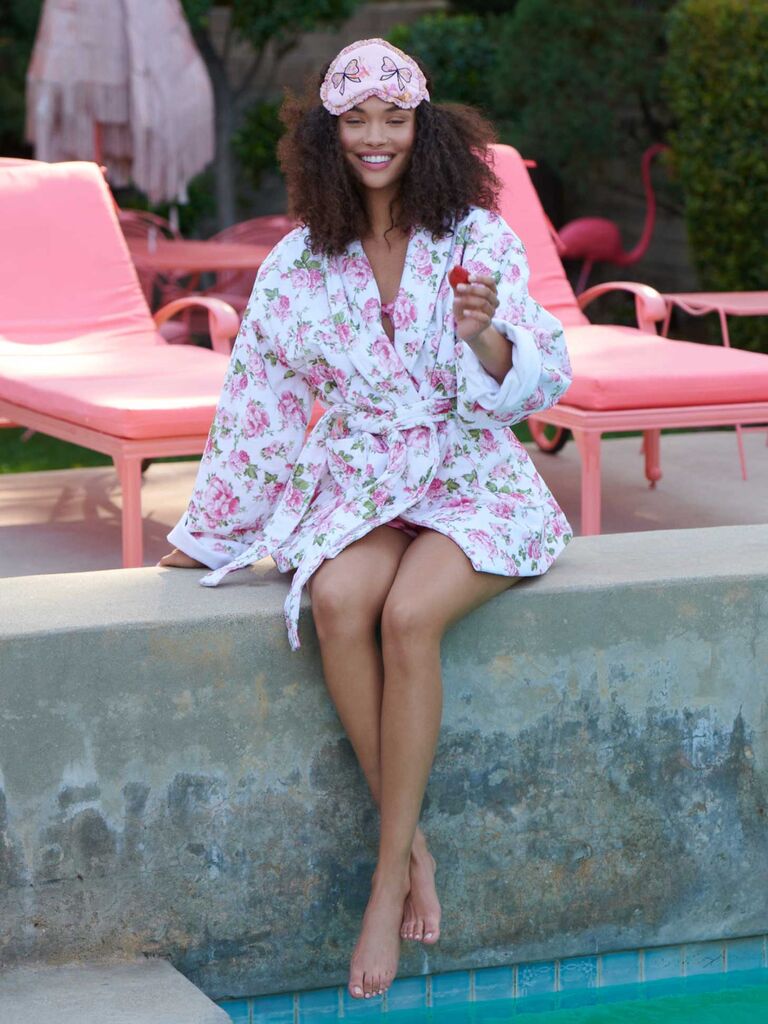 Who says prints are off-limits? This stylish bridal robe is ideal for anyone who loves florals. The pink peony pattern is absolutely charming. The robe is also made of 100% cotton velour, so it's irresistibly soft and cozy. You'll feel like a million bucks as soon as you slip it on.
6. White Bridal Robe With Feathers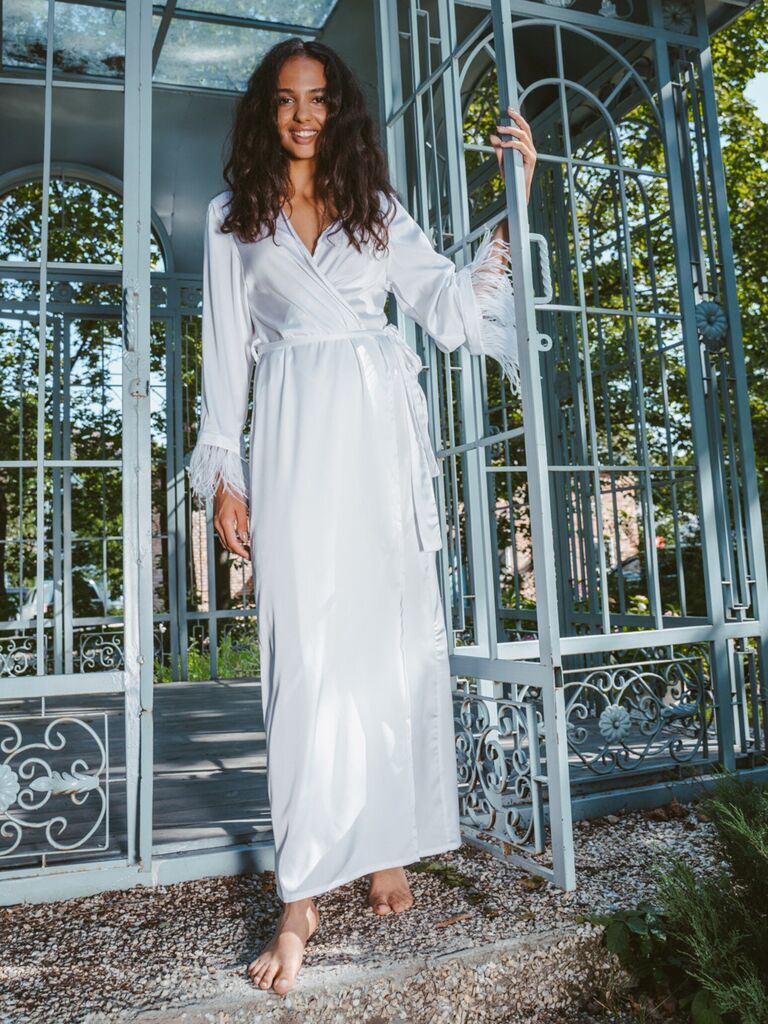 Okay, how fancy is this feather bridal robe? The floor-sweeping design will stand out beautifully in your prewedding shots. If you'd like, you can also customize the color of your feathers. How fun is that?
7. White Silk Bridal Robe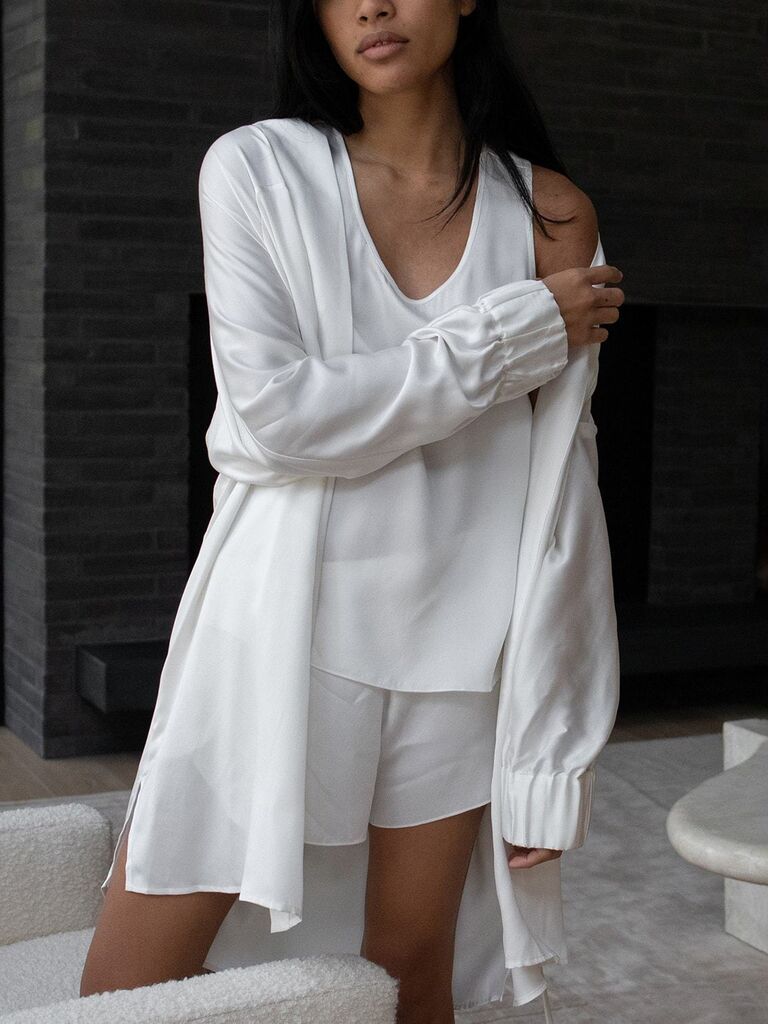 Yes, this bridal robe is pricey—but the brand is majorly trending for a reason: The silk is machine washable! It's also something you'll wear again and again, so you get more bang for your buck. And did we mention the pockets?
8. Long Fringe Bridal Robe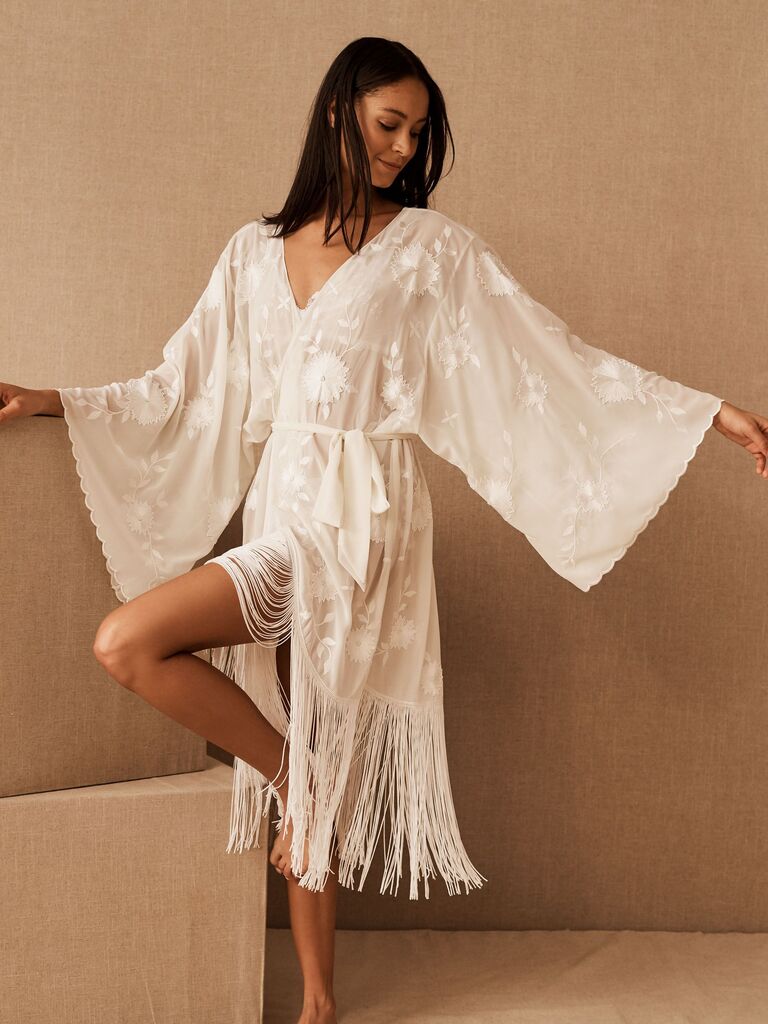 Fringe details are having a moment, so this robe is bound to get the thumbs up from everybody in your bridal suite. The sheer, boho design has botanical details and scalloped sleeve accents—and it's totally giving us magical fairy vibes.
9. Long White Bridal Robe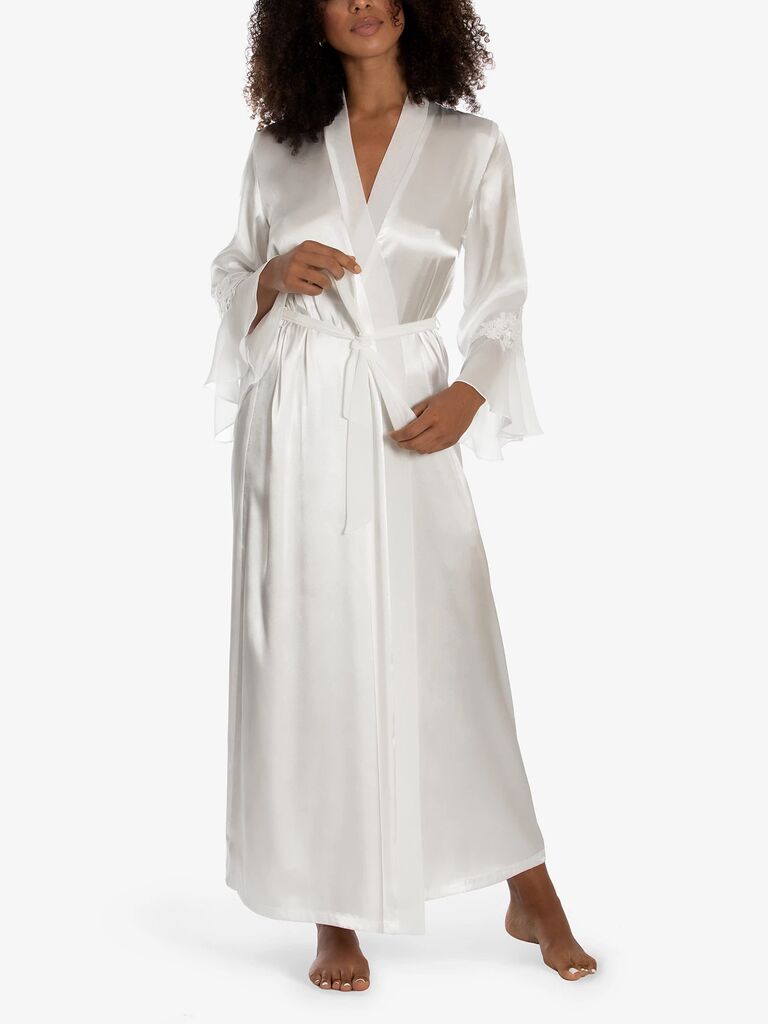 Channel your inner royal in this long, sumptuous bridal robe. The elegant flowy sleeves are accented with white floral appliqués. It doesn't get much more luxurious—or bridal—than that.
10. Personalized "Mrs." Bridal Robe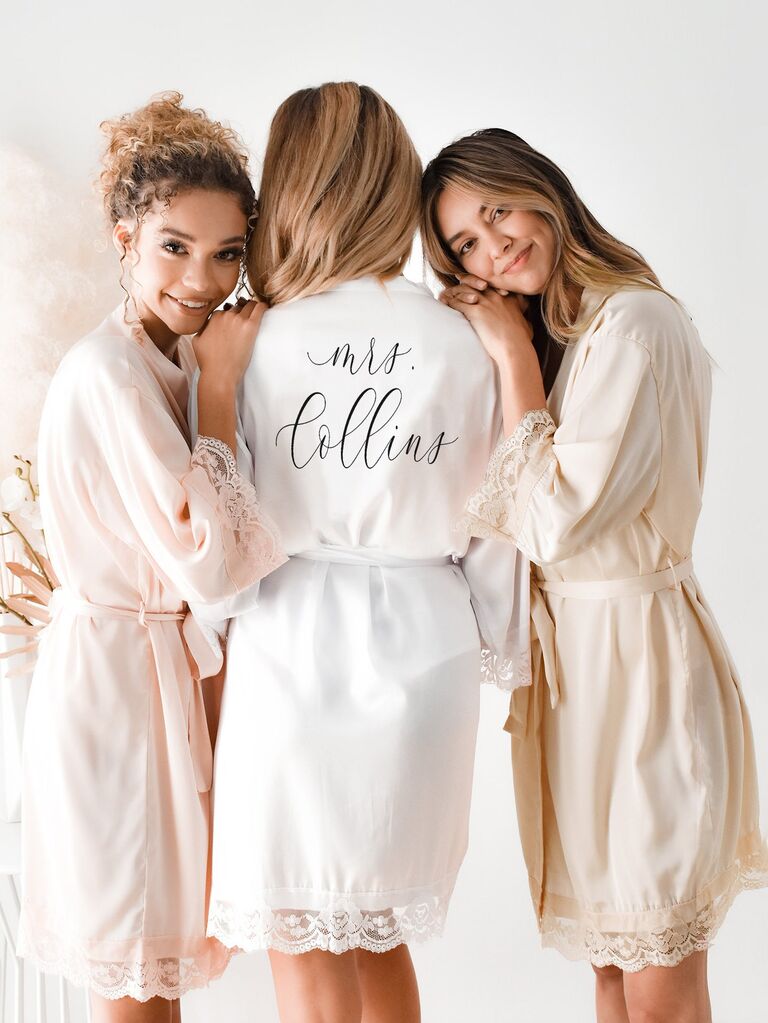 Looking for something to wear after the wedding? We're swooning over the calligraphy-style text printed on the back of this satin bridal robe. Personalize the robe with your married name and pack it for your honeymoon. You'll love the pretty embroidered sleeves.
11. Satin and Lace Bridal Wrap
You can't go wrong with timeless white satin and lace. This dreamy robe has the coolest sheer accents and an elegant tie at the waist. Wear it while getting ready or with some sexy honeymoon lingerie. Either way, it won't be the last time you wear it!
12. Waffle Knit Bridal Robe
If comfort is your main goal, zero in on a waffle knit spa robe. Personalize this bridal loungewear with your monogram in an on-theme color. You'll appreciate the functional pockets and convenient belt loops.
13. Maxi Bridal Robe With Train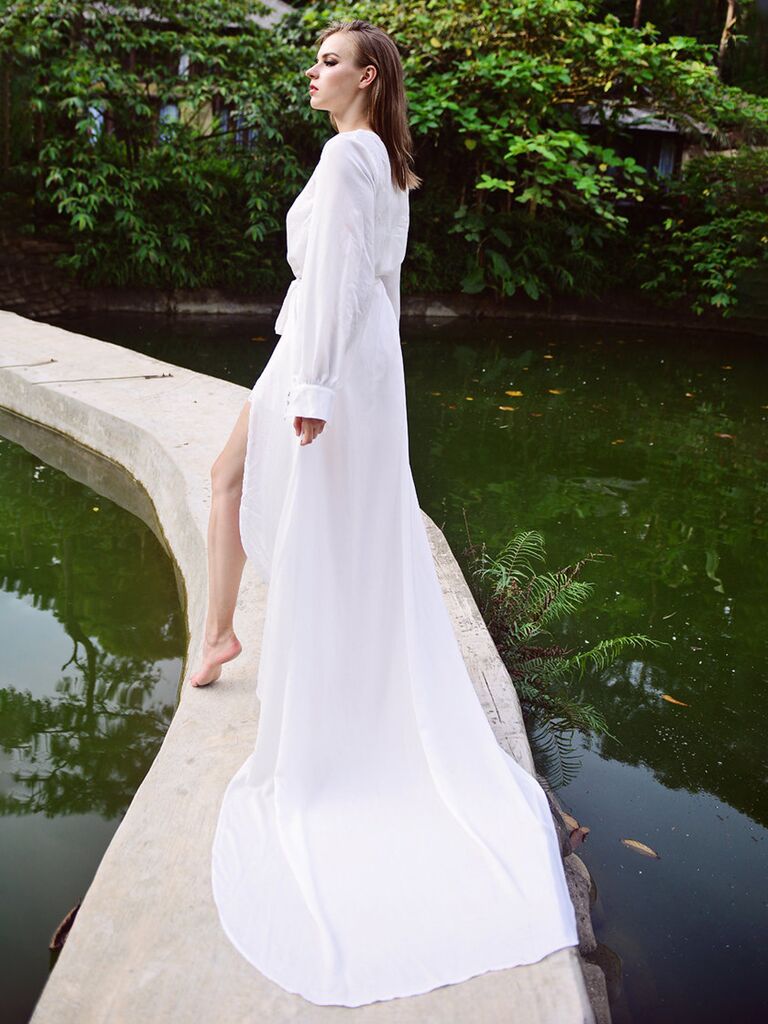 Love the look of a long bridal train? Check out this glamorous dressing gown. The soft, lightweight and flowy fabric is a dream come true. It's perfect to wear prewedding or to surprise your new spouse on your wedding night.
14. Something Blue Bridal Robe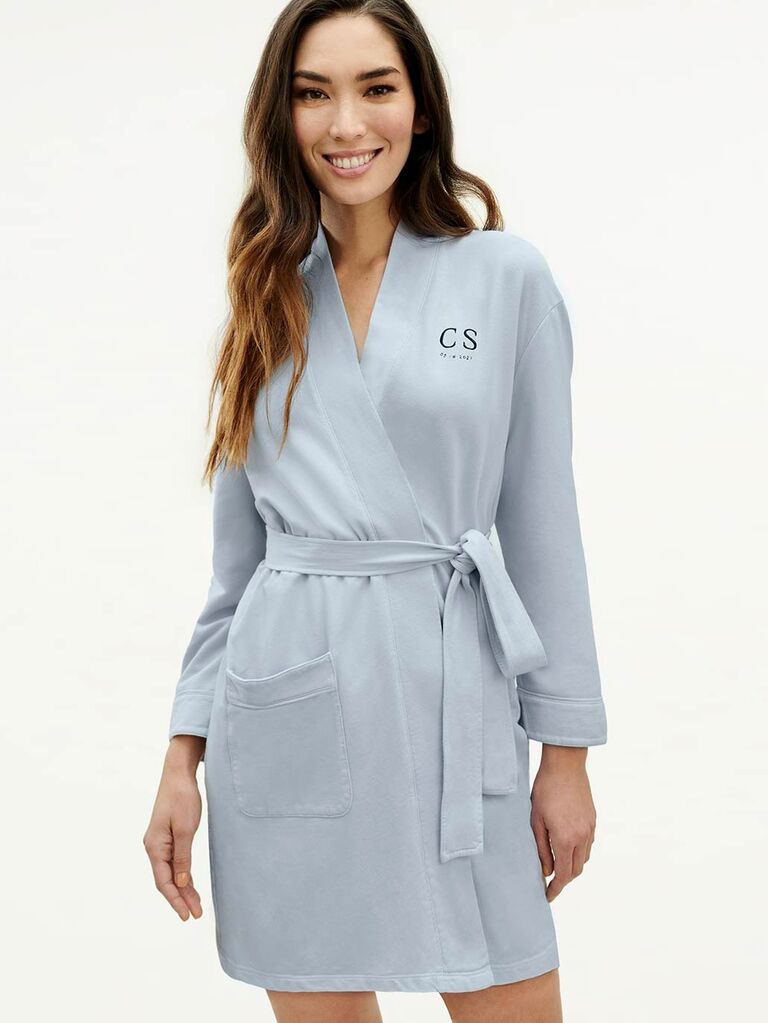 Say hello to your something blue: a stylish personalized bridal robe. Have your initials and wedding date embroidered on the chest for a thoughtful addition. Now here's a keepsake you'll cherish long after your wedding day.
15. Simple Silk Wedding Robe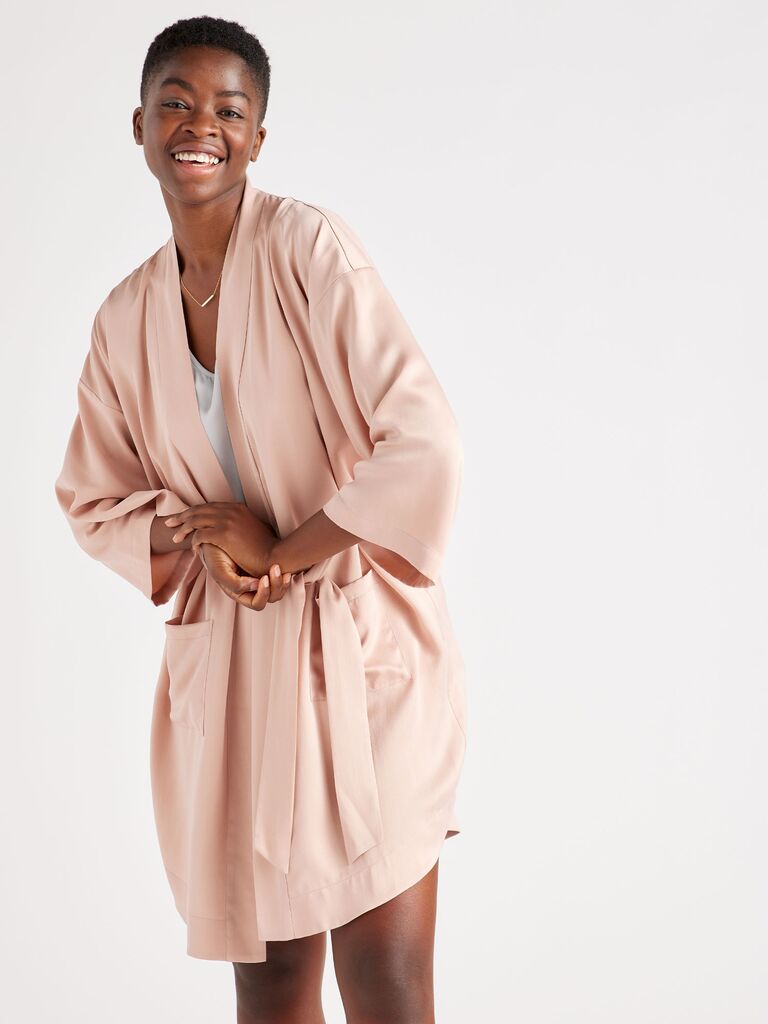 It's never too late to invest in a nice robe—and when's a better time than your wedding? We're bringing you another washable option made from premium silk. It's hypoallergenic, thermoregulating and even contains amino acids that nourish the skin. Do we need to say more?
16. Classic White "Bride" Robe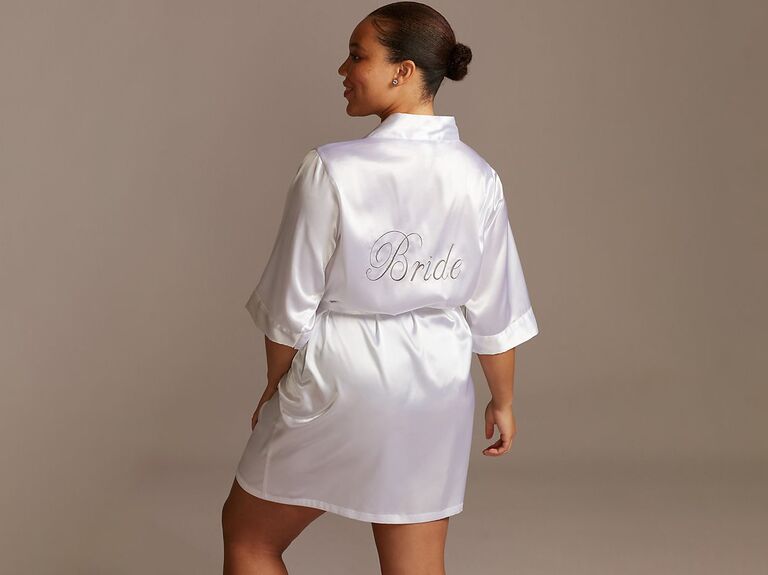 You'll feel ultra-glamorous in this classic white bridal robe with "Bride" embroidered on the back (in a fancy script, we might add). It's a subtle, sweet detail you'll treasure for years to come. Plus, it'll look so, so good in your getting-ready photos!
17. Satin Charmeuse Wedding Robe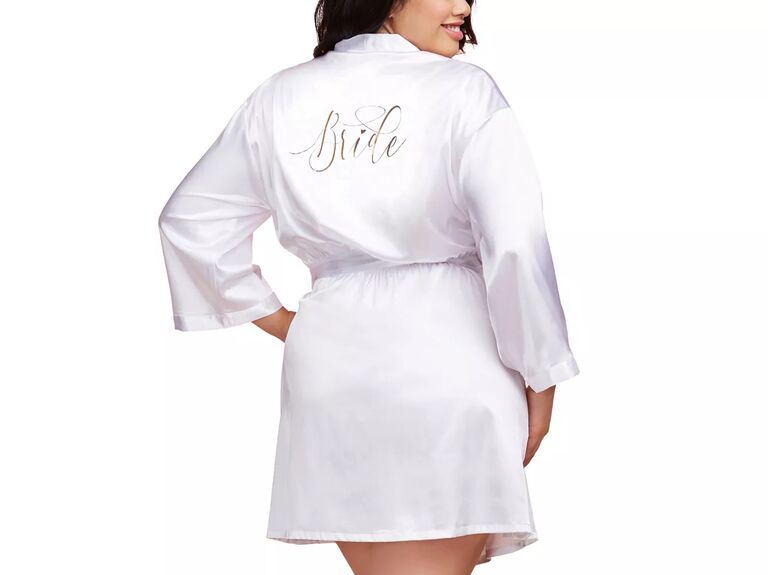 Here's another chic bridal wrap with "bride" written in pretty script. The plus-size robe comes in sizes 1X to 3X and has an attached set-in belt, so you don't have to worry about losing your waist tie.
18. Botanical Bridal Robe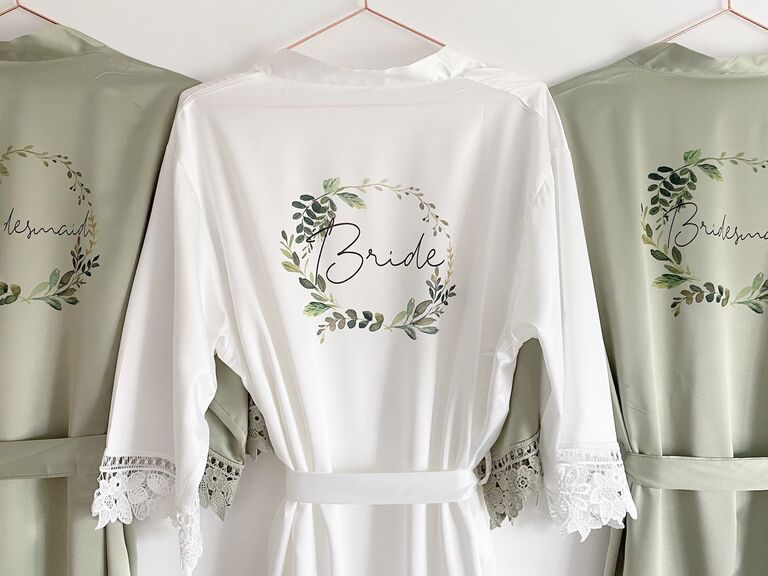 Nature lovers will appreciate the sweet foliage details on this lace-trimmed bridal robe. Select from a range of floral designs and colors, then add a custom word or name to the back of your robe. You'll be pleased to know that there are options for your bridesmaids too.
19. Short Lace Wedding Robe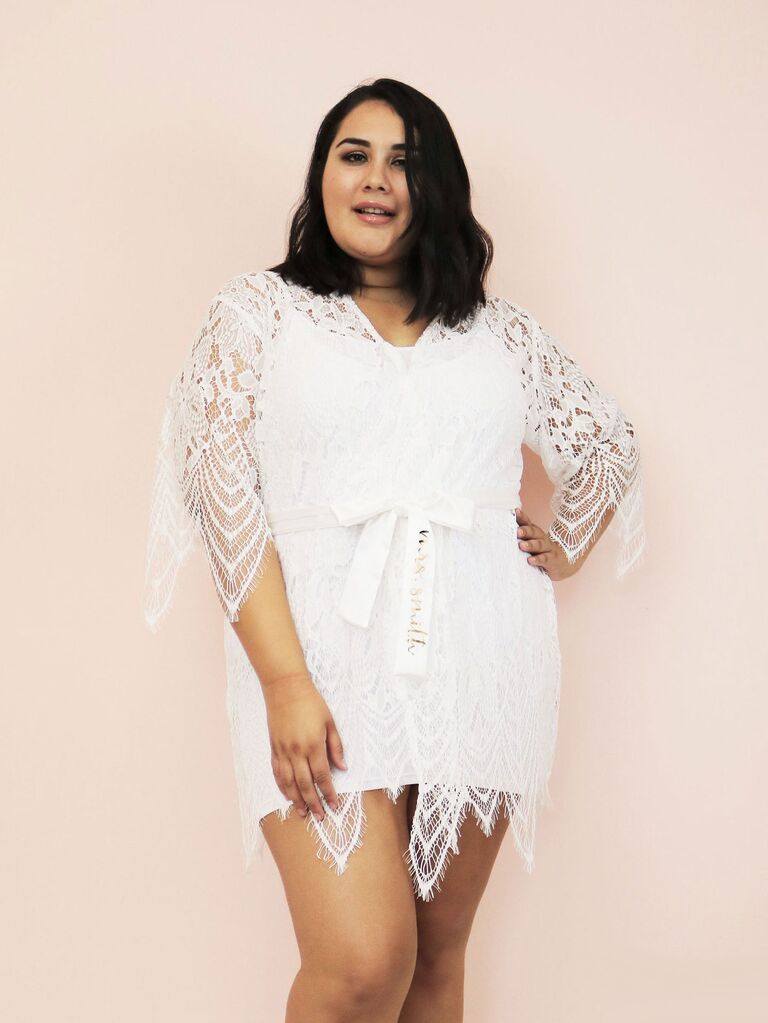 This lace bridal robe is beautifully unique, all thanks to the silky personalized sash. Customize the belt with your first name or future last name in black or fancy foil lettering. It even comes with a complimentary slip (since the robe's fabric is see-through).
20. Sheer Wedding Night Robe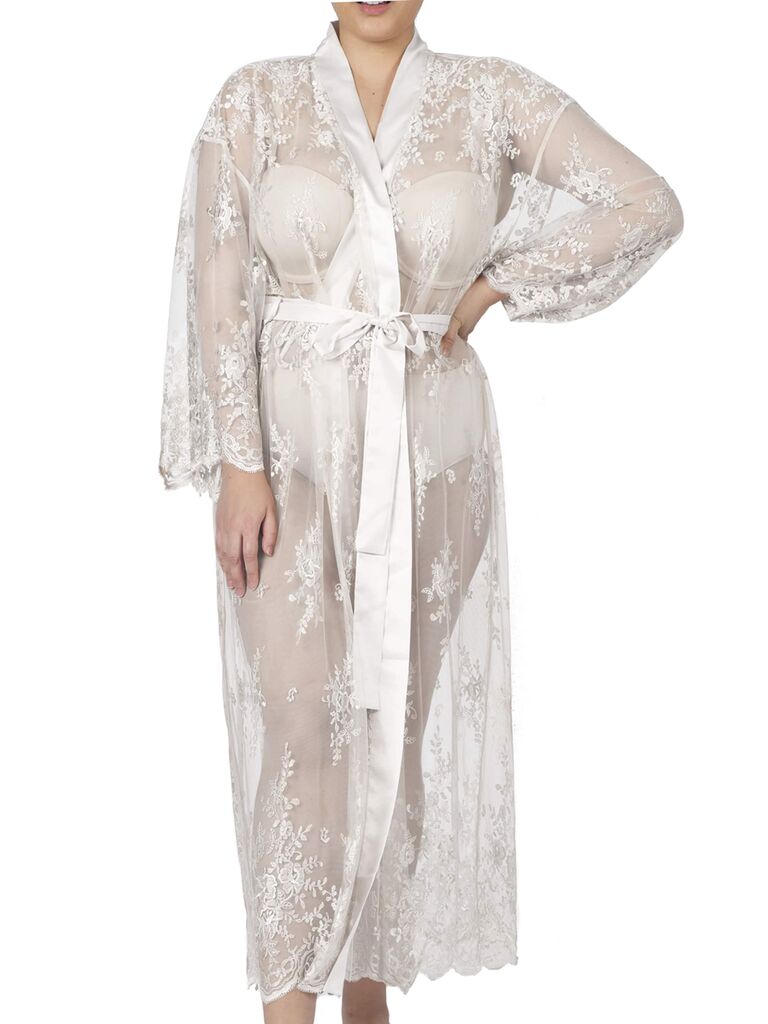 A sheer lace robe this sexy may not work for getting-ready pictures, but for the wedding night? It'll do nicely. If you're not a fan of the white, this plus-size robe also comes in sleek black or sultry champagne to suit your bridal style.
21. Customized Lace Wedding Robe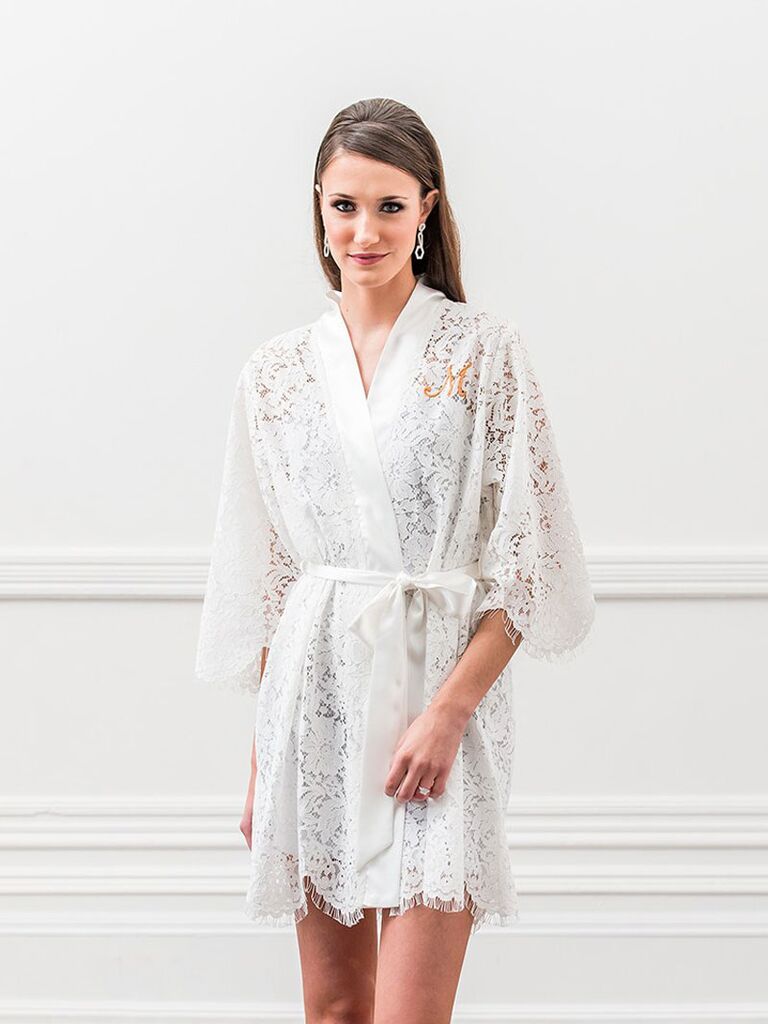 We can't get enough of lace bridal robes—especially when they look as good as this! This pretty lace wrap has the perfect amount of coverage for your bridal suite. Add your first initial in metallic gold, silver or copper thread for an extra-sentimental touch.
22. Luxury Gold Bridal Robe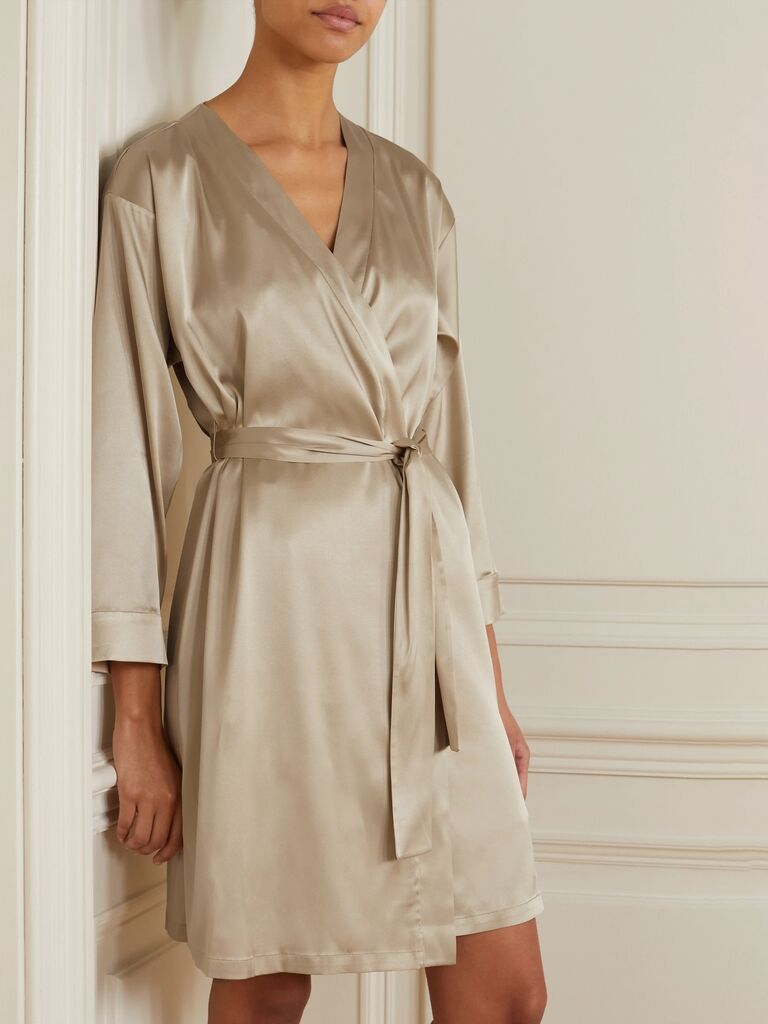 It's totally okay to deviate from traditional white wedding robes. You'll still get all the attention in this luxury silk-blend wrap. It's perfectly soft and stretchy for maximum comfort on your wedding day. And the sophisticated gold color is sure to shine.
23. Boho Bridal Robe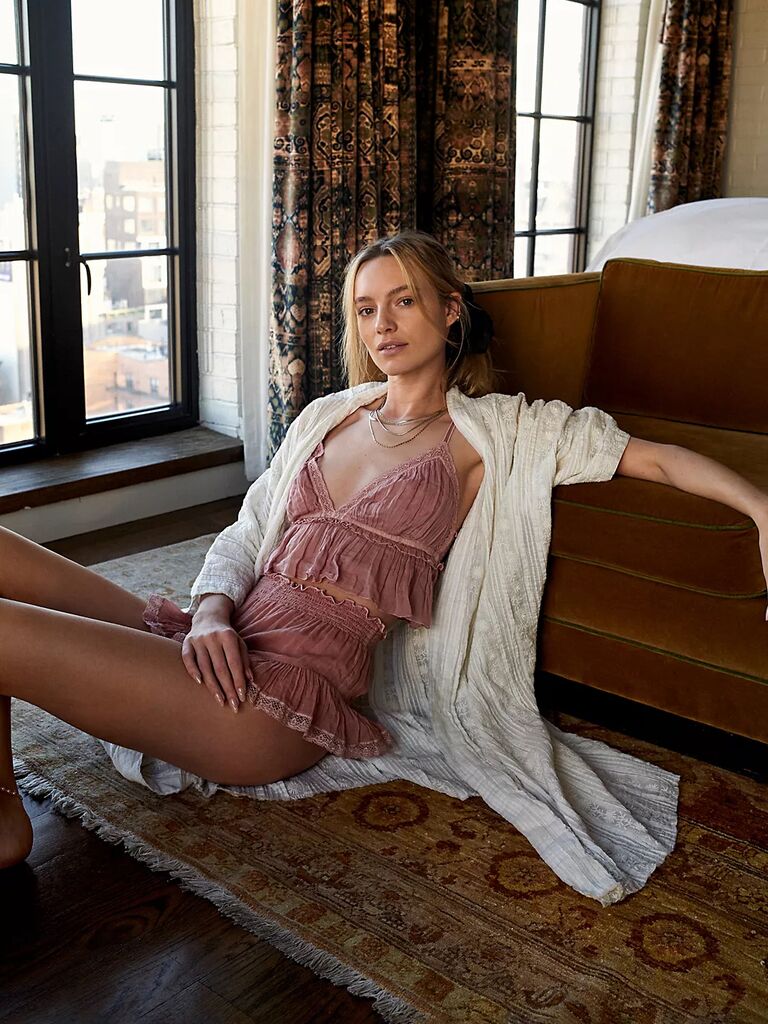 Consider yourself a boho bride? This midi-length robe comes in Ivory or Ambered Coral and has the prettiest allover embroidery. You'll feel breezy and beautiful in the long, flowy fabric. Just note that this robe is sheer!
24. Satin Bridal Robe With Lace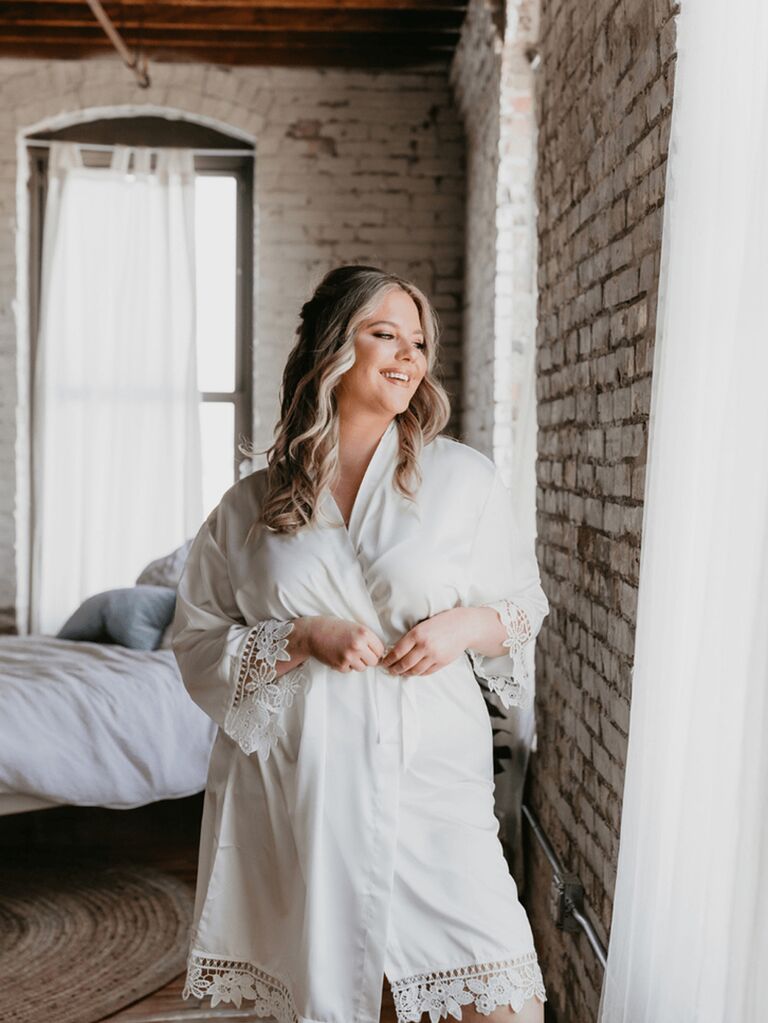 You'll look forward to wearing this charming lace robe—and showing it off to your besties! Better yet, they can all wear one too. This bride or bridesmaid robe is available in a wide range of wedding-worthy colors.
25. Eco-Friendly Bridal Robe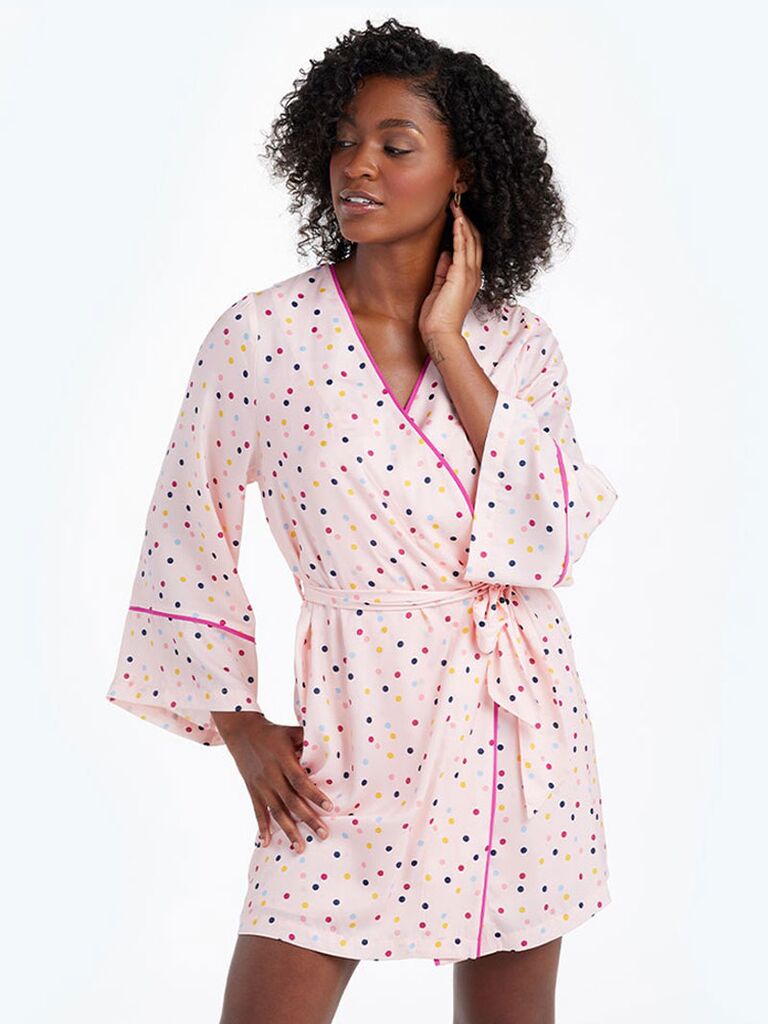 Get ready for a silky smooth bridal robe like no other. This wrap is made from 100% recycled polyester charmeuse, so you'll get the luxurious feeling of silk while still buying sustainably. Pair it with Summersalt's matching pajama set to complete your honeymoon outfit!
26. Long Lace Bridal Robe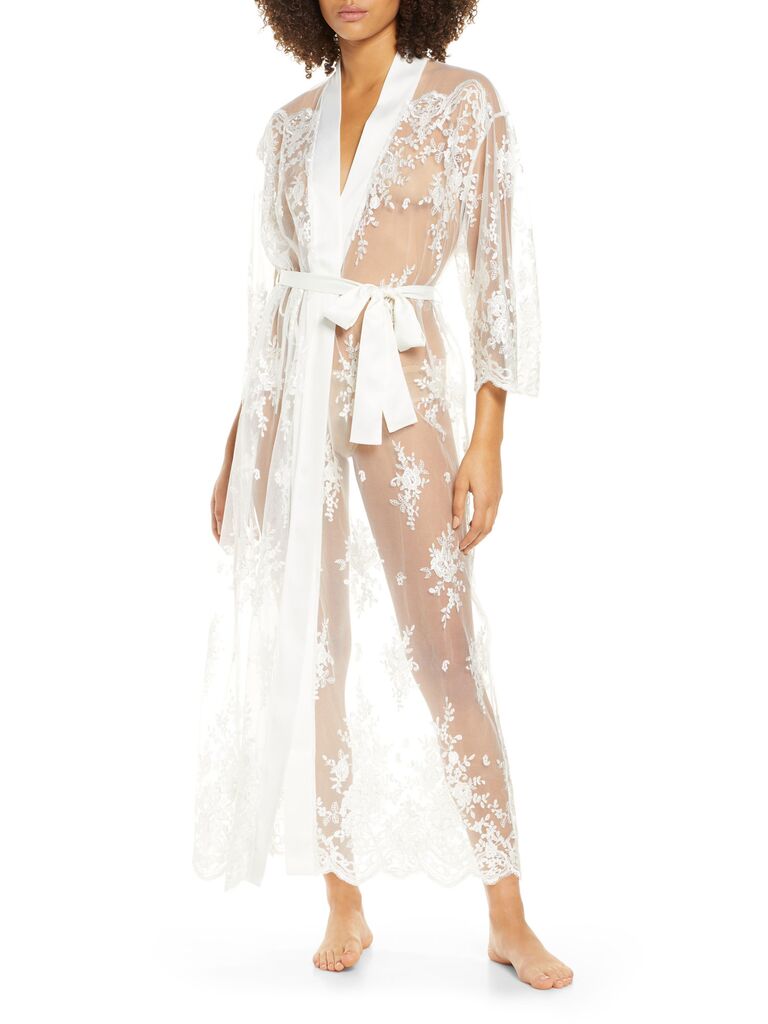 Still shopping for the wedding night? Try this romantic sheer robe. You'll feel extremely sexy covered in head-to-toe lace. Choose from four equally stunning colors: Ivory, Black, Sangria or Champagne.
27. Long Floral Wedding Robe
Can you tell that we adore floral bridal robes? What can we say—botanical embellishments are sure to stand out. This plus-size satin robe comes in a ton of gorgeous shades, so you're sure to find the perfect fit for your wedding color palette.
28. Modern Long-Sleeve Bridal Robe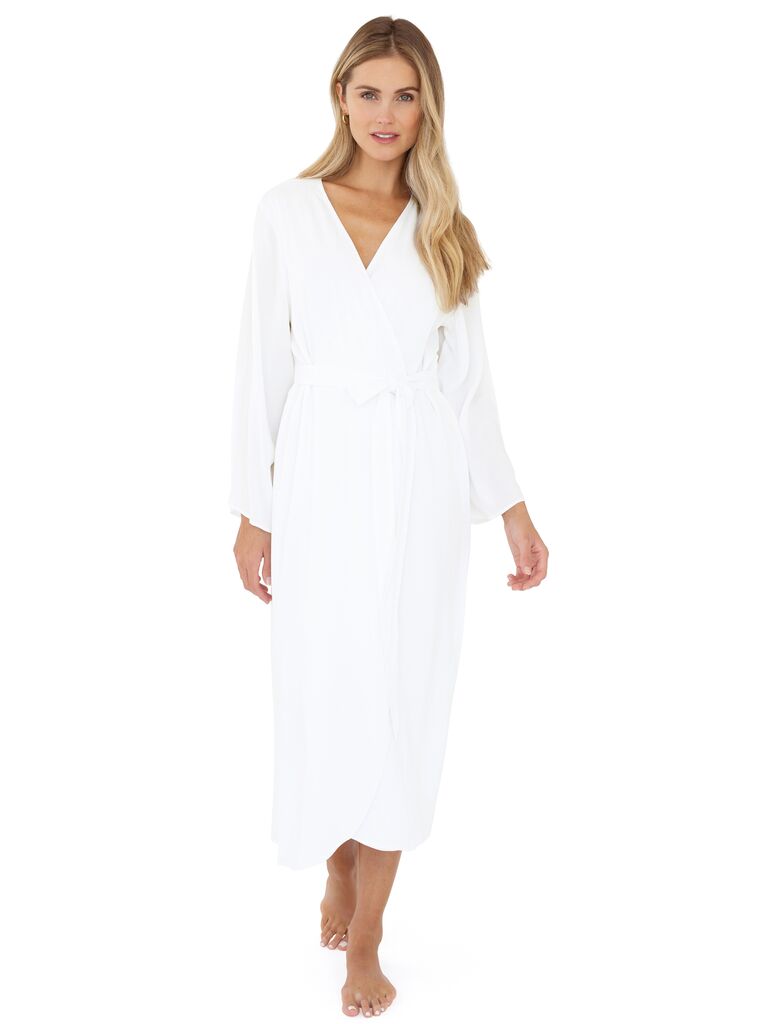 How modern and chic is this long white bridal robe? The ankle-length wrap is made of high-quality, textured rayon—perfect for getting ready or even relaxing by the pool. You won't regret purchasing this versatile cover-up.
29. Sheer Floral Bridal Robe
Yes, we're including even more lace options—but who's complaining? Lace is an extremely popular material because it's so delicate, pretty and simply special. This sheer lace robe would look absolutely stunning over a simple bridal slip. You'll want to take a million photos in your prewedding outfit.
30. Lace Wedding Robe With Train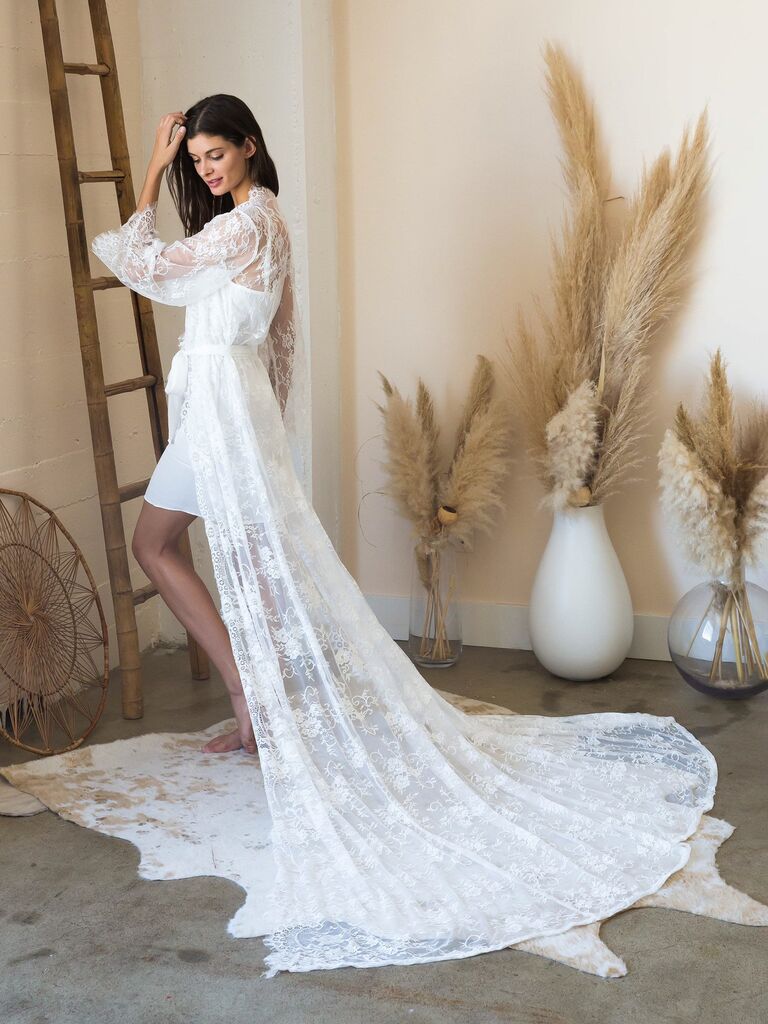 Get in the wedding spirit with this beautiful lace robe featuring a dreamy train—just look at that intricate design! You can wear the robe over a matching satin slip or with cute bridal PJs to complement the sheer style.
31. Sexy Bridal Robe and G-String Set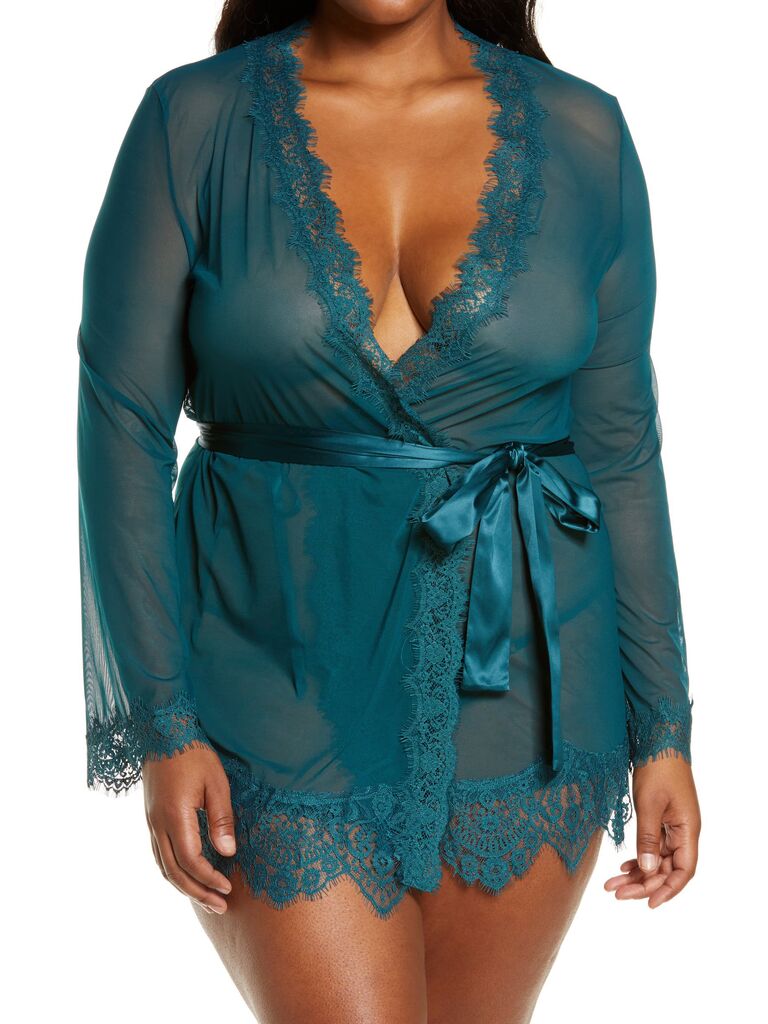 What about a sexy robe and G-string set for your wedding night? This plus-size set comes in a range of sultry colors, including teal, black and white. Plus, it has a deep V-neck and a silky satin sash to tie your look together. Your new spouse will swoon over this unforgettable set.
32. Upscale Getting-Ready Robe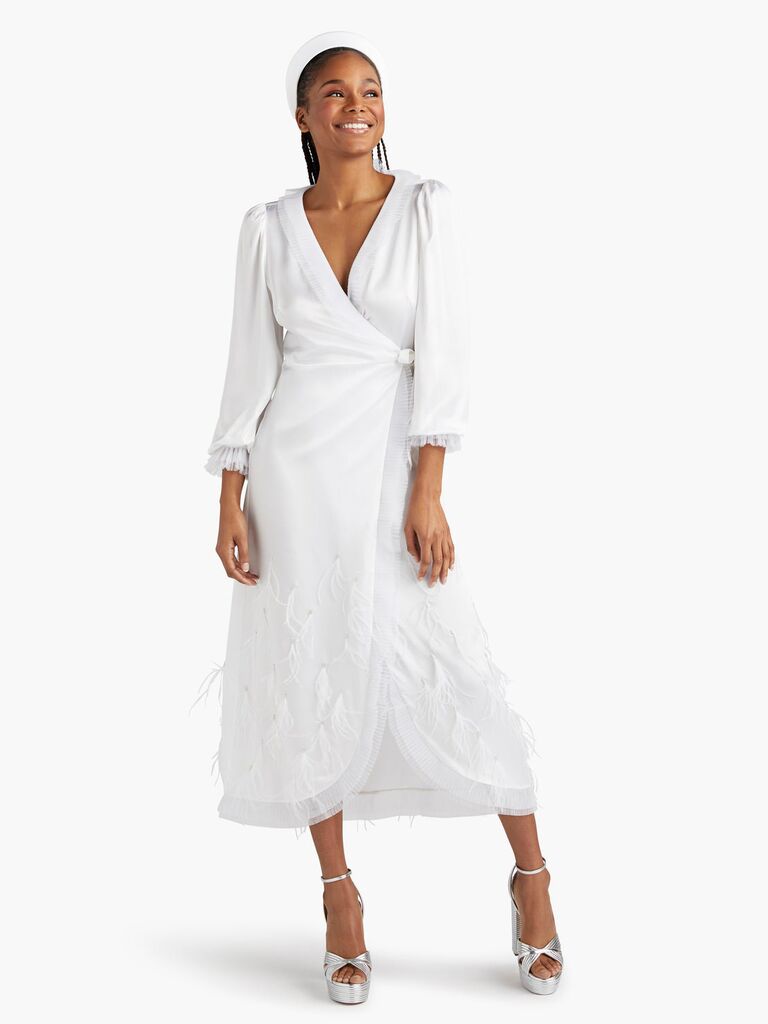 This getting-ready robe is truly a showstopper. The bottom hem features hand-sewn feathers, while the trim is lined with pretty ruffled tulle. Really, it's perfect for any prewedding activity; dress it up with some flashy heels for your rehearsal dinner outfit, or wear it to pose for some prewedding photos. The possibilities are endless.
33. Ruffled Bridal Robe
You'll be sipping mimosas with your bridal party in this gorgeous ruffled bridal robe in no time. It comes in various neutral colors—like champagne, white and taupe—and sizes XS to 3X. We also adore this style as a bridesmaid robe, so choose your favorite color(s) and spread the love!
34. Cozy White Robe With Hood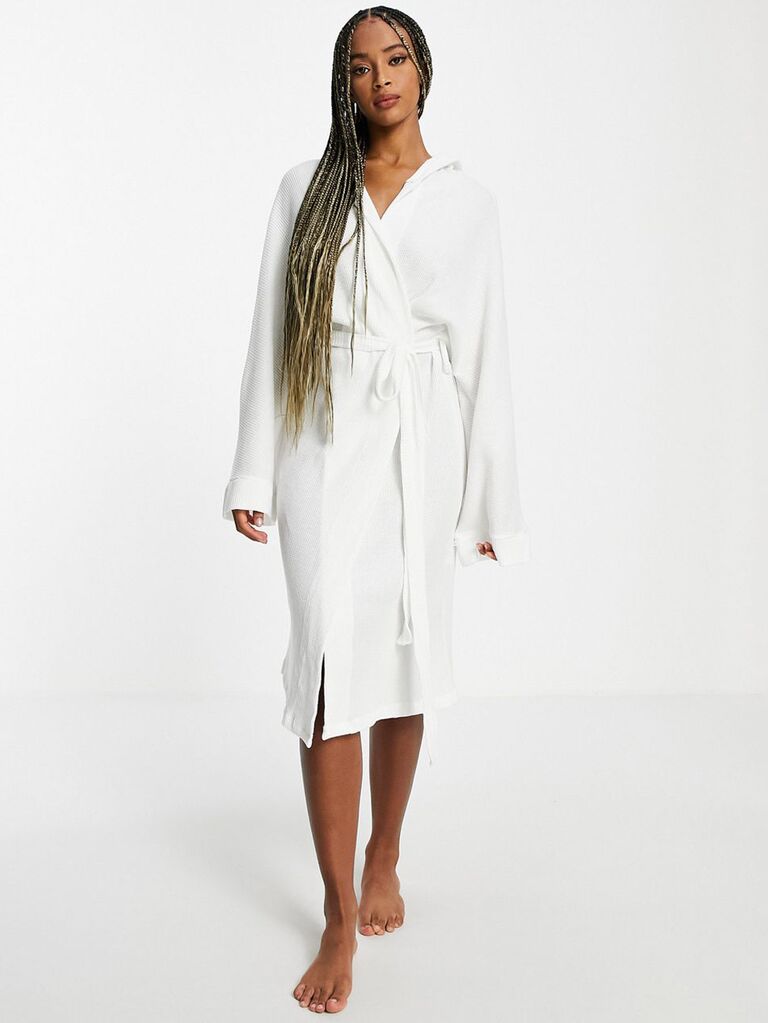 Looking for more ways to wear waffle knit? Try this lightweight cotton bridal robe, which has a casual fit and a sleek fixed hood. After the wedding, it doubles as a bathrobe! We love a two-for-one deal.
35. Angel Wing Fleece Bridal Robe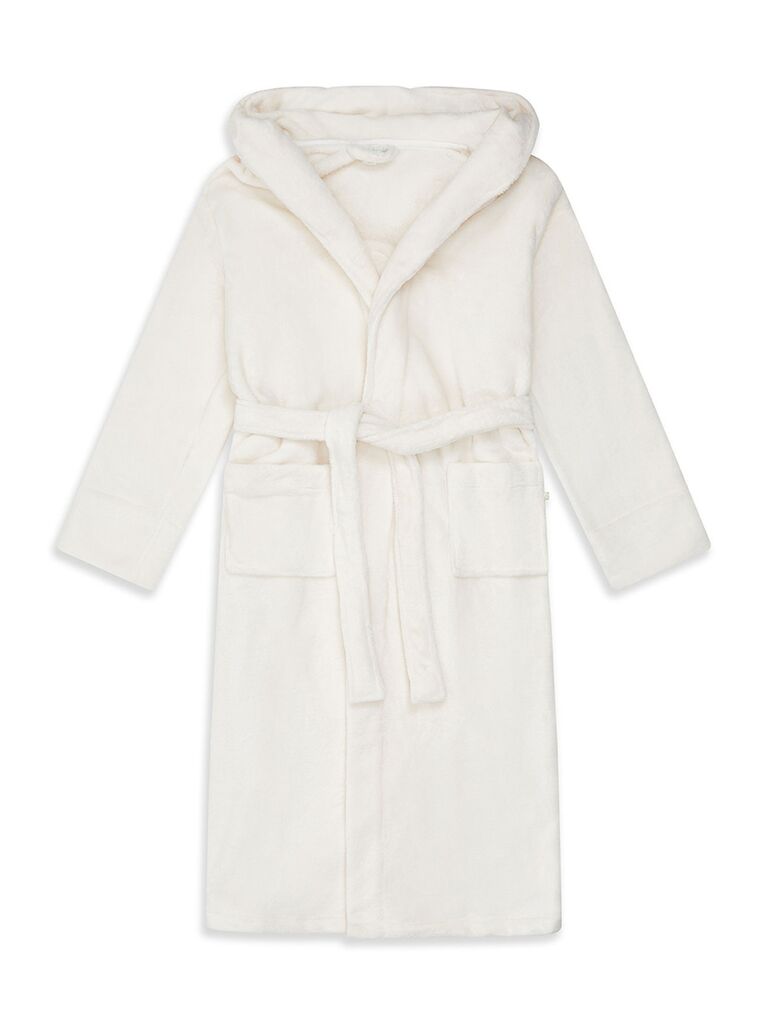 Here's another ultra-cozy bridal robe worthy of attention. This fleece robe will make the perfect addition to your getting-ready routine and remain a self-care staple long after your wedding. Plus, this bridal robe comes in a pretty blue shade too (your something blue, perhaps?).
36. Animal-Print Bridal Wrap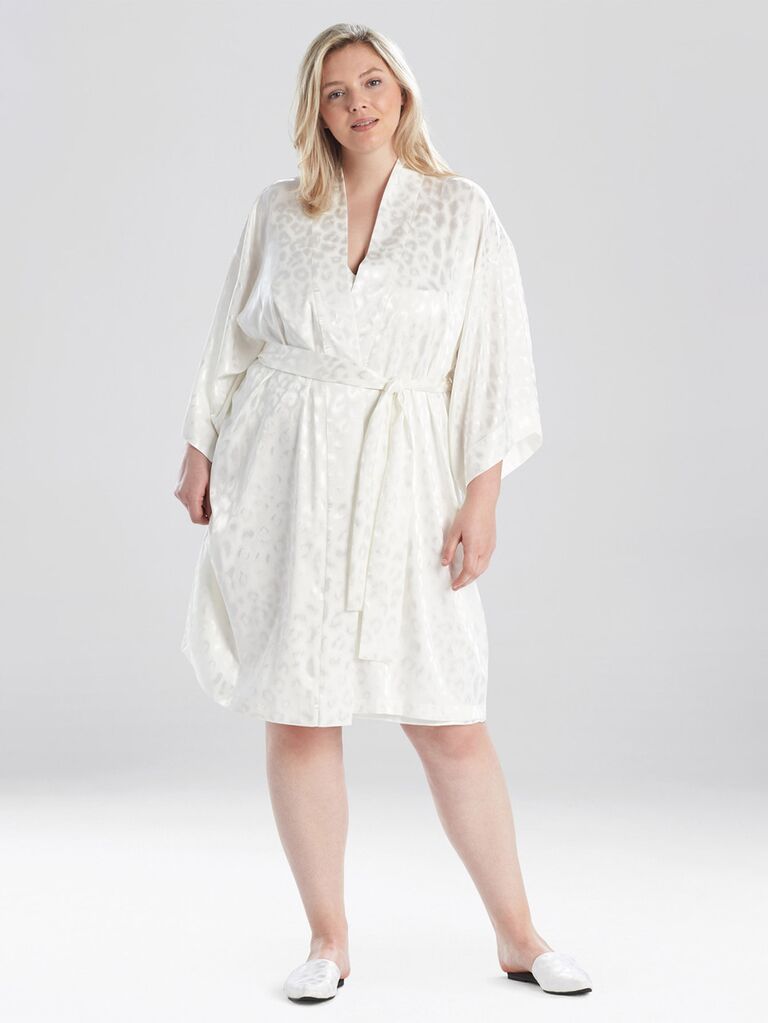 How about a subtle print to spice things up? This off-white satin wrap has an animal jacquard pattern that'll look lovely in your bridal suite or in the bedroom. It also has a self-tie belt, side pockets and side ties—we're impressed!
37. "Happily Ever After" Wedding Robe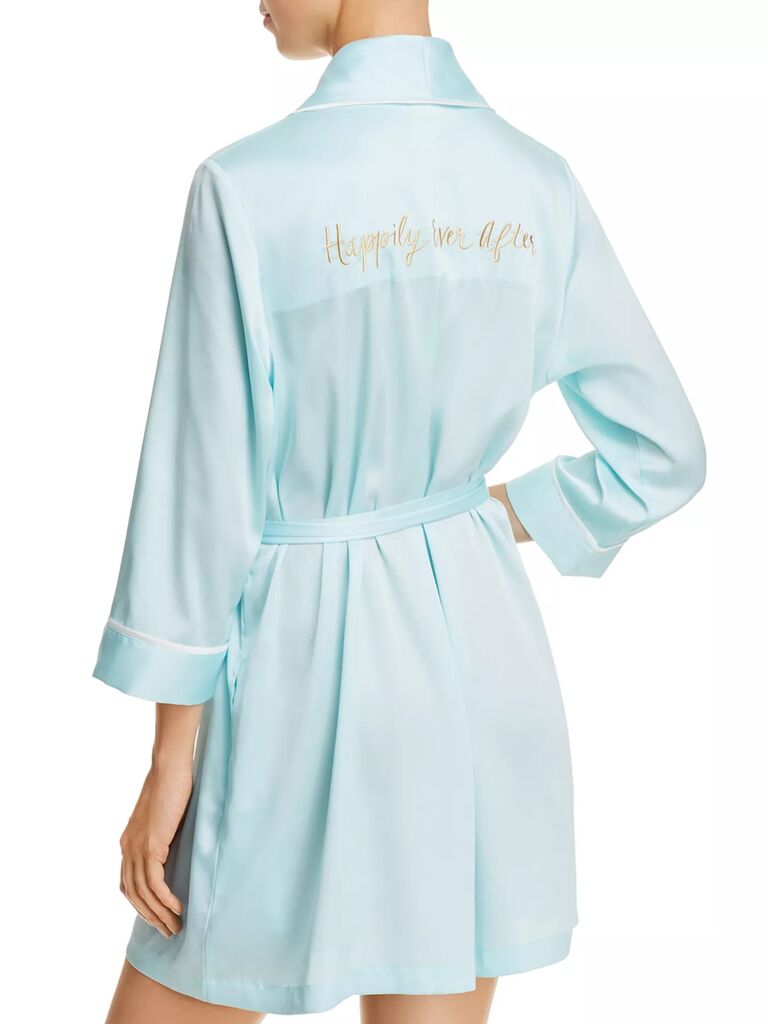 Celebrate your "Happily Ever After" with a robe that'll always remind you of your special day. We love the elegant quarter sleeves and gold lettering. And how cute would this robe look over this matching Mrs. pajama set?
38. Pink Heart-Print Bridal Robe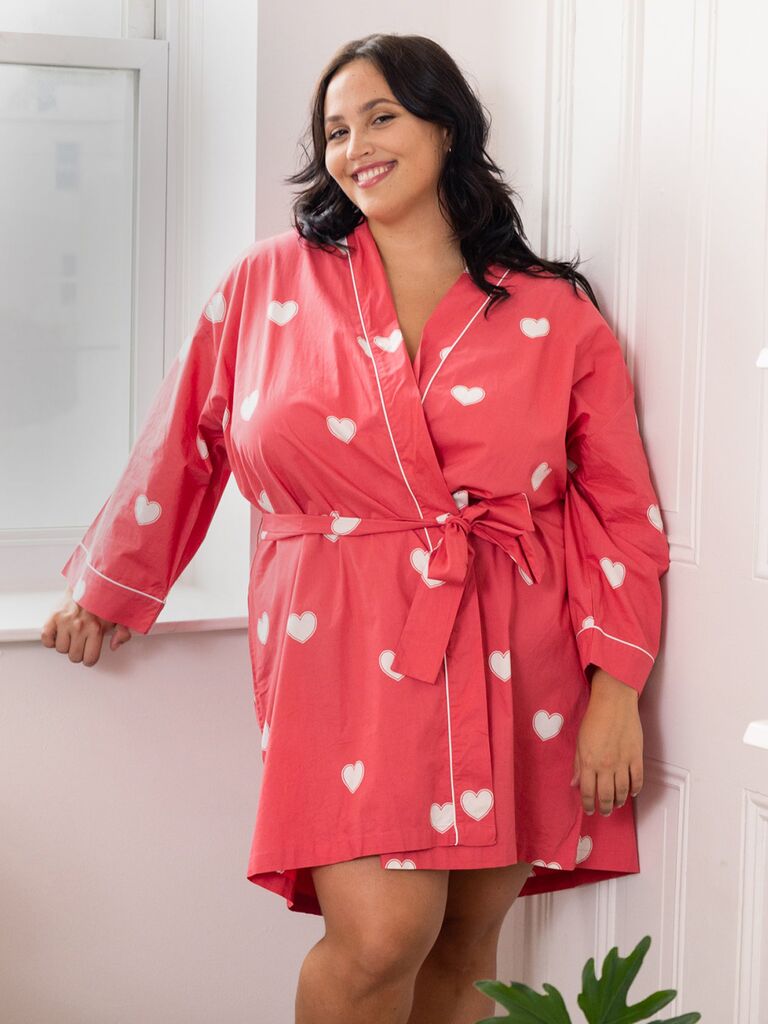 Wear your heart on your sleeve with this super-cute Queen of Hearts bridal robe. The Roseberry pink color is so much fun, and the heart pattern is so sweet. Whether you're having a winter or summer wedding, you'll feel cozy and comfortable in this festive cotton wrap.