Eco-Friendly Makeup Brands to Use For All of Your Wedding Events
Calling all sustainable to-be-weds.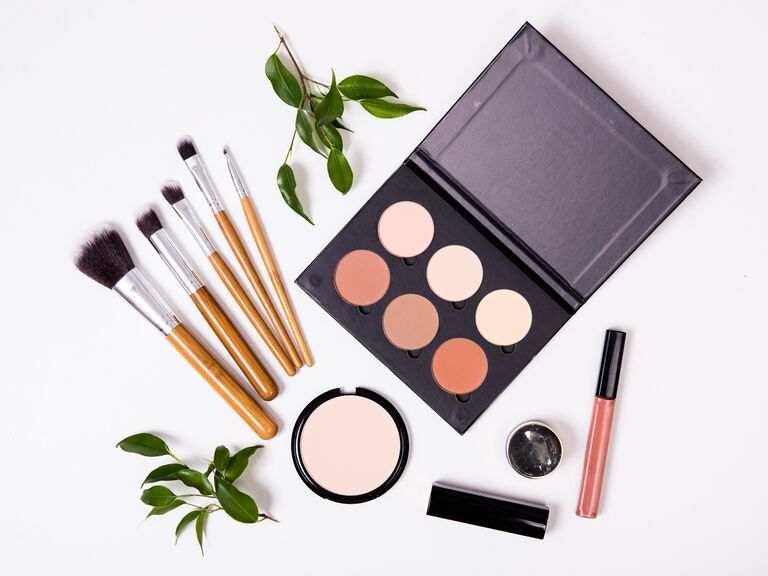 Daria Minaeva / Shutterstock.com
We have included third party products to help you navigate and enjoy life's biggest moments. Purchases made through links on this page may earn us a commission.
Planning an eco-friendly wedding can feel daunting at times. There are so many moving parts involved, which makes it difficult to ensure you're being sustainable at every turn. One of the more attainable steps you can take is to use eco-friendly makeup with sustainably-sourced ingredients and recyclable or reusable packaging at your pre-wedding events. You'll likely hire a professional makeup artist for your actual wedding day (beauty pros tend to use their own products), but using eco-friendly makeup for the events leading up to your nuptials is an effective way to cut down on your wedding's overall waste and carbon emissions.
The beauty industry accounts for a great amount of waste in landfills, which is why these brands are making a change. If you're looking for even more tips on how to throw a green wedding, we've broken down other approachable ways to host a sustainable wedding (or even a zero-waste wedding if you'd like). Check out 19 eco-friendly makeup brands you can use for all of your pre-wedding events (think: engagement party, bach bash and rehearsal dinner).
LUSH may be best known for their bath bombs, but they're also known for their eco-friendly and ethical practices. On a mission to reduce their impact on the earth, LUSH is taking several measures with their packaging. Nearly 35 percent of their products are sold "naked," meaning package-free. The brand also uses 100 percent post-consumer plastic which can be recycled. In 2012, LUSH also made their plastic bottles 10 percent thinner. (In four years, the company saved nearly 13,500 pounds of plastic through this initiative). The brand has also phased out gift wrapping and excess packaging, offering reusable scarves made from recycled plastic and plant-based, compostable packing peanuts. Their partnership with the Ocean Legacy Foundation allows them to use recovered plastic from the ocean for their packaging as well. In addition to their sustainable packaging, the company also sources their ingredients ethically and responsibly so ecosystems are not harmed. Whether you pick up a face mask, a shampoo bar or a mascara, you'll know that your pre-wedding purchase is ecologically responsible.
Ethique (French for "ethical") is on a mission to rid the world of plastic waste. This brand makes solid bars—everything from shampoo to face wash to body wash—that are packaged in 100 percent naturally-derived and biodegradable paper packaging. The company also goes the extra mile to ensure that their paper is chlorine- and acid-free to mitigate pollution of waterways. Ethique also ships their products in biodegradable packaging so that you can compost the waste and sleep well knowing it will disappear in a matter of months (just in time for your wedding).
NakedPoppy is a beauty company founded to provide customers with the cleanest clean beauty products possible. But in addition to their commitment to human health and animal health, NakedPoppy is passionate about the planet's wellbeing. Minimizing their environmental impact is a top priority for the company. They make sure that their ingredients are sourced ethically and sustainably—and that they're supporting the ecosystems they tap. Give your makeup bag a makeover by working with this company's algorithm, which suggests products that are perfect for you.
The founder of True Botanicals started the company after her thyroid cancer diagnosis. She channeled her fear and frustration with the beauty industry into research—and a passion for creating pure, potent and proven products that are good for people and the planet. The ingredients are clean and sustainably-sourced, while the glass packaging can be easily recycled or upcycled. Get a glowing, refreshed complexion before you exchange vows with their popular skincare products.
Cocokind, a natural skincare company, is also focused on sustainability as well. Most of the brand's packages are domestically-sourced flint glass jars—meaning their carbon footprint is low, as they require less additives and they can be reused or recycled. The company also created their tubes out of sugarcane instead of plastic, use shipping materials approved by the Forestry Stewardship Council and print soy-derived ink on their products. Cocokind also strives to use less water in their product formulations to help conserve the previous natural resource. Whether you try out their new resurfacing mask (it contains a plant-based retinol alternative), their popular watermelon hemp oil or their tinted face stick, this sustainable beauty brand has everything you need to prep for your pre-wedding parties.
Herbivore creates clean beauty products made with ethically-sourced ingredients. The brand also prioritizes sustainability, as they use recyclable and reusable packaging. Shop through their extensive collection of facial oils, serums, moisturizers and toners. The founders of the company believe that skincare is a perfect opportunity for self love and relaxation—making their products perfect for to-be-weds who need extra TLC.
Ilia, a clean cosmetics company, is dedicated to reducing the makeup industry's impact on the planet. They use sustainable packaging options such as recycled aluminum, glass components and responsibly-sourced paper. But Ilia is also focused on what happens after a product is finished, so they're using TerraCycle's Zero Waste Box platform. To-be-weds who live in the U.S. can mail in five empty beauty products per month to Ilia (psst: they can be any brand) and TerraCycle will break them down responsibly so they don't end up in a landfill. If planning your wedding is making you stressed out, this eco-friendly decluttering method might be perfect for you.
Tata Harper is an especially sustainable beauty brand, as their products come straight from their own farm to your face. But the company also strives to be as eco-conscious as possible with their packaging. Almost all of their packaging is recyclable and reusable glass, while the small amount of plastic they use is made from sugar cane. They also use soy-based ink to print on their products, use shipping materials approved by the Sustainable Forestry initiative and use 100 percent post-consumer materials whenever possible. Their luxe skincare products will turn your own bathroom into a full-blown spa.
RMS Beauty uses natural products that are intended to heal the skin and improve its health over time. The brand is also committed to bettering the planet's health as well with their eco-friendly practices. The brand makes a conscious effort to keep packaging as minimal as possible and uses recyclable and reusable materials for their products. Unleash your inner glow with their creamy luminizers, concealers and blushes.
Focused on using plant-based ingredients, Vapour offers to-be-weds clean, natural makeup. The brand has everything from foundation to eyeshadow to deodorant (yes, really). The team is also deeply committed to being as sustainable as possible, so they are actively searching for the best packaging ingredients and methods. In the meantime, they've created their Empties Recycling Program, where customers can mail back four or more empty containers. Why four or more? So that customers can cut down on carbon emissions from shipping and handling.
Whether you're having a spring, summer, fall or winter wedding, sunscreen is an absolute must. Coola, best known for their SPF, also offers clean, plant-based skincare and bodycare. They use naturally effective and sustainably-sourced ingredients that are responsibly farmed. Beyond the product formulation, the product packaging is eco-friendly too. Coola believes in composting and recycling whenever possible and is on a mission to lower their impact on the environment. This year, their tubes used 30 percent less plastic than before. Stock up on their assortment of warm weather essentials before you exchange vows.
Hourglass is a beauty brand loved by celebrities like Rosie Huntington-Whiteley, Jasmine Tookes and Janelle Monae. The company produces high-end luxury products (which are mostly all vegan), but they're also focused on sustainability. They're helping to cut down on makeup packaging waste with products like their refillable lipstick. Once the actual lipstick is used up, customers can keep the wand and use it again.
Beautycounter is not only producing clean beauty products, they're also fighting for political change in the beauty industry—calling for more regulation and higher standards. They're also making an effort to be as eco-friendly as possible with their packaging. As glass is easier to recycle than plastic, they aim to use as much glass as possible and reduce any additional plastic add-ons (think: spatulas, overcaps and lid inserts). They also include directions on how to recycle all of the packaging on the container, so you don't have to do any guess work. Pick up their best-selling foundations or highly-coveted velvet eyeshadow palettes.
This brand is popular among beauty editors and influencers alike. Tatre is known for their powerhouse ingredients, like Amazonian clay and their Rainforest of the Sea complex. The brand ensures that their products are sustainable—but they also make an effort to give back to the communities they tap. Tatre works with cooperatives in the rainforest to ensure that the ingredients are sustainably harvested and supports the ocean ecosystem through their partnership with the Sea Turtle Conservancy. If you're a fan of glitter, you'll love their selection of eyeshadows, lip glosses and highlighters.
Known best for their Brazilian Bum Bum Cream and signature scent, Sol de Janerio is also on a mission to be more sustainable. The brand uses eco-friendly and recyclable materials whenever possible and they select manufacturing partners who efficiently utilize resources through renewable energy, recycling and hazmat waste programs, and water filtration. They also have promising goals for 2020 (like reducing their overall plastic consumption by 25 percent, for example). Pick up any of their luxurious products and be immediately transported to your honeymoon.
Josie Maran, famous for their argan oil products, is also known as an eco-friendly makeup brand. The company is currently converting to carton packaging made of 100 percent post-consumer waste material. They're also focused on water conversation and have saved nearly 143,000 gallons of water with their sustainable practices. Load up on skincare, body care and makeup for all of your pre-wedding events.
Lilah b. was founded with the goal of decluttering makeup routines. Their minimalist line—with its all-white packaging—is perfect for nearlyweds. But they're also committed to decluttering in a sustainable way, which is why they started their Recycle Program. Send any unwanted beauty products (lilah b. or otherwise) and they'll work to process and recycle the goods to make room for only what you need.
Authentic Beauty Concept is a high-performance hair care brand. It's registered with the Vegan Society and is free of microplastics, mineral oil, parabens, silicones and artificial colorants. The company sources their ingredients sustainably thanks to a transparent value chain. One of their main ingredients, guar (known for its conditioning properties), is cultivated by the farmers of the Sustainable Guar Initiative in India (SGI), which enhances the livelihoods of thousands of smallholder guar bean farmers.
Each & Every is a vegan and cruelty-free beauty brand that makes personal care products with natural and clean ingredients. In honor of Earth Day, the company has announced it is making the switch from plastic and launching new sugarcane packaging to reduce the company's carbon footprint. As a part of its commitment to sustainability, the brand also plans to roll out 100 percent compostable plant-based envelopes for all orders this spring as well.