7 Risks Of Hashtagging Your Wedding
by Jamie Miles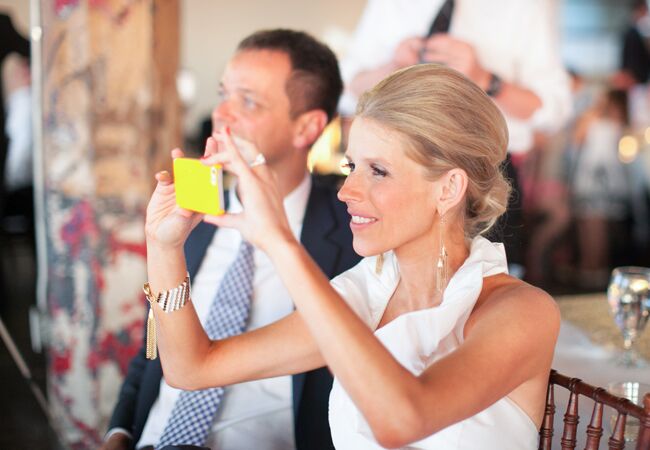 First of all, we love wedding hashtags and are 100% behind the idea. They enable guests to share photos from their perspective and they make it easy for you to print instagram photos following your wedding. That said, there are some unintended consequences that come with having one. In some respects, hashtagging a wedding is like live-tweeting your hike down the Grand Canyon; yes, it preserves the memory, but at what cost? Before you commit to the hashtag, consider the following risks and potential downsides ( #wetoldyouso!).
Unflattering Photos Get Shared
Brace yourself. Yes, your friends will probably Instagram the cake-cutting and your first dance, but they might also snap some photos of your drunken Cousin Eddie, who's tonguing his date on the dance floor. If these friends tweet it with the hashtag #OhHappyDay2014JimSarah, it will show up in your timeline. Plus, a photographer's finest asset might be deciding what photos to publish—and which to leave on the cutting room floor. With Instagram? All are fair game. Including the shots where your eyes are closed or you're awkwardly wobbling on the dance floor.
You Might Confuse Your Less-Than-Techy Guests
A good chunk of your guest list will have no idea what a hashtag means, but they're pretty sure that it involves graffiti, stuff they tried once during the Summer of Love, or both. Or maybe they'll just think it's lame. Wedding guest @johnjf125 tweeted, "My cousin's wedding invitation includes a hashtag, which I think is a valid reason to not go and watch football all day instead."
Your Wedding Photos Could Get Spread to Strangers
People searching your hashtag or that follow your Instagram feed could see photos of your special night before you even get the chance. If you don't love the idea of personal images ping-ponging across Twitter, take note.
Sometimes Only A Few People Participate
If your friends and family aren't that tech-savvy and, ultimately, don't end up using the hashtag, the next morning when you scroll through Instagram and Twitter, you might be disappointed to see only a few posts. The silver lining? That's actually good news. This means that people were having so much fun that they didn't bother fussing with their phones.
Having A Hashtag Might Guests Get Preoccupied with Being "Social"
When we whip out our phones to upload a picture to Instagram and hashtag #GroomToast #SamAndDiane4Ever, we've tugged attention away from the reception. Suddenly we're more focused on clever Internet comments than we are on the present. We might even sneak glances at our phones to check for retweets and likes. And this, fundamentally, is the problem with social media: It's not that social. You simply cannot be living your life and writing about it at the same time, even if you're a master multitasker.
You Offend Your Instagram Or Twitter Followers
You most likely couldn't invite everyone you wanted. And you probably have hundreds (or even thousands) of friends on Facebook. Those people who weren't lucky enough to get the invite might not appreciate a virtual play-by-play of all the awesome fun that they aren't getting the chance to experience in real life.
Your Hashtag Stream Isn't Uniquely Yours
Hashtags aren't like URLs or phone numbers; there's no guarantee that yours is unique. One bride tweeted, "The hashtag for the wedding will be #TeamCompton and the cake shall indeed read that." #TeamCompton is also the hashtag for a British cricket team, so her wedding timeline could be jumbled with updates like this (actual) tweet: "1 good innings out of 8 from @joeroot05 is just not good enough for test cricket, or any cricket in fact. #newopenerplease #TeamCompton." Awkward, right?
(Article first published in the 2013 national Knot magazine; Written by: Jeff Wilser)
Want More? (Of Course You Do!)
7 Ways Not To Announce Your Engagement
6 Techy Commandments for Every Bride
The Rules of Wedding Etiquette