6 Basic Wedding Cake Etiquette Tips, From the Consultation to the Cutting
Here's what expert cake bakers think you should know.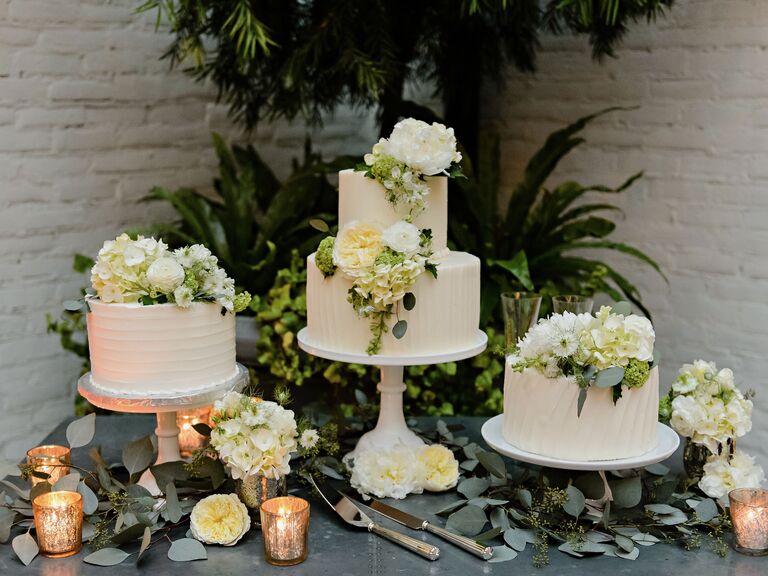 Whether the wedding cake is a minor detail on your to-do list or a top priority for your special day, our guide to wedding cake etiquette and the basics of ordering a wedding cake has you covered. There's a good amount of planning that goes into this traditional wedding dessert, from deciding who pays for the wedding cake to finding the right time to cut it during the reception, so we're here to help you lay the groundwork. To answer all of these questions, we tapped two Atlanta-based wedding cake bakers: Tasha Taylor, CEO and baker at Sugarhi Sweet Eats n Treats and Darcy Lynn, owner of Cakes by Darcy. Keep reading for their expert tips and then head to The Knot Marketplace to find a professional cake baker near you.
In this article:
When to Order a Wedding Cake
To allow plenty of time for your cake baker to work their magic, your wedding cake should be ordered at least six months in advance, according to both Taylor and Lynn. If your wedding day details are finalized, Lynn recommends ordering the cake up to 12 months in advance, especially if you're getting married during peak wedding season.
"I limit the number of weddings I book each weekend so that you are getting my full attention, as deserved," says Lynn. "I encourage securing your date with a deposit as early as possible to ensure availability and eliminate any disappointment. In the Atlanta area, March through May and September through November are typically the high season wedding dates, which will book up quickly!"
Ordering the cake sooner rather than later can also help the rest of your wedding planning process go more smoothly—you'll have more time to spread out the vendor deposits and won't be under pressure to find a baker at the last minute.
"I always advise couples that the cake tastings and baker selection should be scheduled right after your dress, venue and caterer has been selected," says Taylor. "Wedding cakes can be costly and you want to have a stress-free experience when paying your vendors. It also gives them enough time to readjust if the baker cancels for any reason so they won't be running around at the last minute for a replacement."
Who Pays for the Wedding Cake?
Following a traditional wedding budget breakdown for couples who identify as a bride and a groom, the bride's family pays for the wedding cake.
But if you don't identify as a bride and groom—or even if you do—you may opt for a different approach when it comes to deciding who pays for the wedding cake. Many couples choose to pay for the majority of their own wedding expenses, so it all depends on what works best for you and your partner. Finally, keep in mind that some catering companies and reception venues include wedding cakes in their event packages, so double-check about those options before reaching out separately to a cake baker.
When Do You Cut the Cake at a Wedding?
There's no right or wrong time to cut the cake at your wedding, but generally, it takes place shortly after dinner and before the dancing gets underway. Serving the cake is an unofficial sign that the big moments of the reception are over (speeches, parent dances), so some guests may start trickling out shortly afterward if they're not planning to stay for the party.
Who Cuts the Cake at a Wedding?
The newlywed couple traditionally cuts one slice of the wedding cake as a symbolic gesture. It's a sweet moment that your guests will enjoy watching, not to mention a memorable photo op for your wedding album. The cake cutting is usually accompanied by a special wedding cake cutting song and some couples choose to purchase a keepsake cake cutting set for the occasion. After the symbolic slice, the remainder of the cake will be cut and served on plates by your caterer or venue staff.
Wedding Cake Etiquette
Your wedding cake is just one part of the reception, but there are a few important steps that go into planning the dessert and how it's served on your big day.
Follow these wedding cake etiquette tips and work closely with your baker to make sure all the bases are covered.
1. Finalize your basic wedding details before the cake tasting.
You'll want a cake that's compatible with your wedding theme, season and reception menu. Brush up on the basic wedding cake terminology and come to your cake consultation prepared with a general idea of what you want, plus a list of wedding day logistics for your baker.
"We ask clients to have a possible guest count, venue location, theme or colors, a budget and any allergies or dietary restrictions so we may accommodate them as best as possible," says Taylor. "By doing so, the hour will flow smoothly and after the business side is handled, we can get into the fun part: the cake and dessert tasting!"
2. Share decorative cake accessories with your baker in advance.
When it comes to wedding cake decorations, the possibilities (and costs) run the gamut. From intricate handmade sugar flowers to fresh fruit or fondant details, your baker will share possible cake designs based on your budget and desired look. Depending on your decision, you may be responsible for purchasing accessories after the consultation or coordinating with your other wedding vendors for certain supplies.
"If you decide to have fresh florals placed on your wedding cake, your florist will provide these so everything in the room will match," says Lynn. "They will simply leave these on the cake table and I will place them on the cake upon delivery."
Other decorations, such as the cake topper or serving set, should be brought directly to your venue on the wedding day. If you're working with a wedding planner, they can make sure that the supplies are ready to go for your cake baker—otherwise, it might be helpful to designate someone in your wedding party to handle it. Be sure to confirm everything with your baker a few weeks in advance in case they need additional details.
"If you have a specific cake topper, I always like to see this well in advance of delivery so that I know what I'll be working with when I arrive at the venue," says Lynn. "Some toppers are super easy to slip into the top of the cake, while others are heavy and require supports within the cake to keep them from tipping or falling. Again, the topper can be left at the cake table, and I will put it on the cake when I arrive."
3. Create a delivery plan for your wedding day.
Wedding cake delivery takes coordination (and usually a refrigerated van), so be sure to discuss all the details with your baker before the wedding day to align on expectations. Complex cakes may not necessarily arrive in their final form, so your baker may build in extra time for the assembly on top of accounting for travel and possible traffic. Finally, ask your baker if you'll need to be on-site to approve the delivery, or if you can designate your wedding planner (or a trusted loved one) so that it's one less thing you have to worry about.
"On the wedding day, deliveries are set at two hours prior to event time for just cakes and three hours prior for dessert tables, props or showpiece cakes," says Taylor. "Also, you want to give yourself time to do any repairs, touch-ups or additions if needed."
Leaving enough time for cake delivery is important when your baker is adding the finishing touches, but it also gives the cake a chance to thaw out after being stored in the bakery's refrigerator.
"Wedding cake will be quite cold upon leaving my business, and this two hour window allows it to come to room temperature by the time it is to be cut and served," says Lynn. "If by chance the cake is a five-tiered cake or larger, this will be delivered in multiple pieces due to its weight and assembled on-site at the venue. My personal cake delivery service includes a box for the top tier to go home in, a flavor card for the caterers and a mandatory signature at the bottom of my contract, confirming that the cake is delivered as contracted."
4. Give your cake the spotlight in its own area.
Your wedding cake isn't just an ordinary cake—it's a one-of-a-kind creation that was handmade for your special day. So why not show it off as much as possible? Designate a table at the reception so guests can admire your baker's handiwork before the cake is cut and consumed. Showcase the cake in front of a window, with a spotlight or surrounded by candles for the best presentation possible. A round table is perfect for circular cakes, but a linear design (or additional desserts, like cupcakes and cookies) may call for a larger rectangular table. Drape the table with matching linens, flower arrangements and other details to match your wedding style.
5. Cut the cake early to avoid leftover slices.
After all the effort you and your baker have put into the cake, the last thing you want is for it to go to waste. Not only is it important to choose the right cake size for your wedding, but finding the right time to cut the cake in your reception timeline is just as crucial.
"The best way to avoid having leftover cake is to ensure that your planners and coordinators have the cake cut early so that it can be served as dessert," says Lynn. "Oftentimes, the cake is cut so late in the evening that guests don't even know that it's available."
If you want a photo of you and your partner cutting the cake, Lynn recommends doing so right after you've performed your first dance. Your caterers can then cut the rest of the cake while guests are eating dinner so that it's ready to serve as soon as the meal is over. Lastly, double-check that the caterers how many slices to cut and how big each slice should be.
"At the consultations, I ask for a guest count and always scale [the cake] a bit under, depending on the design," says Taylor. She also provides a cutting chart for the person cutting the cake, which helps ensure that the correct portions are being served. "Incorrect cutting can result in leftover cake or not enough. It's best to run out, as everyone doesn't eat cake."
In the event that there is cake left over, Lynn recommends providing favor boxes for guests who want to take slices home. Consider purchasing them to have on hand for the reception or ask your baker to include them with your order for an additional cost.
6. Plan ahead if you want to save the cake for your wedding anniversary.
Saving the top tier of your wedding cake is a longtime tradition. But as sweet as the concept is, it also takes a bit of planning on your part. "In order to save your top tier for the first anniversary, we recommend completely covering the cake with a Saran wrap in multiple layers and covering the box in a plastic bag," says Lynn. Whoever is cutting your cake on the wedding day will be responsible for preserving and wrapping the top tier, so be sure to let them know well in advance.
Not into the idea of eating cake that's been stored in the freezer for an entire year? Many wedding cake bakers will provide a freshly made version of your wedding cake for your first anniversary, which is a great alternative.
"As part of our contract, we offer a complimentary top-tier for the first anniversary," says Lynn. "Unless you are sentimental about saving the top tier, we recommend that you go ahead and enjoy it sooner rather than later! Some couples will eat it for their first month or six-month anniversary."
Taylor agrees and says that most of her clients opt for a fresh anniversary cake, which saves the newlyweds the stress of making room for a cake box in their freezer. Whatever you choose, this tradition is a special way to reminisce when celebrating your first wedding anniversary or another big milestone.