What You Need to Know If You're Considering an Unplugged Ceremony
You can ask your guests to go device-free on your special day—here's how.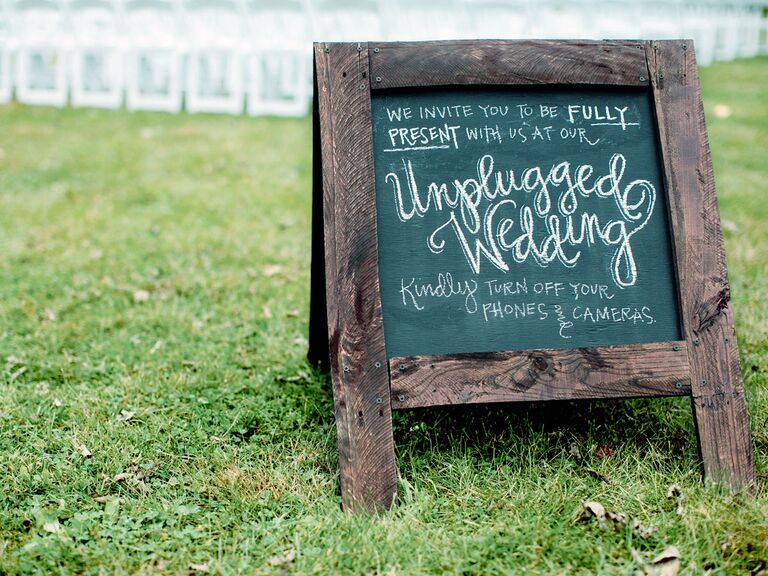 Jill DeVries Photography
With the use of digital guestbooks, wedding hashtags and livestreaming, there are so many ways technology is making the wedding experience more convenient, especially during the pandemic. On the other hand, many couples are opting for a more intimate, personal wedding experience, which often includes an unplugged ceremony. But how do you decide what's right for you? While there are definitely perks to using cutting-edge technology on your wedding day (or trying out the latest tech trends, like virtual reality weddings), going device-free can be just as beneficial. An unplugged wedding ceremony allows you and your guests to be fully present on your special day, so it's important to carefully consider if it's the best decision for you. Read more about it below to weigh your options.
What Is an Unplugged Ceremony?
An unplugged ceremony is when the couple requests their guests to put away, silence or turn off all of their devices (cell phones, cameras, etc.) for the duration of the ceremony. Keep in mind: an unplugged ceremony is not the same as an unplugged wedding, which is when a couple requests no devices during the ceremony and the reception.
Why You Should Consider Having an Unplugged Ceremony
It keeps guests' attention focused on you.
You don't want your guests scrolling through their Instagram feed while you're saying your vows. By simply asking your guests to refrain from using their phones, your ceremony can be more intimate. "The biggest benefit of having an unplugged wedding [ceremony] is that you and your guests are present and in the moment," says Molly Middleton, owner of Molly Middleton Events in New York, New York. "The minute smartphones are pulled out and photos are posted on social media, you lose something genuine."
It keeps your photographer from competing with your guests.
When you ask your family and friends to be unplugged during the ceremony, your wedding photographer can breathe a sigh of relief. Now, your photographer doesn't have to worry about guests in the aisle obstructing their shot or deflecting harsh camera flashes, both of which can interfere with special ceremony moments and are difficult to edit out post-production. You also get the benefit of not having glaring phone screens in the background of your wedding photos.
It prevents background noise and distractions.
Similar to silencing their phones during a graduation ceremony or in a movie theater, guests should do the same for an unplugged ceremony. This limits the possibility of phones ringing and accidentally disrupting priceless moments during the ceremony, like your wedding vows or first kiss.
It keeps your wedding private.
It's your wedding day, so you get to choose how and when your memories are shared. Go with an unplugged ceremony if you're concerned about your vows being livestreamed or pictures of the ceremony being posted before it's even over. Minimizing exposure allows you and your guests to enjoy your day to the fullest, without wondering where else the photos and videos are being shared.
Ways to Inform Guests About Your Unplugged Ceremony
Be clear with your guidance.
No matter how you choose to inform your guests, don't hesitate to be specific about your exact wishes for your unplugged wedding ceremony. If you don't want any pictures or videos shared on social media, say it. The more direct and clear you are about what you want, the better chance your guests will have understanding and following your requests.
Put it on the wedding invitations.
Include a line on your invites that clearly informs your guests and wedding party of your wishes. For example, "We invite you to be fully present with us. Please keep all devices turned off during the ceremony." We'd also recommend including the same message on your wedding website under the section with your ceremony details.
Display signs throughout your venue.
You can have a humorous or formal approach when you make your unplugged ceremony sign, but overall, signs act as a polite reminder to people when they arrive at the wedding. Signage also gives you the chance to assure your guests that the photos taken by your photographer will be shared with them in just a couple of weeks.
Make an announcement.
Ask your officiant or someone from your wedding party to announce your unplugged ceremony request before the wedding starts. It's a quick and efficient way to remind your guests to keep their phones silenced and out of sight.
Offer a post-ceremony photo opportunity.
To appease guests who feel the urge to take photos during your unplugged ceremony, consider having a photo opportunity during the cocktail hour or reception instead. When it's time to party, showcase your wedding hashtag on signs, custom cocktail napkins or favors to let your guests know that it's okay to take photos. This will encourage your guests to enjoy themselves and take as many pictures of you and with you as they please.