The Best Welcome Message Examples You'll Want to Steal For Your Own Wedding Website
We've done the creative thinking for you.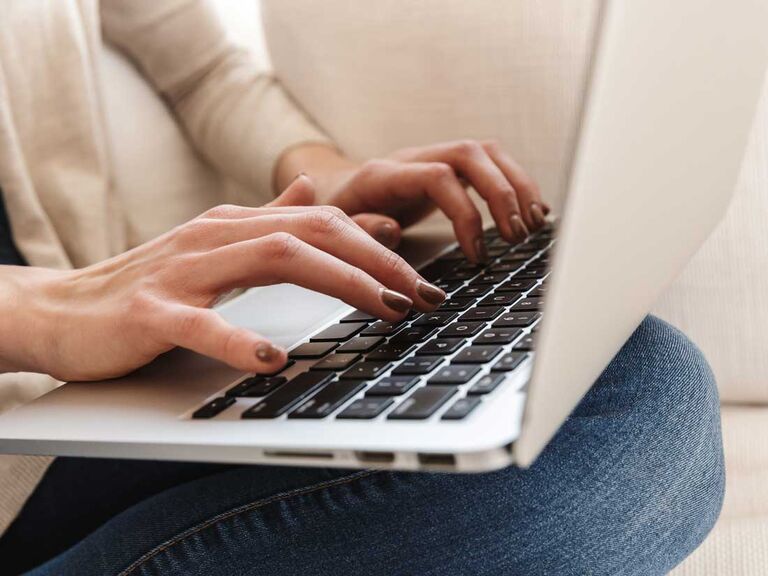 Shift Drive / Shutterstock.com
A welcome message is the first thing your guests will see when they land on your wedding website. So, if you want to be sure they'll stick around and use it, write a wedding website welcome message that's engaging and impactful. While your site should also include your registry, guest accommodations and photos of you and your S.O., a welcome message is another important detail that shouldn't be overlooked.
In order to help you craft the best wedding website welcome message, we've compiled a few of our favorite examples and ideas to help get your creativity flowing. When you're ready to get started, head to The Knot to build your own custom wedding website. Then, steal some of these wedding website welcome message examples to inspire your own.
What to Include in Your Wedding Website Welcome Message
Most wedding website templates include space to write a message on the homepage. This can generally serve as the spot to write your wedding website welcome message. The wording is up to you, but some basic information should be included. Three musts: Have your names along with the wedding date and location. (After all, this is the most important info for your guests.) From there, you can choose whether you want to write a detailed account of your relationship story or a welcome message that's short, sweet and to the point.
Use this space to get creative and let your personalities shine. Don't feel like you have to squeeze all of the details on the wedding website welcome page though. Your wedding website template will include other tabs for directions, travel and lodging accommodations, photos and your registry. To keep it organized and user-friendly, reserve the landing page for the basics. Your guests can poke around your site to find what they need.
Wedding Website Welcome Message Examples
If you choose to write a longer story about your relationship (including how you met and when you got engaged), let your own creativity be the guiding force. You know the story better than anyone else, so sit down with your S.O. and spill all the sweet details. But if you'd rather keep it to the point, the welcome text on your wedding website can certainly be simple. Use these ideas as templates to get started:
Welcome to our wedding website! We can't wait to share our special day with you.
We said yes! Join us in the countdown until we say "I do."
To our friends and family: We're so excited to celebrate our wedding with you. Find all the details you need to know about our big day here.
The countdown until our forever is on.
Thank you for RSVP-ing "Yes" to our big day! We're thrilled to celebrate with you.
Fancy seeing you here! Welcome to our wedding website—we're so happy to begin married life with you by our side.
This must be the place. Get ready to celebrate [your names] wedding day!
Thanks for dropping by our wedding website! Find all the details you need here—we'll see you at the altar.
Heck yes we do. We're so excited to celebrate our big day with you.
We're getting hitched! Join us in celebrating our big day.
From [hometown] to [destination location], we can't wait to travel the world with you.
Welcome to our wedding website! We're so excited you'll be joining us on our latest adventure.
Get your passports ready—we can't wait to say "I do" in front of you!
Oh, the places we'll go… we can't wait to celebrate our wedding in [location] with you.
We said "Yes" to each other. Now, we're so thrilled you said "Yes" to joining us on our next journey together.
After you've grabbed your guests' attention with an opening line, write a little more about what they can find on your website in addition to any other quick info they need to know. Use these examples to complete your wedding website welcome message:
Here, you'll find all the information you need to know about our wedding. Reserve your stay through one of our hotel blocks, find local recommendations, and meet our wedding party. You can even leave us a song request if you'd like. Oh, and don't forget to RSVP!
We've created this wedding website as a hub for all of our wedding information. Find the answers to any questions you have about our big day, and check out our engagement photos and relationship story while you're here. We can't wait to see you on [wedding date].
Our wedding website is here to help you plan your trip for our big day. We've provided travel instructions, hotel and transportation accommodations, local recs and the schedule for our wedding weekend. We'll see you soon!
Thanks for taking the time to stop by our wedding website. Browse around to read our proposal story, see our favorite engagement photos, and learn more details about our wedding day. (P.S.: While you're here, don't forget to RSVP.) We're so thrilled to ring in our wedding day with you.
To finish it off with a personal touch, sign your names at the end of your wedding website welcome message.
Funny Wedding Website Welcome Message Ideas
If you're not the sentimental type, you might prefer writing a funny wedding website welcome message to encapsulate your relationship. We've got you—below, find our favorite funny ideas to make your wedding website unapologetically you. Start with one of these opening lines:
Can you believe it? [Name] and [name] are finally getting married!
Start spreading the booze—we're getting hitched!
The countdown is on until we're officially locked in for life.
Marriage has a nice ring to it. We can't wait to celebrate ours with you.
You're invited to the wedding of the century. You're welcome.
If you're going to sit through a wedding, it might as well be a fun one. We can't wait to party with you!
You're invited to our wedding! (Don't worry, there will be an open bar.)
We're drunk in love. Come party with us!
From there, put your own spin on the rest of your wedding website welcome message. Use one of the templates we've outlined above, or craft your own statement that's inspired by your personalities. When it comes to your wedding website, creativity will set yours apart. And if you have fun making it, your guests will be thrilled to use it.