21 Anniversary Photos That Celebrate Decades Worth of Love
These heartwarming snapshots will make you tear up—and convince you to book your own anniversary photo shoot.
We have included third party products to help you navigate and enjoy life's biggest moments. Purchases made through links on this page may earn us a commission.
Like true love, photos last a lifetime, which is why brides and grooms hire experts to capture their weddings, engagements and even their proposals. But the following snapshots—and their heartwarming stories—prove that professional couple portraits shouldn't stop after "I do." We asked Flytographer, a service that connects travelers with photographers around the world, to share some of the sweetest anniversary photos its pros have ever taken. The result is a collection of portraits documenting anniversaries ranging from year one all the way to year 40—and beyond!
If these images don't convince you to book an anniversary photo shoot, we don't know what will. Not only do they demonstrate the power of love (and a pro photographer's eye) but they also offer plenty of unique anniversary photo ideas to inspire your own.
1. Aloha, Year One
Anniversary: 1 Year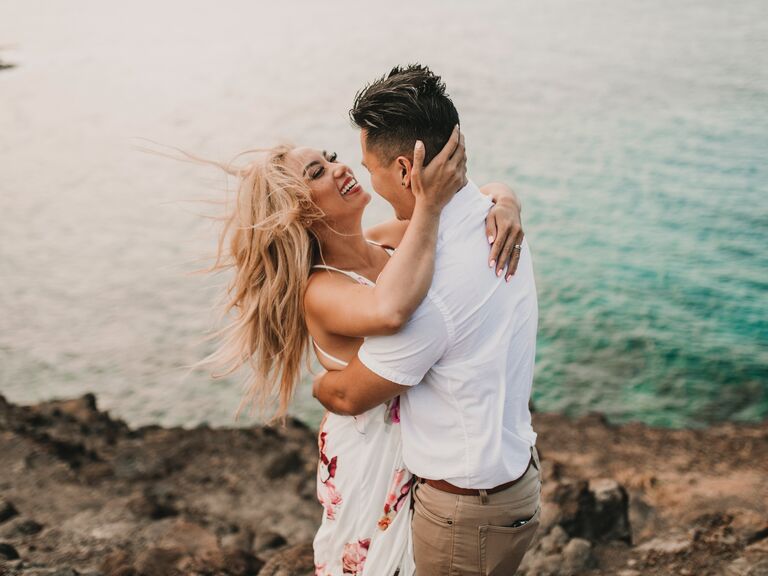 For this couple's first anniversary, they booked a trip to Hawaii to celebrate. Their favorite vacation memory? "Oddly enough, it was the shoot with Trevor," they shared with Flytographer. "Sometimes photo shoots can be painful and dreaded but he made it super fun reminiscing on old memories of our relationship." Clearly, he was also skilled at selecting a gorgeous backdrop.
2. Memories in Moorea
Anniversary: 5 Years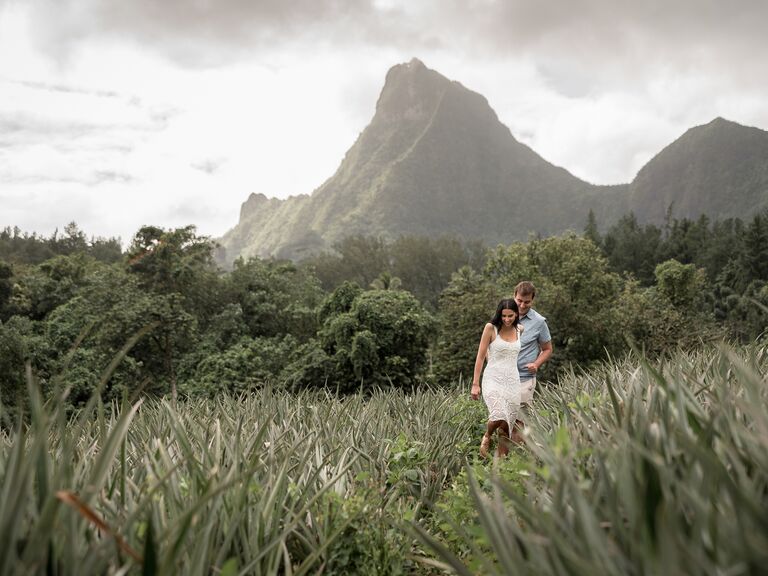 This romantic getaway, for the couple's fifth anniversary, took place in Tahiti. Their anniversary photo shoot doubled as an amazing way to explore the beautiful landscape.
3. City of Love
Anniversary: 10 Years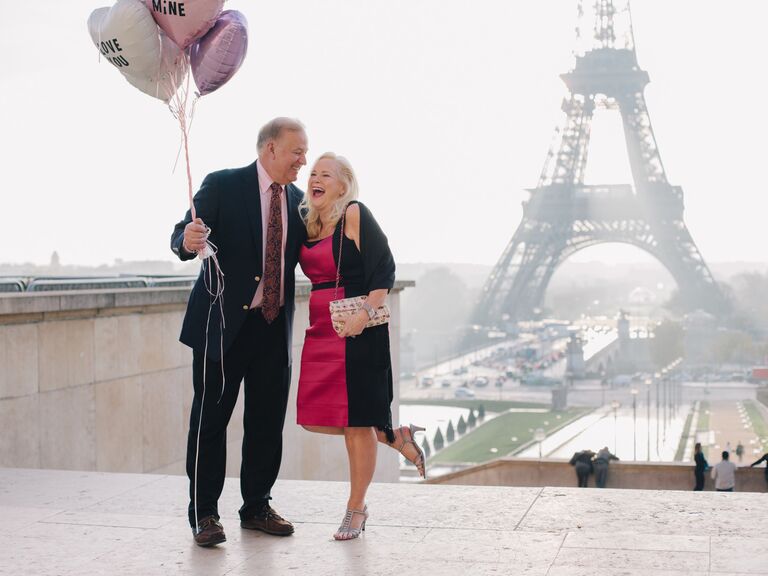 We're saying "oui" to this adorable idea: posing with playful balloons. This couple carried the fun accessories around Paris, France for their 10th anniversary. The trip was a surprise from one partner; the photo shoot was a surprise from the other.
4. Special Plus One
Anniversary: 14 Years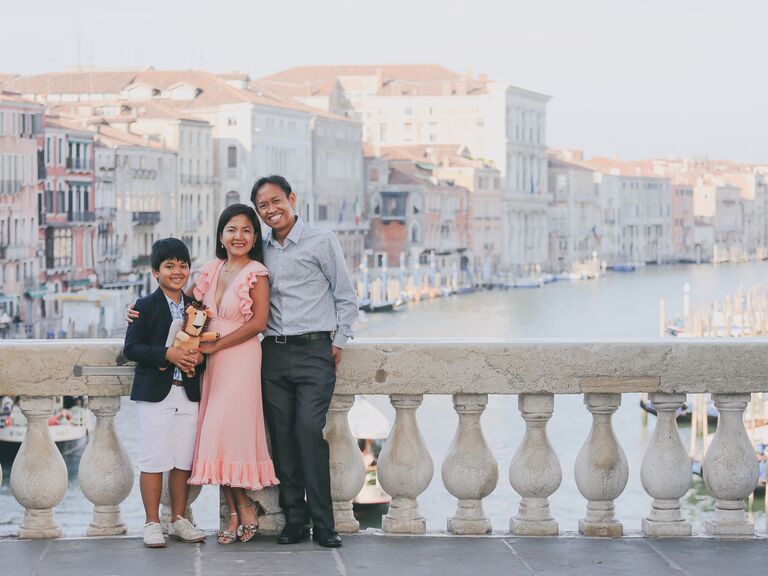 For their 14th anniversary, these two traveled to Venice with their son. The whole family participated in a loving photo shoot there.
5. Snowy Shoot
Anniversary: 1 Year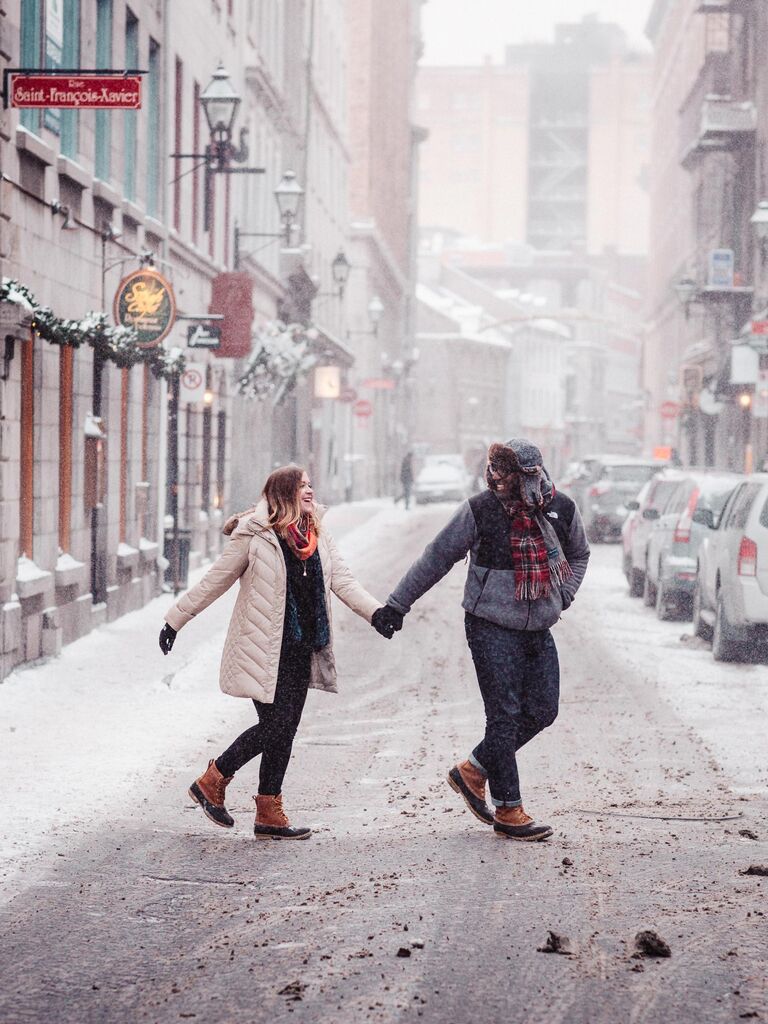 Love shines rain or shine—or snow. This couple's Montreal, Canada, anniversary photo shoot celebrated one year of marriage. The plane ticket served as a "paper" anniversary gift and the weather made for whimsical portraits.
6. Italian Romance
Anniversary: 5 Years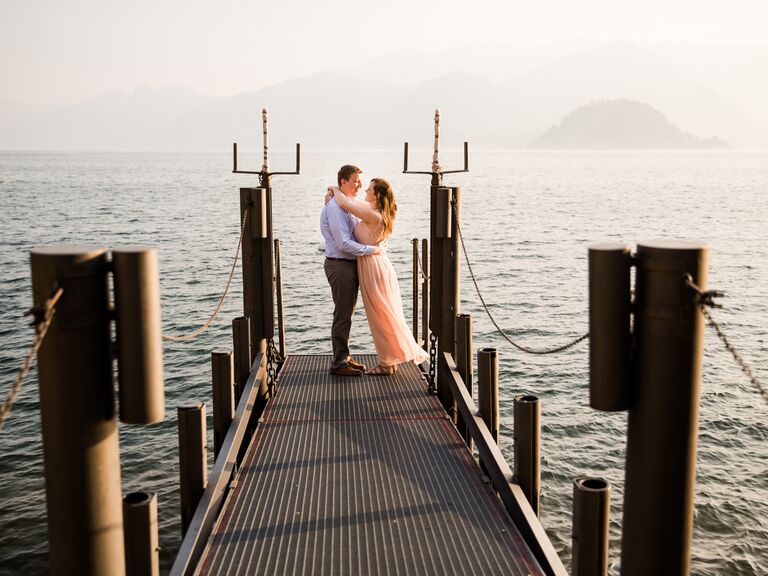 How dreamy is this photo of a couple on their fifth anniversary trip? "Marian was absolutely incredible to work with! You could tell she was passionate about capturing special moments for people," they gushed about their Flytographer.
7. Delightful Decade
Anniversary: 10 Years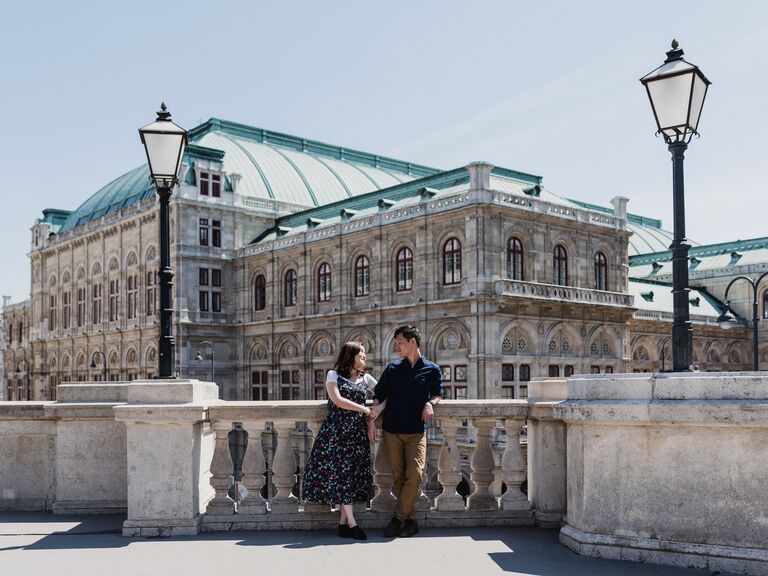 This 10th anniversary photo shoot took place in the city of Vienna, Austria, where the couple posed in front of stunning architecture.
8. Joy Ride
Anniversary: 20 Years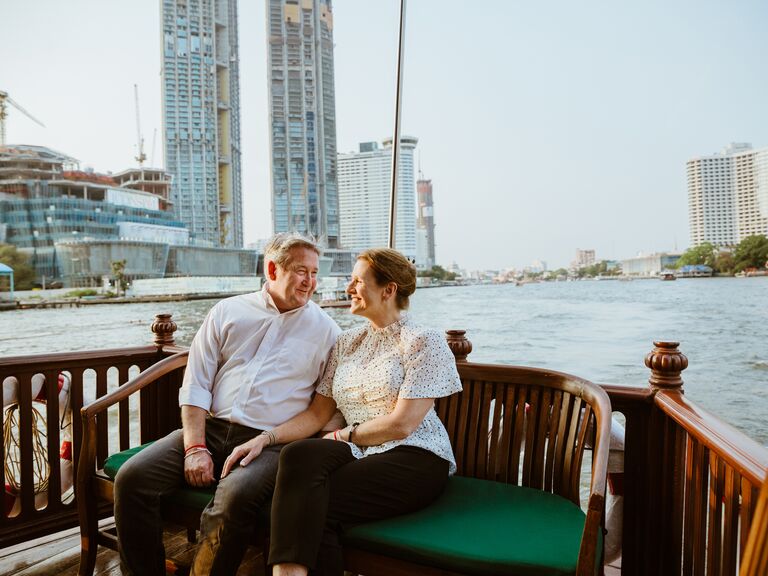 There's nothing like a boat ride for two—especially when it's in Bangkok, Thailand, celebrating a couple's 20th anniversary.
9. Coastal Bliss
Anniversary: 20 Years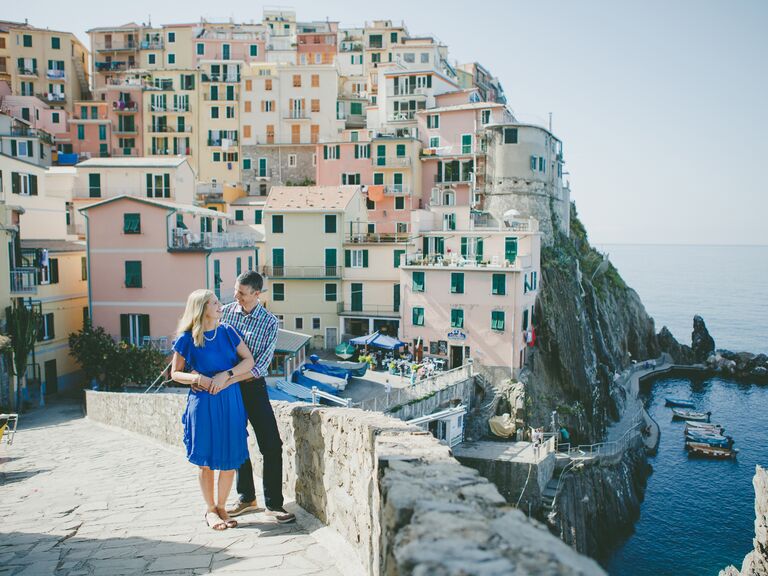 The Italian coastline proved a perfect setting for this couple's anniversary photo shoot. "The pictures are some of the best we've had and captured our 20th anniversary perfectly," they shared on Flytographer.
10. Magical Moment
Anniversary: 1 Year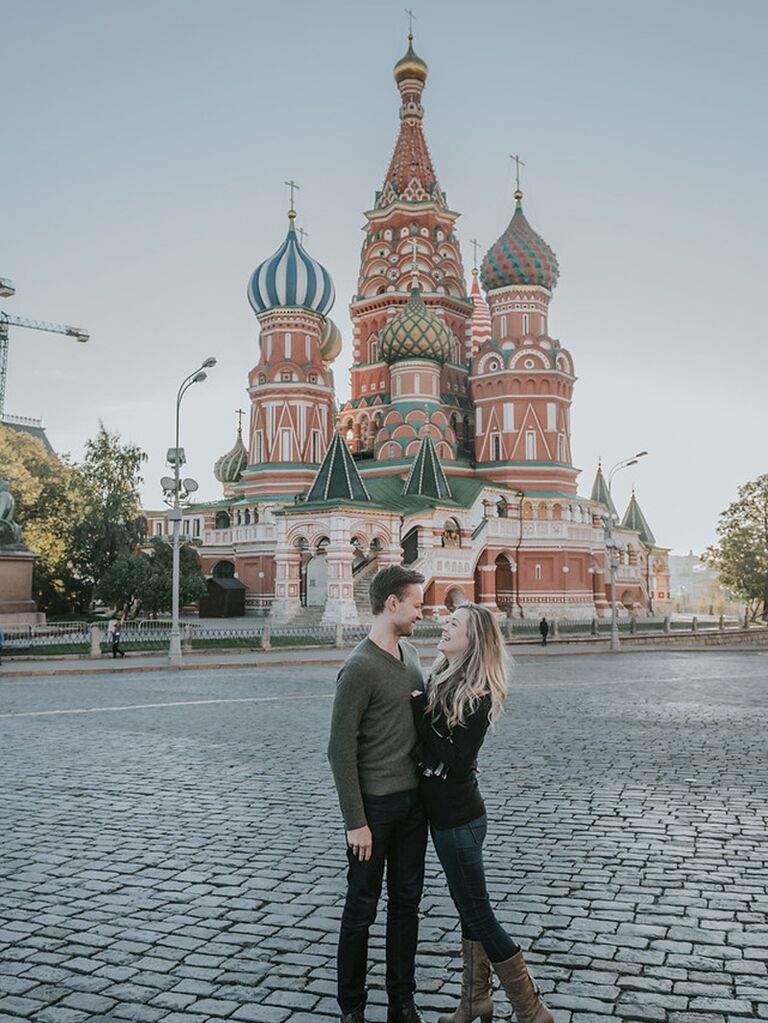 Moscow's landmarks made these first anniversary photos extra magical.
11. Proper Proposal
Anniversary: 39 Years
This couple's special photo shoot in Spain came with the sweetest surprise. "After 39 years of marriage, there's no doubt that Charlotte, the sweetest girl I've ever met, is the only one for me. The problem is I never formally proposed over 40 years ago when I gave her my engagement ring," the husband told Flytographer. "A reproposal on our 39th anniversary while in Madrid was an opportunity to correct that long-standing oversight."
12. Destination Dance
Anniversary: 2 Years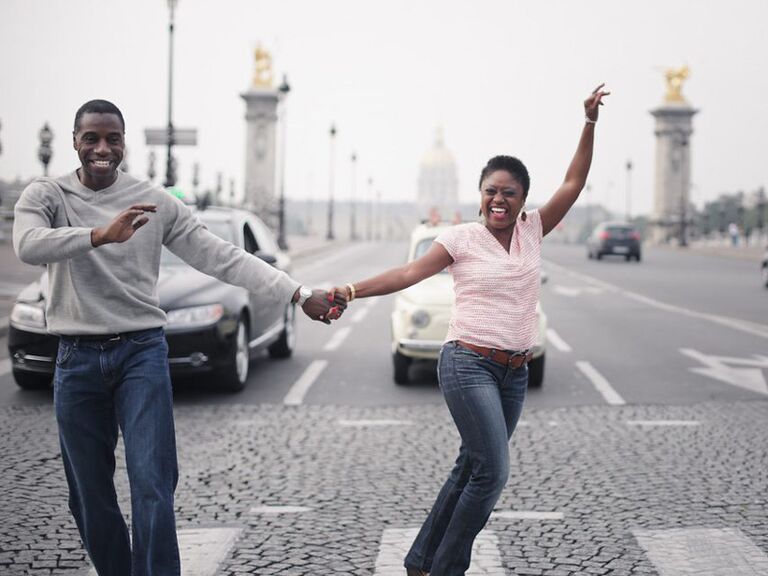 This couple was so happy with their second anniversary shoot in France, they broke out in dance in the middle of the street. Naturally, their moves resulted in some truly awesome photographs.
13. Eyes Only for You
Anniversary: 1 Year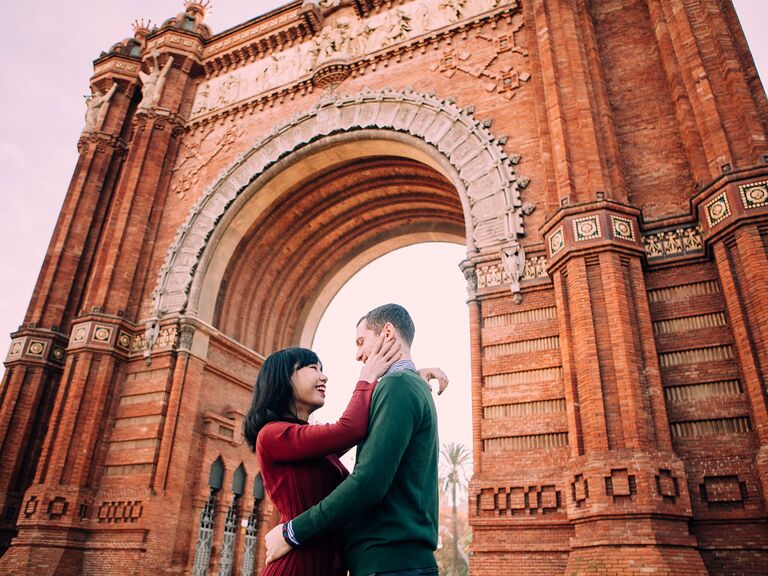 These two took a break from sightseeing in Barcelona, Spain, to gaze at one another—a pose their Flytographer captured beautifully. The heartwarming photo shoot honored their first wedding anniversary.
14. Two People, Three Decades
Anniversary: 30 Years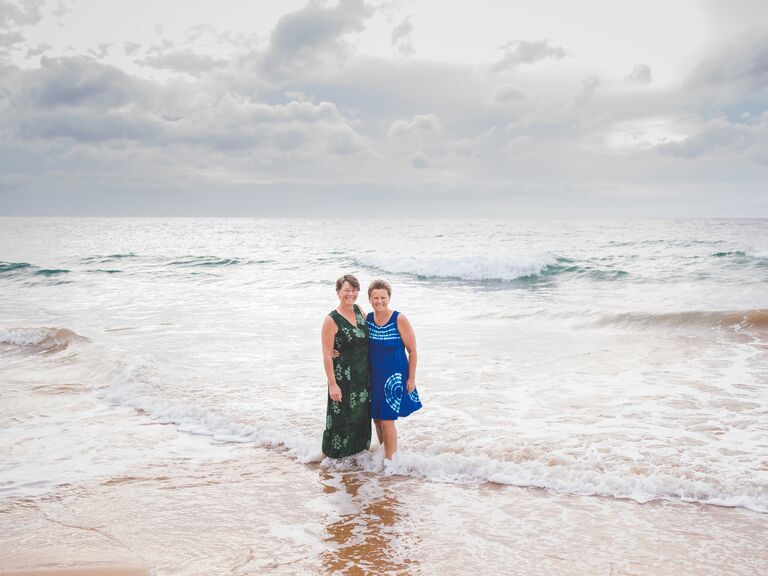 "Photos are the only thing that help us remember all the special moments in our life," this couple shared with Flytographer. That's why they chose to capture their 30th anniversary with a photo shoot in Hawaii.
15. Second Honeymoon
Anniversary: 42 Years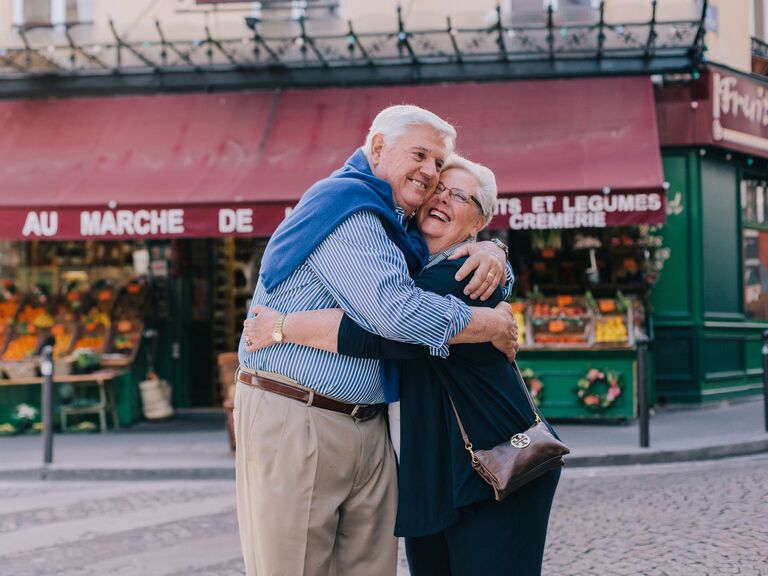 Now those are the faces of a duo celebrating a whopping 42 years of marriage. The couple took to Paris, France, for a second honeymoon—how amazing is that? Of course, they had to capture the occasion with some unforgettable photos.
16. Meaningful Souvenir
Anniversary: 10 Years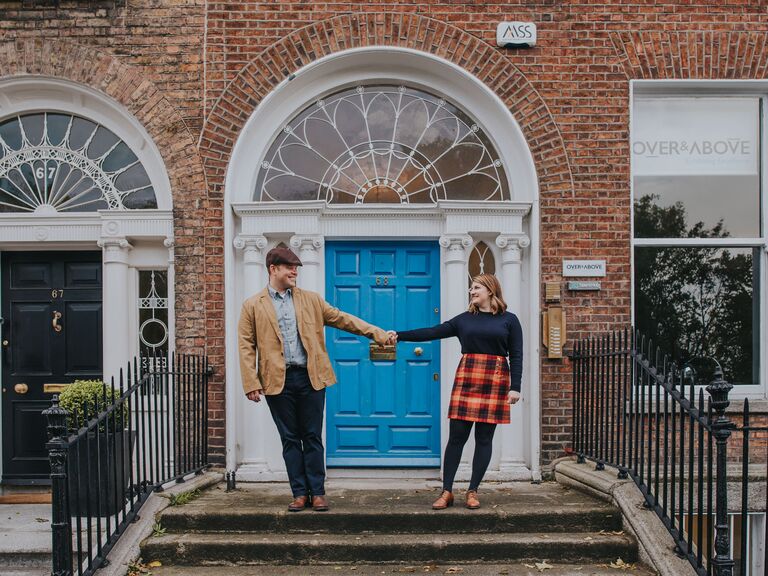 "This is the absolute best souvenir for our 10th anniversary," this couple shared, referring to the photos they took during a shoot on a trip to Ireland.
17. Flower Power
Anniversary: 5 Years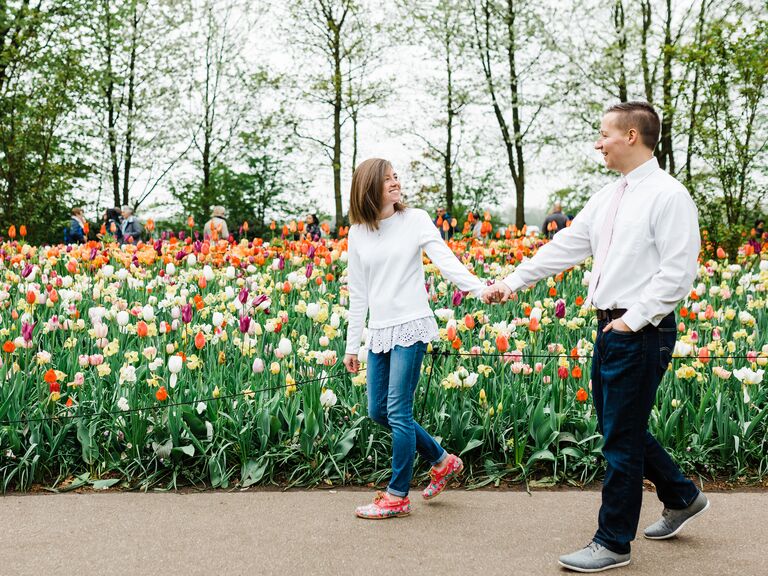 This couple chose festive attire to complement their springtime destination: Amsterdam in The Netherlands. Their portraits commemorated their fifth anniversary.
18. Reunion to Remember
Anniversary: 40 Years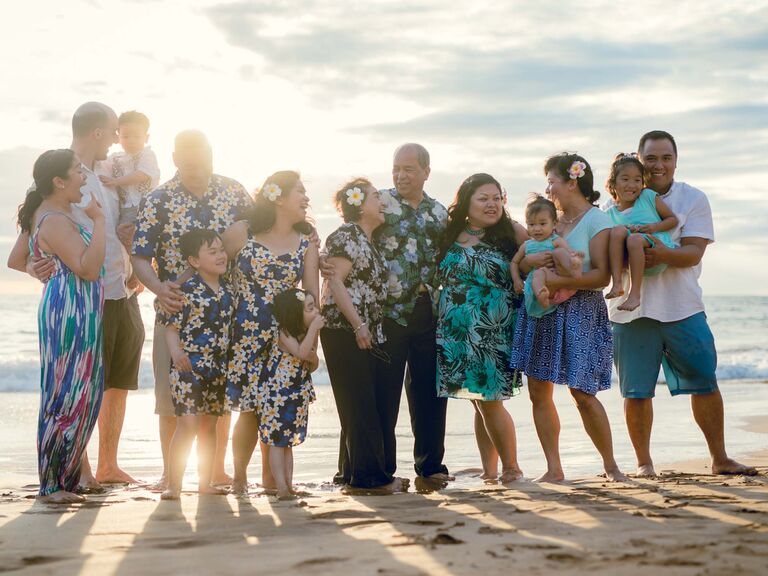 Why not get extended relatives involved? Spending time with their many loved ones made this couple's 40th anniversary trip to Hawaii—and the accompanying photo shoot—a dream come true.
19. Wonderful Wanderings
Anniversary: 10 Years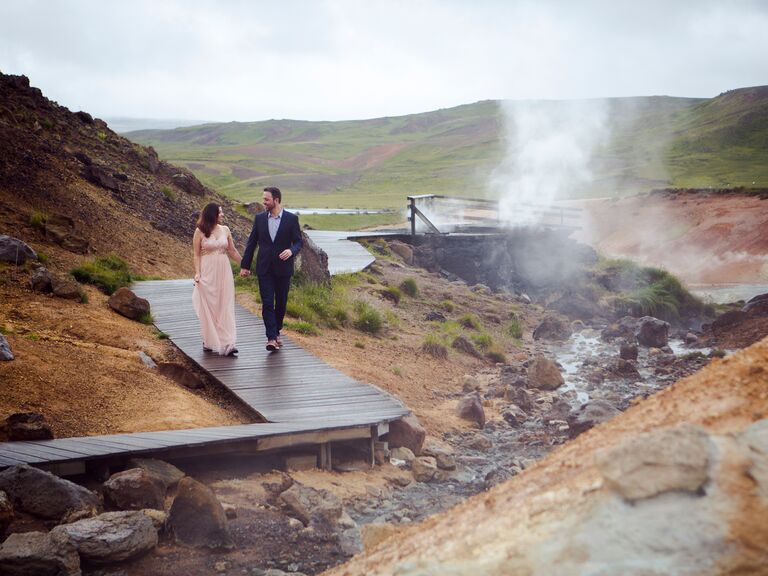 To celebrate a wonderful 10 years of marriage, this couple ventured to a location filled with wonder: Reykjavik, Iceland.
20. When in Rome
Anniversary: 10 Years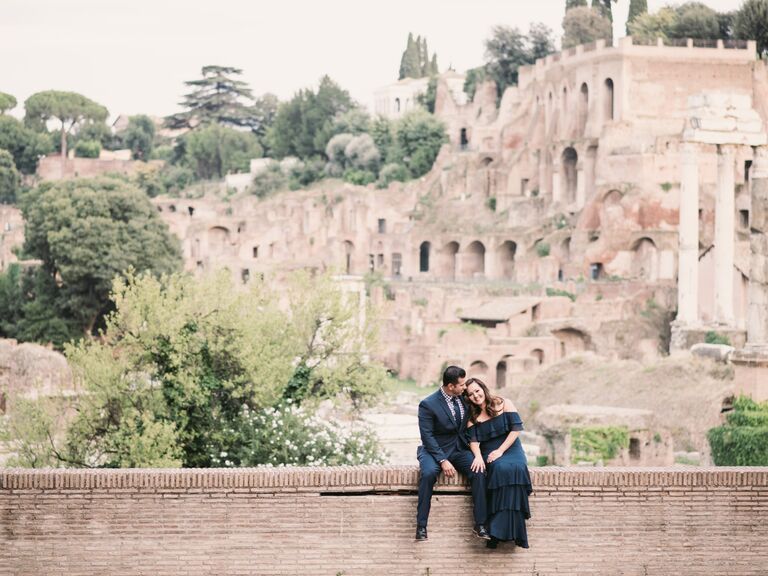 When in Rome, Italy, for your 10th anniversary, elegant couple portraits are basically a must.
21. Year After Year
Anniversary: Every One!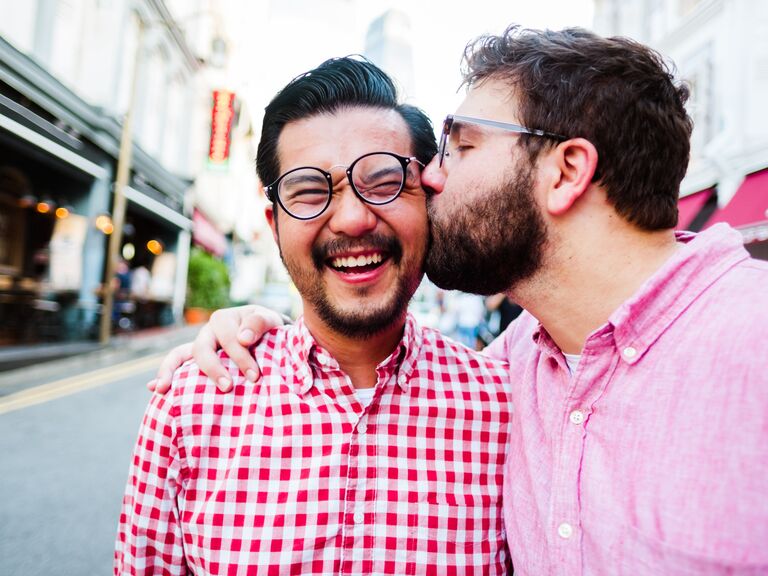 Why limit yourselves to one anniversary photo shoot? These two travel the world every year and always hire a Flytographer to document their global love.