18 Creative Engagement Photo Props
Show off your personality and create some truly memorable snaps.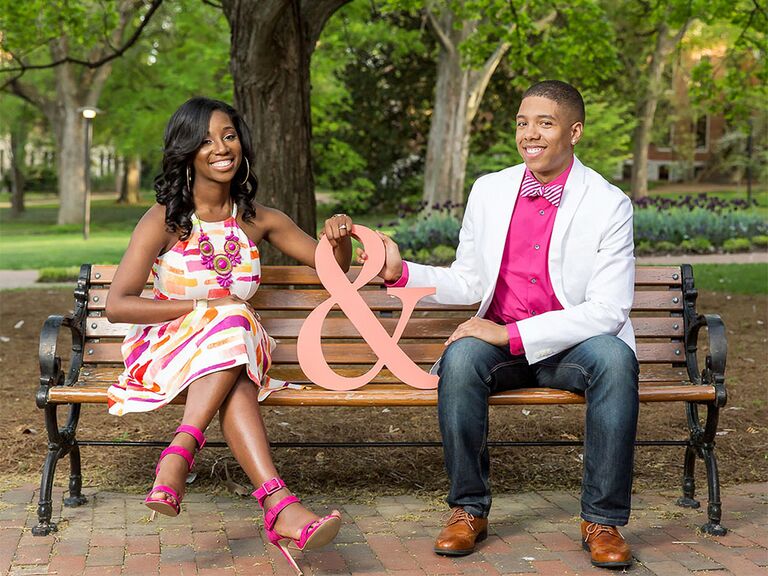 We have included third party products to help you navigate and enjoy life's biggest moments. Purchases made through links on this page may earn us a commission.
You said yes to forever and now you're ready to take photos to celebrate all that's to come. Engagement photo props can make your session extra special and are also a fun way to share your new relationship status via a social media announcement. Many couples also use it as an opportunity to take save-the-date photos and incorporate the wedding date or destination in their props. They can also help you relax and show off your personalities as you create frame-worthy shots. Whatever your needs, there's a photo prop for you. Shop 18 of our favorite must-have props for your engagement photo shoot.
Mod Party I Said Yes Balloon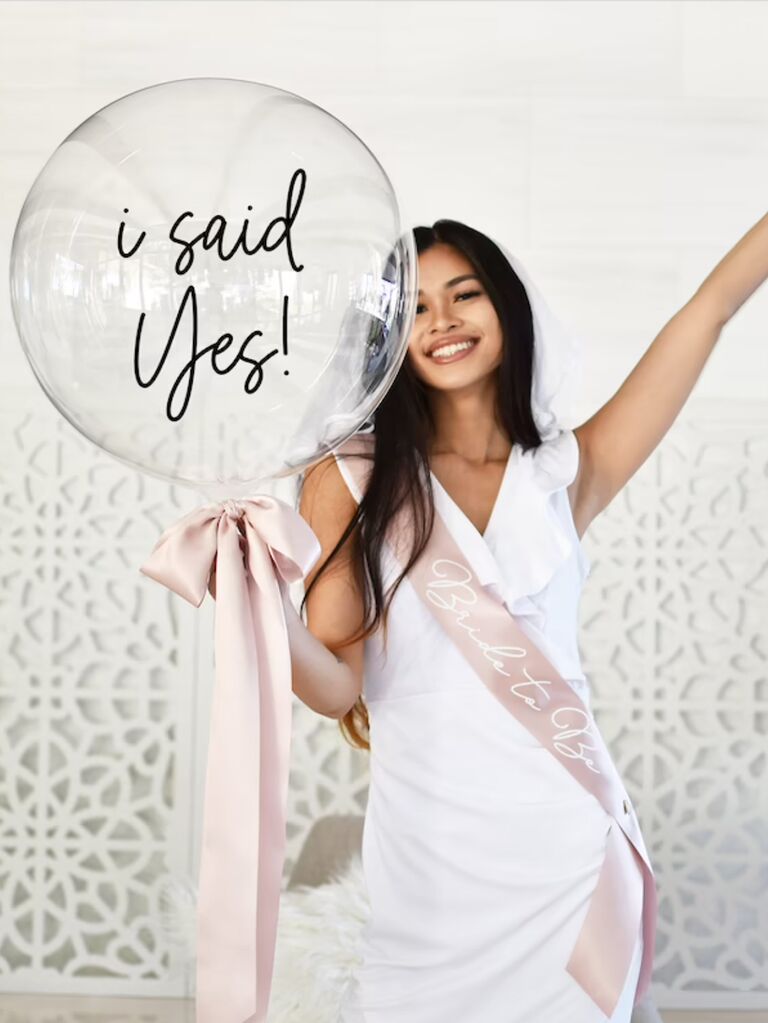 A simple, elegant balloon adds both whimsy and a touch of class to your engagement photos. Black vinyl script on a clear balloon also means it will match any pre-planned theme or outfits you have in mind. Just note when ordering you'll have to specify if you want the balloon included or just the decal.
Hiding Place Boutique Engagement Photo Prop Scrabble Tiles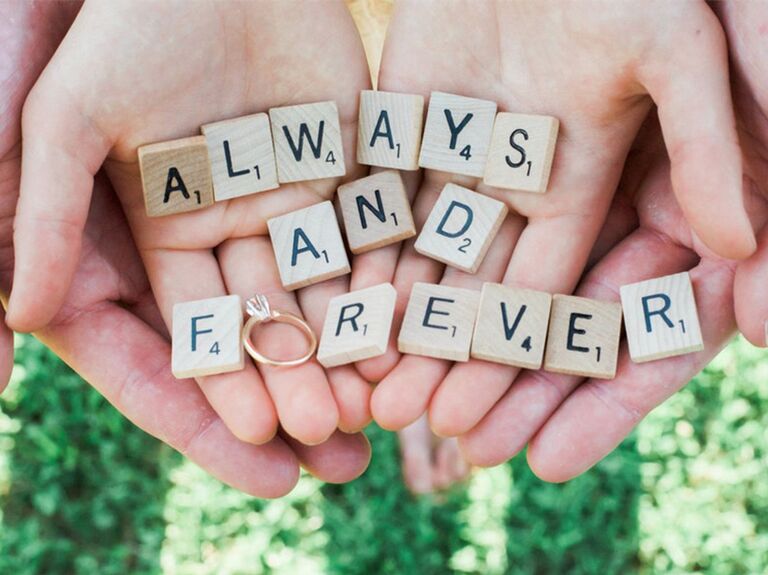 Scrabble tiles are a popular way to share engagement details, but you don't have to ransack your game closet to do it. This Etsy store sells sets of tiles that spell out a variety of sayings. Many also let you use an engagement ring to stand in for the letter O, like "f-rever and always." Tiles are a mix of new, vintage and old.
Z Create Design Ampersand Sign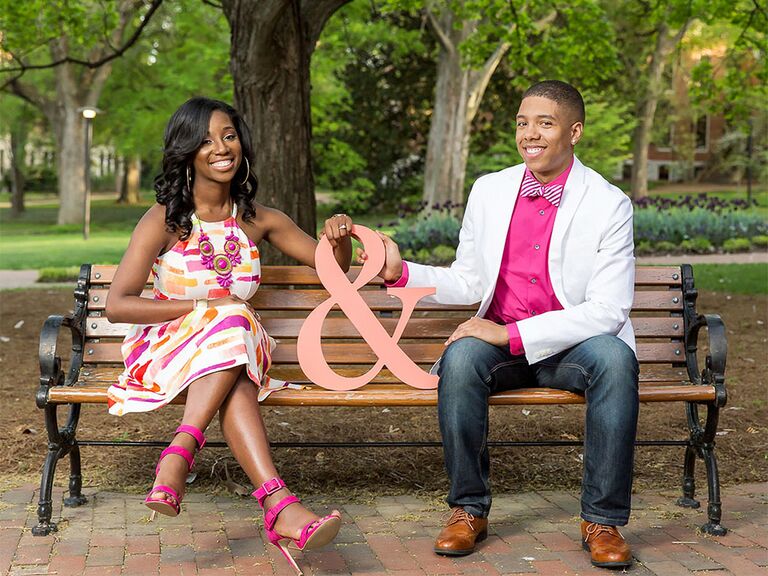 Announce that you're tying the knot with a simple ampersand sign between you and your future spouse. This is a fun prop that can be used throughout all of your wedding parties and activities.
The Peculiar Pelican Co. I Stole Her Heart Wood Engagement Signs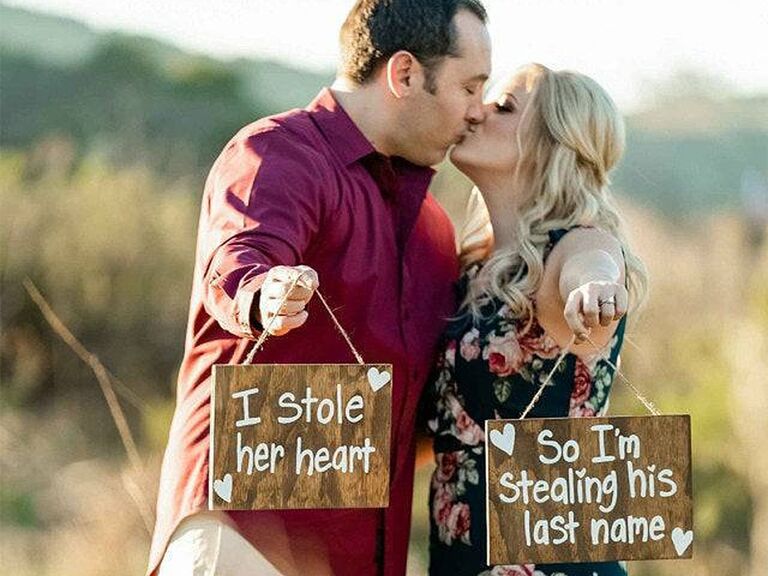 Let these rustic wooden signs do the talking for you in your engagement pictures. Twine hangers allow you to hold your signs up close in front of the camera while you stand and pose in the background.
Lizzie and Co Designs Our Humans Are Getting Married Pet Save the Date Sign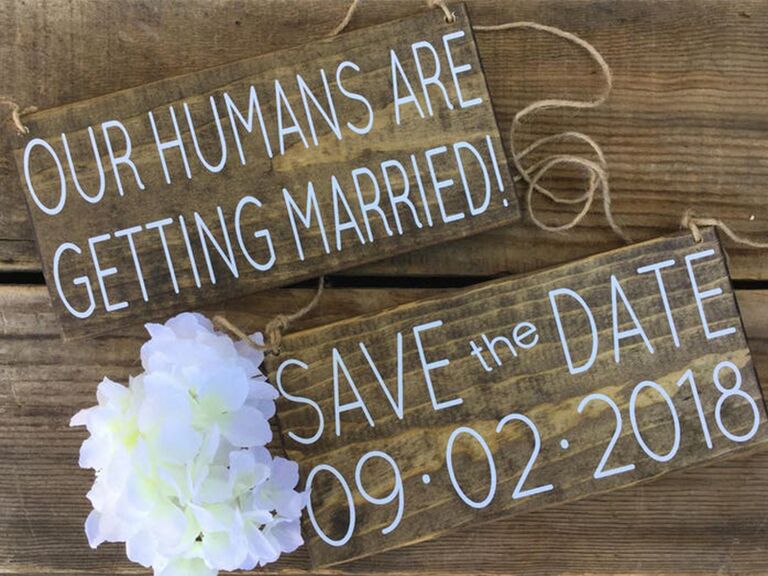 For the parents of four-legged friends, these photo prop signs are paw-fect for your engagement photos. Have your fur babies announce the big news to all your loved ones—you don't even have to be in the picture if you don't want to.
Urban Farmhouse Tampa Save the Date Football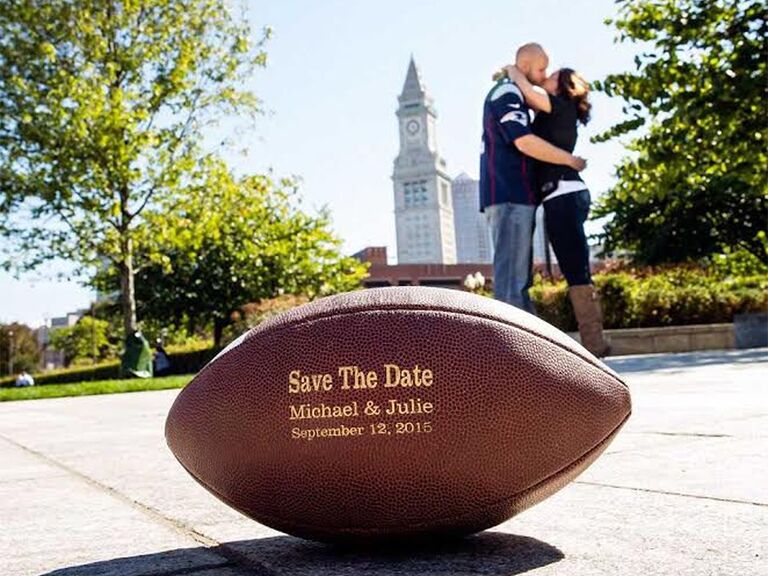 Engagement photoshoots are also a great way to incorporate some of your interests as a couple. Sports fans will love this save-the-date photography prop. Choose from a handful of fonts and three different types of footballs to bring your sports-themed engagement announcement dream to life. The prop will also become a keepsake to cherish for years to come.
The Painted Hedge Save the Date Sign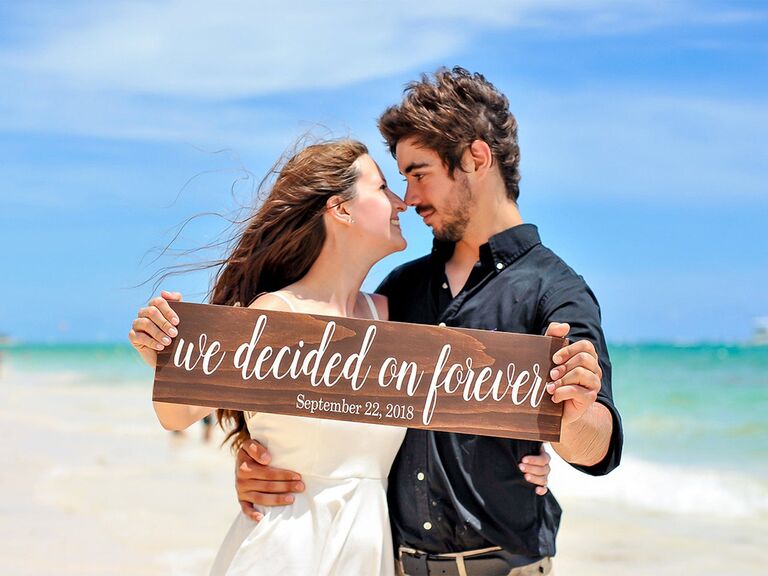 Let the world know you've decided on forever together. With this sign, you have the option to personalize it with a date, allowing your engagement photos to double as save-the-date photos if you choose. Or, if you haven't quite decided on your wedding date yet, you can leave it off.
The Knot Shop We're So Engaged Acrylic Cake Topper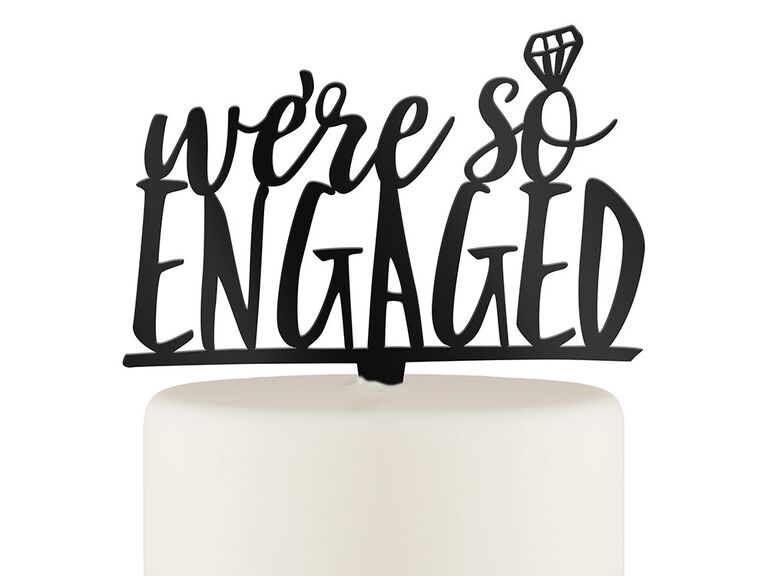 You've heard all about wedding cake toppers, but why not announce your engagement with a personal engagement cake? This cake topper would be a fun way to share your engagement with your loved ones, and you can repurpose it for your engagement party.
The Painted Pelican Co. Destination Wedding Sign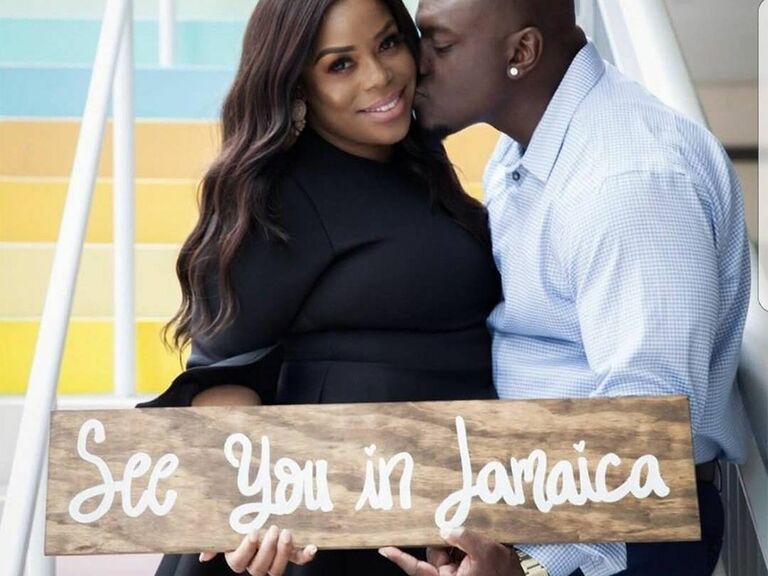 These hand-painted, rustic signs can be customized with any destination so you can reveal the location of your big day to your loved ones. It will get guests excited and look perfect on a travel-themed save-the-date.
Party Touches Pink & Rose Gold Hearts Confetti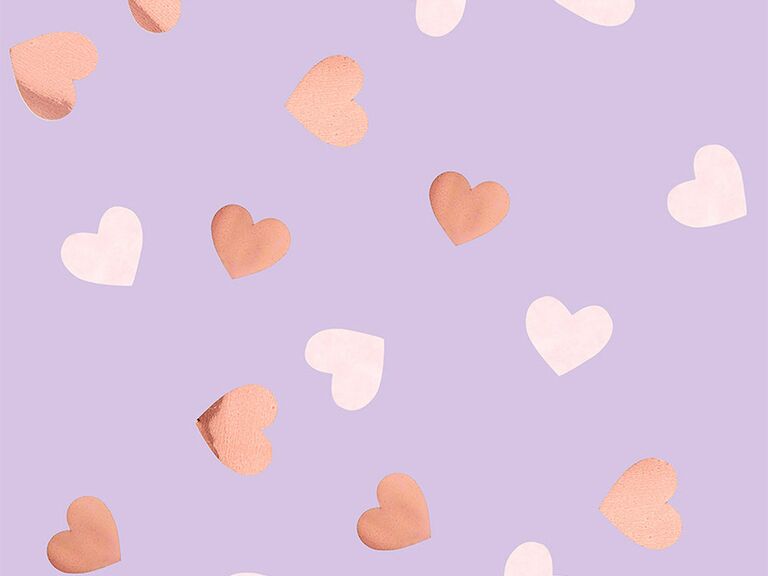 Confetti is a must-have for any celebration, and this pink and rose gold option will look classy and beautiful as part of your engagement shoot. Toss it in the air together for a festive feel, or use it on a flat surface as a more subtle prop. Extra confetti also doubles as an easy bridal shower decoration.
Canine Circus My Dads Are Getting Married Dog Bandana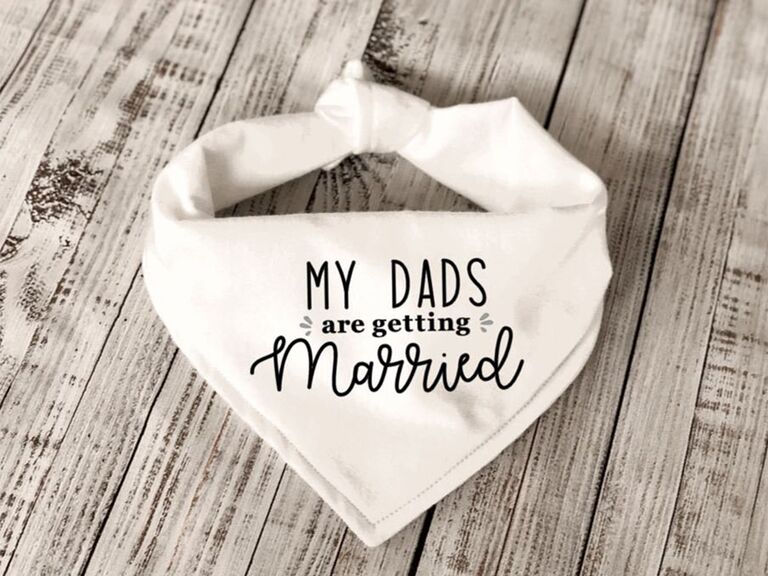 For many couples, an engagement photoshoot wouldn't be complete without a beloved dog or cat. This charming bandana lets them get in on the fun—and even make the big announcement themself. It can be worn in the front or back depending on how you want everyone posed.
Chalk Junkie Chalkboard Heart Wedding Props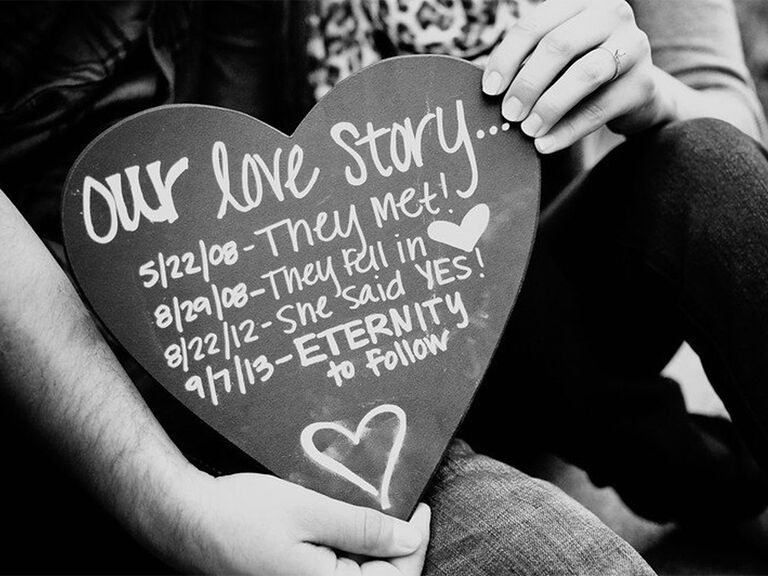 Not sure what you want your sign to say? This chalkboard gives you lots of options. You can even change up what it says throughout the shoot: one version for an announcement, another for a save-the-date. Repurpose it as a wedding countdown clock for your home or wedding shower afterward.
Wedding Craft Shop Save the Date Sign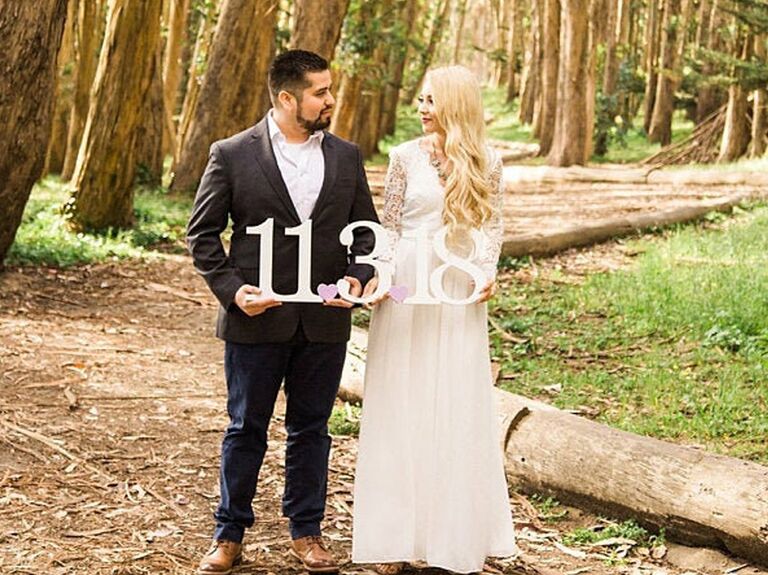 Keep things short and sweet with this personalized date sign. With small pops of color, it's vibrant in all the right ways and will make a wonderful piece of wall art in your home. Don't forget to ask your wedding photographer to capture a photo of you with the sign on your wedding day as well.
Swanky Party Box Burlap Engayged Banner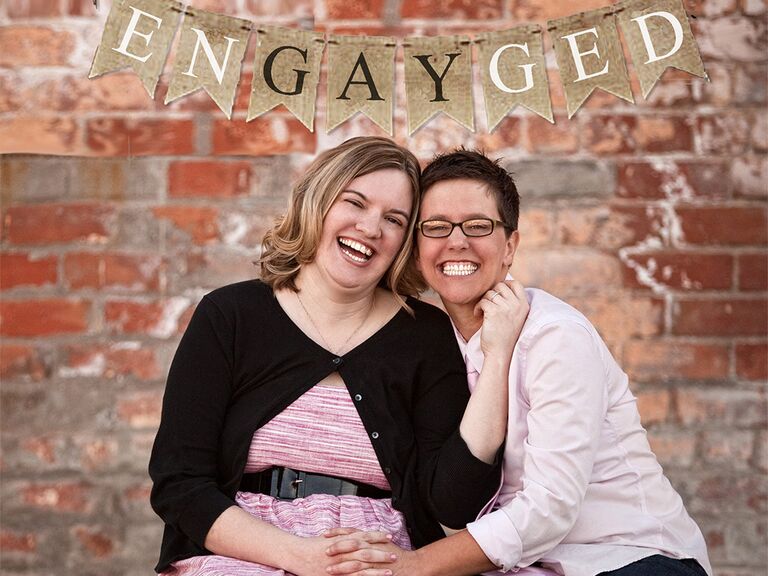 Bunting immediately makes any event feel more festive. The burlap also adds a bit of rustic charm. Hold it between you during the shoot, pose in front of it for an easy backdrop or display it at an engagement party.
Colorful Gal Shop Photo Save the Date Balloon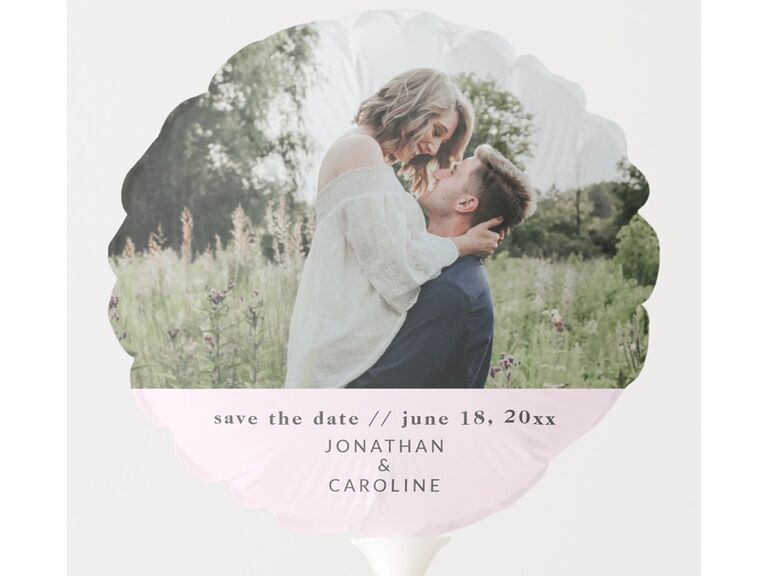 This double-sided balloon is perfect for a save-the-date announcement as part of your engagement photos. The design is minimal and unique, and you can choose from various colors to personalize the balloon to your needs. A photo from your first date or early relationship days would be an extra sweet touch.
The Painted Pelican Co. Blended Family Engagement Sign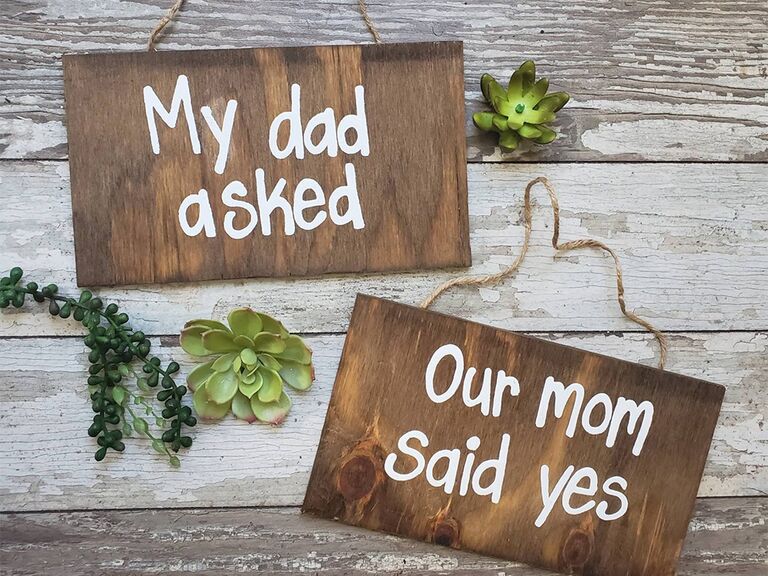 For blended families, marriage is way more than just two adults coming together. These wooden signs get everyone involved in the engagement photo session. No two families are the same, so this seller can customize these signs to fit your family's specific needs.
DJ Designs Company Save The Date Mug Set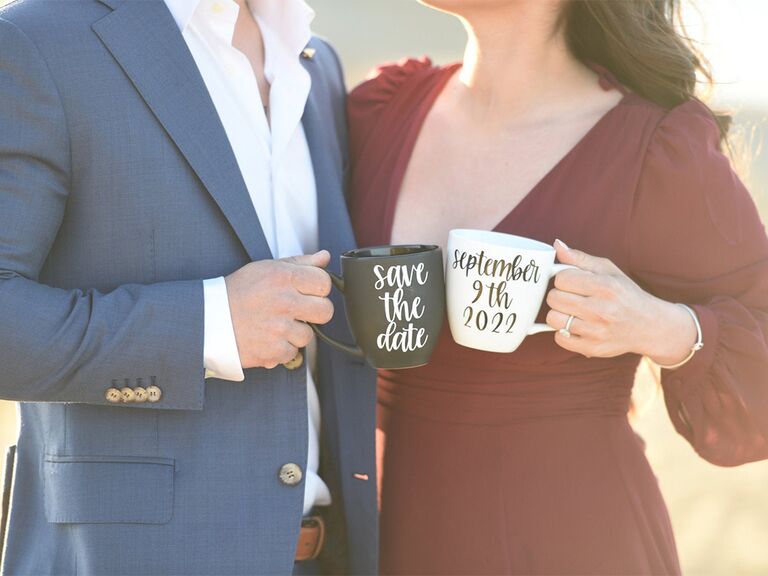 Coffee shop engagement shoots are a great way to celebrate a favorite spot (or just a shared love of caffeine). If you're going with this oh-so-cozy photo shoot idea, consider custom mugs that let you share your wedding date.
Summit Custom Cutouts Personalized Conversation Heart Door Hanger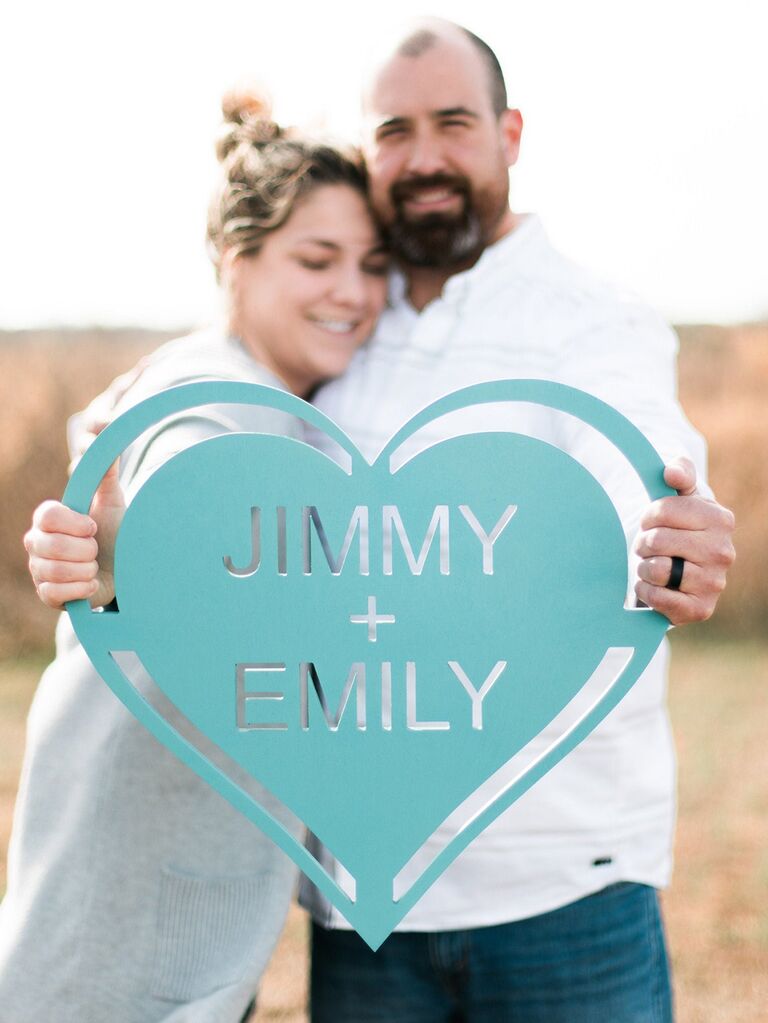 Use this heart cutout as a prop for your engagement shoot then hang it up as a piece of unique decor. With over 20 colors and stains to choose from, it's easy to find an option that will match your wedding colors or home design.