26 Engagement Photo Props That Showcase Your Personality
Props for a photo shoot as unique as you and your partner.
We have included third party products to help you navigate and enjoy life's biggest moments. Purchases made through links on this page may earn us a commission.
Taking engagement photos with your partner is a wonderful way to spend time together and celebrate an exciting new chapter in your lives. While you're picking out the location and your outfit selections for your photo shoot, don't forget to also select a few engagement photo props for your pictures. Props provide an extra touch of personalization and creativity to your photos. This can include bringing along your guitar, posing with a set of vintage luggage or holding a set of quirky signs that capture your personality. There are also props for your pets so they can join in on the fun too. We found 26 prop ideas for engagement photos that are sure to inspire your upcoming photo session with your professional engagement photographer.
In this story:
19 Cute Engagement Photo Props to Buy Right Now
From silly sayings to romantic touches, props help to enhance your photoshoot. Here are just a few of our favorite props for engagement photos you can purchase online.
Rustic Personalized Wood Engagement Sign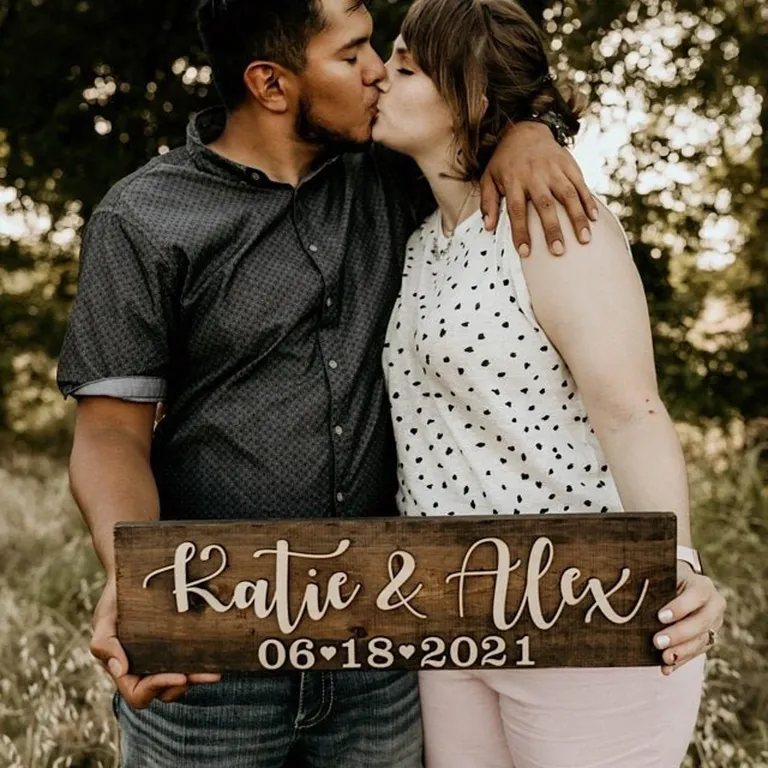 Show off your names and engagement date with a rustic wood sign. Choose from different stain options to match your surroundings. This piece can also double as sweet wall decor in your home.
Festive Status-Upgrade Wine Glasses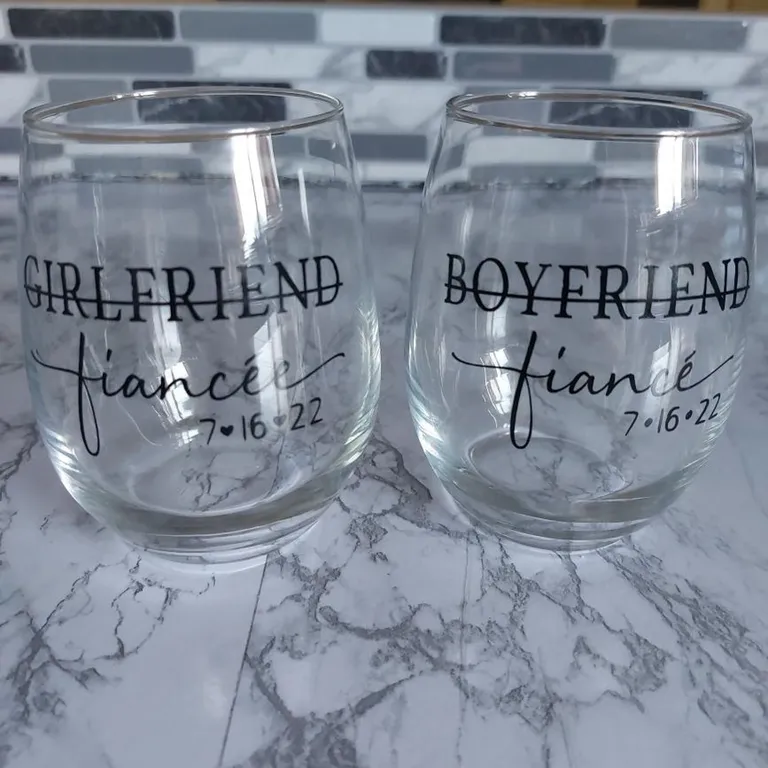 Show off your newly upgraded status with these adorable wine glasses. Fill with your favorite beverage and make a toast during your engagement photo shoot.
Coffee Mug Engagement Photo Prop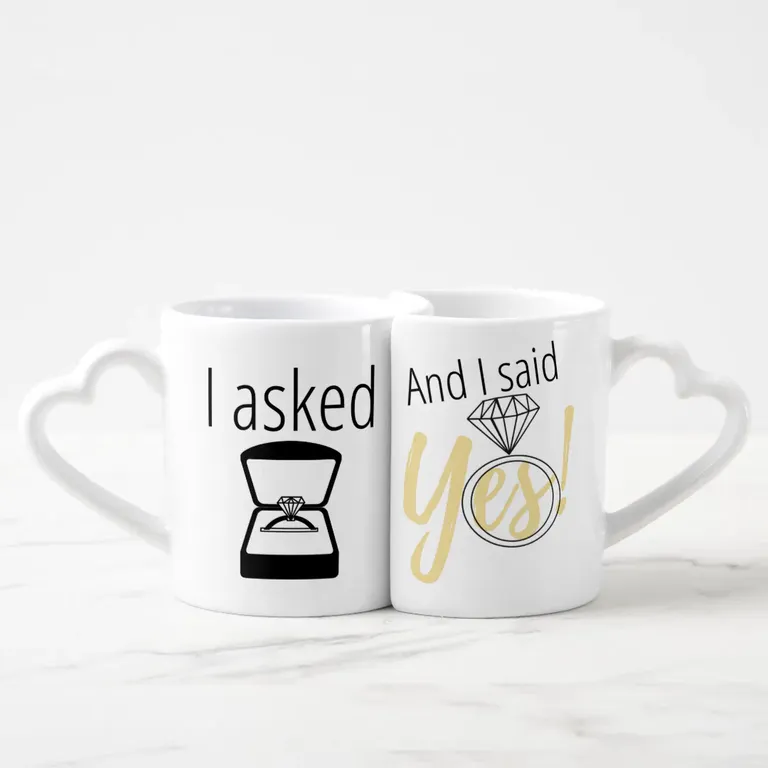 This prop is perfect for coffee lovers. Two adorable coffee mugs feature the phrases, "I asked" and "I said yes" with heart-shaped handles.
Adorable "We're Engaged" Wood Sign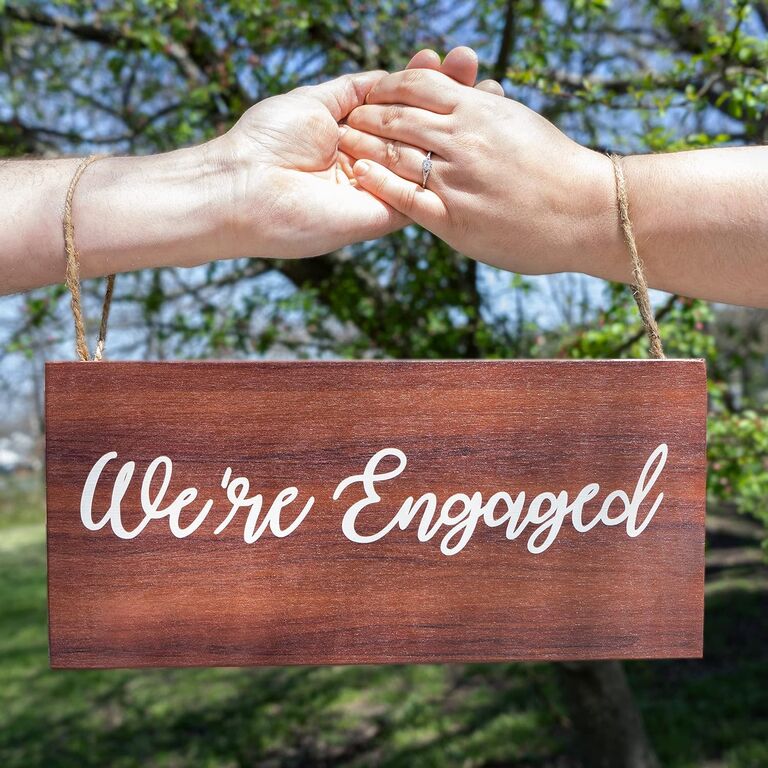 Hold this simple wood sign during your engagement photo shoot with the words "We're engaged." Two jute string loops make it easy to hold as you pose together for photos.
Pet "I Do, Too" Engagement Prop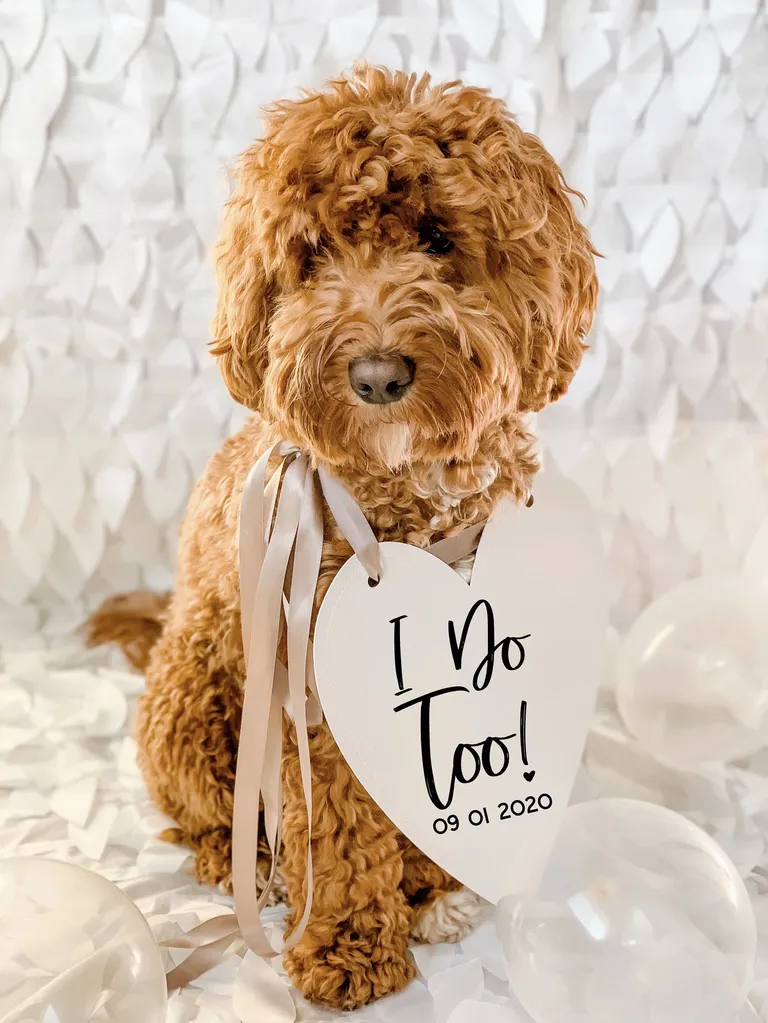 Your new life together includes the two of you and your furry friend. The cute engagement photo prop lets everyone know your pup is ready for I do too.
Quirky Engagement Photo Glasses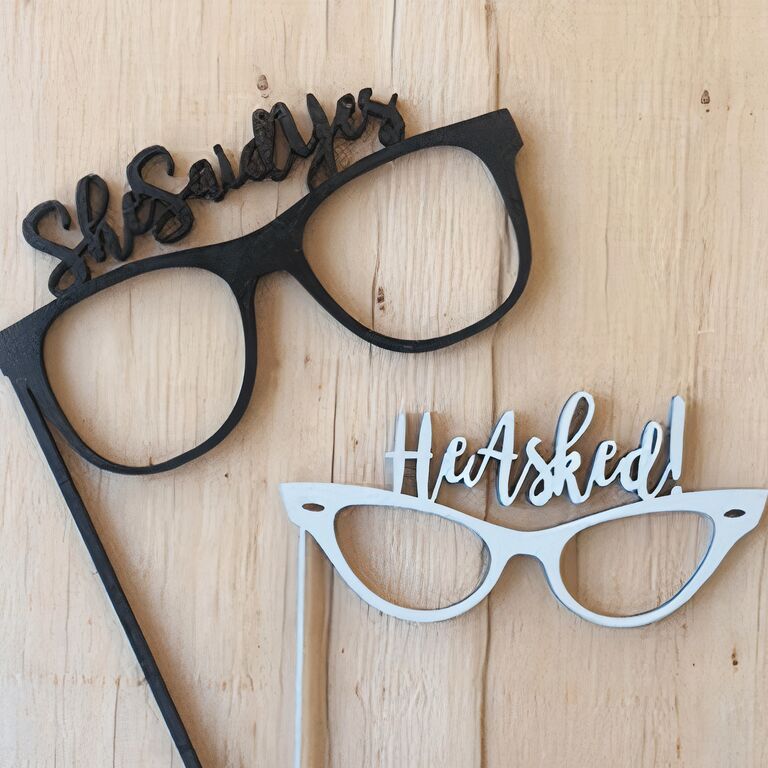 Include this fun and quirky prop in your engagement photos. We love the vintage style of these glasses that are topped with the words, "He asked" and "She said yes."
"She Said Yes" Baseball Prop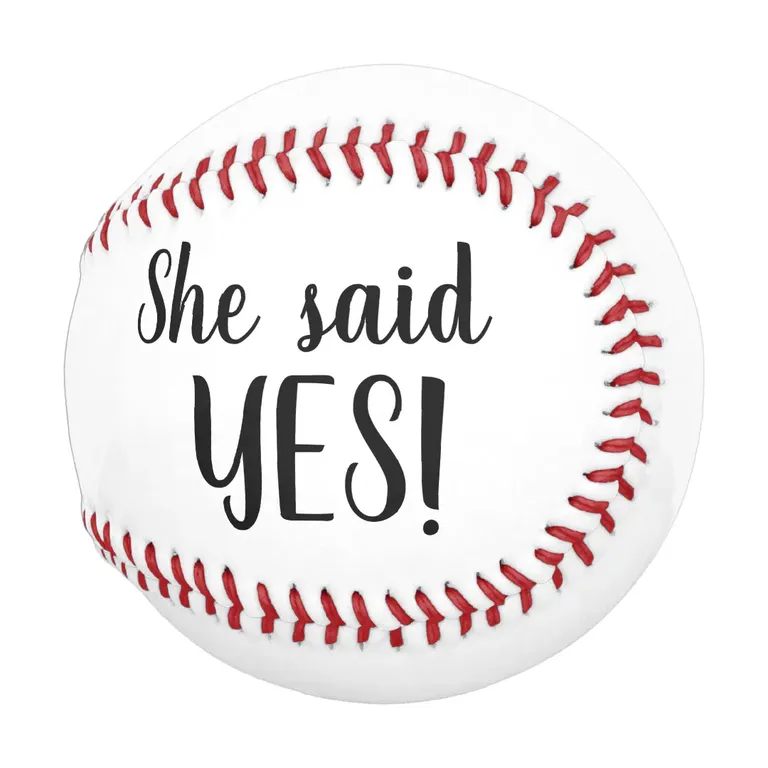 This creative engagement photo prop is perfect for baseball fans. Hold up this baseball that reads "She said yes" as you and your sweetie smooch in the background.
Whimsical Engagement Photo Sign Set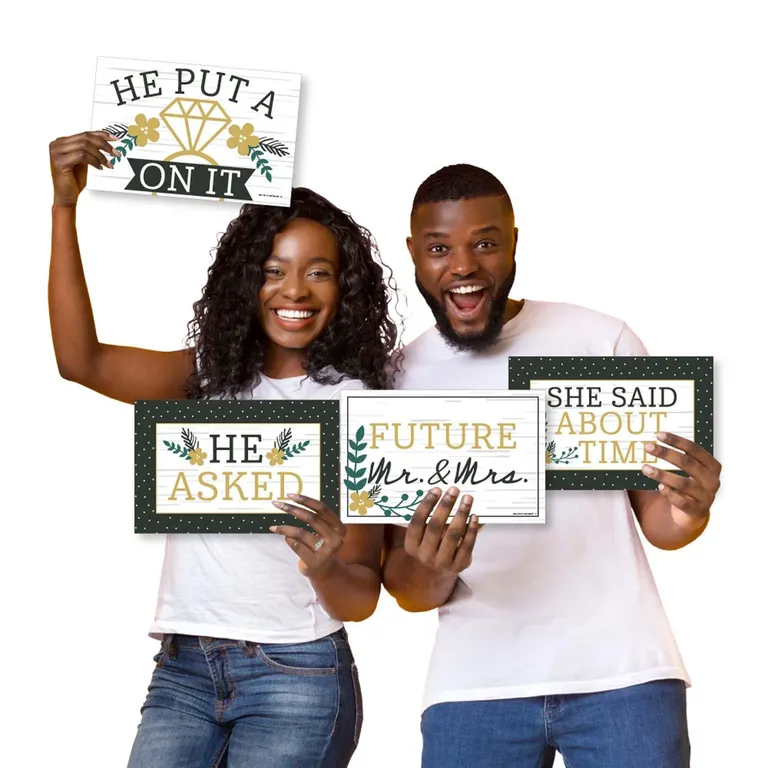 This cute set of 10 engagement signs lets you and your partner mix and match different phrases during your photo shoot. From silly to sweet, these signs show off your personality.
Punny "Perfect Pear" Engagement Sign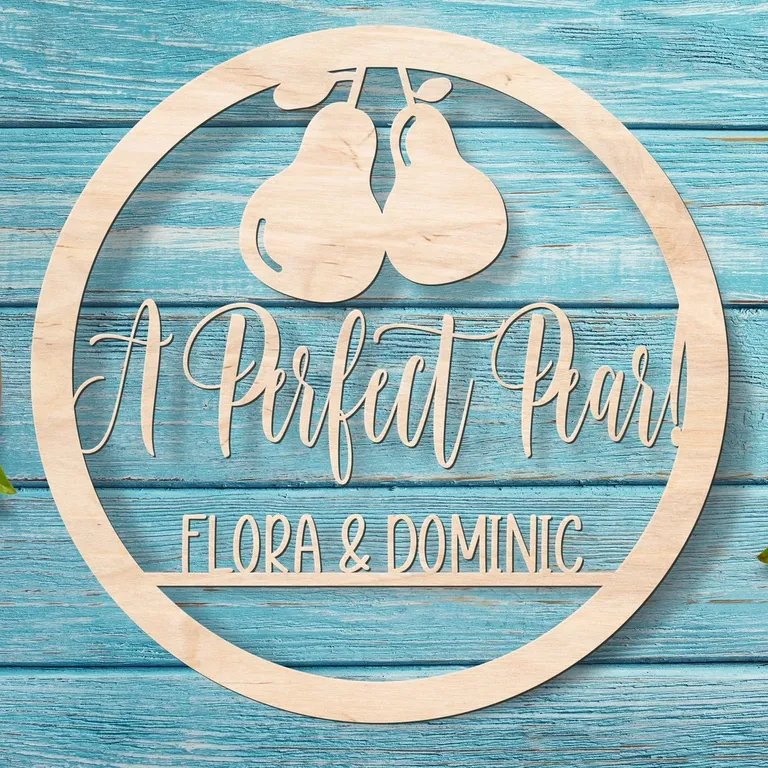 We love the fun play on words on this Etsy engagement photoshoot prop. Let everyone know you and your partner are the perfect "pear" with this custom wood sign.
"About Damn Time" Heart Signs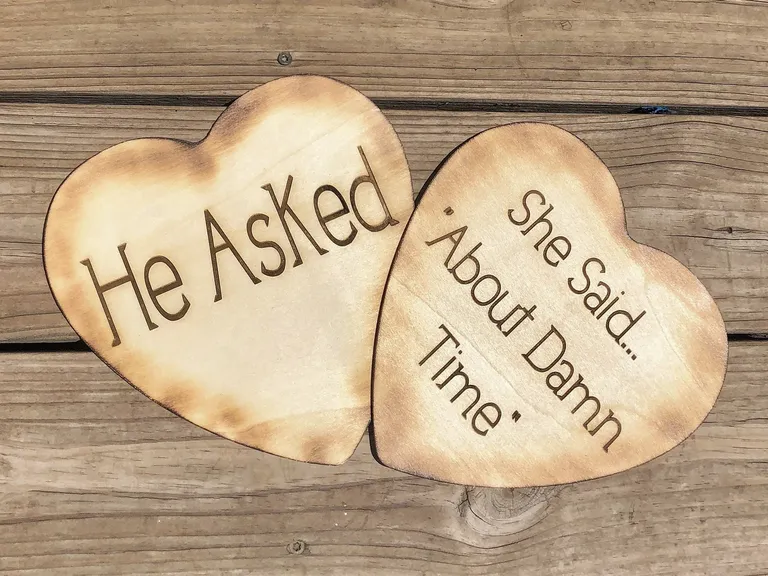 Did someone take their sweet time popping the question? Add a little humor to your engagement photoshoot with these rustic heart signs.
Puzzle Pieces Photo Prop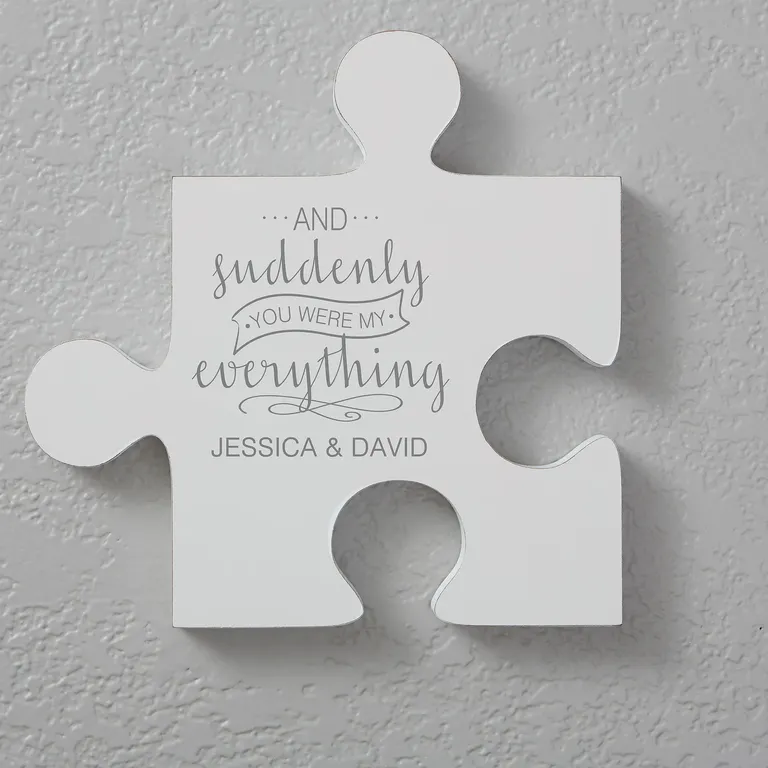 Join together two customized puzzle props to symbolize how well you complete each other. Then hang these romantic pieces in your home to remember your engagement.
Pet Bandana Engagement Prop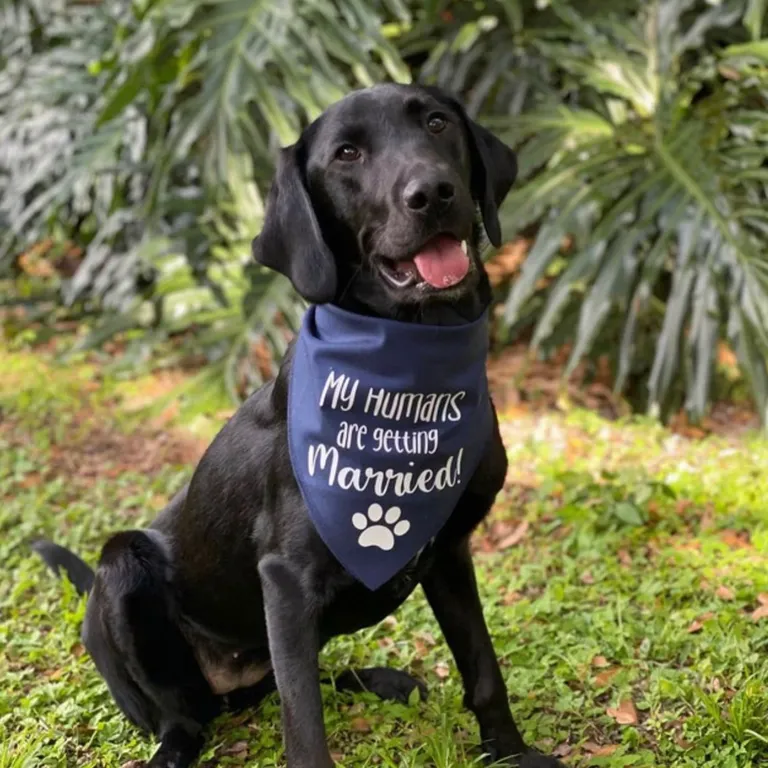 Tie a colorful bandanna around your pet to proudly announce "My humans are getting married." Select from 15 different colors to match your engagement photo attire.
Vintage Picture Frame Engagement Prop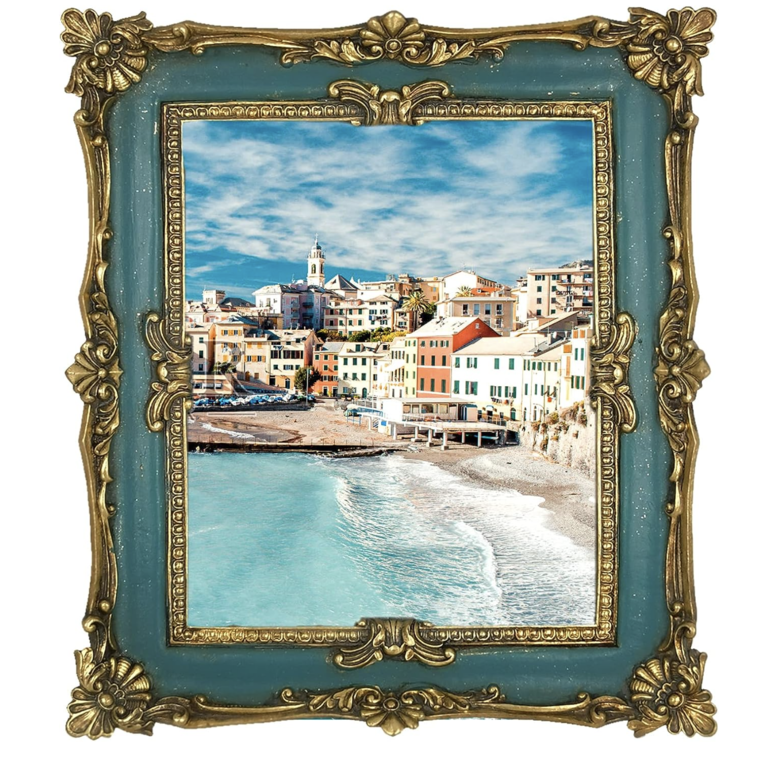 Use a vintage photo frame as a creative engagement photo prop. Hold the piece so it frames your faces. Or position the frame close to the camera while you sit together in the background. This creates a romantic shot that makes it look like you're in the picture frame.
Vintage-Inspired Trunk Set Photo Prop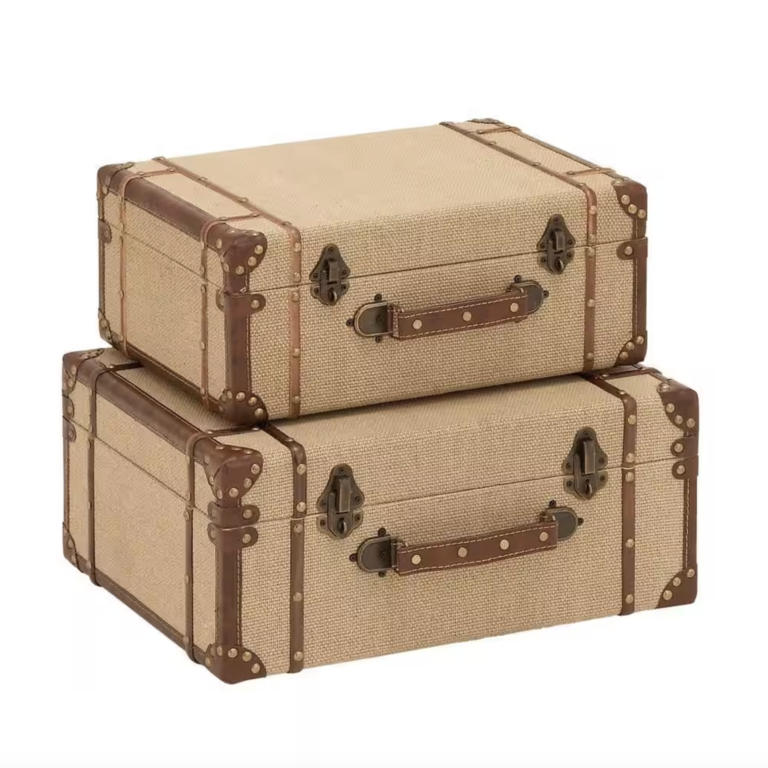 If you and your partner love to travel, consider posing next to a set of stacked vintage trunks as a chic engagement photo prop. This is a fun way to include your shared passion in your pictures.
Fun Engagement Scrabble Tiles
Spell out your love for each other with these cute Scrabble tiles. This is a great option if you and your partner enjoy playing board games.
Engaged Coffee Mug Prop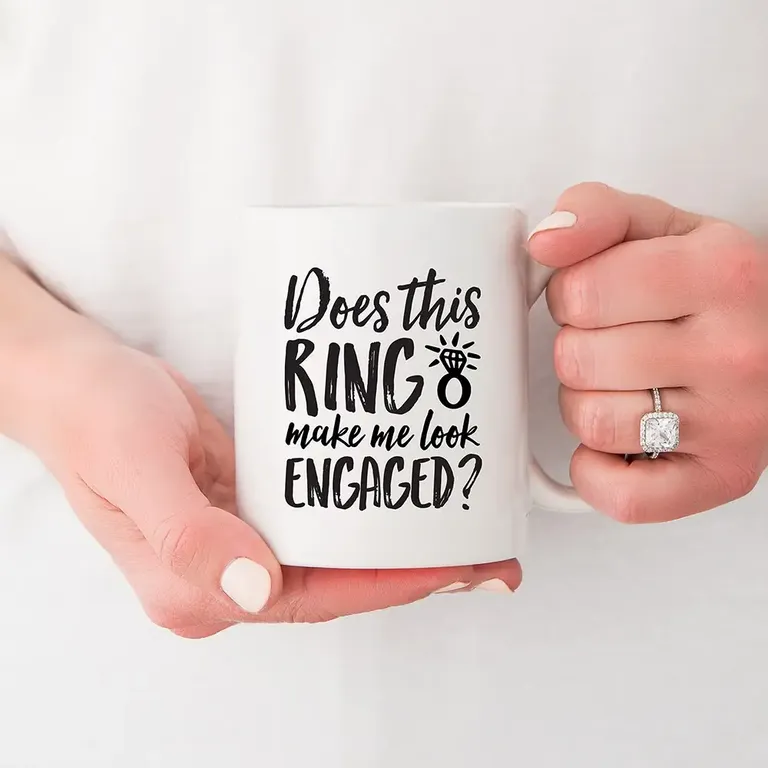 Show off your bling as you hold this cute coffee mug that reads, "Does this ring make me look engaged?" Pose with this engagement photoshoot prop while your photographer gets a closeup shot of your ring.
Creative Selfie Photo Frame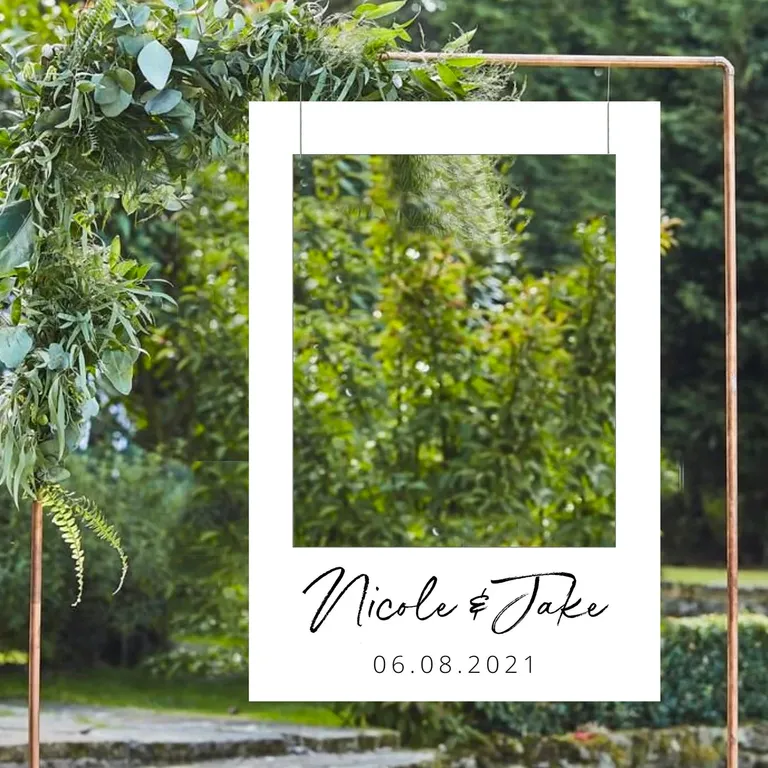 For the couple who loves a selfie, create a photo that's sure to trend on social media. Customize your selfie frame with your names, wedding date and wedding day hashtag.
Furry Friends Engagement Photo Sign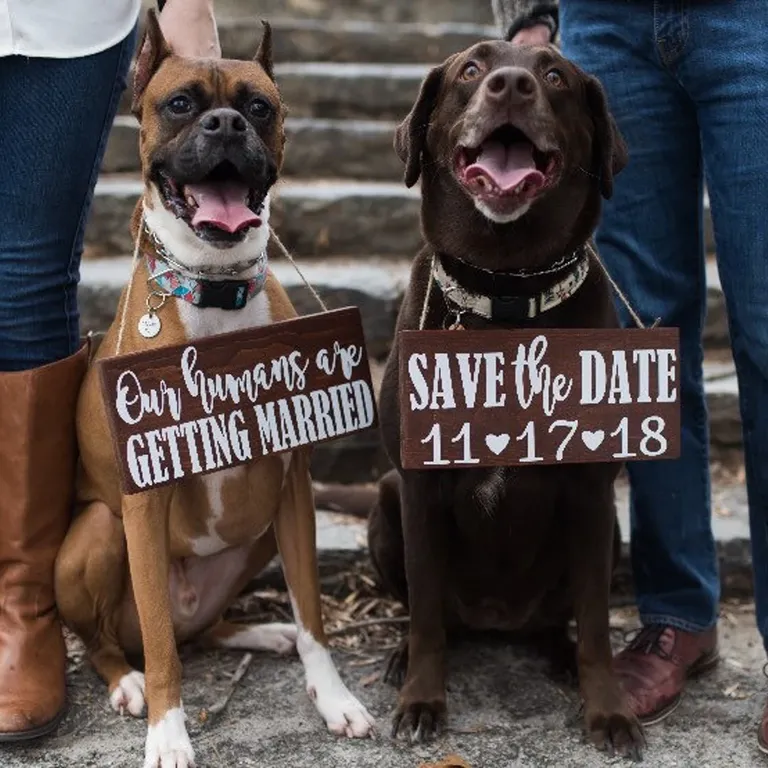 Order a set of adorable signs for your fur pals to wear in your engagement photos. This is a great option if you have more than one pet to include in your pictures. Sayings include "I loved her first" and "Save the date."
Pink and Black Engagement Sayings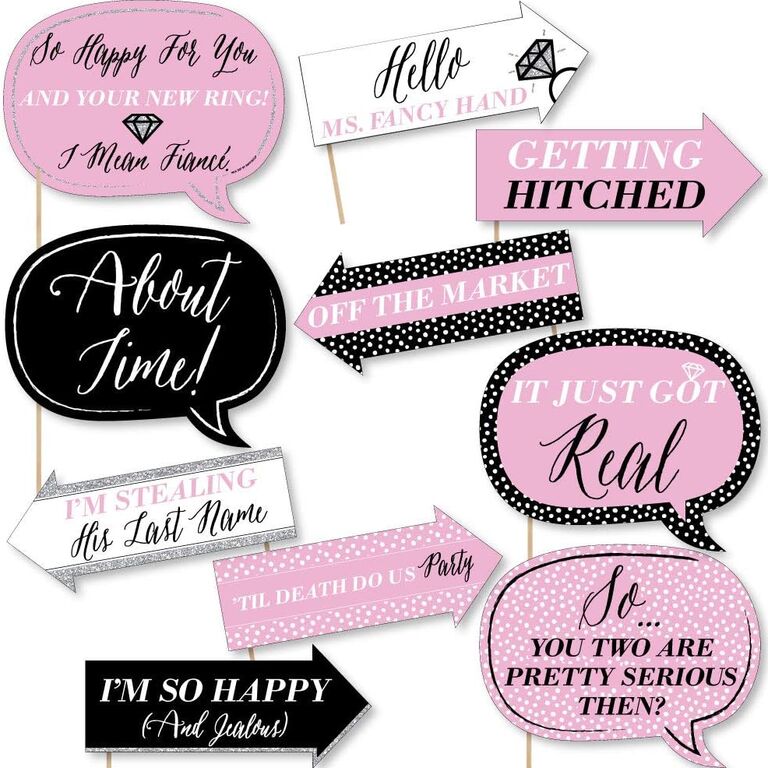 These colorful and quirky signs add a dash of fun and giggles to your photo session. Sign messages include "Hello Ms. fancy hand," "Off the market" and "Getting hitched."
Seven Creative DIY Engagement Photo Props
A DIY engagement photo prop adds a unique touch to your photos and shows off your originality. From simply including a few of your favorite things from home, to creating a custom backdrop, there are lots of ways to get creative with your photos.
DIY Engagement Photo Chalkboard Sign
Write a phrase, your names, your engagement date or anything that comes to mind on this simple DIY prop. Purchase a small chalkboard and chalk to create your design. Place the chalkboard in a picture frame that you'll hold during your photo session.
Play Your Partner a Song
If you play the guitar, bring it along to your engagement photo shoot for a personal touch to your pictures. DIY a melody for your partner that is sure to make them smile as your photographer captures the moment. This is a sweet way to include your favorite hobby in your photos.
Rustic Door Backdrop
Make your own photo backdrop with this creative engagement photo prop. Search your local thrift store or online marketplace for a multi-panel folding door or room divider. Paint it in any color you wish and add a colorful wreath that complements the season of your engagement shoot.
Fun Rainbow Sneakers Engagement Prop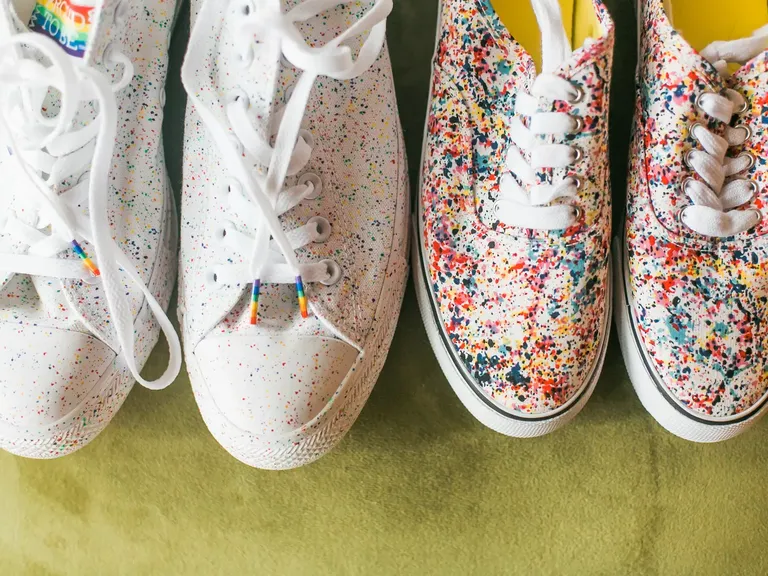 Grab two pairs of white sneakers and go crazy with colorful paint. Splatter or stipple different colors of paint on the shoes to create a cool rainbow effect. Show off your colorful kicks during your engagement photos. You can also write your names and engagement date on the soles of the shoes to show off to the camera.
Eclectic Fruit Crate Photo Prop
Search online or hit up your local farmers market for a few fruit crates to include in your photos. This prop is great for adding a rustic touch to your pictures, or for a fall session. Fill the crates with in-season fruit to complement the same time of year as your engagement.
Rustic DIY Engagement Photo Signs
If you or someone you know is a skilled woodworker, consider making these custom engagement photo signs. Purchase wood or pull from your existing collection. You'll need a solid board to serve as the backing and wood for the letters. Once you decide on your phrase, cut out and paint your letters and adhere them to the backing. Depending on your photo location, hang the sign above you or hold it with your partner.
Engagement Prop With Pumpkin and Flowers
Complete your fall engagement photo shoot with pumpkin props. Find a pumpkin at your local farmers market and adorn it with fresh flowers. Vibrant greenery and delicate baby's breath make a gorgeous addition to a bright orange pumpkin.
Why Should You Use Engagement Photo Props?
Whether you want to add a romantic touch with vintage pieces and a cozy blanket, or show off your goofy side with funny signs, engagement photo props add an extra layer of creativity and visual interest to your pictures. Show off your personality by including items that represent your hobbies and interests. If you're someone who is nervous in front of a camera, props give you something to hold and can help you feel more relaxed during your shoot.
How Many Props Should You Bring to Your Photoshoot?
Props are used in addition to your shoot and are only used a portion of the time. Bring no more than three to four options, keeping in mind you might not use them all. Too many props can create clutter in your photos and shift focus away from you and your future spouse. Use props here and there for a well-rounded engagement photo session.