14 At-Home Beauty Mistakes You Want to Avoid, According to Pros
Here's what to do instead.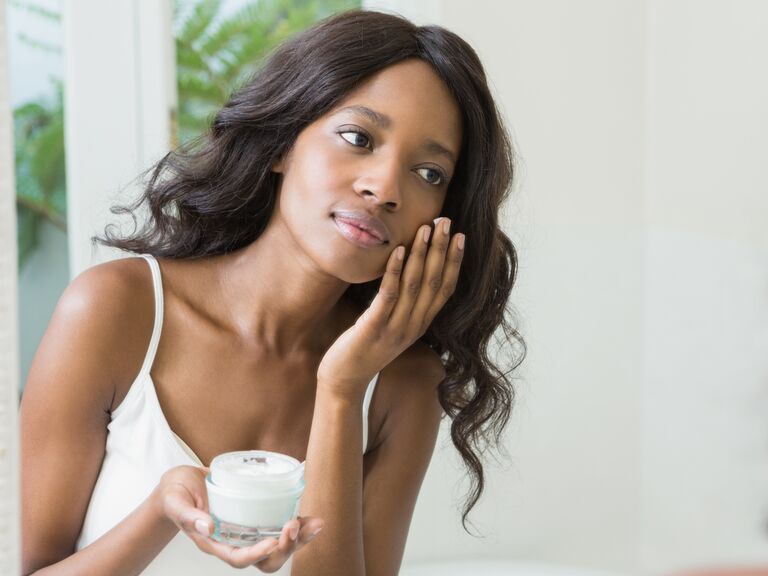 WaveBreakMedia/Shutterstock.com
We have included third party products to help you navigate and enjoy life's biggest moments. Purchases made through links on this page may earn us a commission.
We recommend working with a beauty professional when it comes to prepping for your nuptials. However, given the coronavirus pandemic and social distancing measures, many vendors aren't able to produce hands-on services. As a result, to-be-weds are left to their own devices at home. You can still support your makeup artist, facialist and hair stylist by scheduling a virtual consultation or tutorial and booking future appointments for when businesses reopen.
While it may be tempting to try out every single makeup product you own or to give yourself a haircut, there are certain beauty mistakes that pros are begging you not to make. With everything from over-plucking eyebrows to giving yourself a haircut (a big no), here are over a dozen at-home beauty mistakes you want to avoid.
Mistake: Giving Yourself a Transformative Haircut
Maybe the closure of local businesses like salons is making you antsy, so you're considering a dramatic chop before your upcoming nuptials. Emma Fitzgerald, owner of Salon Très, says doing a noticeable cut isn't a great idea. "It's fairly easy to disguise a mistake if you're only nipping off the ends of the hair," she says. "However, taking shoulder-length hair to a bob can be much tricker." Her advice is to leave the big changes to the pros—they're professionals for a reason.
Another at-home beauty faux-pas is trimming your own bangs. "Bangs should be trimmed with caution," she says. "Any tension on bangs can create a shorter fringe than desired."
What to do instead: Fitzgerald recommends video-calling your hair stylist so they can walk you through any kind of hair cut. That way, you'll avoid uneven or overly-chopped locks. Another option is to simply let your hair be. "I would strongly urge you to wait it out until [this] is over," Brittany Lo, founder and CEO of Beautini, adds. "You don't want to botch your hair. Let it grow and take biotin so you can have beautiful healthy hair for your big day."
Mistake: Over-Plucking Your Eyebrows
Step away from the tweezers. We know they're tempting, but over-plucking your eyebrows will only do more harm than good. "It takes months for a professional to properly shape your eyebrows," Lo says. "Don't waste all the time and money you spent with a professional by over-plucking your brows out of boredom."
What to do instead: When it comes to your brows, Lo says less is more. In fact, she says this is a great time to get the thick eyebrows you've been dreaming of. "Pluck a few stray hairs if you need," she says. "This is a great time to actually grow your brows out with a serum so you can have a nice base for a professional to work with [once salons reopen]." Products like nueBROW, RevitaBrow Advanced Eyebrow Conditioner, and Grande Brow Serum are great options to help stimulate growth.
Mistake: Using Expired Makeup
So you spent time digging through your bathroom drawers and found old makeup products that you never got around to using. It may be tempting to test them out, but Lo says using expired makeup is never a good idea. "Just like you wouldn't drink expired milk, stay away from using expired makeup on your skin," she explains. "Bacteria and germs can build up on our makeup over time, so it's not worth getting infections from it."
What to do instead: Pro tip: check the back or bottom of the packaging for a tiny circular jar with a number inside. That's how long the product is good for. If you've passed that point with the products in your home, toss them—it's not worth the risk of irritation or acne.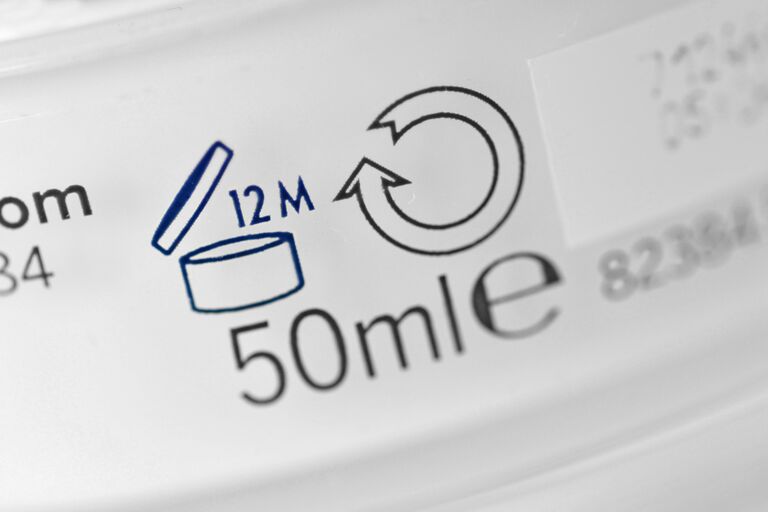 Mistake: Using Dirty Makeup Brushes or Sponges
Similar to expired makeup, dirty brushes or sponges pose its own threat. Your beauty tools, when not properly sanitized, can harbor loads of bacteria (both from your own skin and from the makeup you've been applying). Using dirty brushes or sponges can cause acne and irritation, so it's best to make sure you're properly cleaning them.
What to do instead: Good news: being at home gives you more time to clean your tools. You should be washing them about once a week to avoid any skin issues. Dr. Papri Sarkar, a board-certified dermatologist, recommends using gentle soap and water. Swirl them around in the sudsy mixture, rinse thoroughly, and leave them to dry.
Mistake: Dramatically Coloring Your Hair
Social distancing means you can't head to the salon to keep up with your hair coloring. Frustrating, we know, but Fitzgerald says it's best not to take matters into your own hands (no matter how tempting it may be). "Creating a custom hair color or dramatically lightening your hair can be super complicated processes." She adds that the chemistry of hair color and the natural chemistry of your own hair are difficult to understand unless you're a beauty pro, so severe color changes at home can give you an unwanted result. Plus, you won't be able to head to a salon to get it fixed like normal.
What to do instead: If you feel like playing with colors, Fitzgerald recommends exploring tinted dry shampoos as well as semi- or demi-permanent root touch ups. Lo recommends consulting your trusted stylist before making any changes at all so you can avoid any mishaps.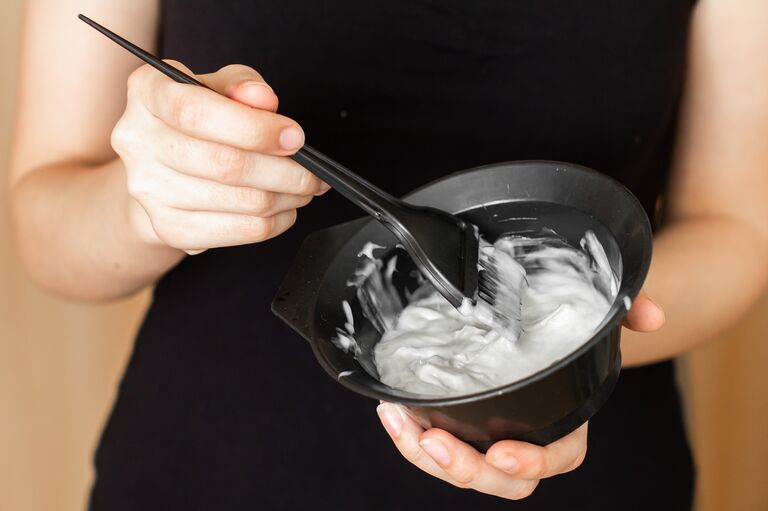 Mistake: Applying a Permanent Chemical Hair Service
If you're used to getting a permanent chemical hair service (think: a permanent wave, a relaxer or a keratin smoothing treatment), you may be tempted to try one at home. But Fitzgerald says this is a dangerous idea. "Injuries including scalp burns and hair loss to the point where hair won't grow back can occur," she says. "There are so many variables to chemical services that are controlled with a proper consultation and professional salon—leaving the hair in a healthy state."
What to do instead: Skip the chemical services and focus on nurturing your hair as it is, says Fitzgerald. Use deep-conditioning products to hydrate and nourish your locks. "Give your hair a rest from blow-drying or heat-styling," she says. "Much like our bodies, our hair appreciates some time off."
Mistake: Using Too Many Skincare Products
Believe it or not, less is more when it comes to skincare. Slathering on every single face wash, serum, cream, and facial oil you own will likely result in an irritated complexion. "Regardless of age, you need what I call the 'holy trinity:' sunscreen, antioxidant and retinoid," says Dr. Caren Campbell, a board-certified dermatologist. She recommends adding something for hydration (like a hyaluronic acid serum and a moisturizer) and a chemical exfoliant for those above 40. Everything else you can toss. Now is not the time to stress your skin out with too many products. Overloading your complexion with products can lead to contact dermatitis (allergy to an ingredient), irritant dermatitis (chemical burns or irritations from products) or acne.
What to do instead: Stick to the basics while you're at home. Now is a great time to get your skin on a streamlined routine. Schedule a virtual call with a board-certified dermatologist to get feedback on what you need to be using. Added bonus: dermatologists can go through what you already have and help you clean out your product lineup (Campbell is offering virtual visits for this purpose). If you're itching to use a new product, retinoid is a great start. Retinoid is the only clinically-proven anti-aging ingredient for your skin. However, it can be drying and irritating initially. "Since we aren't going out right now, it doesn't matter as much if you're peeling or red," Campbell says. "I recommend going low and slow with retinoids." Apply a pea-sized amount one to three times a week with moisturizer on top, increasing the frequency by a day every two to four weeks until you're using it nightly. Just remember to wear sunscreen at all times!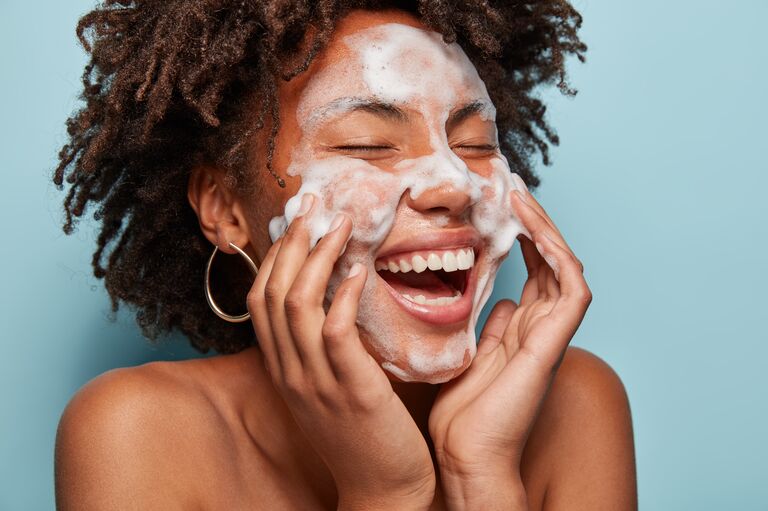 Mistake: Applying Harmful DIY Concoctions Onto Your Skin
All of your time inside may have sparked inspiration for DIY skincare. But Sarkar, tells The Knot that this can lead to allergic reactions or irritant reactions. "When that happens, patients most often get a red, itchy rash—but they can also get hives or even blisters."
The culprits are typically botanical or herbal extracts, Sarkar says. Tea tree oil and lemon juice are two common irritants that can wreak havoc on the skin. "People think of lemon juice as a natural ingredient that will give an easy acid peel, but it's really acidic and, if left on the face long enough, can cause a burn for some people." She adds that lemon juice can also cause a reaction called phytophotodermatitis. "Phytophotodermatitis is when a plant product (phyto, most commonly citrus) interacts with UV light (photo or sunlight) and causes a dermatitis or inflammation of the skin." It typically causes blisters, red spots or brown spots on the skin.
What to do instead: When it comes to DIY skincare, patch testing is the name of the game. Place a small amount of product for a short amount of time on a small patch of skin (Sarkar recommends the inner wrist or behind the ears where the sensitive skin is hidden). "That way, if you do get a reaction, it's not on your face." If you're tempted to create your own skincare, Sarkar recommends these safe recipes:
Ground up oats, water and honey (a particularly soothing and hydrating combination)
Yogurt, oats and honey
Plain egg whites mixed with fresh aloe vera (this will give the feeling and appearance of tighter skin)
Matcha powder mixed with honey or pure aloe vera
Steeped green tea bags (the caffeine content will help decrease the appearance of blood vessels and make this area look brighter)
If you'd rather go the route of store-bought products, Sarkar recommends looking into Tata Harper products, Follian masks, Orgaid sheet masks and Drunk Elephant treatments. Just be sure to read the directions so you use them safely.
Mistake: Giving Yourself a Medical-Grade Treatment
The idea of turning your home into a spa sounds great in theory, but there's a reason why professionals perform those special treatments. Campbell says that DIY services like at-home chemical peels, at-home steam sessions, at-home microneedling or at-home extractions can cause serious damage. Performing these kinds of processes can end up causing scarring or pigmentation issues.
What to do instead: If you want to pamper yourself, consult a dermatologist to see what approved products or treatments you can safely do at home. Otherwise, keep it simple and stick to a routine. Not only will it save you time and money, it will also save your skin some serious stress.
Mistake: Wearing Your Hair in a Tight Updo All the Time
If you love to rock a messy bun or high ponytail at home, we've got bad news. Constantly pulling your hair up isn't the healthiest choice for your locks. "The most obvious consequence of this is breakage around the hairline," Fitzgerald says. "The constant tension of the hair being pulled through any form of an elastic band (even scrunchies) can cause the hair to snap along the front hairline and the nape of the neck." Constantly wearing your locks up can also lead to headaches, as the weight of the hair, the tension on the strands and the location of the elastic can cause pain. In addition to breakage and headaches, Fitzgerald says consistently wearing your hair in this style can actually retrain the growth pattern, making it harder for your hair to accept a part when you wear it down (read: it's difficult to rock a sleek, smooth style).
What to do instead: Take advantage of your time at home by letting your hair rest. Keep it down or wear it in low, loose styles that don't put any strain on your locks.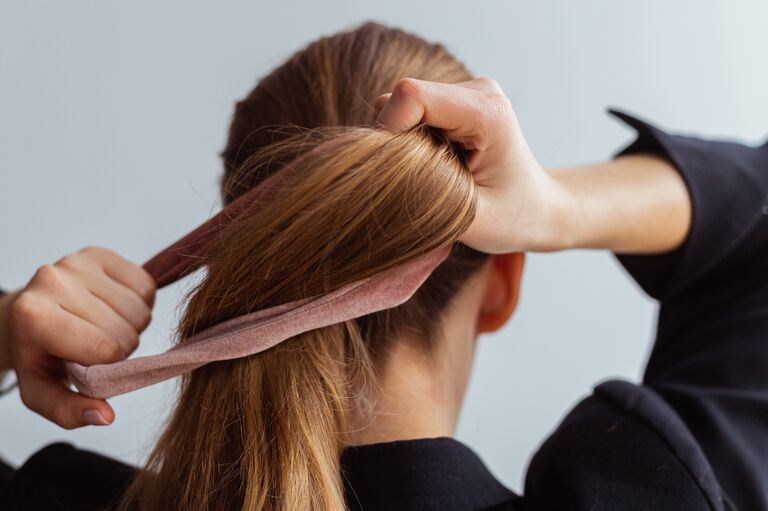 Mistake: Touching Your Face All Day
Touching your face can be a tough habit to break since you may not even realize you're doing it. But Campbell says it's important to try and nix this habit, as it can cause skin issues. "Touching your face frequently can trap dirt, oil and debris in the pores, which can cause or exacerbate acne," she says.
What to do instead: This one is simple: hands off. Pay attention to when your hands wander up towards your visage. It's also a good idea to consistently wash your hands in the case that you accidentally touch your face.
Mistake: Mixing Waxing and Shaving
If you're used to professional waxing, you may be tempted to start shaving. But that's not the best idea, says Lily McNeil, salon development manager and waxologist at LunchBoxWax. Shaving disrupts the hair growth cycle and can lead to a more painful wax down the line. She also advises against at-home waxing kits, as waxing is a service that should be done by professionals. "There is a lot more to hair removal than one might think, such as making sure skin is protected, skin is taught and hair isn't broken off."
What to do instead: Back away from the razor. "This is a wonderful time to throw the razor away and let hair grow out," McNeil says. "This gives our skin a break from irritation, will help reduce any bumps or ingrowns, and will let hair get on the same cycle, setting you up for the best waxing results down the line." If you need to touch up, McNeil suggests trimming your hair for maintenance. "This will give a fresh, groomed appearance without cutting hair down and breaking the hair-growth cycle."
Mistake: Going Overboard With Teeth Whitening
While it's perfectly fine to purchase at-home teeth-whitening products, Dr. Sonya Krasilnikov, DDS and co-founder of Dental House, says that overuse can lead to issues. "High concentrations of hydrogen peroxide in products can burn the gums around the teeth that are being whitened, causing gums to turn white and slough off," she says. "Abusing whitening products can also cause severe sensitivity that can last several days or even weeks." She adds that overuse of whitening products can cause permanent nerve damage over time as well as cause teeth to lose their opacity (developing a gray, translucent appearance as a result).
What to do instead: The answer is simple on this one: only use teeth-whitening products made for at-home use and read the directions (all of them). If you're unsure about how often you can use them, consult your dentist for an expert opinion. Products like Crest Whitestrips or Oralgen whitening kits are easy to use, safe for personal use and are widely available.
Mistake: Not Prepping Your Skin Correctly For Shaving
Preparation is key for a smooth, razor-burn free shave. CC Sofronas, co-founder of Pacific Shaving Co., tells The Knot that picking up an old, dull razor can tug at and irritate the skin, which can cause razor burn. Other shaving products are key too. For example, skipping a pre-shave exfoliation can lead to ingrown hairs, while a scented shaving cream can cause a negative reaction, as synthetic fragrance can irritate skin.
What to do instead: "First and foremost, always use a sharp blade," Sofronas says. Next, she recommends exfoliating in order to remove dead skin cells (and to prevent any ingrown hairs). "When you're ready to shave, do so at the end of the shower. That way your skin and hair are hydrated and soft." If you want to ensure a silky smooth shave, consider using a pre-shave oil, like Pacific Shaving Co.'s Natural Shave Oil. It will soften skin, the pores and the hair, allowing for a more comfortable shaving experience. Be sure to moisturize after you shave as well so your skin stays soft and hydrated. If you want to take it one step further, you can apply a post-shave oil to soothe any redness or bumps (we love the Ingrown Concentrate by Fur).