These Affordable Wedding Invitations Are Beautifully Budget Friendly
Save on your wedding stationery in style.
We have included third party products to help you navigate and enjoy life's biggest moments. Purchases made through links on this page may earn us a commission.
Shopping for wedding stationery on a budget? You've come to the right place. We know exactly where to find affordable wedding invitations that you can conveniently customize and order online. Not only that, but we've also rounded up our favorite on-trend wedding invitation designs to inspire your search. There's something on our list for every type of celebration, whether you're planning a casual summer wedding, a black tie winter ball or something in between. And since most of these designs are customizable, you can easily play around with wording, colors and photos to reflect your unique personalities. Who said you had to compromise to save money on your wedding invitations?
Where to Buy Affordable Wedding Invitations
We get it: You want inexpensive wedding invitations that definitely don't look cheap. Well, you're in luck because The Knot Invitations has hundreds of designs starting at less than $2 a pop if you're buying more than 100, and under $3 each for fewer than 100. If that's not enough to give your budget some breathing room, you can get an extra 40% off our customizable invitations by signing up for The Knot Savings Program. (Plus: 50% off save-the-dates, 25 free thank-you cards, a free gift from The Knot Registry Store and a free copy of The Knot Ultimate Wedding Planner and Organizer.) There's a one-time fee of $50 that'll save you over $250 in the long run.
When it comes to buying your wedding invitations on a budget, sites like Etsy and Zazzle offer affordable options too. You can also reach out to local designers for a quote using our marketplace.
30 Inexpensive Wedding Invitations We Love
Ready to start shopping? We've picked out some of the best wedding invitations you can buy online that don't look cheap (but are actually very budget friendly). Browse styles for every type of celebration, then customize the details to perfectly fit the vibe of your big day.
Playfully Worded Wedding Invitations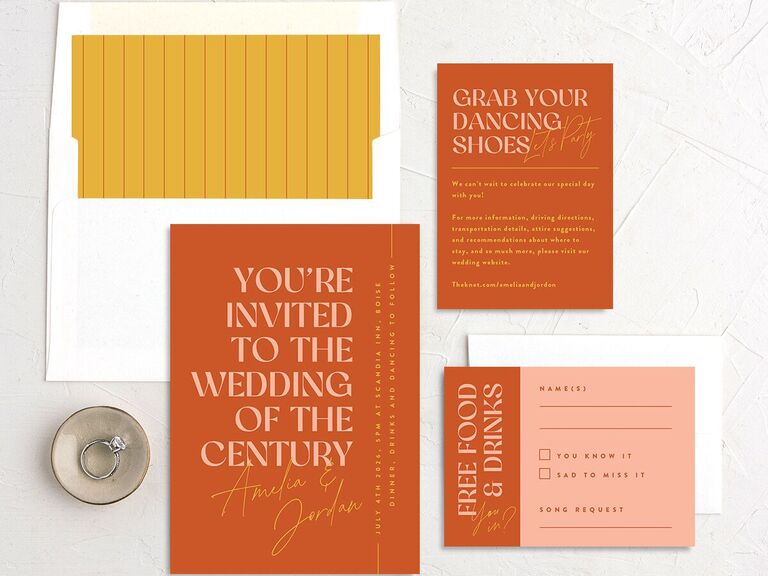 Inject a dose of humor into your guests' mailboxes with these fun and delightfully inexpensive wedding invitations. Boldly printed with the phrase, "You're invited to the wedding of the century," there's no mistaking what your lucky loved ones have got their hands on—a golden ticket to your special day.
Celestial Mountain Wedding Invitations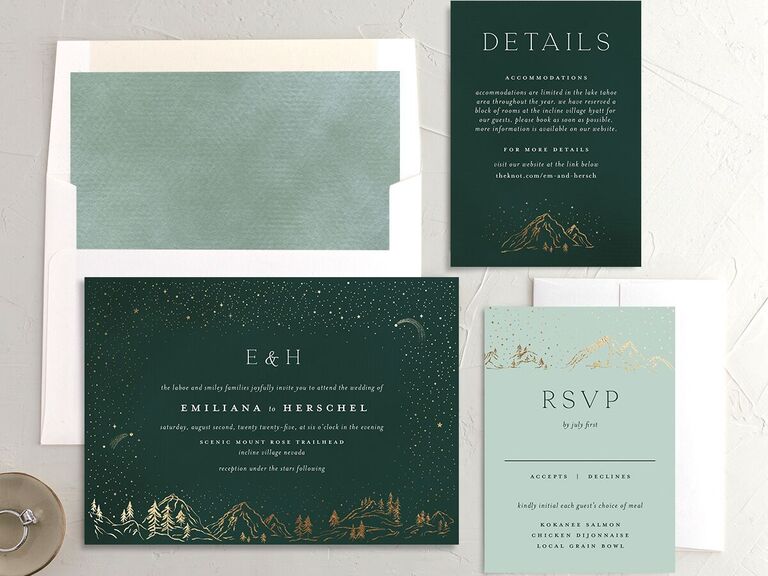 Here's one for nature lovers. Whether you and your future spouse are tying the knot outdoors or you just love to explore together, the mountain motif on this design is a fitting tribute. The mountainscape is outlined in shimmering silver, gold or rose gold foil. Yep, that's right; you can get real foil wedding invitations at a low cost.
Maximalist Tropical Wedding Invitations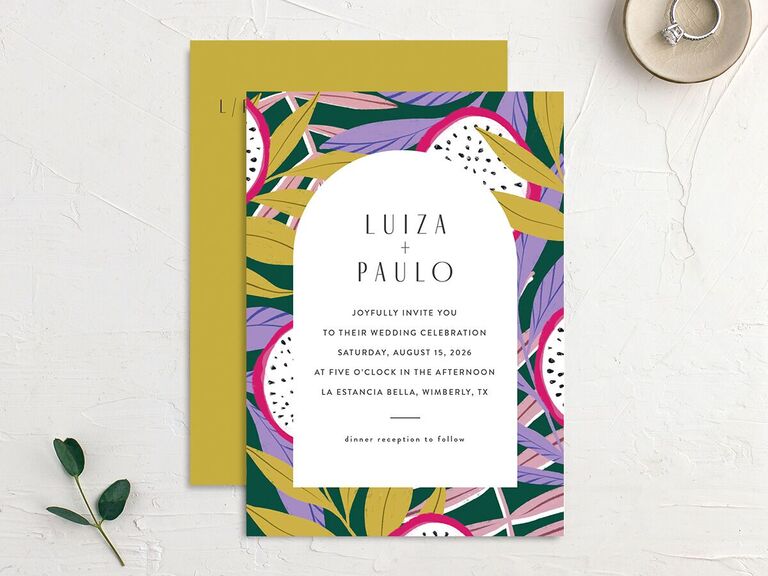 If your style is very much "go big or go home," you'll love the maximalist aesthetic of this affordable wedding invite design. The details of your wedding day are neatly displayed in a simple white arch, while a border of vibrant leaves and dragon fruit brings all the drama.
Elegant Acrylic Wedding Invitations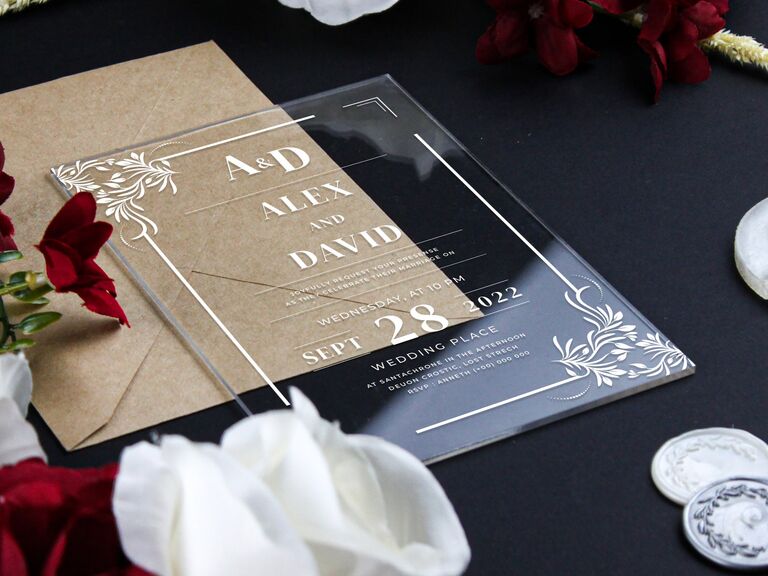 Looking for something on the classic side? You can score elegant acrylic wedding invitations for cheaper than you might think. Picture your names, wedding date and ceremony location printed on clear, frosted, silver or gold acrylic with a traditional floral frame.
Bright Floral Wedding Invitations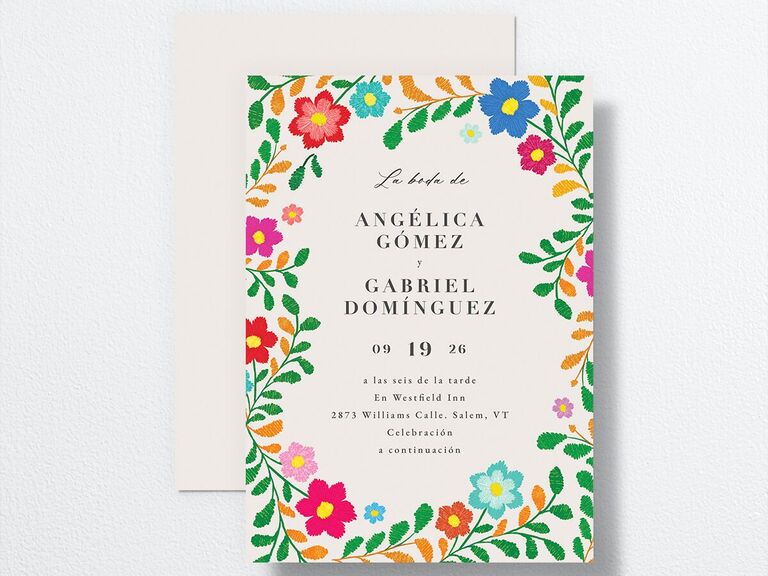 For some couples, subtlety is key. But for others, it's all about the bold, colorful details. If you relate to the latter, don't overlook these eye-catching floral invites from The Knot Invitations. The beautiful blooms are inspired by Mexican floral embroidery, making this an especially meaningful pick for anyone with Mexican heritage.
Cute Photo Wedding Invitations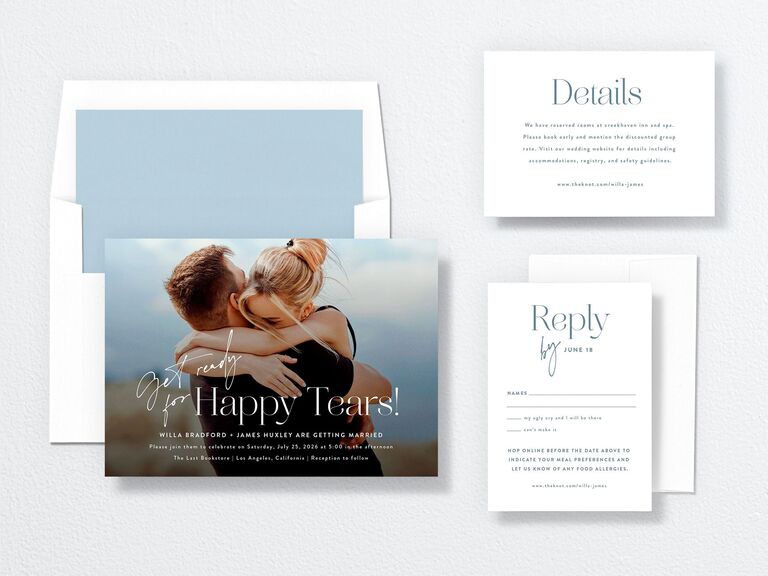 Didn't think the cheapest wedding invitations could have photos? Prepare to be amazed! You can 100% design affordable wedding stationery with a glossy image of you and your fiancé front and center. Exhibit A: This romantic invitation card printed with the phrase, "Get ready for happy tears!" over a cute couple portrait.
Fairytale Foil Wedding Invitations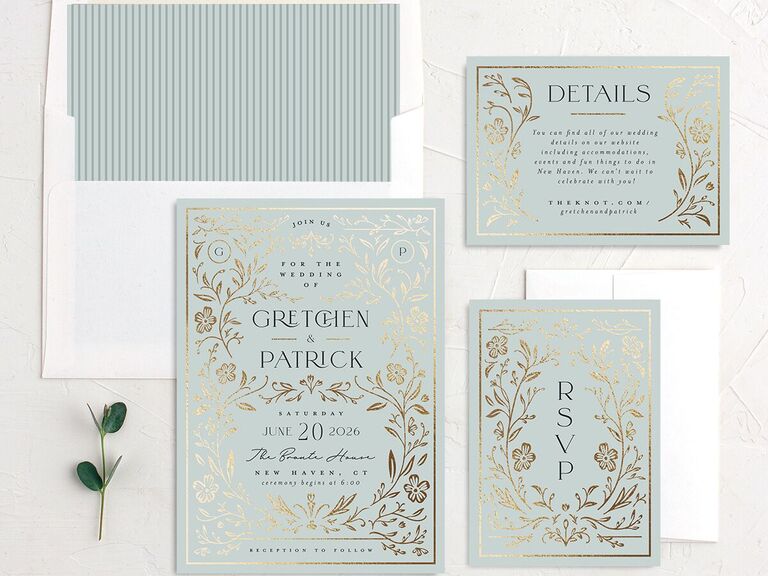 Vintage-inspired stationery is having a major moment right now, especially designs that take a cue from the Art Deco movement. Imagine how fancy your big-day details will look surrounded by the intricate foil florals on these surprisingly inexpensive wedding invitations. It really sets guests up for a fairytale experience.
Classic Monochrome Wedding Invitations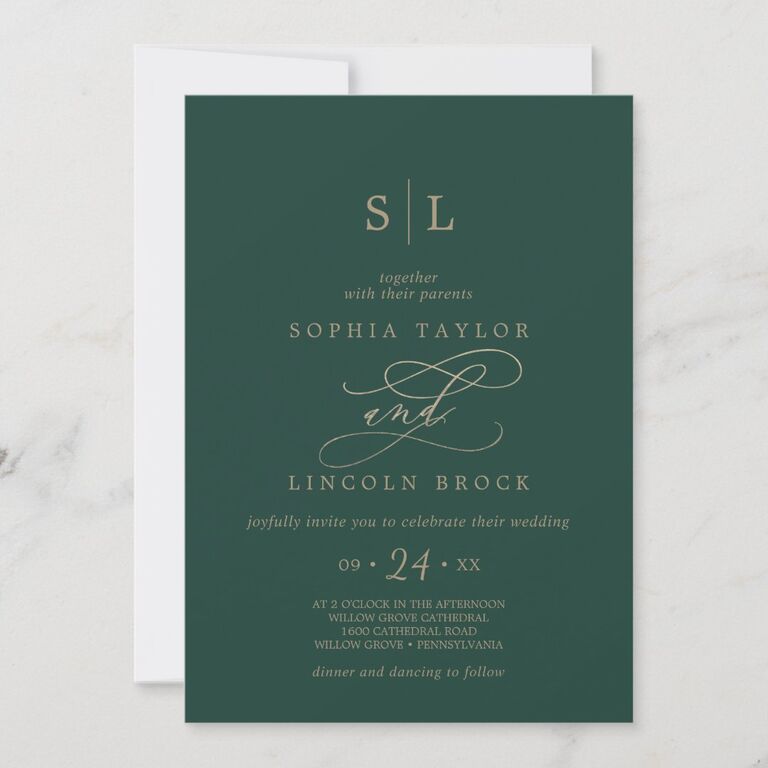 There's a lot of beauty to be found in simplicity and this design is the proof. A monochrome background in a green, navy or berry purple hue sets the tone for a fancy formal celebration.
Unique Gothic Wedding Invitations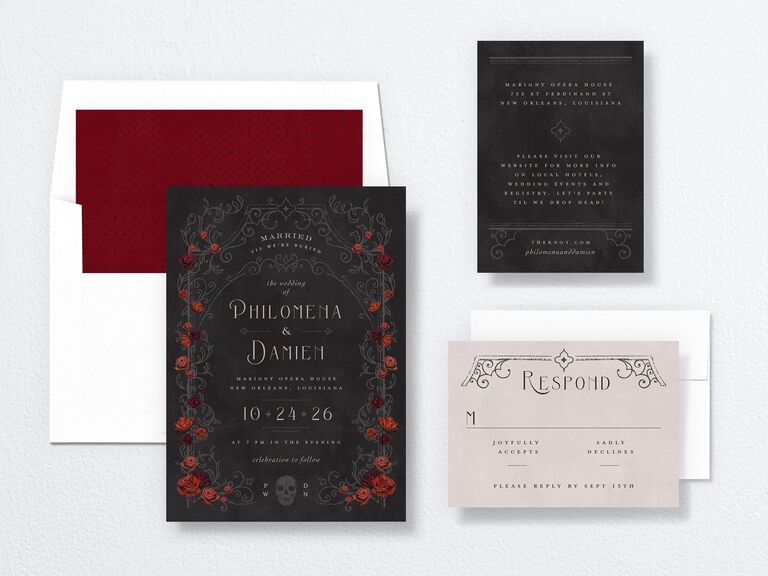 Gothic weddings are on the up and up, with more couples choosing moody color palettes, black wedding dresses and other hallmark elements of the popular design aesthetic. If we just described your upcoming nuptials, these might just be the perfect invites for you. Dramatic script, blossoming roses and a skull motif set the tone for a romantic-meets-spooky celebration.
Rustic Watercolor Wedding Invitations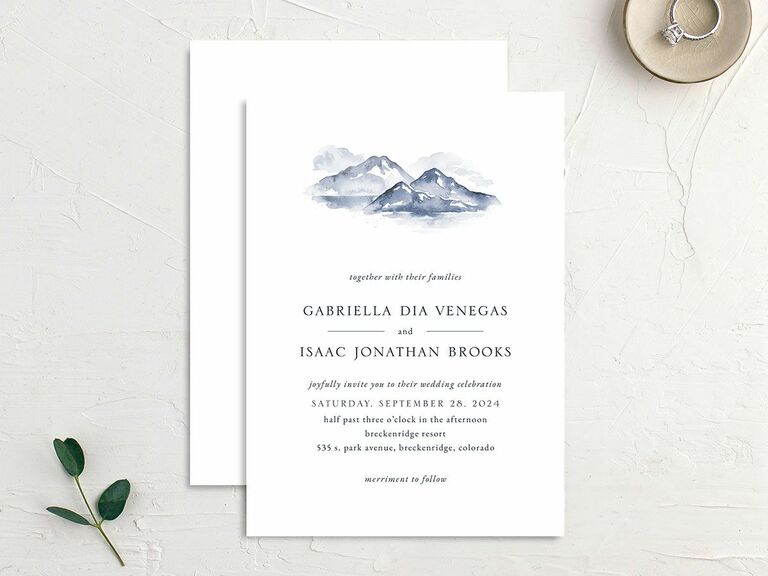 Having fun yet? We told you shopping for budget wedding invitations is easy! Here's another rustic design for to-be-weds tying the knot in the great outdoors. The watercolor mountainscape adds a charming touch to this otherwise streamlined design.
Chic Minimalist Wedding Invitations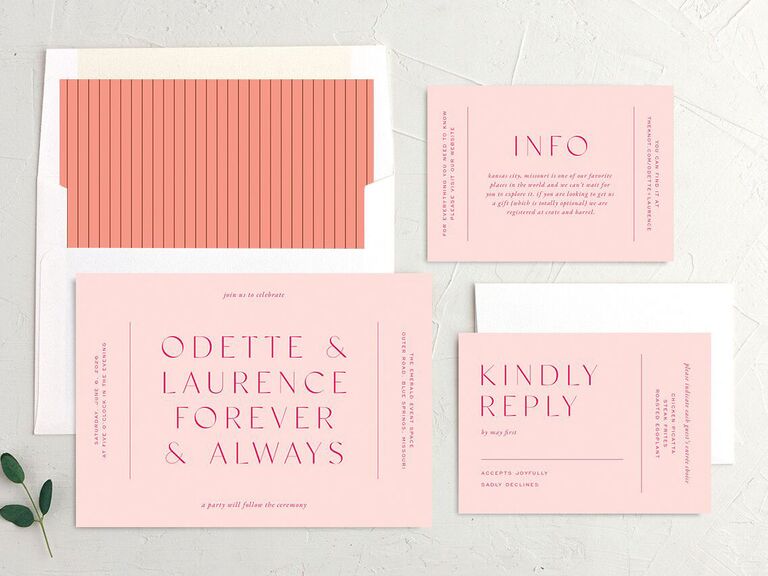 How sweet is this wording? Your names take center stage on the front of these invites above the words, "Forever & Always." The rest of the deets are cleverly printed to the left and right letting guests know the date, time and place it's all going down.
Romantic Modern Wedding Invitations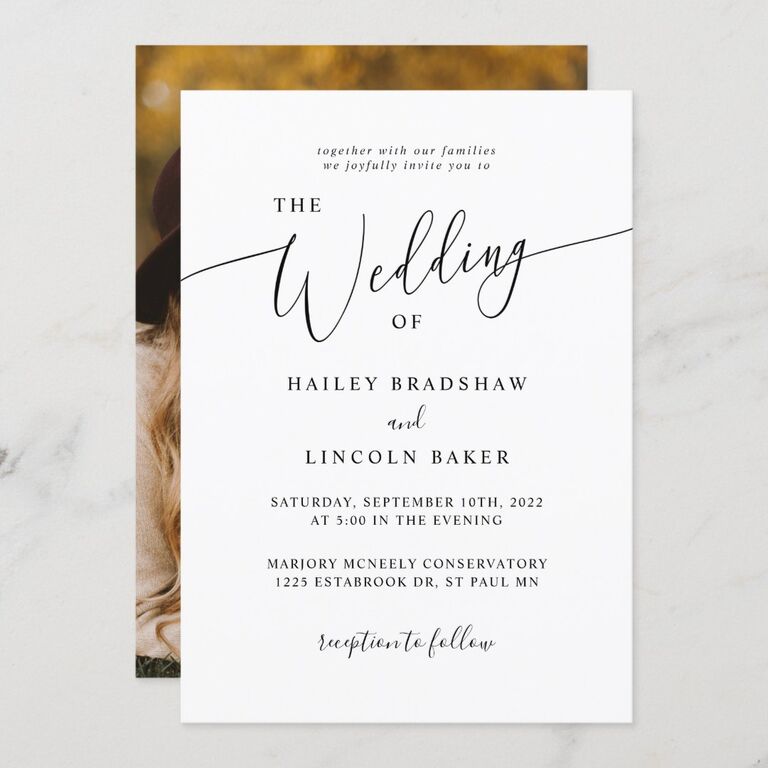 The minimalist design on the front of these inexpensive wedding invites makes the details of your day clear to everyone on the guest list. And when they turn the invitations over they'll see a beautiful photo of you and your soon-to-be spouse on the back. It's a clever way to personalize your stationery while maintaining a clean, minimalist look.
Vintage-Inspired Wedding Invitations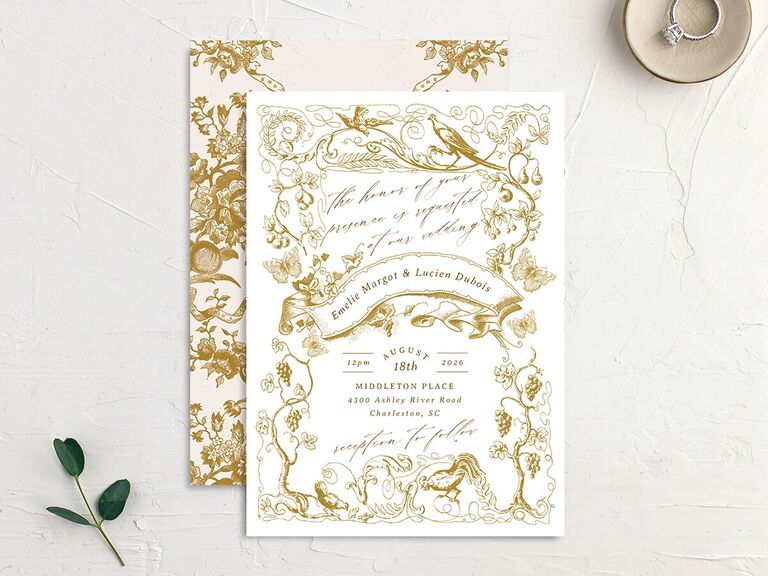 Any Bridgerton fans in the house? Something about this design just screams "regencycore" and we're totally here for it. Embrace vintage European elegance with every detail, from the sprawling font to the quaint, countryside-inspired pattern.
Fun Multicolor Wedding Invitations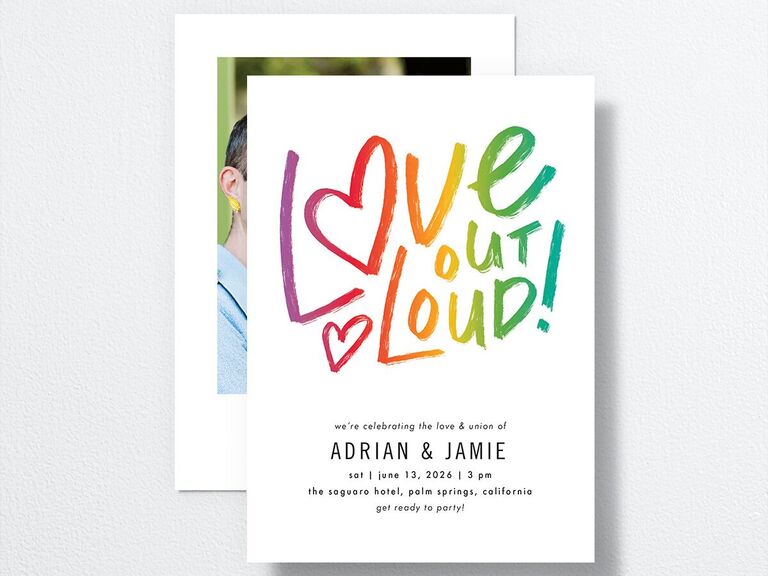 Everything about these delightfully low-cost wedding invitations will hype guests up for a major celebration of your love. Cheerful wording ("Love out loud!"), colorful lettering and space for a photo on the back help these invites pack a powerful celebratory punch.
Dreamy Beach Wedding Invitations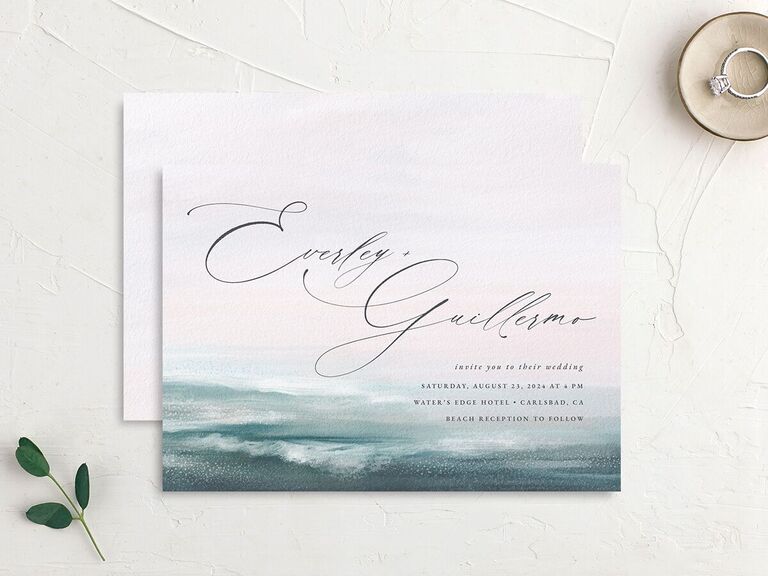 If you're getting married on a sandy shore (either at home or away), we've found another affordable wedding invitation suite from The Knot Invitations. This abstract ocean design evokes a dreamy vibe that'll instantly set the tone for a romantic seaside wedding.
Handwritten Script Wedding Invitations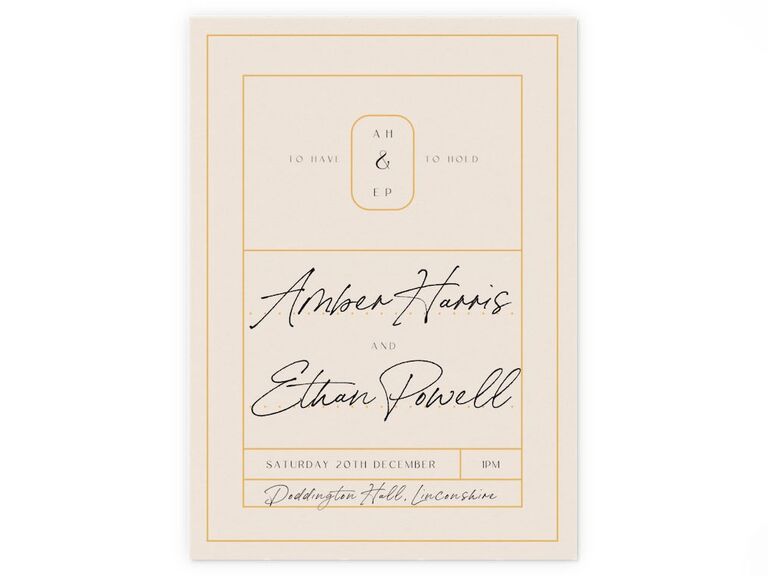 The faux handwritten script on these budget-friendly wedding invitations gives each piece of stationery a unique, personal touch. Only the most important details are included on the invite, giving the design a clean, easy-to-read finish.
Love Song Wedding Invitations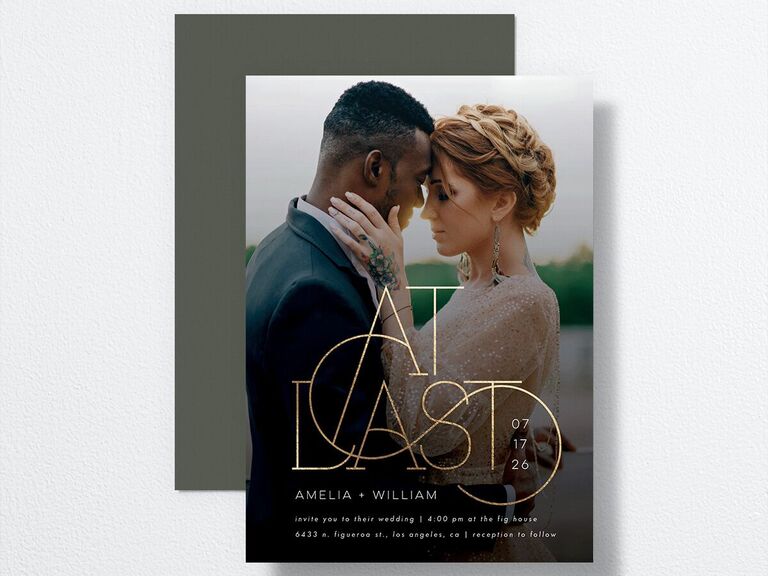 Etta James' "At Last" is an iconic love song (and a beloved first dance song, if you're looking for inspiration). This invite pays homage to the romantic tune with the words "At Last" printed in shimmering foil atop a photo of you and your sweetheart. Choose from gold, silver or rose gold foil and eight different colorways for the back of the invite.
Beautiful Wildflower Wedding Invitations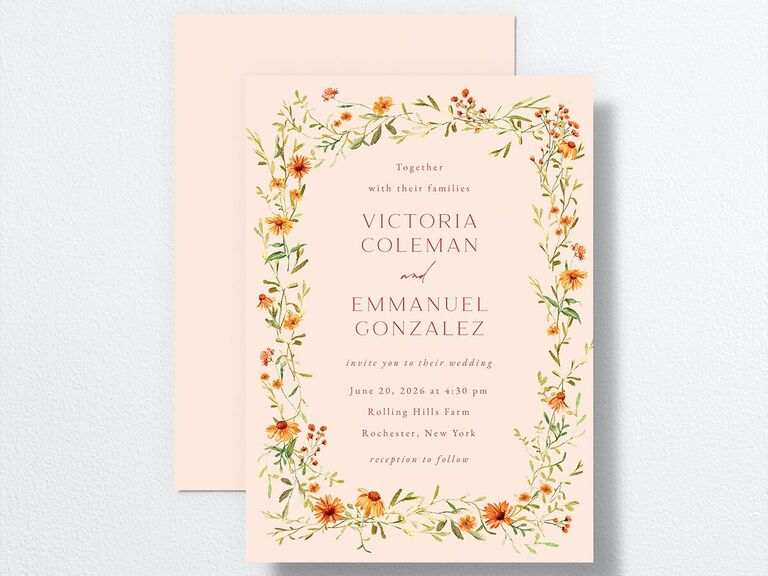 Pretty wildflowers frame the details of your wedding day on this charming design. Not having a spring wedding? No worries: There are eight different colors to choose from, with at least one that feels particularly fitting for each season. The blue feels perfect for late winter while the black is beautifully fall-ready.
Abstract Marble Wedding Invitations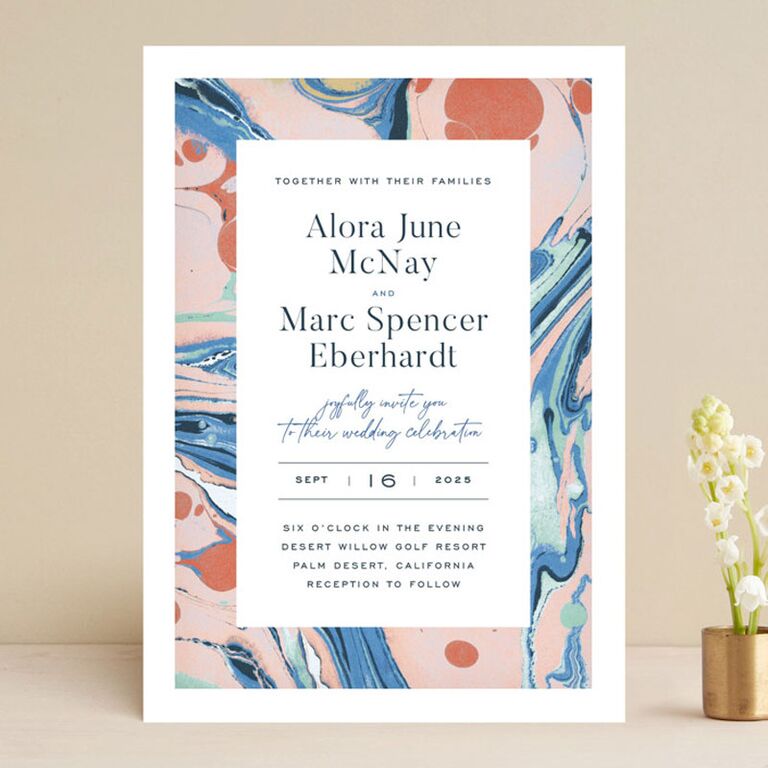 If "modern" and "maximalist" are the cornerstones of your personal style, check out this abstract invitation design by one of Minted's independent stationery designers. A colorful marble-effect pattern provides a backdrop for your names, wedding date and venue location.
Papel Picado Wedding Invitations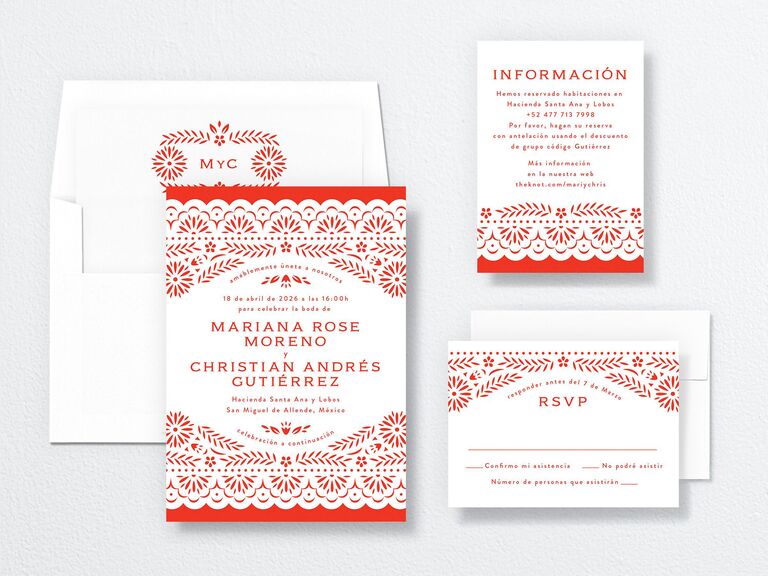 Inspired by the traditional Mexican decorative craft, papel picado, this bright, colorful invite spreads joy right out of the envelope. Prepare your nearest and dearest for a warm, welcoming celebration (and score some of the most affordable wedding invitations on the market at the same time).
Streamlined "We Do" Wedding Invitations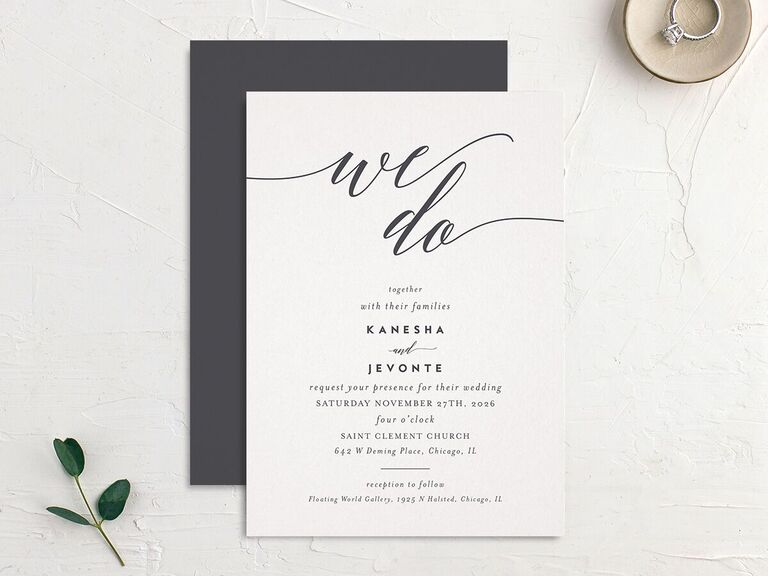 Romantic meets minimalist on this chic design with one hero colorway on a plain background. The "We Do" wording is oh-so-sweet without taking away from the invite's formality.
Pretty Periwinkle Wedding Invitations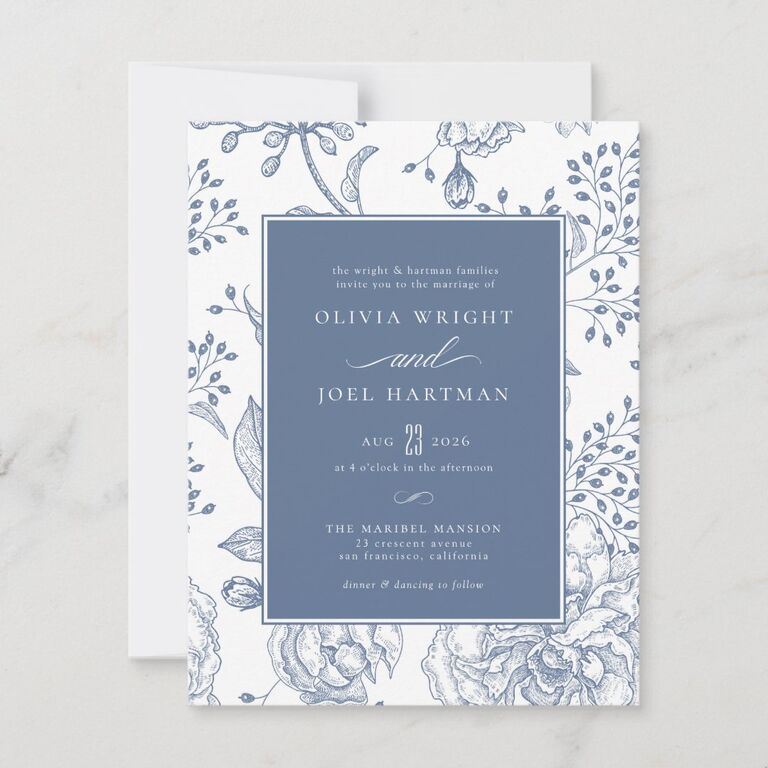 Here's another design that could've come right out of regency-era London. The periwinkle color, ornate floral print and pops of elegant, swirling font bring the Pride and Prejudice aesthetic to life.
'70s-Inspired Wedding Invitations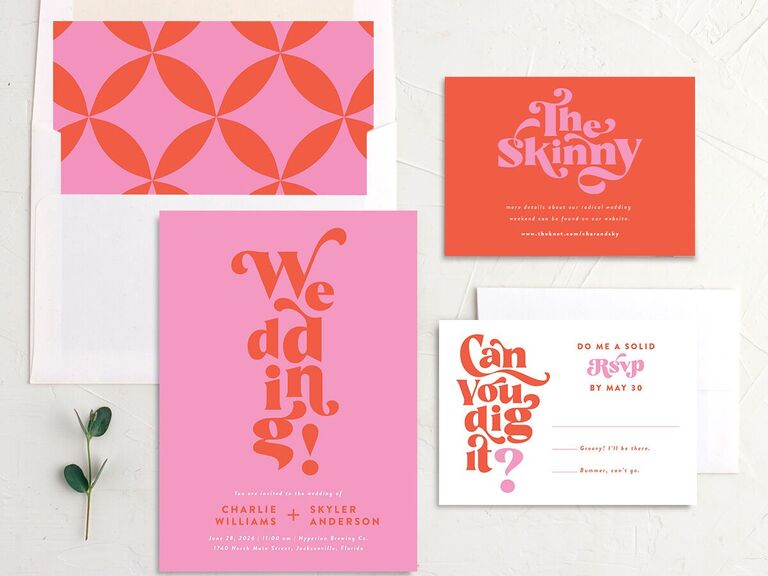 The Knot Invitations really does have the best wedding invitations you can buy on a budget. How could this bold, retro design not get your loved ones' attention? They'll want to keep it on their fridges forever.
Bohemian Wreath Wedding Invitations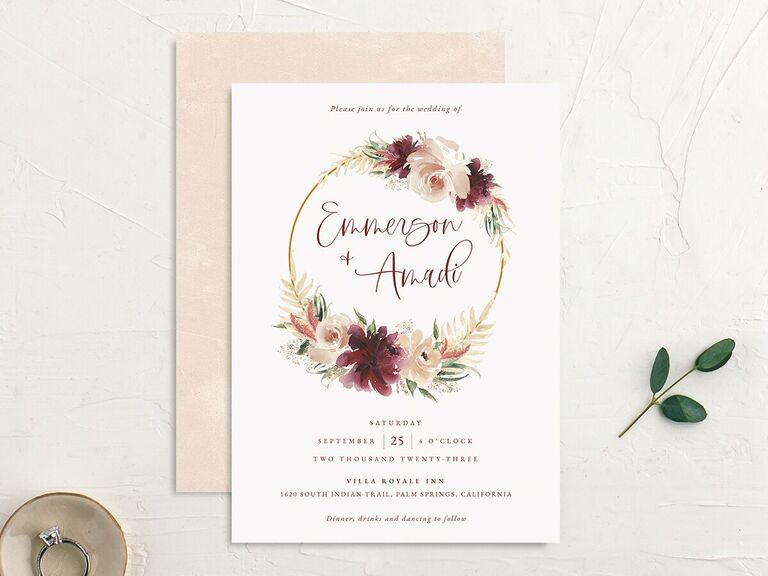 We'll never turn down a boho-themed wedding, especially when the invites look this good. A pretty floral wreath highlights your names above the other details of your big day. Turn this affordable wedding invitation into a set by adding matching RSVP cards from $1.09 each and enclosure cards from $0.99 each.
Farmhouse Chic Wedding Invitations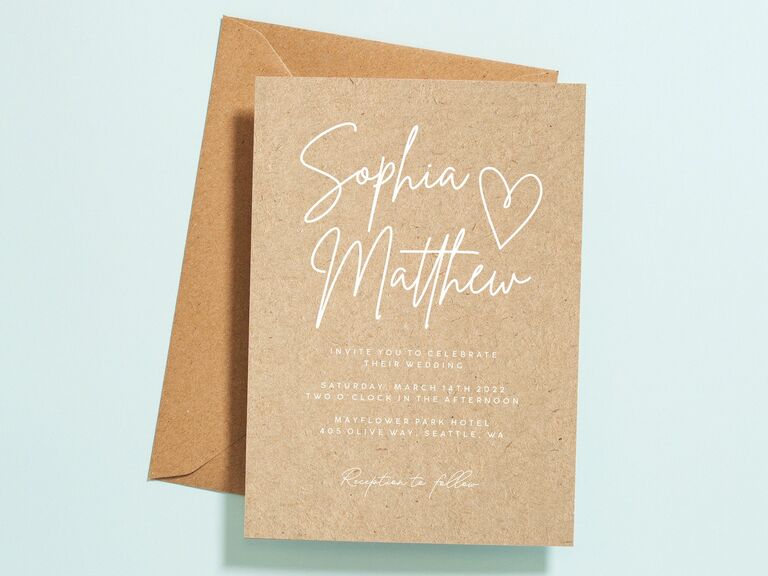 Shop cost-effective wedding invitations from Etsy that fit your wedding theme and venue. If that's a rustic country celebration, these kraft paper invites are an excellent pick. Bonus: They're printed on eco-friendly recycled material.
Artistic Circle Wedding Invitations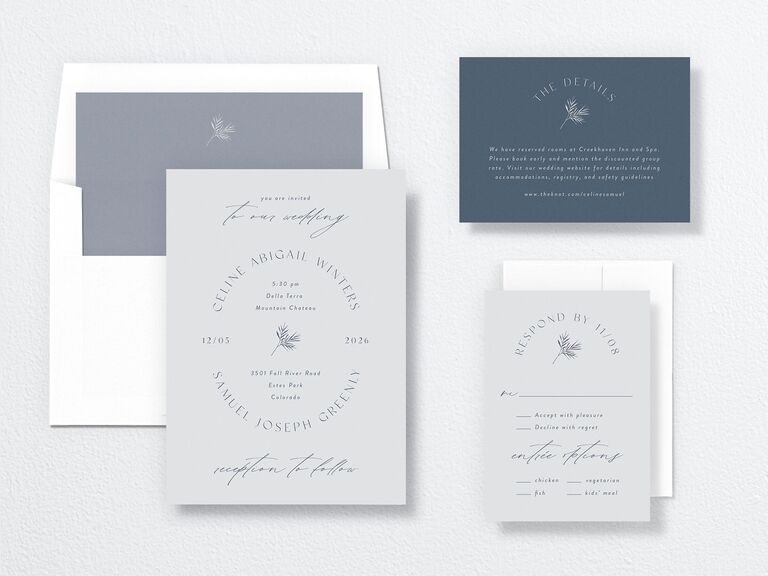 The unique layout of this invite is equal parts symbolic and stylish. Each of your names forms an arch to create a circle around your wedding-day details. Circles are a symbol of wholeness and eternity, letting all your loved ones know that you plan on completing each other until the end of time. (Awwh!)
Vibrant Geometric Wedding Invitations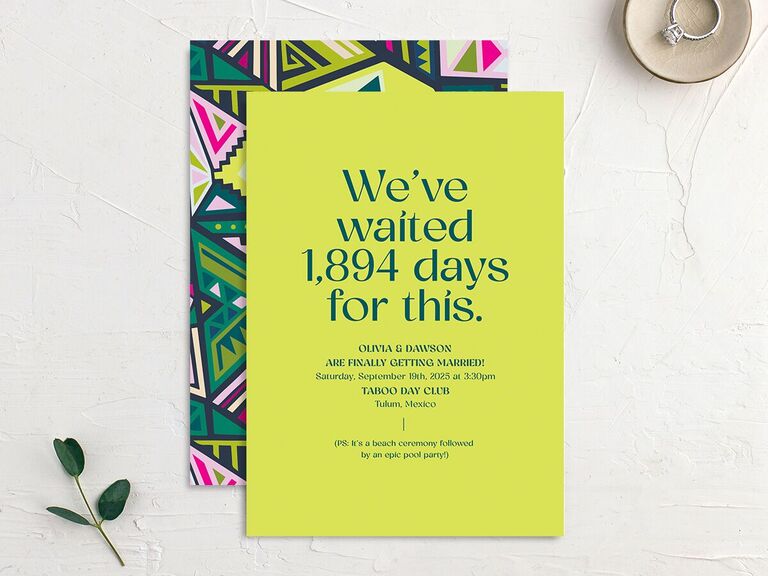 If "business in the front, party in the back" was a wedding invitation, this would be it. A retro-inspired font delivers all the details on the front against a monochrome background. Meanwhile, the back of the invite is printed all over with a funky geometric design in lots of vibrant colors.
Ethereal Lakefront Wedding Invitations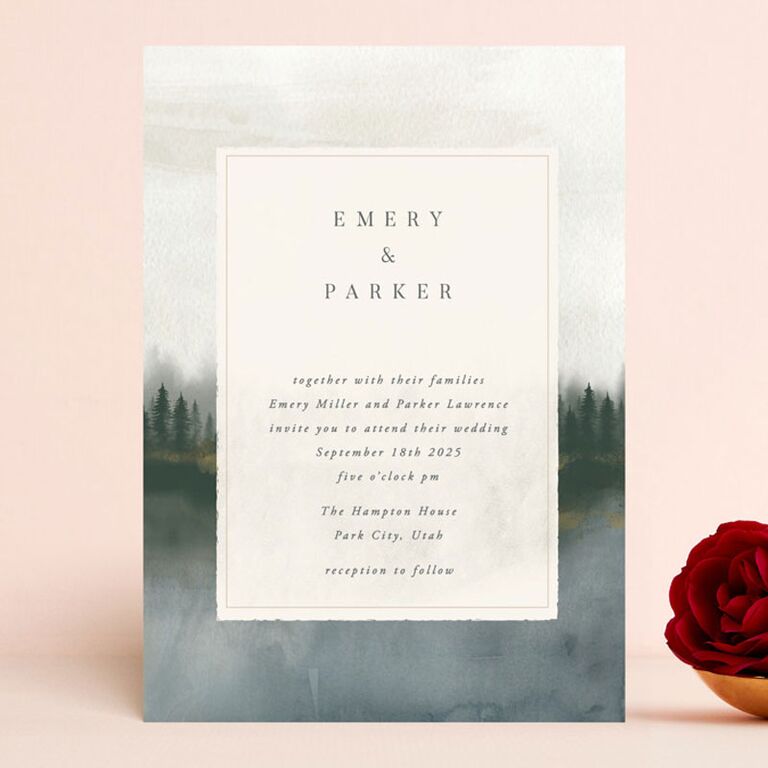 You don't need to have a lakefront wedding to send these breathtaking invites to your guests. This dreamy scene is a beautiful backdrop for your wedding details no matter what. Get the best price on your wedding invitations by sticking with the standard rectangular silhouette and signature paper.
Bold Background Wedding Invitations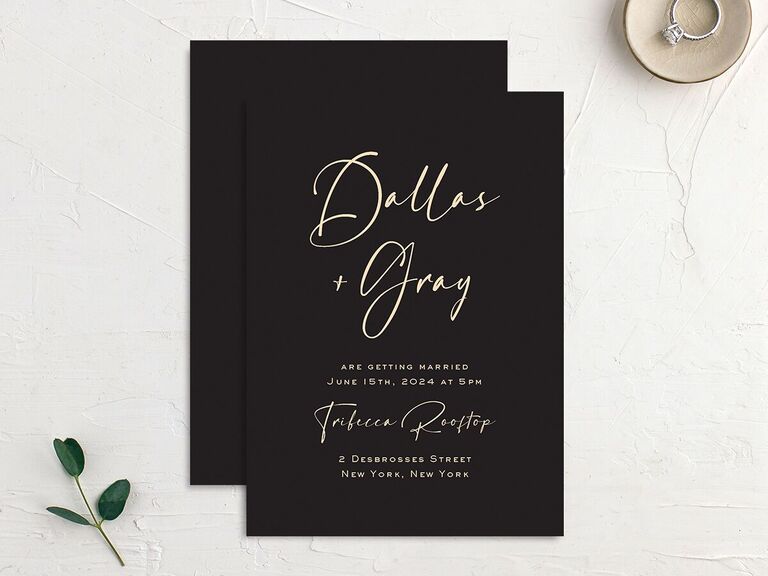 Anyone who's a big believer in "less is more" will appreciate the striking simplicity of this invitation design. Your names and wedding information stand out beautifully in a romantic script-style font against a monochrome background in black, white, blue, green, orange, pink, purple, or yellow.
Ocean-Themed Wedding Invitations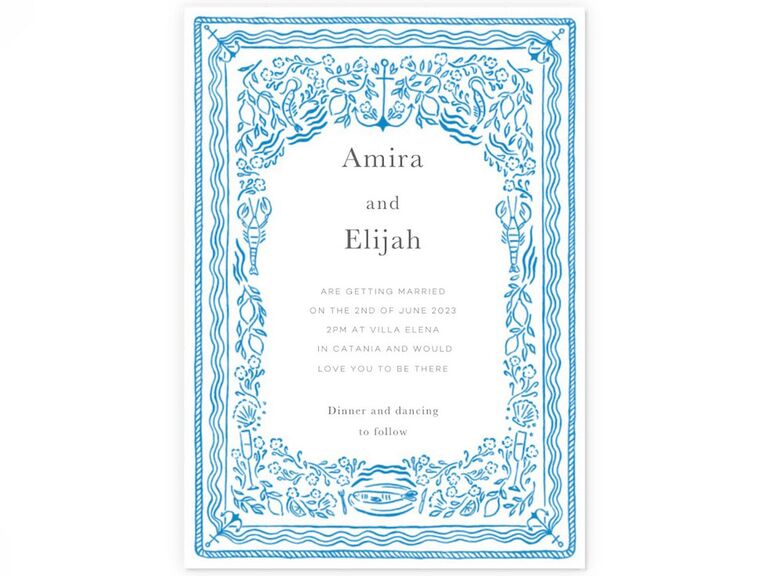 Papier is another place you'll find some of the least expensive wedding invitations. The ornate print that frames these invites could play up a variety of themes and locations, from destination weddings in the Mediterranean to a waterfront celebration at home.