31 Outdoor Wedding Venues That Will Make Your Jaw Drop
Adventure is out there.
If you love all things nature or you're a fan of open spaces, an outdoor wedding is the perfect choice for you. But with the variety of spaces available, it can be hard to know where to begin your search. To help, we've rounded up jaw-dropping outdoor wedding venues to give you all the inspiration you need. Due to the pandemic, more and more couples are embracing the Scandinavian concept of Friluftsliv, which is the practice of getting outside and connecting with nature—and we're here to help make that happen. Whether you're dreaming of getting married beside the glittering ocean or exchanging vows next to snow-capped mountains, we have the perfect ideas for you. Once you've honed in on your dream location (whether it be a colorful desert venue or a charming flower farm), head over to The Knot to explore outdoor wedding venues in your chosen destination. And don't forget to read up on our guide on how to plan an outdoor wedding. Read on to see 31 of our all-time favorite outdoor wedding venues.
Saddlerock Ranch in Malibu, California
Just the right mix of charming and grand, Saddlerock Ranch is one of the most picturesque places to exchange vows. Located in Malibu, California, this outdoor venue offers panoramic views of distant mountains and vineyards. Plus, it offers installations that are practically made for epic Instagrams (think: an oversized door and a giant photo frame). The stunning spot has several different locations you can pick from: the Main Lawn, the Oak Grove, the Vineyard and the Hilltop. Each option is absolutely stunning. This gorgeous event space is also a celebrity favorite—stars like Lisa Kudrow, Kelsey Grammar and Don Heley have exchanged vows here.
The Little Nell in Aspen, Colorado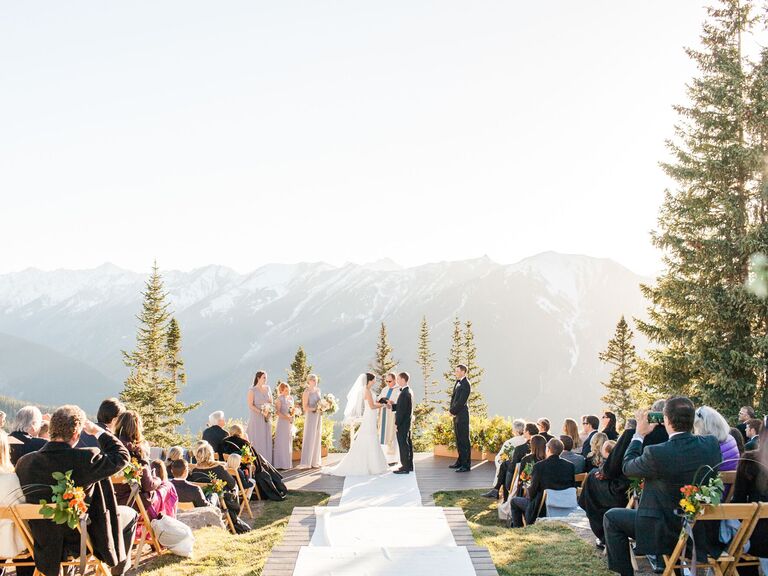 Does your typical date involve a hike or skiing adventure in the mountains? The Little Nell might be your dream outdoor wedding venue. Situated atop a high peak in Aspen, Colorado, this venue's views of the mountains will serve as a breath-taking backdrop for your wedding ceremony (and pictures, of course).The unique location of this wedding venue makes you feel as if you and your partner are on top of the world (which is perfect for any adrenaline junkies or thrill-seekers out there). Plus, the surrounding trees will help keep guests cool and comfortable while the sun is out.
Oheka Castle in Huntington, New York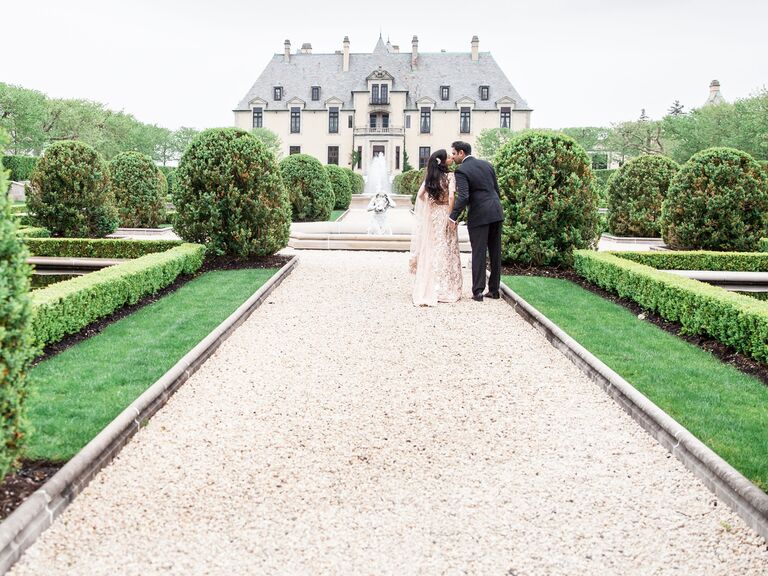 You don't have to fly to a far-off destination to get married in a castle. Plan your fairytale wedding at Oheka Castle, which is located in Huntington, New York. With its grand exterior, sprawling courtyard, gorgeous greenery and old-world charm, it's the perfect choice for a glamorous couple looking for their dream outdoor wedding venue. Say "I do" out in the stunning courtyard before heading inside to the venue's elegant dining areas. As an added bonus: This venue offers lodging for a number of VIP guests, which makes planning logistics much simpler. Scout out the property with your wedding photographer so you can find the perfect places to take pictures.
Haiku Mill in Maui, Hawaii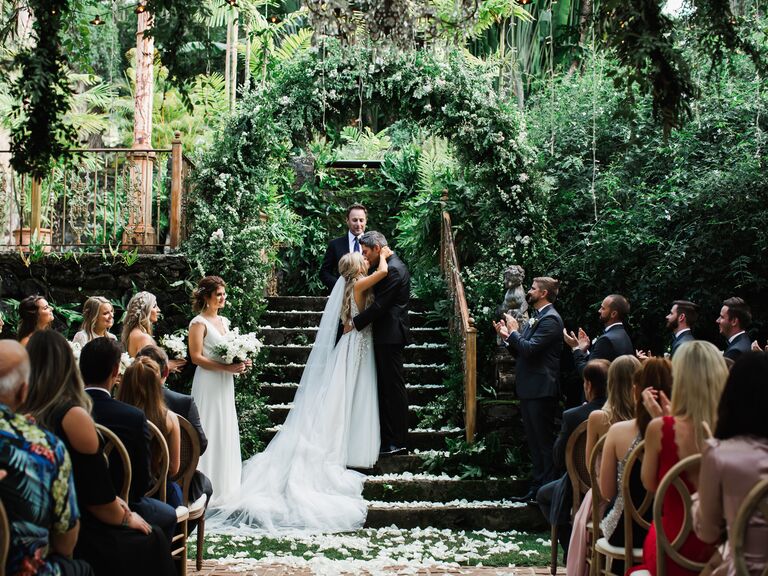 Of course, we'd be remiss to not mention Hawaii, one of the most beautiful wedding destinations in the United States. While the tropical islands offer endless beach wedding locations, we're huge fans of the Haiku Mill, a converted sugar mill on the island of Maui. (Psst: it's also where Bachelor stars Arie Luyendyk Jr. and Lauren Burnham got married.) The lush greenery makes the location feel like a hidden enchanted forest—adding even more magic to your special moment. Make sure you schedule in extra time to take pictures all over this stunning spot with your photographer. The results will be absolutely magical.
Finca Es Cabas in Mallorca, Spain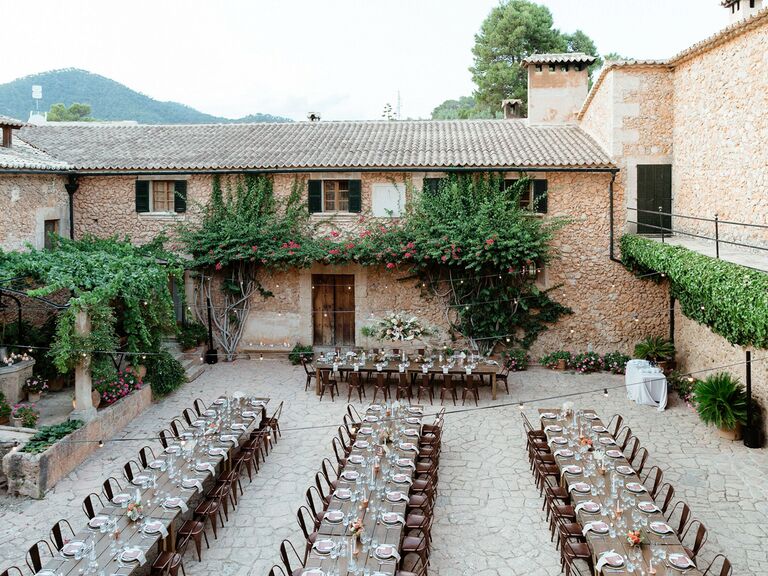 If you're thinking of planning a destination wedding, consider this outdoor wedding venue for your nuptials. Situated in the rolling countryside of Mallorca, Spain, Finca Es Cabas is downright dreamy. The space has a sprawling lawn, where couples exchange vows in front of family friends. But it also has a chic courtyard, where your friends and family members can enjoy their meals and music. The venue looks exactly like a castle, but it has touches to make it feel more modern. For example, the reception space has pretty greenery and string lights. This pretty outdoor wedding venue looks straight out of a storybook.
Misty Farm in Ann Arbor, Michigan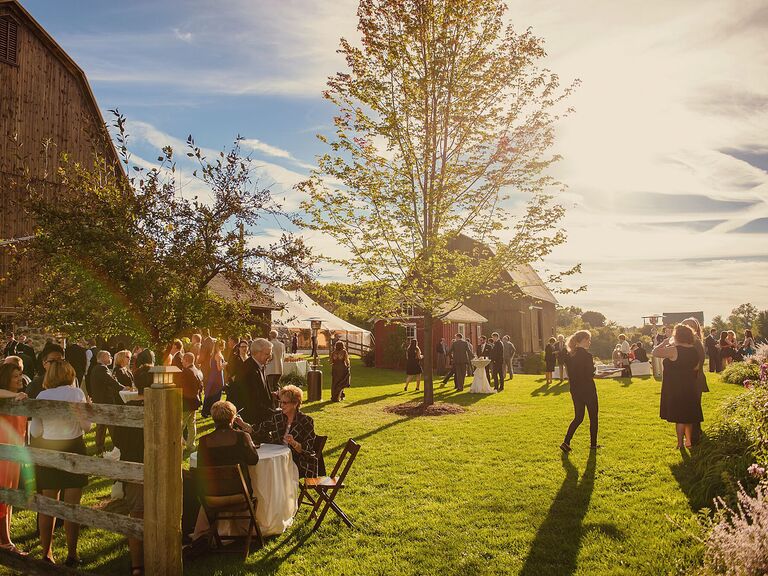 If you're unsure about fully committing to a truly outdoor space, consider an indoor-outdoor wedding space (a major 2021 wedding trend, according to our Real Weddings Study). In fact, barns were one of the most popular wedding venues, according to our study. Misty Farm in Michigan is charming and grand all at the same time. Take in the stunning views and enjoy the rustic aesthetic of the barns scattered throughout the property. Pro tip: Don't miss out on gorgeous golden hour photos. Take a break during cocktail hour to score a few pictures that will get all the likes on Instagram.
Malibu Rocky Oaks Estate Vineyard in Malibu, California
Proclaim your love for each other from the top of the world (read: this jaw-dropping mountaintop vineyard). This iconic ceremony spot offers 360-degree views of the Santa Monica mountains and the surrounding rolling hillsides. The venue also offers a scenic spot for your guests to enjoy dinner and the reception. Plus, you'll have the chance to have some of the vineyard's award-winning wine. Need any more convincing? Photographers in this area consistently list Malibu Rocky Oaks Estate Vineyard as one of the top outdoor wedding venues for couples (likely because it's so breathtaking and photogenic). Just look at the pictures!
North Beach in Tybee Island, Georgia
You don't have to go to California or Florida to plan the ultimate beach wedding. Case in point: North Beach, which is located in Tybee Island, Georgia. The small town is just outside of Savannah Georgia and is known for its sandy beaches: North Beach and South Beach. While both are lovely, North Beach is situated at the tip of the island, which means you'll have a completely unobstructed view of the ocean for your nuptials. What could be dreamier? If you'd like to have beachy accents in the background of your photos, consider exchanging vows in South Beach, where you'll find a charming pier.
Wave Hill in the Bronx, New York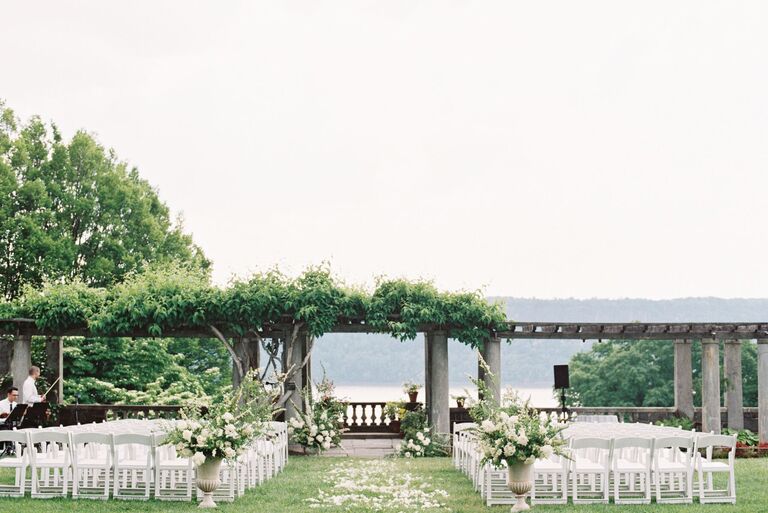 A wedding in the city that never sleeps may not call to mind images of lush gardens and sparkling waters. But up in the Bronx, New York lies Wave Hill, a dreamy outdoor wedding venue that will give you the elegant nuptials you've been dreaming (plus it's just a short drive from the city). This public garden allows couples to get married in the evening after it's closed to visitors, which means you and your guests get to enjoy watching the sun set over the Hudson River while you exchange vows. How romantic is that?As an added bonus, your purchase of the wedding venue includes a membership to the gorgeous garden.
Sacred Sands in Joshua Tree, California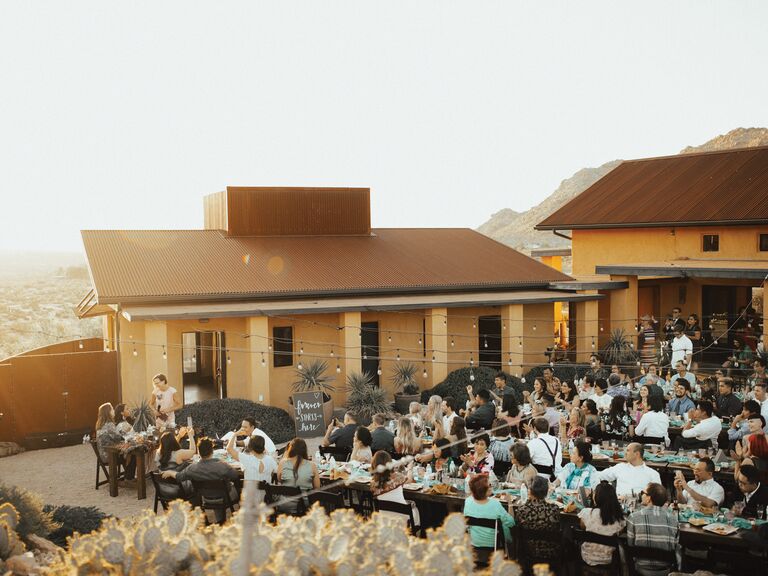 Whether you love a desert vibe, or you're both adventurers, Joshua Tree National Park is the spot for you. We love this venue because it's meticulously set up for the ultimate desert wedding experience. Look out onto the stunning grounds of the popular national park as you and your partner say "I do." Then, head into the venue's lovely reception space for dinner and dancing. The pretty string lights at Sacred Sands will light up the area as you celebrate with friends and family. Another pro of hosting your nuptials here? Your guests can enjoy a few hikes before or after the celebration for an adventure-filled experience.
Lyons Farmette & River Bend in Lyons, Colorado
Add even more magic to your wedding day by exchanging vows at Lyons Farmette & River Bend. The venue is situated on the banks of the St. Vrain River and nestled underneath dramatic red stone cliffs. Snow-capped mountains appear in the distance to add an element of wonder to your big day. Complete with lush greenery, colorful rocks and adorable llamas (yes, really!), this venue is equal parts stunning and quirky. The venue comes with a sail-cloth tent for your reception as well as two dressing areas: a charming cottage and a trendy glamping tent (complete with chandeliers). Enjoy the fire pit at the end of the night as the sun goes down.
Hotel Californian in Santa Barbara, California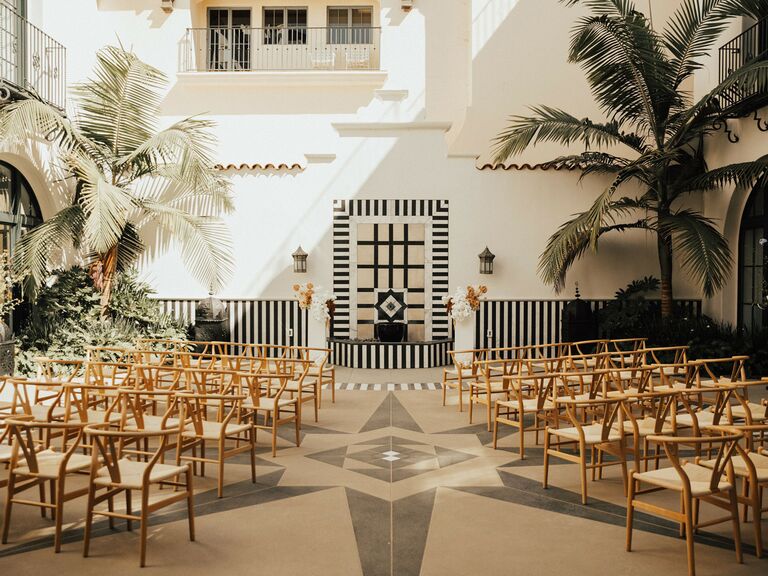 While many rooftops feel industrial, Hotel Californian in Santa Barbara, California is different. With its whimsical designs and palm trees, it feels playful and relaxed. This outdoor wedding venue is perfect for couples who want to do something different for their nuptials. However, the black-and-white print throughout the space will go with any colors and flowers you choose, so no need to stress about getting boxed into a certain style. Another pro of this space? It looks out to the ocean for a stunning view.
Emerald Lake Lodge in British Columbia, Canada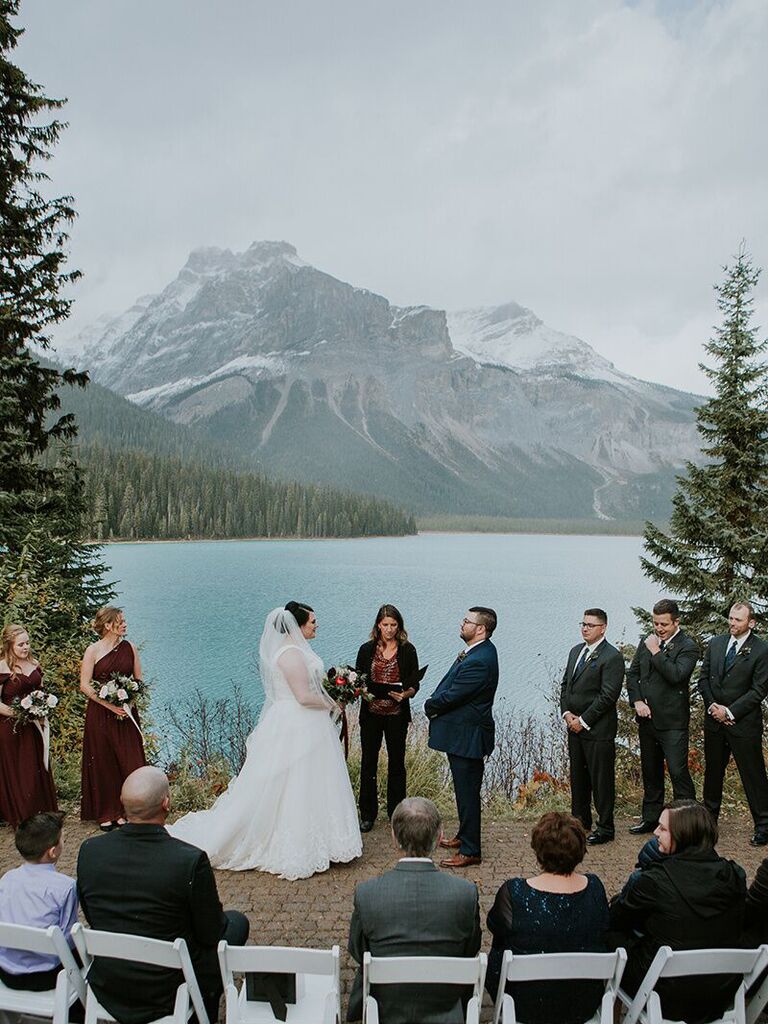 If you're dreaming of a far-off destination but don't actually want to go far away, consider a Canadian wedding. Emerald Lake Lodge in British Columbia is a popular choice because it has a jaw-dropping landscape (think: snow-capped mountains, reflective water and tons of trees) and cozy cabins for accomodation. Plus, this outdoor wedding venue offers so many Insta-worthy photo opps. Take a canoe out on the turquoise waters together or explore the park with your partner. Your wedding pictures will look like they're straight out of a fairytale. Couples looking for a luxurious experience can even rent their own island, and enjoy the entirety of Emerald Lake Lodge to themselves.
Mae's Ridge in Johnson City, Texas
Dreaming of hosting a country wedding? Look no further than Mae's Ridge in Johnson City, Texas. This stunning venue is located in the heart of the famed Texas Hill Country, which is known for its rolling hills (per the name), fine wine and authentic cuisine. But this venue is also a main attraction of the area due to its sweeping views and charming barn space. Exchange vows in the open field, and then dance the night away in the site's rustic barn. (Psst: Don't forget to scroll through our favorite country wedding songs to help bring the special day together.)
Valley of Fire State Park Wedding in Overton, Nevada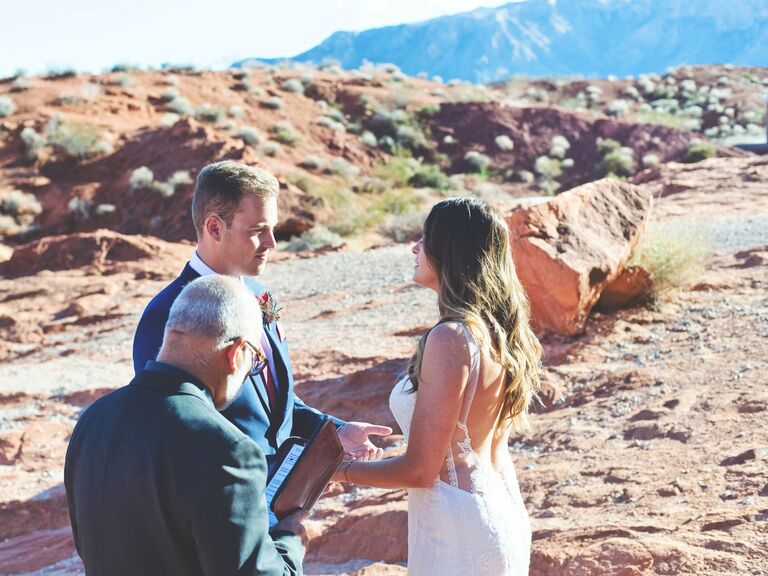 For couples who love the earthy colors of the desert, Valley of Fire State Park in Overton, Nevada is an ideal outdoor wedding venue. Gaze out onto the sweeping landscape before gazing into each other's eyes and saying your vows. Since it's state park, you'll need to be extra-aware of your surroundings. Check out our guide on how to plan a Leave No Trace Elopement so you can enjoy the venue without negatively impacting the environment around you. Pro tip: This outdoor wedding venue is great for couples who want a small wedding, as the space only accommodates up to 95 people.
W Loft in Brooklyn, New York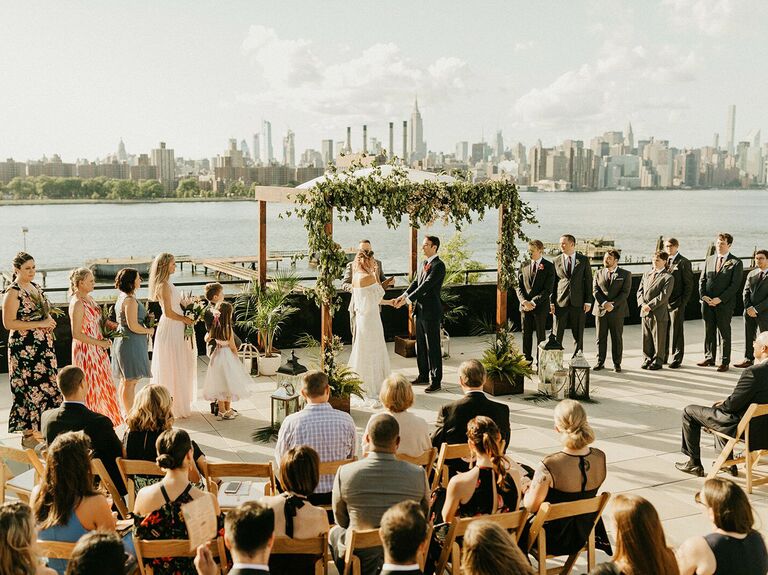 So you want an outdoor wedding, but you want to stay in the city (New York City, to be more specific). Get the best of both worlds by booking a stunning rooftop wedding space for your nuptials. The W Loft in Brooklyn, New York, is a gorgeous location that offers panoramic views of the impressive Manhattan skyline and the East river. Plus, it has a newly renovated space made with clear windows, so you can still enjoy the gorgeous views no matter what the weather is like on your wedding day. As a bonus, your guests can stay in the hotel so that they don't have to travel far once the festivities are done.
Kualoa Ranch in Oahu, Hawaii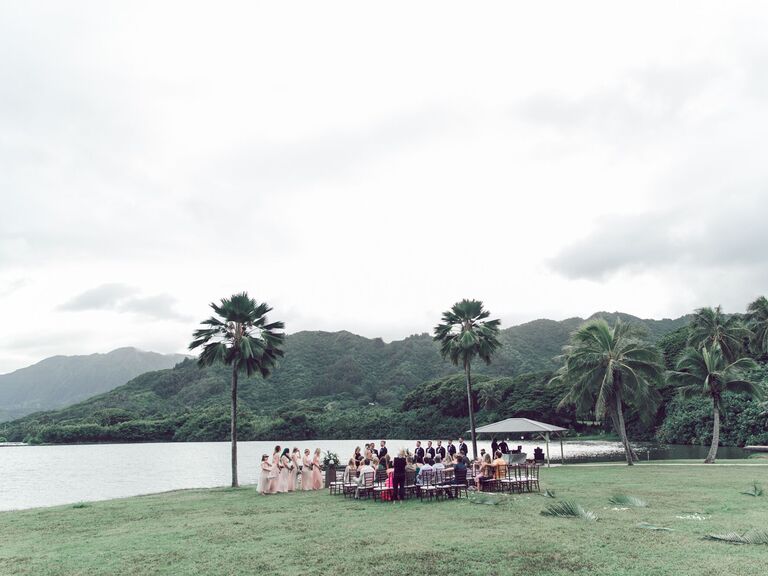 It's no secret Hawaii has endless beaches for your wedding day. But we love this unique outdoor wedding venue because the view offers more than just the ocean. Take in the majestic peaks and distant islands along with the clear water at the romantic Kualoa Ranch. The venue offers several different ceremony spaces, which means you can customize the experience to your liking. Exchange vows in one of the lush, tropical gardens or in a more remote landscape set between mountains. Want something more private? Look into the venue's Secret Island ceremony spot. No matter what space you choose at Kualoa Ranch, we guarantee this: Your wedding pictures will be absolutely stunning.
Pinewood Weddings and Events in Cambridge, Minnesota
If you're a fan of Scandinavian style, this unique outdoor wedding venue is for you. Pinewood Weddings and Events is situated in Minnesota's Northwoods forest, which features towering trees and pretty greenery. As if that weren't scenic enough, the wedding venue also includes a Scandinavian-style house, where your guests can enjoy dinner and dancing. If you're an outdoorsy couple or just love the look of a boho wedding, this stunning wedding venue is perfect for you. Ensure you set aside time to score some gorgeous pictures after your ceremony.
Under Canvas Moab in Moab, Utah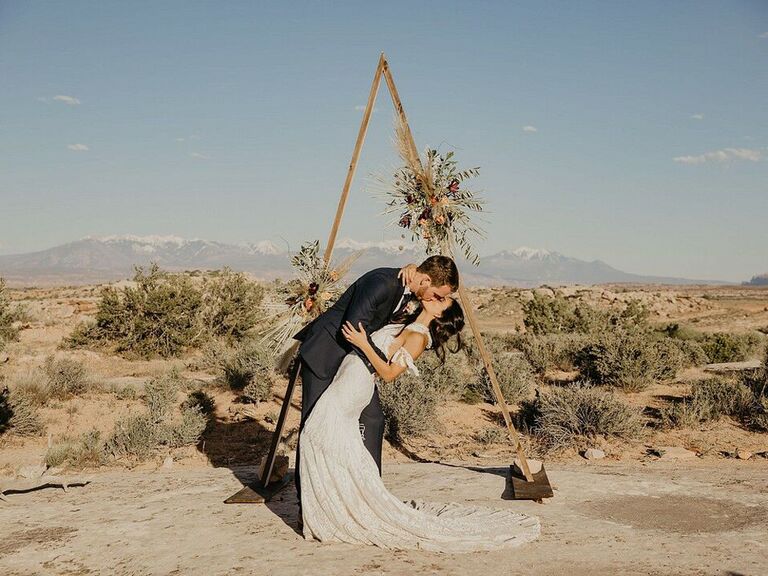 Looking for a full-on desert vibe? Exchange vows at Under Canvas Moab in Utah. Use the unique scenery to your advantage by incorporating decor like dried flowers (we also love these because they're eco-friendly and can be saved after the fact) and warm colors (think: mustard yellow, cranberry red or pumpkin orange) for the ultimate outdoor boho wedding aesthetic. Turn your nuptials into an exciting adventure by glamping (read: glamorous camping) in the park. Book a night or two for a group of up to 30 people or buy out the entire camp, which can accommodate up to 250 people.
Colony 29 in Palm Springs, California
This gorgeous venue has the seal of approval from multiple celebs. Both Samira Wiley and Whitney Port got married at Colony 29 in Palm Springs, California. It comes with a stunning rotunda ceremony spot, which is set up perfectly for you and your boo to say "I do." We're fans of this gorgeous outdoor wedding venue because you can customize the space completely. Whether you're dreaming of a boho, glam or simple wedding, you can use decor to bring your vision to life. The best part, though, is the surrounding scenery. Between the desert ambiance and surrounding mountains, we've added Colony 29 to our list of dream wedding venues.
Rathvinden Farm in Belgrade, Montana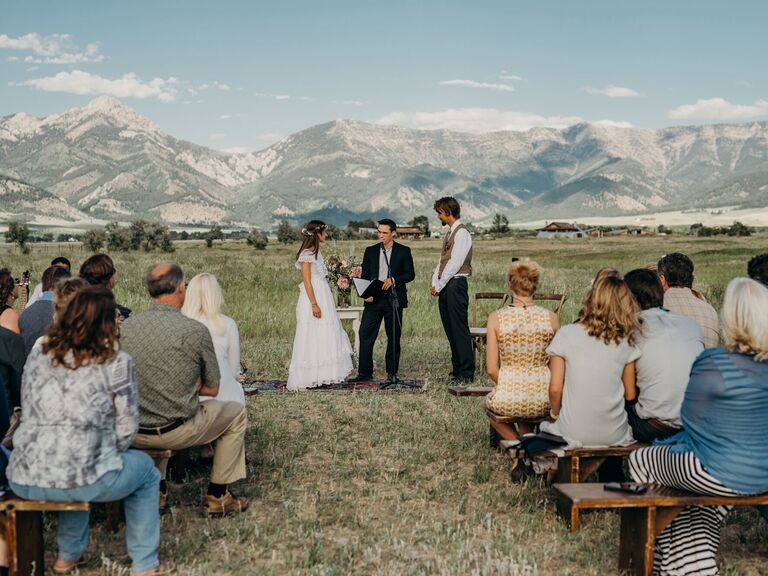 The first thing that catches your eye in Rathvinden Farm is the stunning scenery. But there's more to this charming farm than its panoramic mountain views and pretty, tall grass. It's also a flower farm—perfect for romantic photos and for to-be-weds planning a sustainable wedding. Rather than bringing florals from an outside farm, couples can harvest their own flowers directly from the farm. Not only is it a unique way to cut back on waste, it's also a lovely way to personalize your nuptials. Living out your values as a couple will help your loved ones see who you really are together and what's important to you. Plus, it's a memorable and thoughtful touch.
Carmel Valley Ranch in Carmel-By-The-Sea, California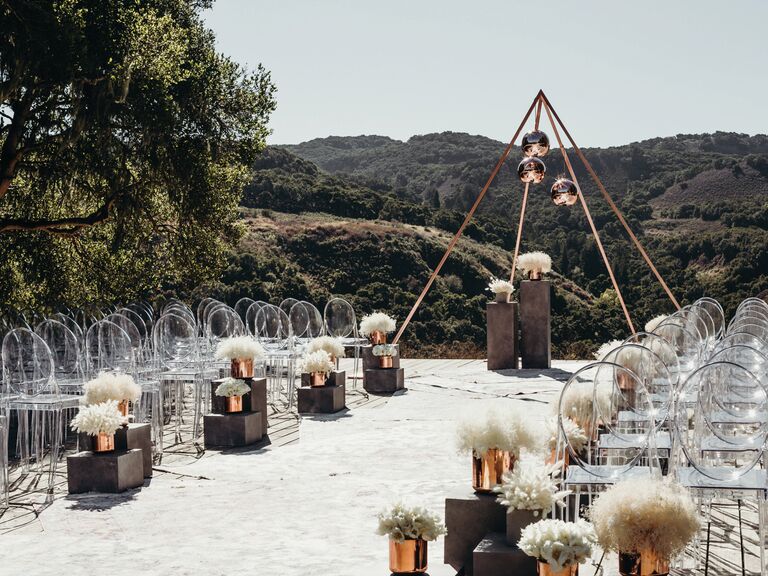 A wedding at Carmel Valley Ranch is what outdoor ceremony dreams are made of. Located in scenic Carmel-By-The-Sea, it offers the very best Mother Nature has to offer. The outdoor space, with its rolling hills, pretty vineyards and charming neighborhood, looks like it's straight out of your favorite romance film. Get married up in the mountains, down in an organic garden or on the venue's scenic lawns. If you choose this stunning venue for your nuptials, we recommend making a wedding weekend out of it. The popular vacation destination is best known for its pretty beaches and sustainable winemaking, so encourage your guests to explore (or plan a couple pre-wedding events).
Long Beach in Long Beach, California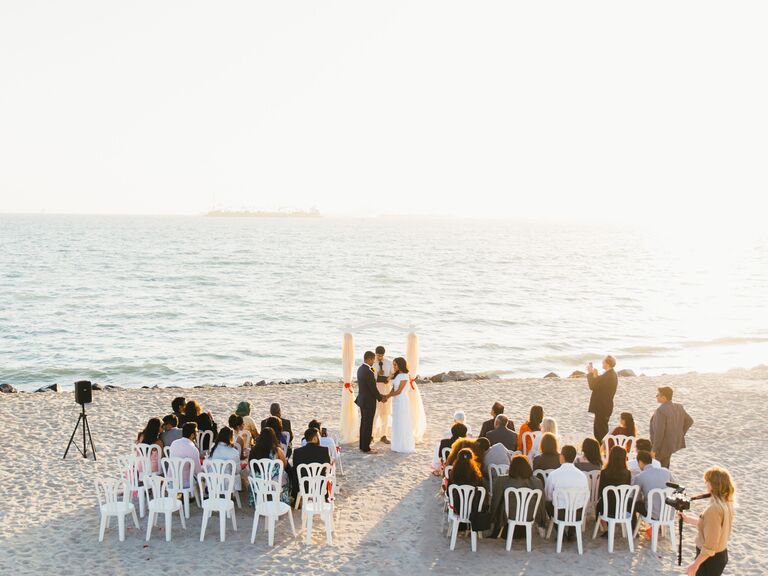 If you're more of a mellow couple, a beach might be the perfect outdoor wedding venue for you. There are gorgeous oceanside locations all over the country, but Long Beach in southern California offers gorgeous white sands, sparkling blue water and a prime view of the gorgeous sunset. (Read: perfect for golden hour wedding pictures.) Whether you're hosting an intimate wedding or a big wedding, a beach can accommodate your needs. Plus, it feels like a true getaway for you and your guests.
Tin Roof Barn in White Salmon, Washington
Planning a wedding in the Pacific Northwest? You'll definitely want to know about Tin Roof Barn in White Salmon, Washington. It captures the rustic charm of the area perfectly. The venue offers views of surrounding mountains and tall trees. Once you exchange your vows outside on the lawn, you and your guests can head into the pretty barn. The indoor space is made with giant sliding doors, so you can still enjoy the scenic views from the comfort of the barn. Plus, you automatically have a Plan B in case there's any of that famous PNW rain.
Fairchild Tropical Botanic Garden in Miami, Florida
When you think of Miami, Florida, you may initially think of white sandy beaches. And while there are plenty of waterfront spots to get married at in Florida's capital, we're fans of this unique outdoor wedding venue. Nestled in one of the hottest travel destinations is Fairchild Tropical Botanic Garden, which is filled to the brim with lush greenery and plants. Make the botanical gardens into a playful paradise with bright colors or stay neutral to create a chic, boho feel. Whatever you decide, we know it will be absolutely stunning.
Blue Vista in Randolph, Kansas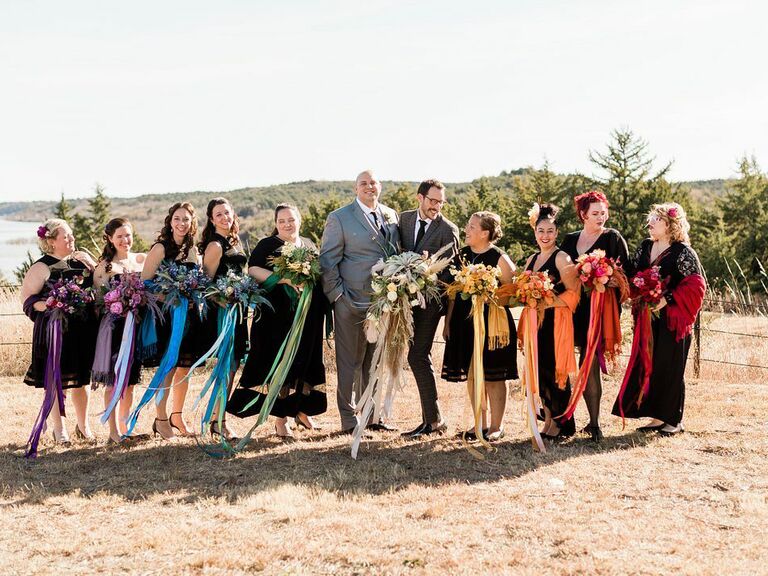 If you're hoping to plan a lakefront wedding, Blue Vista in Randolph, Kansas might just be the spot for you. Overlooking the gorgeous Tuttle Creek Lake, this wedding venue offers wide open spaces, lush landscaping and scenic views. It's also an indoor-outdoor wedding venue, as the site has a lodge and grand pavilion. Adventurous couples will be pleased to know the site also offers glamping as a choice of lodging. As the seasons change, the surrounding foliage changes colors, which can cater to different couples' aesthetic preferences. Those who want a boho or eclectic wedding will love the way the plants look in the fall while those with a more classic style will especially enjoy the space in the spring and summer.
Timber Ridge Lodge in Keystone, Colorado
Celebrate your love in a place that's as epic as your love story by booking a wedding at Timber Ridge Lodge in Keystone, Colorado. The venue has snow-capped Rocky mountains in the background to create a setting that's as epic as your love story. Plus, being up so high will excite your guests, making the whole day more memorable for everyone. Once you've exchanged vows outside, head into the cozy lodge for even more festivities. Your guests will appreciate the comfort of the indoors after spending time outside at the top of the mountains.
Stout's Island Lodge in Birchwood, Wisconsin
If you'd describe your dream wedding as casual, natural and rustic, Stout's Island Lodge in Birchwood, Wisconsin is for you. Located on Red Cedar Lake, this outdoor wedding venue offers sweeping views and the tranquility of being surrounded by nature. Couples have the option to rent out the entire island for an extra-private experience, or they can allow other guests to be on the island while they wed. It's the perfect backdrop for couples who want a simple lakeside wedding. While some couples take the plunge and jump into the lake, others simply enjoy the activities the island has to offer, such as hiking, canoeing, fishing and lawn games.
Dos Pueblos Orchid Farm in Goleta, California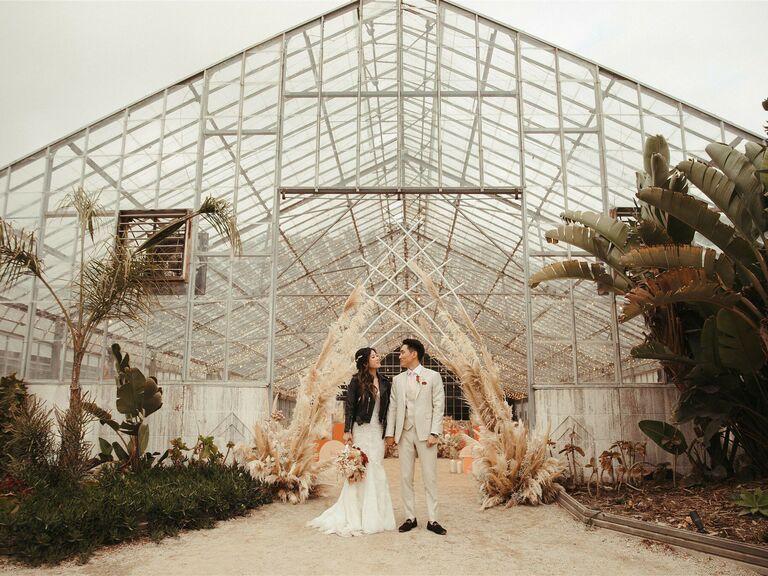 While this may not be a true outdoor wedding venue, we love the fact that it feels like it is. Whether you want to protect yourself from the elements (think: wind or rain), you're dreaming of a garden wedding or you just want to gather your loved ones in a special space, this oceanside greenhouse is the perfect place to do it. Dos Pueblos Orchid Farm completely full of windows, so you can clearly see the stunning scenery. Plus, the ceiling is covered in string lights, so your guests will feel like they're celebrating underneath a starry sky. The fact that it's an orchid farm is the cherry on top: Your guests will be able to enjoy the gorgeous flowers scattered throughout the site.
The Neon Museum in Las Vegas, Nevada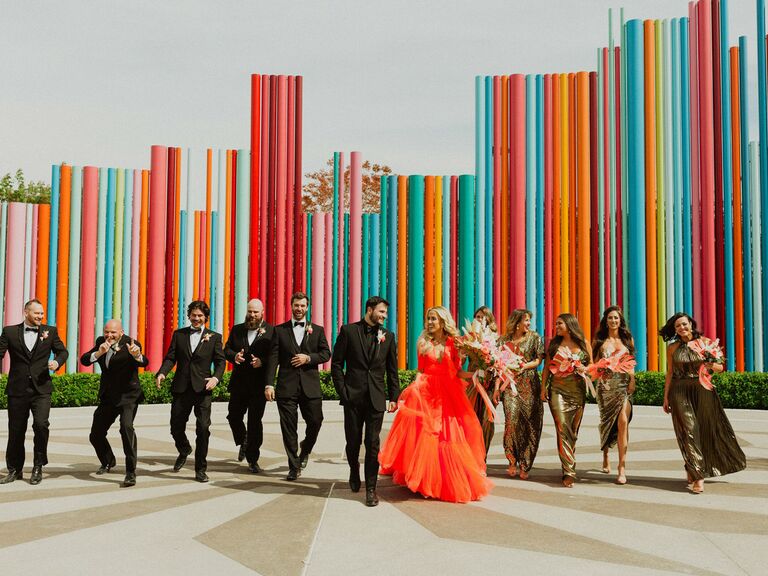 Your outdoor wedding doesn't have to be filled with nature. A cool rooftop or urban setting is just as stunning too. If you'd describe your style as quirky edgy or playful, consider this eccentric outdoor wedding venue. The Neon Museum in Las Vegas is aptly named, as it has countless Instagram-worthy neon backdrops. Take your portraits in front of these fun murals, and then exchange vows up on the rooftop in front of the building's epic sign. We love this venue because it feels retro and fresh all at the same time. Plus, the setting is so unique, your guests will never forget it.
New Orleans Pharmacy Museum in New Orleans, Louisiana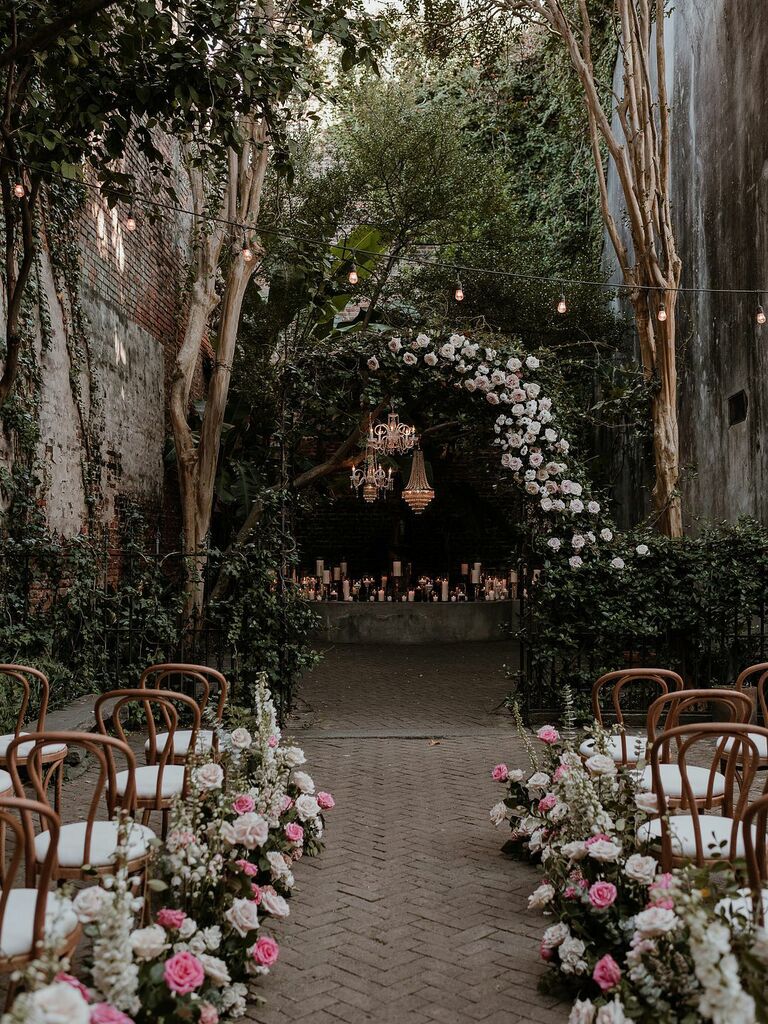 Looking for a setting that doesn't feel basic or overdone? This outdoor wedding is an absolute hidden gem. Nestled on the side of the historic New Orleans Pharmacy Museum is a charming courtyard that's perfect for any intimate celebration. This gorgeous wedding venue has exposed brick, vintage street lights, palmettos and growing vines. Together, they create a fairytale-like aesthetic, making your nuptials feel absolutely magical. Exchange vows in the 19th-century courtyard and then head out onto the streets for a traditional second line. It'll give you and your guests a true New Orleans experience that'll be absolutely unforgettable. Cheers to that!