This Is How Much Couples Spend on Wedding Favors
You're not the only one looking for awesome favors that don't break the bank.
by Maggie Seaver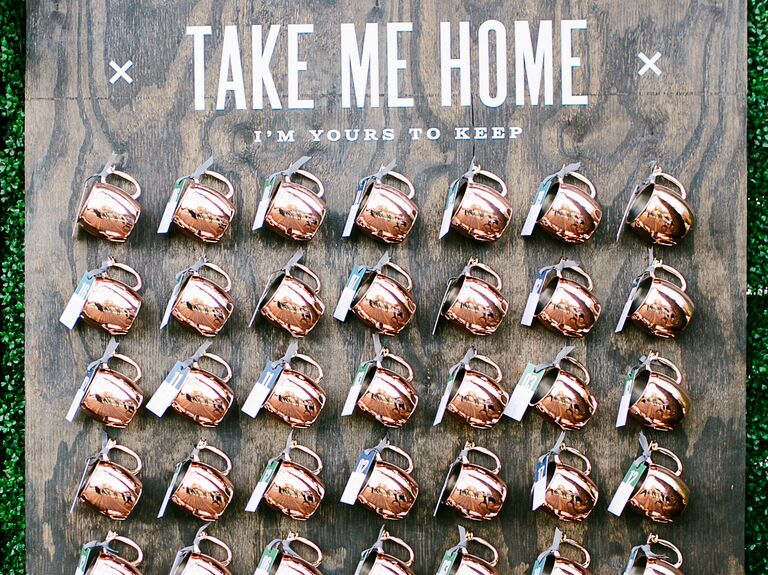 Are wedding favors required? Technically not. But do we love them? Obviously—and your guests will too. If you have the budget, and want to send your guests home with a fun token of love, favors are the way to go. And good news: You don't need to spend a fortune on them.
The average cost of wedding favors, according to The Knot 2018 Real Weddings Study, is $245. With the average headcount at 136 guests, that makes the average spend on favors per wedding guest roughly $2. We can work with that!
Sure, favors could be one of those expenses that sneaks up on you if you're not prepared, but generally speaking, that's a pretty reasonable cost per favor to get behind—just make sure you factor favors into your budget from the start. Plus, $245 total for favors is an average—in no way do you need to spend even that much on favors. (Likewise, if you want to put a little more behind your favors, do you.)
Seriously, you won't believe how many cute options you have for favors under $1. You can find anything from custom candles and matchbooks to bottle openers and moscow mule mugs. Don't believe us? Head to The Knot Shop and prepare to be amazed. You could also get your hands dirty making DIY wedding favors or semi-homemade favors. Try picking up your favorite fudge from a local sweet shop (or another delicious edible favor), then doing the tagging and packaging yourself with simple cellophane bags, clear boxes or mini jars (or step it up a notch with bright, dip-dyed pouches or colorful favor boxes from Minted). As long as you offer something personal, easy to carry and memorable, your guests will go home happy.
Still looking for the perfect favors? Find yours on The Knot Shop.
Disclosure: This post contains affiliate links, some of which may be sponsored by paying vendors.