32 Impressive Gifts for Your Father-in-Law
Give Pops the present he deserves and instantly earn his approval. If you're wondering what to get the man who has everything, consult this handy list.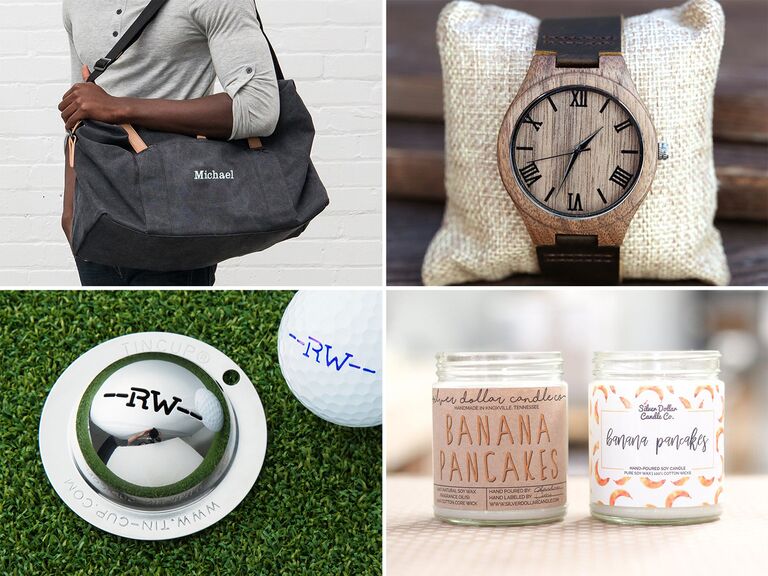 We have included third party products to help you navigate and enjoy life's biggest moments. Purchases made through links on this page may earn us a commission.
Marriage brought your partner's dad into your life, and whether that happened recently or you've been family for years, it can be tricky finding just the right way to show him that you care. Some FILs are open books. Others are much harder to read. Either way, shopping for gifts for a father-in-law takes some thought. That's why we're here with a roundup of ideas for wedding thank-you presents, birthday gifts, Father's Day presents, Christmas gifts and really, any other milestone. 
If you know him well, surprise him with something that proves you've been listening when he talks about his interests. When in doubt, buy a useful (but definitely not boring) item—it should still seem special enough for the occasion. Below, you'll find presents that speak to tons of different personalities, styles and FIL relationships. From products with a hint of humor to sentimental keepsakes, the best gift for your father-in-law is right here on this list.
1. A Baseball Bat Wine Rack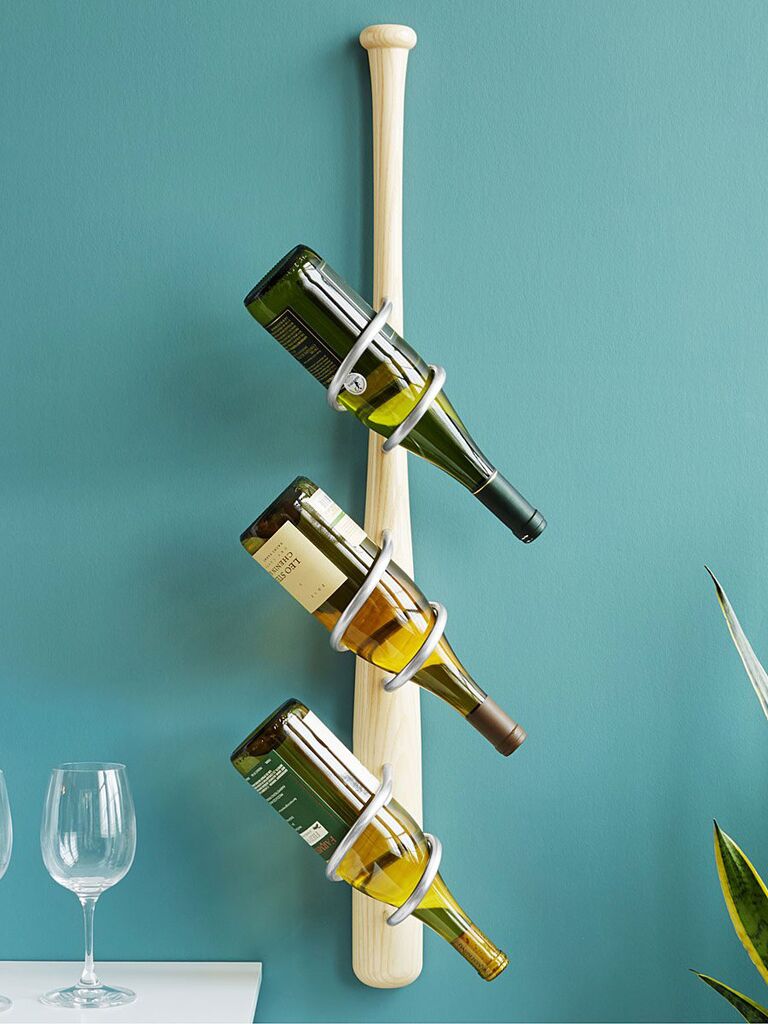 Knock it out of the park with this awesome FIL gift that covers two interests at once. If he's into vino and he's into baseball, he'll be into this one-of-a-kind wine rack. The bat is sourced straight from Cooperstown, New York, where the Baseball Hall of Fame is located. Attached are three stylish metal coils that hold a trio of bottles. (It even puts them in the perfect position for preserving them!) The only thing that could make this gift for your father-in-law more thoughtful? If you buy meaningful wine to go with it, perhaps from his favorite vineyard or with a symbolic vintage year.
Kevin Phillips baseball bat wine rack, $100, UncommonGoods.com 
2. A Genius Lawn Game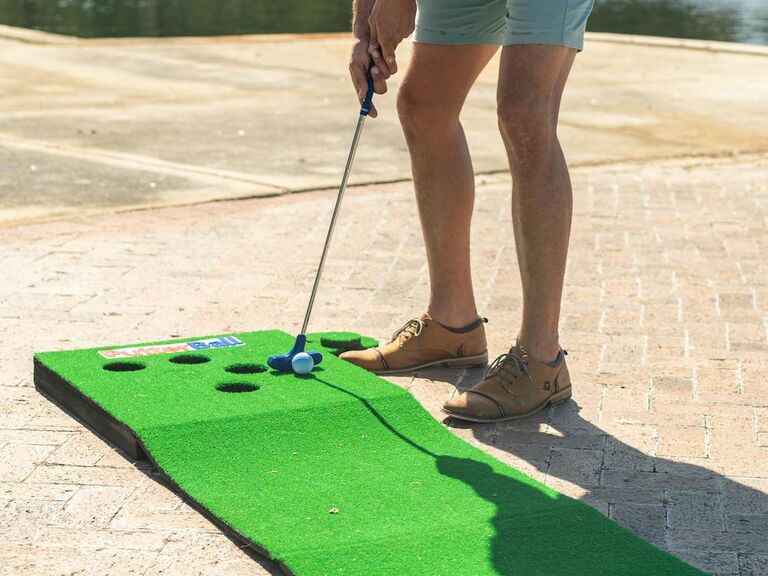 If he's the competitive type, introduce and challenge him to this hilarious golf and beer pong hybrid: PutterBall. The holes replace cups, you putt instead of toss and there are turf hole covers to block off "made" holes. He can play it with you, his buddies, his neighbors—really anyone looking to have a good time. Don't be surprised if he totes it along on the next family vacation too. 
PutterBall game, $190, PutterBall.com
3. A Whiskey Barrel Picture Frame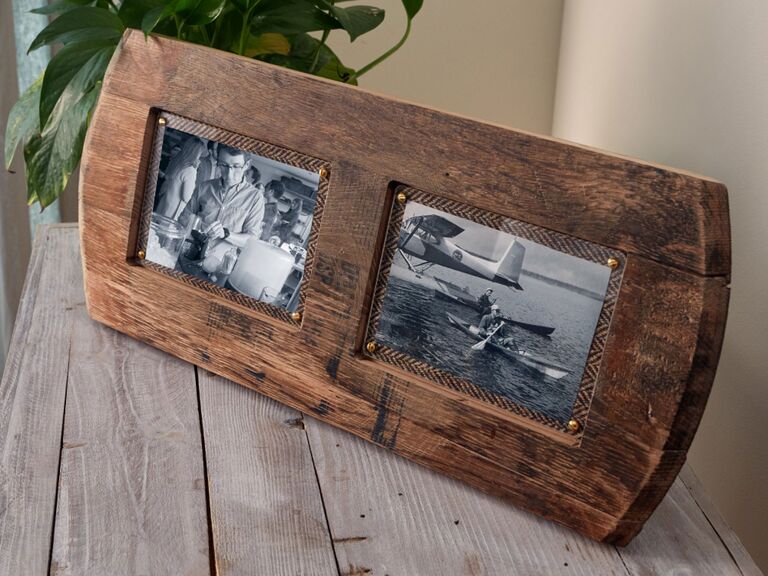 Sure, you could get him any old picture frame. Or you could get this rustic display case made from real whiskey barrels. If his drink of choice is scotch, it's the perfect Christmas gift for your father-in-law.
Whisky Frames reclaimed Scottish whisky barrel frame, from $58, TheGrommet.com
4. An Initial Golf Ball Marker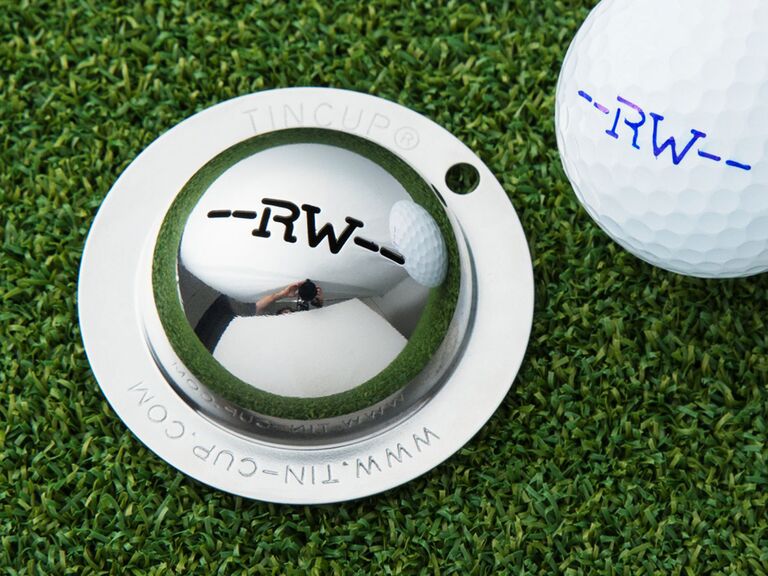 The next time he's on the green, he'll be thankful for this good gift. That goes double if his putting buddies are known to "borrow" (read: steal) his balls. He can bring it to the golf course, along with a pen, and mark his playthings on the spot.
Tin Cup custom initial golf ball marker, $99, TheGrommet.com
5. A Personalized Desk Calendar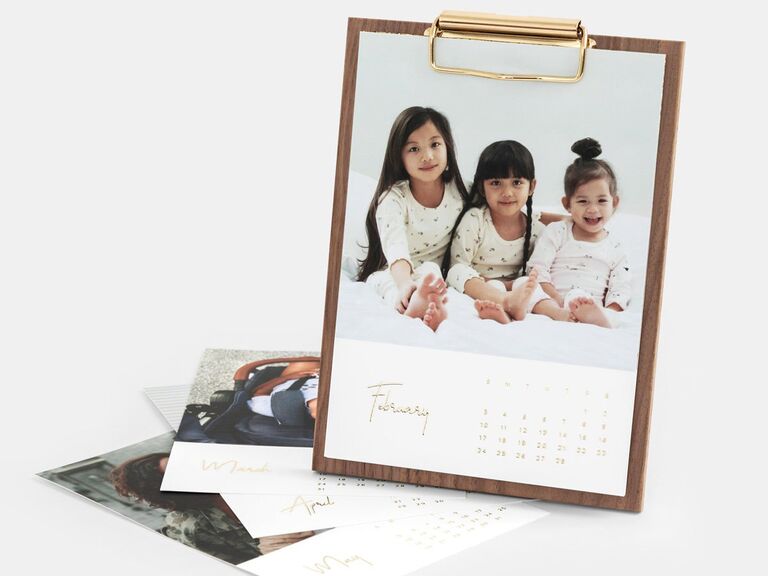 If he's the sentimental type, he'll appreciate a new calendar featuring all his favorite people and memories. Throw in a photo from a wedding event or a snapshot of his grandkids (if he has them), a beloved pet or anything else that'll warm his heart. It's an ideal Christmas gift for a father-in-law that he can use once the new year arrives. 

Artifact Uprising walnut desktop photo calendar, from $30, ArtifactUprising.com
6. A Funny Old Fashioned Glass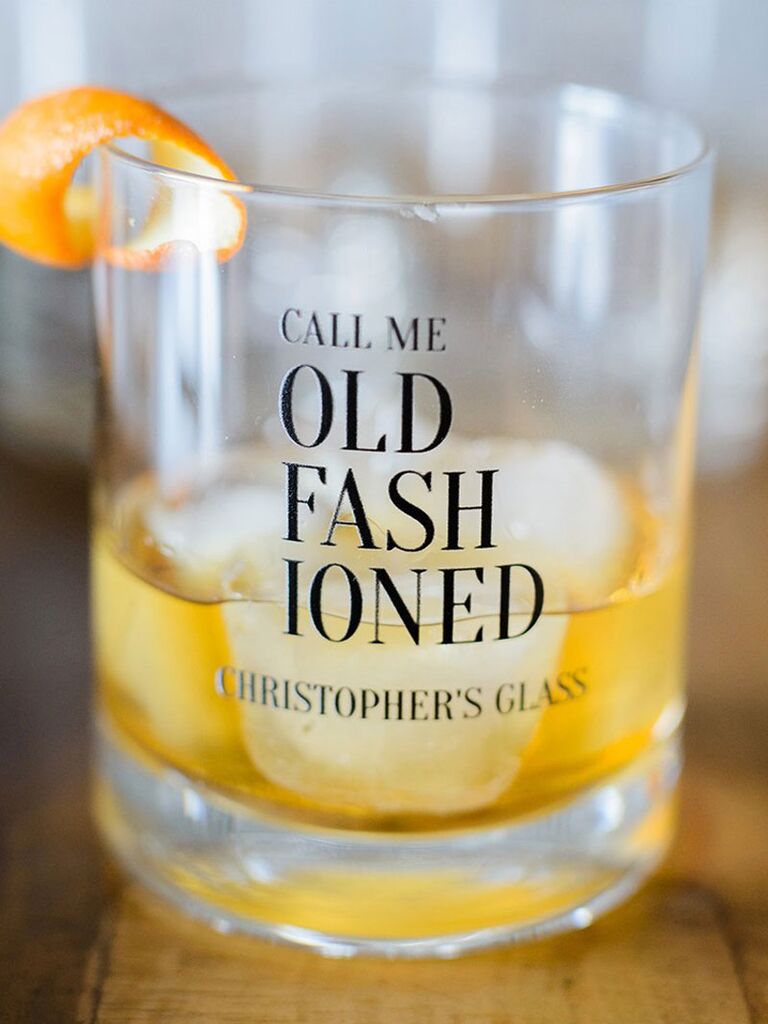 Maybe he says this a lot. Maybe he just loves the cocktail. Either way, this personalized "call me old-fashioned" drinking glass is equal parts playful and elegant. (FYI, The Knot Shop carries tons of personalized gifts where this came from.)
The Knot Shop Call Me Old Fashioned whiskey glass, $15, TheKnotShop.com
7. A Money Clip Wallet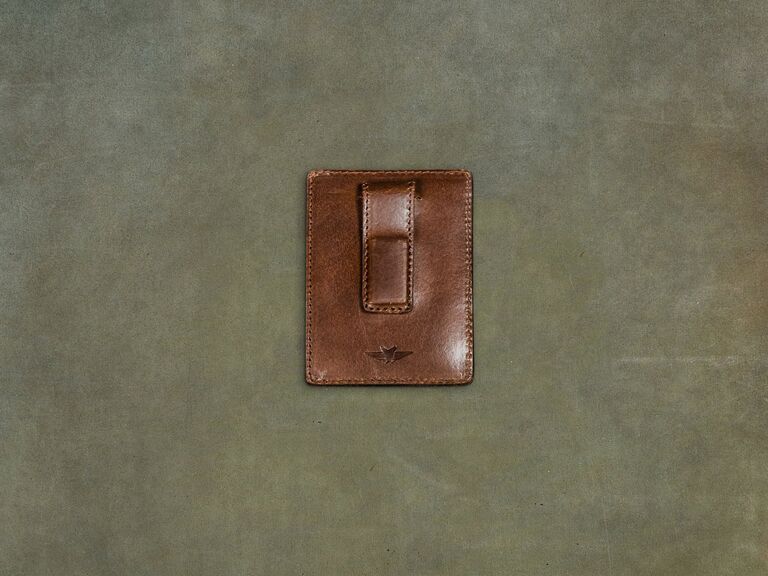 Any guy who likes to travel light could use a sleek money clip and card case. Especially a man who's stained, ripped, scratched or otherwise worn down his old wallet. This one's made from Italian leather and can fit up to six cards.

Satchel & Page leather money clip, $70, SatchelandPage.com 
8. A Craft Beer Subscription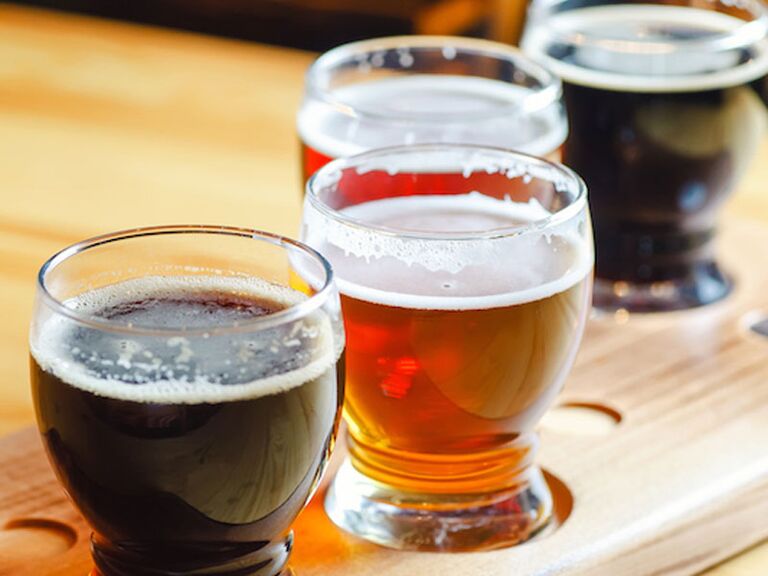 How about a gift that keeps on giving? Subscriptions are always great gift ideas for a father-in-law—just pick one that suits him best. This one goes out to brew aficionados who want to taste lesser-known (but not lesser-than!) brands from around the country.
Craft Beer Club craft beer subscription box, from $44 per month, CraftBeerClub.com
9. A Watch Lover's Cuff Links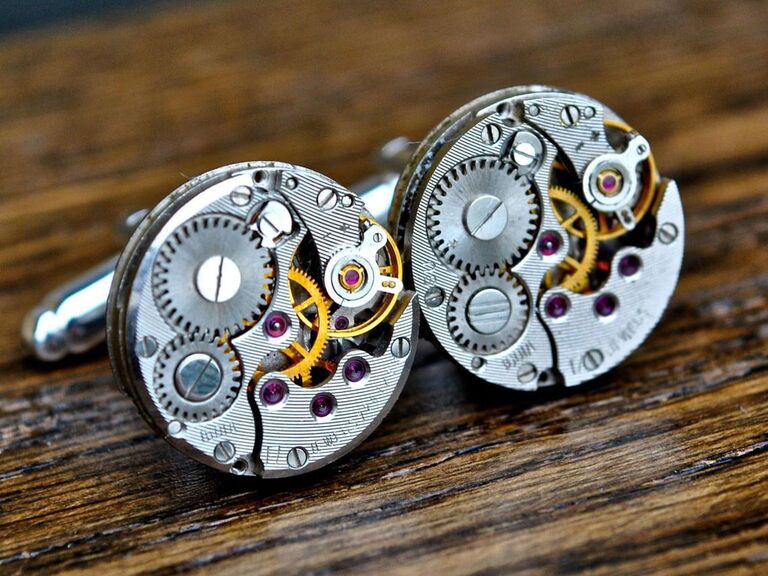 If timepieces make him tick, he'll obsess over these gear cuff links. They're crafted using real watch parts—talk about a cool gift for fathers-in-law. Give him the collector's items and we have a hunch you'll spot them on his wrists at the next formal wedding you attend.
J. Fox Cufflinks watch movement cuff links, from $28, Etsy.com 
10. An Actual, Engraved Watch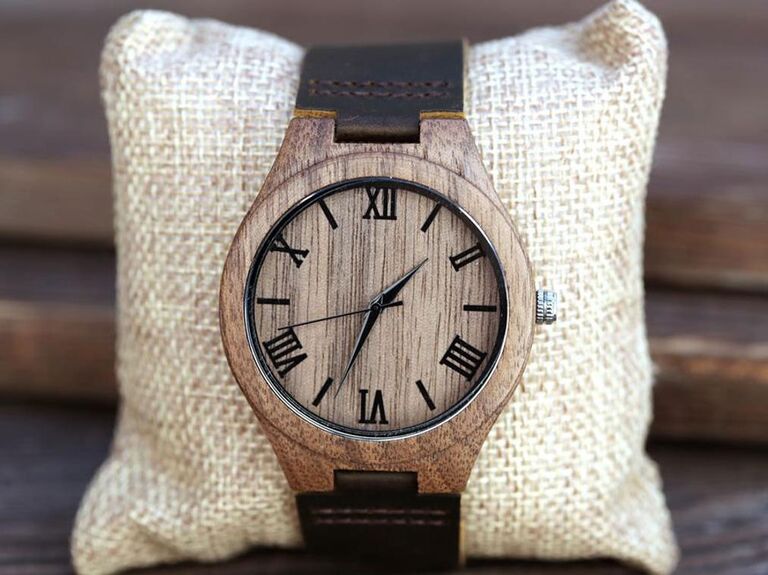 You can also get him an actual watch, but make sure it stands out from any others he already has. This handcrafted timekeeper has a one-of-a-kind wooden face and a cool leather band. On the hunt for father-in-law wedding gifts? You can get this accessory engraved with a thank-you message on the back. (That said, you're free to write "Merry Christmas," "happy birthday" or another meaningful note instead.) Can you believe a present this unique is so affordable?
Mint Designs 2010 personalized wood watch, from $38, Etsy.com
11. A Leather Gadget Case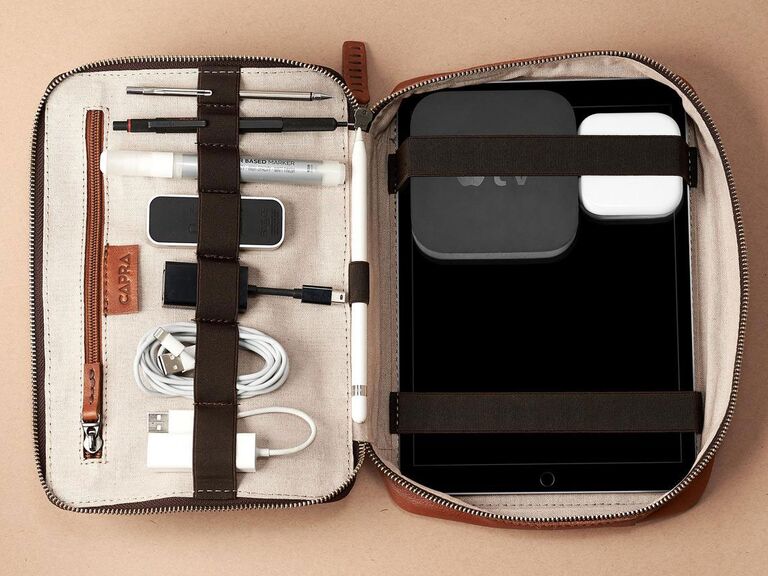 Like we said, some of the best gifts for a father-in-law are the most practical. Take this handy gadget case for the man who loves technology. It's nice and thoughtful without being too over the top, and he'll definitely appreciate being able to keep his iPad, chargers and other accessories neat and tidy.
Capra Leather customized leather gadget bag, from $99, Etsy.com 
12. A Hockey Puck Bottle Opener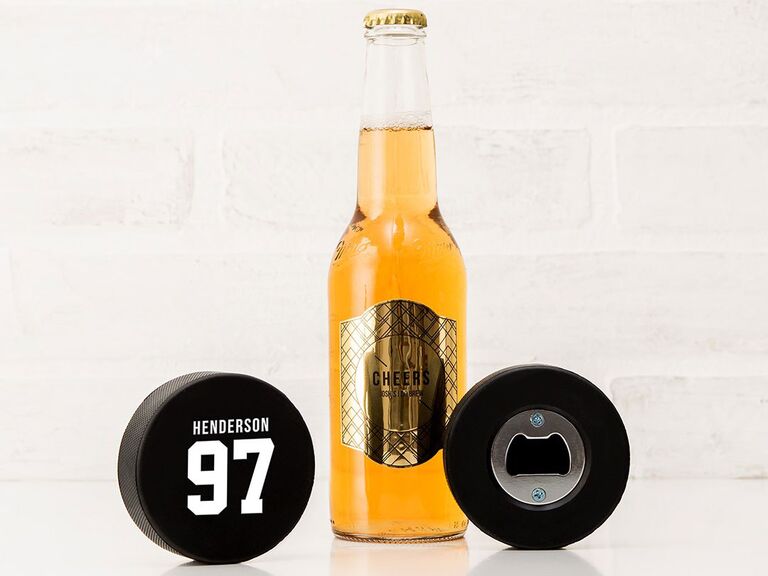 Bottle openers can be overdone FIL gifts, but not this one. It's customized and shaped like a hockey puck, so he can easily crack open a cold one when he's watching his favorite NHL team.
The Knot Shop custom hockey puck bottle opener gift, $15, TheKnotShop.com
13. A Perfectly Nerdy Mug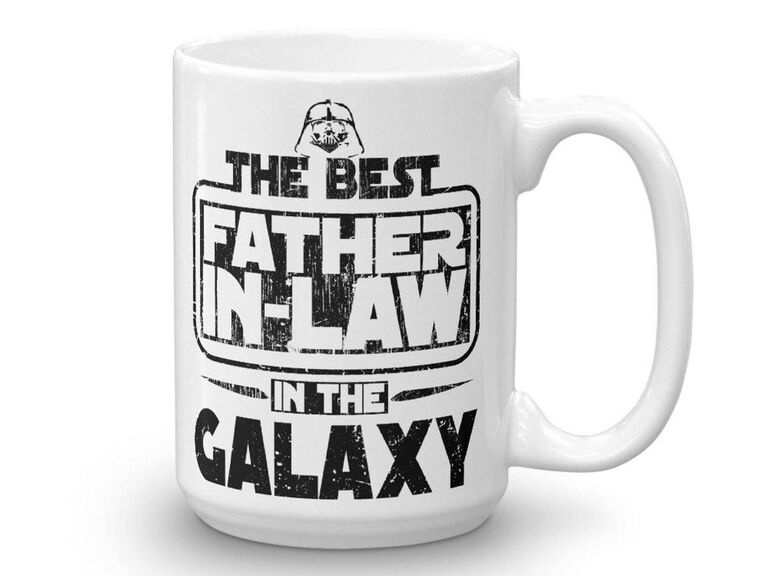 Brighten up his mornings (or midday slumps at work) with a mug that nods to his favorite movie or show. Trust us, there are tons of pop culture-inspired mugs out there. We like this Star Wars-themed "the best father-in-law in the galaxy" cup.
Personalized Mugs Shop Best in the Galaxy father in law mug, from $15, Etsy.com
14. A Brand-New BBQ Set
Can't mess with his grilling skills? Don't—enhance them. It never hurts to have a few extra BBQ tools on hand. This comprehensive set comes personalized for extra brownie points. Bonus: You'll probably get a delicious burger out of this gift idea for your father-in-law.
The Knot Shop custom stainless steel BBQ tools grill set, $30, TheKnotShop.com 
15. A Self-Cleaning Water Bottle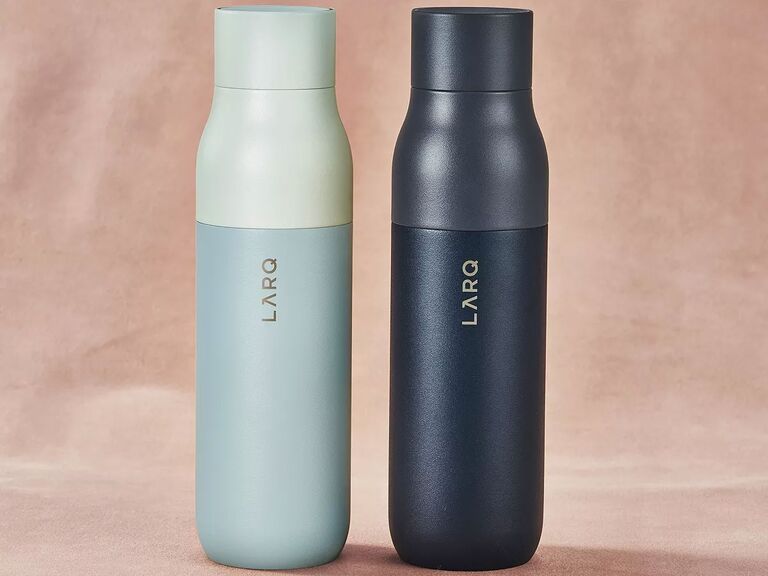 He's a busy man, we get it. So get him this genius water bottle. Yes, we know it's a little pricey, but it literally cleans itself and the water you put inside it! After all, some of the best gift ideas for fathers-in-law are the ones that solve a major inconvenience. And reusable water bottles are (usually) notoriously hard to clean.
LARQ self-cleaning bottle, $95, Bloomingdales.com
16. A Camping Lantern Turned Speaker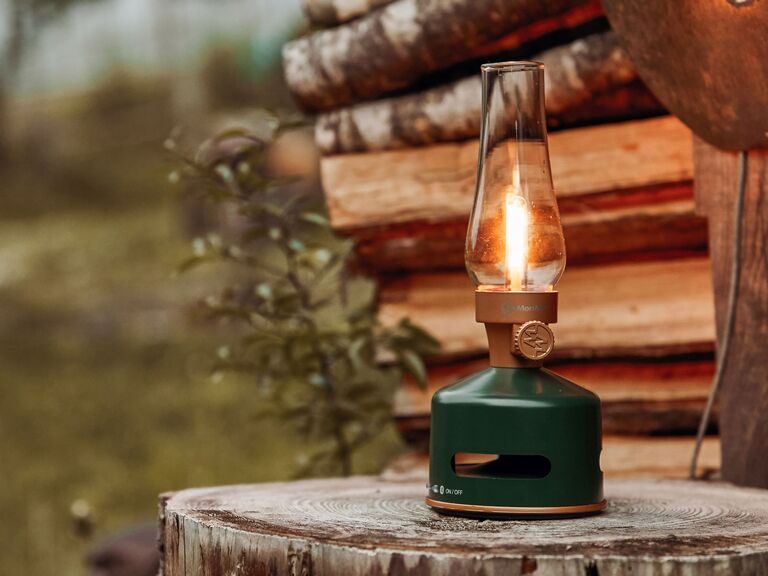 Introduce Dad to the magic of "glamping" with this stylish, innovative travel lamp. It doesn't just light up the night—it connects to Bluetooth with the help of an app so he can stream his favorite tunes in the great outdoors (or just on the back deck). 
Mori Mori LED lantern speaker, $110, Huckberry.com
17. Custom Sticky Notes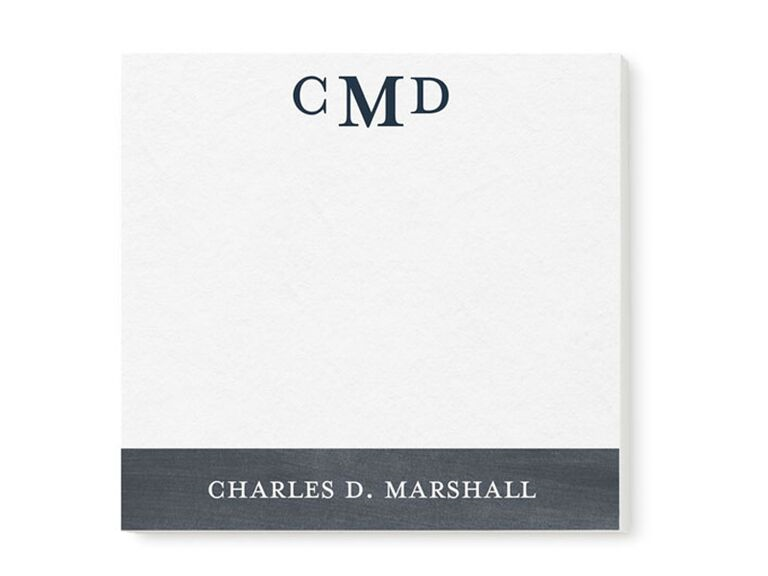 Whether your father-in-law writes down notes for work or just to remember his grocery list, custom stationery makes scribbling memos feel way fancier. 
Shutterfly classic Bold Footer Post-it notes, from $6, Shutterfly.com
18. A Brain Teaser Puzzle Set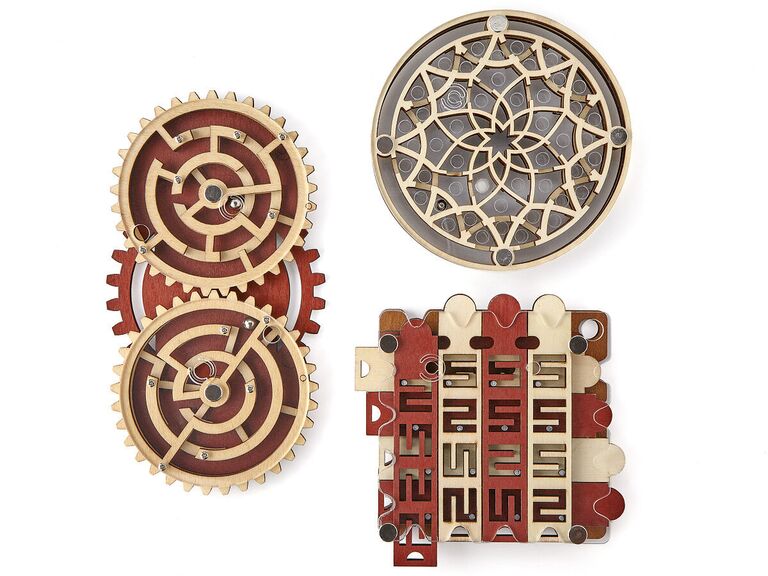 This one's for the FIL with a sharp mind. He can stay on top of his game with the help of these challenging toys. Show you care by presenting him with a gift that evokes a touch of nostalgia and a lot of fun.
Jean Claude Constantin Constantin brainteasers, from $20, UncommonGoods.com 
19. A Sophisticated Chocolate Box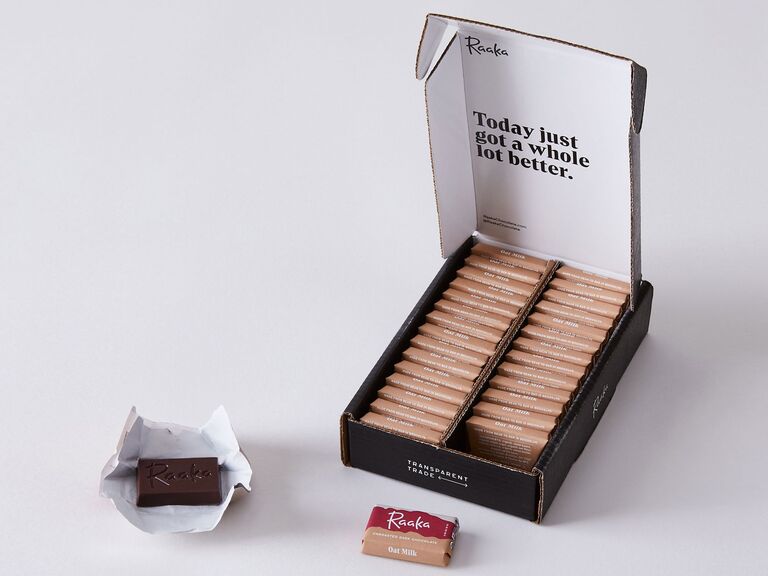 Thought we forgot about edible presents? Nonsense—we know those are some of the best. This chocolate gift for fathers-in-law is perfect for Christmas, birthdays or other special occasions. It contains a month's supply of individually wrapped chocolate bars (yum) with four flavors to choose from. 
Raaka Chocolate Daily Dose chocolate pack, $30, Food52.com 
20. A Keepsake Fish Hook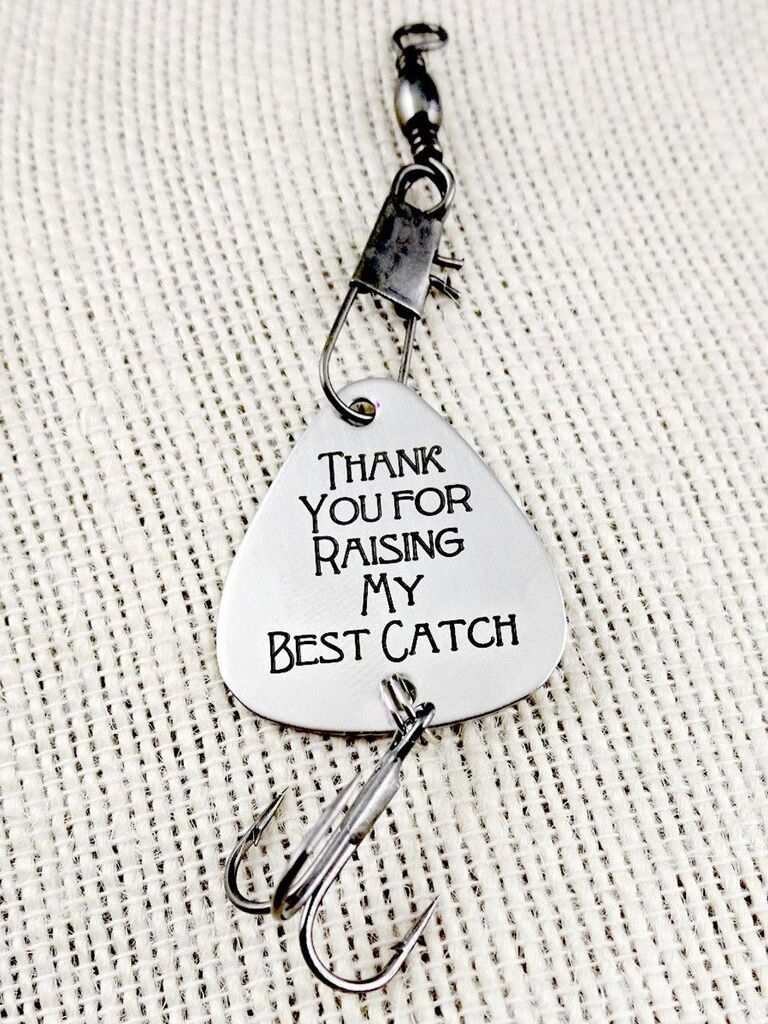 Doing some holiday shopping for a fisherman? Tell him how lucky you feel that you've reeled in a good one with this sweet "thank you for raising my best catch" lure. Leave it to Etsy to have such a creative (but still affordable) father-in-law gift.
Rose Creek Too My Best Catch father-in-law wedding gift, from $21, Etsy.com
21. A Playful (But Still Office-Friendly) Tie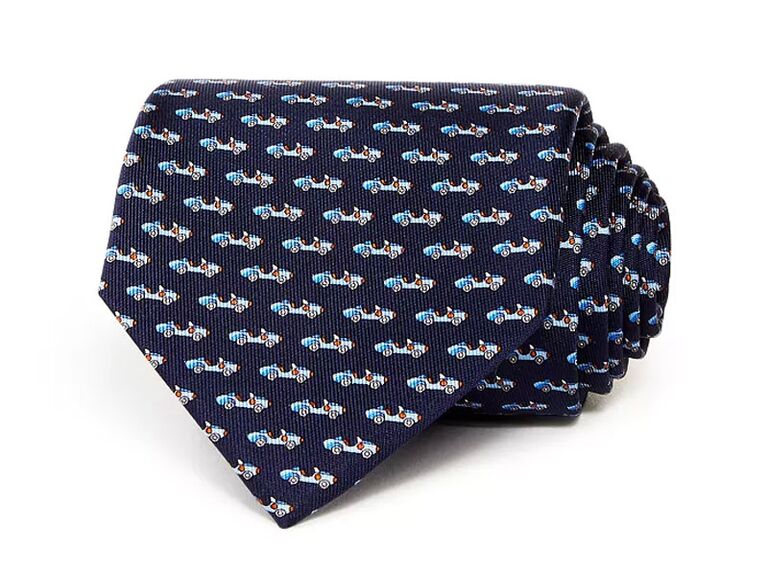 Help him show off his personality in and out of the office. Salvatore Ferragamo designs some truly fun ties that celebrate all sorts of animals, sports and more. (This one is decorated with teeny-tiny race cars.) But the neck accessories are definitely still work-appropriate, since the patterns are always subtle. That, and because the ties are made from pure Italian silk. You can't argue with luxurious fabric.
Salvatore Ferragamo Racecar silk classic tie, $190, Bloomingdales.com
22. A Comforting Scented Candle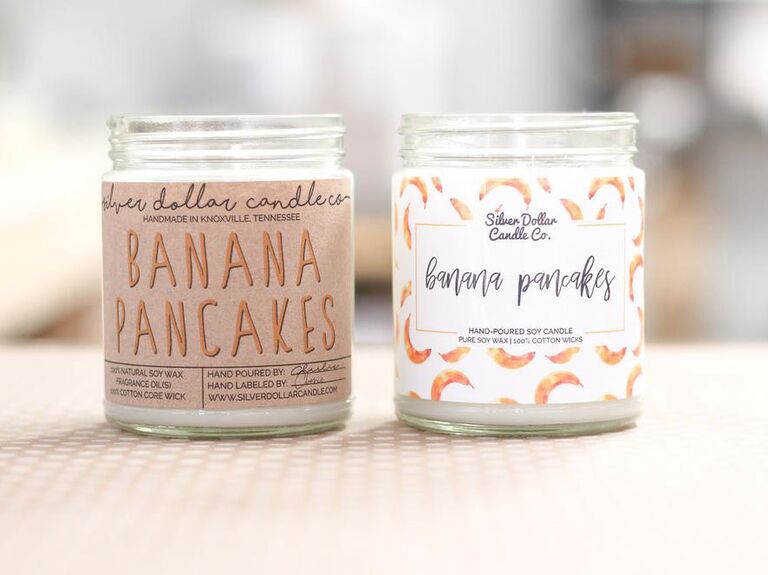 Here's another option for all the food lovers out there. Pay tribute to his favorite meal with just the right scented candle. This one smells like banana pancakes, so you'll get bonus points if he also loves the Jack Johnson song.
Silver Dollar Candle Co. Banana Pancake scented candle, $19, Etsy.com
23. Luxe Martini Glasses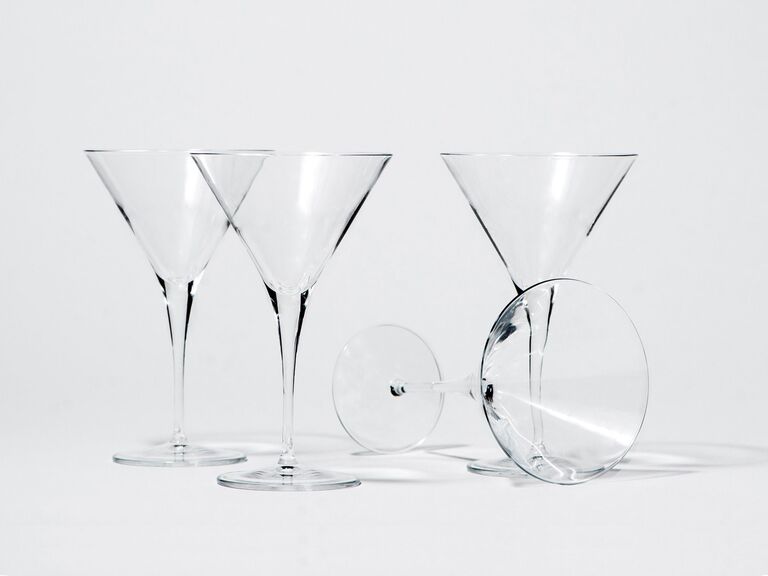 Raise a glass to your growing bond with this luxury barware. You can pair them with gourmet stuffed olives, a bottle of gin and a bottle of Dry Vermouth for a DIY make-your-own martini kit. Oh, and if he's a cocktail party kind of guy, they come in a set of four.
Snowe Home martini glasses, $60 for a set of 4, SnoweHome.com 
24. Sentimental Wall Art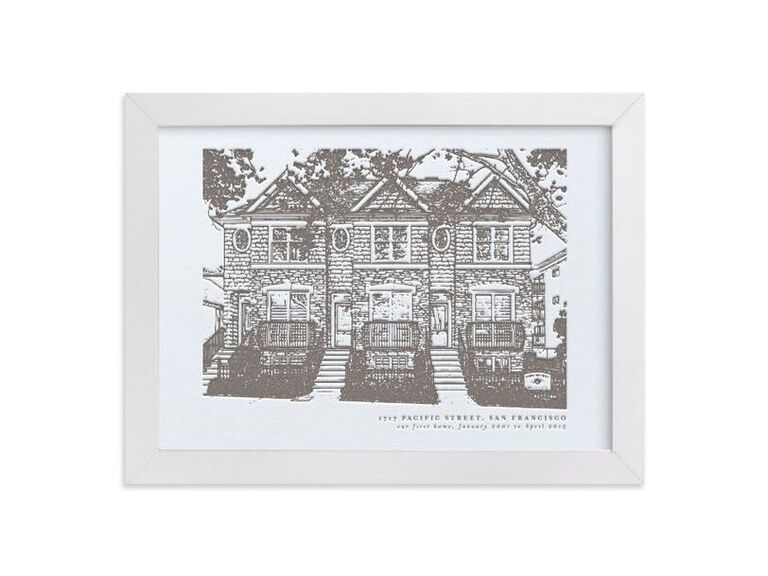 Here's an incredibly special gift for the father-in-law who's so proud of the home he's built or cared for. Submit a photo of his abode and Minted will turn it into a piece of art. You choose the color, size and frame.
Minted custom house letterpress portrait art, from $82, Minted.com
25. A Customized Subscription Box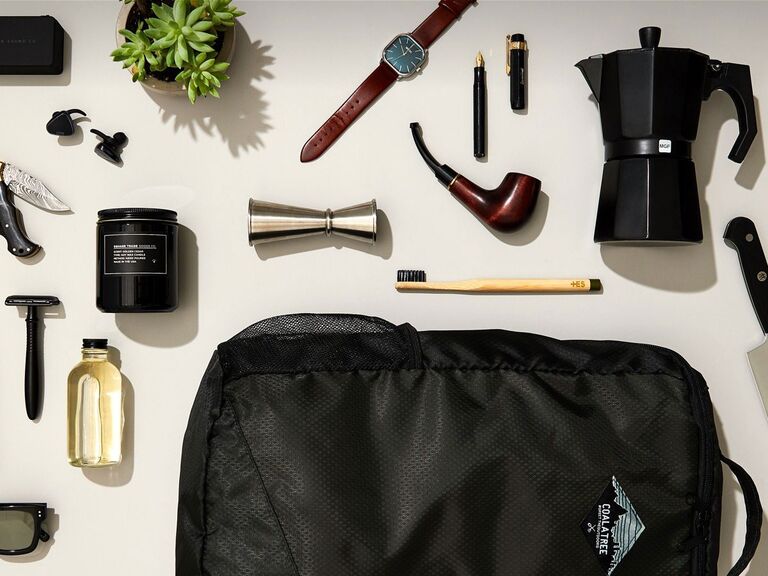 Really can't decide what gift to buy for the father-in-law who has everything? Take inspiration from his interests and get him a subscription to Bespoke Post. Each month, he'll be treated to a box filled with curated gifts, whether he loves brunch or barrel-aging his own whiskey. You can also buy him a one-off box or gift, if a subscription box isn't your FIL's style. The cherry on top? Bespoke Post is committed to supporting small businesses, giving you something else to feel good about.
Bespoke Post customized subscription box, price varies, BespokePost.com 
26. A Retro Turntable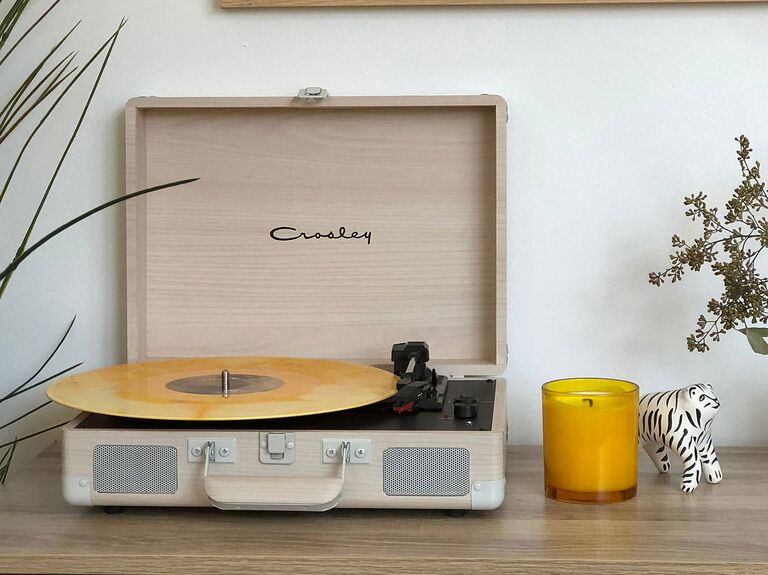 A vintage-style record player is one of the best father-in-law gifts for the guy who loves music. It'll help him rediscover all his old favorite artists, as well as some cool new ones. Plus, it means you can buy him a new vinyl for every celebration going forward—how's that for a gift idea?
Crosley UO Exclusive Cruiser Bluetooth washed wood record player, $99, UrbanOutfitters.com
27. Fun Socks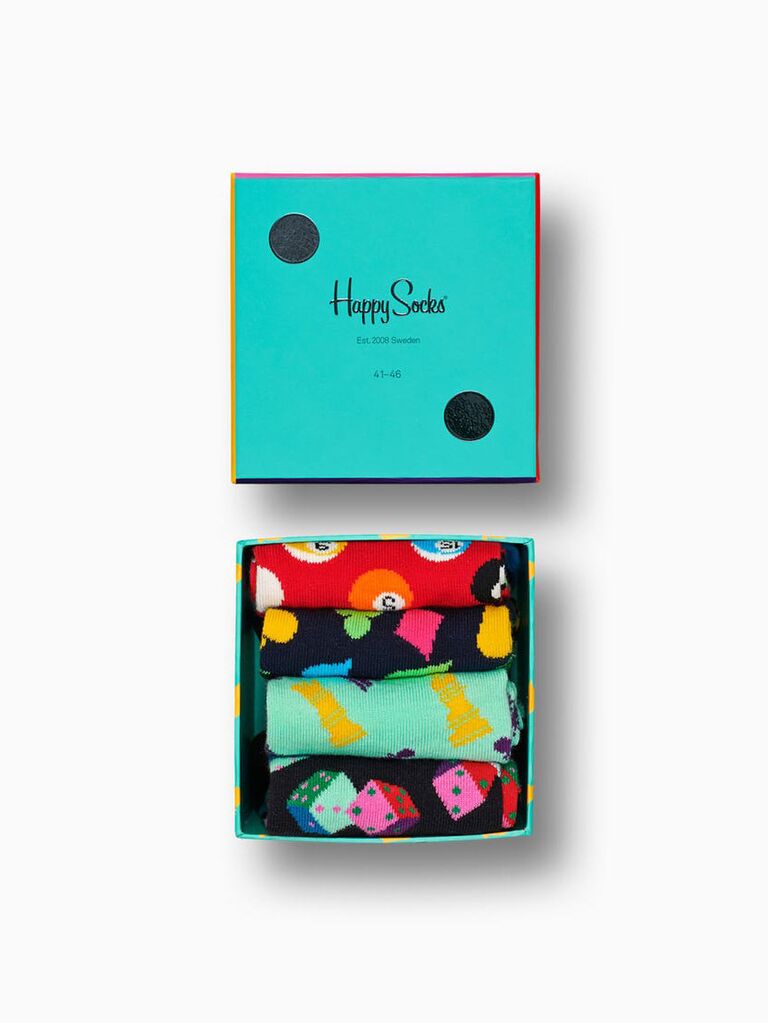 If he's always in favor of having a family game night, he'll enjoy these colorful printed socks. Inside the gift box, he'll find pairs of socks decorated with billiard balls, chess pieces, die and card suits. They'll brighten up his office wear for sure.
Happy Socks Game Night gift box, $48, HappySocks.com
28. A Plush Bathrobe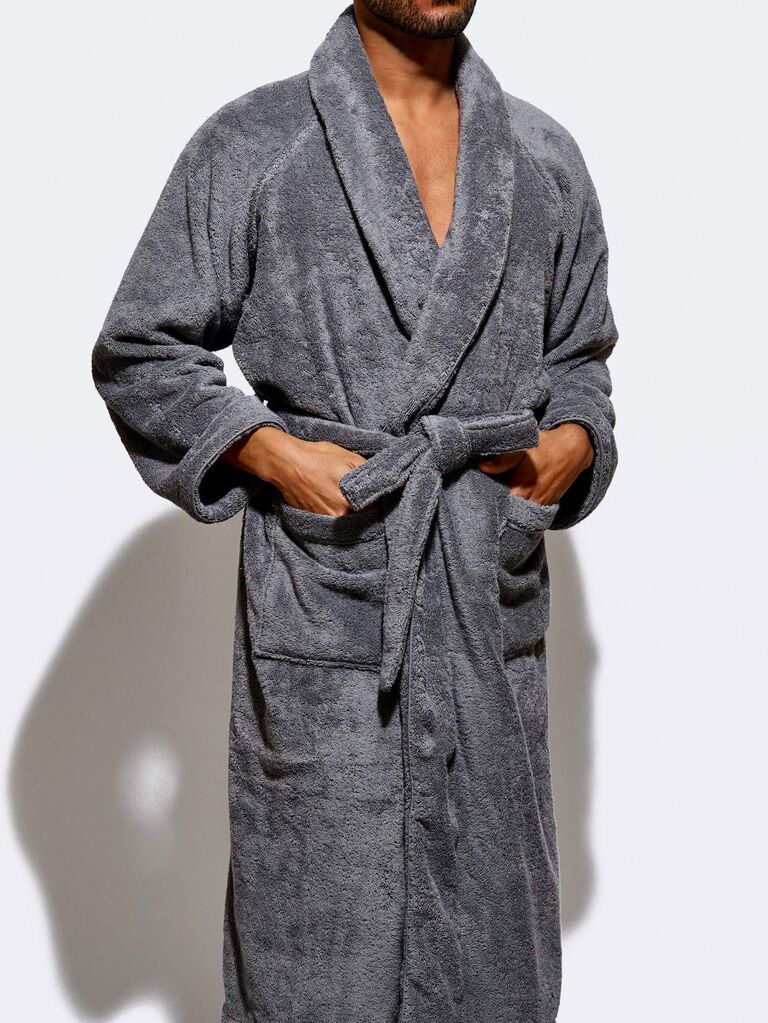 Add a little bit of luxury to his everyday routine. A super-soft terry cotton bathrobe will make getting out of bed on wintry mornings a bit easier for your father-in-law. Plus, it'll help create some hotel ambiance at home.  
Snowe Home Classic terry bathrobe, $100, SnoweHome.com
29. A Baseball Board Game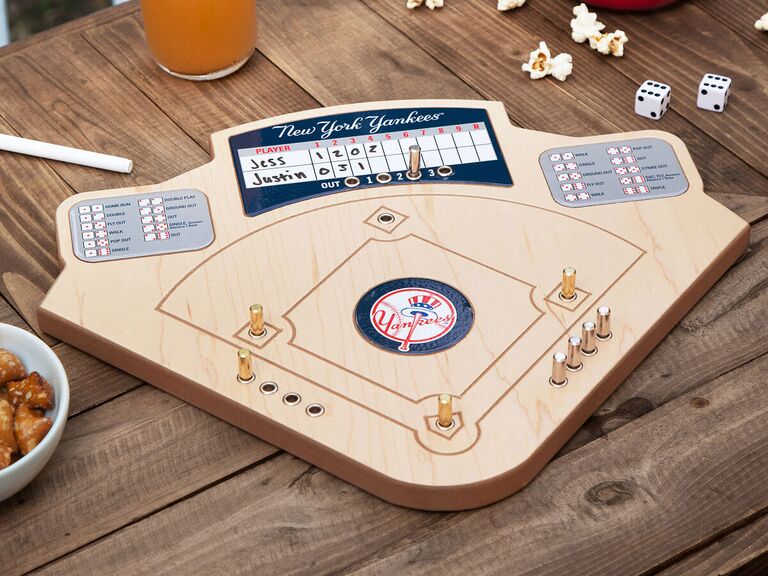 Show your father-in-law your thoughtful side with a gift honoring his favorite baseball team. This unique board game is fun to play, and it's handcrafted to last for years to come.
Ryan and Kim McDaniel Home Team baseball game, $68, UncommonGoods.com  
30. A Hot Sauce Trio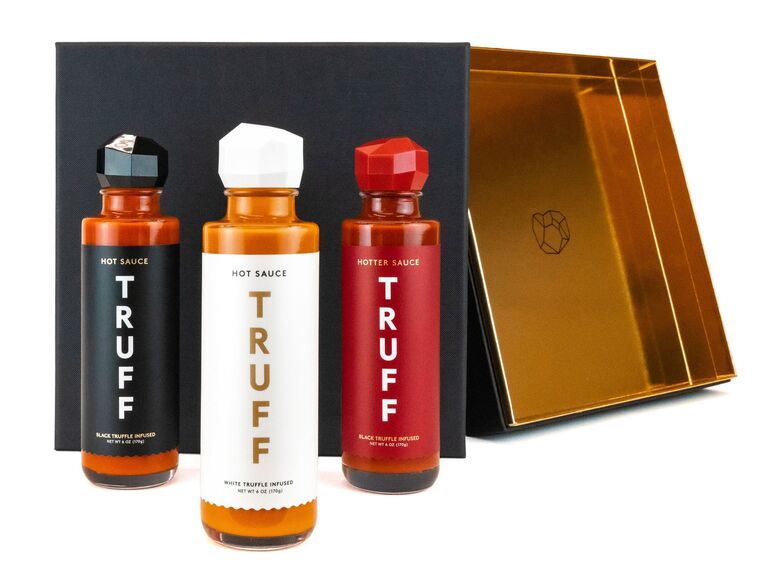 If you're stuck on what to get your father-in-law for any occasion, from the holidays to his birthday, add a little spice to his meals with a variety pack of Truff's hot sauce. Inside the fancy black and gold gift box, he'll find three bottles of varying spiciness. Truff's sauce is made from a unique blend of truffles and chili peppers, making it way fancier than his usual bottle. 
Truff hot sauce variety pack, $70, Truff.com
31. Personalized Guitar Picks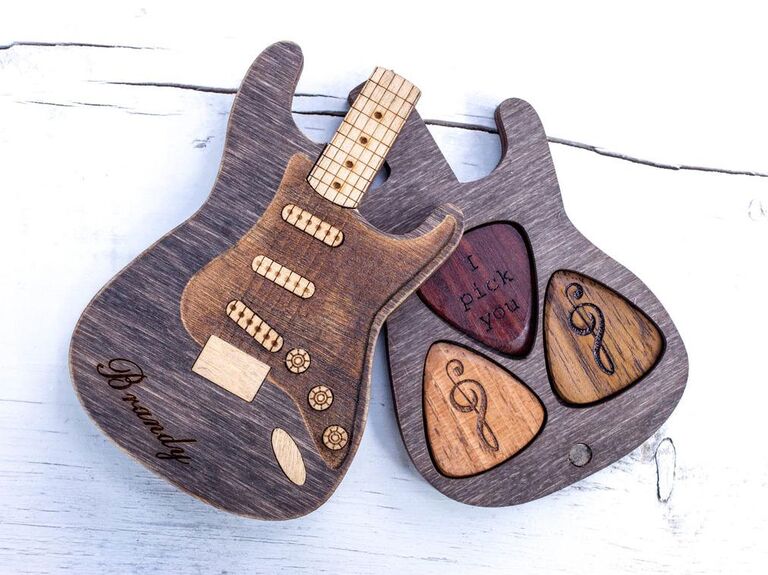 Whether he plays guitar or just loves music, any father-in-law will appreciate this personalized gift. Inside the wooden guitar (which you can have etched with his name) he'll find three wooden guitar picks, which can also be customized however you want. You can add his monogram, a simple image or even a short message to show your appreciation. 
Bedrwood personalized guitar pick with box, from $12, Etsy.com
32. A Monogrammed Weekend Bag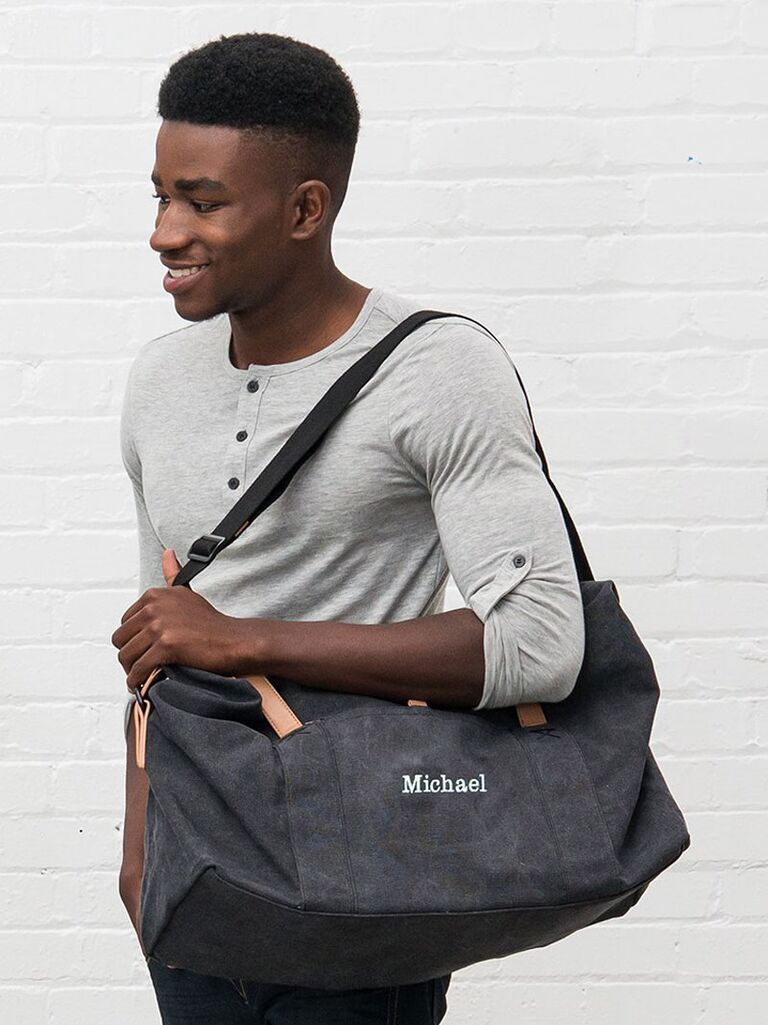 Make sure he has the perfect luggage for whenever he comes to visit. This father-in-law gift is made of stylish canvas and faux leather, and it's even machine washable to keep it looking fresh. 
The Knot Shop large personalized canvas duffle bag, $30, TheKnotShop.com