These 40 Father-in-Law Gift Ideas Will Make Shopping Way Easier
Shop all our top picks, from luxury to last-minute gifts.
Photos: Etsy, Uncommon Goods, Homesick
We have included third party products to help you navigate and enjoy life's biggest moments. Purchases made through links on this page may earn us a commission.
Dads can be some of the trickiest people to shop for and that only gets more challenging when you're shopping for someone else's parent. If you're stumped on gifts for your father-in-law, we're here to help. Whether you've just joined the family or he sees you as one of his own by now, these thoughtful presents for your father-in-law are the perfect way to show your appreciation on his birthday, holidays or any special occasion.
The first step to finding the best gift for your father-in-law is to think of his interests. If he can't start his day without a cup of coffee (or end it without a refreshing beer) consider giving him new glassware or a drink subscription. If he spends every Sunday on the fairway, then personalized golf accessories would be a hole-in-one present. No matter his personality or hobbies, we have gift ideas for every type of father-in-law—even the ones who seemingly have everything.
Next, think of your relationship with him. If you're still getting to know your in-laws, consider gifting an experience, like a virtual cooking or mixology class you can take together for a little bonding. If you're already close, a sentimental gift—like custom art—will show how much you care. Of course, it's important to remember that it's the thought that counts. Whether you choose something practical, funny or meaningful, as long as it comes from the heart, he'll love it.
Below, browse our favorite gifts for your father-in-law for his birthday, Christmas and beyond. We guarantee you'll be adding at least one of these ideas to your cart.
The Short List of the Best Father-in-Law Gifts
Short on time? Check out our favorite gifts for fathers-in-law for every occasion below.
All the Best Gifts for Your Father-in-Law
From funny father-in-law gifts to sentimental presents and everything in between, we've sourced the greatest gift ideas for fathers-in-law to make shopping for your bonus family member easier than ever.
1. Baseball Board Game
Do you and your father-in-law share a mutual love of baseball? Bring the thrill of the ballpark home with this old-fashioned board game that's decorated with the logo of his favorite MLB team. Just roll the dice to move players around the board and keep score using the dry-erase board. Play ball!
2. Stadium Wall Art
Every dedicated sports fan has a favorite stadium. Whether your father-in-law has fond memories from his childhood or college athlete days, or is a season ticket holder, Ballpark Blueprints will have an architectural print of the stadium he considers home. The unique wall art can come unframed, as a metal print, stretched on a canvas or framed in black or walnut wood. No more wondering what to get your father-in-law that's a major sports fan.
3. Deluxe Spices for a Barbecue
It's no coincidence that Father's Day is in June, aka: the first month of summer BBQ season. Thus, these smokey gourmet spice blends will make an excellent Father's Day gift for your father-in-law. The set of four includes a Brisket of Love Barbecue Rub, Jamaican Jerk Seasoning, Bronzeville Rib Rub and a Chipotle Garlic Barbeque Blend, so he can marinade and season with the most mouthwatering flavors.
4. Heavy-Duty Apron
Any good cook needs a trusted apron and Hedley & Bennett has a monopoly on just that. Their smocks are beloved by top chefs around the world for their industrial-grade quality and streamlined aesthetic. This heavyweight option uses soy wax-coated cotton for a kitchen style that is water- and stain-resistant, meaning your father-in-law is prepared for any holiday culinary snafu—even red wine.
5. Kabob Grilling Baskets
Real talk: Skewers are harder to prep and cook than most recipes let on—but they don't have to be. These kabob grilling baskets make sure chicken and veggies don't fall between the grates and everything gets an even cook. We can't think of a smarter invention or father-in-law gift.
6. MasterClass Subscription
If there is one thing your father-in-law has encouraged you and your spouse to do, it's to never stop learning. And he certainly leads by example, making a membership to MasterClass—an online streaming platform for curious minds—just the holiday or birthday gift for your father-in-law. He'll have access to hundreds of classes led by the world's top experts—like writing lessons from James Patterson, cooking lessons from Gordon Ramsay and poker strategy from Phil Ivey—all in one place. Trust us, this is a gift that will impress all the in-laws.
7. Easy-Tear Notepad
If your father-in-law is old-fashioned and still prefers taking notes on a pad of paper instead of his phone or computer, he'll love this office supply upgrade. Grovemade's notepads have a heavyweight, ceramic-coated machined aluminum base that both keeps it steady while he's writing and makes it so pages can be easily removed with just one hand. It comes in three sizes to fit his desk setup and is refillable.
8. Levitating Pen
Unique gifts for your father-in-law don't get better than this. Winner of TIME's Best Inventions in 2022, this cosmic-inspired pen hovers at an angle in its stand. It's not just a writing utensil and advanced fidget tool, it's art.
9. Brain Teaser Puzzle
If you need a birthday or Christmas gift for a father-in-law that already has everything, you'll have to really think outside the box. Thankfully, this gift idea does just that. This handheld wooden brain teaser requires challengers to move a ball through tiers, corridors and gears until it "escapes"—trust us, it sounds easier than it actually is.
10. Monogrammed Valet Tray
Everyone needs a little more organization—even your minimalist father-in-law. This sleek valet tray is the perfect place for him to keep all his daily essentials—like keys, a wallet, a watch, headphones and more. It's made from wood and marble and can be engraved with his initials for a personalized piece he'll treasure for years.
11. DIY Craft Beer Kit
Help your father-in-law make the jump from a beer drinker to a beer brewer. This unique kit comes with all the essentials for making suds at home, including a growler, thermometer, racking cane, tubing and clamp, screw-cap stopper and airlock—along with mix, yeast and hops. Just choose between dozens of flavors and strengths to find a kit that suits his drink of choice. He'll have lots of fun making his very own craft beer and having you taste-test it.
12. Ballpark Pint Glasses
Not sure your father-in-law is a DIY brewmaster? You can still give him a present that supports his beer-drinking habit. These unique pints pay tribute to his favorite baseball team, with a map of their home stadium printed on the glass. Plus, the team's logo is printed on the bottom and revealed only at the last sip. This set of two is a great father-in-law gift from a child-in-law that enjoys bonding over a cold one.
13. Neck Pain Relief Pillow
Here's a handy gadget that makes a clever gift for the father-in-law who spends a lot of time hunched over his desk—a weighted neck pillow that can be warmed in the microwave and then placed over his shoulders for instant relief. The gentle heat and pressure are designed to reduce tension in the neck and shoulders after a long day of meetings. Big sigh!
14. Stylish Slippers
Loungewear is a foolproof gift idea for anyone on your shopping list, making these comfy slippers a good gift for your father-in-law whom you don't know super well yet. (Just ask your partner for his size.) These slides are made from premium sheepskin, with a cozy shearling interior to keep his feet warm on cold days. Best of all, they have a contoured memory foam footbed to help with fit and arch support.
15. A Candle That Smells Like His Favorite Place
If you're looking for a small, but thoughtful gift for your father-in-law, shop Homesick. They have candles that smell like every state in the US as well as cities, countries and college towns. Since scent is closely associated with memory, choose his favorite place to transport him back to that spot the second he lights it.
16. Outdoor Copper Flask with Tumblers
This flask was built for the outdoorsy type. It's made from stainless steel and copper, with a leakproof seal, so it'll withstand even a fall down the mountain. Best of all, it has built-in tumblers, so he's not just sipping from the bottle. Now, he can toast with his friends—or you—after his next hike or around the campfire.
17. Keepsake Fish Hook
Want to impress a fisherman? Tell him how lucky you feel with this sweet stainless steel lure engraved with the phrase: "I hooked the best father-in-law." Leave it to Etsy to have such a sentimental father-in-law present. It's an especially great future father-in-law gift option to thank him for his support on the wedding day or celebrate his status as your new FIL during your first holiday season as part of the family.
18. Soft Pullover
Some of the softest loungewear for in-laws comes from Outdoor Voices. This particular quarter-zip—made from a breathable and lightweight fabric—is perfect for your father-in-law. It'll make a warm layer for his outdoor adventures in the woods or on the golf course. And the wrinkle-resistant pullover is ideal for traveling or a cozy 'fit for a leisurely day inside.
19. Outdoor Rocker Chair
If he's cheering on the sidelines at every one of his grandkid's sporting events, he'll appreciate this camping chair when the games go into overtime. Actually, we should call it a camping rocker. Designed with a swinging bottom as well as a spacious seat and mesh backrest for airflow, he'll be the comfiest onlooker. Plus, it's easy to unfold, collapse and carry. He can bring it to the soccer field, park concerts, the beach or the mountains.
20. Bug Shield Blanket
Double down on the convenient outdoor goods for your father-in-law's birthday, Christmas or Hanukkah with this gift idea. This luxuriously soft blanket made from recycled fibers and treated with a non-toxic, EPA-approved insect shield will protect him from mosquitoes, no-see-ums, ants and more so he doesn't have to go inside when it's cold or buggy. And, since the treatment bonds to the fabric, it's still machine-washable.
21. Year-Round Gloves
Gloves might seem like good gifts for your father-in-law in the winter because he'll get to use them right away, but this particular pair is great year-round. These luxe gloves by 4 Season Gloves are thoughtfully crafted to handle sub-freezing temperatures and extreme heat. The leather is waxed so they're waterproof and the interior is insulated to keep him plenty warm. He'll have these for years and years to come.
22. Ingenious Popcorn Bowl
Turn the tables on your father-in-law who usually DIYs life hacks with this innovative serveware. This large ceramic popcorn bowl is outfitted with a kernel sifter, so he gets all the puffs and none of the jaw-breaking crunch. It's so clever he'll wish he thought of it himself—and he'll tell you as much numerous times.
23. Dad Jokes Party Game
Family game night just got a whole lot funnier with this gift for your father-in-law. This card game is called "Laughing at Dad Jokes"—see where this is going?—and can be played with two or more people. The object is simple: don't laugh—or even smile—at the joke. If you do, the person who reads the card gets a point, but if you don't, you do. The first to 10 points wins.
24. High-Tech Leather Wallet
We'll never stop saying it—some of the best father-in-law gifts are the most practical. He'll get so much use out of this snazzy leather wallet with an ejectable cardholder. Yep, his cards will be at the tips of his fingers with one simple click. Plus, it has room for an optional tracking device, so he never loses his license or money—very important!
25. A Family Photo Calendar for His Desk
Is your bonus dad the nostalgic type? This custom photo calendar can show off a new picture of his grandkids every month, making it the perfect Father's Day gift for your father-in-law (since it can start on any month.) The frame even has a handy easel for propping it up on his desk or nightstand.
26. Padded Tech Organizer for Travel
If your father-in-law has to travel for work (or even just commutes to the office), this tech organizer will make his life a lot easier. Although it's small, it has some major organizational features, like multiple padded zippered pockets, elastic cord loops and mesh panels designed to keep all his cables, chargers and headphones untangled and easily accessible. It comes in a host of different colorways and patterns, so you can find one just for him.
27. Online Mixology Class
Does he love to get creative with cocktails? If that's the case, we can't think of a better Christmas or birthday gift for your father-in-law than a virtual mixology lesson. Sur la Table's margarita-making class will show him the art of a classic, frozen, roasted strawberry and Mezcal margarita. Best of all, the price of a class is per household, so you can join him. Cooking lessons more his style? They have those, too!
28. Whiskey Lover Bar Set
Conversely, does your father-in-law prefer to drink his liquor on the rocks? Then this gift set will transform his nightcaps. It comes with six granite chilling stones to keep his drink cold without diluting it as well as two glass tumblers. Plus, the stones fit conveniently on a wooden tray for easy freezing and serving. How's that for a creative father-in-law gift?
29. Fancy Steak Dinner
Your father-in-law will never know this thoughtful—and tasty—delivery was a last-minute gift idea. Send him a collection of signature steaks (and pork chops, burgers, meatballs, potatoes and cheesecakes) from Omaha Steaks, so he can have a fancy birthday dinner right at home. You can either expedite shipping or send him a surprise notification with a custom message the day of letting him know a belated birthday celebration is coming.
30. Scotch-Infused Toothpicks
We wish these flavorful toothpicks were in restaurants! They have a hint of peat and caramel from being infused with barrel-aged, Islay single malt that releases by gently biting the wood. The gift set comes with four bundles, so he can keep one in his kitchen, bathroom, car and office—so there's never anything embarrassingly stuck in his teeth.
31. Personalized Golf Balls
Does he like to spend his weekends at the golf course? While this father-in-law gift doesn't guarantee he won't lose his ball, it will make it easier to find. Choose his favorite brand, then have the golf balls printed with his monogram, name or a custom message like, "World's best golfer." Even if it's not true, he'll appreciate the sentiment.
32. Personalized Golf Ball Marker
Wondering how to show your father-in-law your love? Treat him to an 18-hole round together, then surprise him with this golf marker. The stainless steel disc is engraved with the phrase: "Best father-in-law by par," along with your and your spouse's names and a special date—like your wedding date if you want to thank him for his support on the big day.
33. Garment Bag-Duffle Combo
Here's another idea for a father-in-law wedding gift. This travel bag will fit his formalwear without wrinkling it, along with his dress shoes and a weekend's worth of clothes. How? It's actually a garment bag that folds up into a duffle. It's almost as impressive as he is!
34. Travel Watch Organizer
No one should ever leave the house without a watch—especially your put-together father-in-law. This sleek organizer will keep his favorite timepieces safe, whether he's at home or traveling. The roll has a polyurethane exterior and micro-suede lining with a padded removable cushion inside that can fit three watches. Plus, the double-snap closure will make sure it doesn't fall open. There's even a hidden compartment inside for cuff links and collar stays. Better still, it can be foil debossed with his monogram for a personalized father-in-law gift.
35. Super-Fast Phone Sanitizer
This sleek gadget will disinfect a mobile phone using UV-C light in just 10 short minutes. There's also a charging port, so he can charge his device while it's inside. Plus, an acoustic audio amplifier means he won't miss any important calls or notifications in the process.
36. Gourmet Coffee Subscription
If you don't know what to get your father-in-law for his birthday because every year he says he wants nothing, this gift will change that. Anyone who drinks coffee (which we're pretty sure is most dads) will love a subscription to Atlas Coffee Club. Each month, he'll get a bag of ground or whole coffee beans from around the world, along with tasting notes and brewing tips, so he can fine-tune his barista skills and java palette right at home. He won't want the fun to stop after just a year, meaning renewing his subscription can be your new go-to gift. Best of all, it's an easy last-minute gift for your father-in-law, since you can send him an email on the day of your choosing letting him know about his present.
37. Nerdy Tumbler
Brighten up your father-in-law's mornings (or midday slumps at work) with a travel mug that nods to his favorite Disney franchise: "Star Wars" (of course). This triple-insulated tumbler is designed to look like Chewbacca—or Hans Solo, Darth Vader, Boba Fett, the Mandalorian, Ahsoka, R2-D2, C-3PO or a stormtrooper, depending on the one you pick. It's made from stainless steel, with a sliding, shatter-proof clear lid and stay-put silicone bottom for the best drinkware in the galaxy.
38. Craft Beer Subscription
Subscriptions don't just make good last-minute gifts for fathers-in-law, they also make great gift ideas if you're shopping early since they keep on giving—just like his love. A subscription to Craft Beer Club is perfect for the father-in-law that's always cracking a cold one. They'll send him a monthly, bimonthly or quarterly delivery of delicious brews from the country's best small, independent brewers. Each box will include 12 beers (enough to share) from different regions in the US, plus background info about the breweries, tasting notes and pairing recipes.
39. Personal Fire Pit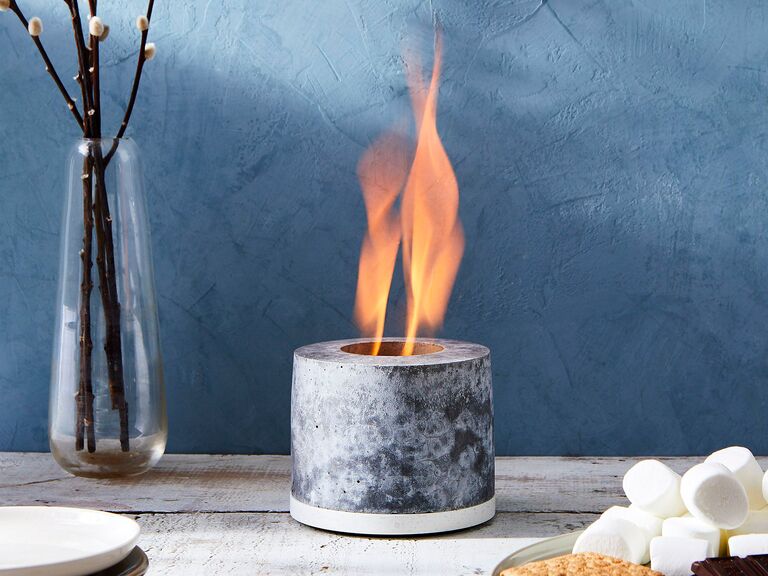 If your father-in-law is always looking forward to the annual family camping weekend, bring the ambiance of the trip into his home with this small portable fire pit. With it, he can create his own campfire (and thus roast s'mores) at any point in the year. It's not just a good gift idea for him, though—it'll also excite his grandkids. Make sure to pair it with marshmallows, chocolate and graham crackers, so they can get roasting right away.
40. Elevated Yard Game
If he's already the cornhole champion, challenge your father-in-law to a game of horseshoes with this stylish lawn set. It includes four forged steel pitching shoes (two blue and two red) and two 24-inch solid steel stakes as well as a convenient carrying case, so he can take his new game of toss to any BBQ, tailgate or campsite. We're certain he'll be a professional in no time.