23 Impressive Gifts for Your Father-in-Law
Give Pops the present he deserves and instantly earn his approval.
by Emily Platt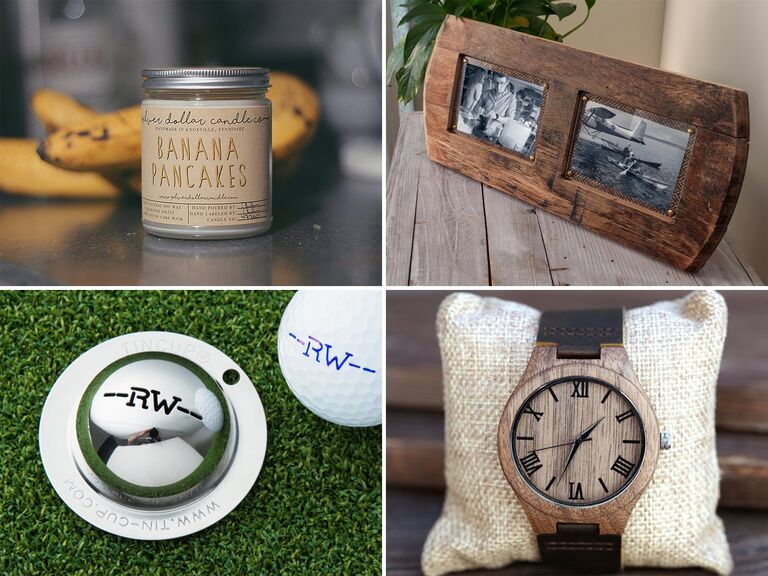 Marriage brought your partner's dad into your life, and whether it's recent or you've been family for years, it can be tricky finding just the right way to show him that you care. Some FILs are open books. Others are much harder to read. Either way, shopping for gifts for a father-in-law takes some thought. That's why we're here with a roundup of ideas for wedding thank-you presents, birthday gifts, Father's Day presents, Christmas gifts and really, any other milestone. If you know him well, surprise him with something that proves you've been listening when he talks about his interests. When in doubt, buy a useful (but definitely not boring) item—it should still seem special enough for the occasion. Below, you'll find presents that speak to tons of different personalities, styles and FIL relationships. That means the best gift for your father-in-law is right here on this list.
1. Keepsake Fish Hook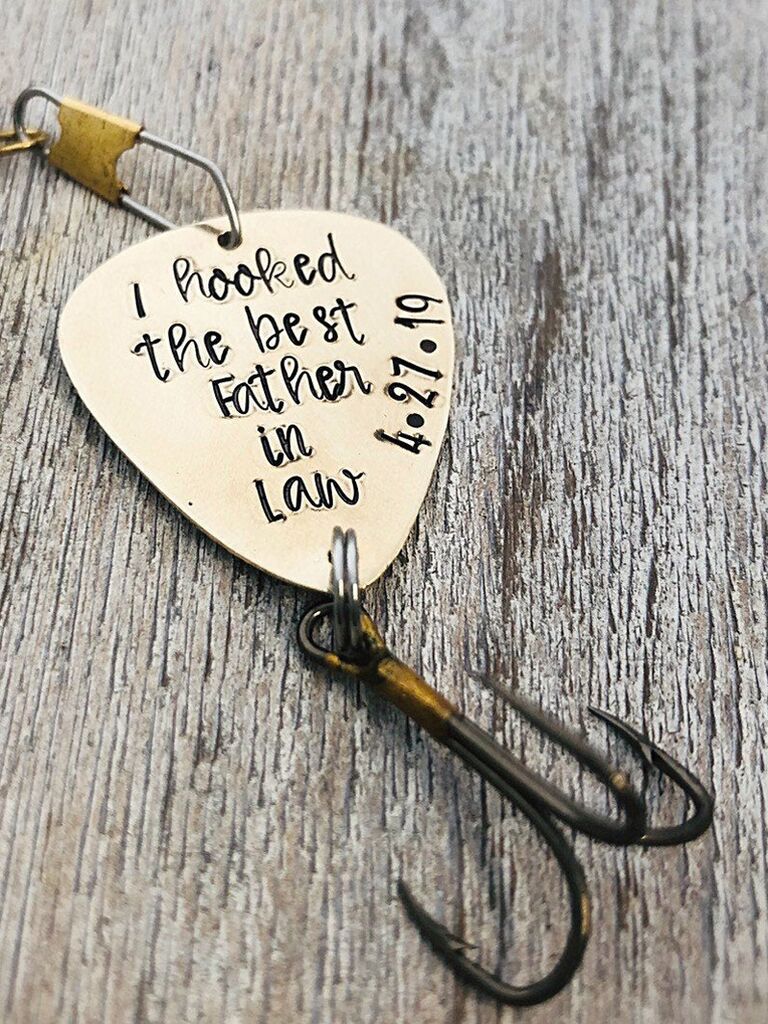 Shopping for a fisherman? Tell him how lucky you feel that you've reeled in a good one with this sweet "I hooked the best father-in-law" lure. Get it engraved with the date you got the gift for and it may just become his lucky charm. Leave it to Etsy to have such a creative (but still affordable) father-in-law gift.

JLynn Creations Hooked the Best Father in Law personalized fishing lure, $20, Etsy.com
2. Whiskey Barrel Picture Frame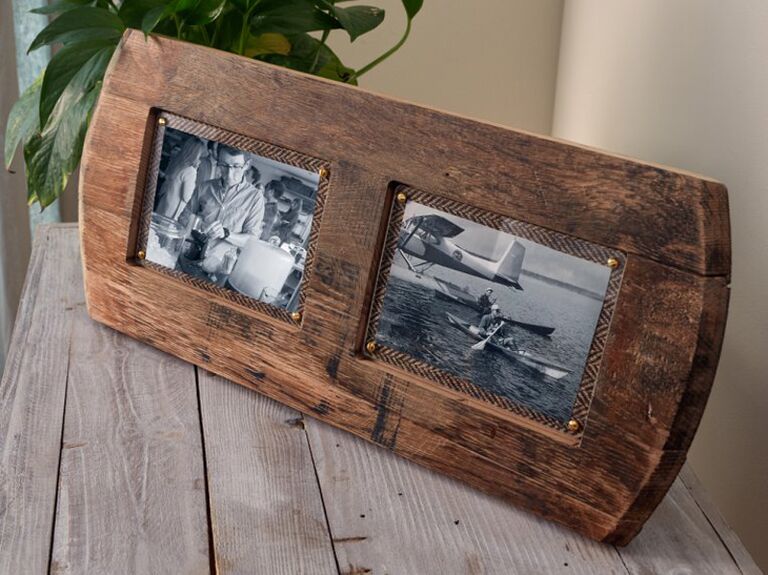 Sure, you could get him any old picture frame. Or you could get this rustic display case made from real whiskey barrels. If his drink of choice is scotch, it's the perfect gift for your father-in-law.

Whisky Frames reclaimed Scottish whisky barrel frame, from $58, TheGrommet.com
3. Camping Lantern Turned Speaker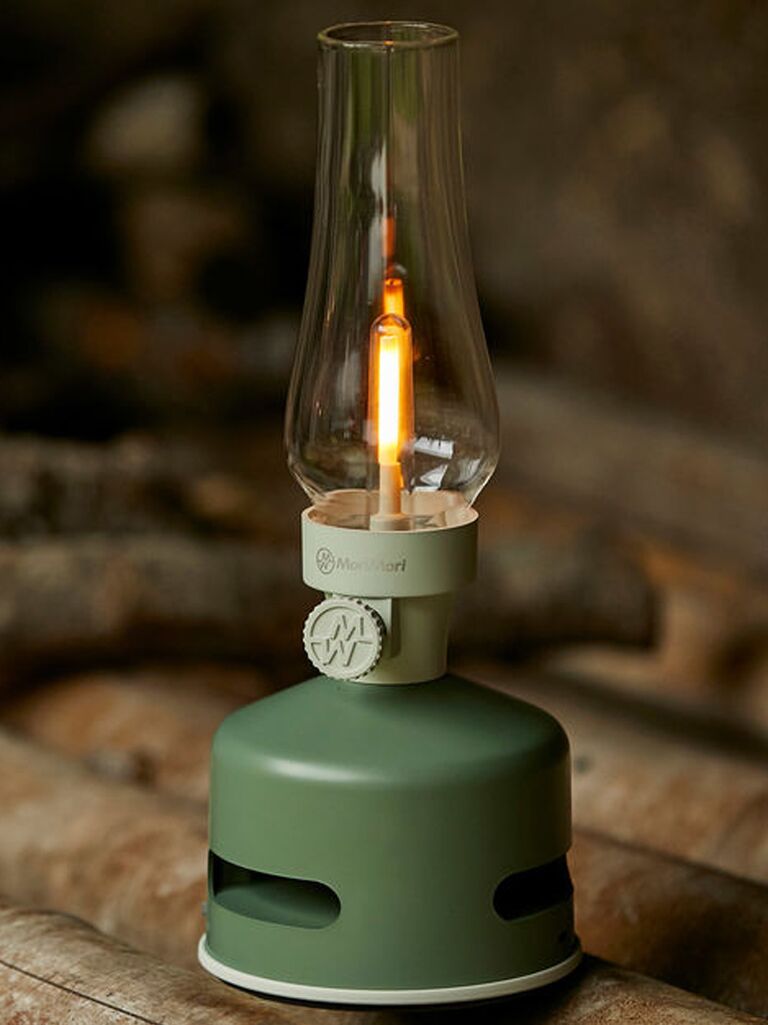 Introduce Dad to the magic of "glamping" with this stylish, innovative travel lamp. It doesn't just light up the night—it connects to Bluetooth with the help of an app so he can stream his favorite tunes in the great outdoors (or just on the back deck). 

Keen Hsu LED lantern speaker, $110, Store.MoMA.org
4. Personalized Desk Calendar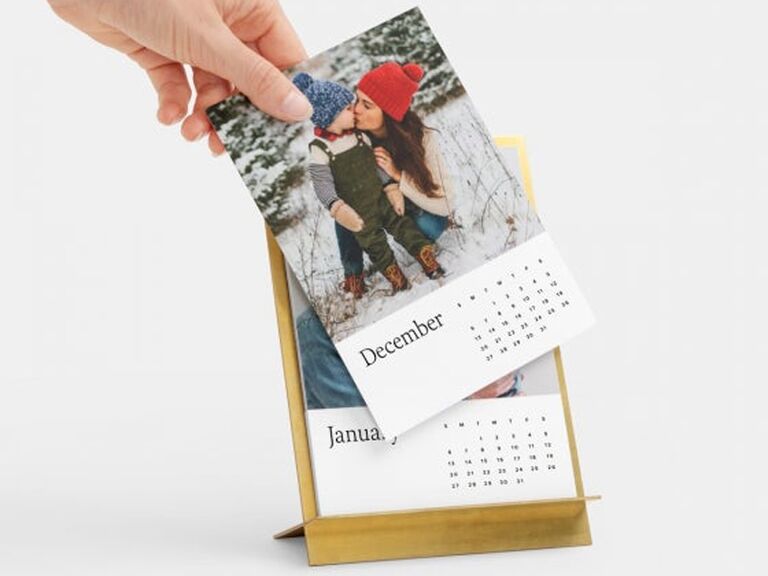 If he's the sentimental type, he'll appreciate a new calendar featuring all his favorite people and memories. Throw in a photo from a wedding event or a snapshot of his grandkids (if he has them), a beloved pet or anything else that'll warm his heart. It's an ideal Christmas gift for a father-in-law that they can use once the new year arrives. 

Artifact Uprising brass easel & calendar, from $55, ArtifactUprising.com
5. Funny Old Fashioned Glass
Maybe he says this a lot. Maybe he just loves the cocktail. Either way, this personalized "call me old-fashioned" drinking glass is equal parts playful and elegant. (FYI, The Knot Shop carries tons of personalized gifts where this came from.)

The Knot Shop Call Me Old Fashioned whiskey glass, $8, TheKnotShop.com
6. Durable Money Clip Wallet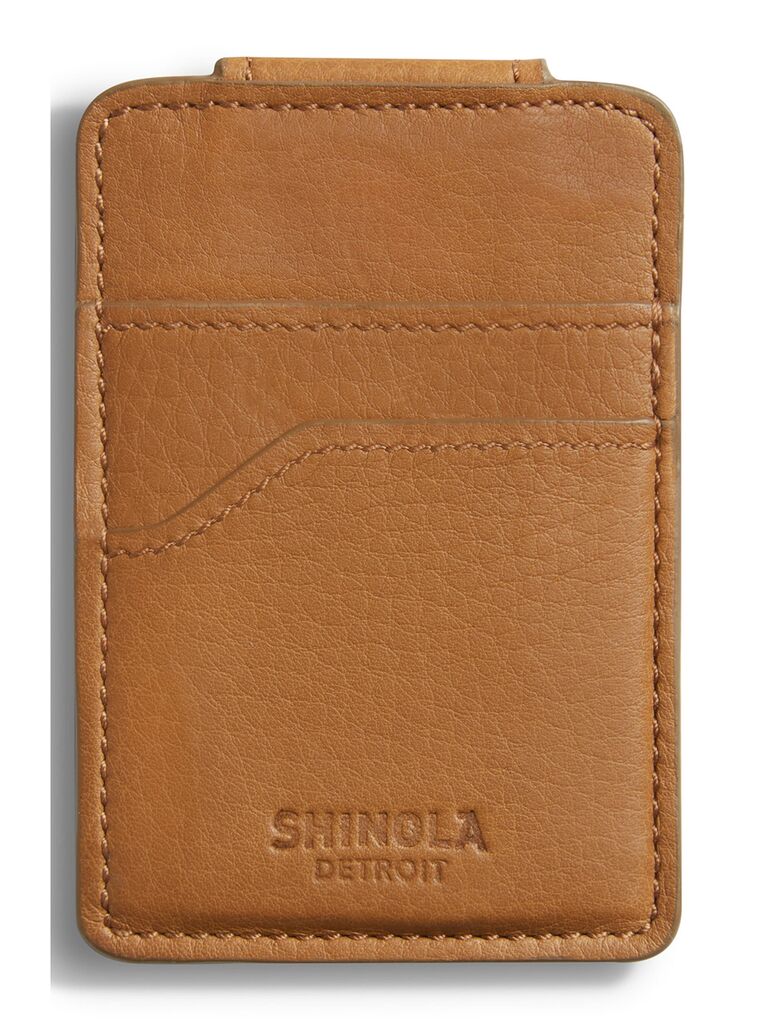 Any guy who likes to travel light could use a sleek money clip and card case hybrid. Especially one who's stained, ribbed, scratched or otherwise worn down his old wallet. This one's made from premium leather; for more awesome leather goods, check out the rest of Shinola's collection.

Shinola money clip card case, $150, Nordstrom.com
7. Craft Beer Subscription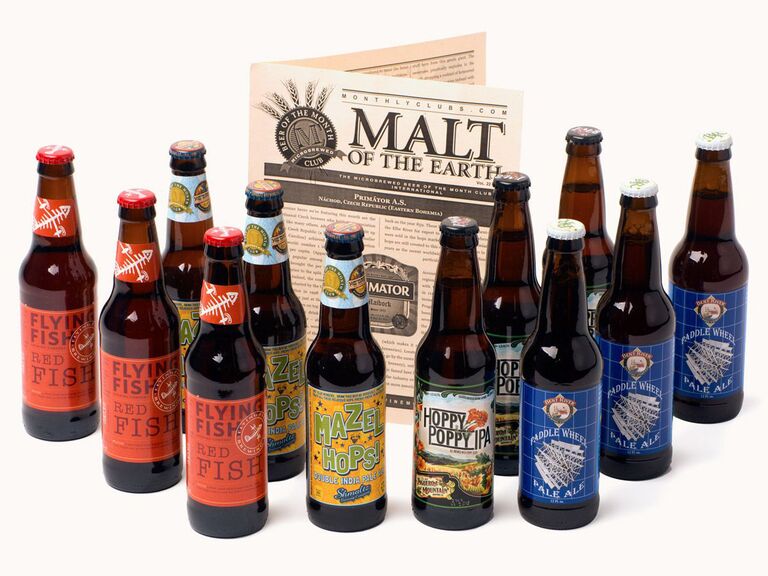 How about a gift that keeps on giving? Subscriptions are always great gift ideas for a father-in-law—just pick one that suits him best. This one goes out to brew aficionados who want to taste lesser-known (but not lesser-than!) brands from around the country.

Beer of the Month Club The U.S. Microbrewed Beer Club gift, from $30 a month, BeerMonthClub.com
8. A Watch Lover's Cufflinks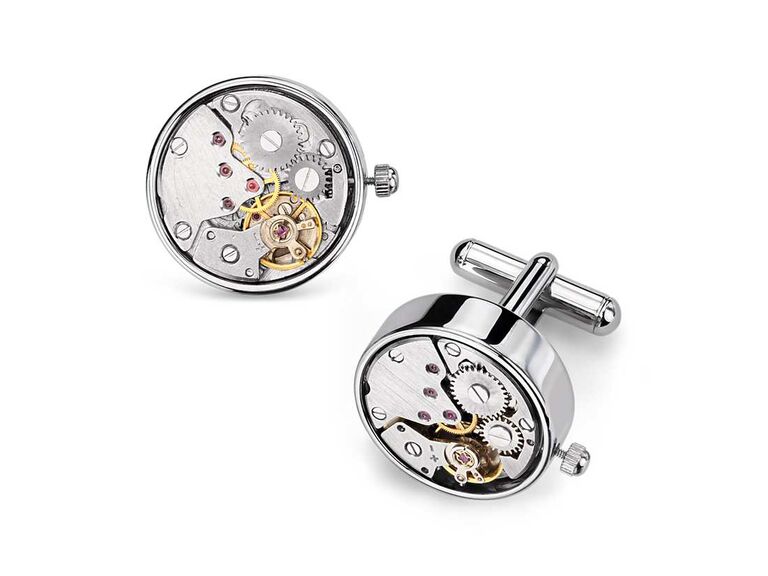 If timepieces make him tick, he'll obsess over these gear cufflinks. They're crafted using real watch parts—talk about a cool gift for fathers-in-law. Give him the collector's items and we have a hunch you'll spot them on his wrists at the next formal wedding you attend.

Blue Nile Steampunk Watch Movement cuff links, $190, BlueNile.com
9. An Actual, Engraved Watch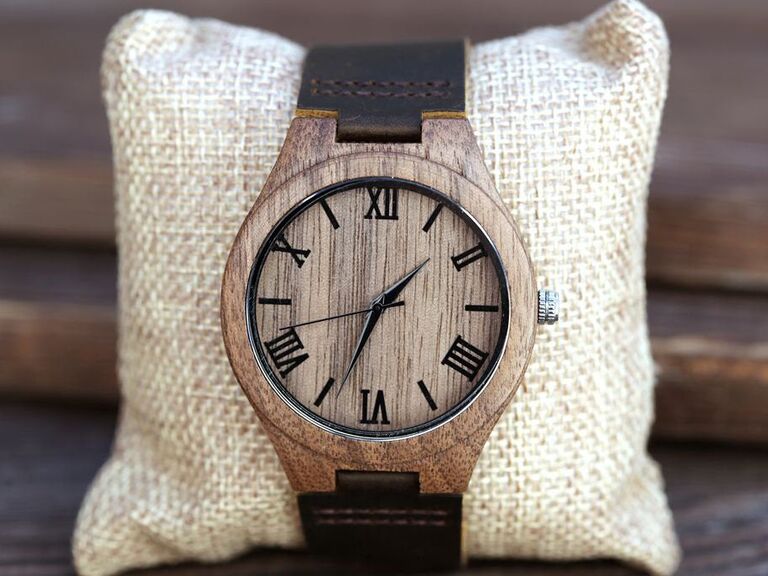 You can also get him an actual watch, but make sure it stands out from any others he already has. This handcrafted timekeeper has a one-of-a-kind wooden face and a cool leather band. On the hunt for father-in-law wedding gifts? You can get this accessory engraved with a thank-you message on the back. (That said, you're free to write "Merry Christmas," "happy birthday" or another meaningful note instead.) Can you believe a present this unique is so affordable?

Mint Designs 2010 personalized wood watch, from $33, Etsy.com 
10. Leather Electronics Holder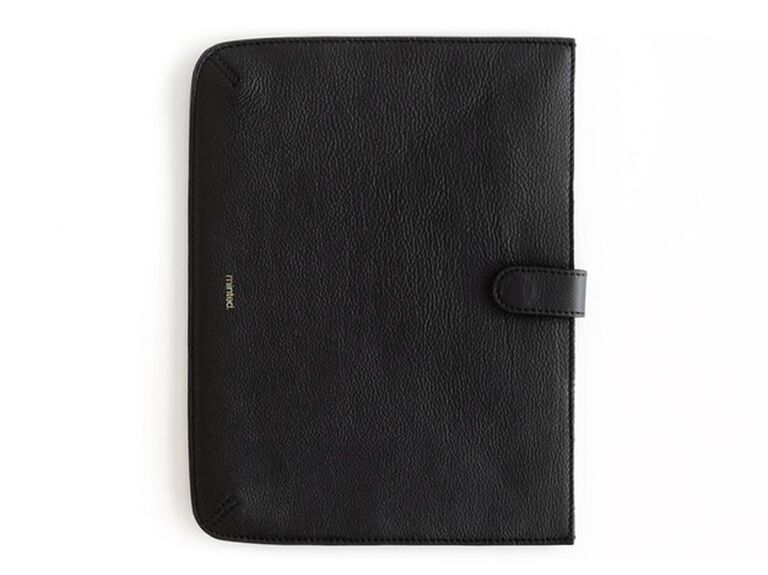 Like we said, some of the best gifts for a father-in-law are the most practical. Take this simple electronics case for the man glued to his iPad. It's nice and thoughtful without being too over-the-top.

Minted iPad case, $70, Minted.com
11. Hockey Puck Bottle Opener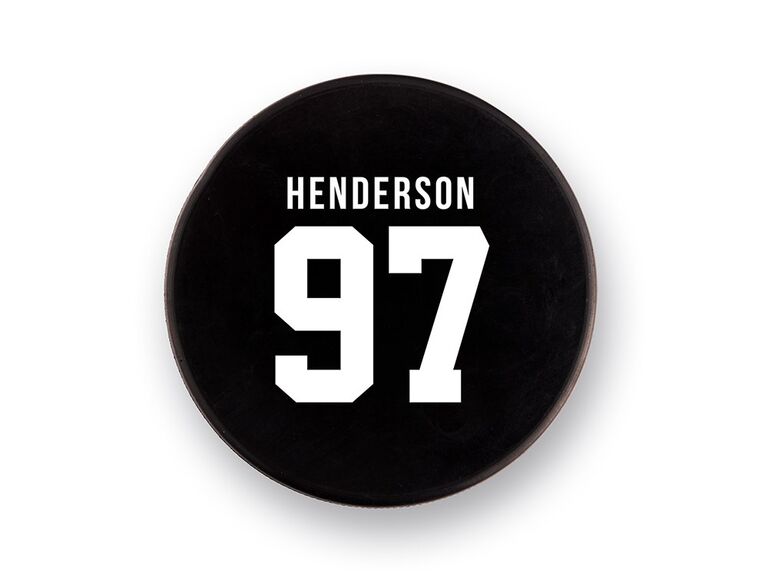 Bottle openers can be overdone FIL gifts, but not this one. It's customized and shaped like a hockey puck, so he can easily crack open a cold one when he's watching his favorite NHL team.

The Knot Shop custom hockey puck bottle opener gift, $20, TheKnotShop.com
12. A Perfectly Nerdy Mug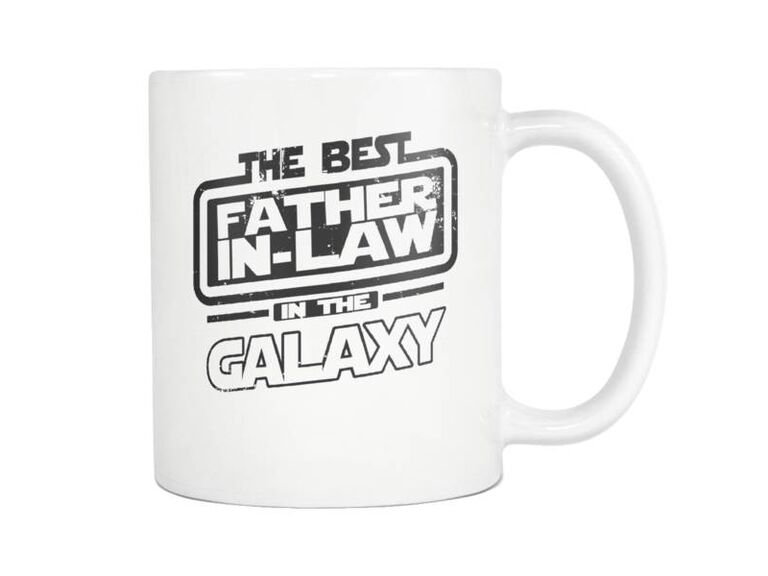 Brighten up his mornings (or midday slumps at work) with a mug that nods to his favorite movie or show. Trust us, there are tons of pop culture-inspired mugs out there. We like this Star Wars-themed "the best father-in-law in the galaxy" cup.

Sky Tee Designs Best in the Galaxy father in law mug, $16, Etsy.com
13. New BBQ Set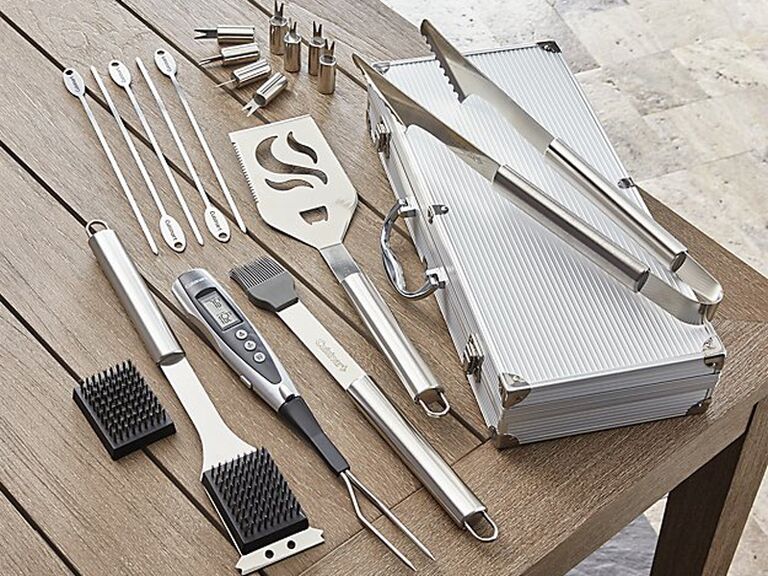 Can't mess with his grilling skills? Don't—enhance them. It never hurts to have a few extra, high-quality BBQ tools on hand. But this comprehensive set is so good, it may just totally replace his current one. Looking for something smaller? Crate and Barrel sells a huge array of individual pieces too. Either way, you'll probably get a delicious burger out of this gift idea for your father-in-law.

Cuisinart 20-piece grill set, $70, CrateandBarrel.com
14. Self-Cleaning Water Bottle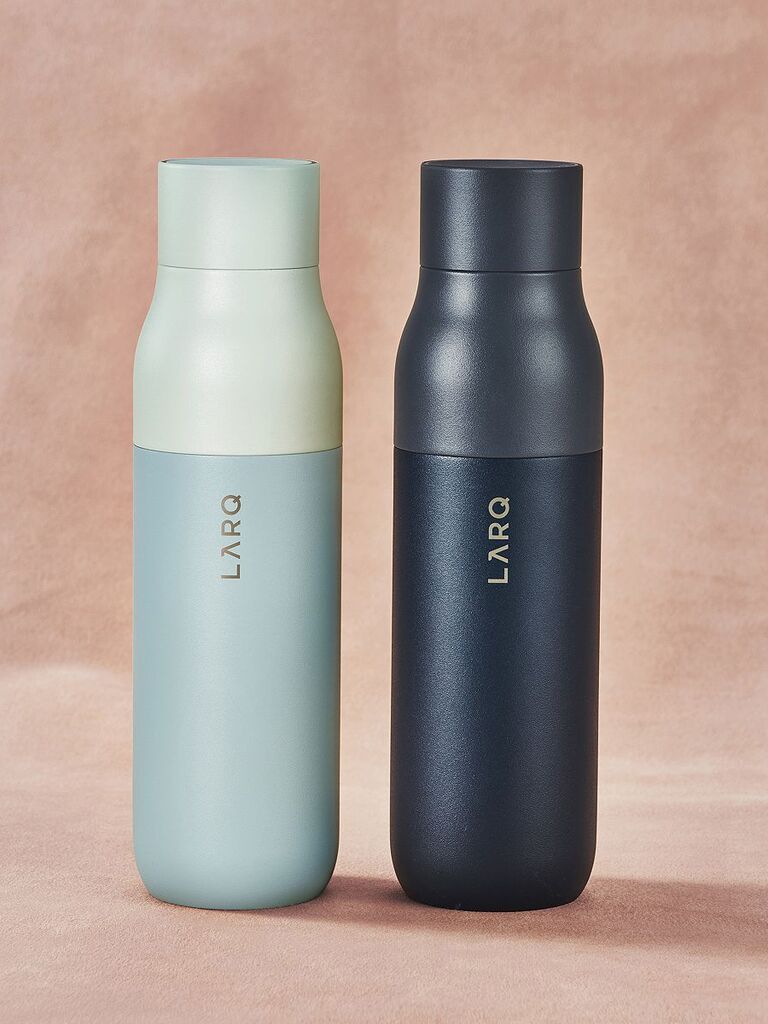 He's a busy man, we get it. So get him this genius water bottle. Yes, we know it's a little pricey, but it literally cleans itself and the water you put inside it! After all, some of the best gift ideas for fathers-in-law are the ones that solve a major inconvenience. And reusable water bottles are (usually) notoriously hard to clean.

LARQ self-cleaning bottle, $95, Bloomingdales.com
15. Initial Golf Ball Marker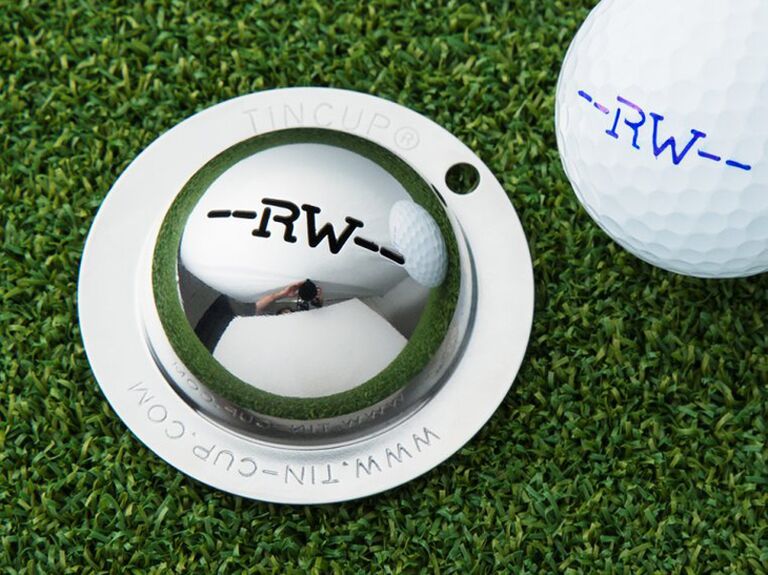 The next time he's on the green, he'll be thankful for this gift. That goes double if his putting buddies are known to "borrow" (read: steal) his balls. He can bring it to the course, along with a pen, and mark his playthings on the spot.

Tin Cup custom initial golf ball marker, $75, TheGrommet.com
16. Custom Sticky Notes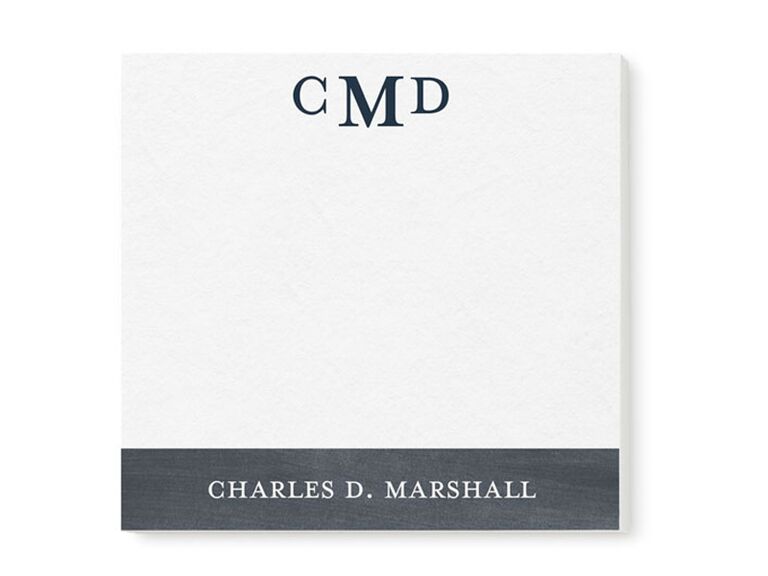 Whether your father-in-law writes down notes for work or just to remember his grocery list, custom stationery makes scribbling memos feel way fancier. Other useful Shutterfly gifts? Custom address labels and stamps. 

Shutterfly classic bold footer Post-it notes, $6, Shutterfly.com
17. Brain Teaser Puzzle Set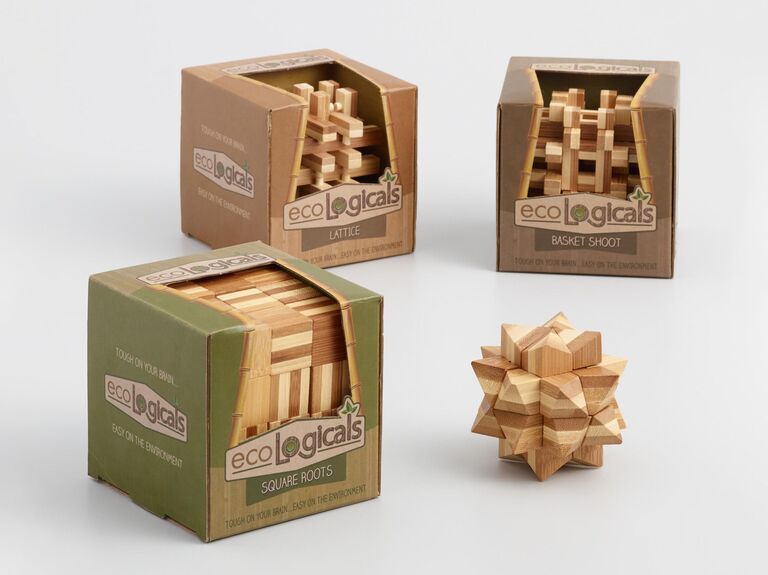 This one's for the FIL with a sharp mind. He can stay on top of his game with the help of these fun, handheld toys. When not in use, they make cool desk decor too.

Ecologocials brainteaser puzzles, $52 for a set of 4, WorldMarket.com
18. Sophisticated Candy Box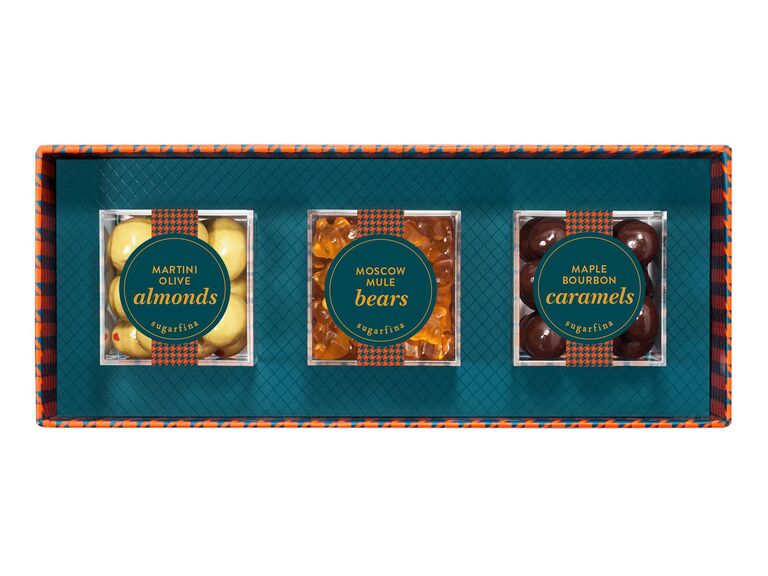 Thought we forgot about edible presents? Nonsense—we know those are some of the best. These booze-inspired Christmas gifts for fathers-in-law speak to a more sophisticated palate. The set includes mock-martini olives, Moscow Mule-flavored gummy bears and maple bourbon-flavored caramels. Yum. Searching for more sweets? Sugarfina is known for their vast, unique and perfectly giftable assortment of candies.

Sugarfina The Vice Collection 3-piece candy bento box, $28, Nordstrom.com
19. Baseball Bat Wine Rack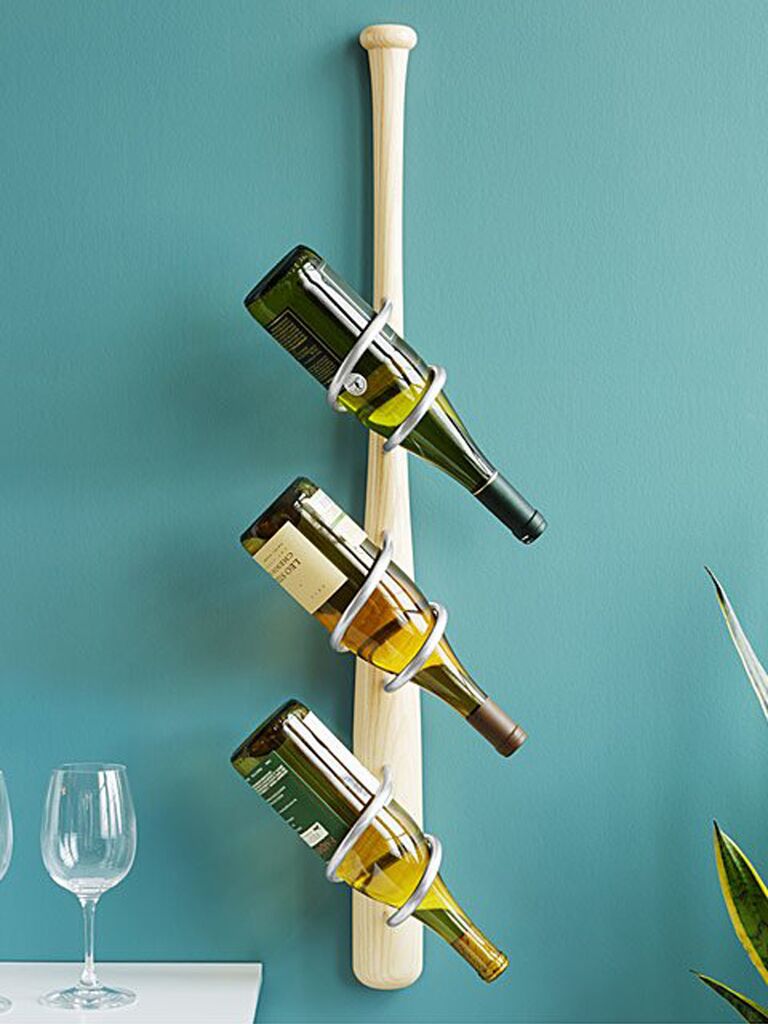 Knock it out of the part with this awesome FIL gift that covers two interests at once. If he's into vino and he's into baseball, he'll be into this one-of-a-kind wine rack. The bat is sourced straight from Cooperstown, New York, where the Baseball Hall of Fame is located. Attached are three stylish metal coils that hold a trio of bottles. It even puts them in the perfect position for preserving them. The only thing that could make this gift for your father-in-law more thoughtful? If you buy meaningful wine to go with it, perhaps from his favorite vineyard or with a symbolic vintage year.

Kevin Phillips and Tia Van Winkler baseball bat wine rack, $100, UncommonGoods.com
20. Playful (But Still Office-Friendly) Tie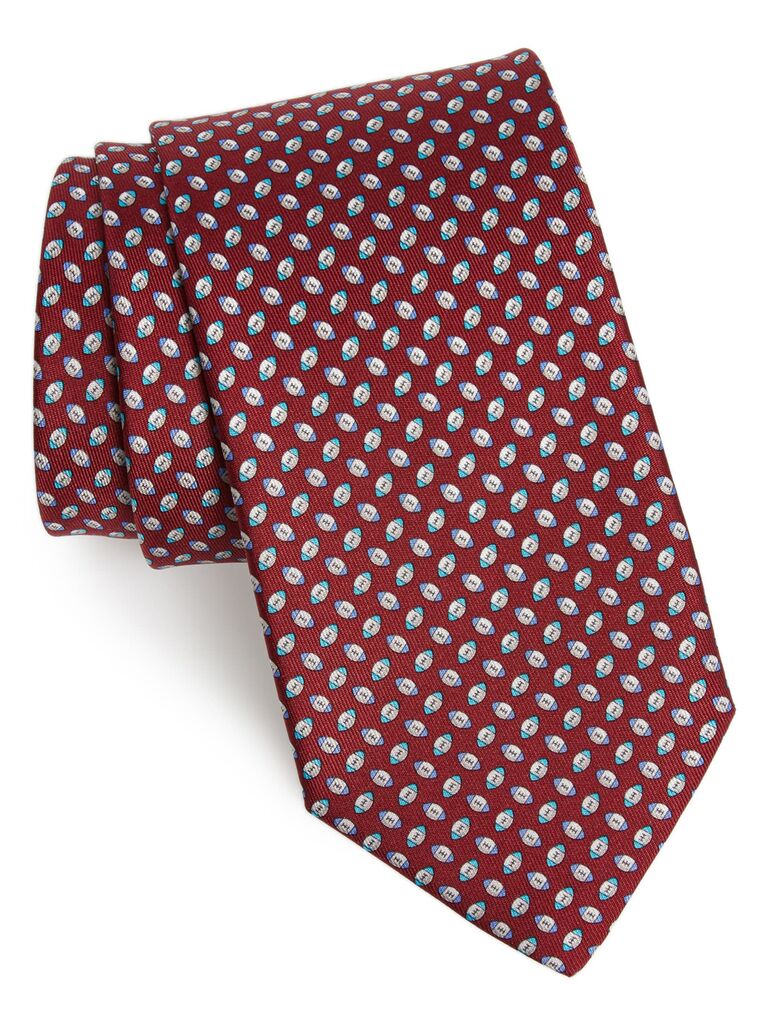 Help him show off his personality in and out of the office. Salvatore Ferragamo designs some truly fun ties that celebrate all sorts of animals, sports and more. (This one is decorated with teeny-tiny footballs.) But the neck accessories are definitely still work-appropriate, since the patterns are always subtle. That, and because the ties are made from pure Italian silk. You can't argue with luxurious fabric.

Salvatore Ferragamo Iconico print silk tie, $190, Nordstrom.com
21. Comforting, Scented Candle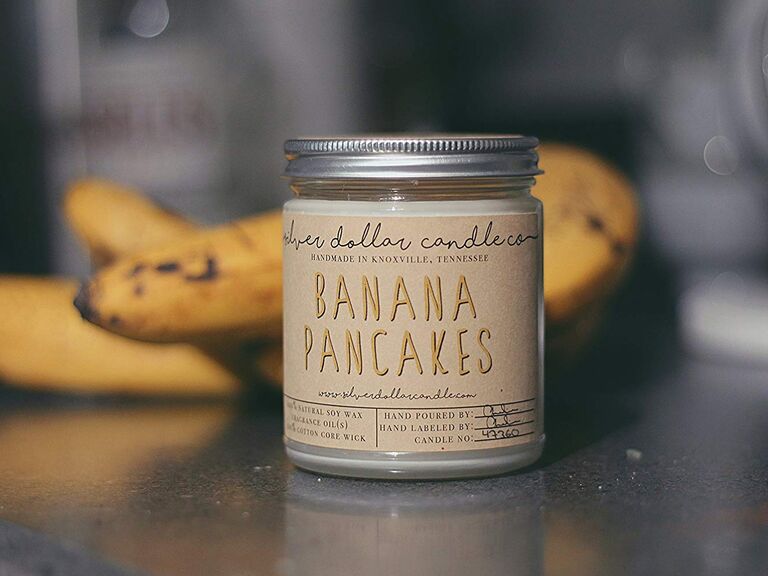 Here's another option for all the food lovers out there. Pay tribute to his favorite meal with just the right scented candle. This one smells like banana pancakes, so you'll get bonus points if he also loves the Jack Johnson song.

Silver Dollar Retail Co. Banana Pancakes 8oz scented candle, $16, Amazon.com
22. Luxe Martini Glasses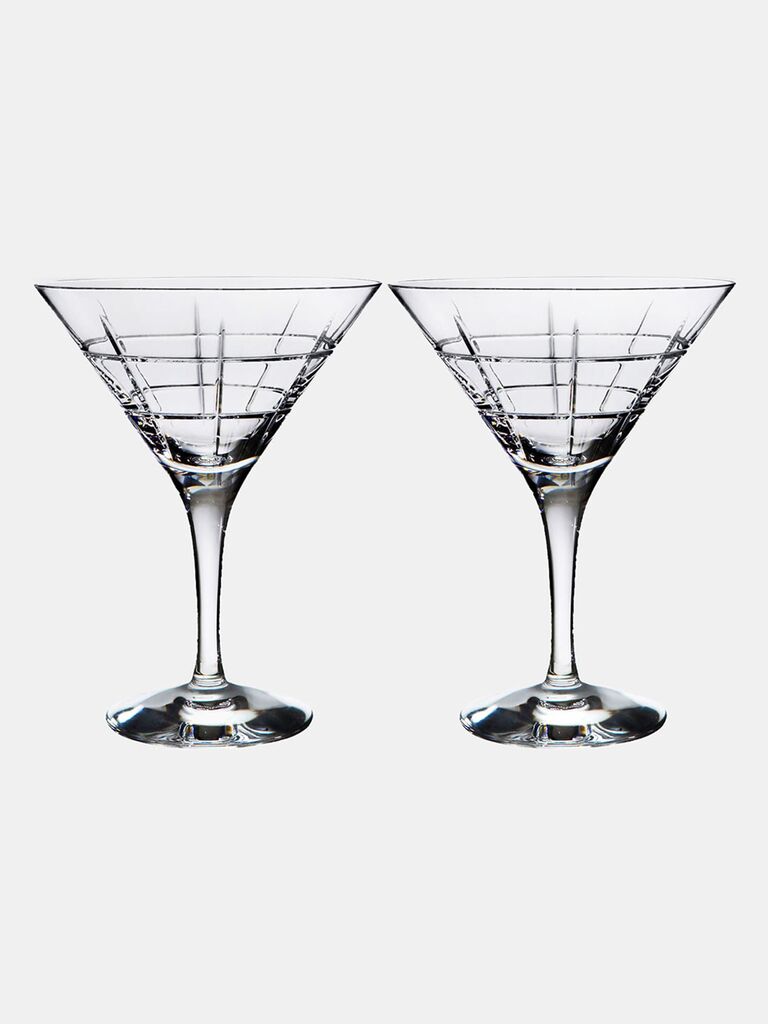 Raise a glass to your growing bond with this fancy barware. You can pair them with gourmet stuffed olives, a bottle of gin and a bottle of Dry Vermouth for a DIY make-your-own martini kit. Oh, and if he's a city kind of guy, he'll also appreciate the urban-inspired grid pattern.

Orrefors Street martini glasses, $90, Nordstrom.com
23. Sentimental Wall Art
Last but not least, here's an incredibly special gift for the father-in-law who's so proud of the home he's built or cared for. Submit a photo of his abode and Minted will turn it into a piece of art. You choose the color, size and frame.

Minted custom house letterpress portrait art, from $82, Minted.com
Disclosure: This post contains affiliate links, some of which may be sponsored by paying vendors.
Published September 2019