20 Unbelievably Affordable Wedding Favors Under $1 Each
No cap, they're really that cheap.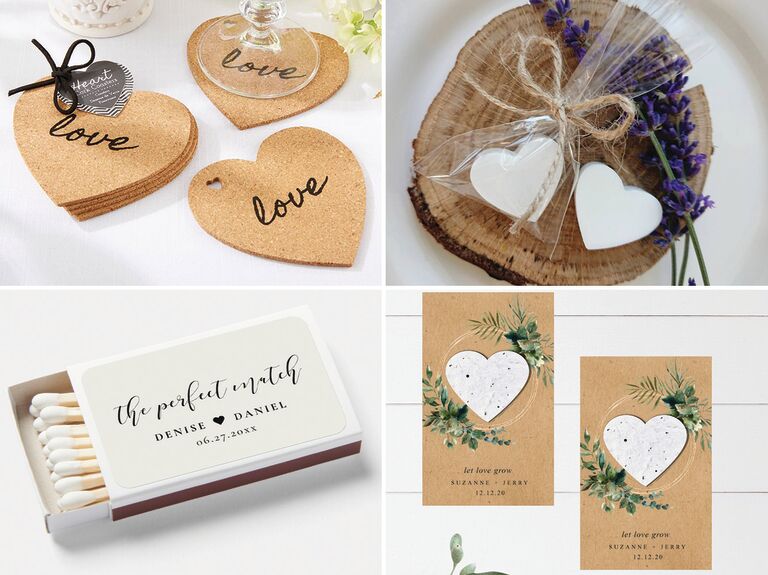 Photos, clockwise: Kate Aspen, ButtercupGoods, ADaytoRememberStudio, Zazzle
We have included third party products to help you navigate and enjoy life's biggest moments. Purchases made through links on this page may earn us a commission.
We know what you're thinking: "In this economy?!" But it's true! We've really found wedding favors for under $1 each. So put the red pen away! There's no need to adjust your budget—or *gasp* cut party favors completely. After searching high and low, we're sharing the best inexpensive wedding favors you can buy online that don't look cheap.
We're big fans of party favors for wedding guests because they show family and friends how thankful you are that they could celebrate with you. There are plenty of budget-friendly wedding favors that express this sentiment. Even crowd-pleasers like edible confections, practical bar accessories and personalized keepsakes can be affordable—you just need to know where to look. (Ding, ding, ding! You're in the right place.) Shop inexpensive wedding favors for guests below!
Where Can You Buy Wedding Favors in Bulk?
Here's a little secret: Buying your wedding favors in bulk can help you score a discount. While you could wander to your nearest warehouse club, you can also shop for inexpensive wedding favors in bulk online. For instance, Etsy, Zazzle and Amazon often offer bulk discounts. Alternatively, our very own The Knot Shop is chock-full of low-cost and cool wedding souvenirs that already have slashed pricing. To help cut down on time spent trawling the web, we've listed our favorite affordable wedding favors below.
The Best Budget-Friendly Wedding Favors
Get ready to score some big savings, because we've found great gifts for your wedding guests that add up to less than $1 (yes, $1!) each. Of course, we know that price isn't the only important part of picking out party favors. That's why we've sourced guests gifts that aren't just affordable, they're also fun and can fit your wedding theme. Happy bargain shopping!
1. Personalized Bottle Openers
Call us biased for starting our list of the best inexpensive wedding party favors with our own retailer, but these bottle openers are simply the greatest. For one, their credit card-like design makes them easy for guests to carry around in their wallets. Additionally, they can be personalized with a trendy saying, clip art and your wedding details. They're an inexpensive, yet useful wedding favor that won't be left behind.
2. Heart-Shaped Coasters
Not only are these inexpensive wedding gifts for guests incredibly cute, but they're also functional. Place these cork coasters on guests' tables to double as rustic-meets-romantic decor. After the nuptials, your guests can each take their heart-shaped coaster home to protect their precious furniture or brighten up their desks.
3. Thematic Match Boxes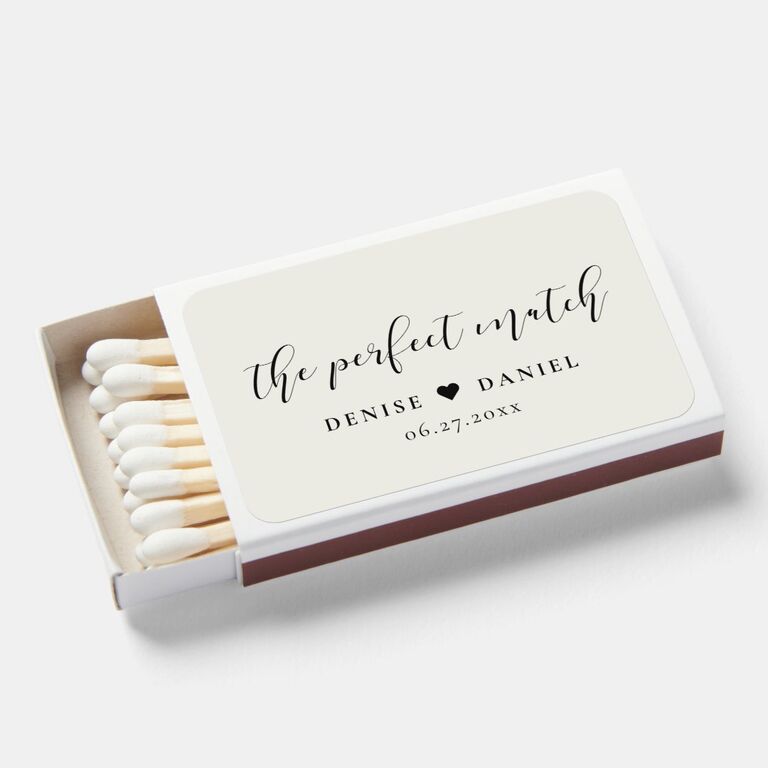 Whether you're hosting a rustic, mountain wedding or tropical, beach nuptials, Zazzle will have a matchbox design that fits your aesthetic. And if you don't see one amongst the dozens of pages, you can create your own. This popular elegant option reads "the perfect match" in a cursive font with your names and wedding date underneath. They're sold in packs of 50, making each matchbox under one dollar.
4. Plantable Seed Papers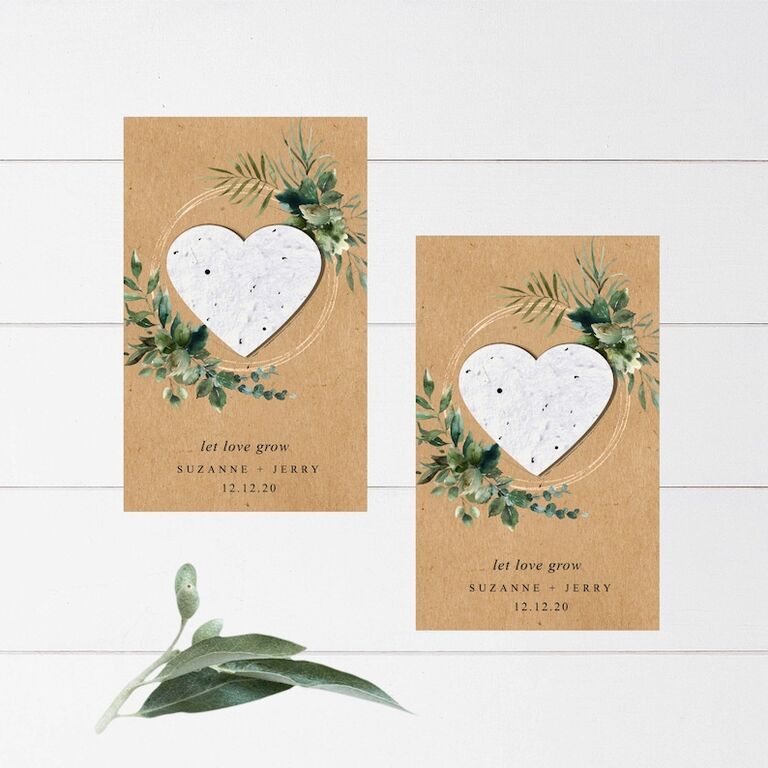 Gift your loved ones something they can appreciate for years to come (assuming they have a green thumb) with these plantable party favors. The cute paper heart is embedded with wildflower seeds your guests can grow. The flowers that bloom will be a sweet symbol of your blossoming love. We bet you didn't know small wedding favors could make such a sweet statement! Plus, the cards can be personalized with a short phrase like "let love grow" and your wedding details.
5. Photo Guitar Picks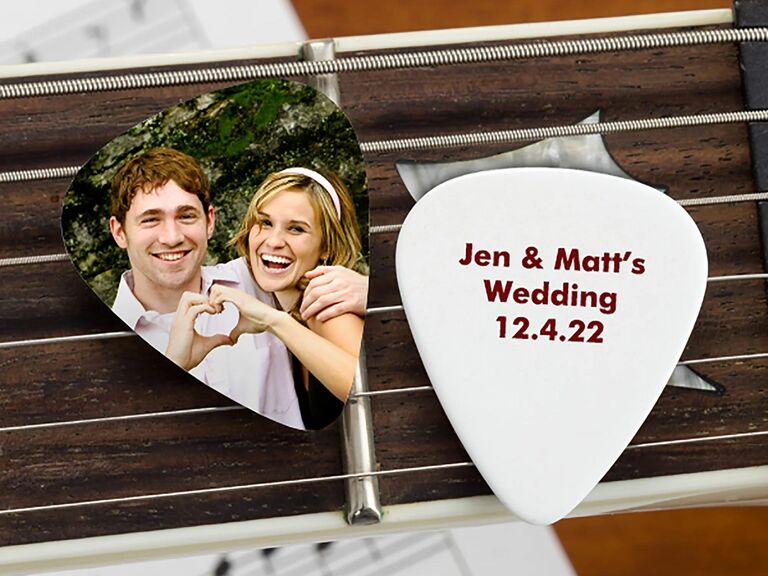 If music plays a big part in your relationship, embrace it with a unique (but inexpensive) wedding favor inspired by your love story. These customized guitar picks are a cool idea that guests definitely won't be expecting. You can personalize them with your wedding details and a cute photo.
6. Customized Hershey Kisses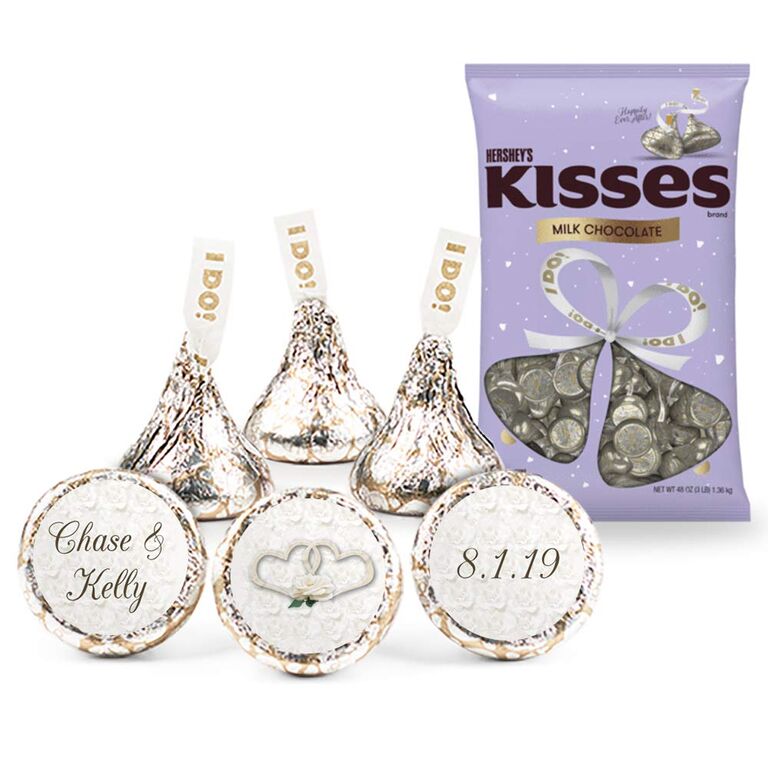 PSA: Three pounds of chocolate is probably not enough to satisfy all your wedding guests. They'll be grabbing these by the handful. Luckily, at about $0.13 a pop, it won't cost an arm and a leg to get a few bags. These milk chocolate Hershey's Kisses are outfitted with "I do" wrappers and custom stickers with your wedding details and cute clip art. Just note: Assembly is required.
7. Punny Mints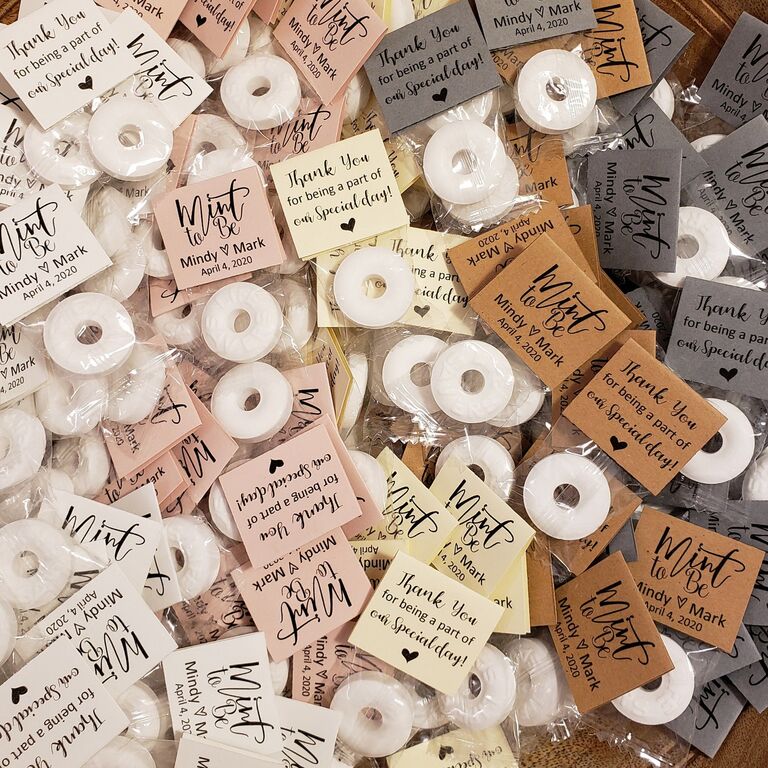 Everyone will appreciate a little refresher after hors d'oeuvres are passed or dinner is served. Personalized with your names and wedding date, these individually wrapped mints are another edible wedding favor idea you can buy in bulk. Complete your giveaways with clever phrases like "mint to be" or "thank you for celebrating our commit-mint."
8. "Best Day Ever" Bubbles
If you've ever dreamt of being showered with bubbles during your send-off, treat your guests to these cheap (and definitely cheerful) wedding favors. Each bottle in the set of 24 comes prefilled with a bubble mixture and is capped with a heart-shaped stopper. The icing on the cake? They read "Best day ever" in shimmering gold. We don't think any of your guests will disagree with that.
9. Wedding Playing Cards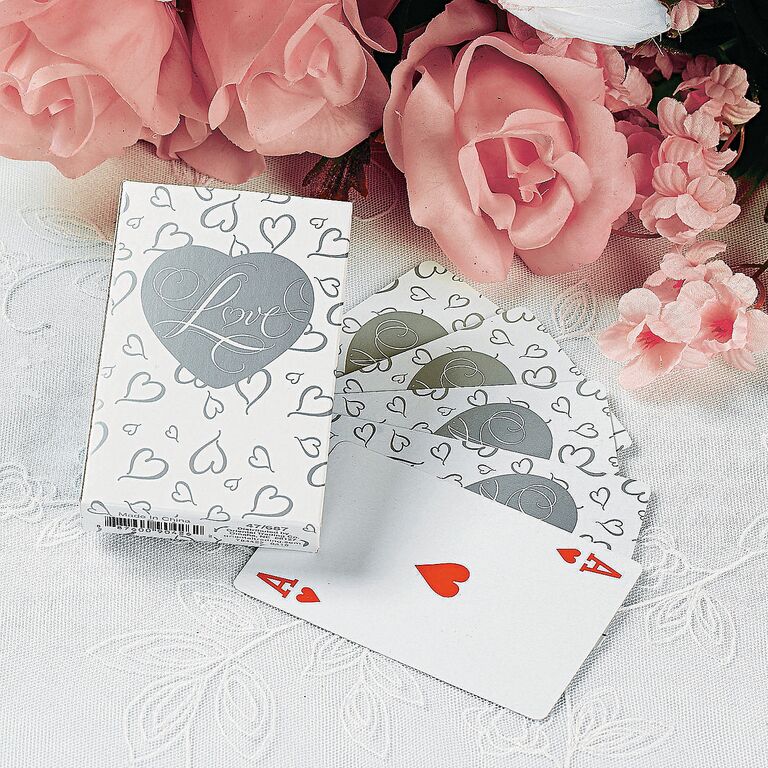 You found your perfect pair, now help your guests find theirs—assuming they play Go Fish, that is! These sets of playing cards will keep both kids and adults entertained. Plus, they're fittingly decorated with hearts.
10. Scented Soap Bars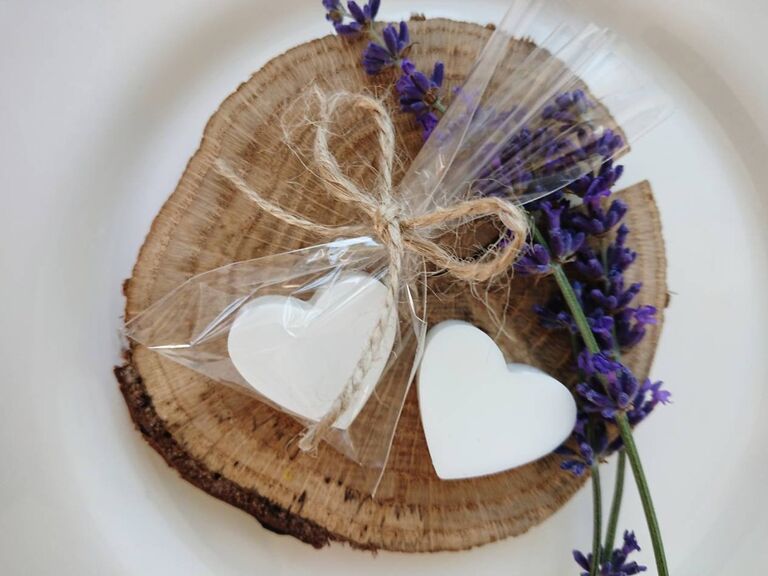 If you're looking for cheap wedding guest favors to put in welcome bags, start with luxe toiletries. These heart-shaped soaps look fancy, but they're actually really affordable. Each is infused with lavender essential oil for a calming scent and can have poppy seeds or oatmeal added for exfoliation. Each can then be wrapped in bags with a "thank you" sticker. While this is an extra charge, it all stills comes out to under $1 each. (Note: This listing is for 75 soaps, but the seller offers other quantities as well as shapes on their shop page.)
11. Travel-Sized Hand Lotions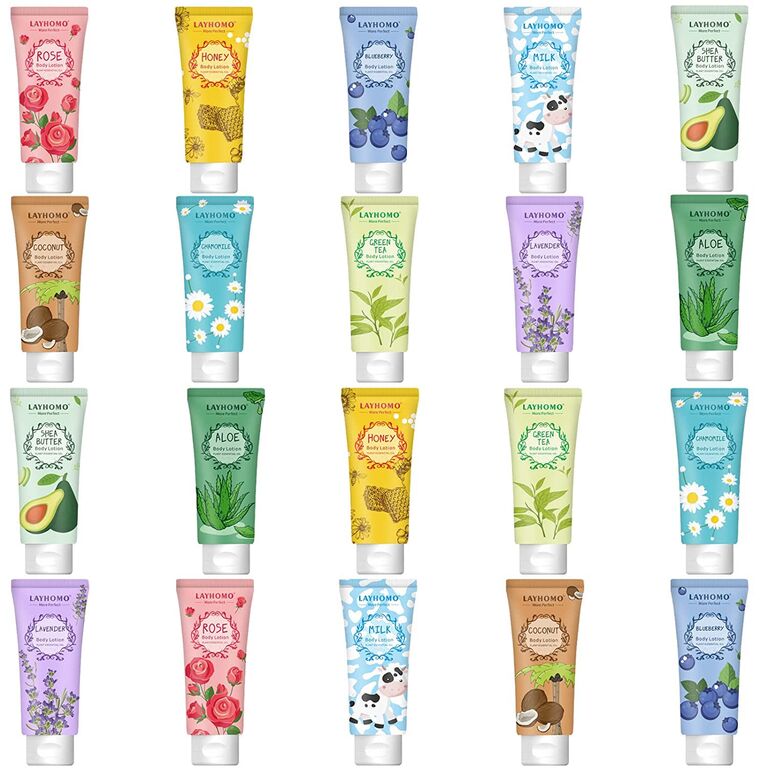 Here's another cheap wedding favor for your guests' welcome bags: lotion! It's an especially great gift if you're having a fall or winter wedding when the air is extra dry. This bulk set has an assortment of 10 natural scents, including soothing Rose, Shea Butter, Lavender, Chamomile and Green Tea.
12. "The Perfect Blend" Tea Bags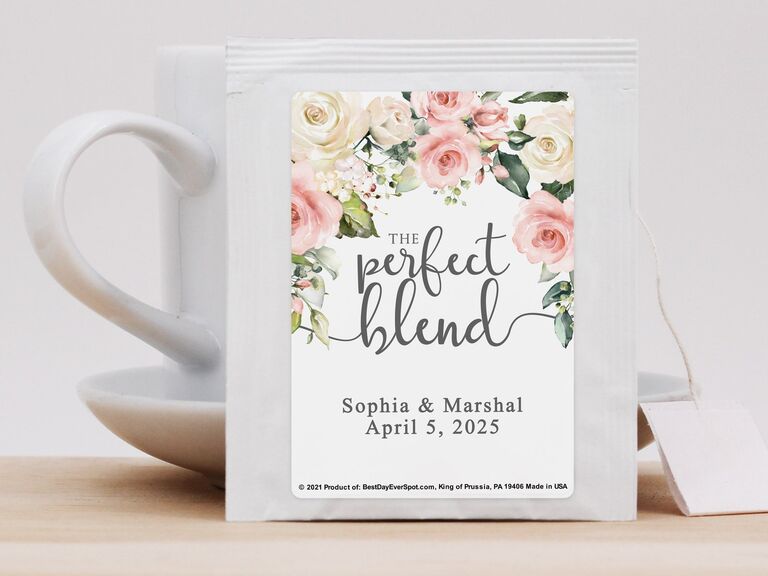 Give your guests a warm beverage to close out the night or jump-start their morning with tea as a wedding favor. As long as you opt to assemble these yourself (just putting the sticker on the bag), they'll stay under budget. The custom sticker is oh-so-cute with your names and wedding date under the punny phrase, "the perfect blend" surrounded by roses.
13. Sweet Honey Sticks
Don't forget a dollop of honey for their tea! Or just for an extra sweet treat. These affordable clover honey sticks are just $0.20 each. You can also grab honey sticks infused with 11 flavors like Ginger, Vanilla or Wildflower. Can't decide? (Honestly, same.) Grab a variety pack—go on, it's meant to bee.
14. Personalized Hand Fans
Summer wedding? Humid climate? Make sure your guests stay cool with a hand fan on each seat. We especially love these because they're not only offered in dozens of designs to fit your theme but they can be personalized with your wedding details.
15. Neon Sunglasses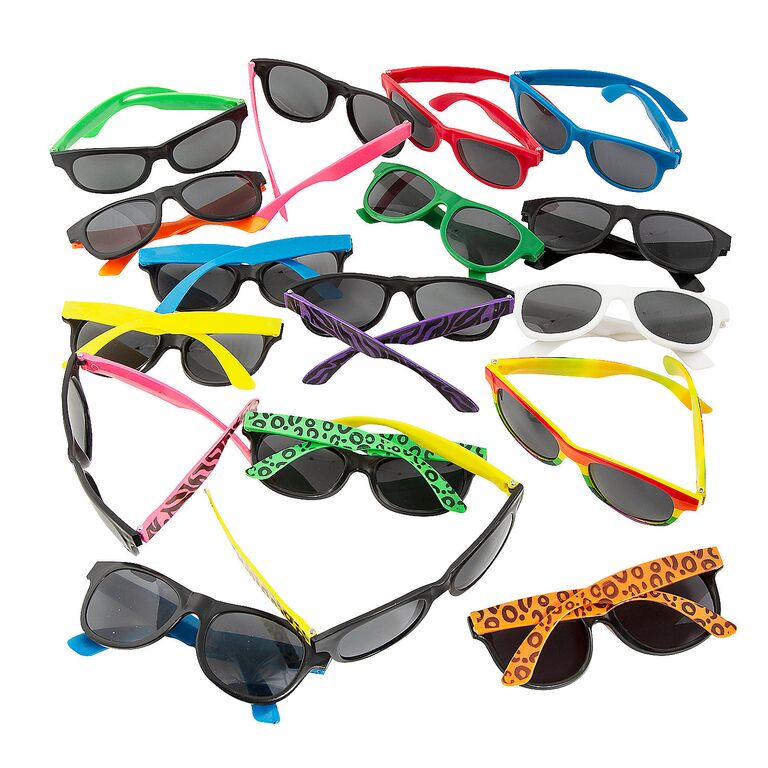 If you're hoping to flawlessly execute the wedding TikTok trend where guests pose with sunglasses, then you're going to need some killer shades. Insert: this assortment of colorful sunglasses. These inexpensive wedding favors come in a bulk set of 48. Your guests will have a laugh snapping pictures in them all night.
16. Shot Glasses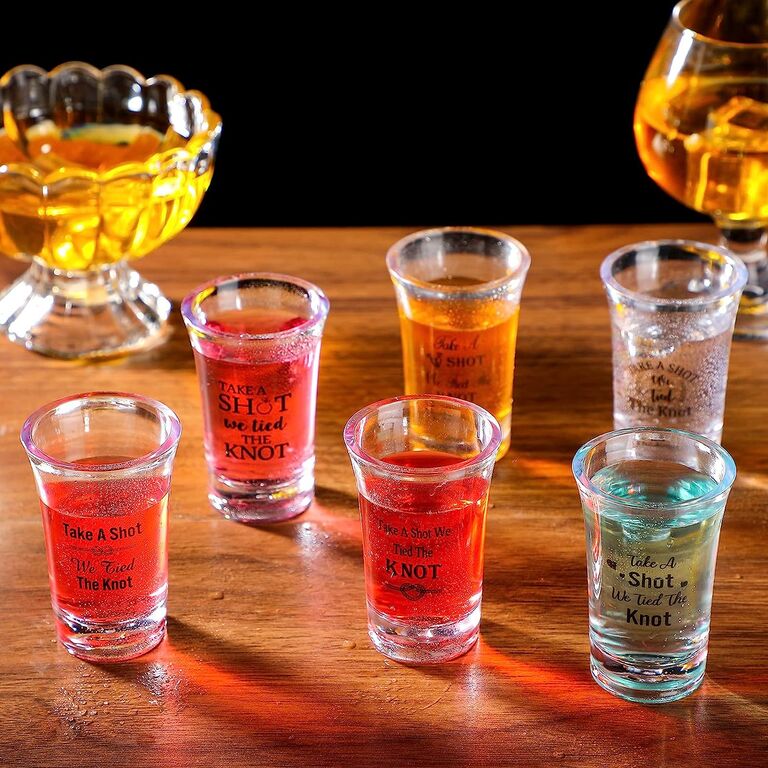 This one is for all your 21 or older guests that like to party. The bulk set of shot glasses read "Take a shot, we tied the knot." Just make sure you have your favorite alcohol (and chaser) on hand so everyone can put them to use right away.
17. Slim-Fit Can Koozies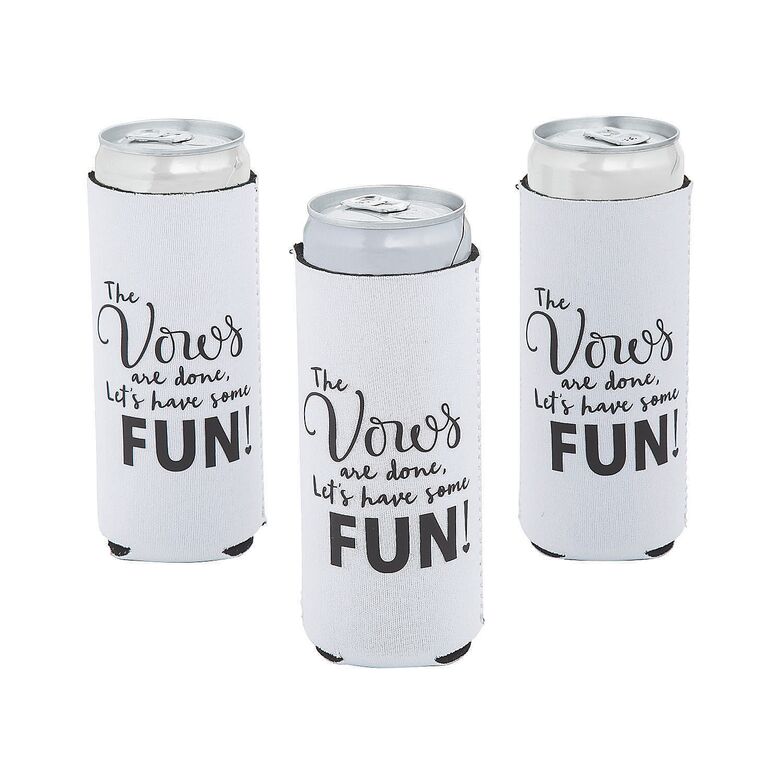 If your crew prefers hard seltzers over anything else, these slim can koozies are the perfect wedding favor for them—and for you, since they're under $1 each. The white neoprene is printed with the phrase: "The vows are done, let's have some fun!" Too accurate!
18. Romantic Bookmarks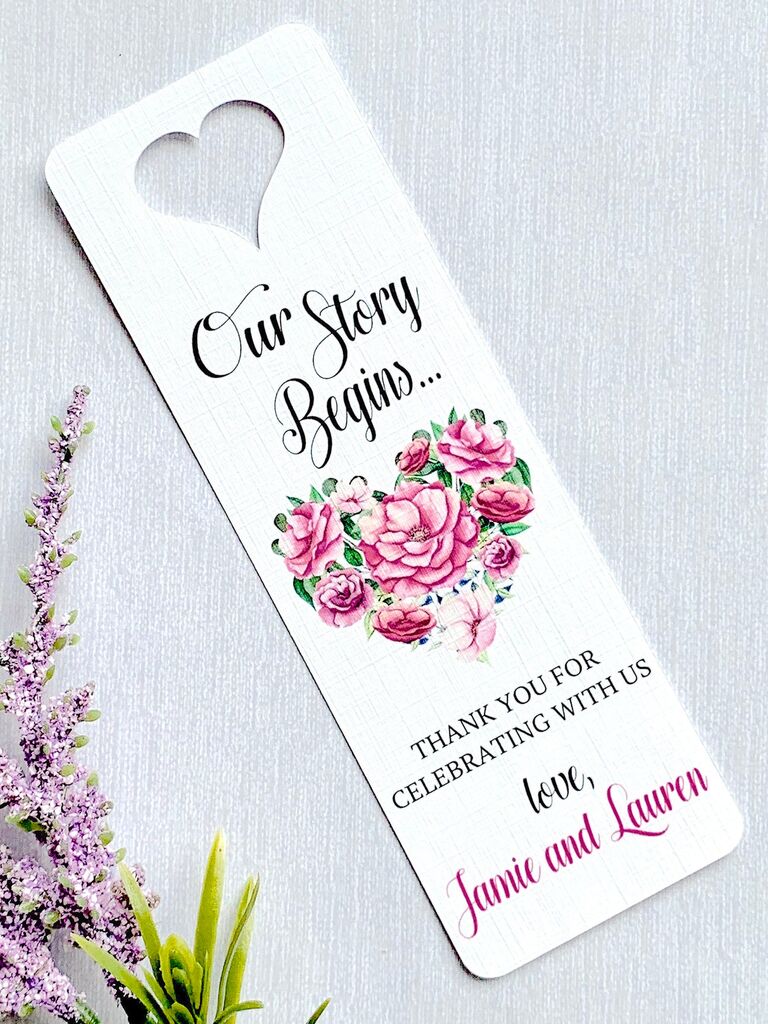 Searching for wedding favors on a budget does limit your options slightly, but you can definitely still find something special for under $1. This one's for the self-proclaimed bookworms. Share your love of literature with friends and family by handing out these clever (and incredibly useful) bookmark favors. They're personalized with a thank-you message from you and your fiancé.
19. Small Acrylic Frames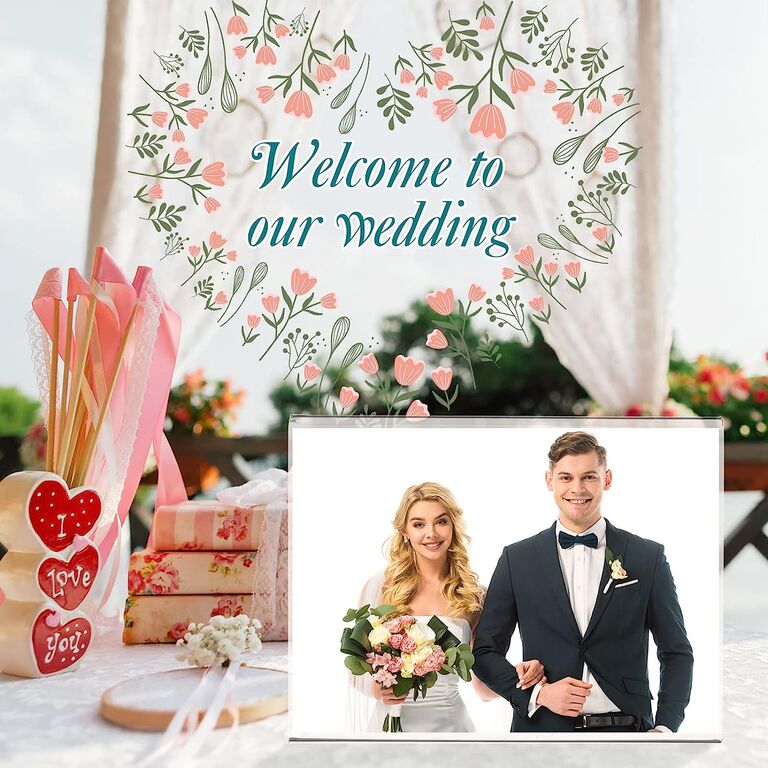 The best way for your guests to remember your special day is with a picture. Set up a photo booth—ideally with an instant camera—for family and friends to take cute photos. Then display these picture frames nearby so they can grab one for their snapshot.
20. Lottery Tickets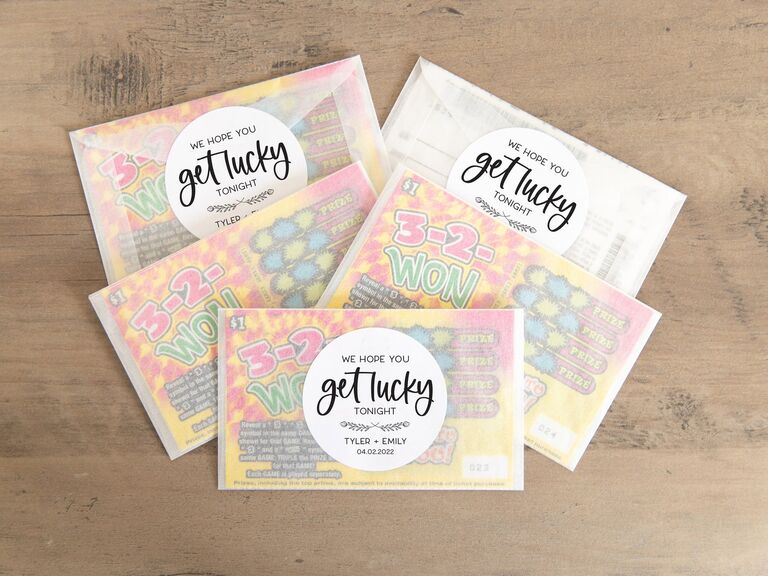 Okay, technically this wedding favor idea isn't under $1 when you combine every component, but it's still inexpensive. Head over to your local gas station or grocery store to pick up a $1 scratch ticket for each of your guests. Then order these cute stickers that say "We hope you get lucky tonight" and frosted envelopes to present them nicely. These are one of guests' favorite wedding favors, especially if they win!