The 34 Cutest Wedding Favors You Won't Believe Are Under $1
These cheerful options are totally budget friendly—and your guests will love them.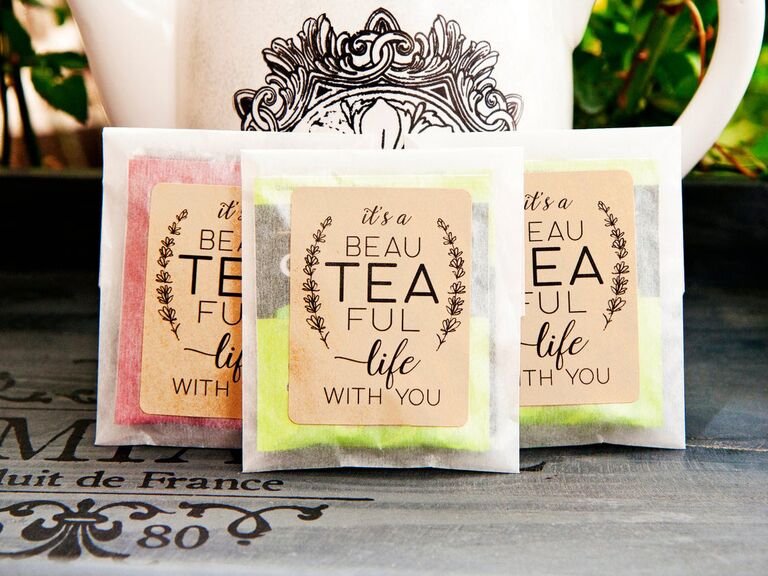 We have included third party products to help you navigate and enjoy life's biggest moments. Purchases made through links on this page may earn us a commission.
Sticking to your wedding budget isn't always easy—but lucky for you, we've got tons of budgeting tips and tricks to help make every dollar count. One simple way to save is by choosing cheaper wedding favors. There's no need to fork over a ton of cash when there are plenty of unique and affordable options out there. Not sure where to start? That's where we come in! We've searched high and low for inexpensive wedding favors that cost less than a buck. Yes, you read that right: We've found the best wedding favors for under a dollar each! Shop all our top picks that you can buy in bulk.
Personalized Matchboxes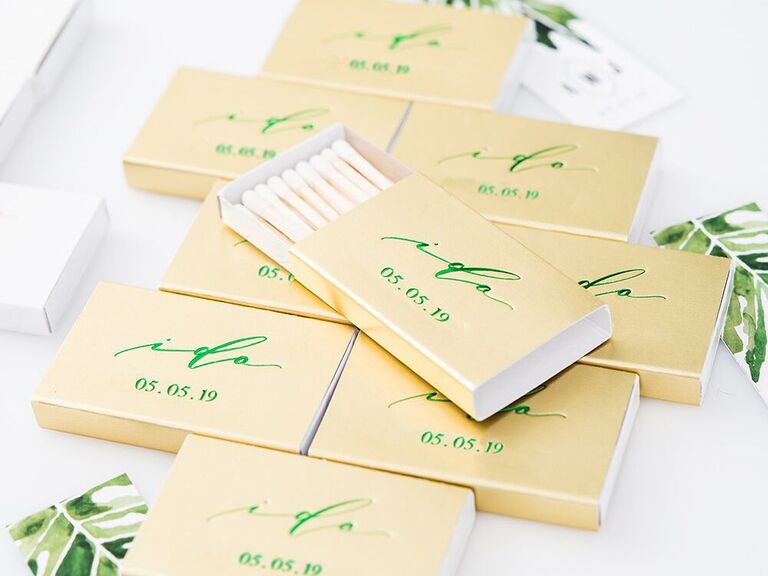 Matches are one of those things you don't think you need until you do. Solve that problem for your guests and design personalized matchboxes for them.
The Knot Shop personalized matchbox, 89¢, TheKnotShop.com
Plantable Seed Paper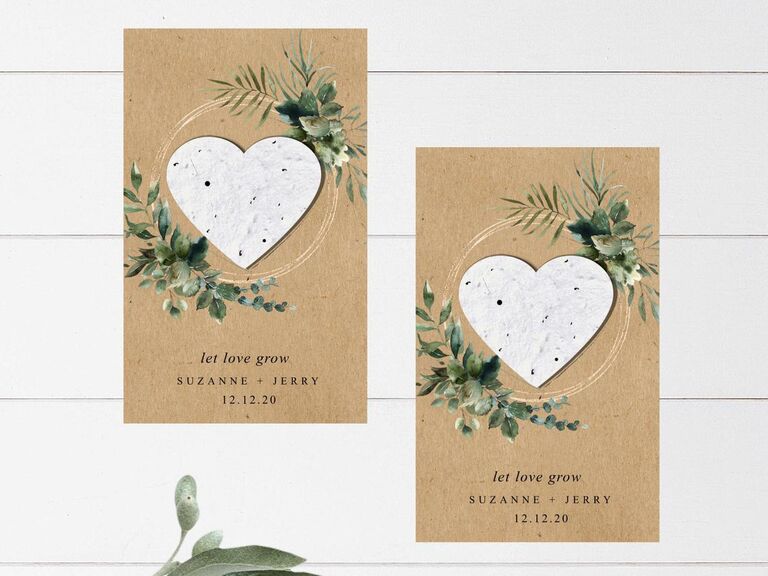 Gift your loved ones something they can appreciate for years to come with these plantable party favors. The cute paper heart is embedded with wildflower seeds your guests can grow.
A Day to Remember Studio plantable wedding favor, 88¢, Etsy.com
Mini Photo Frames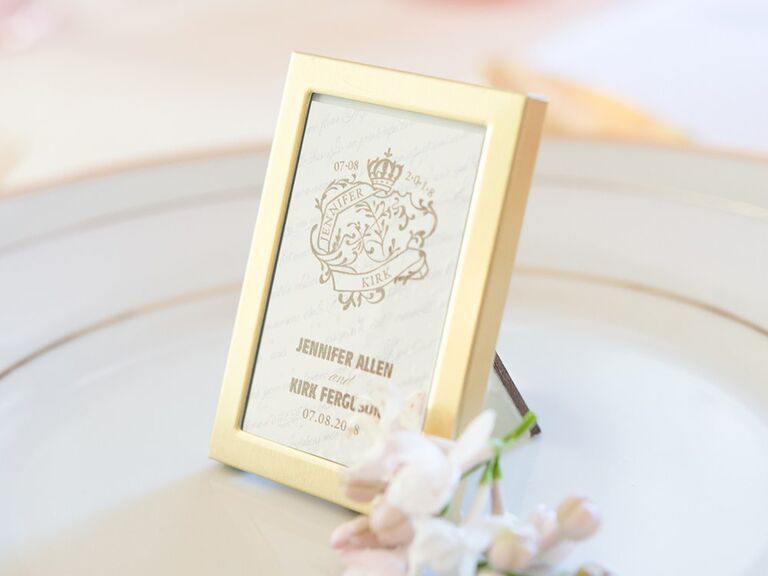 There's a lot you can do with a set of sleek mini picture frames. Hand them out for guests to insert their own photos, fill them with personalized messages or use them as cute place card holders guests can take home later.
The Knot Shop mini photo frame favor, from 99¢, TheKnotShop.com
Scented Soap Bars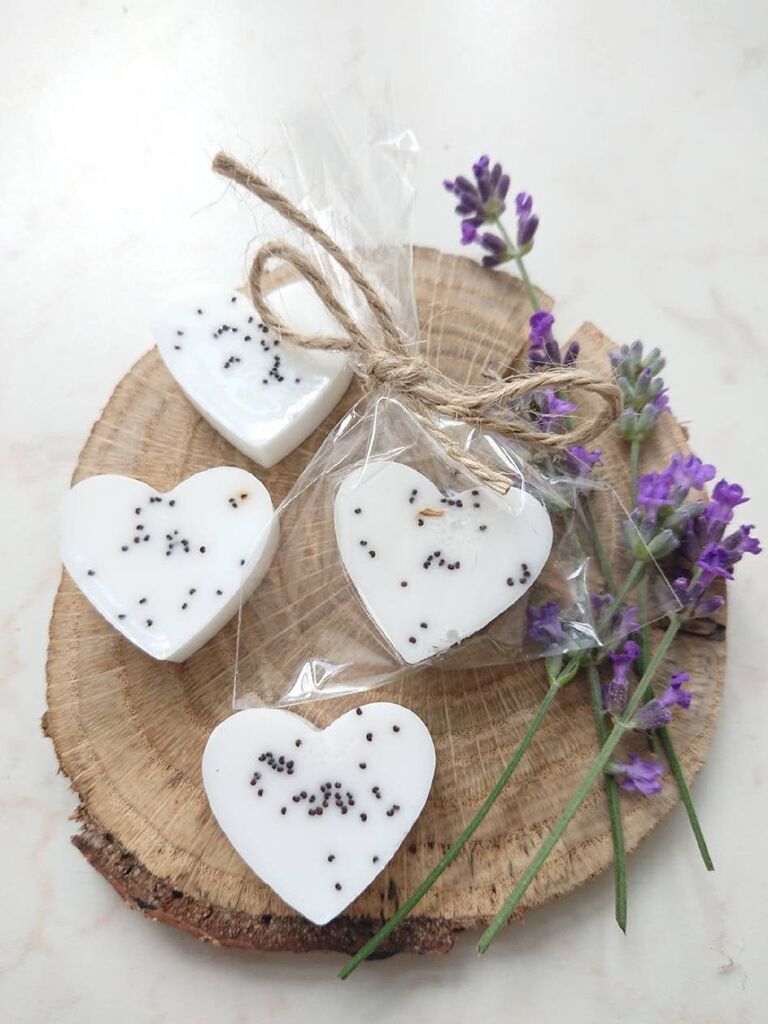 These adorable wedding favors might not look cheap, but they're actually really affordable. Your guests will love bringing these sweet-smelling soaps home.
Buttercup Goods white heart soap wedding favors, $22.19 for a set of 50, Etsy.com
"Best Day Ever" Bubbles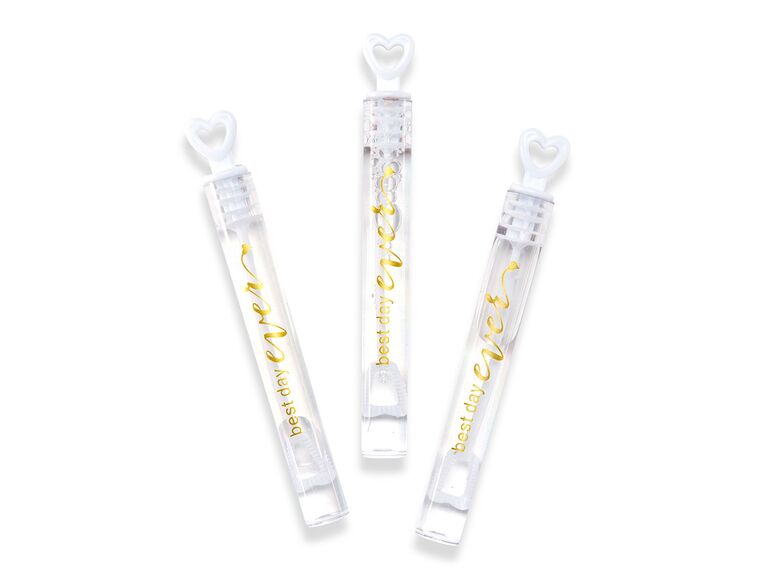 If you've ever dreamt of being showered with bubbles, treat your guests to these cheap wedding favors. Each bottle comes pre-filled with bubble mixture and is capped with a heart-shaped stopper.
The Knot Shop Best Day Ever wedding bubbles, 42¢ each, TheKnotShop.com
Gold Mint Tins
These personalized mint tins make for both elegant and affordable wedding favors. Feel free to fill them with the candy of your choosing—mints optional.
My Wedding Favors personalized Indian Jewel gold round candy tin set, $11.52 for a set of 12, MyWeddingFavors.com
Custom Hand Fans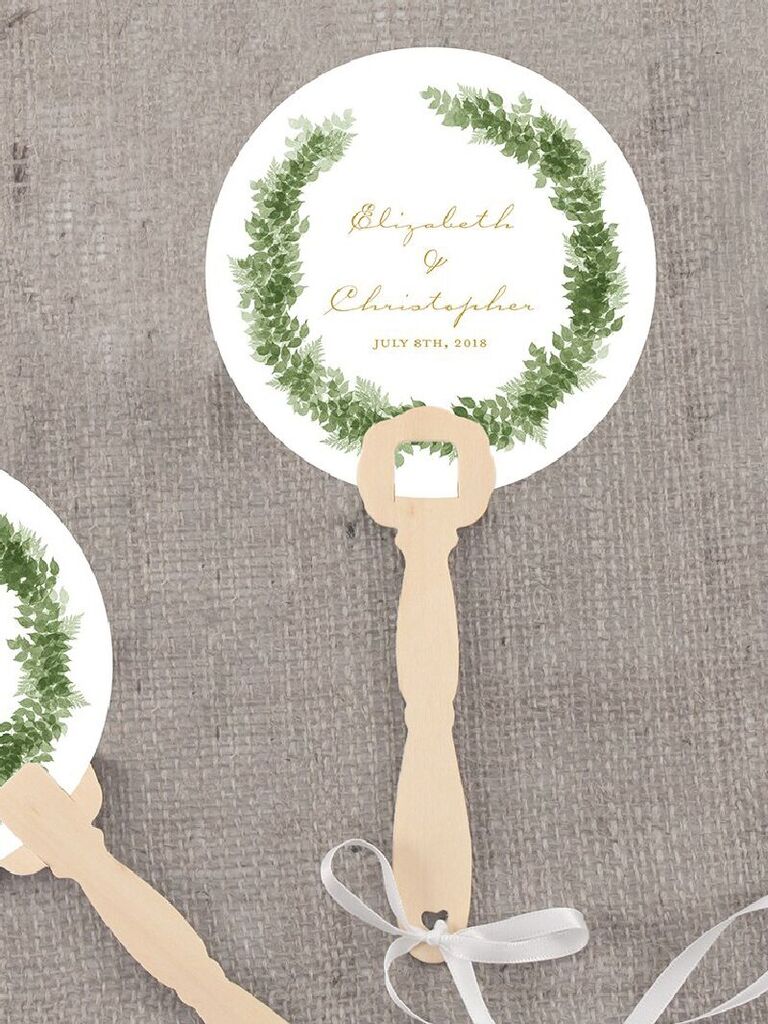 Not only is this cheap wedding favor incredibly cute, it's functional as well. Your guests will appreciate fans even more if you're planning a summer soiree.
The Knot Shop Love Wreath personalized hand fan, 99¢, TheKnotShop.com
"Happy Tears" Tissues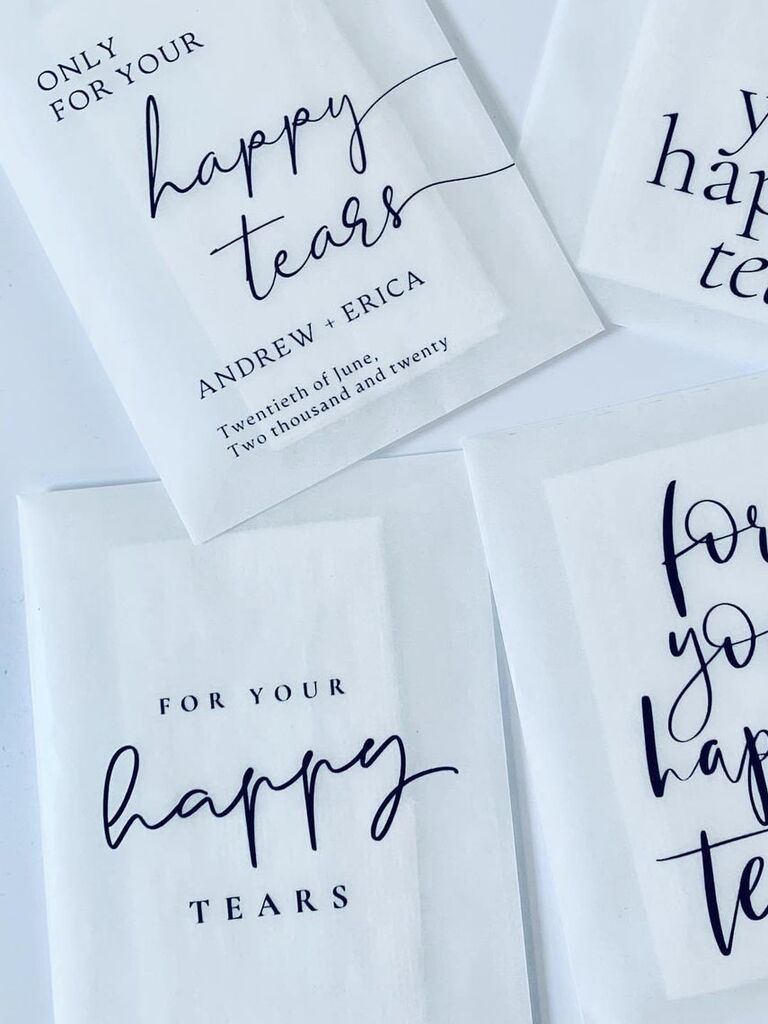 Weddings are emotional occasions. For those really feeling the love, equip them with personalized tissues in case the tears start rolling—they'll be thankful you did.
Wedco Handmade Happy Tears wedding tissues, from 96¢ each, Etsy.com
Library Card Bookmarks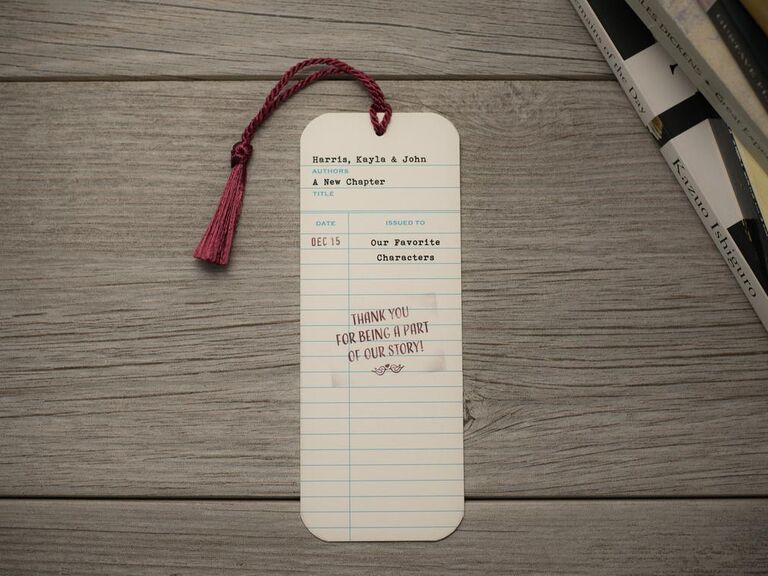 Give your loved ones something they can use every day, like this adorable personalized bookmark. (Psst, this one is even more fitting if you're highschool sweethearts.)
Penny Ann Designs personalized library check-out card wedding bookmark favors, $79 for a set of 80, Etsy.com
Antique Key Charms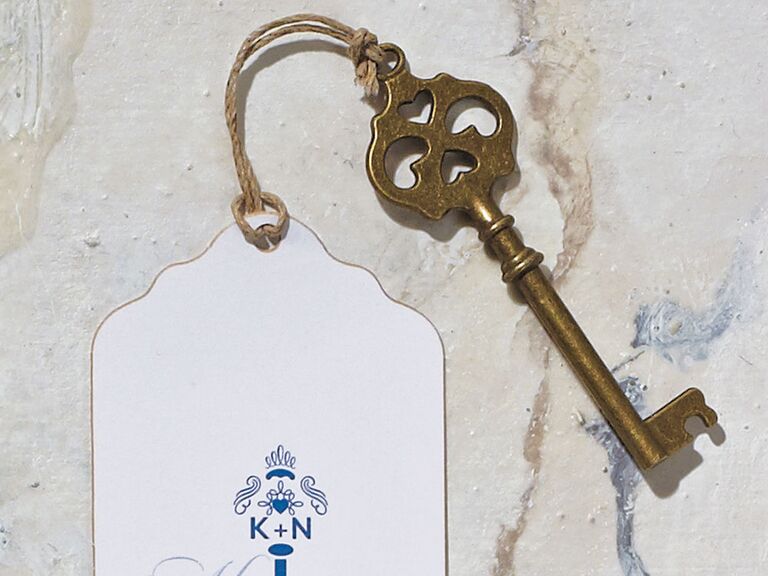 This gold key charm will give escort cards and gift tags a unique, vintage edge.
The Knot Shop Double Hearts antique key charm, from 92¢, TheKnotShop.com
Ceramic Bird Dishes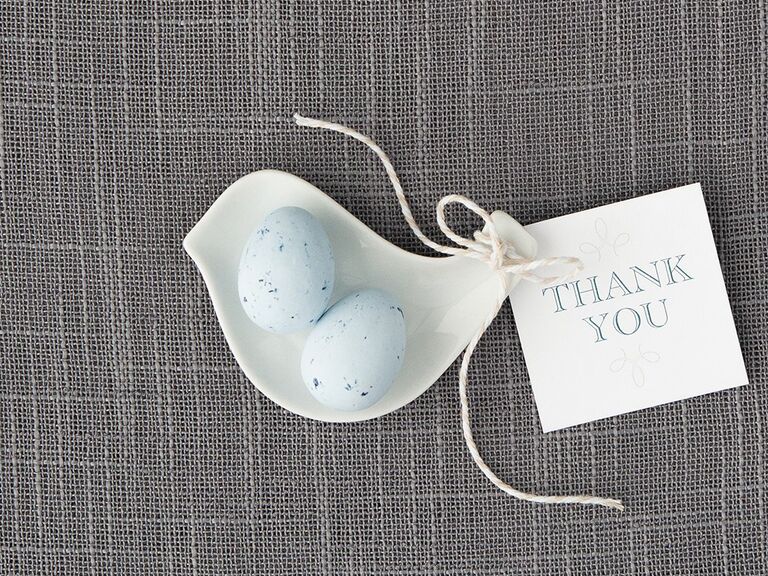 We're big fans of cheap wedding favors that can be kept as cute keepsakes, like this small ceramic love bird.
The Knot Shop small white ceramic bird dish favor, $7.84 for a set of 8, TheKnotShop.com
Cute Kissing Bells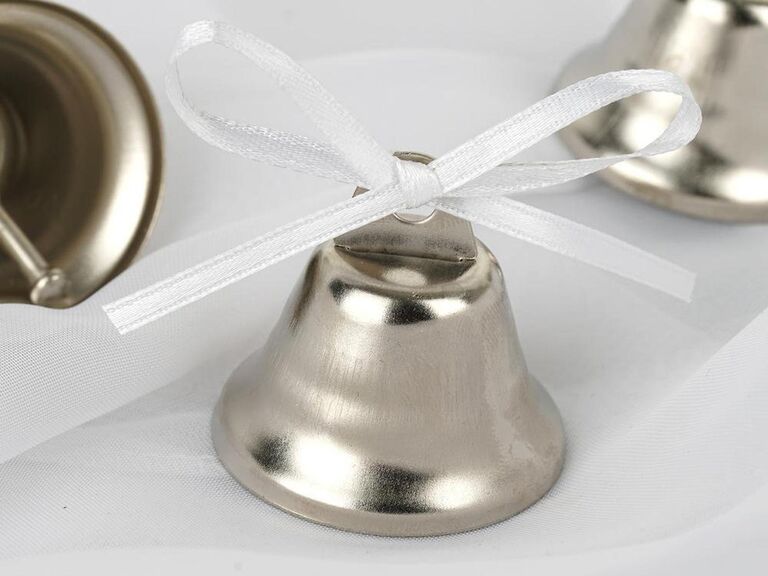 Honor tradition by gifting your guests kissing bells. Try adding some ribbon and personalized labels to make them feel extra special.
Annie's Online Shop kissing bells, $14.95 for a set of 24, Etsy.com
Heart-Shaped Magnets
Personalized magnets will make it easy for guests to remember your wedding day for years to come. The heart-shaped design of these inexpensive wedding favors makes them especially sweet.
David's Bridal personalized heart shaped wooden magnets, from 90¢ each, DavidsBridal.com
Tropical Tealights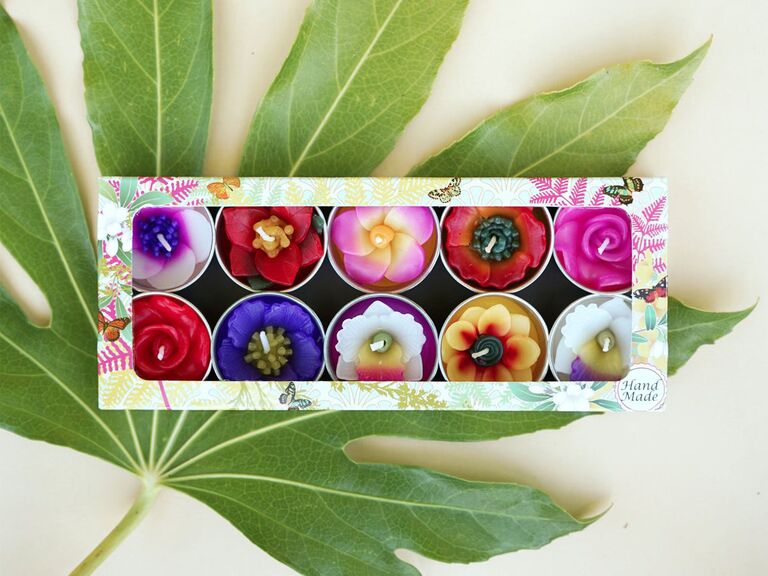 Still on the lookout for cheap gift ideas for your wedding guests? These wildflower-scented tealights will add a pop of color to every table (plus, they smell as great as they look). Split each box up amongst attendees for cost-effective favors.
Hana Blossom Candles handmade tropical flower scented tealight set, $9.70 for a set of 10, Etsy.com
Eiffel Tower Keychains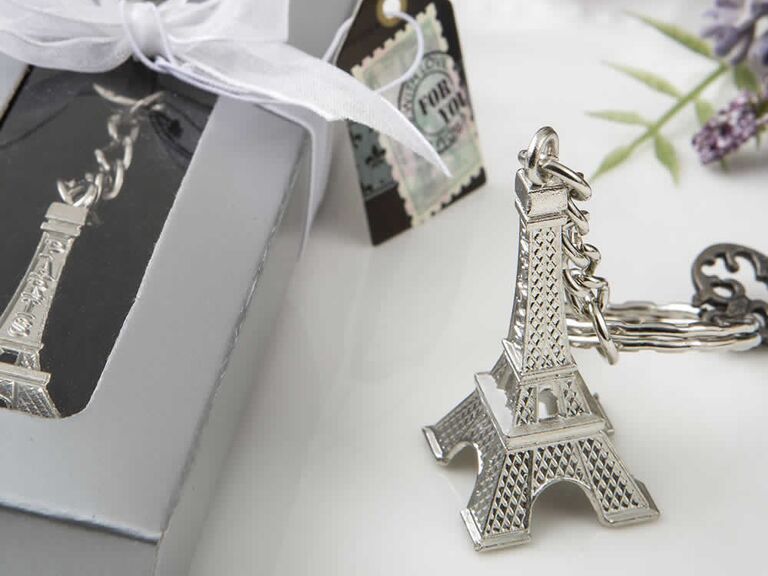 Bring the City of Love to your celebration with these chic Eiffel Tower keychains your guests can attach to their bags, keys or whatever they prefer. Talk about romantic wedding favors.
Best Price Favors Eiffel Tower metal keychains, from 94¢ each, BestPriceFavors.com
Wedding Wands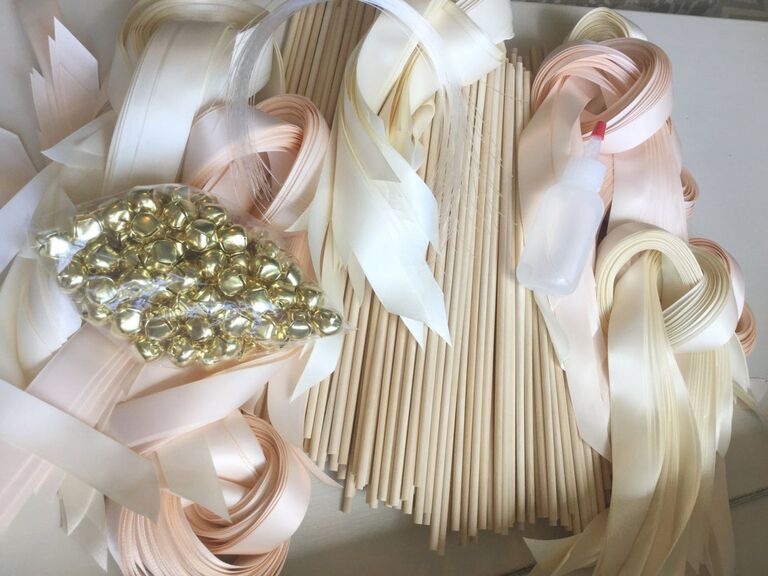 Another way to cut back on your budget is to go with DIY wedding favors. This set comes with everything you'll need to make elegant wands for guests to wave you off with. They'll make for a memorable farewell (and adorable keepsakes!).
The Brides Made Shop DIY wedding wand kits, from $60 for a set of 120, Etsy.com
Custom Shot Glasses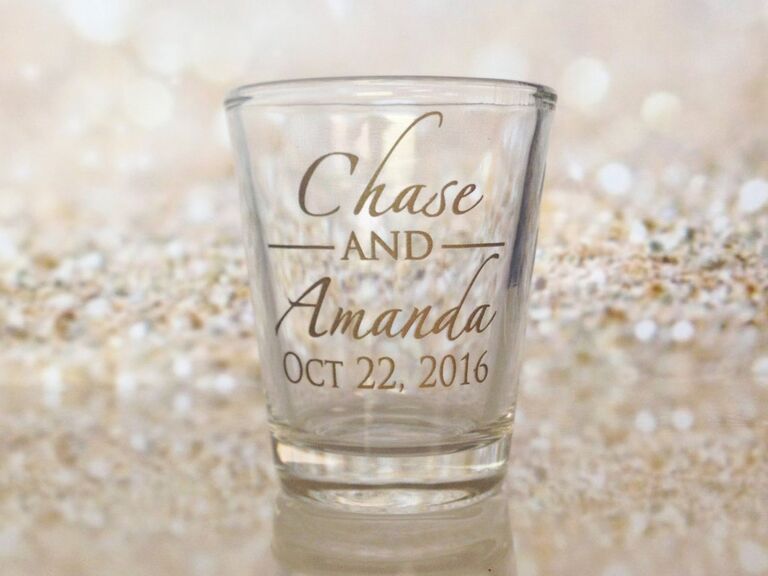 Celebrate tying the knot by having your guests take a shot! These affordable shot glass wedding favors can be personalized with your names and wedding date, making them great mementos of your special day.
Factory 21 shot glass wedding favors, $81.48 for a set of 84, Etsy.com
Novelty Cameras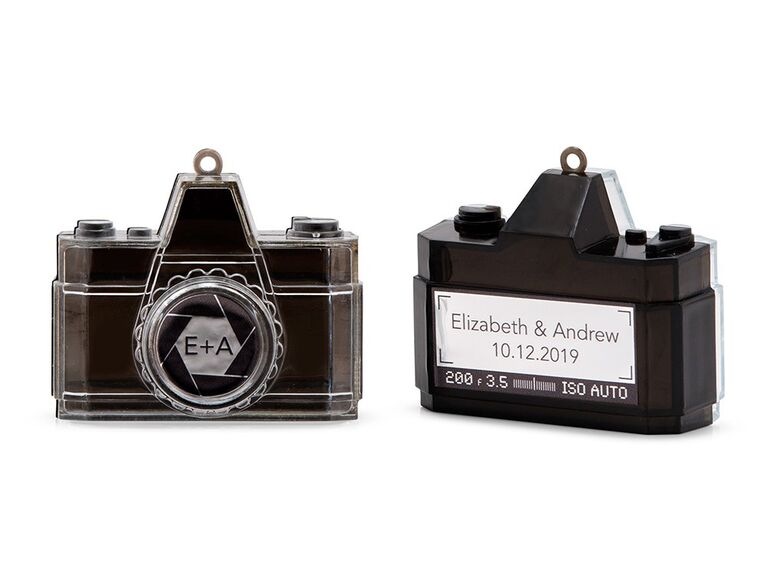 Maybe we're nostalgic for simpler times, but there's something about a vintage camera everyone loves. Fill this novelty party favor with some tiny sweet treats for your guests to take home.
The Knot Shop novelty camera party favor, from 84¢, TheKnotShop.com
Chocolate Kisses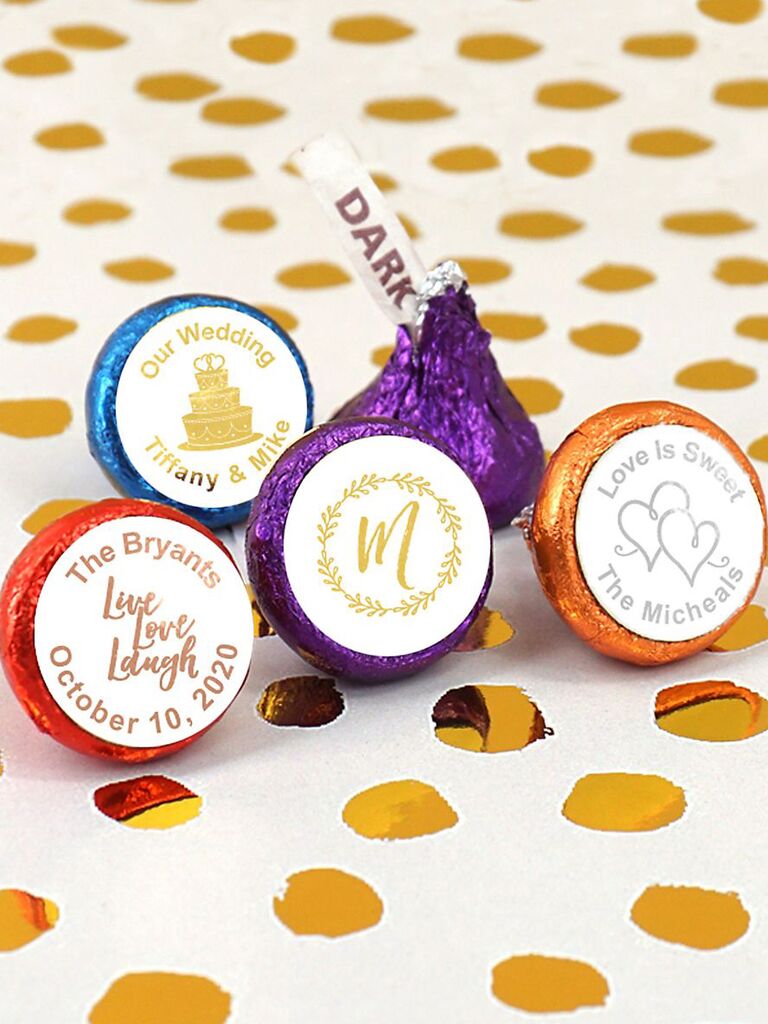 What's better than edible wedding favors? Edible wedding favors under $1! Put your own spin on a classic with these custom foil Hershey's Kisses.
David's Bridal metallic foil Hershey's Kisses favors, from 45¢ each, DavidsBridal.com
Glass Candy Jars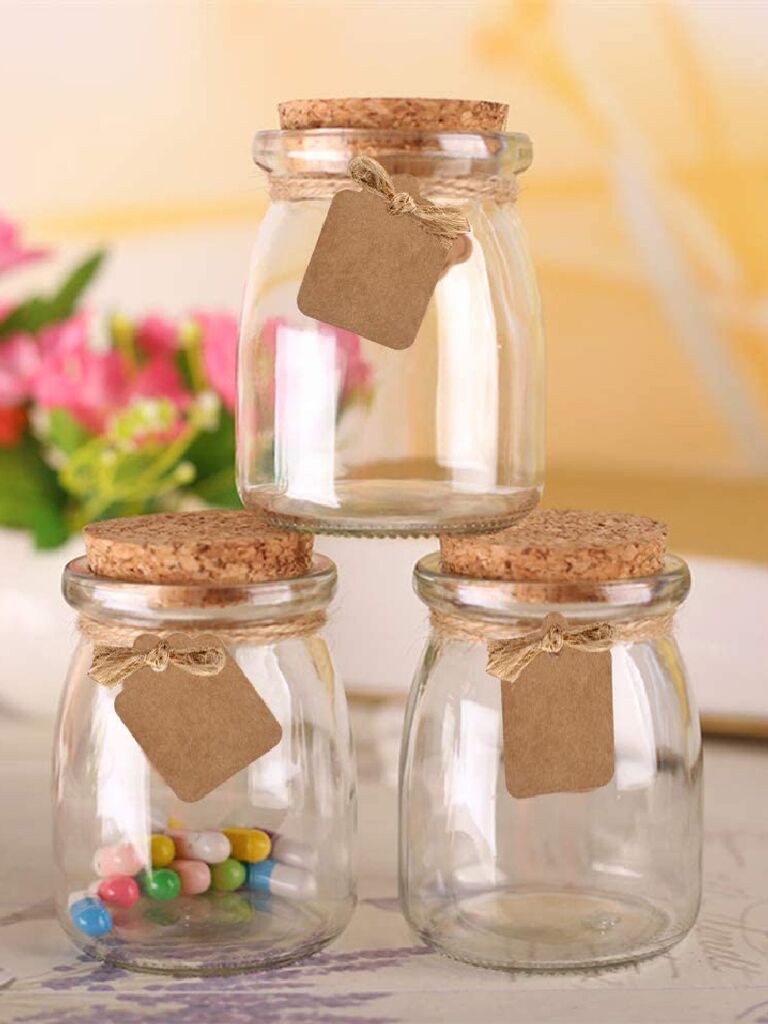 Everyone loves minis, and everyone loves candy. These small glass candy jars are great inexpensive wedding favors, especially if guests happen to love sweet things. The icing on the cake? They can reuse the jars at home for whatever they want!
Brajttt glass favor jars with cork lids, $22.99 for a set of 30, Amazon.com
Pretty Tea Bags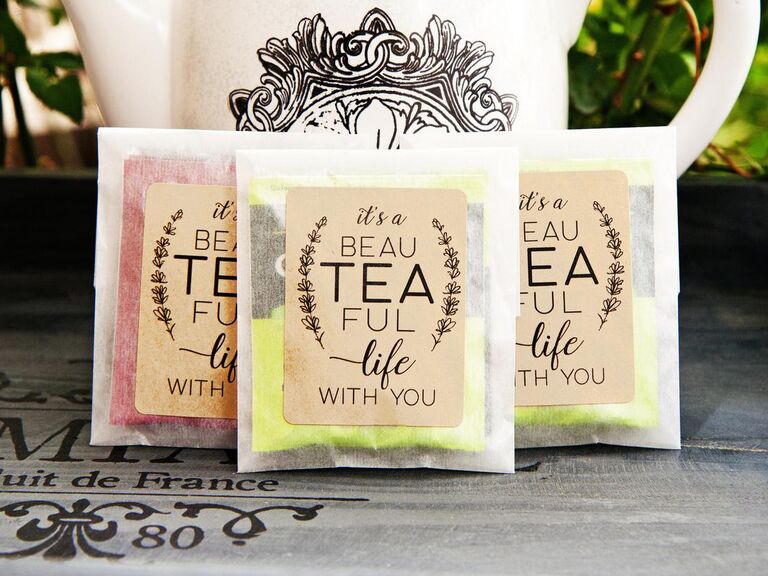 These elegant tea favor bags come complete with the cutest stickers! We suggest filling them with black tea for the most budget-friendly results.
Mavora wedding tea envelopes, $11 for a set of 20, Etsy.com
"Thank You" Stones
If you're on the hunt for affordable wedding favors you can buy in bulk, check out these unique and decorative stones.
RockImpact Thank You engraved inspirational stones, $39.99 for a set of 50, Amazon.com
Mini Airplane Gliders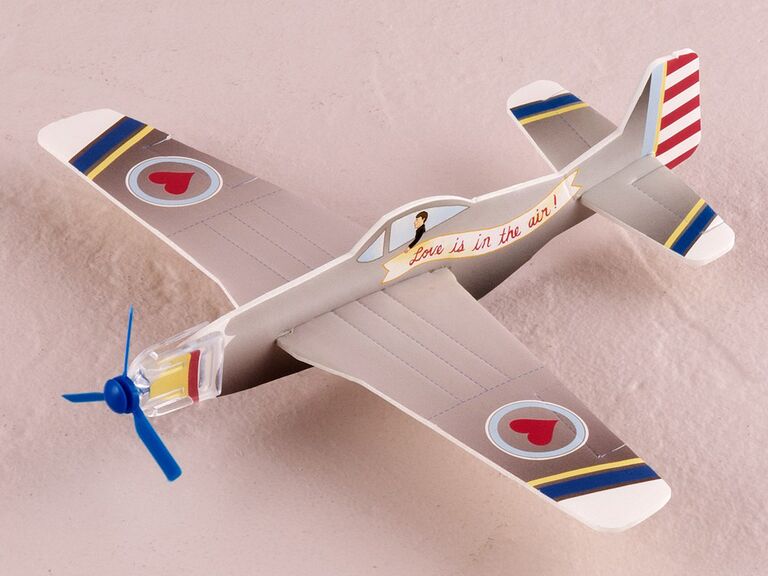 Having guests assemble their own paper plane is a fun and easy activity for any downtime during the reception. Plus, the end result is super cute.
The Knot Shop Love Is in the Air mini airplane glider favors, from 99¢ each, TheKnotShop.com
Peppermint Candies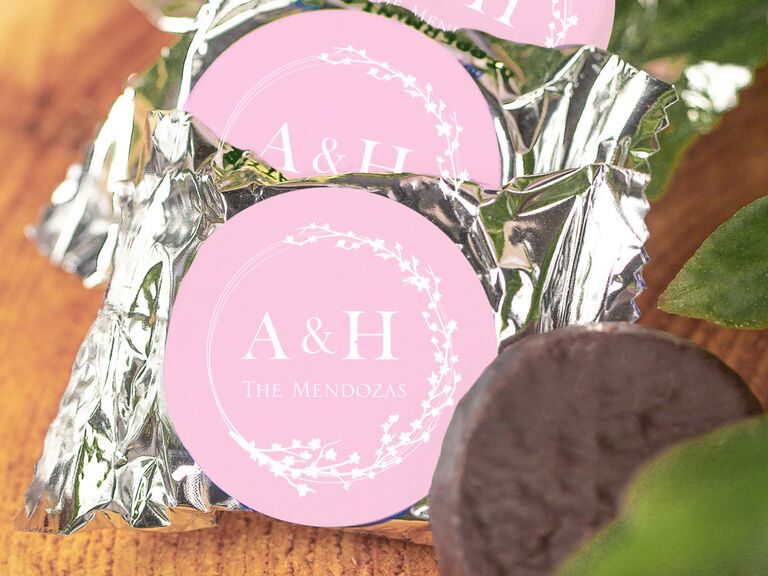 Chocolate mints are the perfect after-dinner treat. Round off the meal with these delicious (and cheap) wedding favors.
Beau-coup personalized wedding York Peppermint Patties, from 48¢ each, BeauCoup.com
Vintage Key Bottle Openers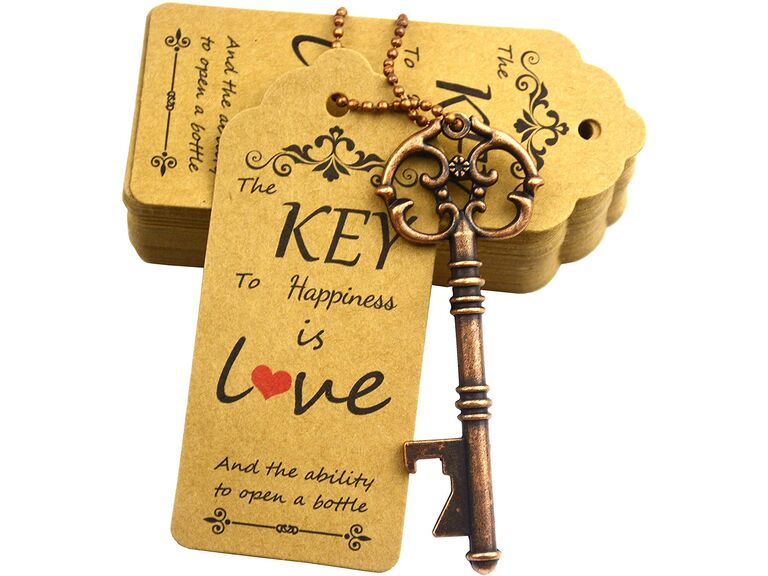 This chic bottle opener comes with a tag that reads "the key to happiness is love"—cute and practical.
Aokbean vintage skeleton key bottle opener wedding favors, from $22.99 for a set of 52, Amazon.com
Sweet Honey Sticks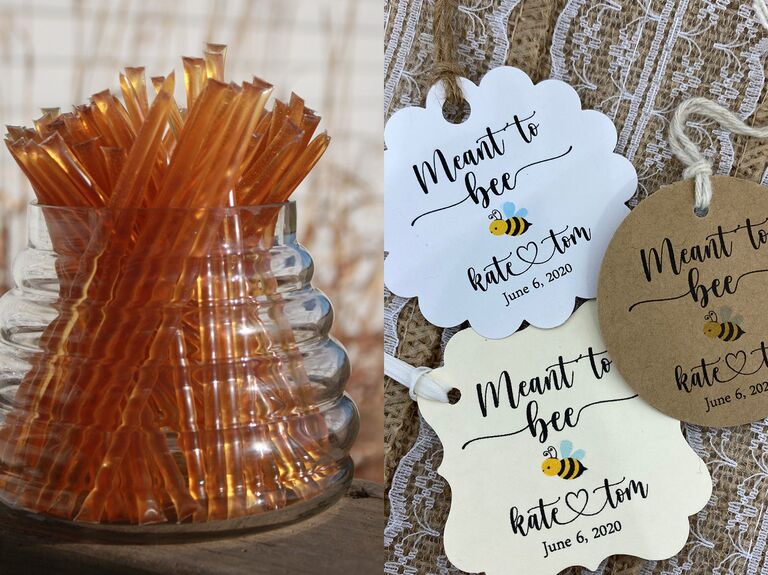 Pair these gift ideas for cheap and cheerful honey wedding favors. While mini jars of the stuff might overstretch your budget, these delicious honey sticks are surprisingly affordable. Go on, it's meant to bee.
Kline Honey Bee Farm honey sticks, $6 for a set of 25, Etsy.com; Beautiful Shop honey wedding favor tags, from 25¢ each, Etsy.com
Decorative Chalkboards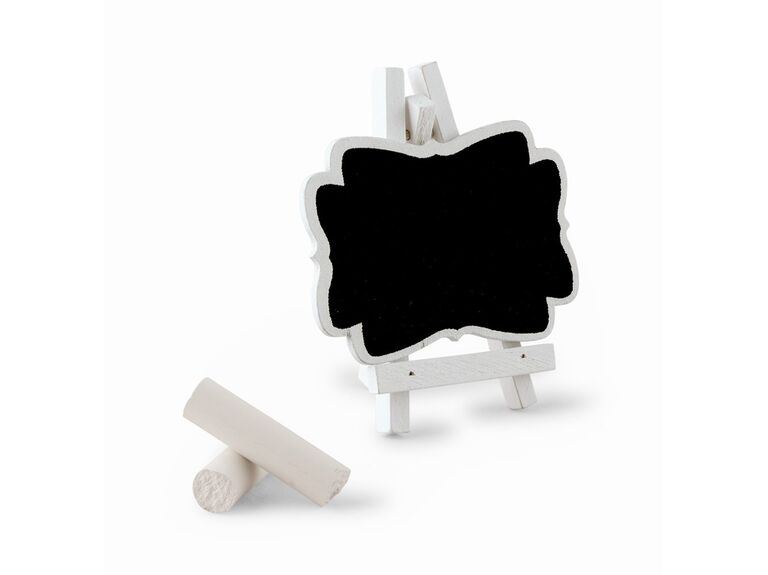 These adorable mini chalkboards can double as place cards and cute keepsakes. Who said cheap wedding favors can't be useful?
The Knot Shop decorative chalkboards, 83¢ each, TheKnotShop.com
Custom Pencils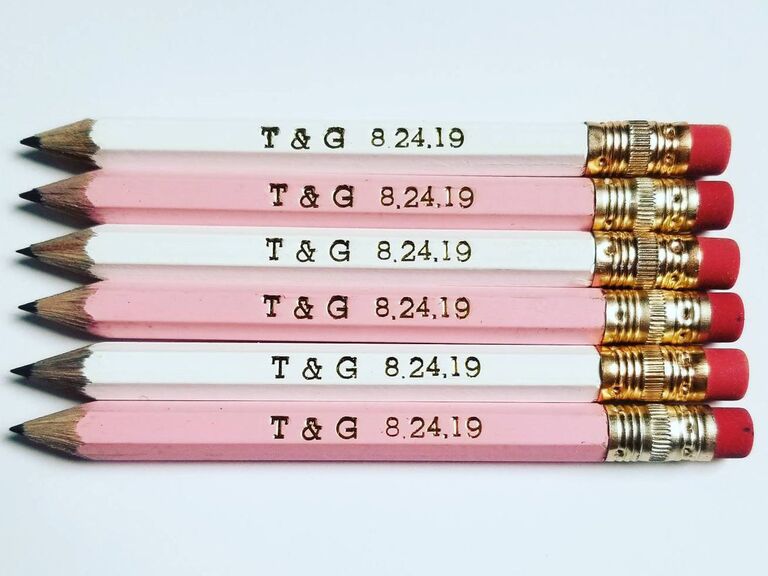 How often do you need to write something down and don't have a pencil on hand? Make sure your guests don't have that problem with a pocket-sized one they can fit in their purse. Bonus: You can even have them personalized with your initials and wedding date.
Stamped Gold golf pencil custom favors, from $15 for a set of 20, Etsy.com
Personalized Peanut Butter Cups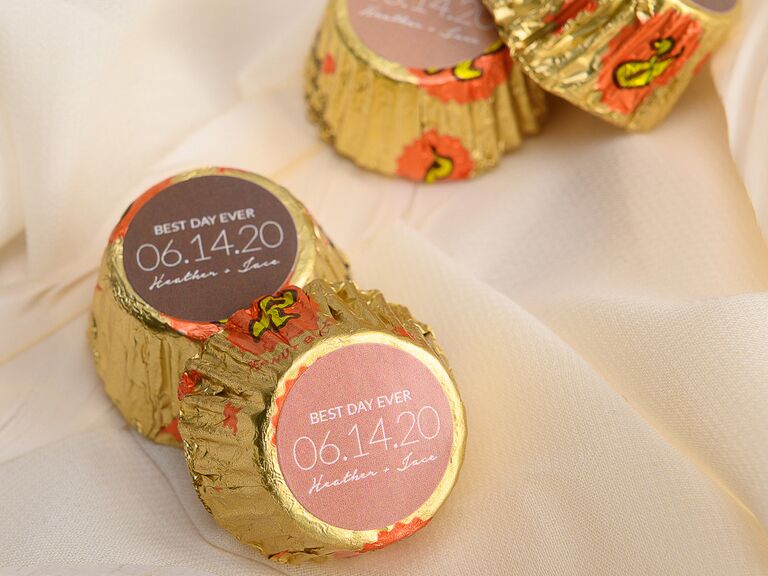 Go nuts on your wedding day and gift guests one of the nation's favorite peanut butter-based snacks (granted nobody has allergies!).
Beau-coup personalized wedding Reese's Peanut Butter cups, 47¢ each, BeauCoup.com
Rustic Tealight Holders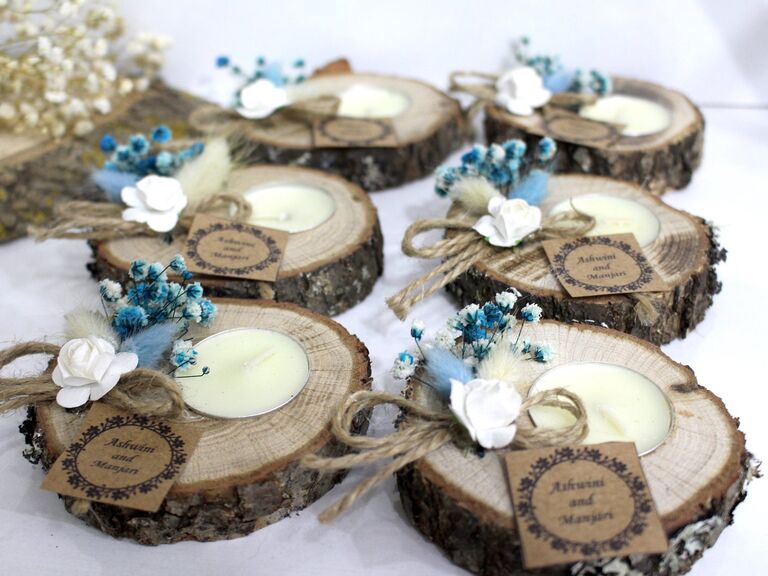 Here's another example of cheap wedding favors you can DIY. Jazz up these unique tealight holders with some kraft paper and twine.
Happy Days Art Store wedding party favors for guests in bulk, from 99¢ each, Etsy.com
"Light My Fire" Matches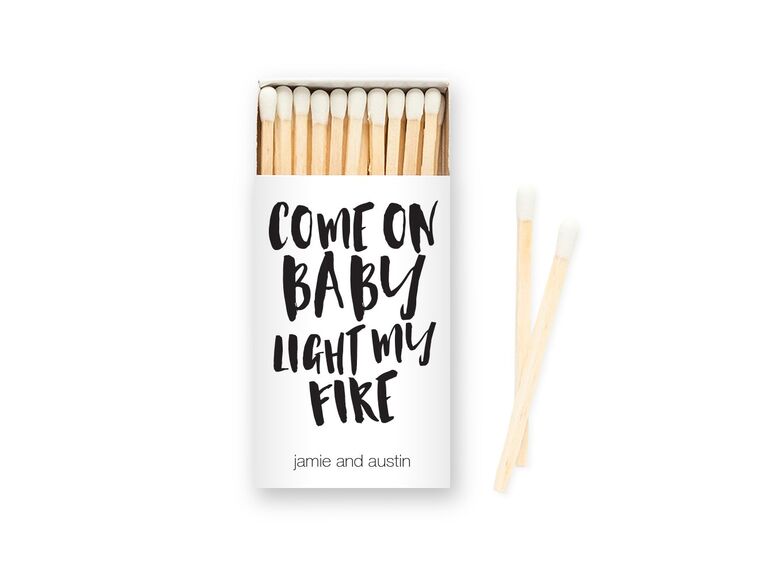 Matches are such a classic (and inexpensive) wedding favor idea, we've included them twice. (And if any of your guests happen to be Jim Morrison fans, they'll love the cute slogan.)
The Knot Shop Light My Fire custom matchbox wedding favor, 69¢, TheKnotShop.com
"Mint to Be" Candy
Keep things sweet and simple with individually wrapped mints. Personalized with your names and wedding date, it's another cheap wedding favor that'll perfectly complement dinner.
Artistry by Amanda Mint To Be wedding favors, from $50 for a set of 100, Etsy.com
Glass Coasters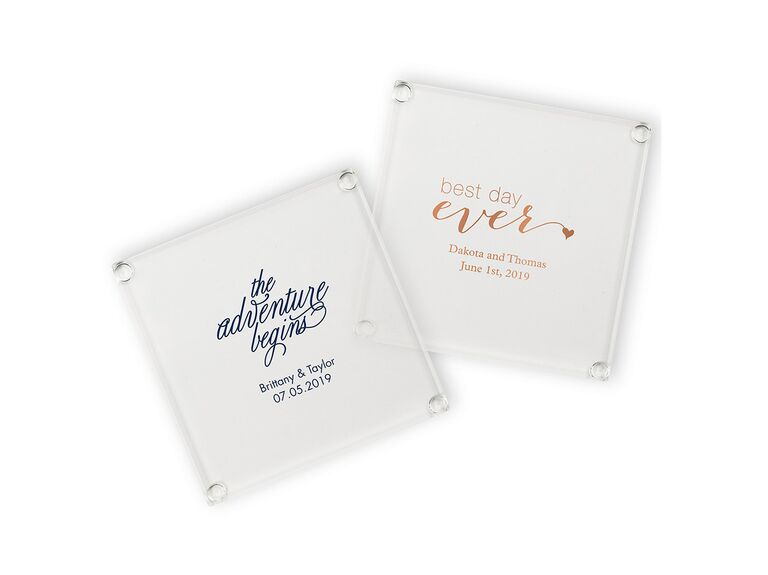 Your guests will find these elegant glass coasters super useful for the reception and beyond.
The Knot Shop personalized glass coaster favor, from 89¢, TheKnotShop.com
Love Heart Playing Cards
Playing cards make excellent wedding favors. What could be a better ice breaker than your guests' favorite games?
Fun Express Love playing cards for wedding, $11.99 for 12 decks, Amazon.com