The 50 Best Mother-in-Law Gifts for Impressing Your Partner's Mom
Shop our ideas for every occasion, from Mother's Day to her birthday.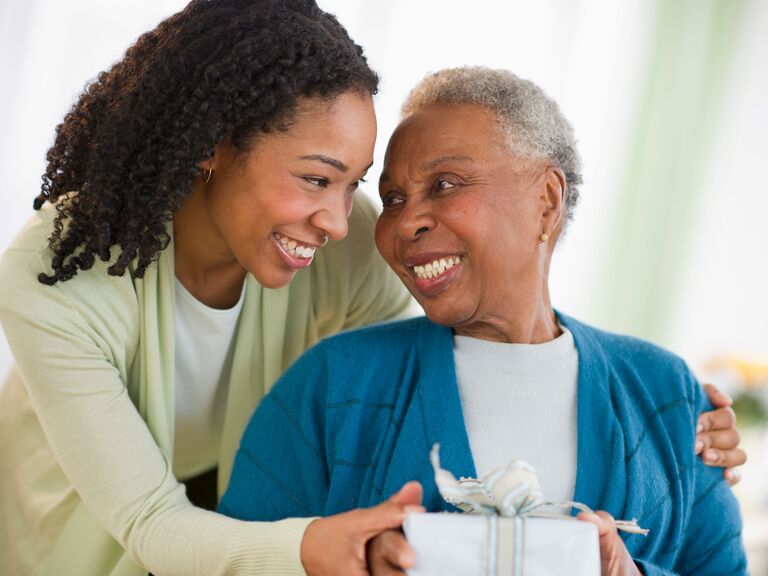 JGI/Tom Grill / Getty Images
We have included third party products to help you navigate and enjoy life's biggest moments. Purchases made through links on this page may earn us a commission.
Buying gifts for in-laws can seem a little (okay, a lot) intimidating, especially if you're a newlywed shopping for your spouse's family for the first time. We're here to show you just how easy it actually is to find the perfect gift for your mother-in-law, no matter the occasion. Whether you're shopping for a little something special to hand over on Mother's Day or you want to go all out for her birthday, there's something on our list that'll put a smile on her face. Keep reading for our top shopping tips, as well as our favorite gift ideas for any mother-in-law (yep, even the one who has everything).
How to Choose the Perfect MIL Gift
Picking out presents for your partner's parents is something we're pretty much masters of (and lucky for you, we're more than happy to share our expertise). When it comes to buying a gift for your mother-in-law, the first thing you should do is reflect on your relationship. If you've grown close, choose a gift that represents how you bonded or a favorite memory you have together. If you're still working on strengthening your relationship, choose a gift that shows her you want to get to know her better. An activity you can both do together, like a cookery or art class, is a great option.
Still feeling stuck? Take your mom-in-law's interests into account. Does she love crafting? Knitting or crocheting accessories are a nice idea. Or maybe she's an avid reader. In that case, a book club subscription (check out Cratejoy) or a rare edition of her favorite novel (have a browse on Biblio) is sure to be a hit. Buying a gift for your mother-in-law that reflects her interests is a great way of showing her you're really paying attention.
Finally, it's sometimes helpful to take the occasion into account when buying a gift. For example, if you're on the lookout for a wedding present for your future mother-in-law, something sentimental is typically expected. (Check out our top mother-of-the-bride and mother-of-the-groom gifts for inspiration.) Or, if you're shopping for a Mother's Day gift for your mother-in-law, presents that promote self-care or celebrate her mom status are always appreciated. For birthday and holiday mother-in-law gifts, really anything goes so long as you're considering her interests.
The Best Gifts to Give Your Mother-in-Law
Feeling a little more inspired to pick out something meaningful? That's what we're here for! Start shopping with some of our editor-approved mother-in-law gifts below, from symbolic pieces of jewelry to wine-themed presents.
Self-Watering Planter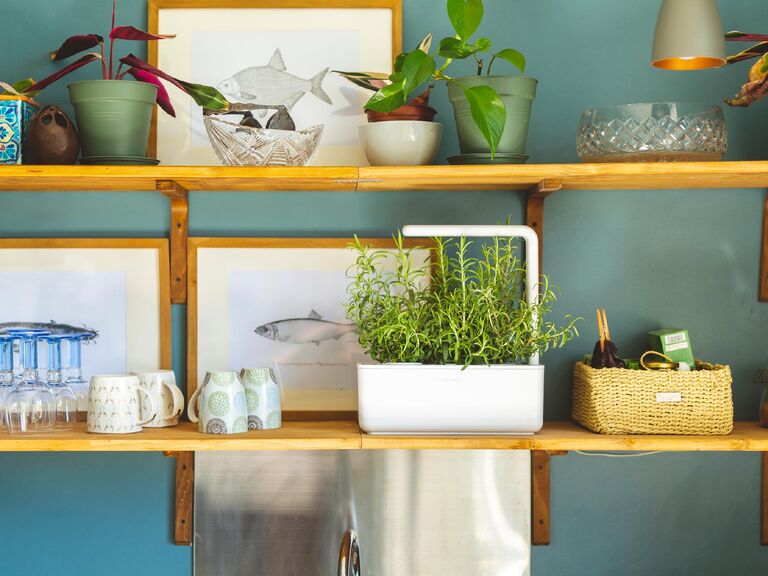 We're starting our mother-in-law gift guide on a high with this amazing indoor garden. The Click & Grow smart garden is a wildly popular product for a reason. It makes growing veggies, herbs, flowers or whatever a simple task, without the need for constant care, a backyard or even good weather. This clever little device automates light, water and nutrient levels for optimal growing conditions.
Beautiful Glass Keepsake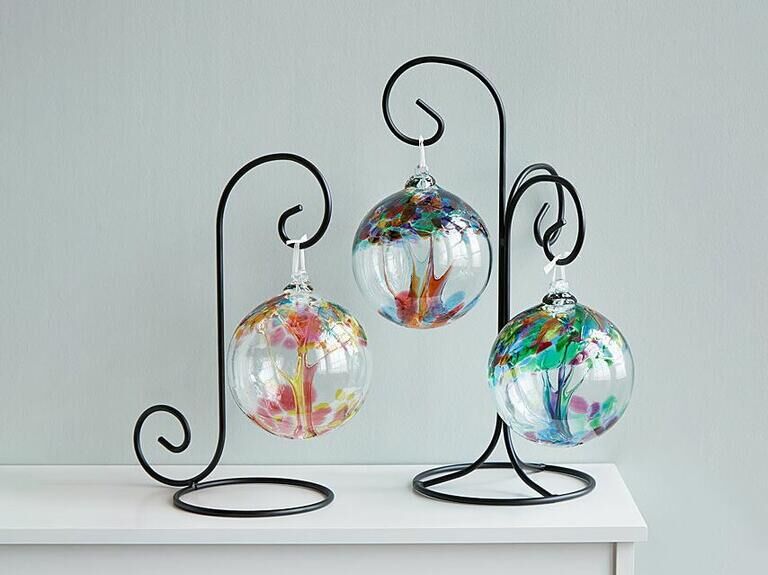 Spruce up her home decor with a meaningful decoration that honors your new family ties. These unique globes represent the special relationship you've built with your other half's nearest and dearest. It's one of our favorite gift ideas for a mother-in-law (or father-in-law, if he's on your list too) no matter the occasion.
Vibrant Floral Coasters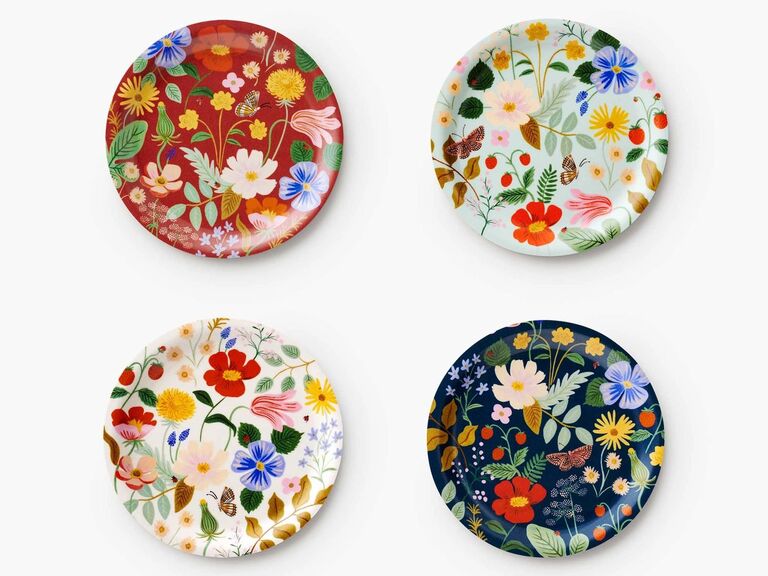 Bring the beauty of the natural world to her coffee table, kitchen counter or dining table with this set of four birchwood coasters in Rifle Paper Co.'s signature Strawberry Fields design. They're a colorful addition to your mom-in-law's home (and destined to be loved by anyone who appreciates biophilic or maximalist design elements).
Funny Mother's Day Card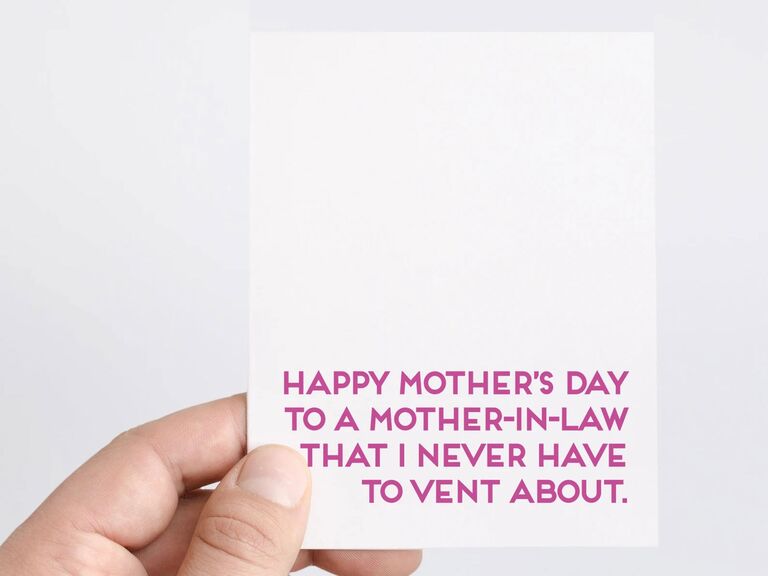 If your S.O.'s mom has a sense of humor, a funny mother-in-law gift or card isn't off limits. The text on the front of this greeting card reads: "Happy Mother's Day to a mother-in-law that I never have to vent about." It's a sweet way to show your appreciation if the two of you like to poke fun at each other. Plus, there's plenty of space inside for a truly heartwarming message.
Symbolic Flower Pendant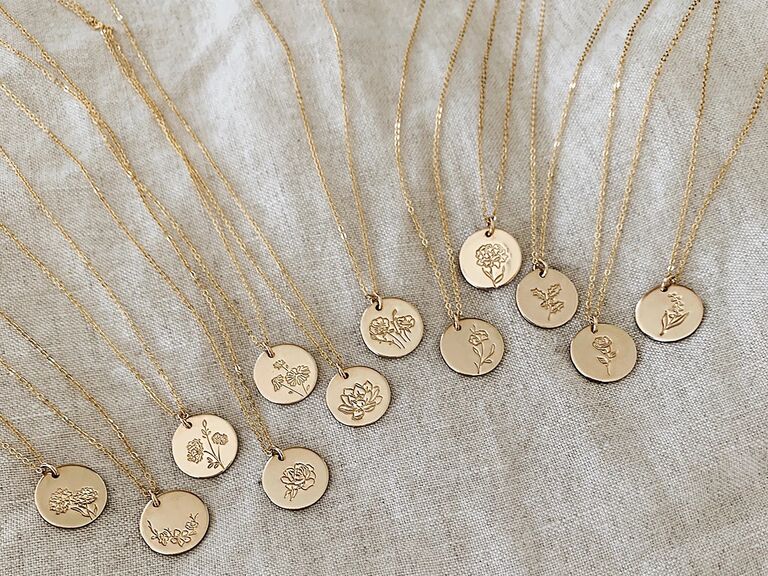 As far as meaningful gifts for your mom-in-law go, these pretty pendants take the cake. Each one is stamped with the birth flower for a different month of the year, such as daisies for April and peonies for September. All you have to do is select the one that reflects her birth month (you don't even need to know the date). They come with a silver, gold-filled or rose gold-filled finish. Plus, you can choose between two different pendant sizes and chain lengths to suit her style.
Beautifully Presented Rosé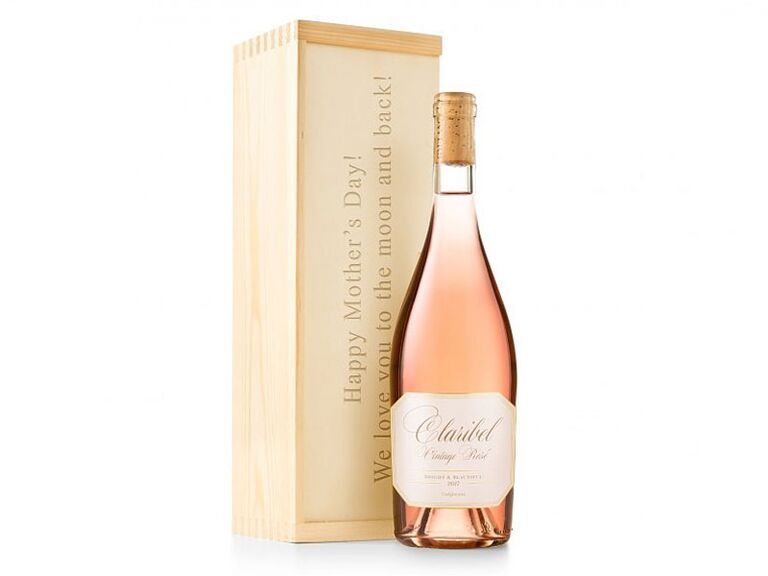 Wondering what to get her for Mother's Day? Let her know just how grateful you are that she's your MIL with a bottle of rosé presented in an engraved wooden crate. You can personalize the lid however you please, whether it's a simple "Happy Mother's Day!" message or something more sentimental.
Luxurious Eye Mask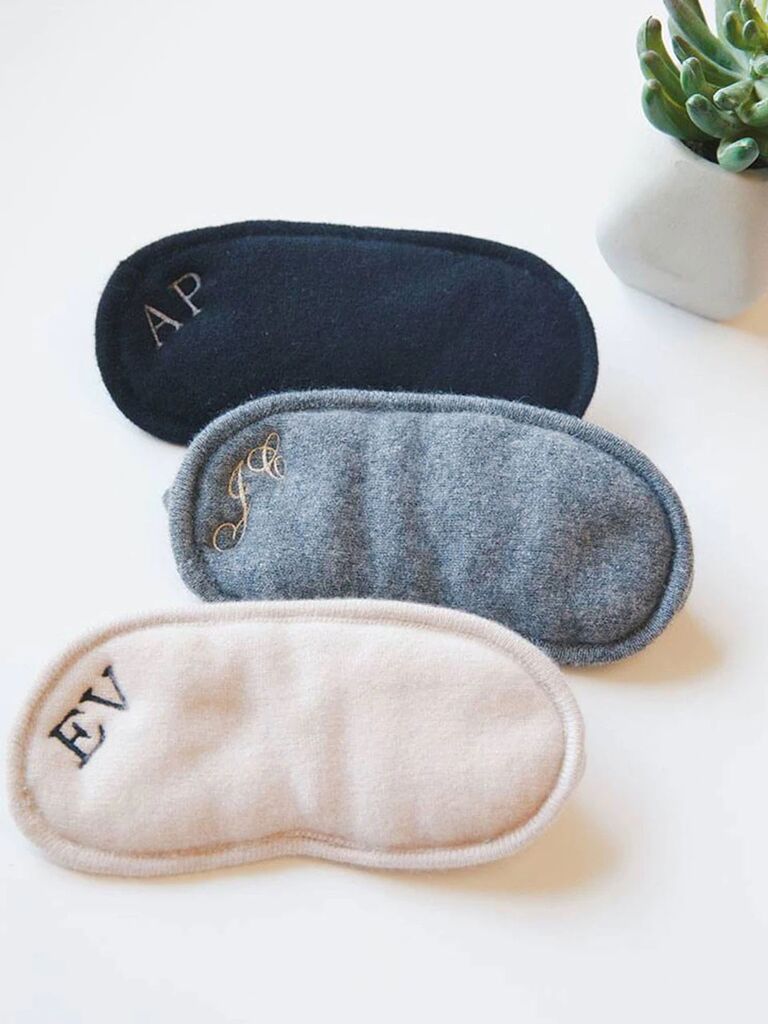 Cashmere goods aren't just nice Christmas gifts for mothers-in-law—they're great all year round. And while a cozy pair of gloves or a chic scarf might be better suited for winter months, we reckon she'll use this snug cashmere eye mask all the time. It's 14 grams of pure cashmere wool lined with cool silk for optimal comfort. Have it monogrammed with her name or initials for an extra-special touch.
Effective Wine Chiller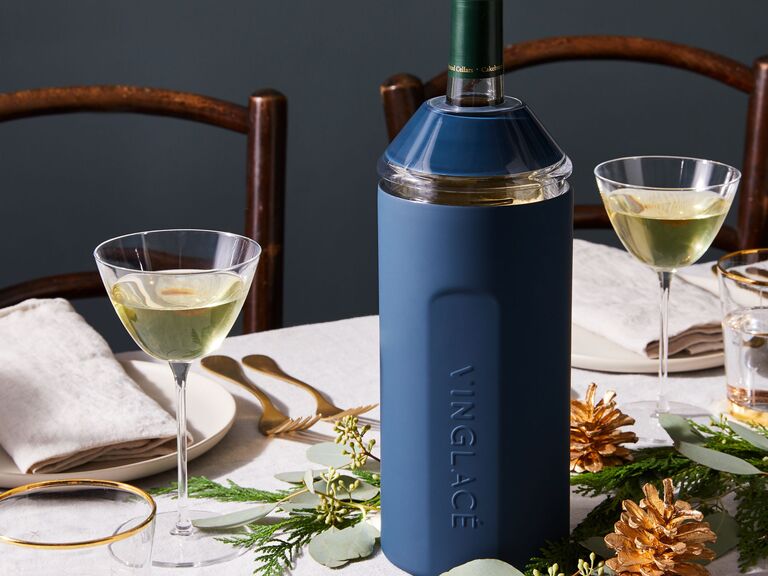 If your mom-in-law loves to host wine-fueled evenings with loved ones, a sleek wine chiller will come in very handy. This stainless steel accessory fully encompasses a bottle of wine, keeping it at the perfect chilly temp for around four hours. And thanks to the chic design, it won't take away from her carefully planned tablescape—we're sold.
Eye-catching Scented Candle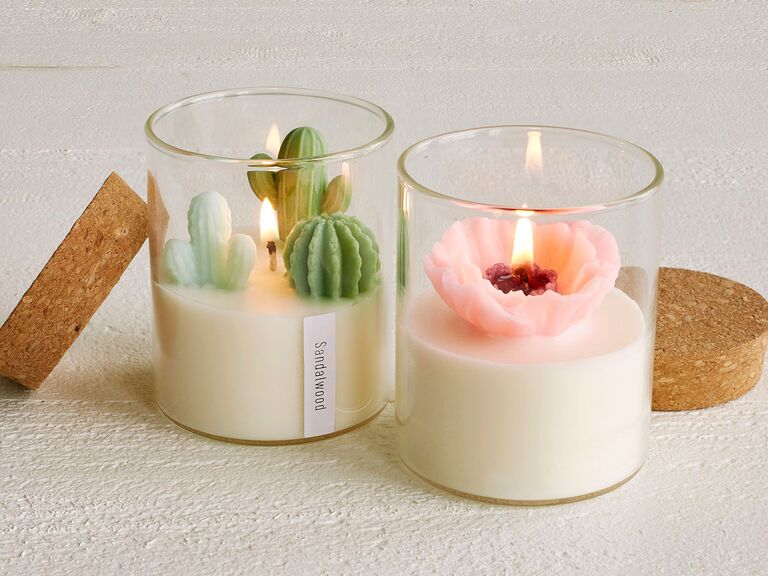 Candles are a classic gift that we'd never turn down, but if you've given your MIL candle after candle over the years, it might be time to up your game. Enter: These incredibly unique terrarium candles featuring a wax poppy or cacti on top. It's a visual spectacle that's sure to garner plenty of compliments from visiting friends and family. A candle that looks and smells good is easily a great gift for your mother-in-law.
Virtual Cooking Class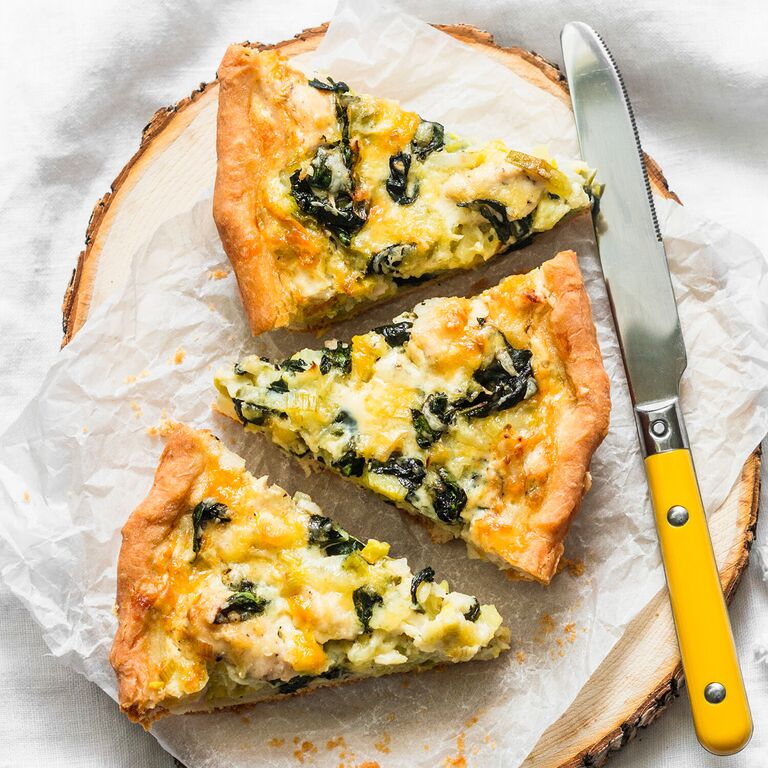 Does she love to get creative in the kitchen? If that's the case, we can't think of a better Mother's Day, holiday or birthday gift for your mother-in-law than a virtual cooking lesson. Sur la Table has lots of interesting classes to choose from, so there's bound to be something she'll love. Plus, the price of a class is per household, so you can join her if it's something you'd like to do together.
Luxe Silk Loungewear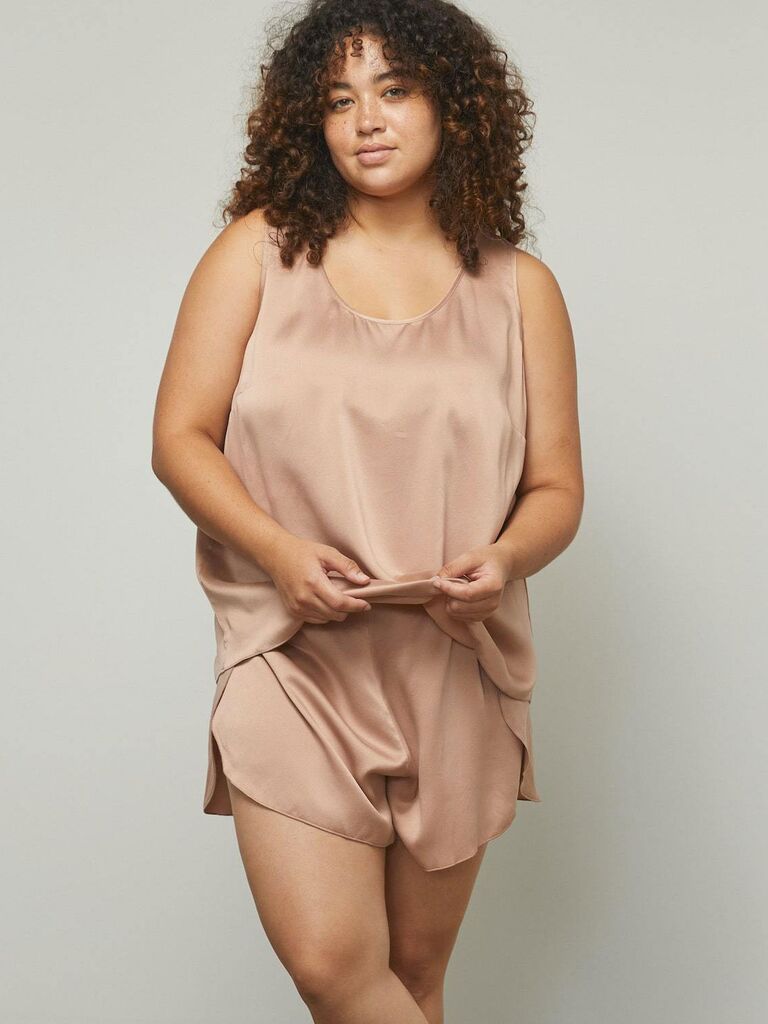 If you came here looking for luxury gifts for your mother-in-law, she's one lucky mama. Our top suggestion? A pair of soft silk PJs from Lunya. The brand's fancy loungewear is popular for a reason: It's breathable, thermoregulating and even better, machine-washable. This chic set consists of a sleeveless tank top and shorts. New customers can get $20 off orders of $100 or more with code FOR-TK20.
Brunch Gift Box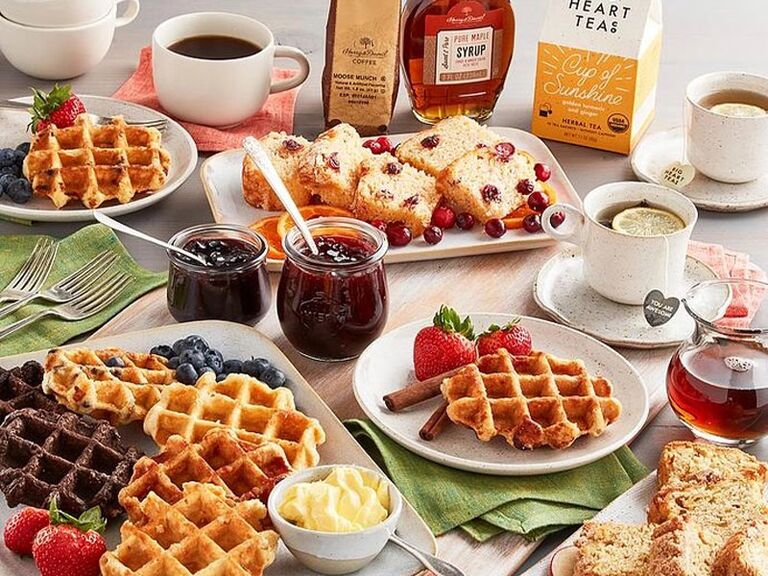 Sending a gift basket to your mother-in-law is a delightful surprise, especially when it's filled with delicious goodies for a luxurious at-home brunch. This scrumptious box contains four different Belgian waffle flavors, two loaf cakes, tea, coffee and all the condiments she could possibly need to complete the spread. Here's hoping she invites you over to tuck in.
Glass Display Photo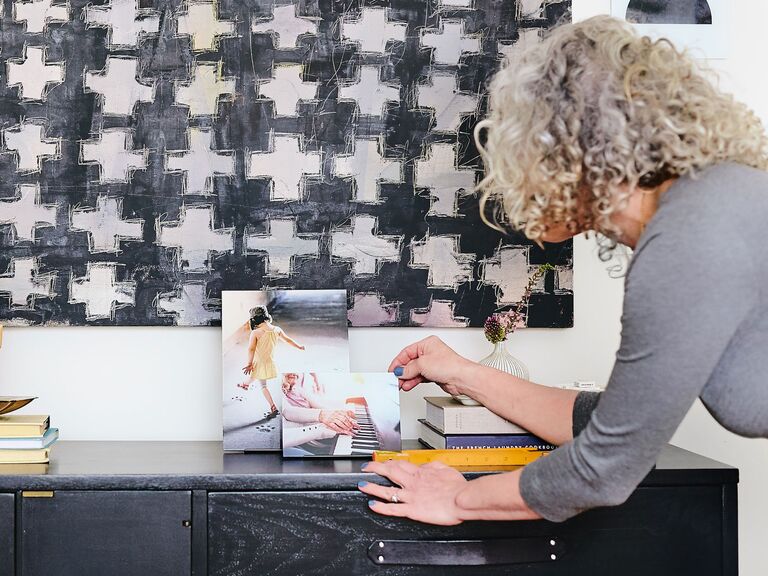 Give her the gift of a favorite memory frozen in time. Photographs are meaningful presents no matter what, and Fracture's modern glass prints take this timeless gift idea firmly into the 21st century. Instead of printing your image onto photo paper (which can fade over time), your chosen snapshot is printed directly onto matte or reflective glass. It's a thoughtful keepsake that doubles as a cool piece of decor. (Psst, a family photo is a lovely way to wish your mom-in-law a happy Mother's Day.)
Wine Tasting Experience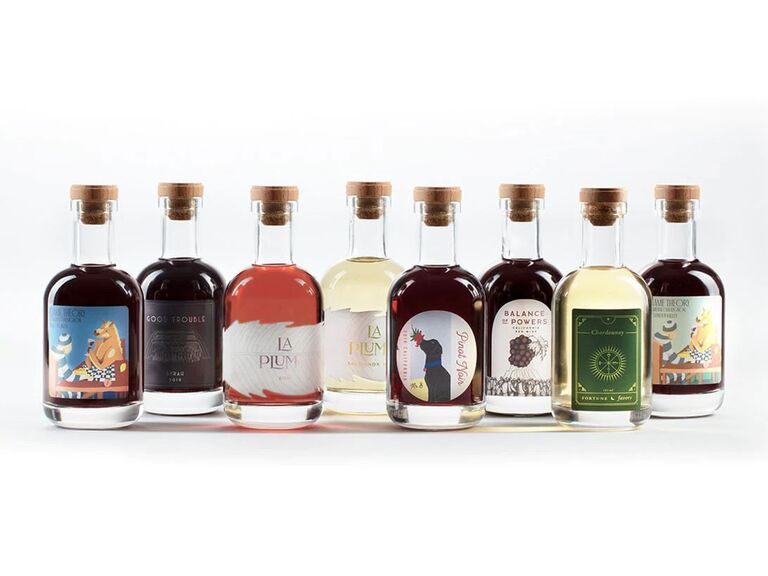 What's the next best thing to taking your mom-in-law on a wine-tasting trip? Bringing wine country to her! These curated boxes offer four different wine collections to choose from, including a selection of California favorites that'll transport her to the Golden State with every sip. Each collection includes six to eight different wines bottled in convenient 187-milliliter quantities that allow her to enjoy one glass at a time.
Cocktail-Inspired Soaps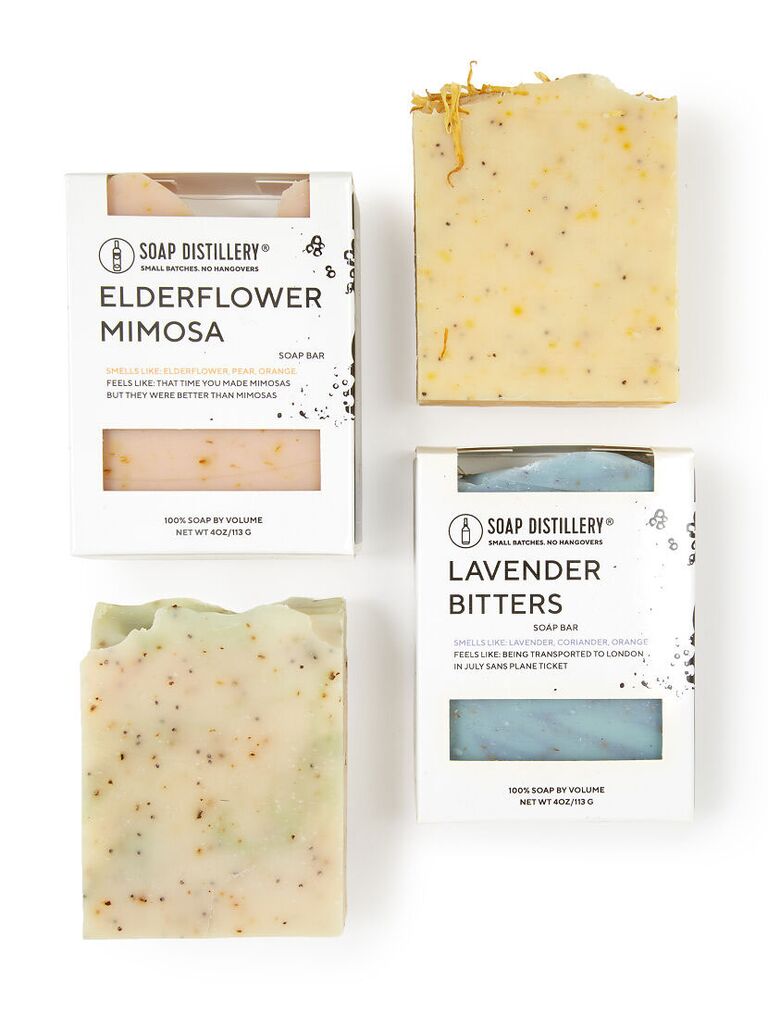 If you're in search of a small token to give your mother-in-law for Mother's Day or her birthday, wine and chocolates are a great place to start. But if you're looking for something a little more unique, we recommend this set of cocktail-themed soaps. Choose between a set of Mint Mojito soap and Limoncello soap, or Elderflower Mimosa soap and Lavender bitters soap.
Wine Glass Chiller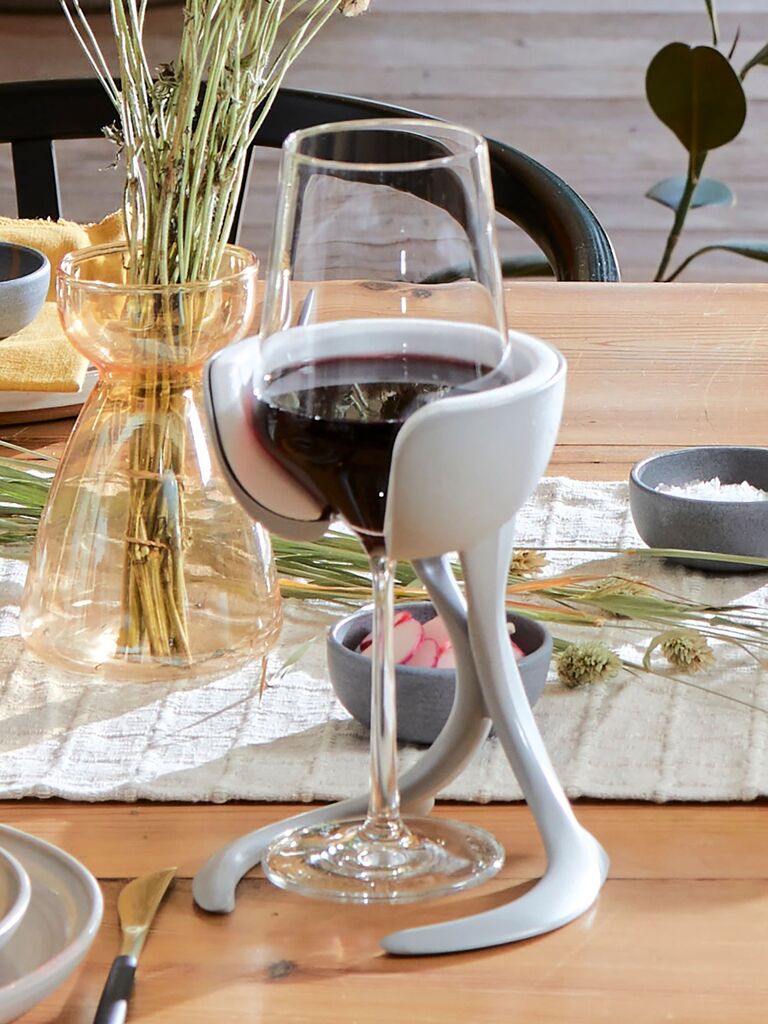 A wine bottle chiller is great for dinner parties and drinks with friends, but if your mom-in-law prefers to enjoy a glass of vino by herself, this cleverly designed wine glass holder is even more convenient. It gives her somewhere to safely stow her glass between sips while keeping the contents chilled at the same time.
New York Times Crossword Puzzles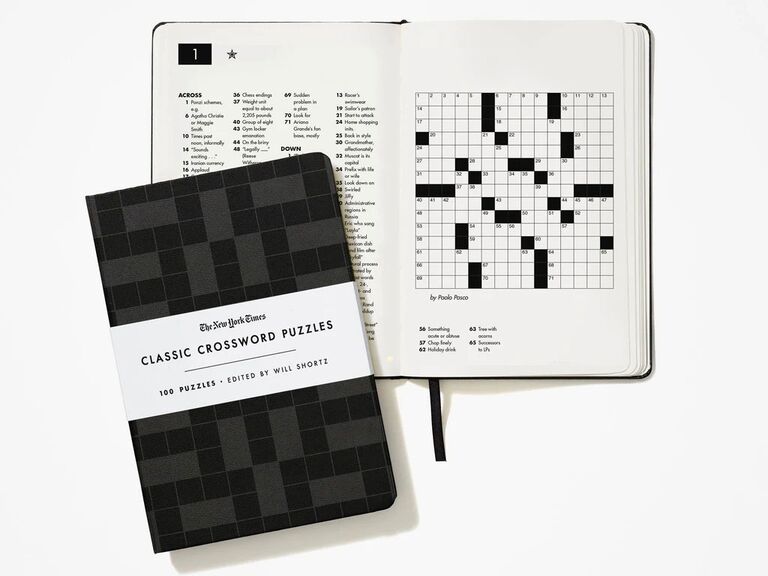 Here's a creative gift for the mother-in-law who likes to show off her wealth of knowledge. This book of 100 classic crossword puzzles from the New York Times will keep her brain busy while she enjoys her usual morning tea or coffee.
Fresh Flower Delivery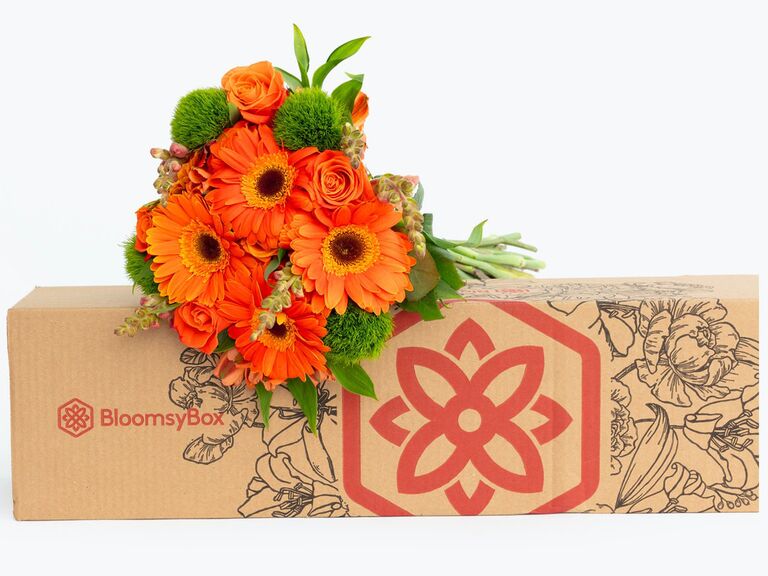 If you're looking for birthday gift ideas for your mother-in-law, a bouquet of bright sunset-colored blooms is sure to put a smile on her face. She'll be over the moon when she opens the door to receive this thoughtful surprise. The bouquet includes 26 stems of vibrant orange gerbera daisies and roses arranged with pale pink snapdragons and fresh green dianthus. Select the gift button before adding it to your cart so you can include a personal message.
Fun Learning Experience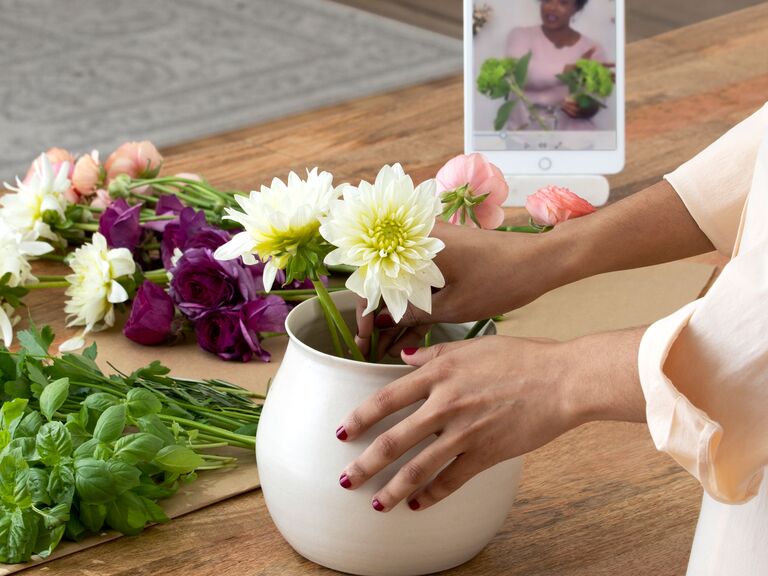 Looking for a present your mother-in-law can have fun with? Sign her up for an "Uncommon Experience" by Uncommon Goods. There are lots of unique online activities to choose from, including flower arranging, painting and astrology chart reading. Most of the classes come with a physical gift set that'll make taking part a breeze.
Comfy Linen Robe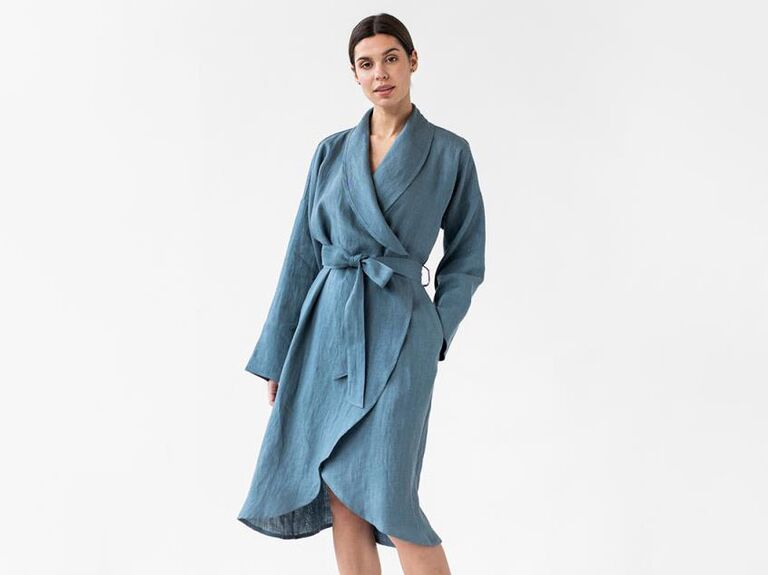 A plush cotton bath robe is an excellent Christmas or Hanukkah present for your mother-in-law, but what about when the weather gets warmer? Upgrade her spring and summer loungewear with this lightweight linen robe. It comes in three pretty colors: blue gray, woodrose and light gray.
DIY Butterfly Garden
Get this unique gift for the mother-in-law who's always in her backyard. It's a grow kit for creating her very own butterfly garden, including organic seeds for eight different plant varieties. Bonus points for being the best in-law ever if you spend some quality time planting it together.
Monthly Tea Delivery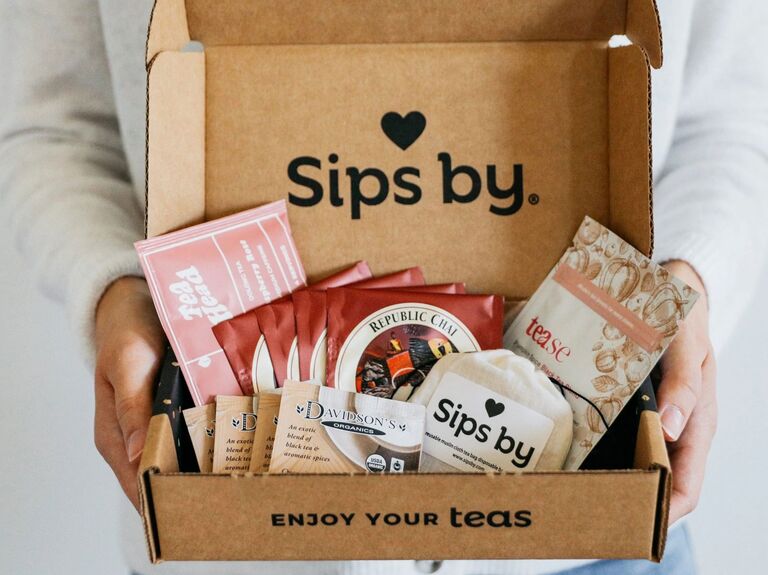 Surprise your spouse's mom with a monthly delivery of tea from around the world. You can download and print your gift card for the tea subscription, or schedule an email on the perfect date. The service is tailored to her tastes and includes add-ons like recipes from tea experts, tasting notes and exclusive discounts. A tea subscription is an especially nice Hanukkah or Christmas gift idea for your mother-in-law. Why? Because there's nothing better than a hot brew on a cold winter day.
Snug Wool Slippers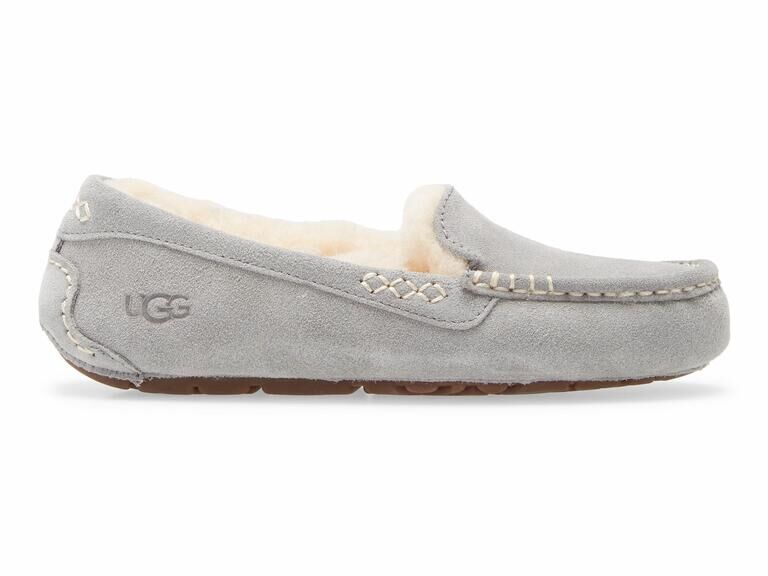 Whether you're deciding what to get your mother-in-law for her birthday or the holidays, it's always a good idea to think about what she actually needs. A quality pair of slippers is a staple for anyone who loves cozying up with a book or in front of the TV. The soft wool lining and durable rubber sole of these water-resistant moccasins is a match made in heaven. Slippers are also one of the best Mother's Day gifts for your mother-in-law, since they encourage her to relax and enjoy some me-time.
Next-Level Cookware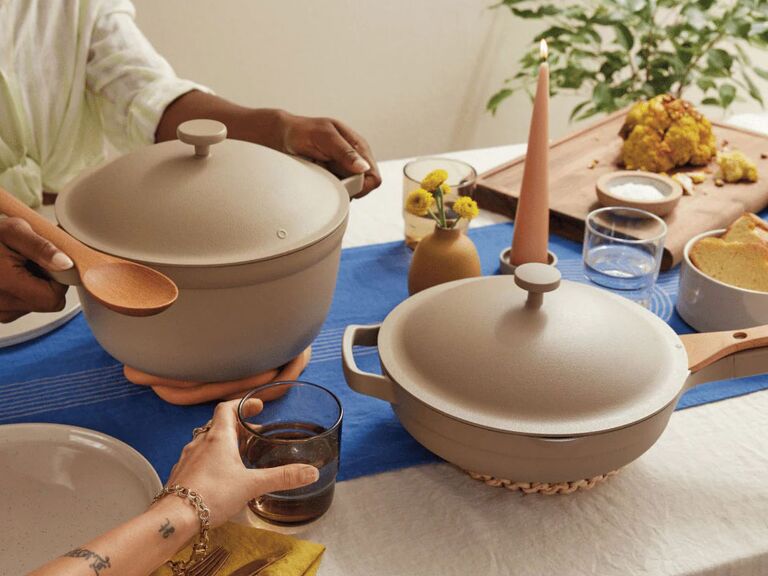 We all know and love Our Place's ingenious Always Pan, and the Perfect Pot is its equally versatile big sister that can be used as a stockpot, Dutch oven, steamer, saucepot and more. It has a capacity for 5.5 quarts—meaning she can cook up a storm for the whole family—but weighs just 4.5 pounds with the lid on. Every part of this pot, from the materials to the design, has been carefully considered to produce the most functional cookware possible. TBH, we wouldn't be surprised if it replaces every other pot in your mother-in-law's kitchen.
Tasty Truffle Selection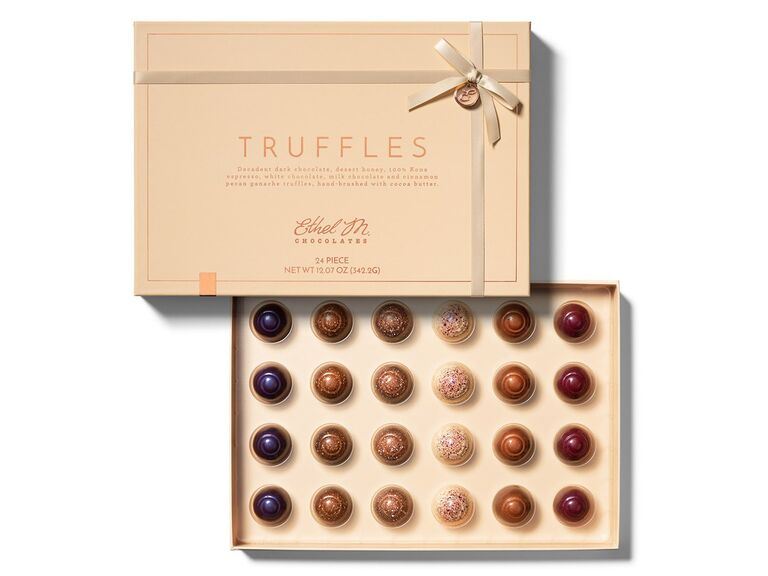 On the hunt for a gift for the mother-in-law who has everything? A box of decadent chocolate truffles is a delightful gesture anyone can appreciate. This particular selection is available as a 12- or 24-piece set and includes six mouthwatering flavors (we'll take the cinnamon pecan, please). How's that for a tasty birthday or Mother's Day surprise?
Ornate Measuring Cups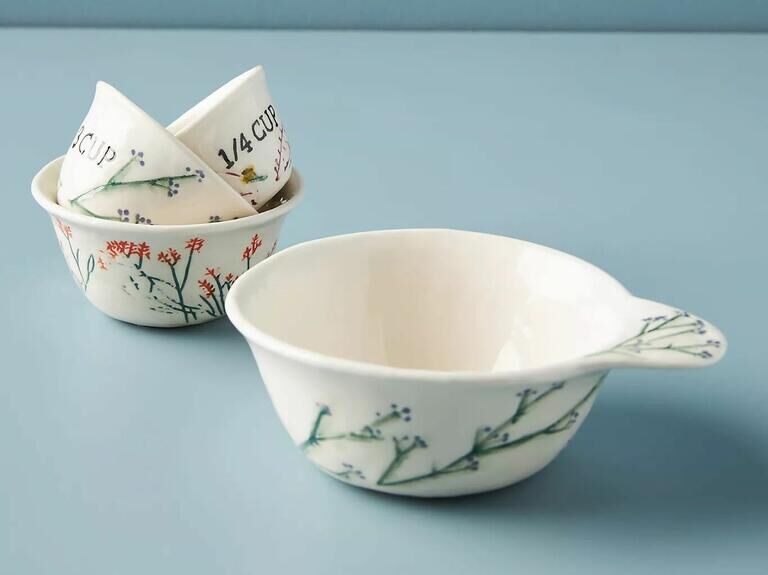 Still not sure what to get your mother-in-law? Let us introduce you to these extra-beautiful measuring cups. With a fresh garden-inspired design, they look too good to hide away in a cupboard. The set includes four separate measures for 1 cup, 1/2 cup, 1/3 cup and 1/4 cup.
Cozy Throw Blanket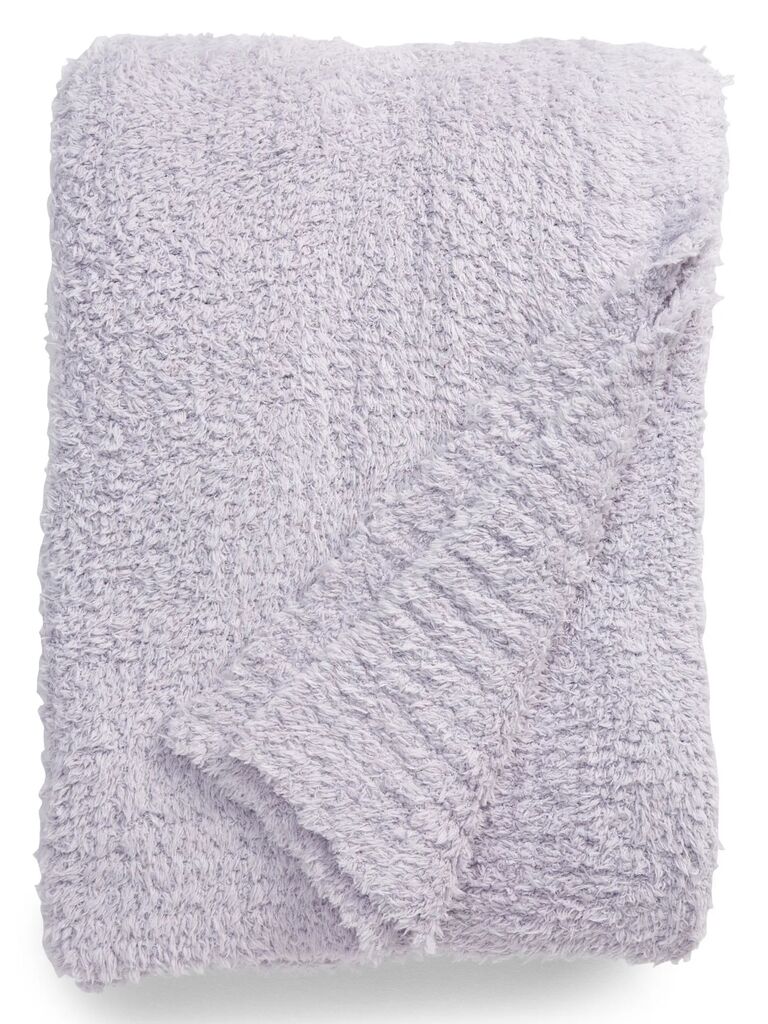 Running out of special-occasion gift ideas for your mother-in-law? Try this luxuriously soft throw blanket that's super easy to care for. She can toss it right in the wash and it won't shrink, pill or wrinkle. The throw comes in five complementary colorways, including a dreamy pale purple hue that's right on trend for 2022.
Engraved Chopping Board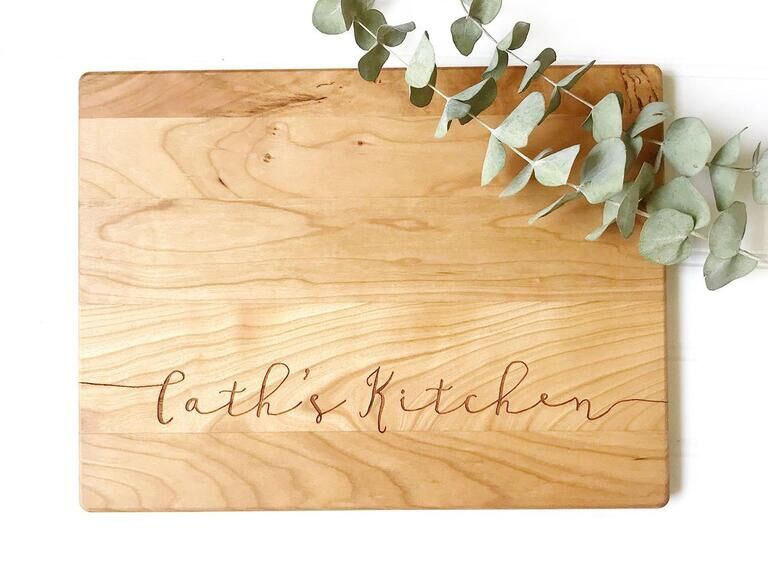 A personalized serving and cutting board is an especially good gift for your mother-in-law if she spends a lot of time in the kitchen. She can use this one-of-a-kind cherry wood board to prepare food as well as serve appetizers, charcuterie and desserts to her loved ones.
Fun Fashion Necklace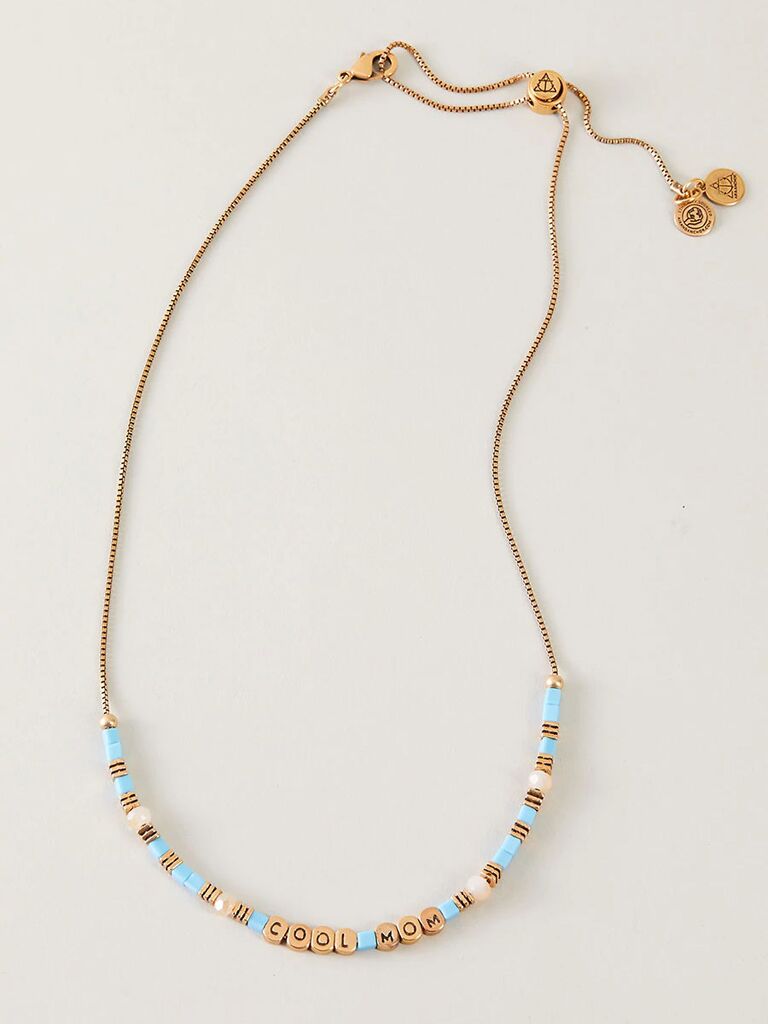 For the MIL who has a contemporary sense of style and a sense of humor, this necklace is the perfect present. The colorful beaded jewelry spells out the phrase "cool mom," letting her know she's far from being a regular mom-in-law. Choose a vintage gold or vintage silver finish for the nickel-free brass chain.
Handy Travel Pillow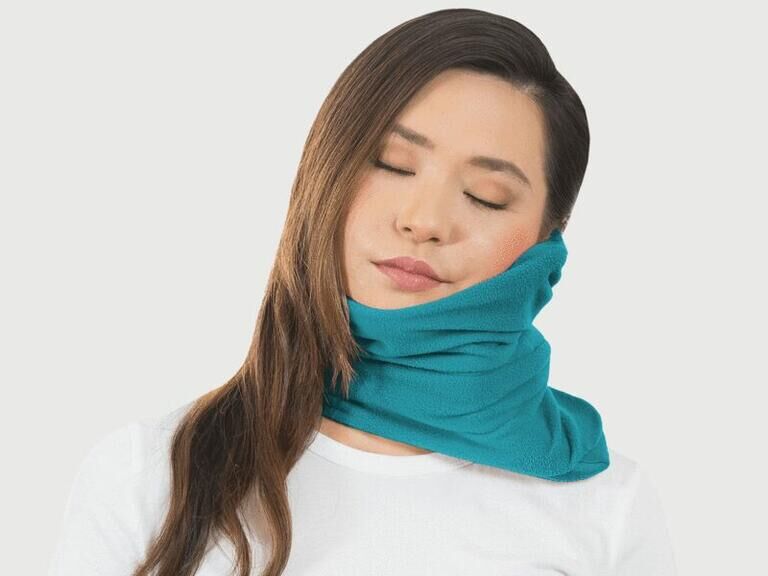 This one-of-a-kind neck pillow will help your MIL catch up on much-needed sleep when she's on the go. It's made with soft, hypoallergenic fleece, has built-in support and can easily be stowed inside a carry-on. But don't just take our word for it, check out the awesome five-star reviews!
Ancestry DNA Kit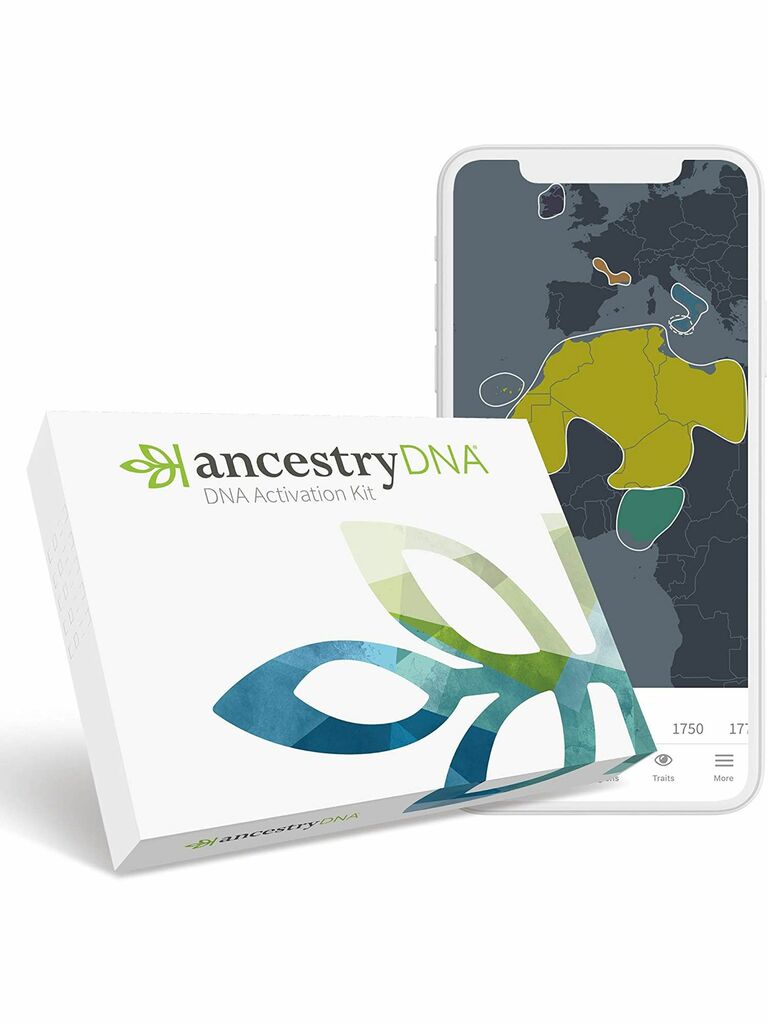 Is your mother-in-law fascinated by her family history? If she has unanswered questions about her heritage, an AncestryDNA kit will help her better understand her roots. This insanely cool present can trace her ancestors' journeys over time, connect her with long-lost relatives and more.
Coffee Table Book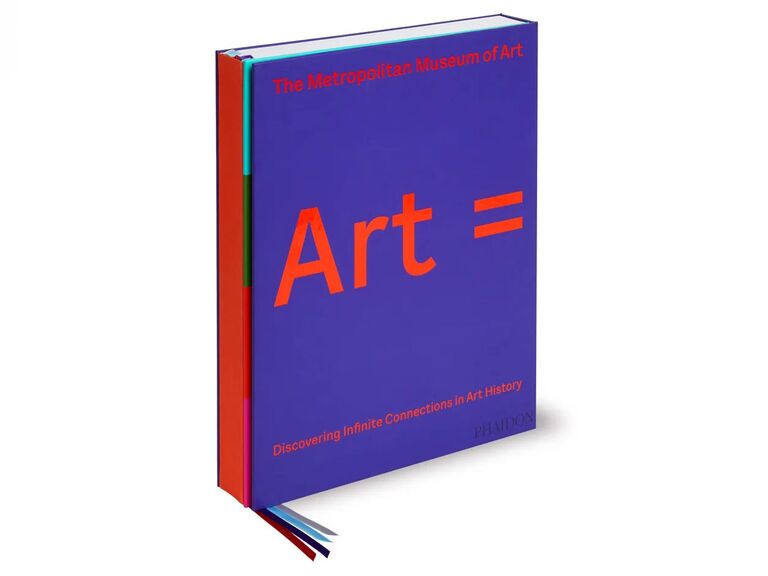 The best gifts for your mother-in-law are the ones that reflect her interests. If she has an eye for art or an appreciation of art history, she'll thoroughly enjoy this coffee table-worthy hardcover book from The Metropolitan Museum of Art. Inside, there are over 800 works of art from The Met's collection alongside curatorial essays and a detachable fold-out timeline.
Stylish Leather Tote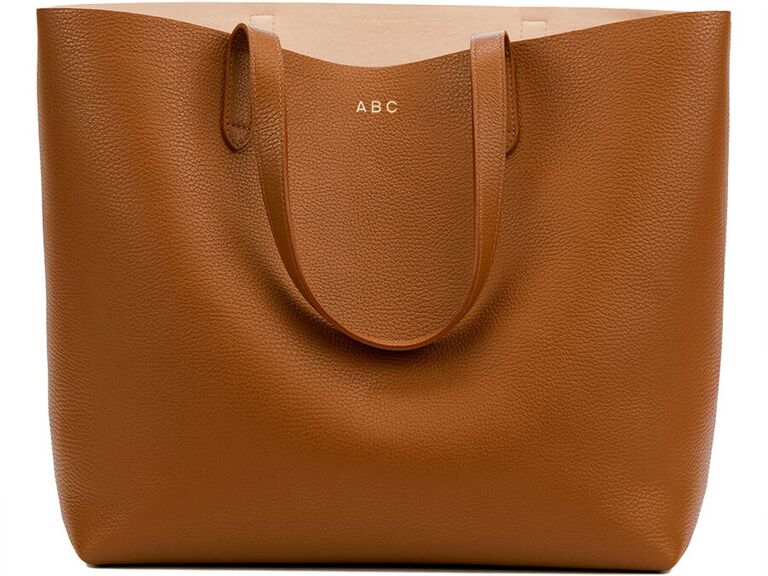 If it's about time she was treated to a new purse, now's your chance. We love this luxe Italian leather tote for its timeless style, roomy interior and clever structured design. Make it a personalized gift for your mother-in-law by spending a little extra dough on a monogram.
Goldbelly Gift Card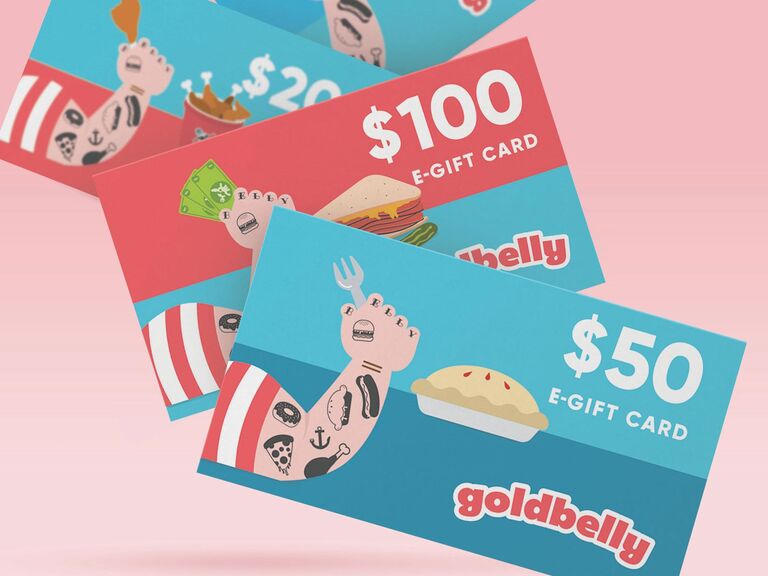 Any self-proclaimed foodie will be seriously excited by a gift card for Goldbelly. The site plays host to a bunch of talented culinary experts, from bakeries and patisseries to farms and steakhouses. She can have her favorite sweet and savory creations shipped right to her door from anywhere in the country.
Elegant Cardigan Wrap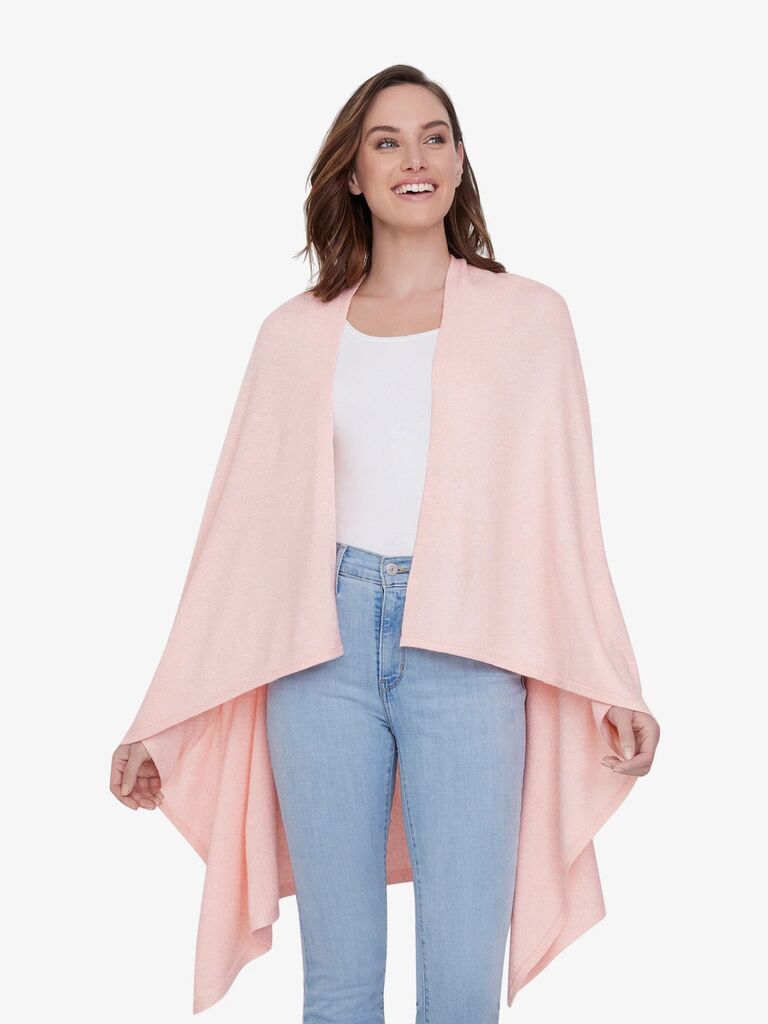 For the mom-in-law with classic style, consider gifting this functional and chic accessory. It can be worn as a cardigan, a wrap or a scarf, so she can easily style it to suit different outfits. And the versatility doesn't stop there, it's the perfect finishing touch to casual and formal outfits alike.
Statement Stud Earrings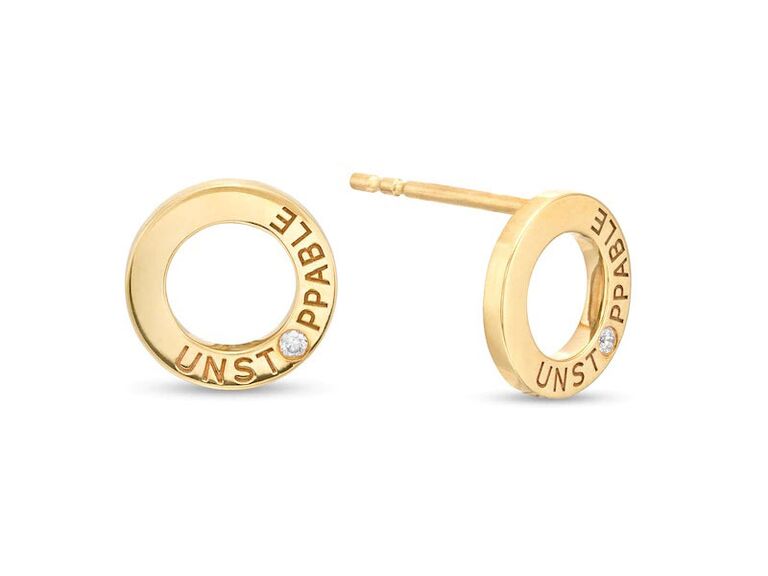 Searching for a meaningful present for your mom-in-law? Jewelry can be used to convey lots of different messages, and these unique circle stud earrings from Serena Williams Jewelry are engraved with a powerful one. Each 10-karat gold stud is inscribed with the word "unstoppable," a fitting tribute to the MIL who faces every challenge in life with strength and determination.
Amazing Massage Tool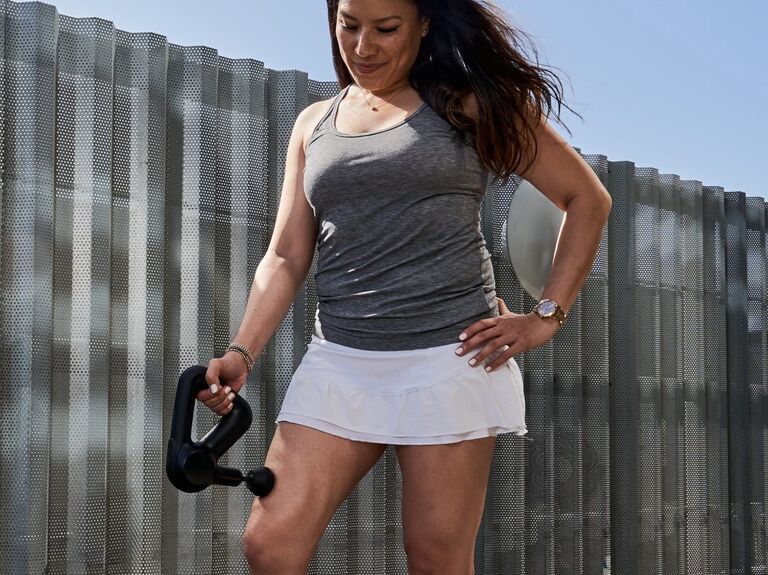 Whether you're looking for Christmas gift ideas for your mother-in-law, something for her birthday or a memorable Mother's Day present, we're big fans of the Theragun. This amazing massage tool is powerful, easy to use and ultra quiet to boot. It's a complete game changer.
Leather Makeup Bag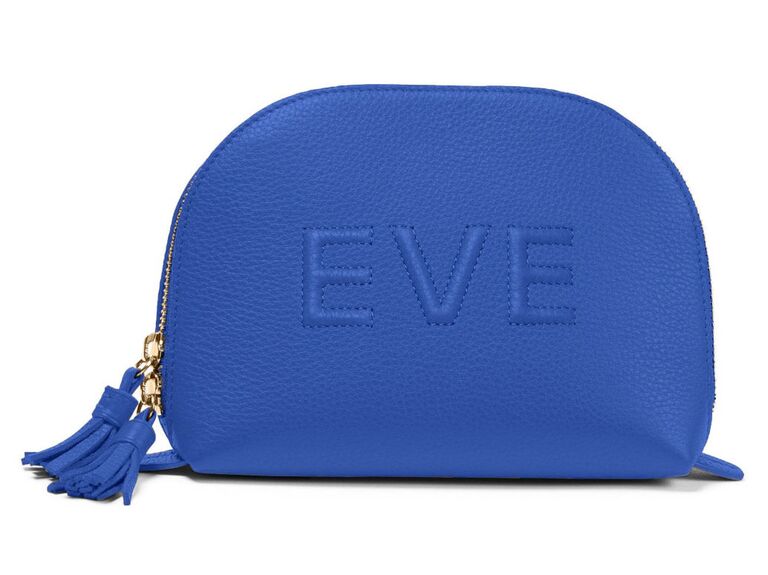 If she never leaves the house without her signature shade of lippy, consider this a thoughtful gift for your mother-in-law. It's a stylish leather makeup bag that'll keep her beauty essentials all in one place (which she can easily stow inside a tote or carry-on). For a gift that really takes the cake, have it personalized with her name or monogram through one of three techniques: debossing, hand-painting or trapunto.
Travel Wine Tumbler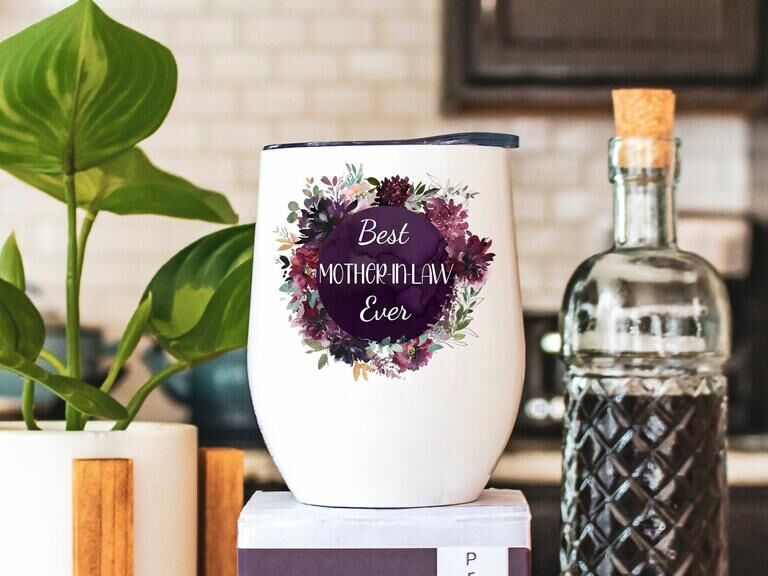 Let your MIL know how much she means to you with this beautiful tumbler that says: "Best mother-in-law ever." It's a sweet and simple gift that'll bring a smile to her face every time she uses it. While she'll appreciate this present on any occasion, we think it's an extra-special Mother's Day gift idea since it celebrates her "mother-in-law" title.
Relaxing Shower Steamers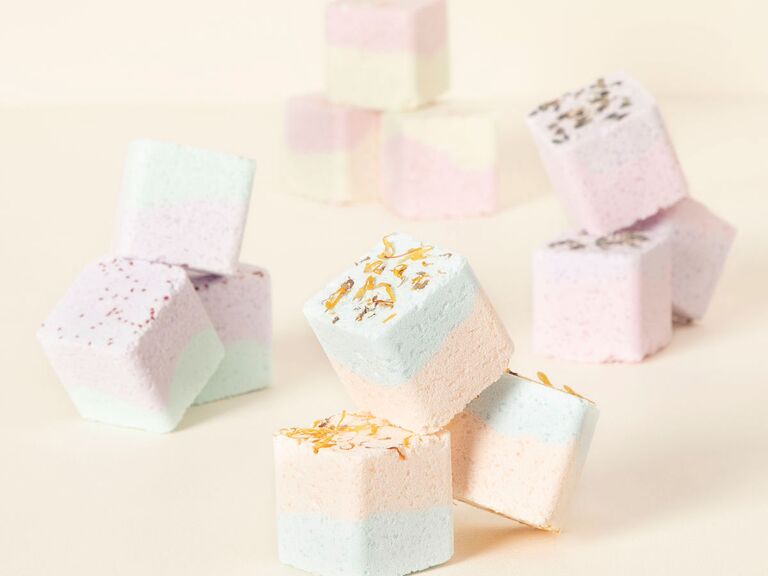 Turn her daily shower into a little slice of luxury with a set of scented shower steamers. These pampering spa products are made with Epsom salt and essential oils, making your mom-in-law's bathroom a soothing aromatherapy steam room every time she showers.
Heartfelt Keepsake Dish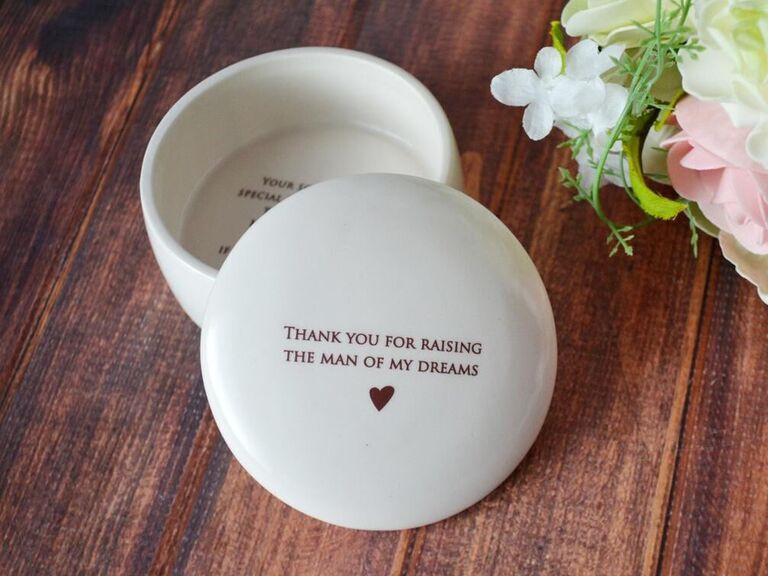 This sweet trinket box literally thanks your MIL for raising the love of your life. There's a version that reads, "Thank you for raising the man of my dreams" and another that says, "Thank you for raising an incredible woman." She can use the keepsake box to store trinkets for years to come.
Self-Heating Mug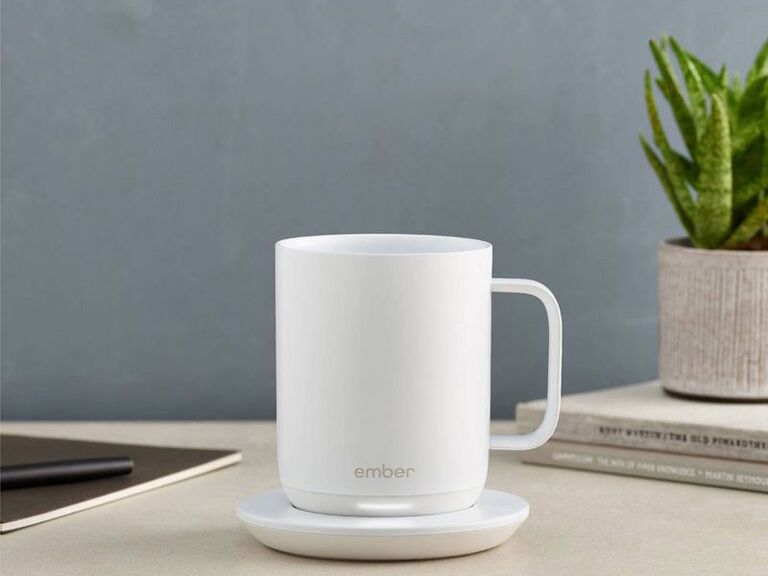 Want in on one of the best Christmas gifts for your mother-in-law? With cold weather comes the season of hot drinks—we're talking pumpkin spice lattes, flavorful loose-leaf teas and hearty hot chocolates. This clever coffee mug will make sure all of her favorite drinks stay at the temperature of her choosing, regardless of the temperature outside.
Custom Luggage Tag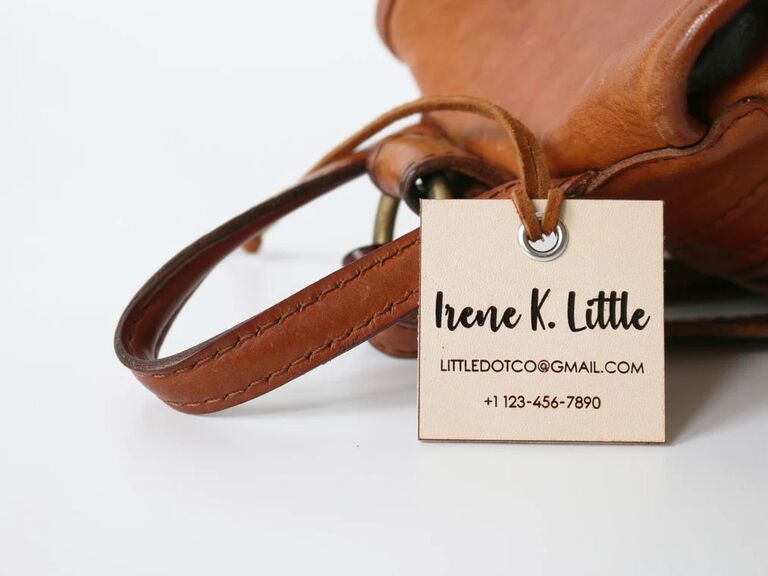 If she's a jet setter, make sure her bags will always find their way home by gifting her luggage tags personalized with her name and contact details. Each tag is hand-made with locally sourced full-grain leather and carefully engraved for lasting quality. It's one of the best Mother's Day, holiday or birthday gifts for any mother-in-law who loves to travel.
Monthly Book Subscription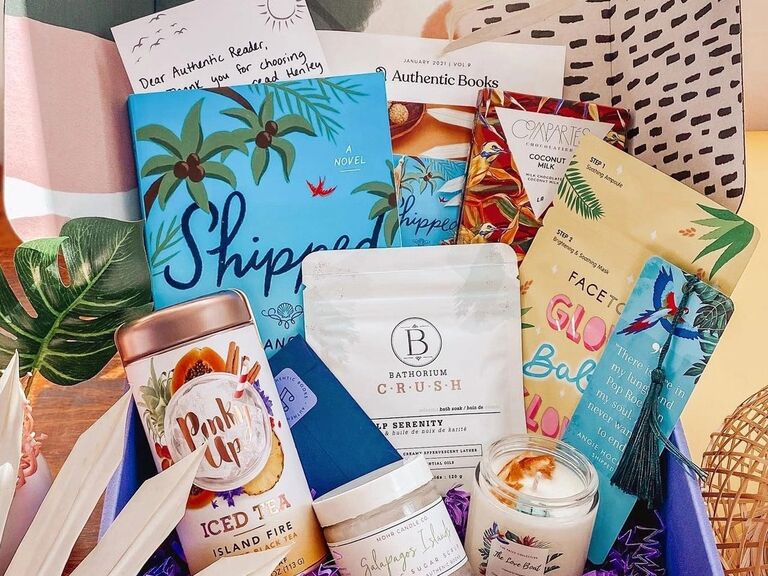 This one's for the mother-in-law who loves to lose herself in a good book. It's a monthly subscription that includes a new hardcover book paired with themed goodies such as a candle, self-care products and tea or a cocktail mixer. Some tell-tale signs your MIL will adore this subscription? She reads before bed, she can't walk past a bookstore without a quick browse and she always packs a few new reads before a vacation.
Pampering Gift Box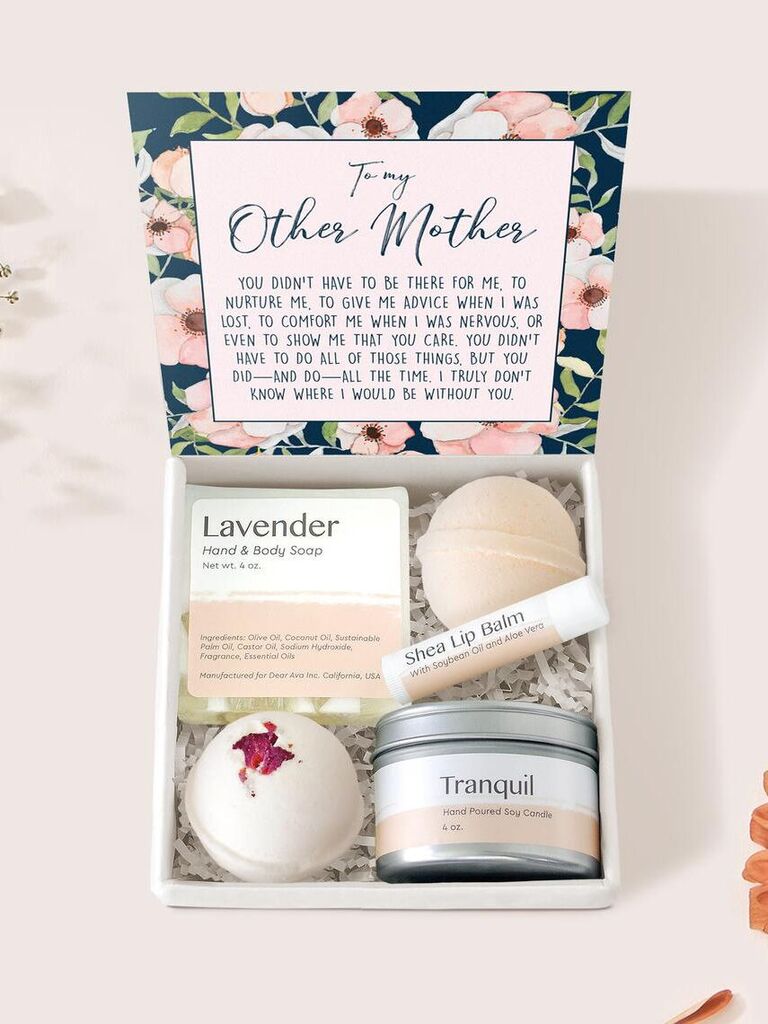 How about a gift basket for your mother-in-law to pamper herself with? This one includes two bath bombs, lavender soap, peppermint-shea lip balm, a lavender-scented candle and more. The box is also printed with a heartfelt message addressed to "my other mother." Talk about a sweet Mother's Day gift for your MIL.
Decorative Yarn Bowl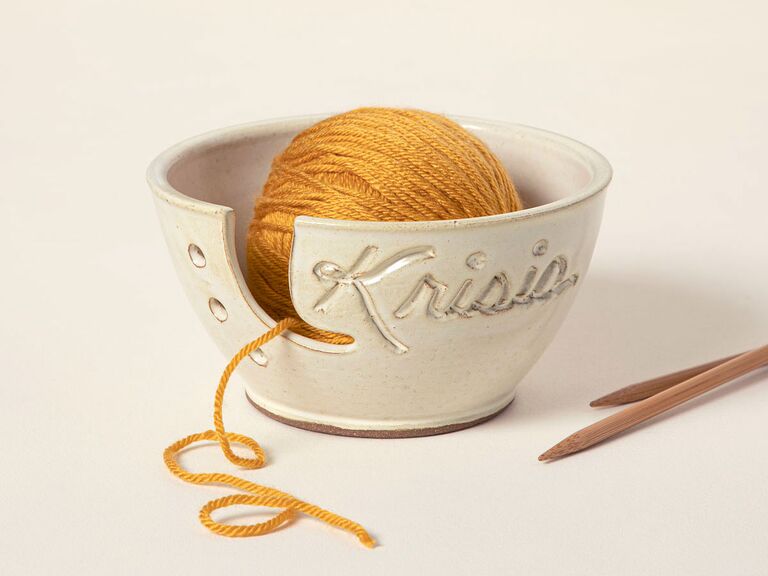 Honor her favorite hobby with a present that's both practical and personal. Your mother-in-law will be eager to pick up her knitting needles as soon as she sees this gorgeous stoneware yarn bowl. It looks just as good when it's not in use, and can double as a trinket dish between projects. The best part? It's custom-made with her name on it.
Meaningful Scented Candle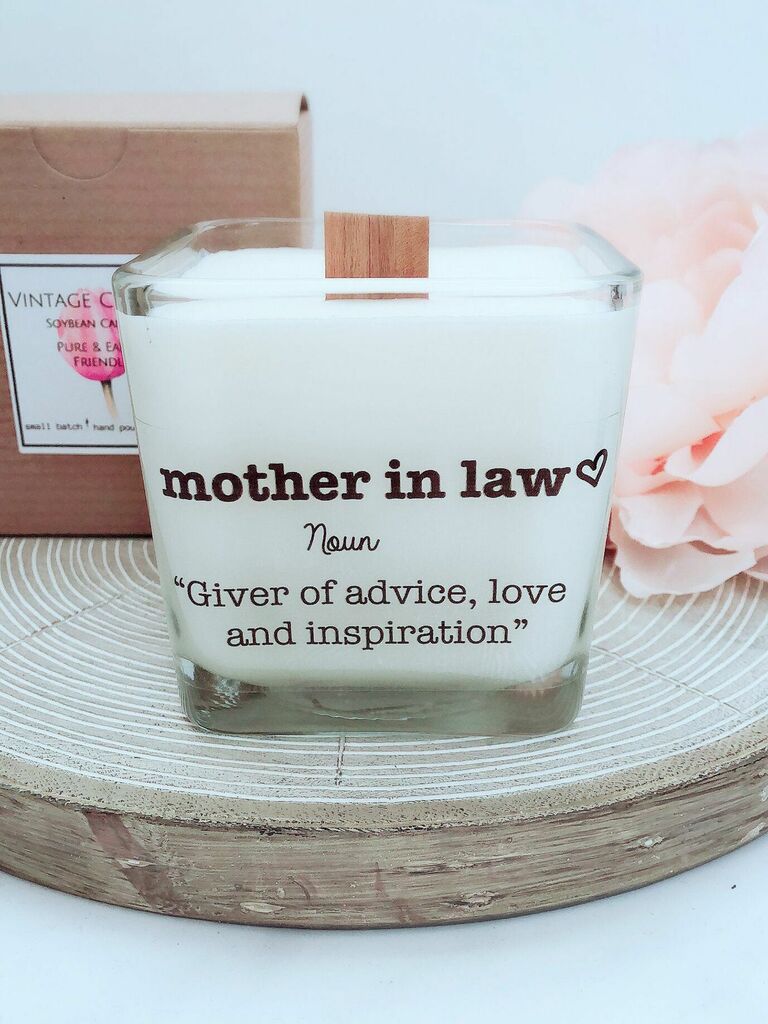 Remind her why she means so much to you with this meaningful candle. It comes in a jar printed with the definition of a mother-in-law as someone who gives advice, love and inspiration. Choose from six delightful fragrances or opt for an unscented candle if your MIL isn't a fan of strong smells.
Cute Gift Set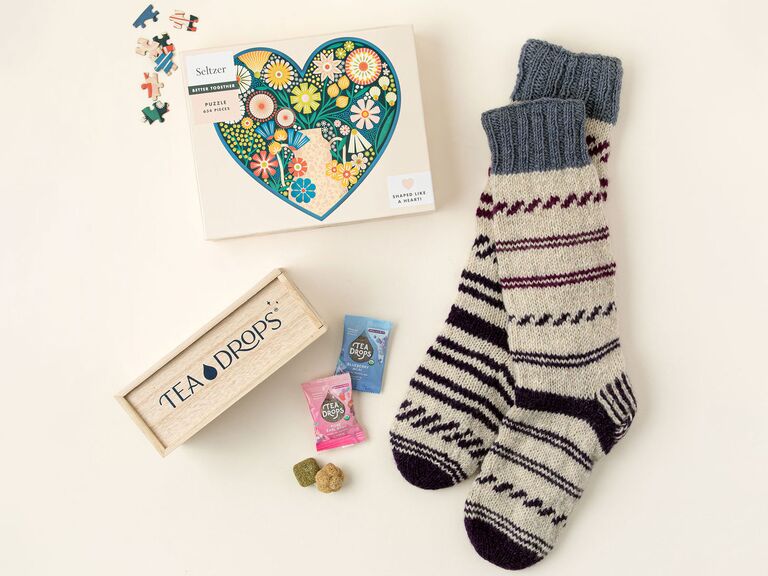 Cozy wool slipper socks, a sample box of tea and a fun floral puzzle make up this curated gift set from Uncommon Goods. It's an equally thoughtful Mother's Day or Christmas present for your mother-in-law, since it includes items that'll encourage her to get cozy and enjoy some peace and quiet.
Cool iPad Case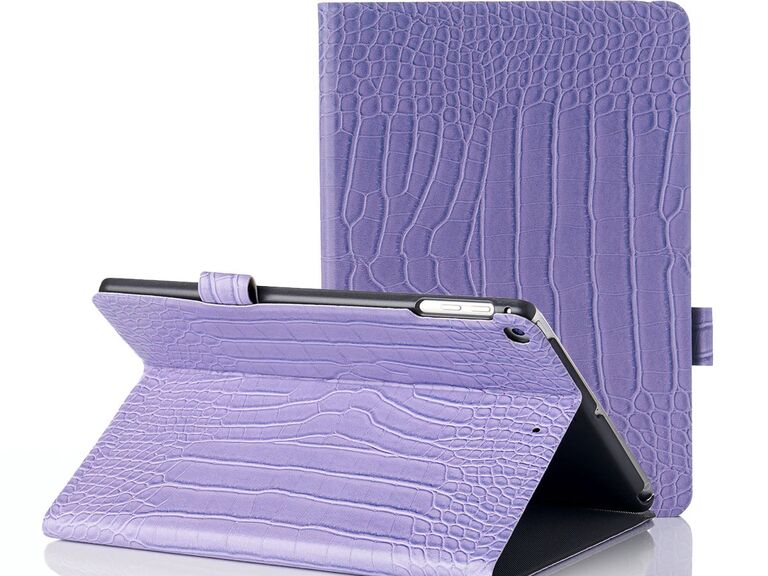 If you're searching for gifts for the mother-in-law who has everything, consider upgrading something she uses regularly. For example, any mom who's always using her iPad to browse the web, read the latest murder mystery novel or FaceTime her grandkids will appreciate a fancy new cover. This faux crocodile-effect case will give her favorite tech a whole new lease of life. Plus, it comes in an on-trend lavender hue that's reminiscent of Pantone's Color of the Year: Very Peri.
Sophisticated Tea Set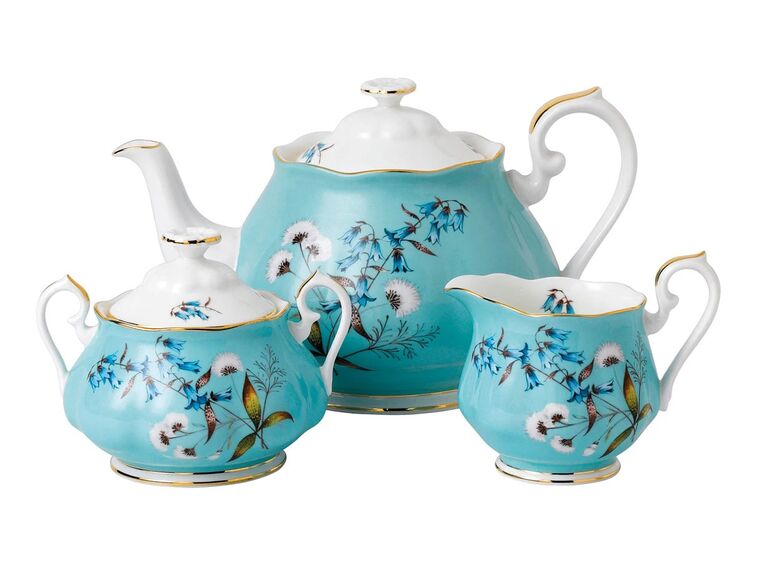 Make high tea at home a frequent occurrence by gifting your spouse's mom this gorgeous three-piece set. There's a teapot, a sugar pot and a jug for milk or creamer all in a matching garden-inspired design. Each piece is made from fine bone china, making it an heirloom-worthy addition to her display cabinet.