40 Gifts for the Mother-in-Law Who Has Everything
Shop our ideas for every occasion—from Mother's Day to the wedding day.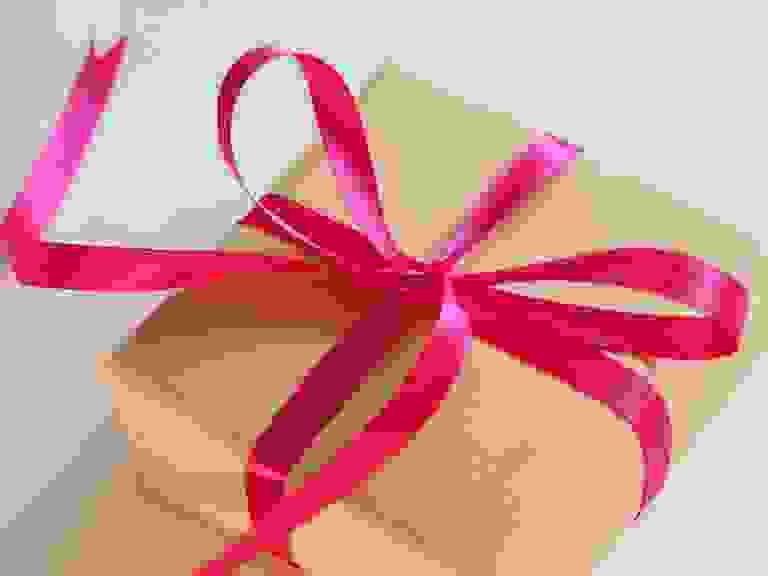 Plush Design Studio on Unsplash

We have included third party products to help you navigate and enjoy life's biggest moments. Purchases made through links on this page may earn us a commission.
You want to get the best gift for your current or future mother-in-law, but let's face it: It's hard enough to shop for gifts for your own mother. Tack on the fact that you've likely accrued a bunch of other new relatives by marriage, and we don't blame you if you've run out of good gift ideas for all the people on your list. 
Fear not—we've searched high and low so you don't have to. Whether you're looking for Christmas gifts for your mother-in-law, birthday gifts or a just-because present, we've got you covered. Here, shop editor-approved inspiration for every type of mother-in-law—even the MIL who has everything. (FYI: We've broken things out by occasion for your convenience, but honestly, most of these gifts for mothers-in-law work for any time of year!)
In this article:
Holiday Gifts for Your Mother-in-Law
Coming up with gift ideas for your mother-in-law around the holidays can be extra-exhausting—a season filled with present exchanges typically results in creative fatigue. Well, this year we've got a gift for you: tons of inspiration you can easily shop from. Whether you're on the hunt for the perfect Christmas gift for your mother-in-law or you're celebrating another winter holiday together, there's something on this list that's bound to impress her (and make your other relatives wish they found something so great).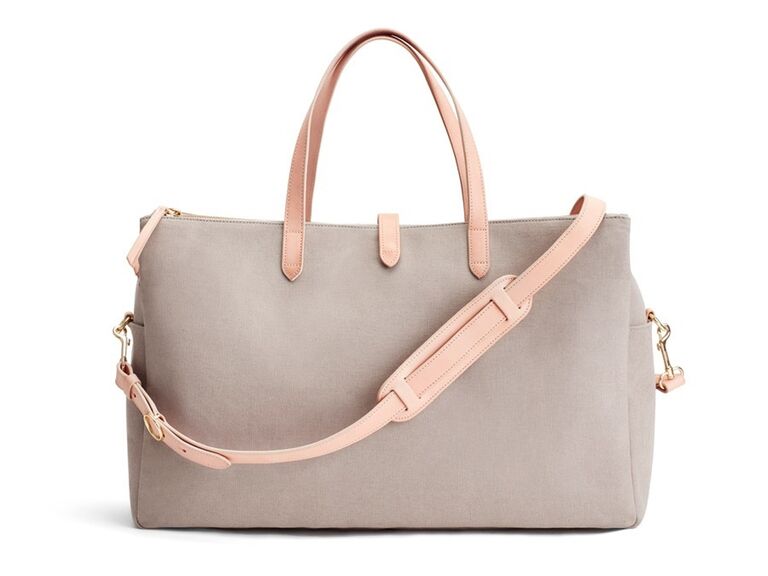 Let her know you love her when she visits (and encourage her to stay over more often!) by gifting her a timeless weekend bag.
Cuyana triple zipper weekender bag, $285, Cuyana.com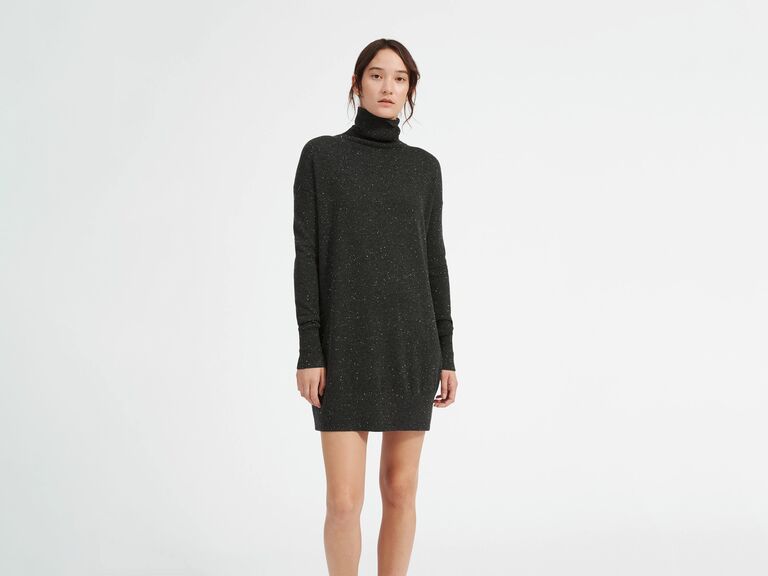 Speaking of trendy brands, this clothing retailer is gaining popularity by the minute. She'll love it for its ethical mission, high-quality materials and stylish, minimalist items—including this timeless, holiday-appropriate dress.
Everlane The Cashmere Turtleneck Dress, $165, Everlane.com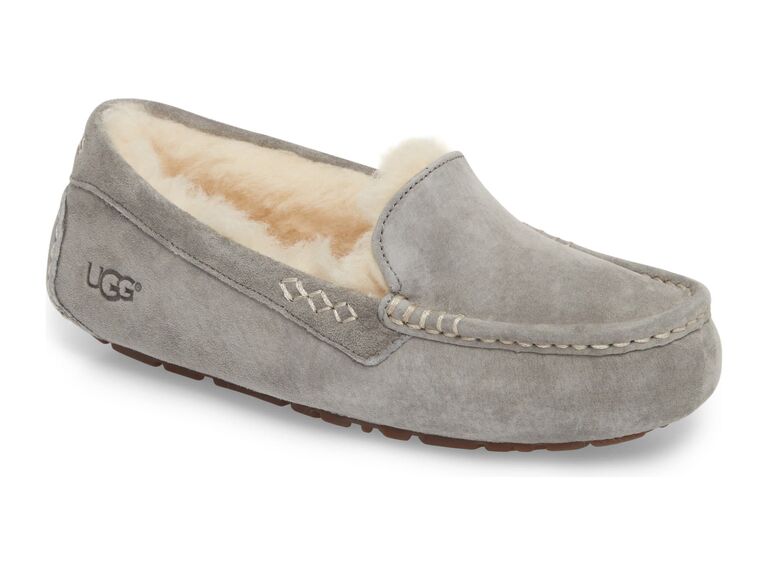 Make her life a little cozier with the perfect pair of slippers. Every time she slips her feet into these beloved (and insanely comfy) moccasins, she'll be grateful for you.
UGG Ansley water resistant slipper, $100, Nordstrom.com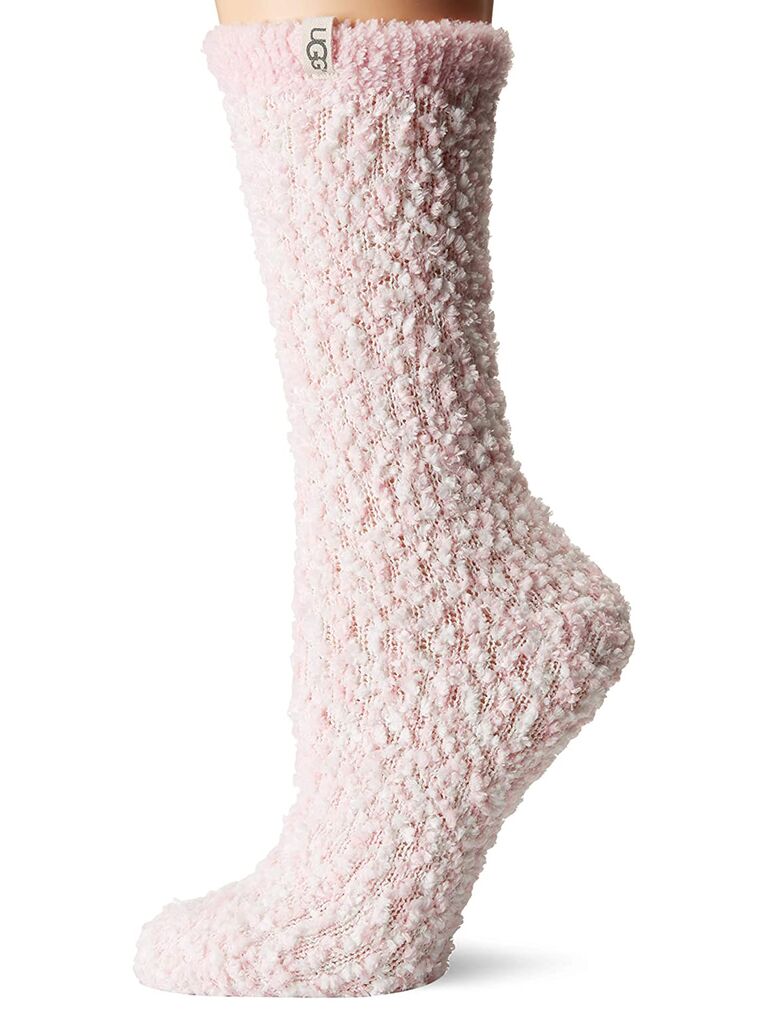 For those moments when she can't find her fuzzy slippers, why not make sure your mother-in-law is equipped with fuzzy socks, too? They're ideal for the MIL whose feet are always cold and also make good Christmas stocking stuffers.
UGG women's cozy chenille sock, $30, Amazon.com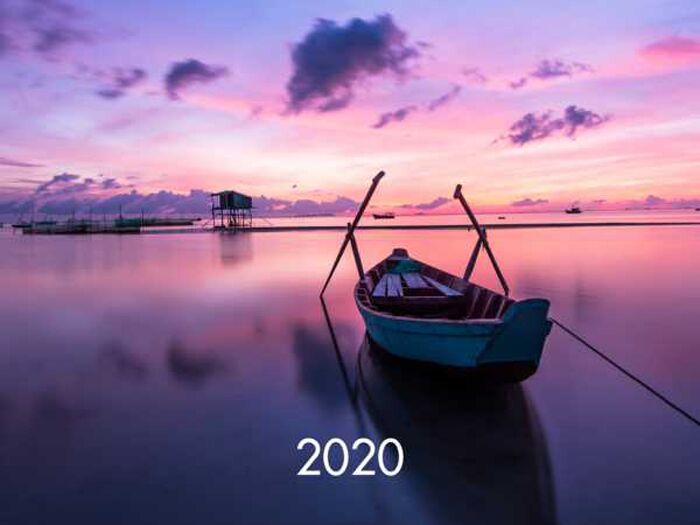 If she savors family photos, she'll love a personalized calendar. Fill it with snapshots of your MIL with her favorite people—including you.
Mixbook Photo Co. full photo layout square calendar, from $25, Mixbook.com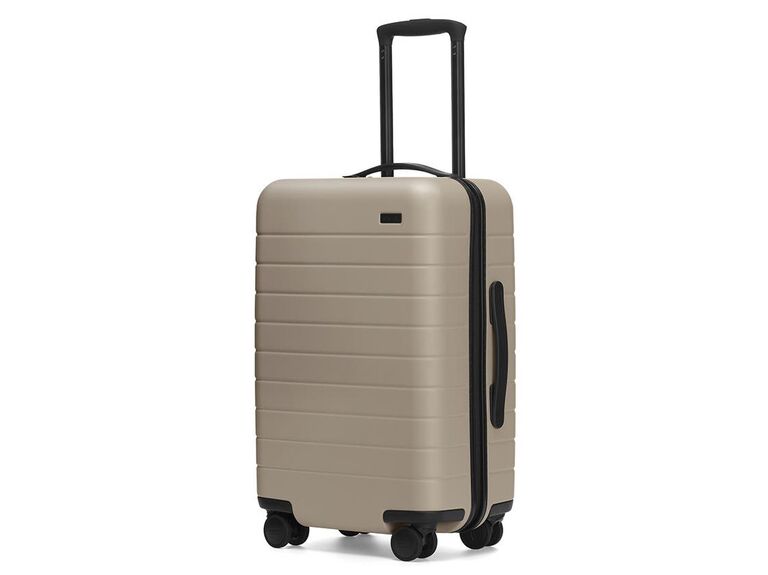 This ultra-chic carry-on comes equipped with a phone charger. She's about to be the trendiest, least-stressed woman at the airport.
AWAY The Carry-On, $225, Away.com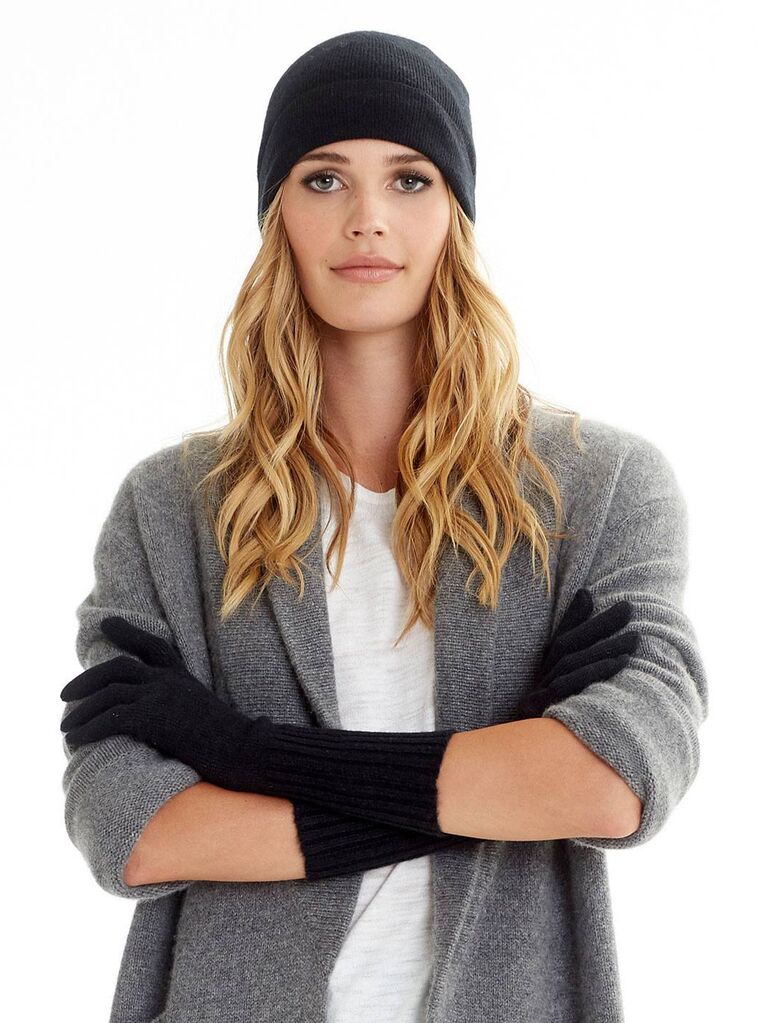 Don't her hands deserve to have it all? Pass the cashmere, please! These wool gloves are soft and tech savvy—the fingertips are touchscreen compatible, so she doesn't have to fumble around to answer her cell phone.
NakedCashmere cashmere tech gloves, $90, NakedCashmere.com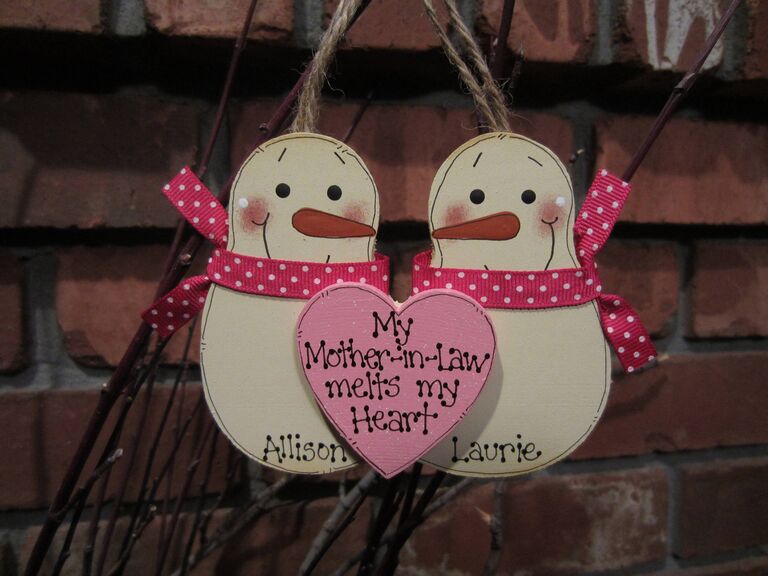 Searching for something sentimental? This custom ornament is a super-sweet mother-in-law Christmas gift idea. The decoration features two wooden snowpeople personalized with both your names. They're connected by a heart that reads, "my mother-in-law melts my heart." 
DH Designs personalized mother-in-law ornament, $12, Etsy.com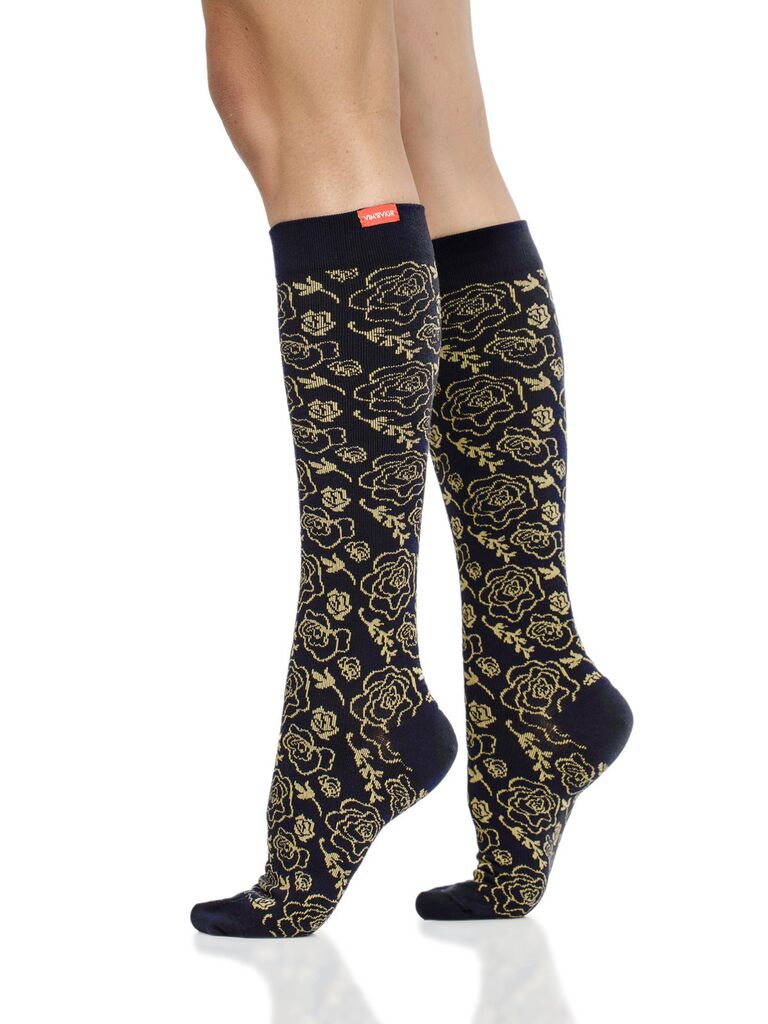 Compression socks are super-important for air travel, and this option is pretty cute too. If your MIL is flying a lot this season, she'll appreciate that you thought of her comfort. And really, they're also good for everyday use.
VIM & VIGR Juliet Floral compression socks, $36, VimVigr.com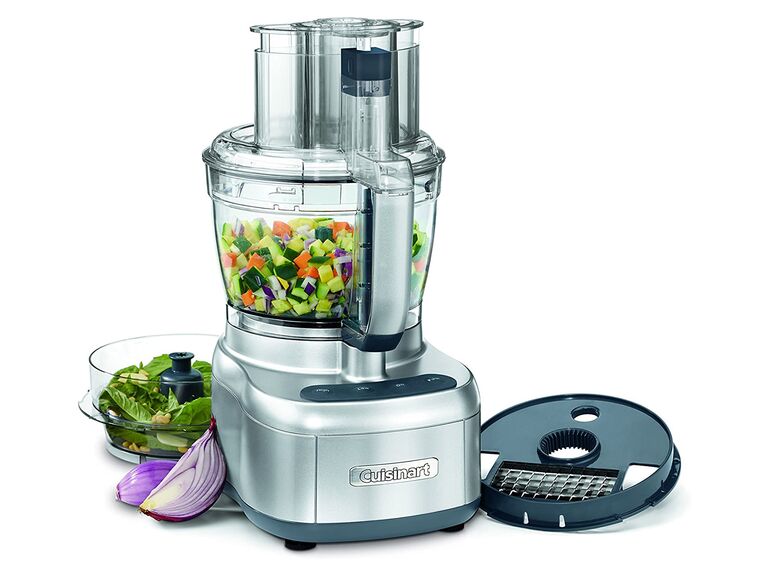 Food processors make everything easier. If she's never had one or could use an upgrade, look no further than this former The Knot Registry Awards winner.
Cuisinart FP-13DSV Elemental 13 cup food processor and dicing kit, $163, Amazon.com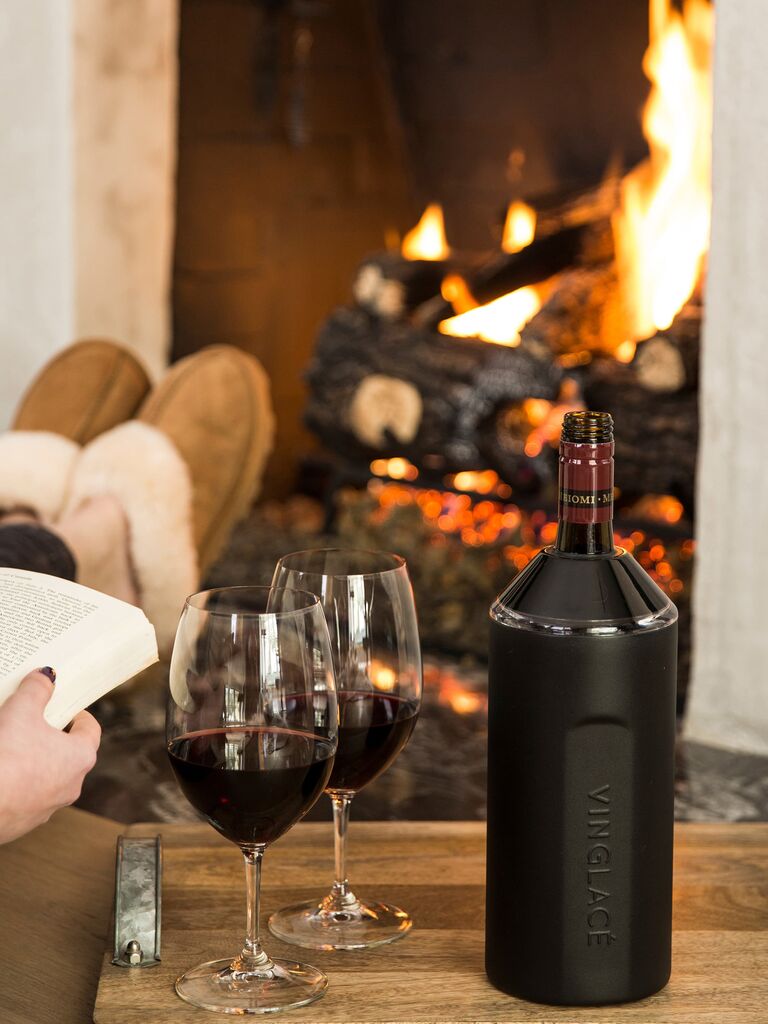 Looking for a hostess gift for your mother-in-law? Thank her for welcoming you into her home this holiday season with a gift that goes beyond the classic bottle of wine: vino and something to chill it with. This modern wine chiller keeps booze at the perfect temp for hours. The clever canister is great for indoor and outdoor parties, or for bringing on a day trip somewhere.
Vinglacé wine chiller, $90, Nordstrom.com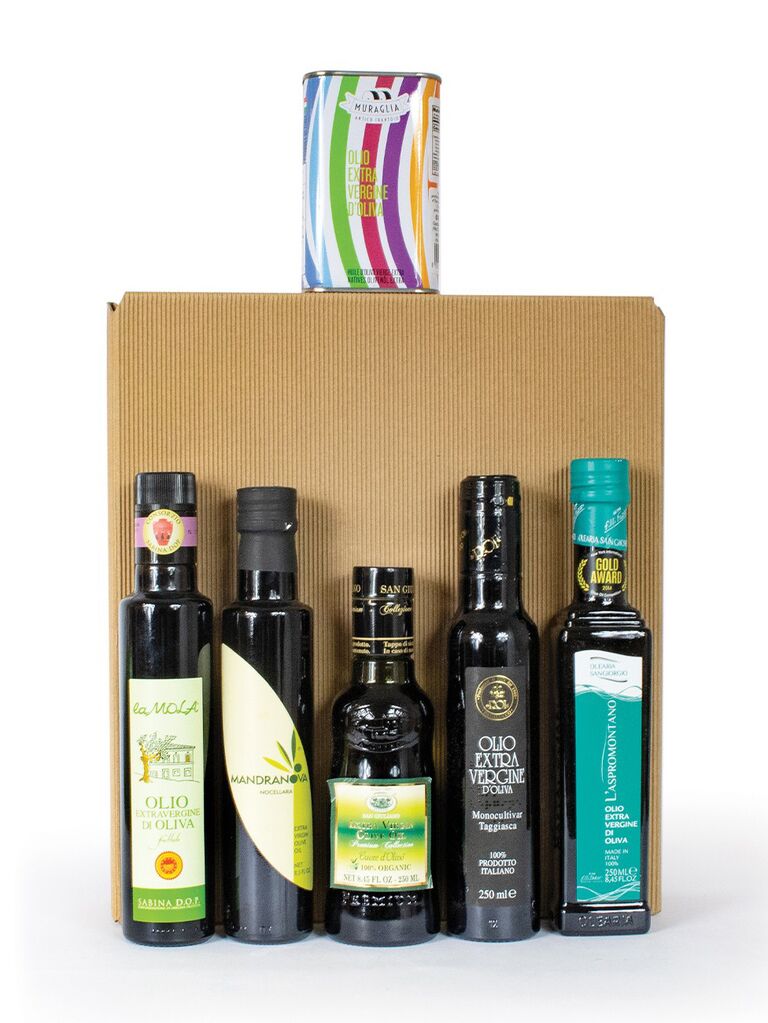 If you've ever had exceptional olive oil, you'll know that it can really transform a dish. This curated set comes with six delicious varieties she can use to drizzle over salads, cook with and serve with bread. We tried them and we never want to go back to the regular ol' grocery store olive oil.
Eataly Taste of Olio gift basket, $100, Eataly.com
Birthday Gifts for Your Mother-in-Law
Make her special day even more exceptional with one of these great mother-in-law birthday gifts. Now's the time to show her just how well you know her with a thoughtful present personalized to her and her interests.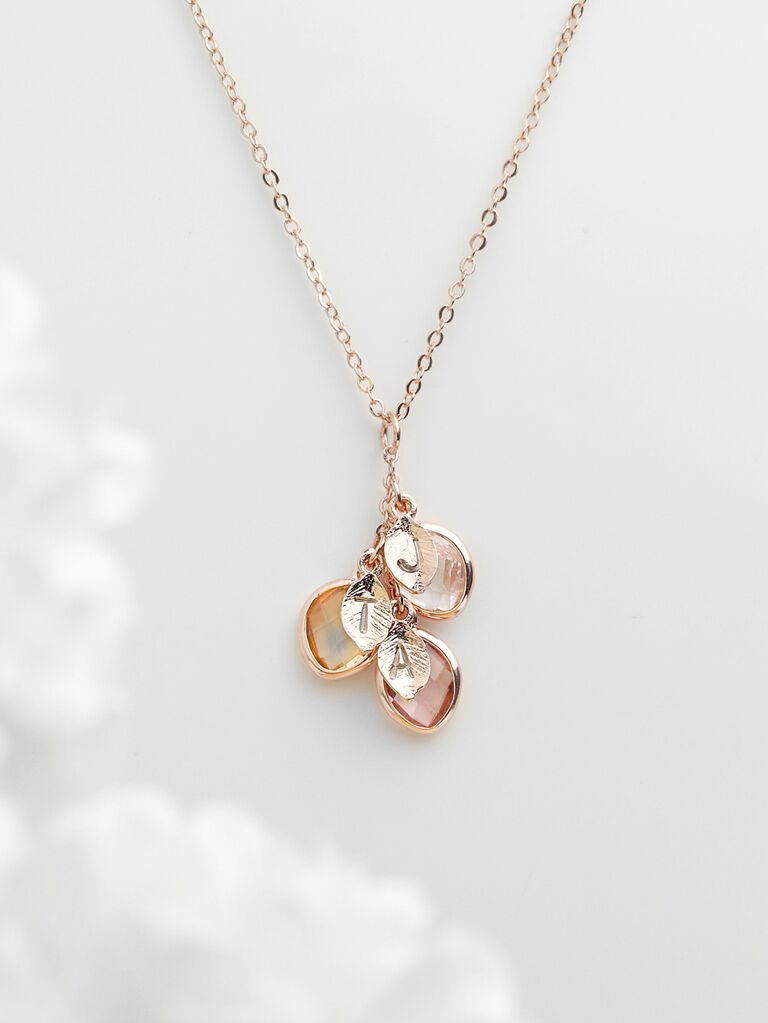 Birthstone-inspired jewelry is a foolproof birthday gift for the mother-in-law who loves to accessorize. And if her grandkids give her life, she'll cherish this family tree-themed necklace representing her and her lineage. 
Mignon and Mignon birthstone gift necklace, from $32, Etsy.com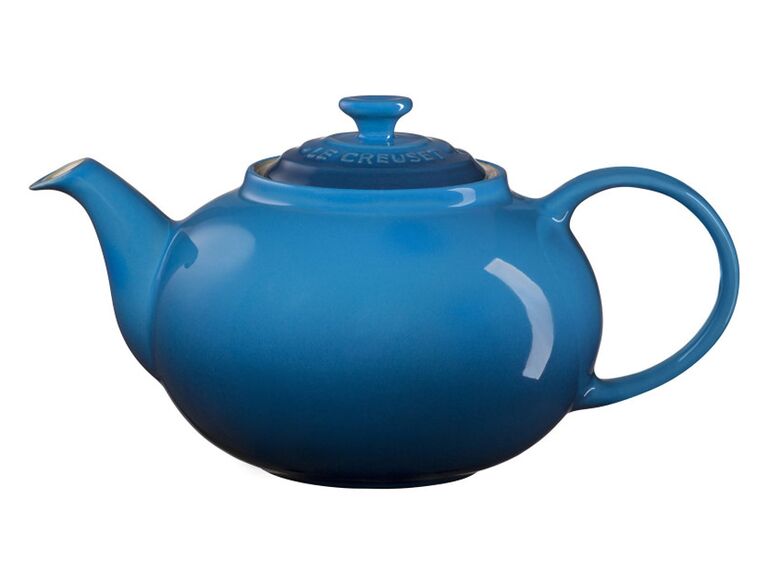 If having friends over for a cup of tea is her favorite way to spend an afternoon, help make that happen with a fancy teapot they'll all ooh and aah over.
Le Creuset Traditional teapot, $40, LeCreuset.com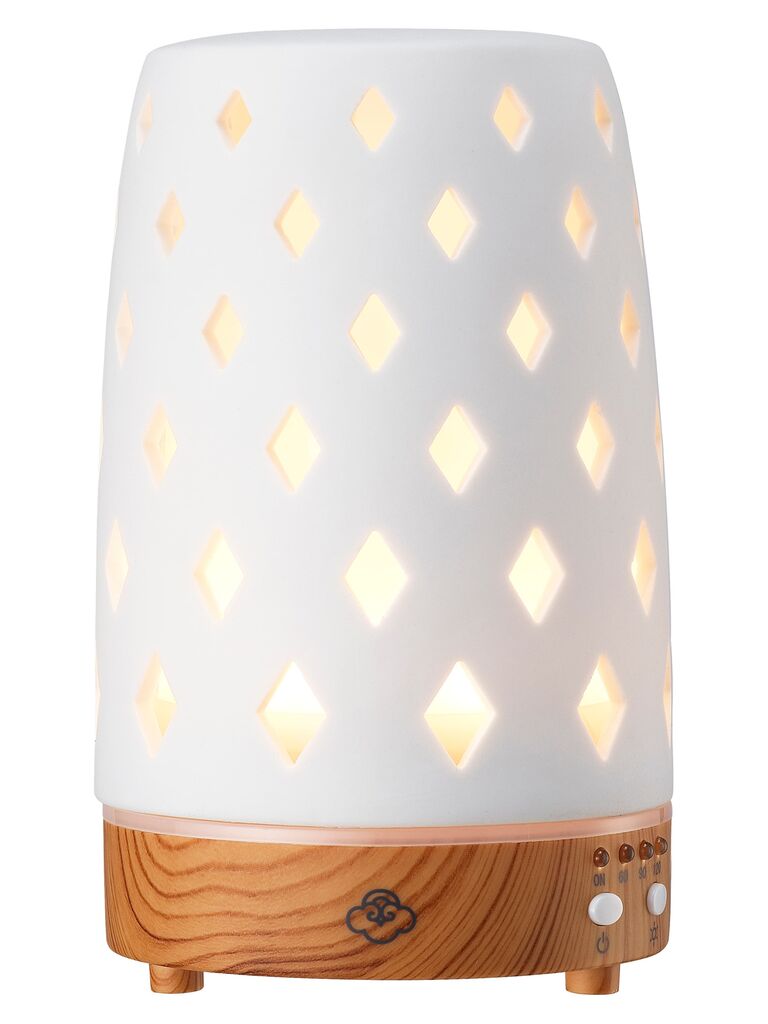 Scent is an excellent way to make a home even more inviting. A diffuser filled with aromatic essential oils will make her feel like she's living in a luxury retreat.
Serene House ultrasonic cool mist Diamond 90 aromatherapy diffuser, $40, Nordstrom.com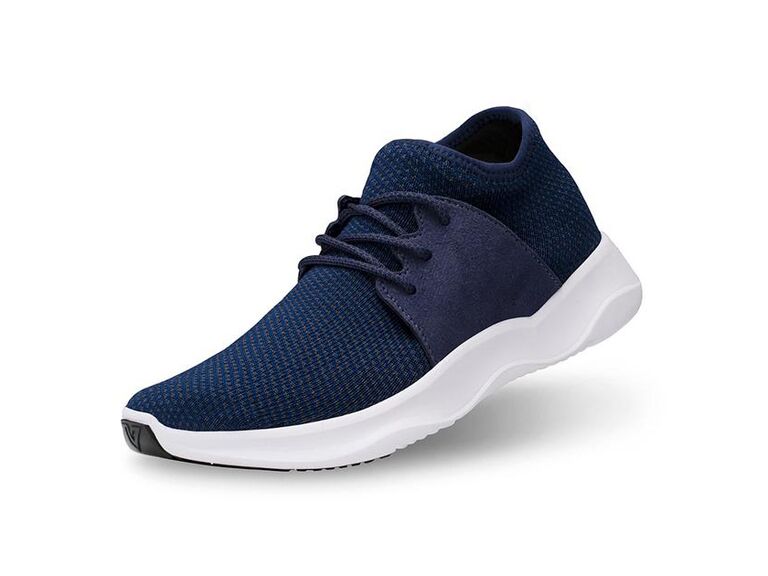 Say hello to the comfy sneakers she'll actually want to wear out. These stylish shoes are also waterproof and slip-proof, perfect for everything from brunch to a quick trip to the grocery store in the rain.
Vessi women's Everyday runners, $135, Vessi.com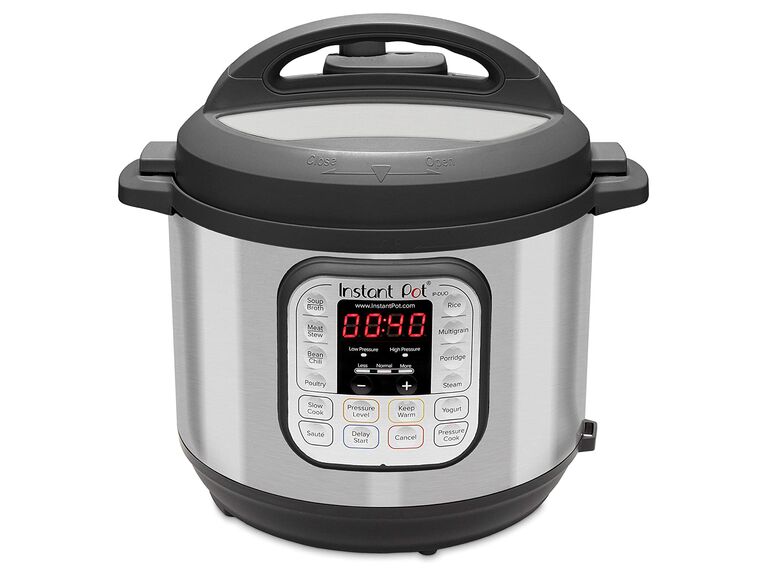 So long, slow cooker. Help your mother-in-law speed things up with a brand new pressure cooker. (By the way, this tried-and-true gadget was also recognized in the The Knot 2020 Registry Awards.)
Instant Pot Duo 7-in-1 electric pressure cooker, $100, Amazon.com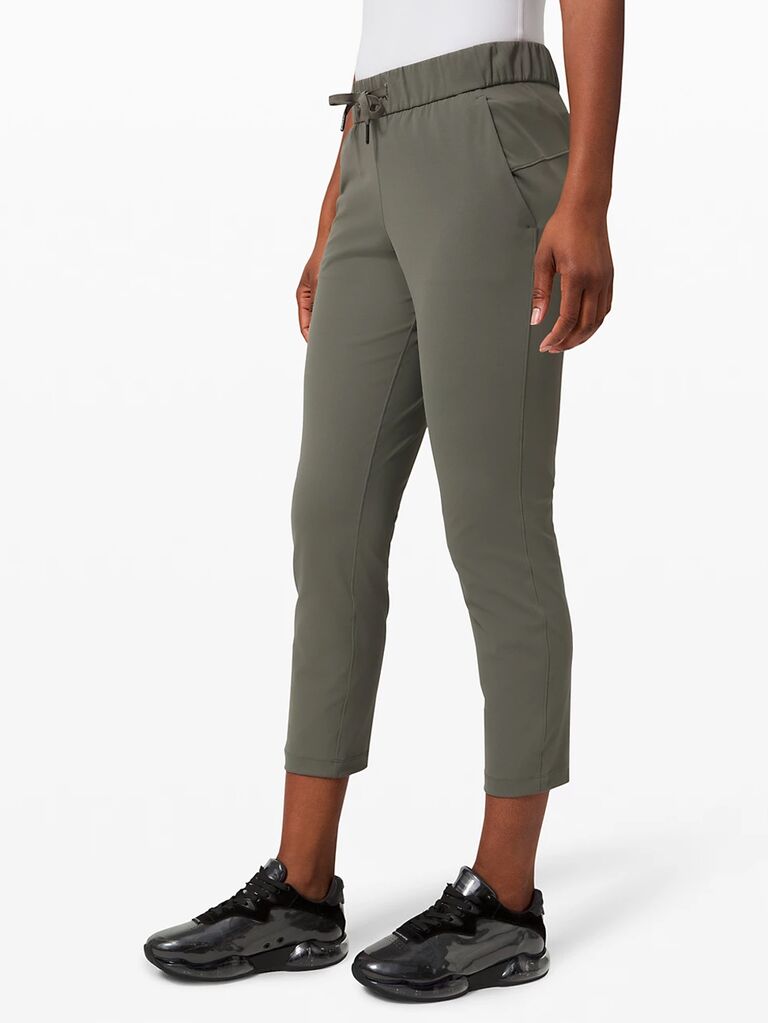 Who wouldn't want a pair of pants that look super put-together but are actually as cozy as sweats?
Lululemon On the Fly ⅞ pant, $98, Lululemon.com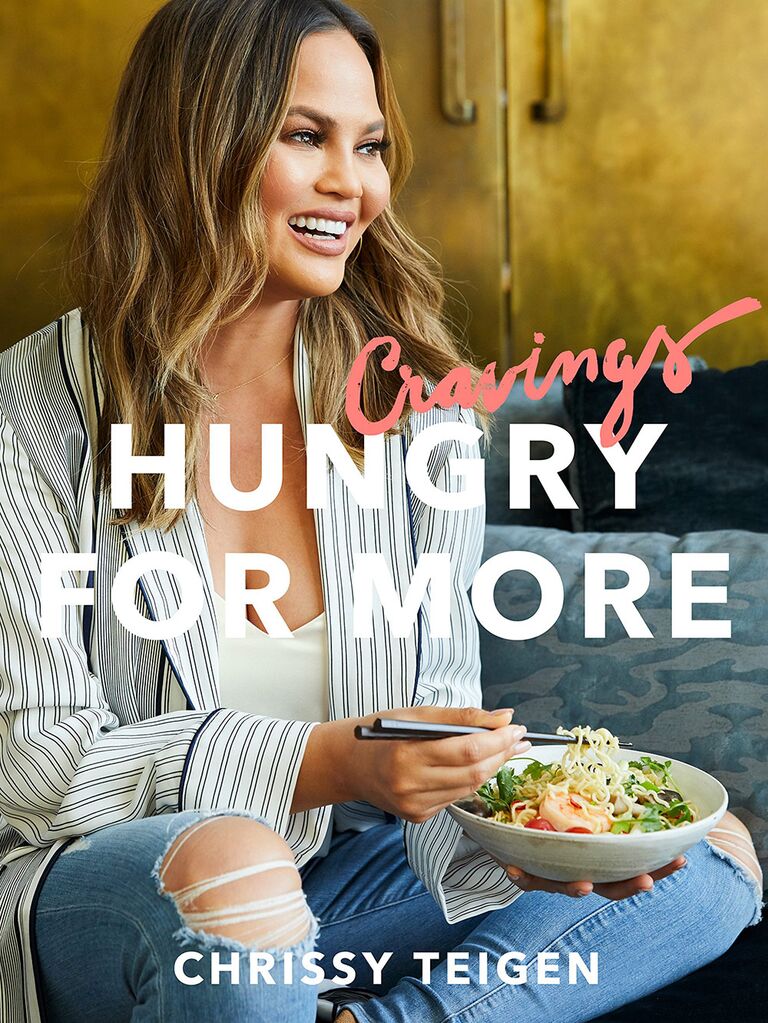 Shopping for a celebrity fan? Chrissy Teigen's cookbook is fun and full of delicious recipes. With any luck, your mother-in-law will make something from it the next time you're in town.
Clarkson Potter Cravings: Hungry For More by Chrissy Teigan and Adeena Sussman, $20 for a hardcover, Amazon.com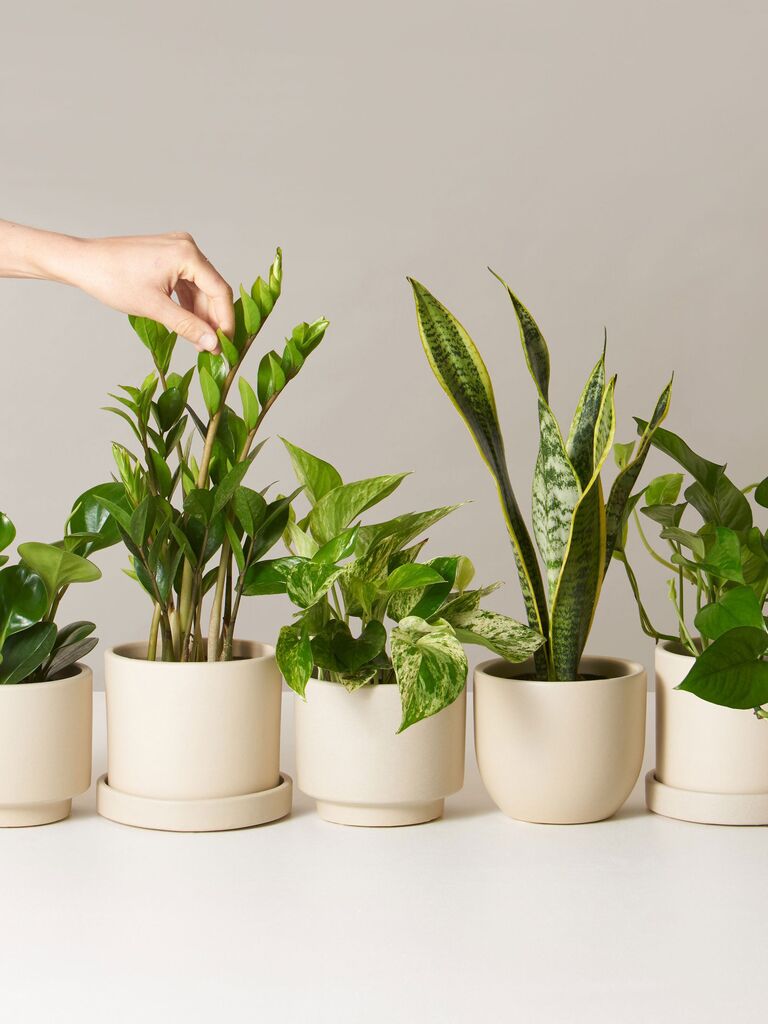 Is your mother-in-law proud of her green thumb? Contribute to her gardening hobby with a special subscription service. This brand will send her a new, beautiful plant to tend to every month for the duration of your choosing.
The Sill plant subscription, from $35 a month, TheSill.com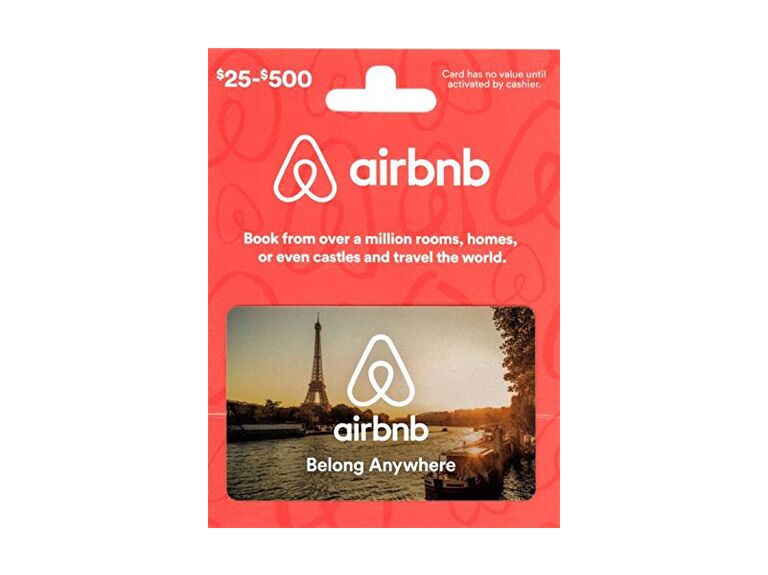 How about giving her a head start on her next adventure? Because sometimes experiences make the best gifts for mothers-in-law.
Airbnb gift card, $100, Amazon.com
Mother's Day Gifts for Your Mother-in-Law
Mother's Day is all about pampering, which is why we recommend a gift for your mother-in-law that helps her sit back, relax and really feel loved. These Mother's Day gifts for mothers-in-law do just that.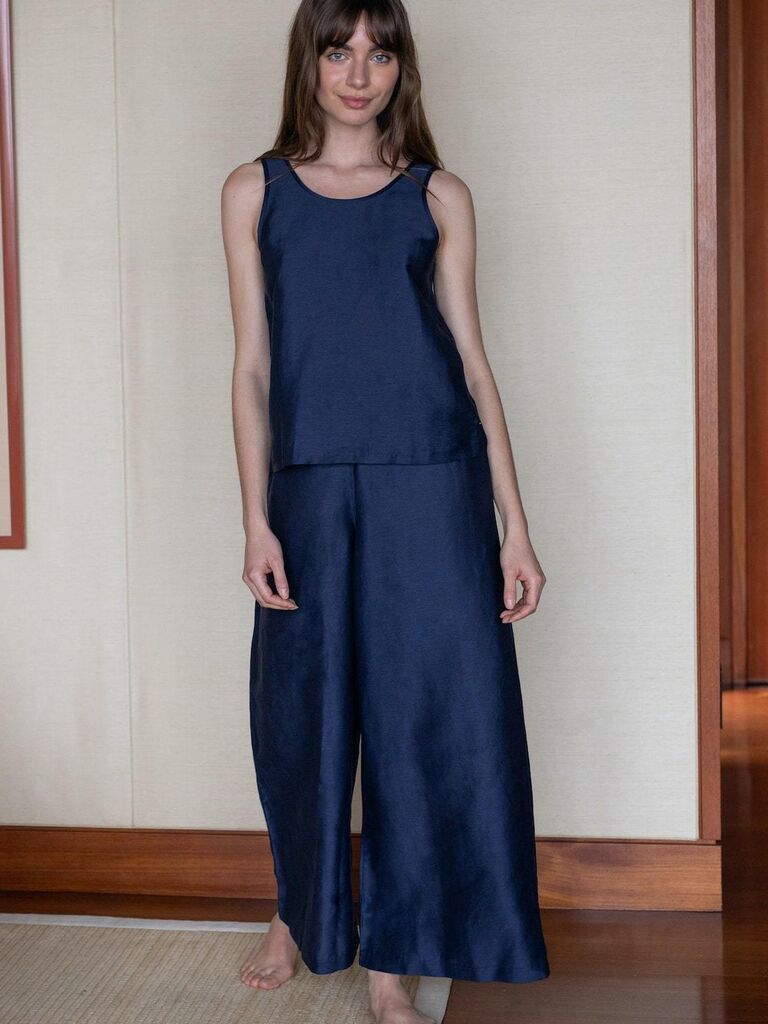 Another luxury gift for your mother-in-law? This really nice silk loungewear. The PJ set may be pricey, but it'll make her feel like a queen. And imagine her delight when she realizes it's machine-washable!
Lunya Resort linen silk pant set, $248, Lunya.co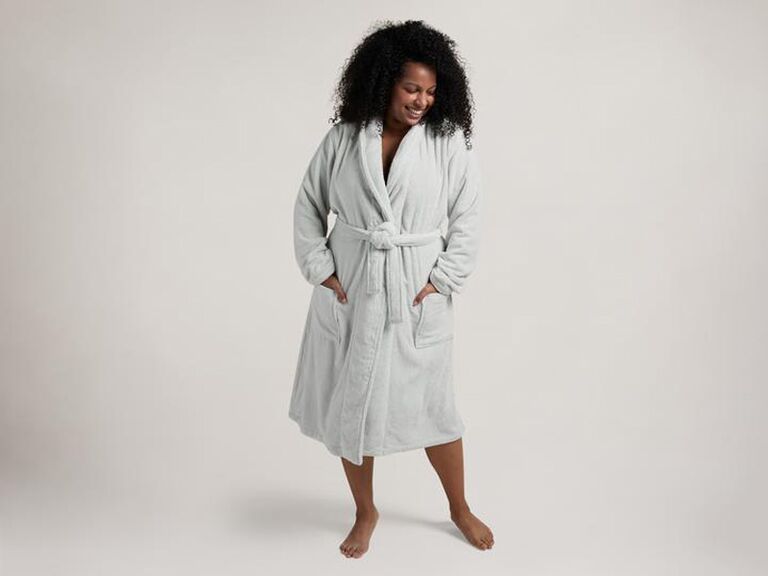 It doesn't get much cozier than this cult-favorite bathrobe. After all, it's made by a brand built around "all things soft and wonderful." We also love the color options: hotel-worthy white, a cool greenish-blue, pretty blush and modern stone gray.
Parachute classic bathrobe, $99, Parachute.com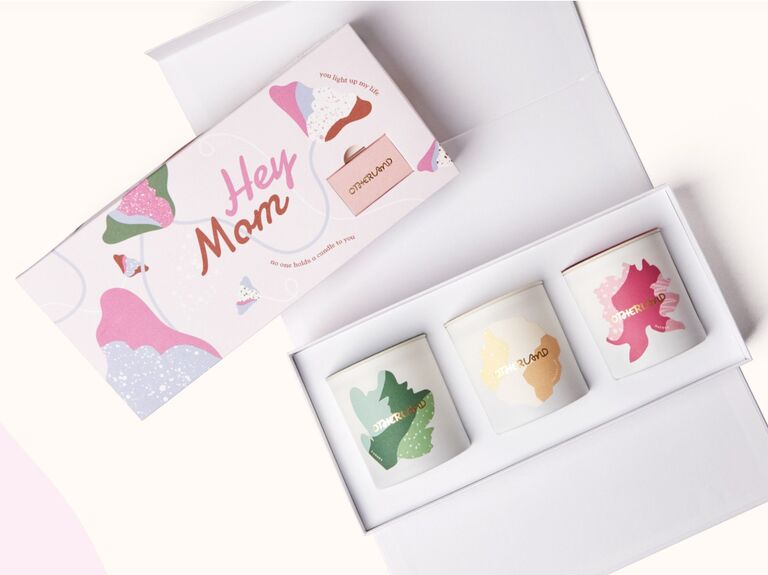 Not only is this trendy candle gift set beautiful, but it's totally non-toxic, clean-burning and the company works with the top global fragrance houses to develop and manufacture scents, which contain both naturally-harvested and safe-synthetic ingredients (aka the health- and eco-conscious MIL will love it even more).
Otherland candle gift set, from $89, Otherland.com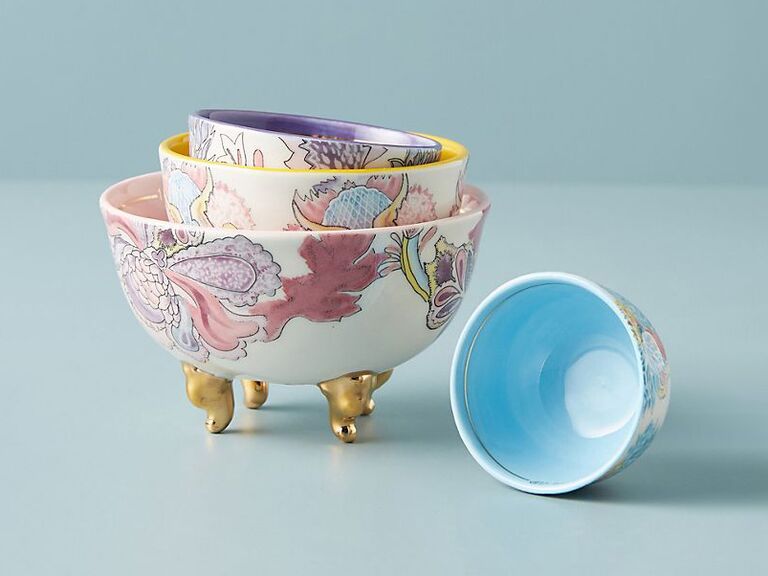 PSA: Measuring cups don't have to be boring. Beautify her kitchen with some new, luxe gear that she'd never splurge on for herself.
Anthropologie Agnes measuring cups, $38 for a set of 4, Anthropologie.com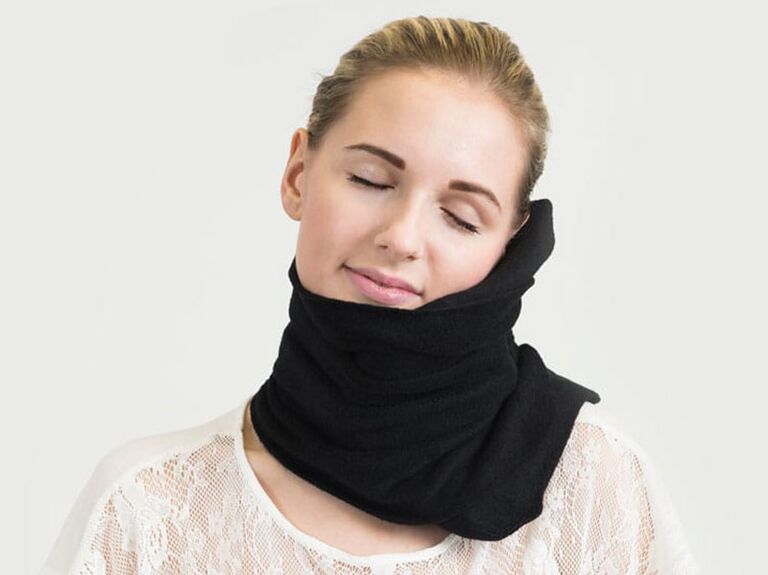 This one-of-a-kind neck pillow will help your MIL catch up on much-needed sleep on long plane and car rides.
Trtl travel pillow, $30, Trtl.com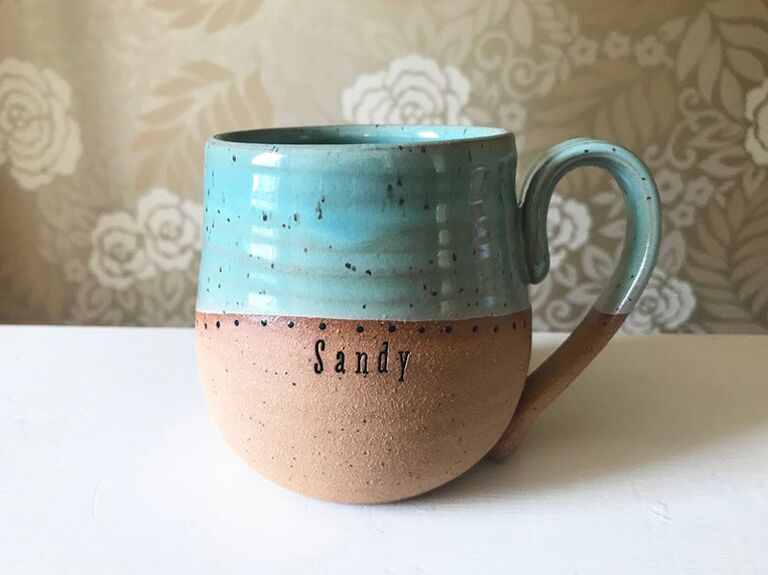 There's nothing quite like the soothing sensation of sipping a hot drink. Give her that pleasure, courtesy of this cute, customizable mug. Get it personalized with her first name, monogram or the nickname you or your kids call her.
Laura Lynn Pottery handmade mug with name, $34, Etsy.com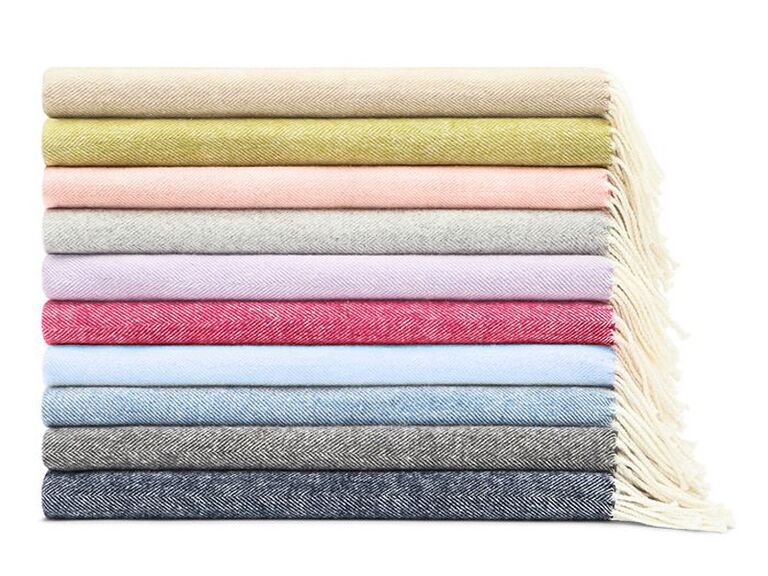 Searching for a luxury gift for your mother-in-law? Opt for one of these Italian herringbone throws—this editor has one, and it's truly divine. The blankets are wonderfully soft, come in a range of gorgeous colors and are definitely nice enough to leave out as decor. They were also honored as one of Oprah's favorite things.
Lands Downunder herringbone throw, $128, Bloomingdales.com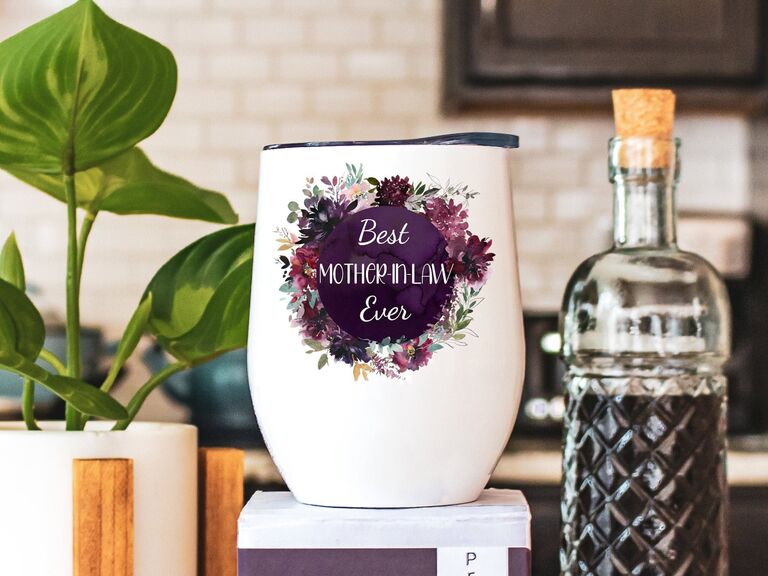 Let your MIL know how much she means to you with this beautiful tumbler that says "best mother-in-law ever." It's a sweet and simple gift that will bring a smile to her face.
Wimly Mugs Best Mother In Law Ever wine tumbler, $19, Etsy.com 
When it comes to luxury gifts for mothers-in-law, this basket set might just be as good as it gets. The vessel holds a pretty Turkish towel, a tassel key ring and a letter-pressed card—so basically, two things that'll really come in handy, plus a sweet card with something special to say! 
BON TON STUDIO At Home bundle, $68, BonTonStudio.com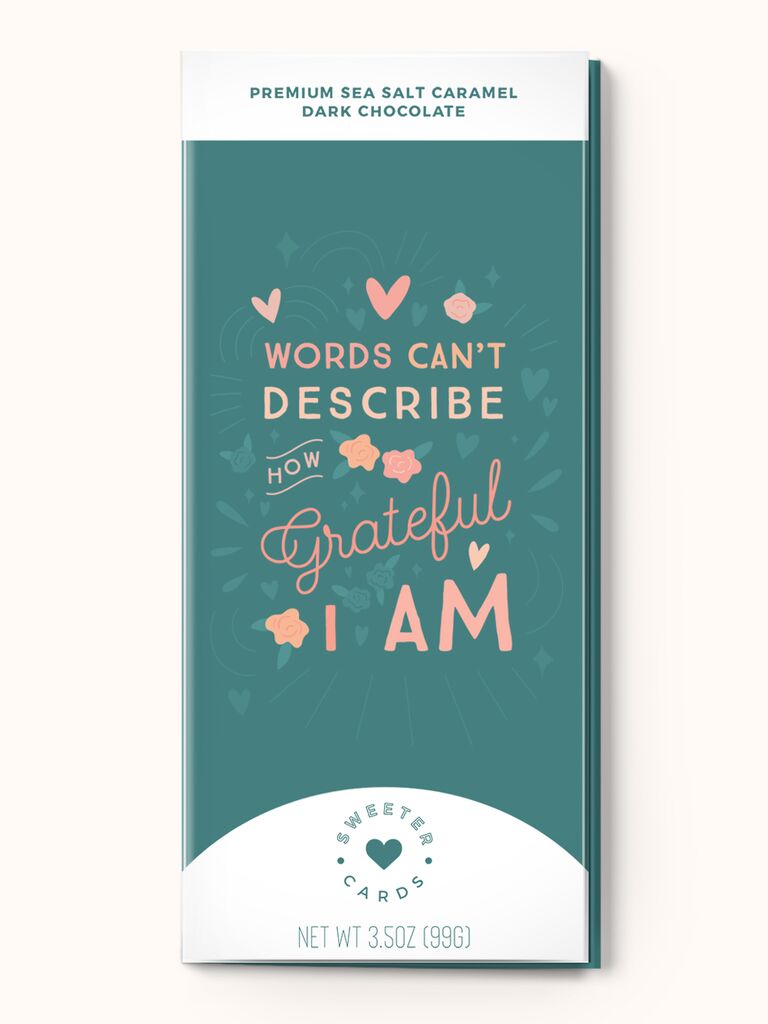 Let her know just how grateful you are that she's your MIL. This delicious and adorably wrapped chocolate is the kind of sweet-hearted gesture that could really lift her up this Mother's Day.
Sweeter Cards Words Can't Describe How Grateful I Am sea salt caramel dark chocolate, $9, SweeterCards.com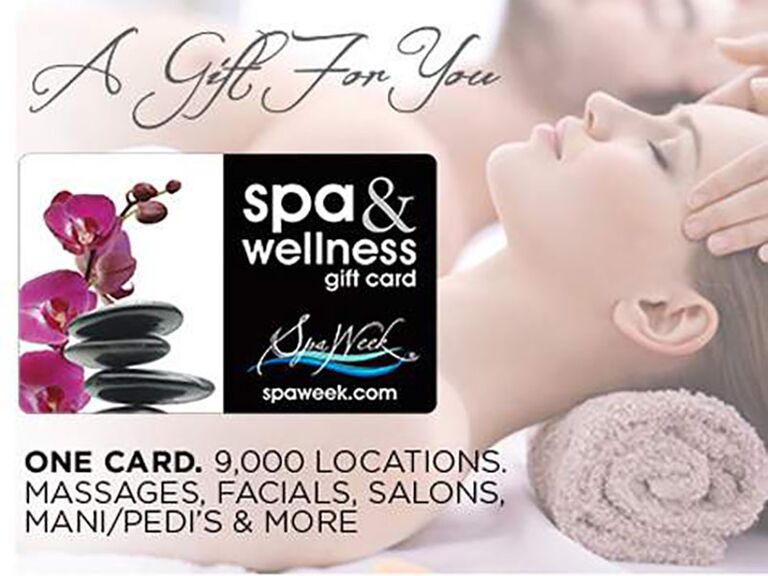 Give her a nudge to treat herself with this spa gift certificate.
Spa Week gift card, from $25, SpaWeek.com 
Wedding Gifts for Your Future Mother-in-Law
Looking for a way to thank your mother-in-law for her involvement in your big day? Whether she's contributed financially, creatively or emotionally, a thoughtful present is a meaningful gesture. While it's perfectly fine to treat her to something like dinner or a manicure, here are additional gift options for your mother-in-law appropriate for the wedding.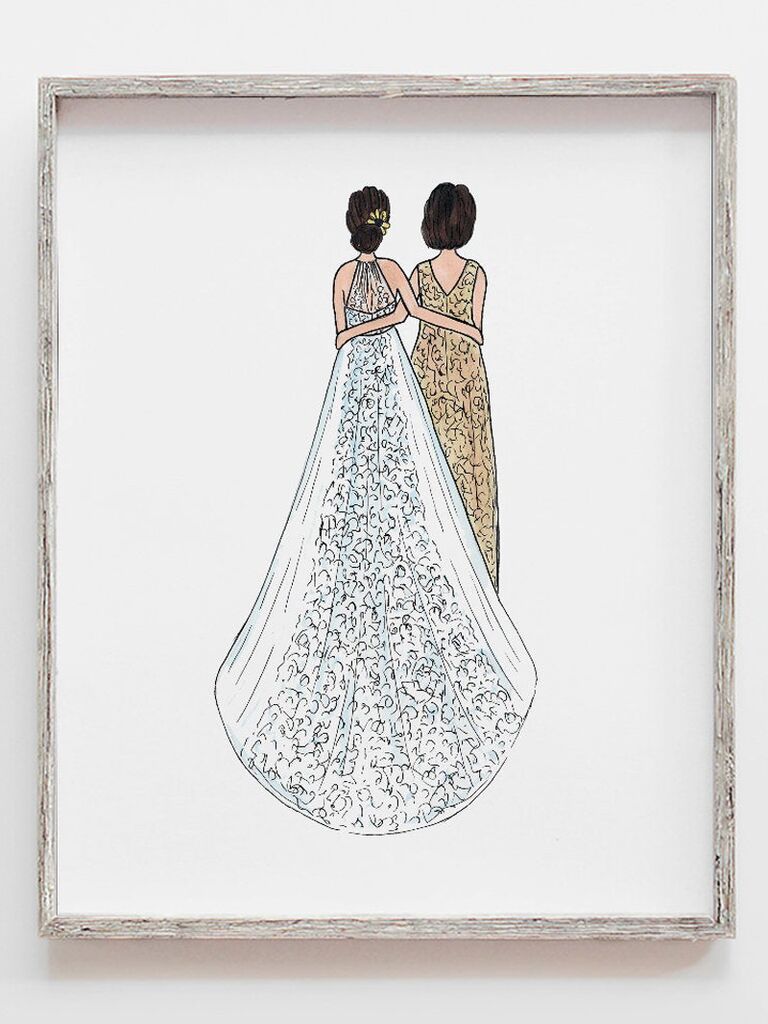 This wedding gift for your mother-in-law requires some investigating, but the end result is so worth it. Find out what she's wearing on the big day, send the artist a description or photo, as well as a description or photo of what you'll be wearing. From there, you'll receive a custom drawing of you two in a sweet embrace wearing your wedding outfits—how awesome is that?
Jes Married custom mother of the bride or groom drawing print, from $98, Etsy.com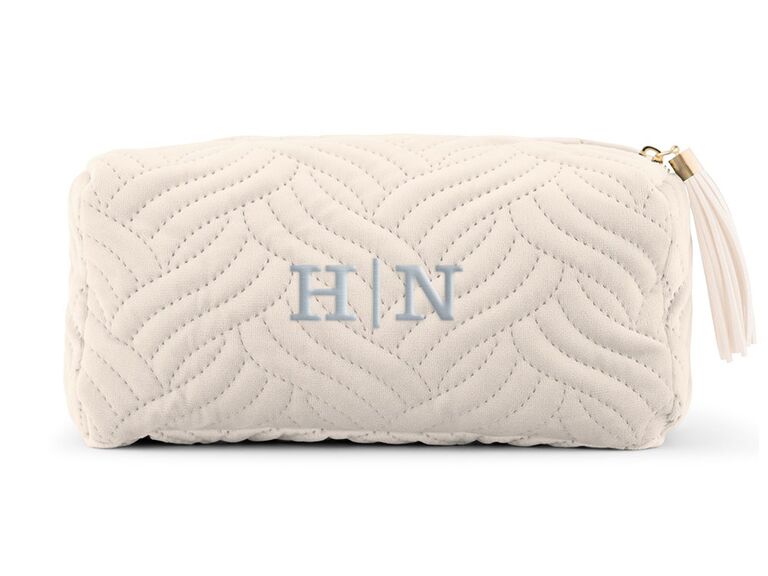 Give her a place to store all beauty products with this luxe, velvety makeup bag. You can even monogram it for her. It's also sold in a wide range of colors, so it's easy to find one she'll like.
The Knot Shop small personalized velvet quilted makeup bag, $11, TheKnotShop.com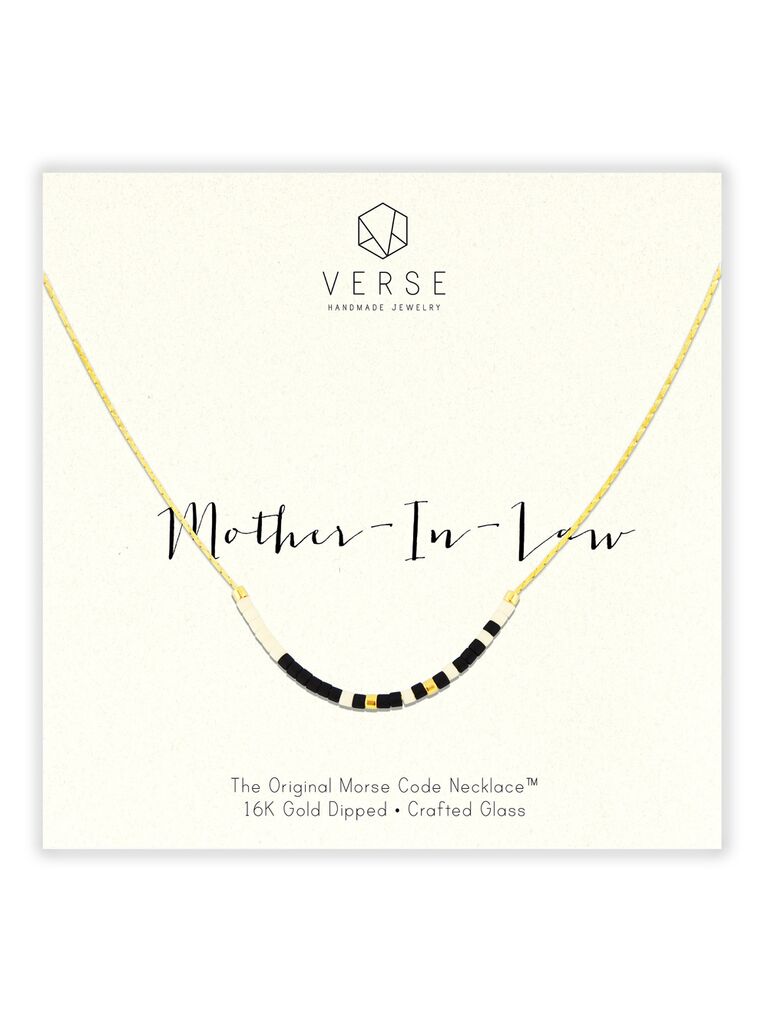 Talk about unique. This necklace displays her title of mother-in-law in morse code! It's a pretty piece regardless, but it's extra-cool because you two will know it represents your relationship.
Verse Shop mother in law morse code necklace, from $35, Etsy.com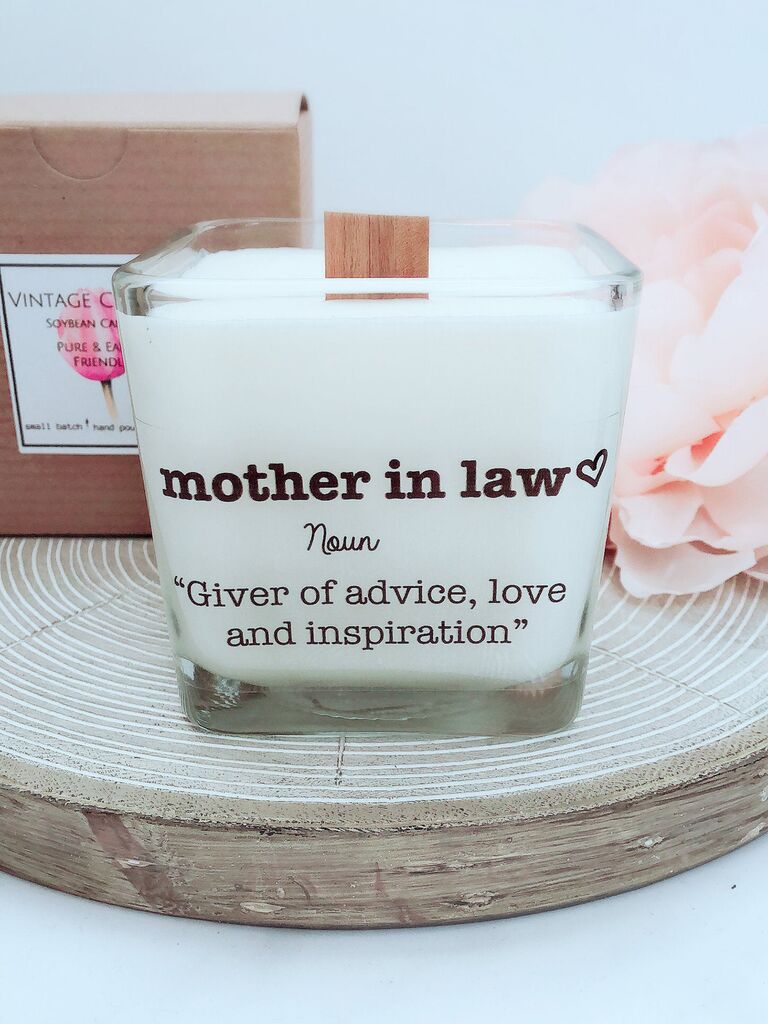 A mother-in-law wedding gift doesn't have to be expensive. It's really the sentiment that matters. Take this cute candle, which has a glass jar printed with a kind definition of "mother-in-law:" "giver of advice, love and inspiration."
Vintage Created new mother-in-law candle, $17, Etsy.com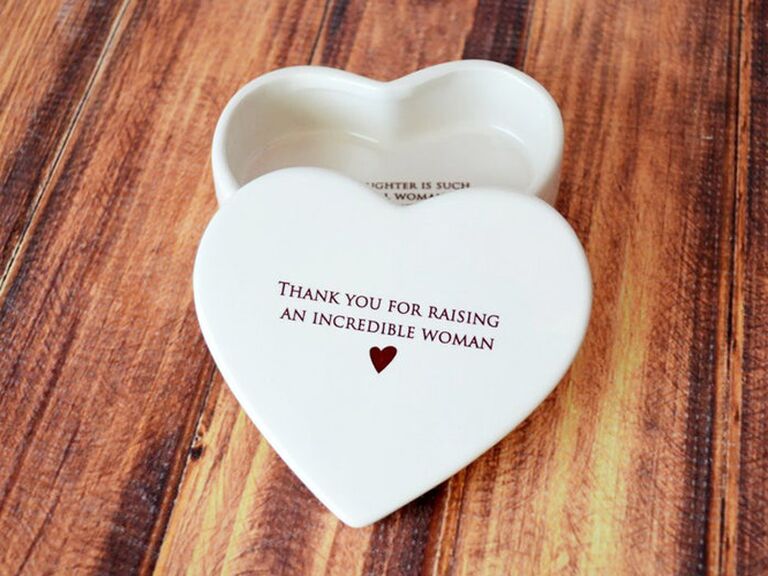 This mother-in-law wedding gift literally thanks her for raising the love of your life. There's a version that reads, "thank you for raising an incredible woman," and another that says, "thank you for raising the man of my dreams." She can use the keepsake box to store trinkets for years to come.
Susabella mother-in-law gift, $53, Etsy.com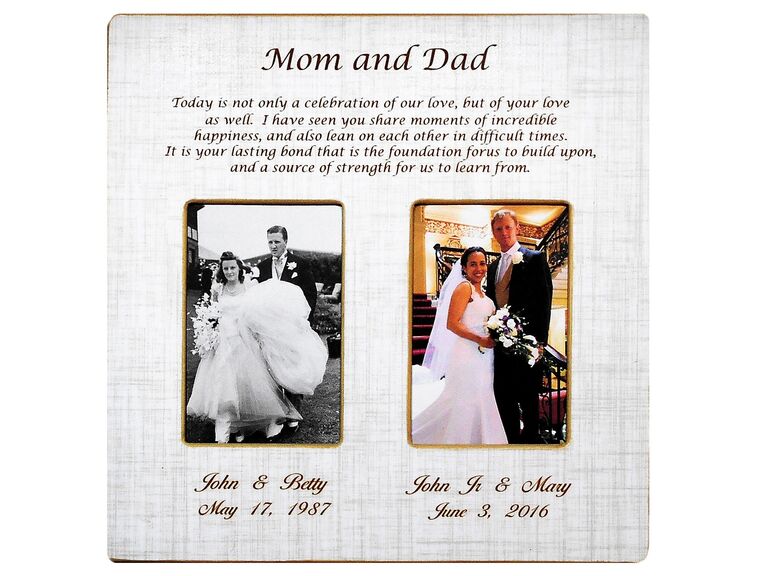 If you can wait until after the wedding to give your mother-in-law her gift, we love this idea. Personalize the dual-photo picture frame with a snapshot of her and her spouse on their wedding day, plus a portrait of you and your spouse on yours. It'll tell her just how much you look up to her and strive to have a relationship like theirs.
Canyon Meadows in-laws wedding gift personalized picture frame, $60, Etsy.com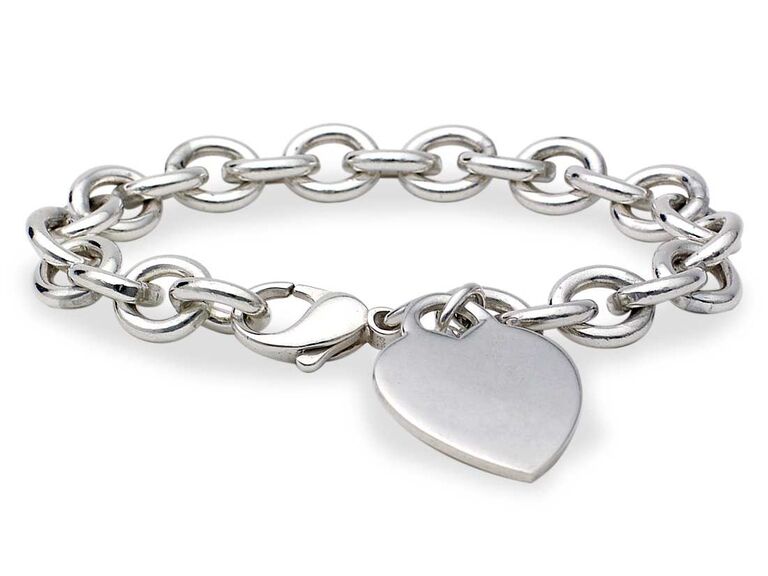 Spread the love with this heart charm bracelet—after all, love is what the wedding is about! It's a timeless piece that looks nice as-is, but you also have the option of getting it engraved.
Blue Nile heart-tag bracelet, $200, BlueNile.com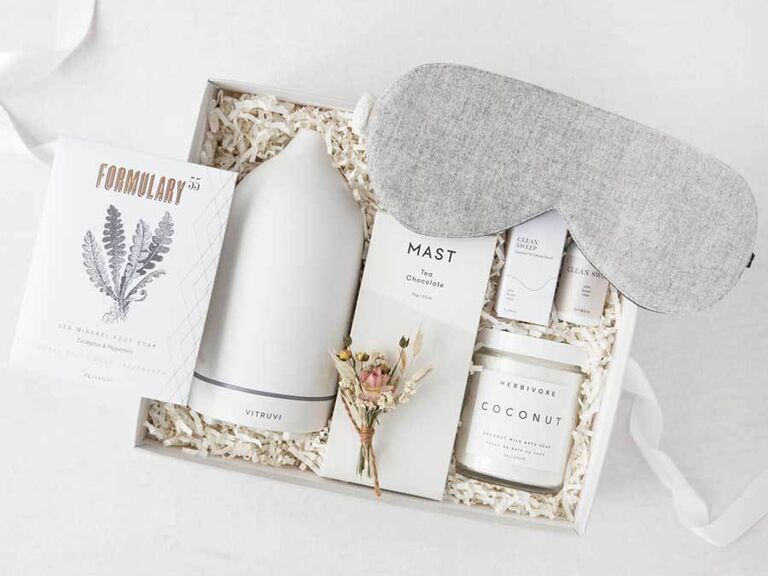 Bridesmaids and groomsmen aren't the only VIPs who appreciate gift boxes! This set includes a beautiful handcrafted diffuser, an essential oil blend, a luxe bath milk, a pampering foot soak and so much more, all in a pretty linen gift box. It's basically guaranteed to earn you brownie points—just look how fancy it is!

Foxblossom Co. Renewal gift box, $235, Foxblossom.com